Brides Who Rocked The Most Offbeat & Unique Jewellery On Their Wedding Day!
BY Sakshi | 26 Aug, 2022 | 7194 views | 6 min read
We love a bride who does things with a twist, and while we keep spotting brides who wear offbeat lehengas, there are fewer brides who really experiment with their jewellery. Here are some of them who did it just right- their jewellery stood out and how! Nice and pretty ideas which make a statement and definitely caught our eye!
This bride who repurposed her family's heirloom jewels
Image via Megha and Karan
Love the pop of blue against the red saree- a striking modern bridal look!
How Gorgeous Is This Minimal Pearl And Gold Set For Your Big Day?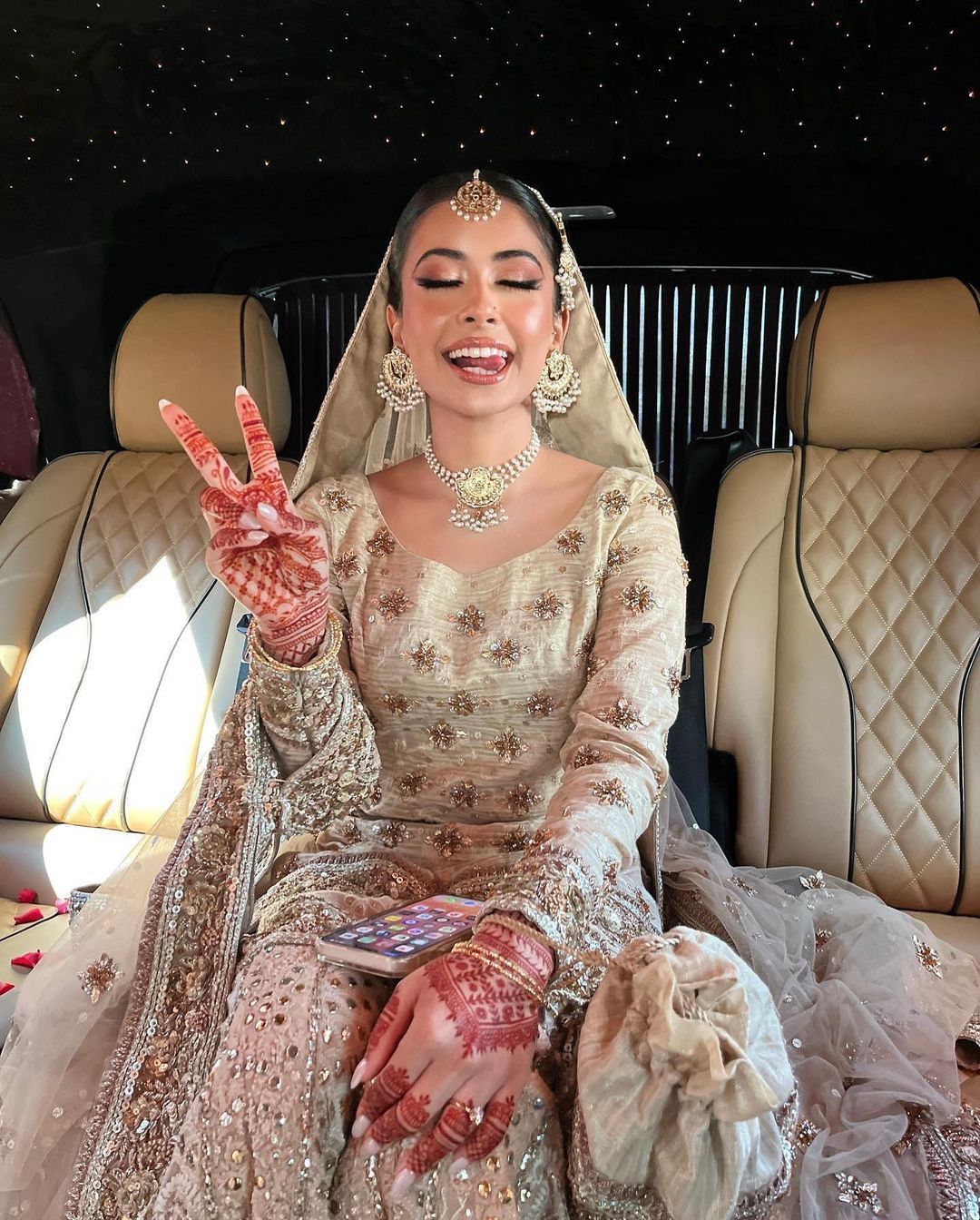 Image via Zunaira Tufail
For brides who want to keep it minimal, this is a great look to take inspiration from!
This Wowza Uncut Diamond Choker With White Chuda And Jhumkis!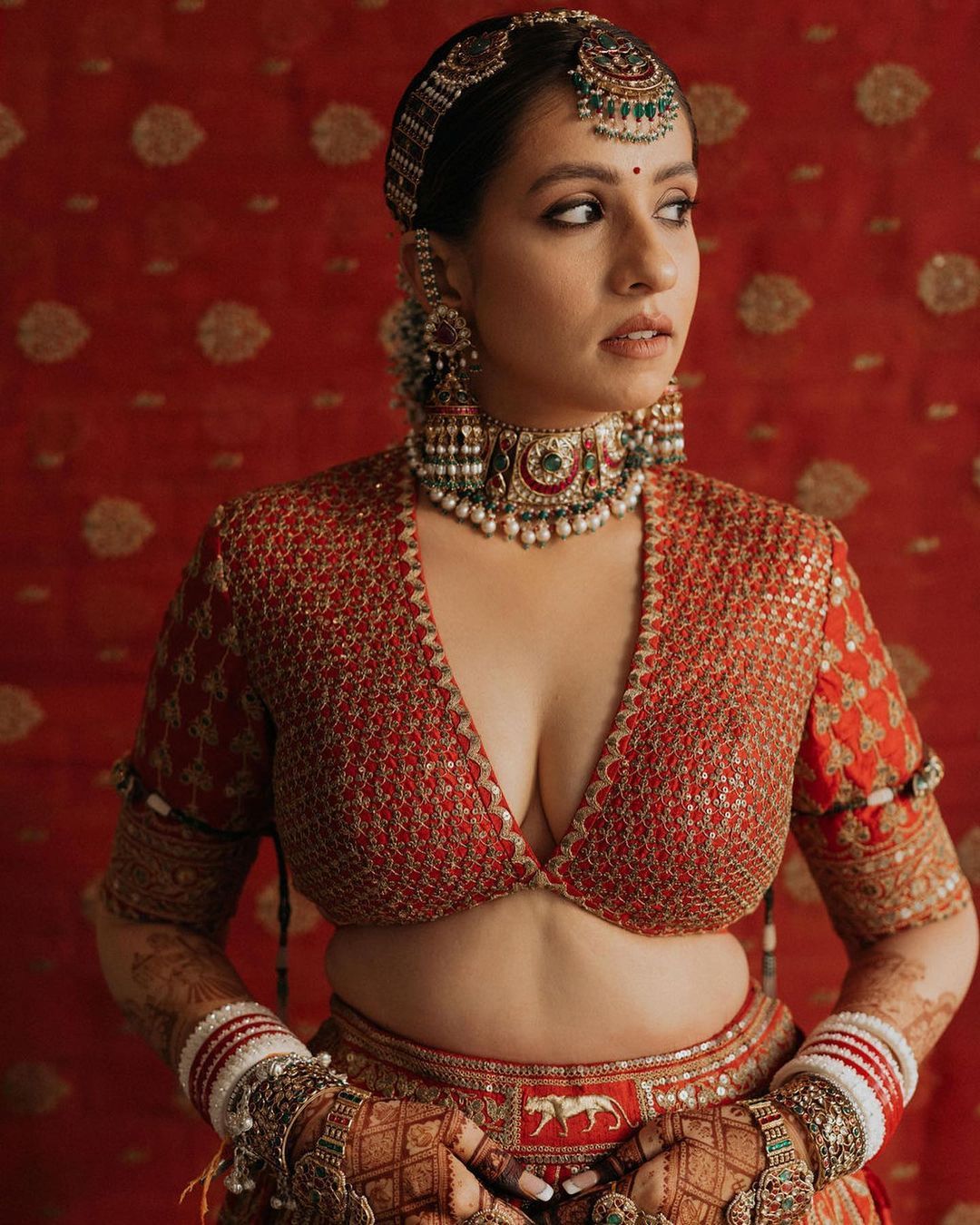 Image via Tanishq and Tanishq
As unique as it gets with this bridal jewellery set.
Totally Loving This Mint Green Choker Set!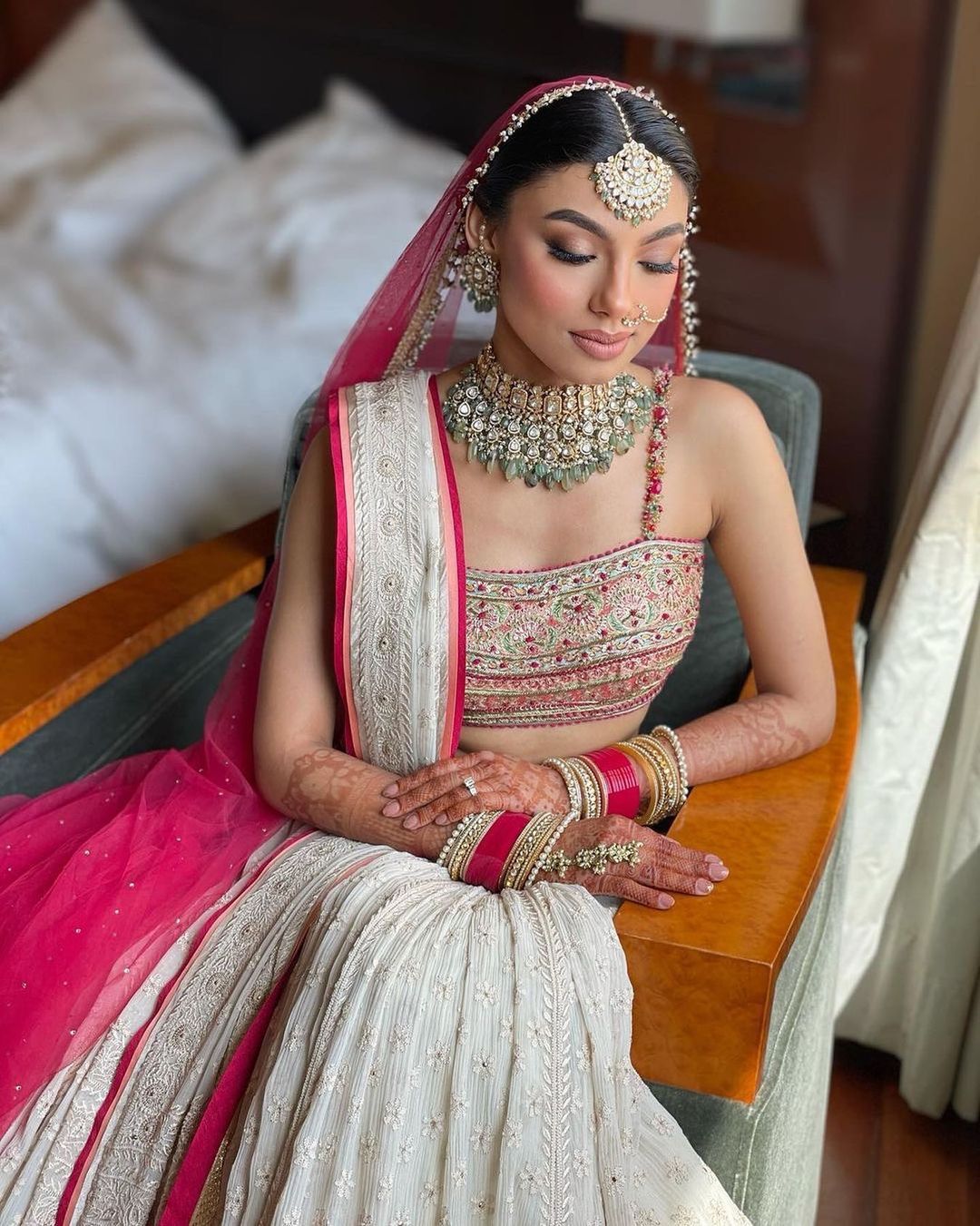 Image via Faces By Chaitali Sengupta★ 4.9
Want to go the pastel route? Take a cue from this mint green necklace set!
Nothing Like This Dainty Diamond And Ruby Necklace Set!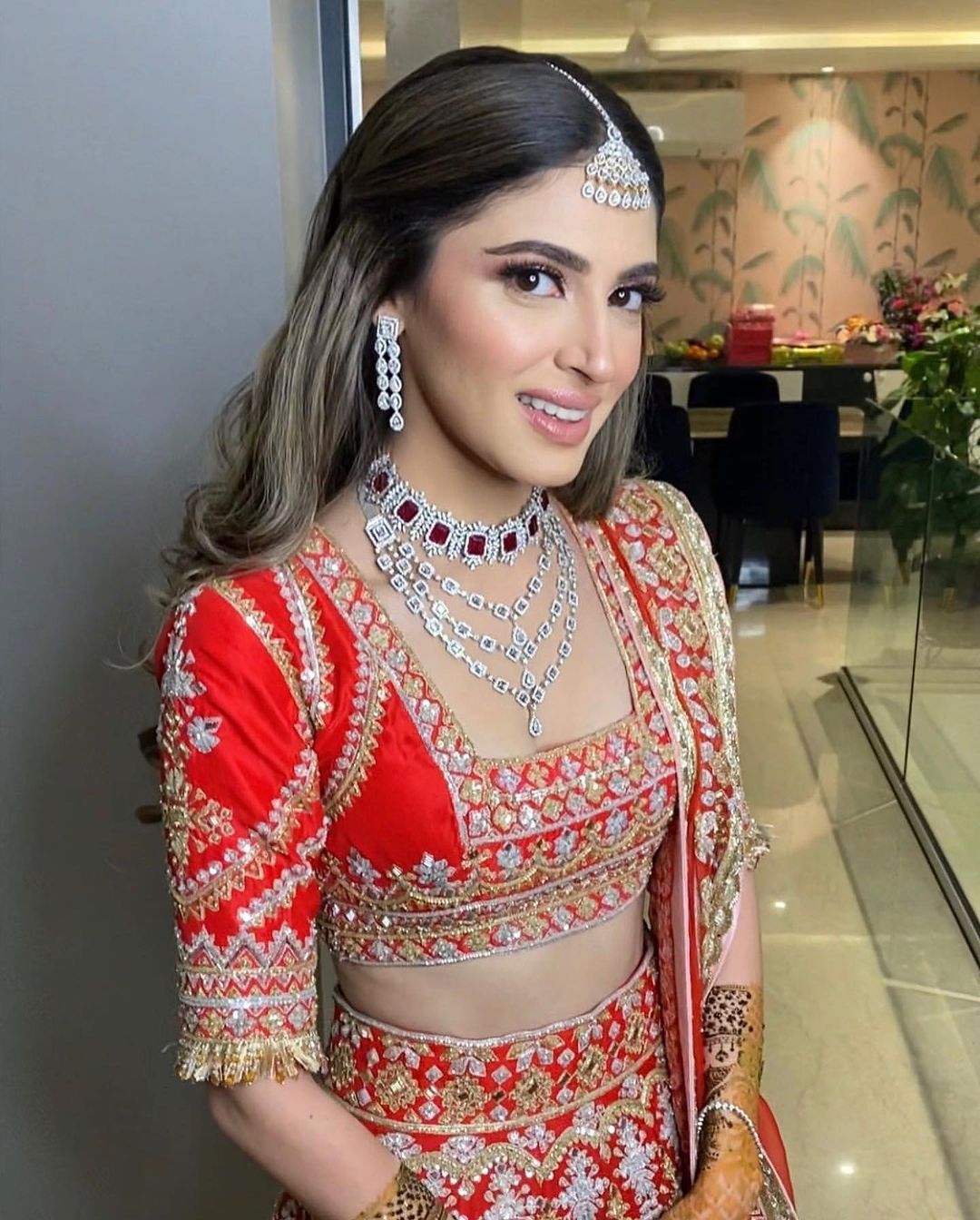 Image via @aanchal.suri
We love how this bride paired the ruby choker with a simpler diamond tri-string necklace.
Play With Colours Like This Bride Did For Her Bridal Jewellery!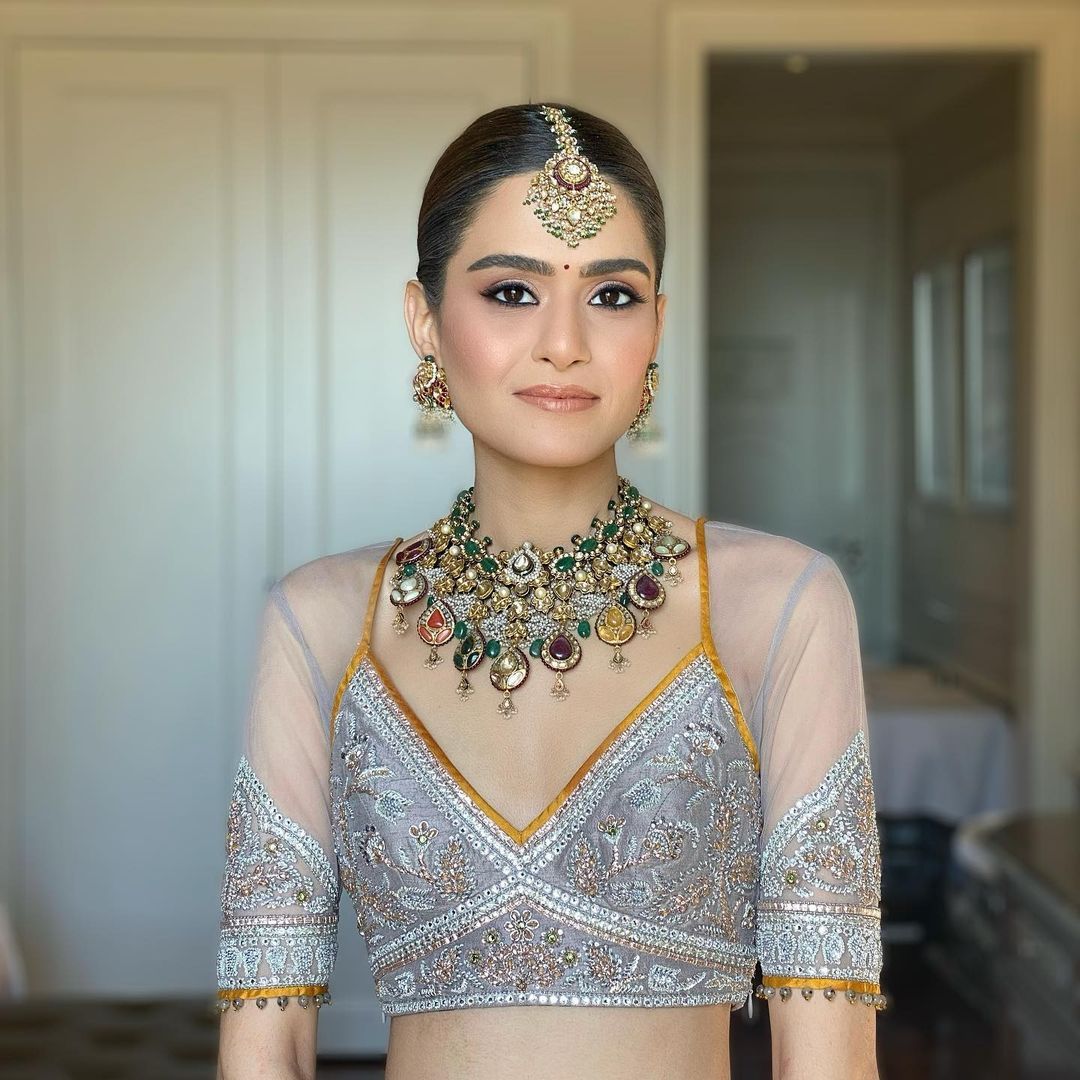 Image via Tanvi Marathe
Perfect to re-wear and style with multiple outfits, this multi-hued set is so dreamy!
Layering Them Right With Pearls and Emeralds!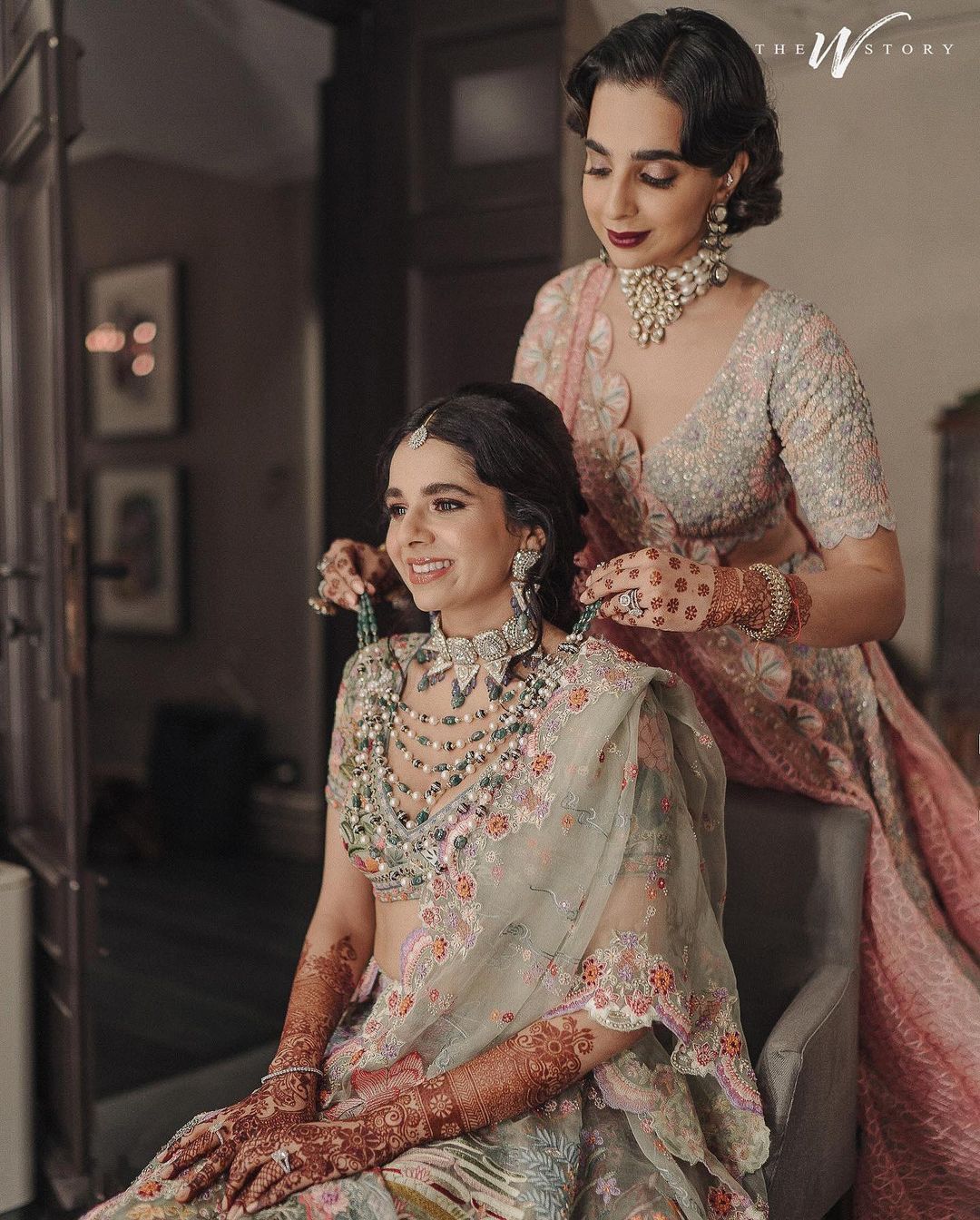 Image via The Wedding Story★ 4.1
Not a fan of diamonds or gold? Take a leaf out of this bride's book who went with pearl and emerald strings along with a diamond choker!
Diamonds Are This Bride's Best Friends!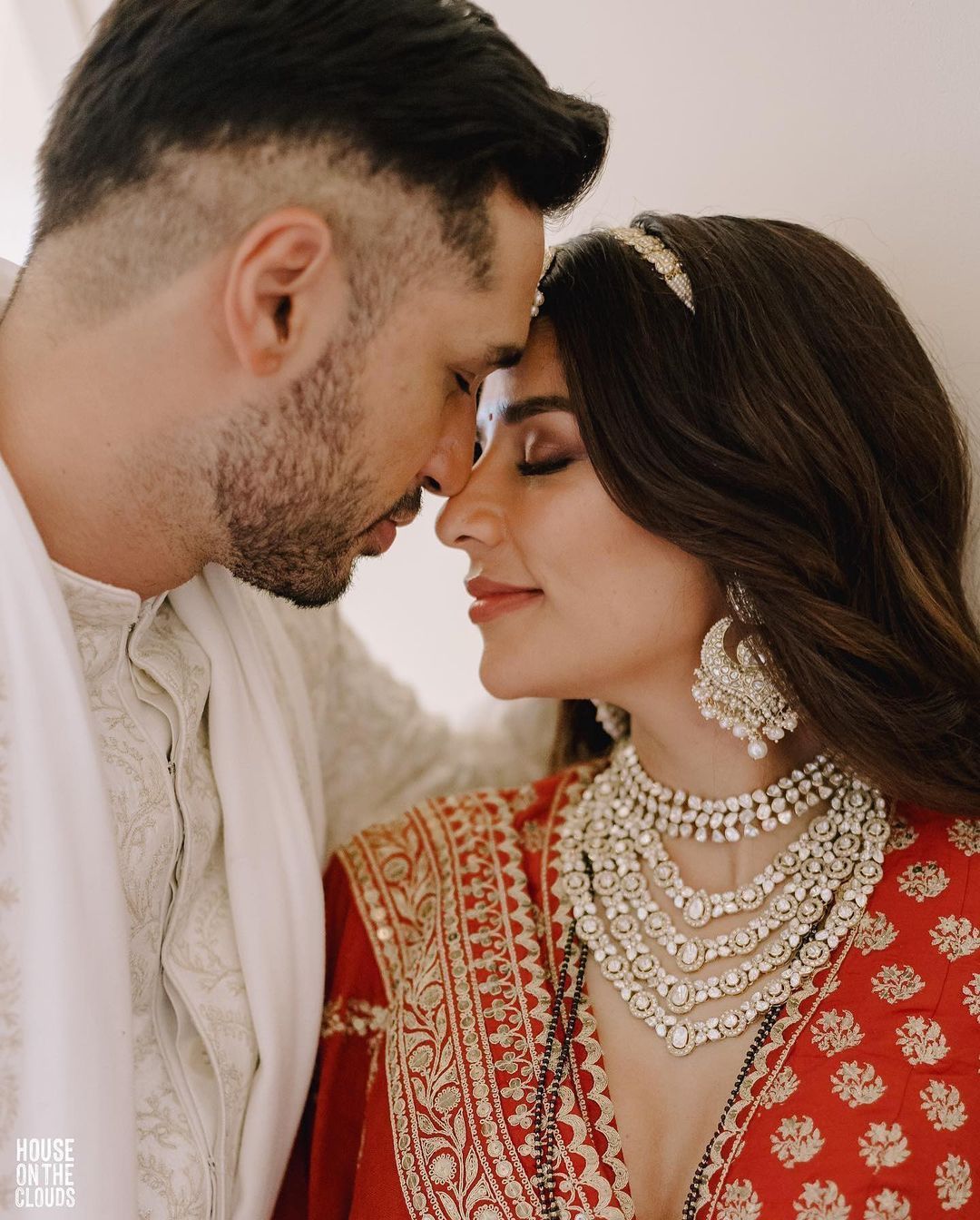 Image via House On The Clouds★ 5
Totally crushing on how this bride layered her diamond jewellery with her matching diamond choker.
This Bride Went With A Guttapusalu For Her Mehendi – So Unique!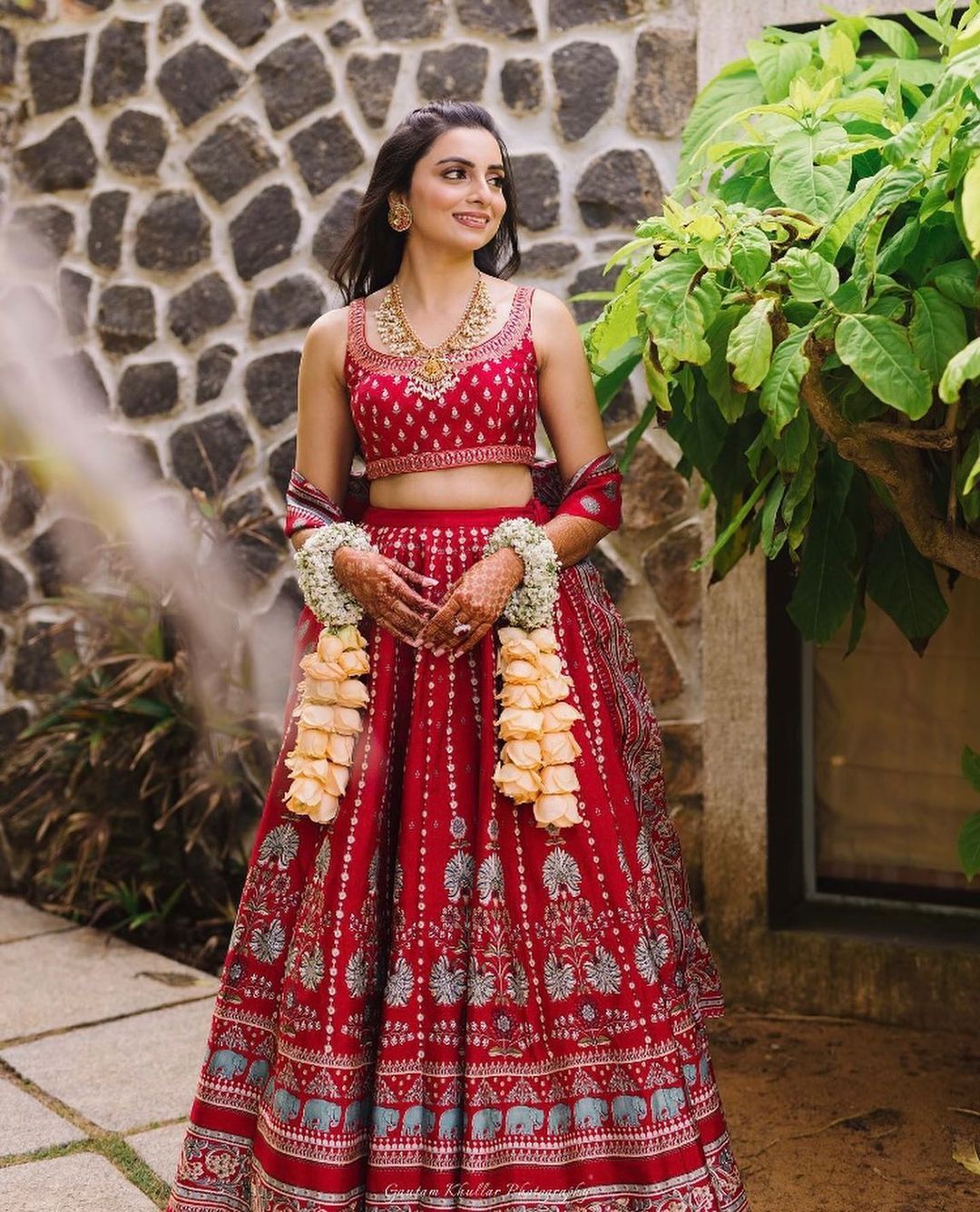 Image via Ishita and Chaitanya
Known to be a traditional South Indian bridal necklace, this bride styled her guttapusalu for her mehendi look instead!
Totally Hearting This Diamond-Emerald Layered Look!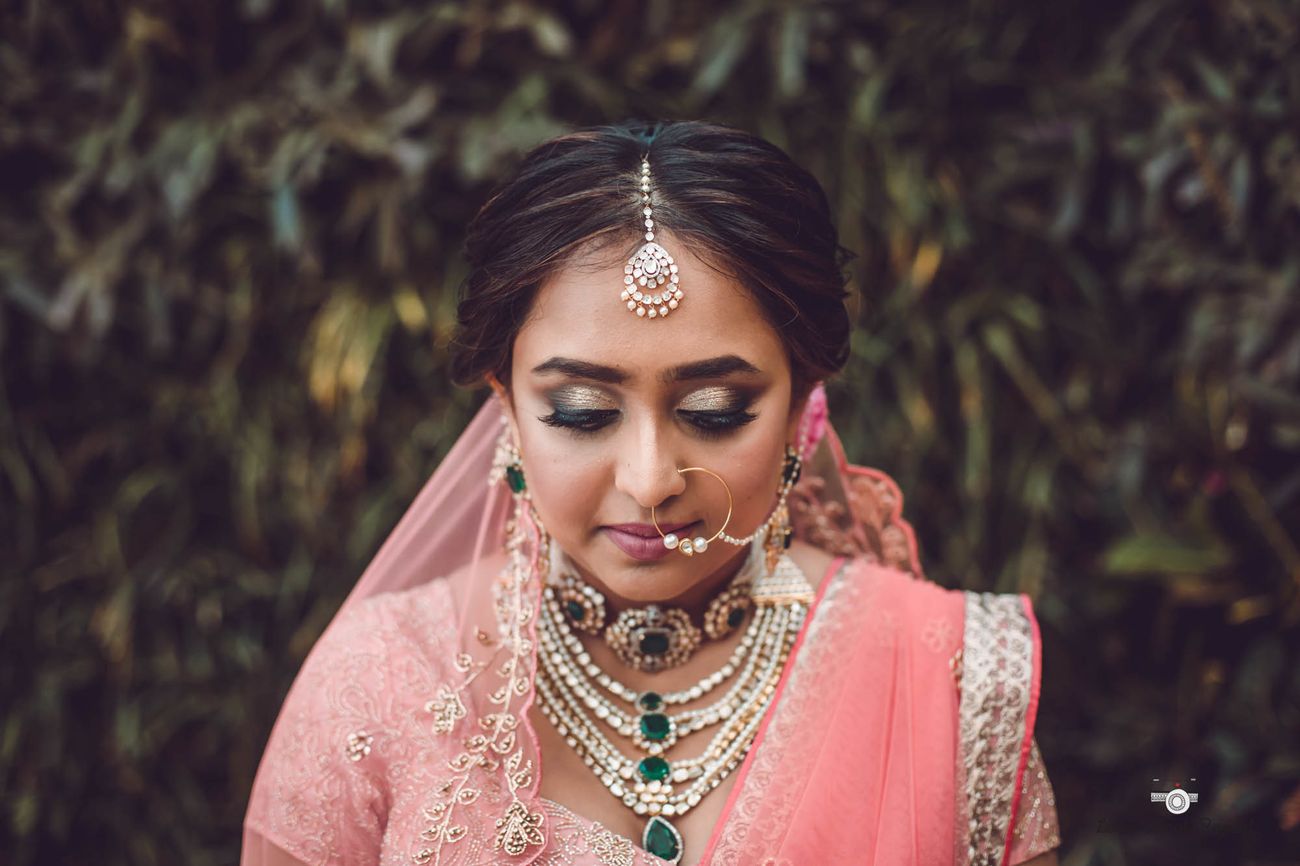 Image via Love.shoot.repeat★ 5
If you are someone who loves her diamonds and emeralds, layering them like this is a great styling hack!
Keeping It Classy With An All-Diamond Look!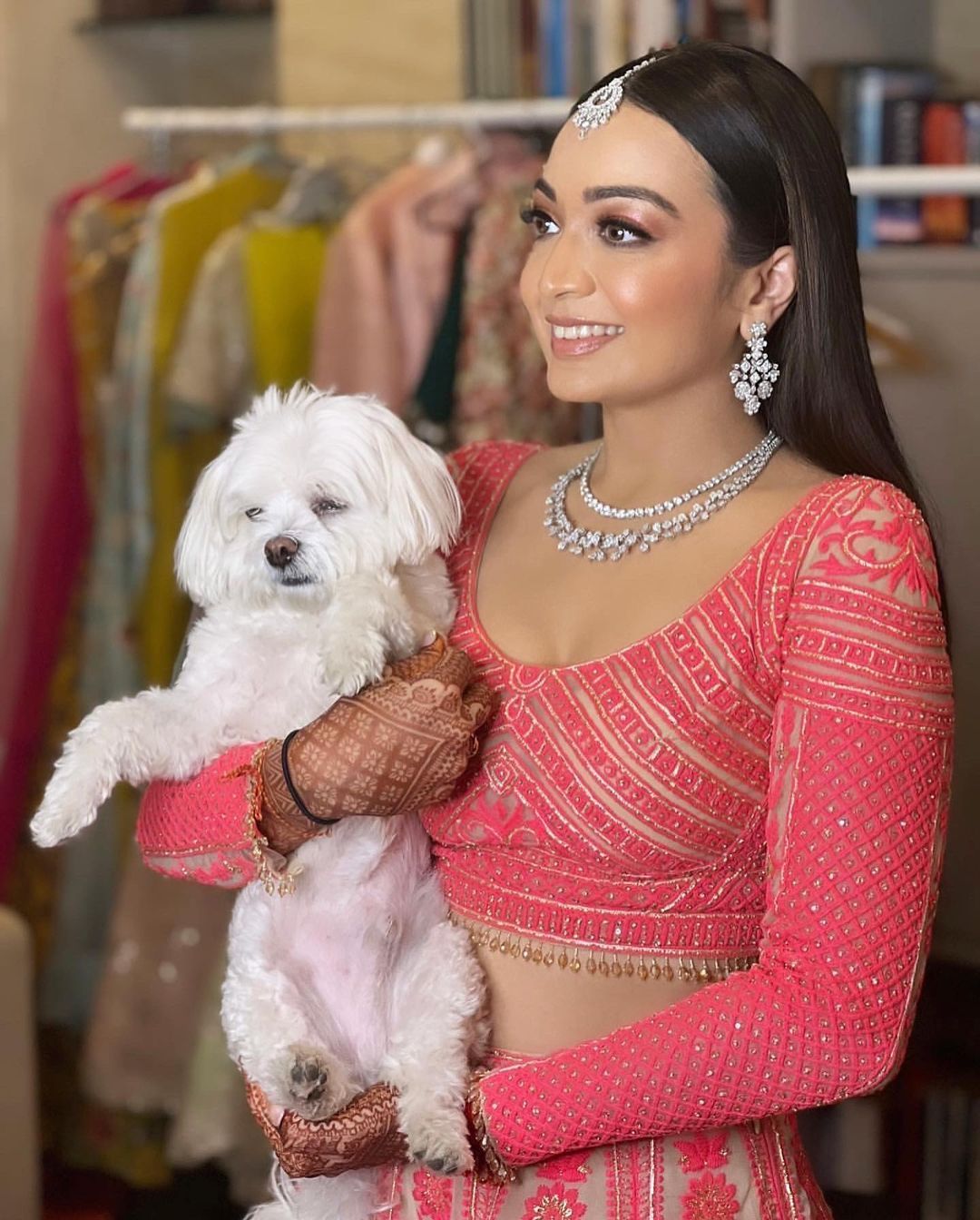 Image viaBianca Louzado Creative Make-up and Hair Design★ 5
We fell in love with how this bride styled her all-diamond look – minimal yet so royal!
Go Statement Like With This Oversized Mangtika And Mini Necklace!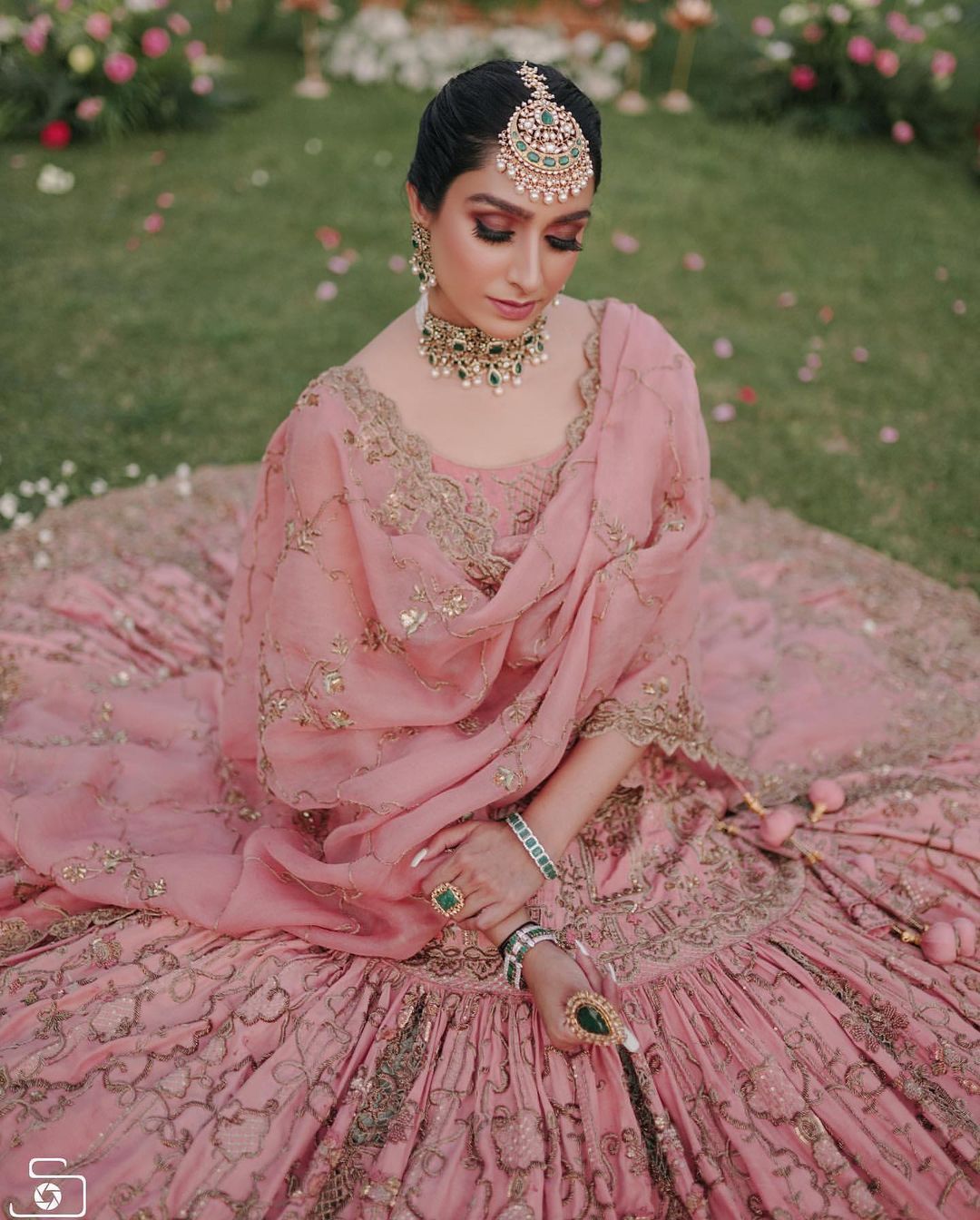 Image via Plumtin★ 4.8
Not a fan of big necklaces? Take inspiration from this bride who went with a statement mangtika and mini necklace.
Double Layered Emerald Look That Is Simply Gorgeous!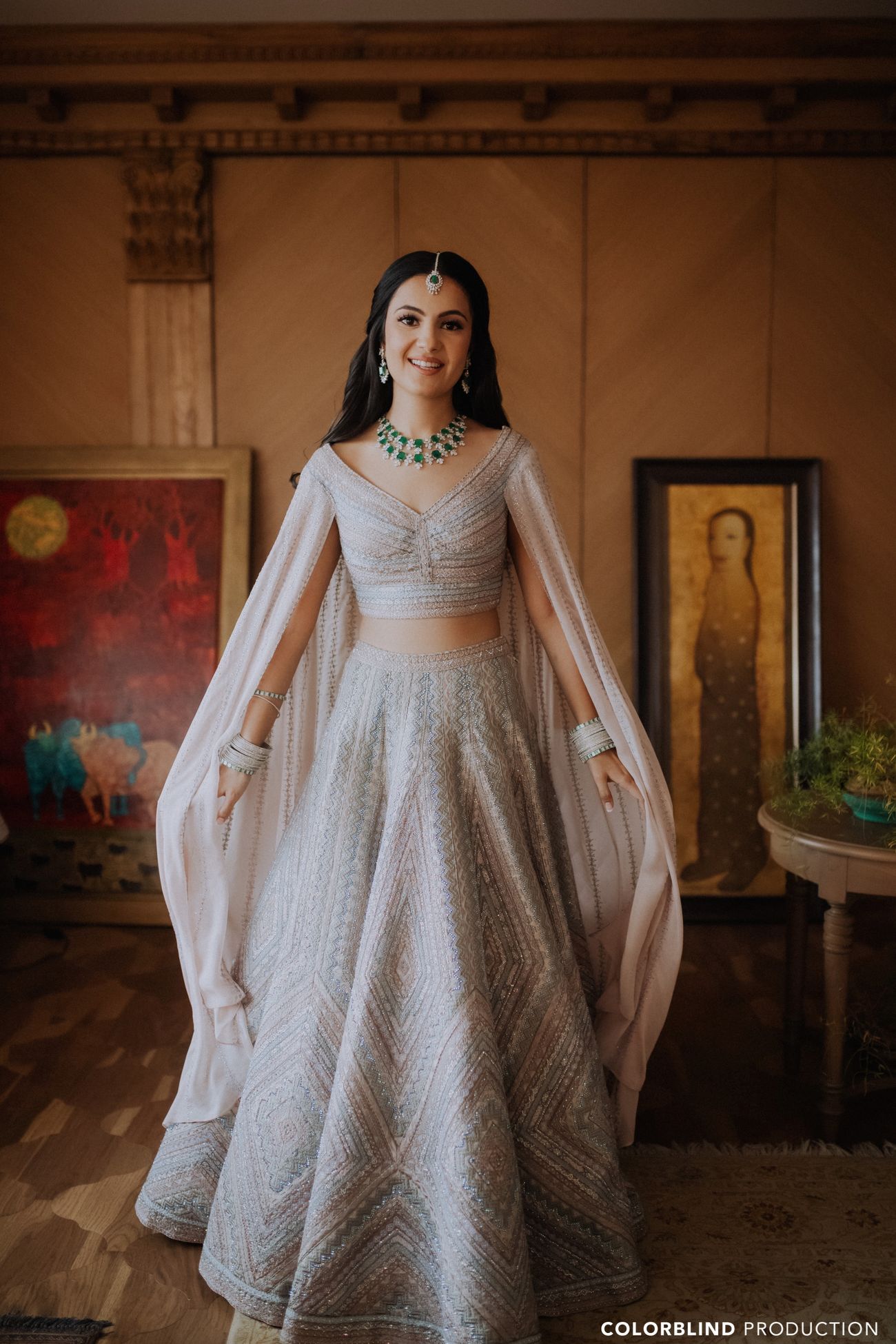 Image via Saba and Ishaan
Keep it in the same colour family with this double-layered emerald choker style necklace!
This Unique All-Gold Look!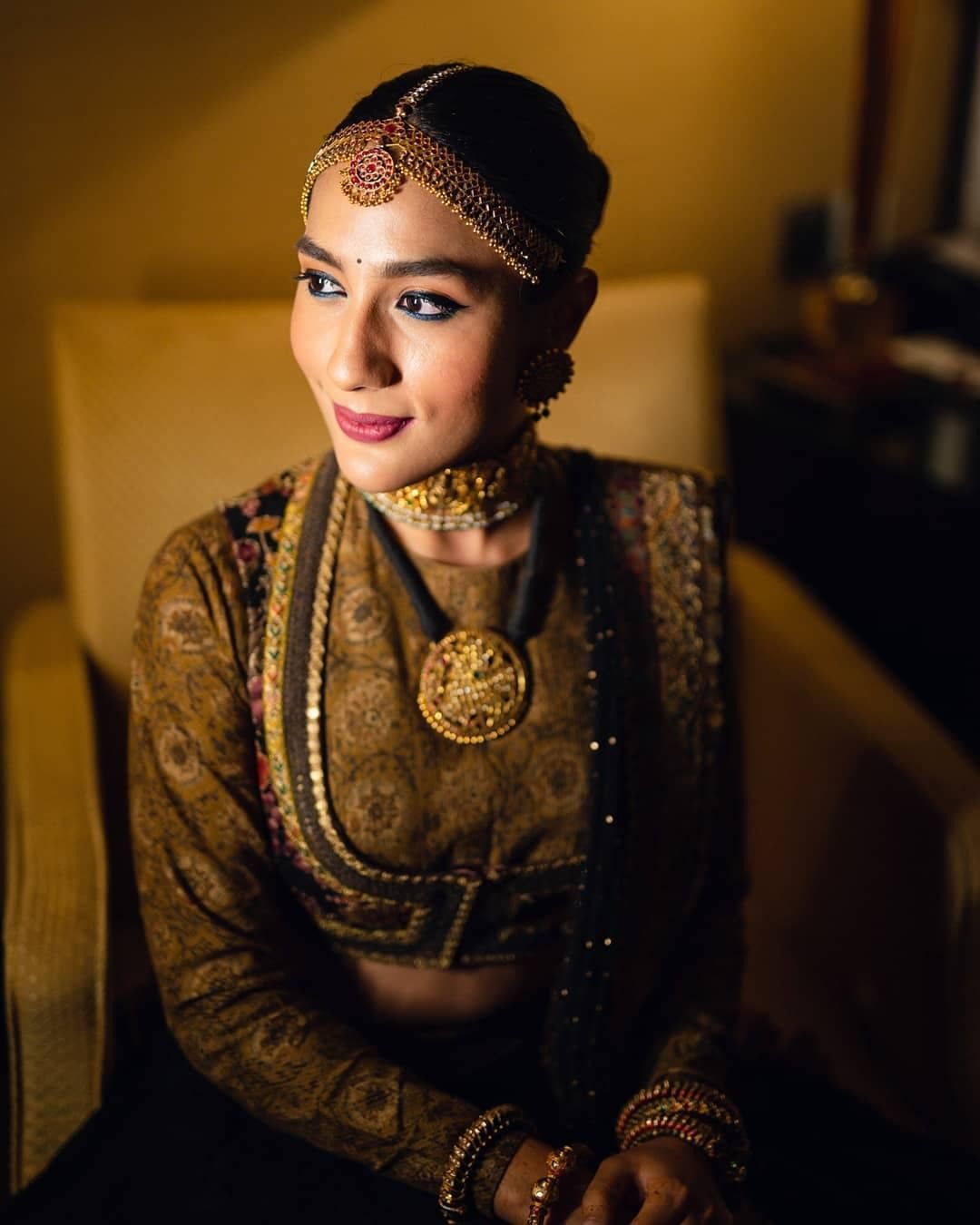 Image via ShotStories by Varun Suresh★ 4.9
Who says gold is boring? This all gold look is such a perfect way to style your gold jewellery!
This Old-School Style Ruby And Diamond Necklace Is So Dreamy!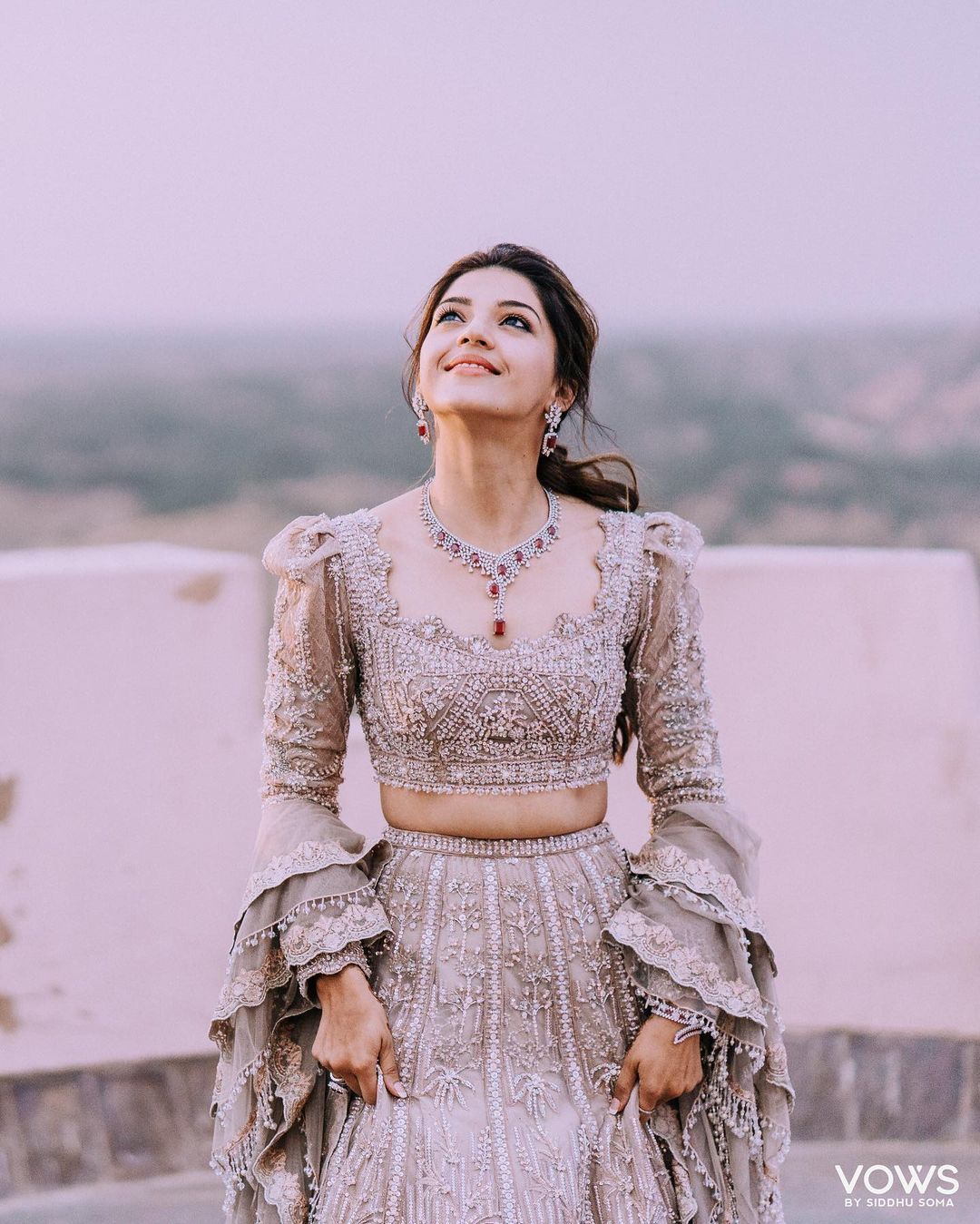 Image via Mehreen Pirzada
Looking for a bridal set that you can pass down to your daughter as heirloom? Say yes to this beautiful set!
Emerald Love!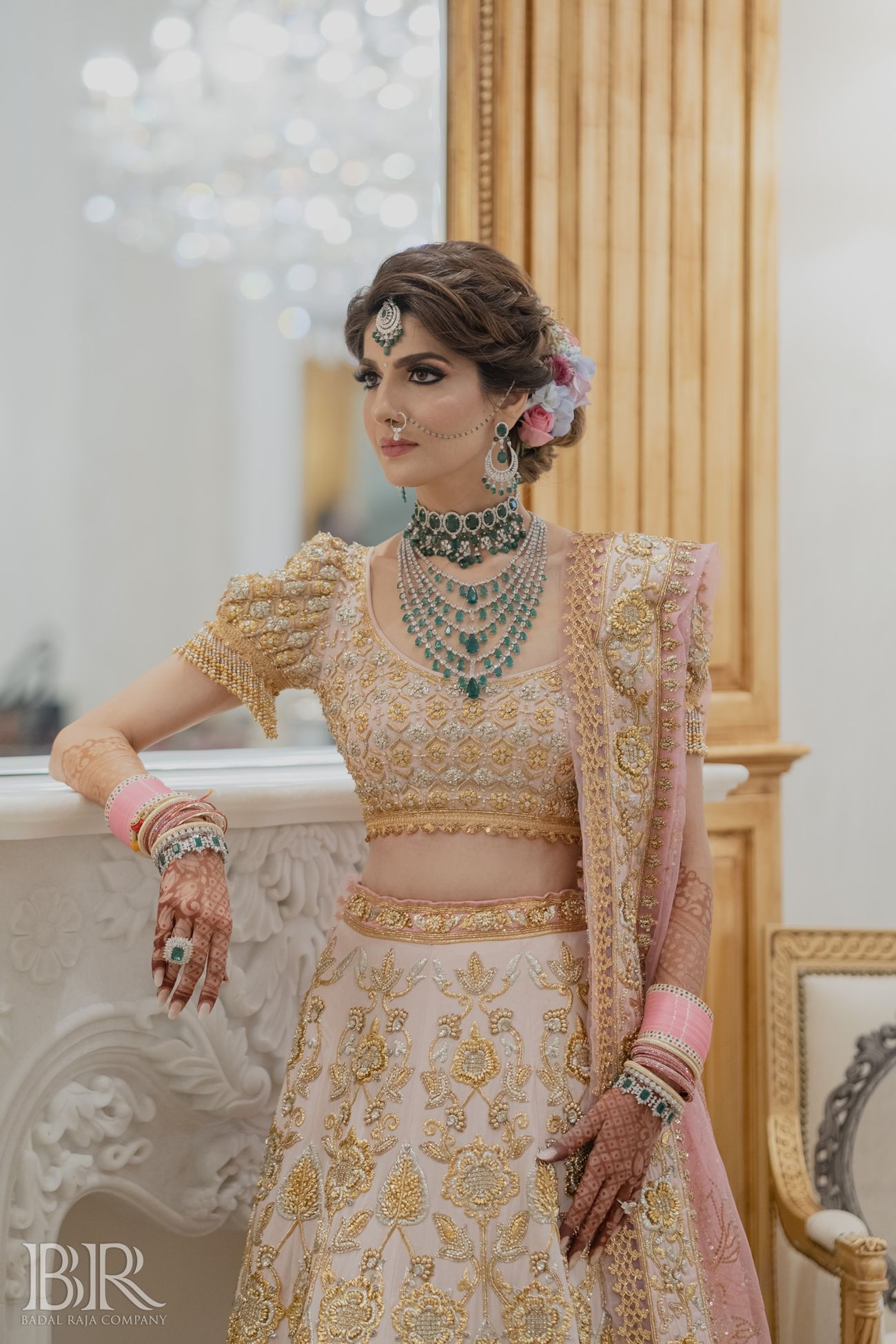 Image via Neha and Saurabh
This bride's love for emeralds is clearly seen in this beautiful all-emerald jewellery look!
This one that's just so darn stunning!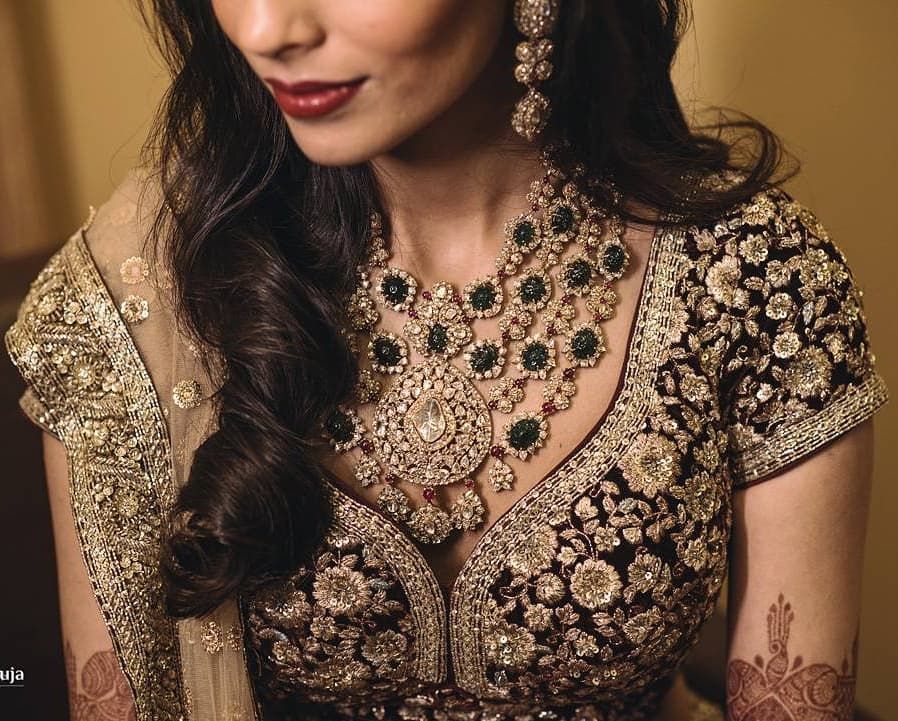 Image via Aviraj Saluja
Now that's one heck of a stunning necklace- so so glam and gorgeous!
This bride's offbeat tribal style jewellery which was so different!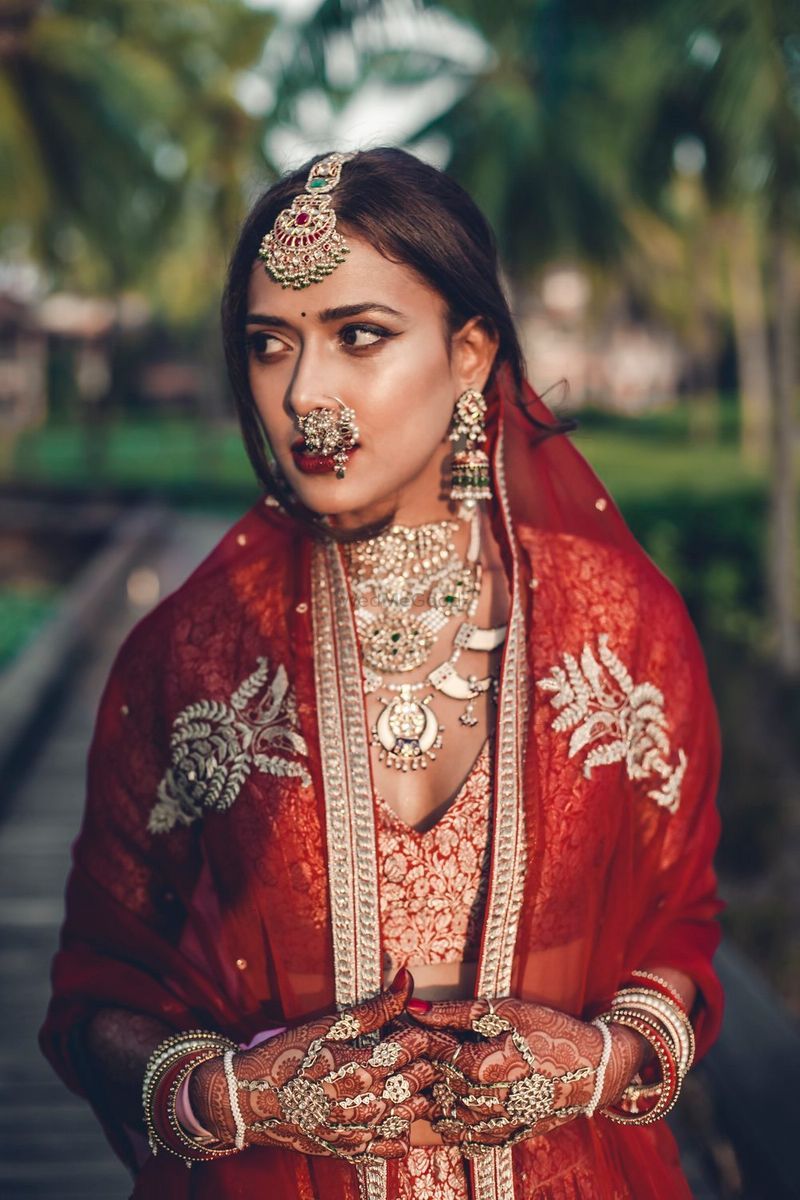 Image via Sanaa and Parth (Goa)
Now that is one bride who did things differently! How unique is her tribal-style jewellery!
This pretty meenakari meets polki one that's gorg!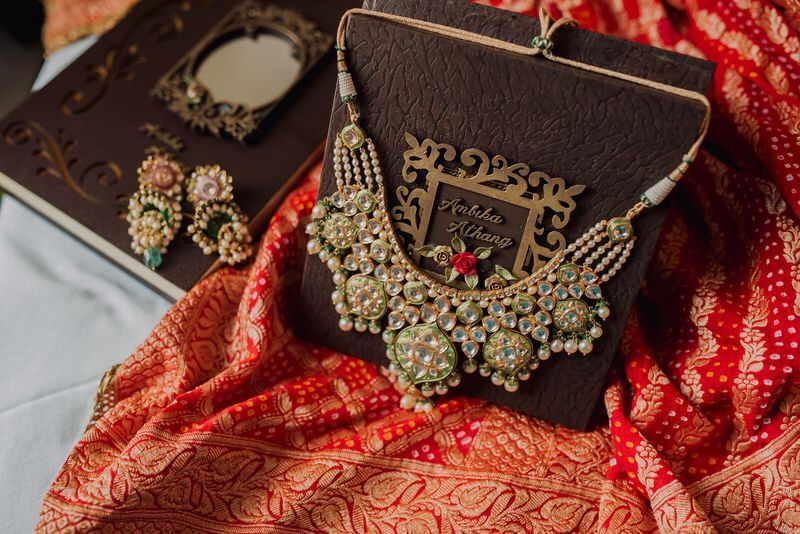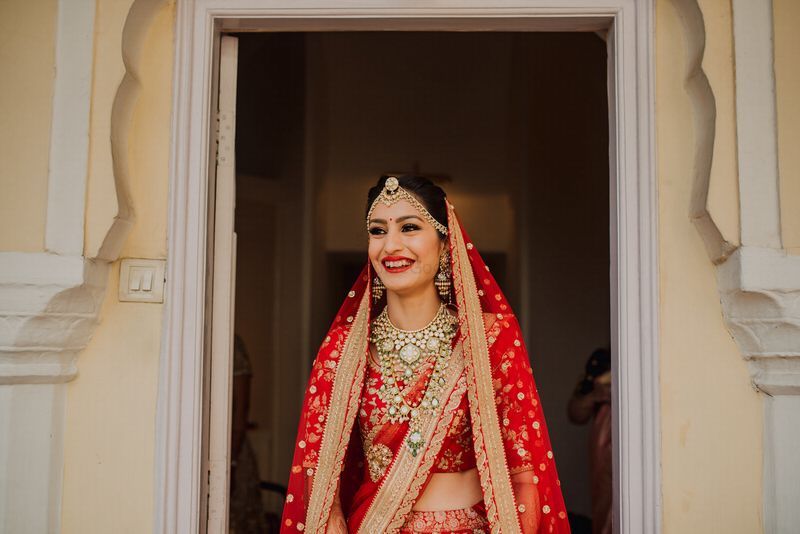 Image via Ambika and Athang (Jaipur)
Now that is one pretty bridal set- so subtle but still contrasting!
This one in green that made such a statement!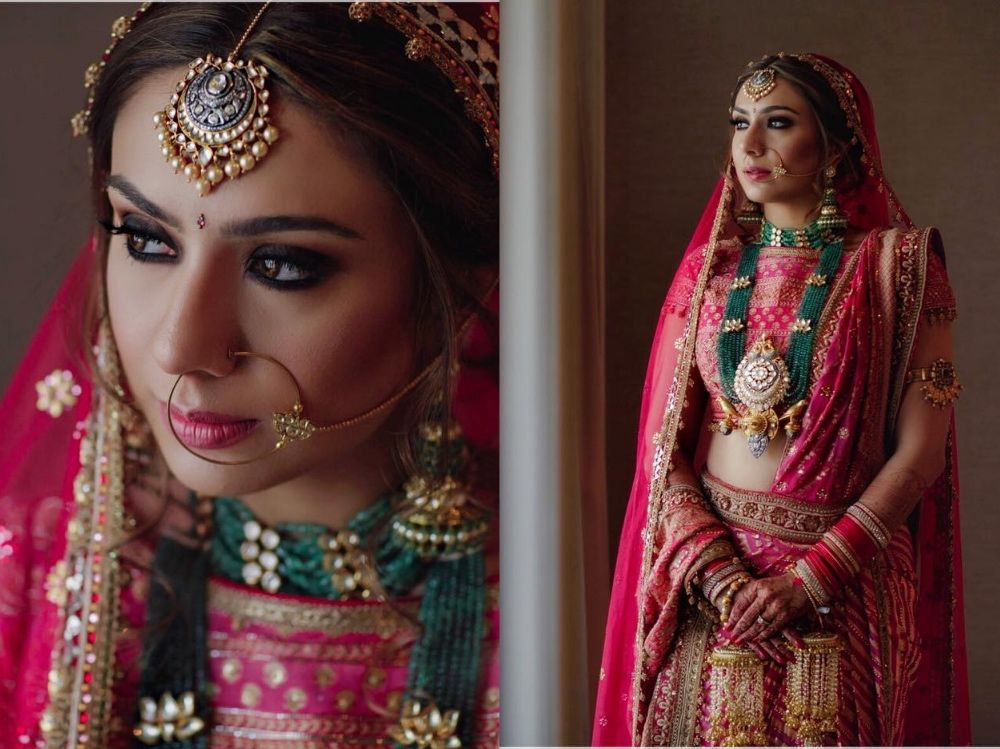 Image via Pooja Khurana Makeovers★ 4.8
How glam is that necklace with that lehenga saree?
Or this one who's jewellery had a tint of purple?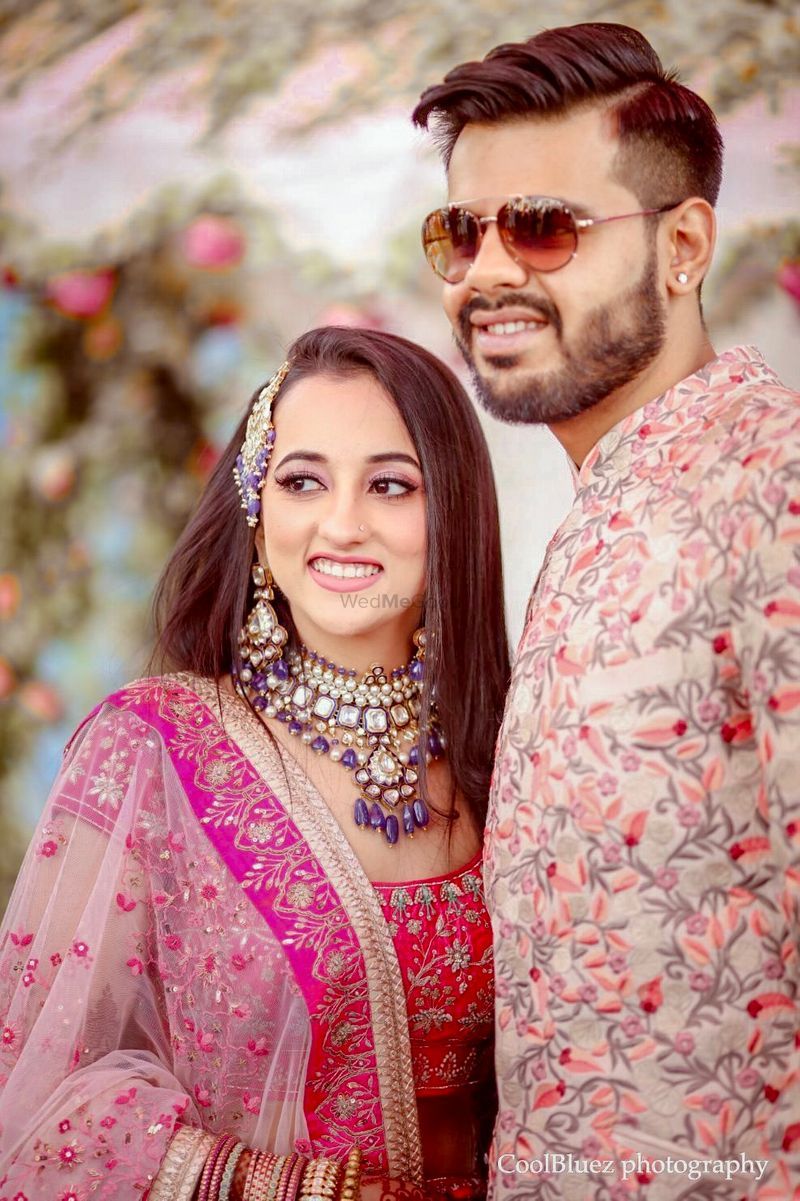 Image via CoolBluez Photography★ 4.8
Not very often do you get to see brides pick purple as a hue for jewellery, but this one did and it stood out so well!
These brides who went for an all-diamond look!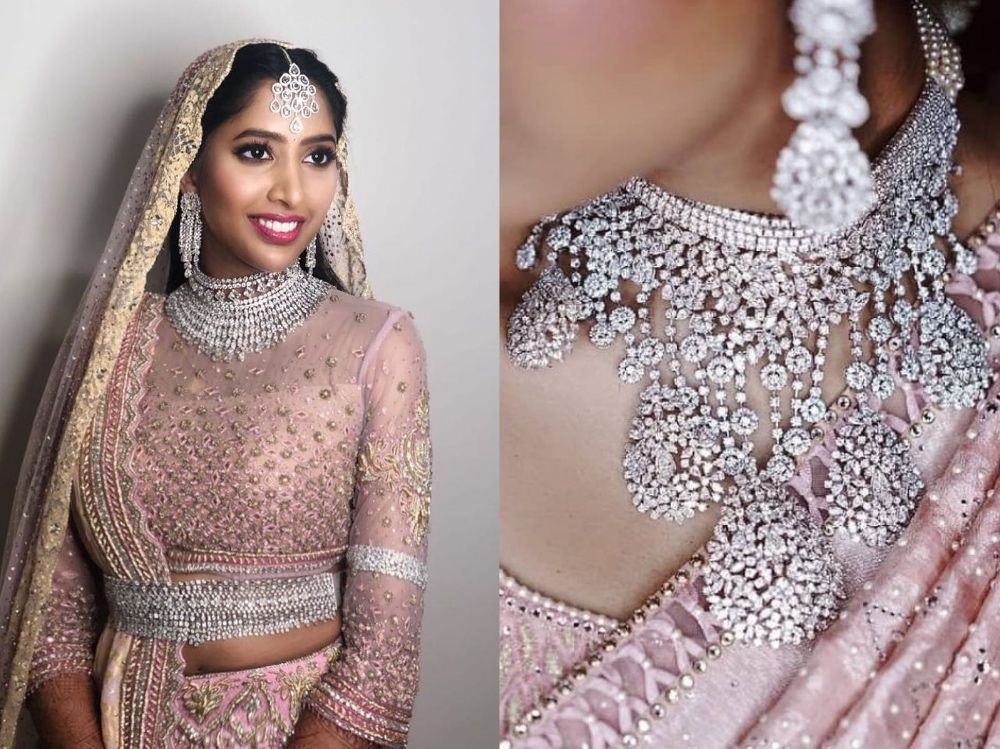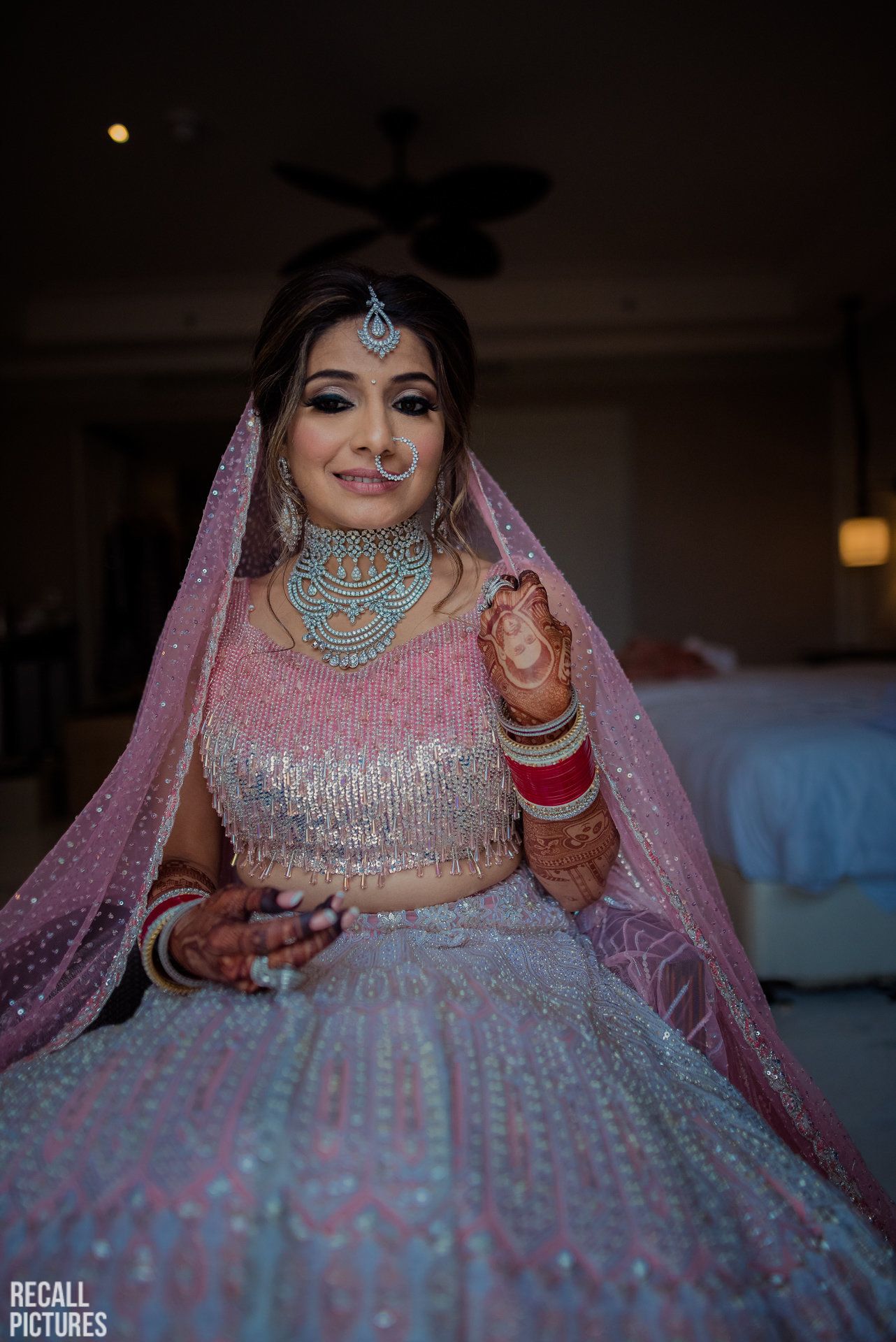 Image via Shriya Bhupal's Wedding and Silky and Sarvesh (Jaipur)
All diamonds and nothing else- right from their necklace and earrings to their maangtikka and even the Nath!
This bride's bold and offbeat choice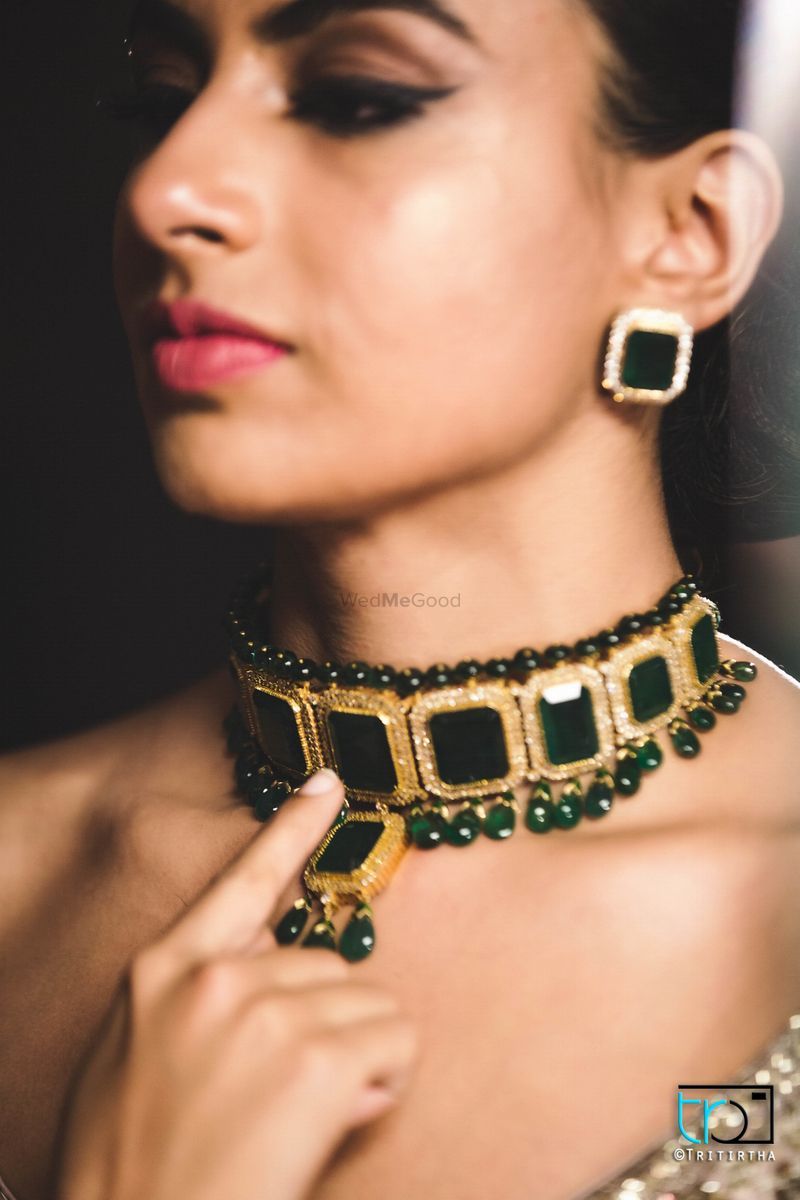 Image via TR Photography
Now that's one bold and beautiful choice!
Or this one that has such a pretty design and that unique hue of green!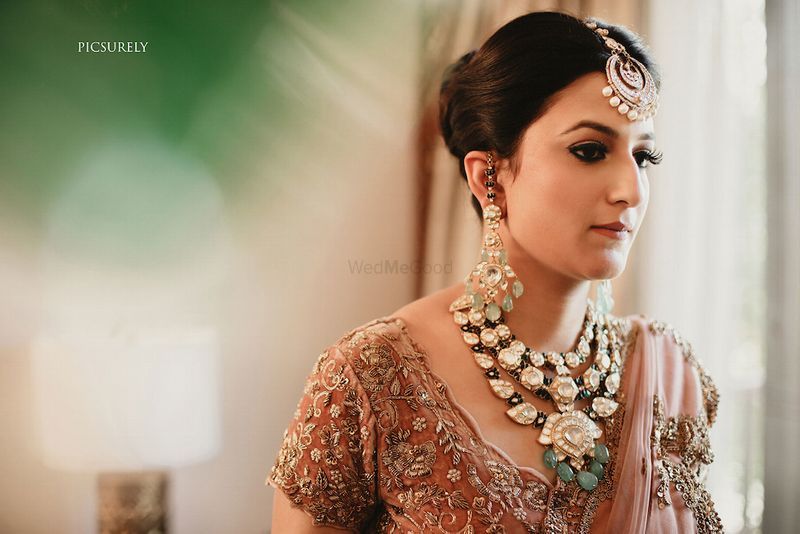 Image via Ninotchka & Angad (Udaipur)
How gorgeous is the design on that? Love that light shade of green too!
This bride's striking bib necklace with those massive pearls!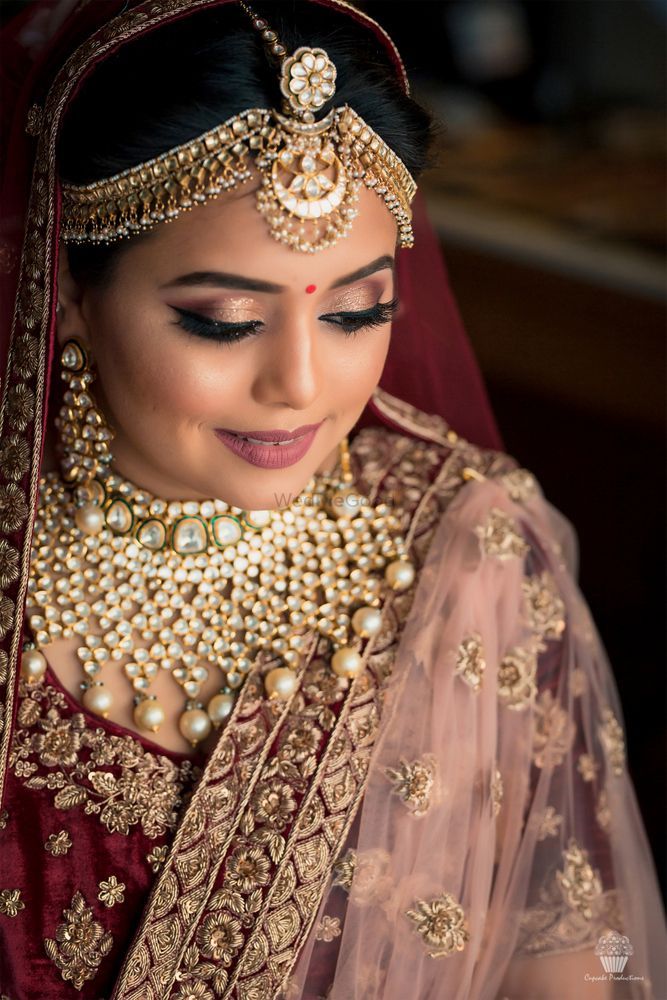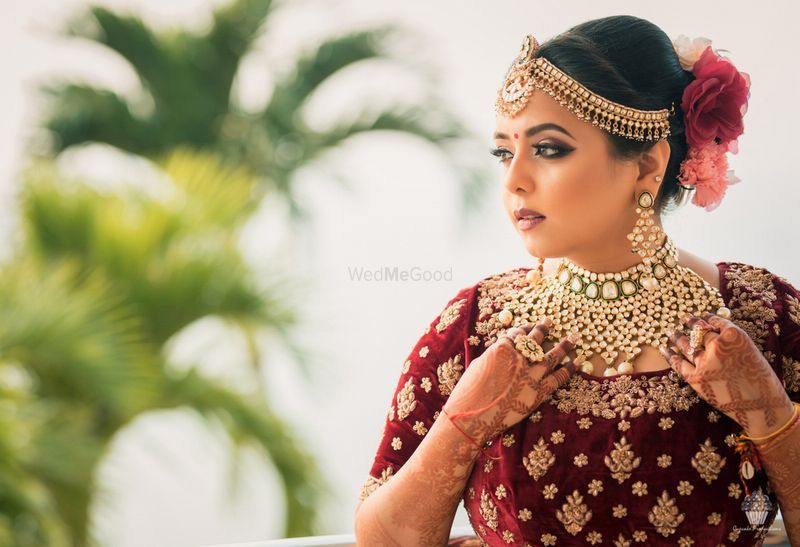 Image via Aman & Nupur (Thailand)
Such a unique one that is! Really stands out!
This bride's heirloom jewellery that was so different!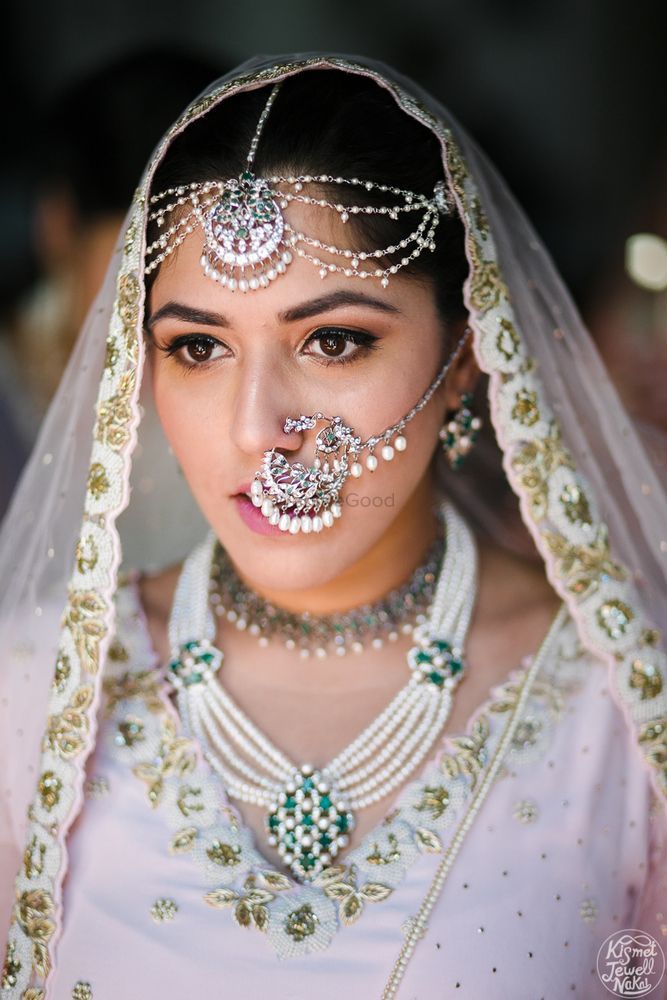 Image via Nina & Avi (Chandigarh)
Love how it's mixed and matched!
This one who wore a nice twist on the usual temple jewellery!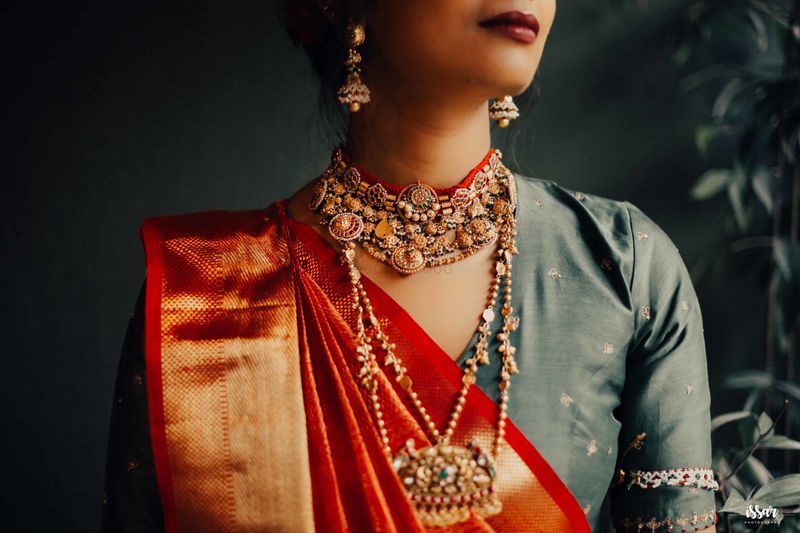 Image via Shambhavi & Sudharshan (Bangalore)
Temple jewellery done with a twist that's just right!
This one with the pop of colour!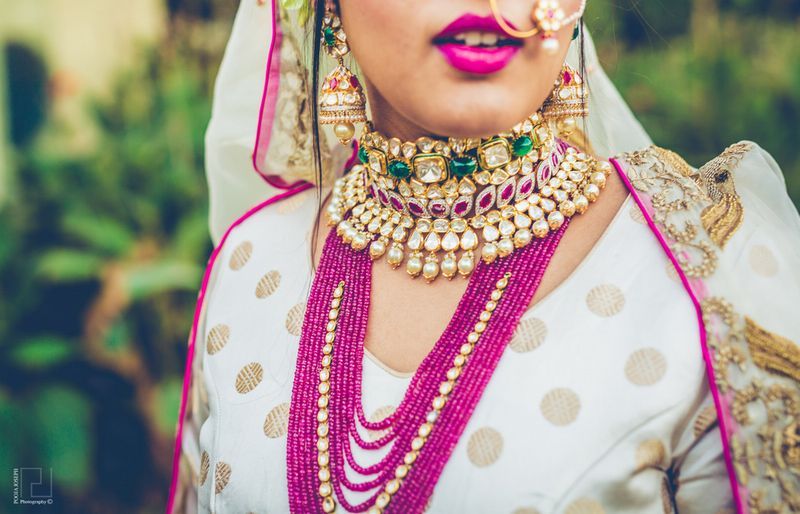 Image via Aashna & Uneesh (Baroda)
So much colour, but still works so well!
This one's gorgeous necklace that had us the minute we saw it!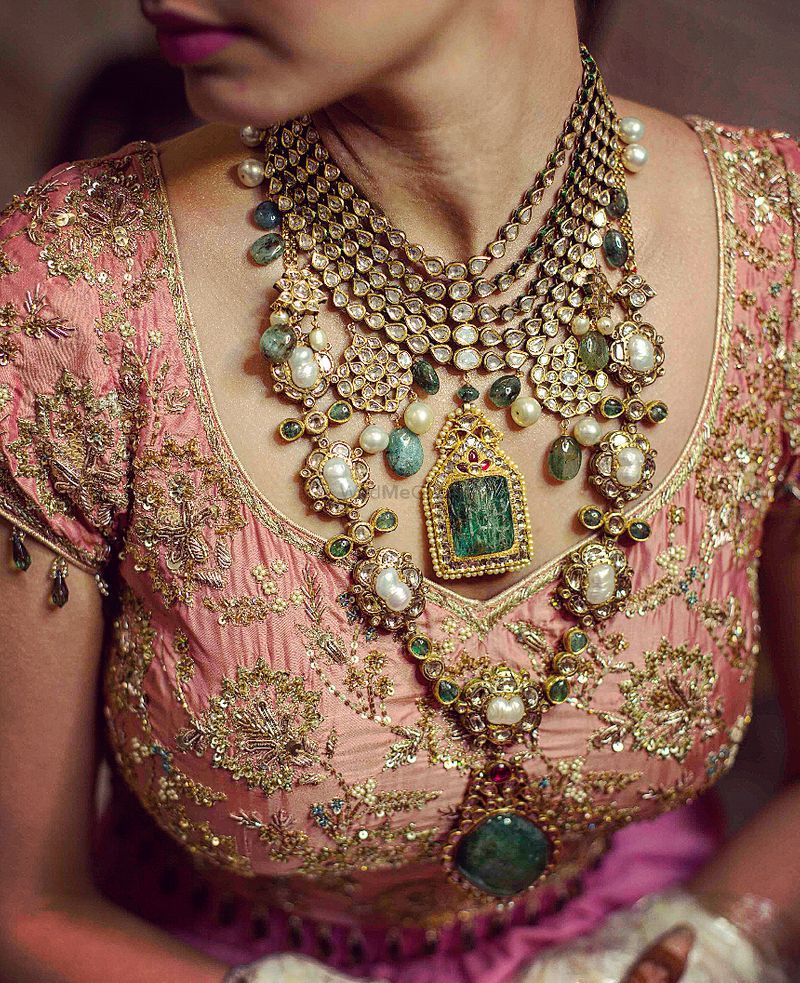 Image via Shimareet & Manav (Delhi)
Like wow! So so pretty and unique!
This bib necklace that grabs all the attention!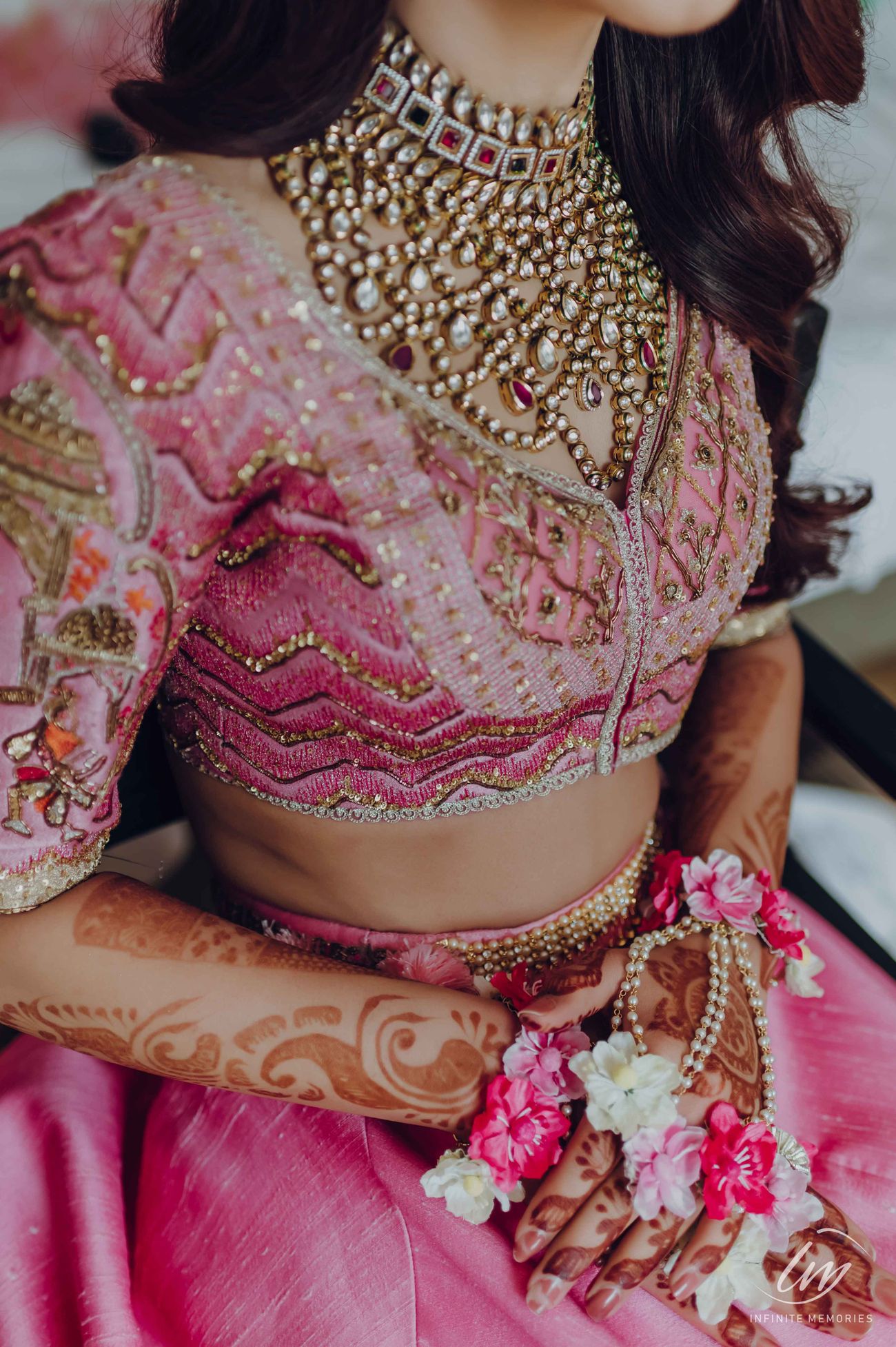 Image via Malika & Akshay
Who would say 'No' to this offbeat masterpiece?
This eccentric fusion of uncut polkis, emeralds & pearls!
Image via Colorblind Production★ 4.6
Infuse two colours in your bridal jewellery for double the charm, just how this bride did!
This pastel enameled haar with cascading details!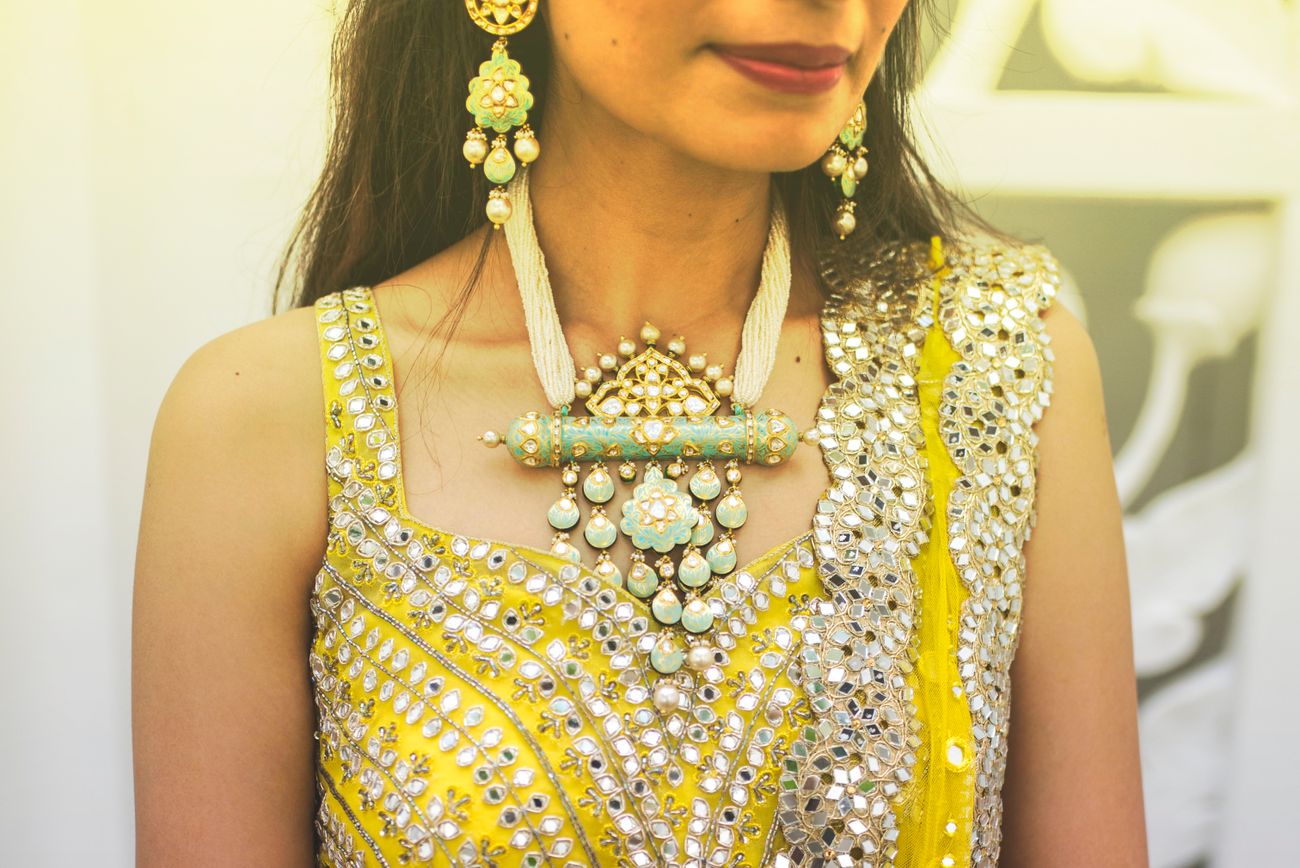 Image via Tunisha & Siddhant
Colour blocking done right! What are your thoughts about this show-stopping piece?
This one that grabs 'em eyeballs from a distance!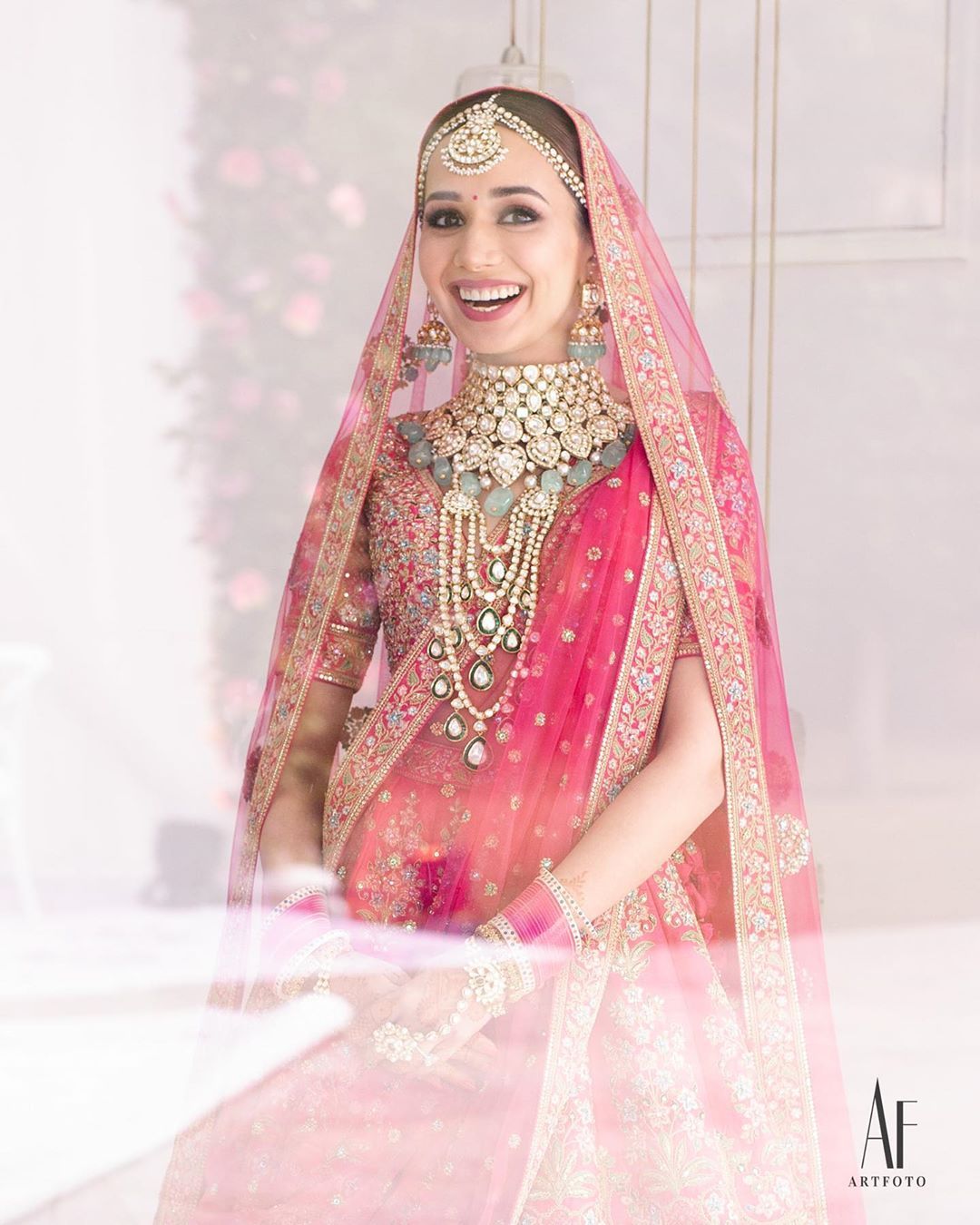 Image via Artfoto Studios★ 5
We have our eyes set on this larger-than-life polki necklace detailed with powder blue droplets.
This one is apt for the fans of multicoloured jewellery!
Image via @giusmarano + @monicaleggioweddings; Jewellery by @sabyasachijewelry
Love that beautiful play of unique colours in her bridal necklace!
This princess necklace that looks vintage!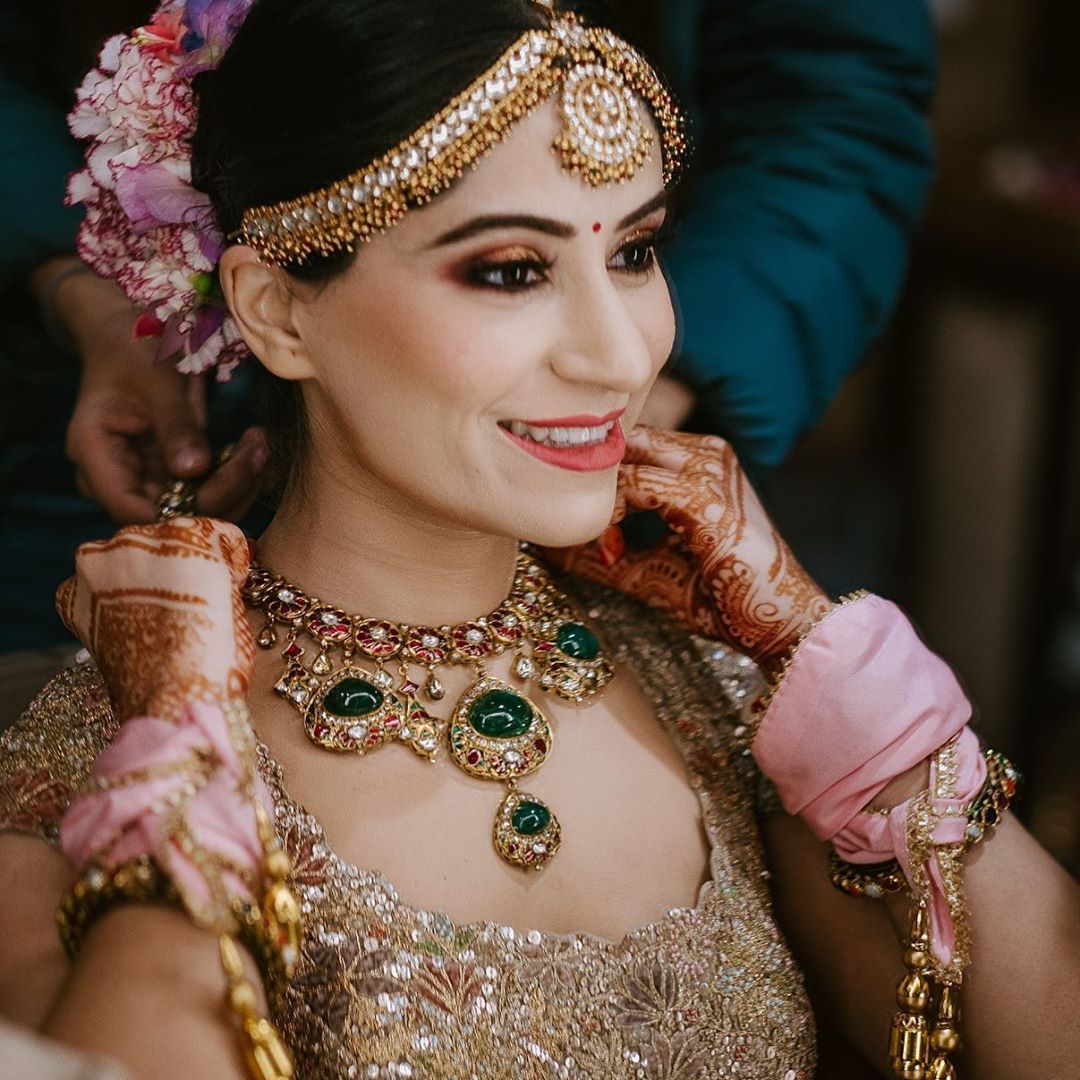 Image via Misha Vig Makeup Studio★ 4.9
Simple with a touch of old-world charm is what best describes her bridal jewellery!
This choker necklace that isn't your usual type!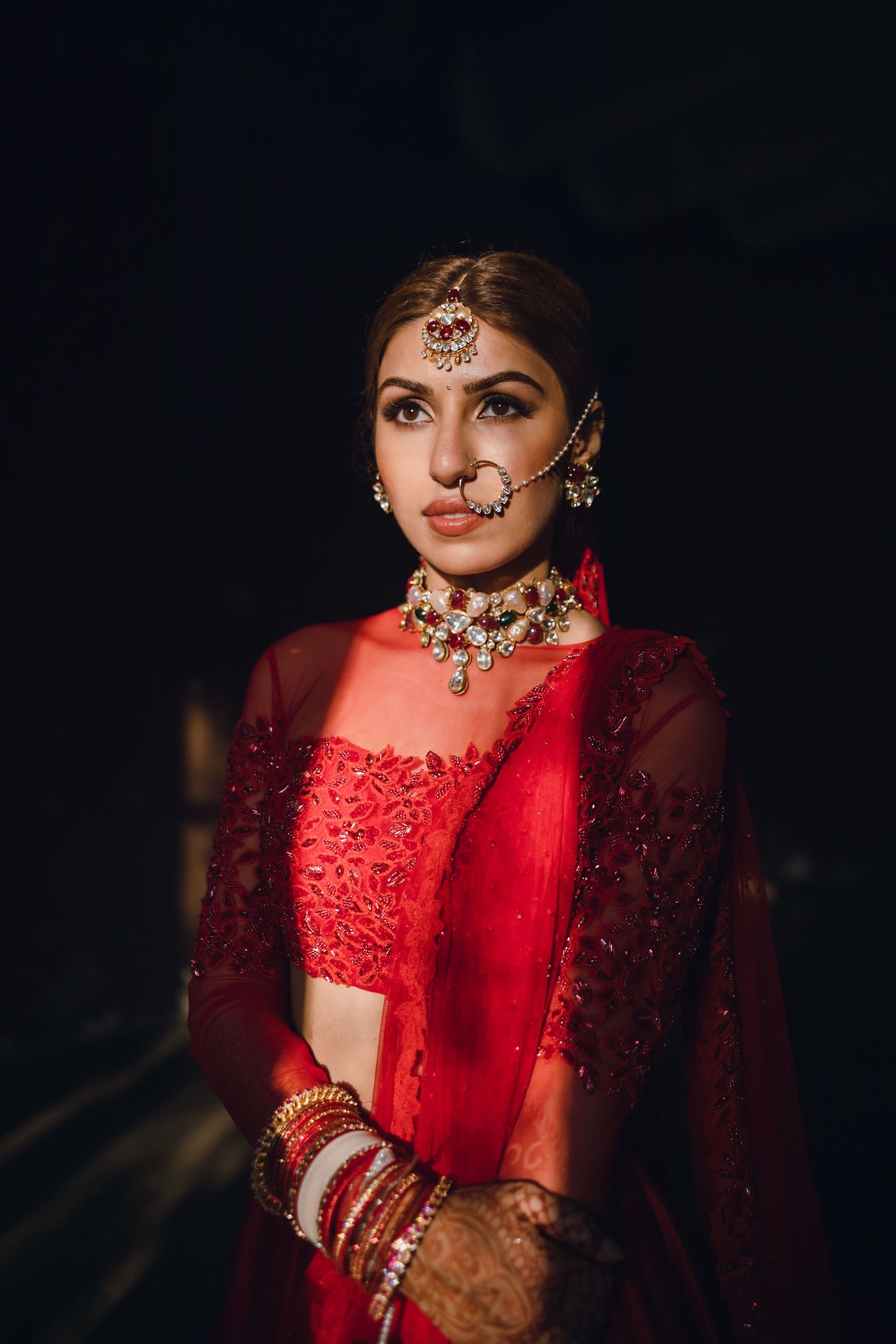 Image via Shloka Khialani★ 5
Adding this dainty piece to our wishlist too!
This one that can work like wonders for all the OTT brides!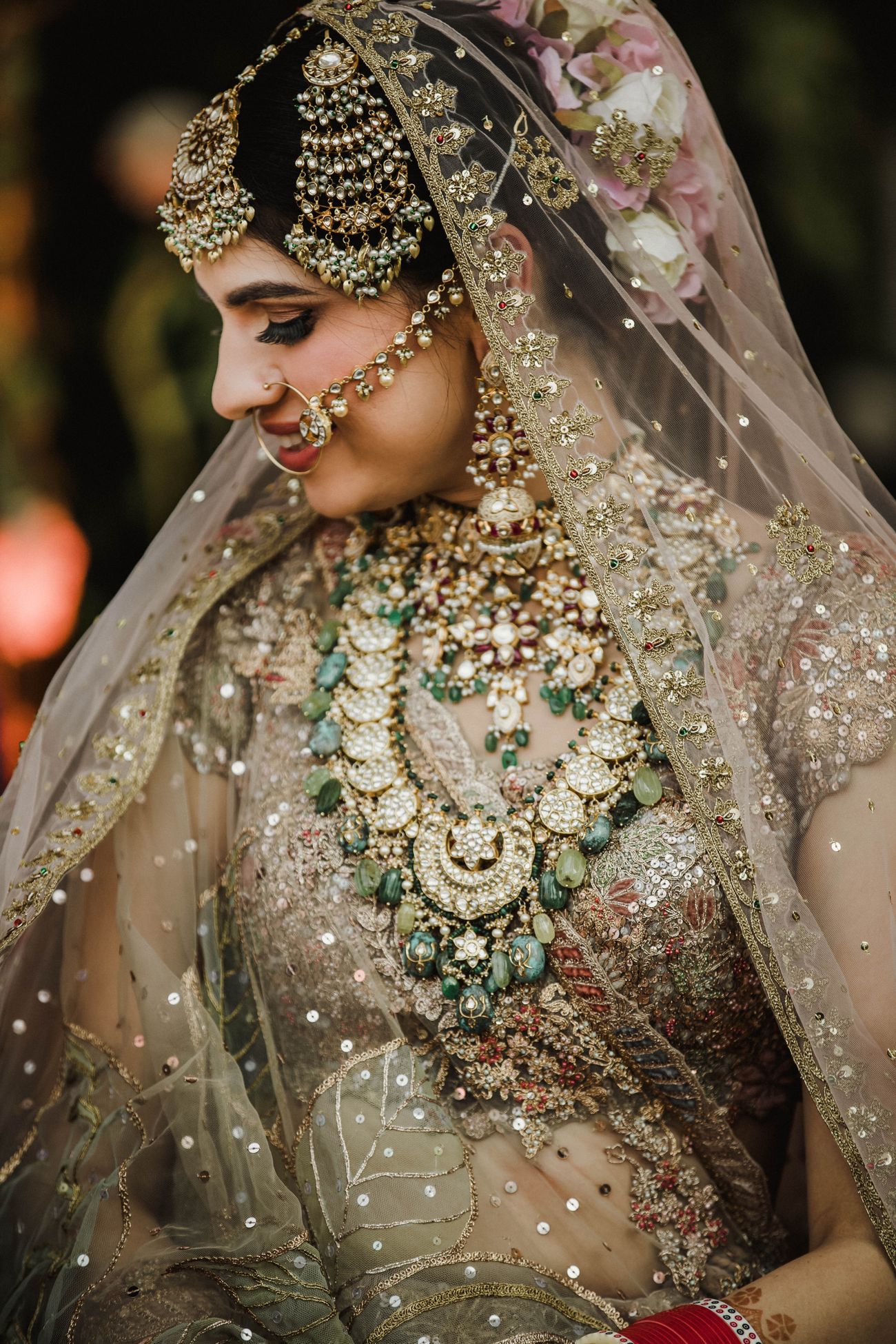 Image via Guranjan & Raj Kanwar
A rani haar featuring star-like motifs in the centre? Hell, yes!
This chand baali choker with a dash of green!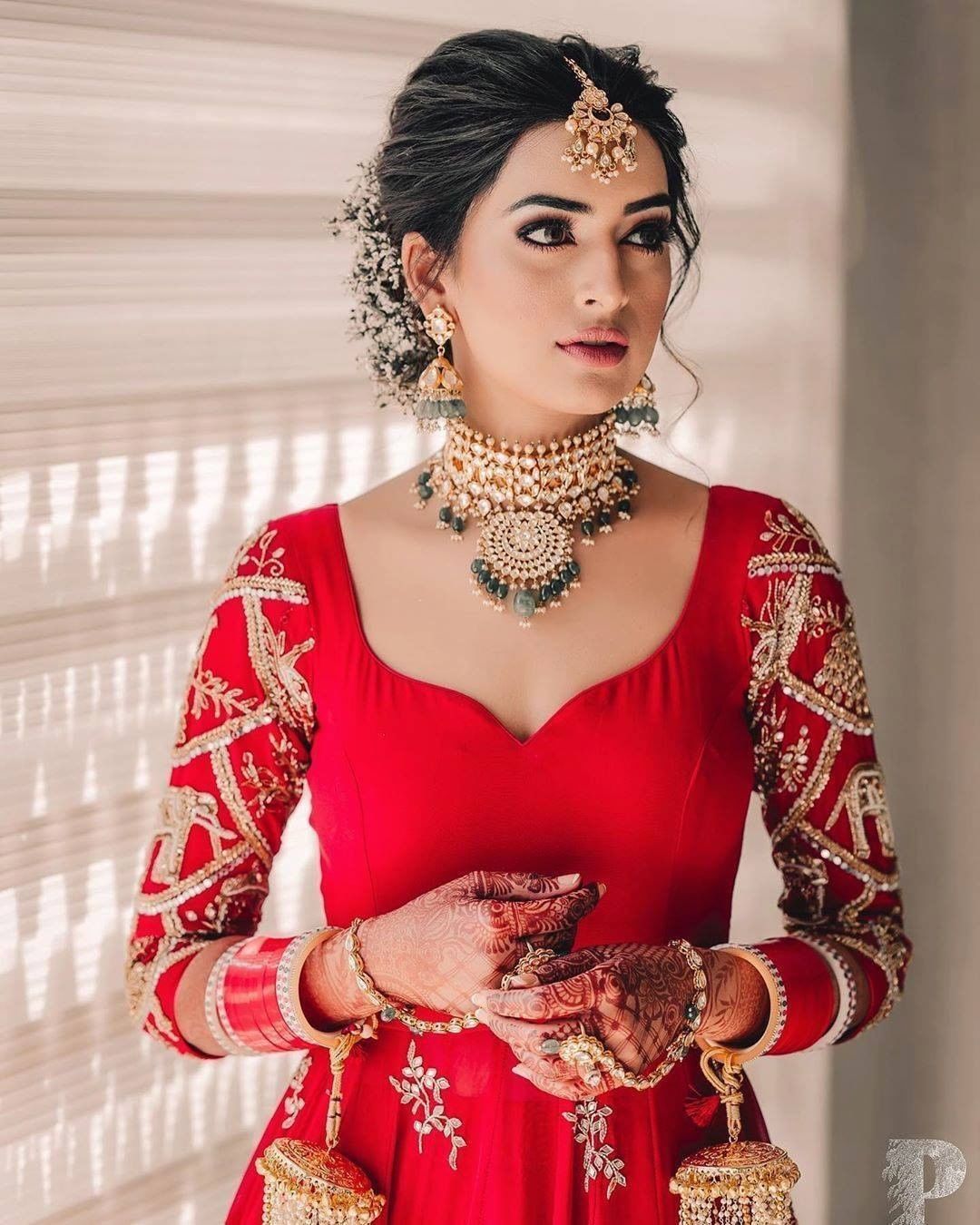 Image via Bhavdeep & Harkarandeep
Not just her bridal attire, Bhavdeep's bridal jewellery choice too got us taking notes!
This portrait necklace that spells royalty!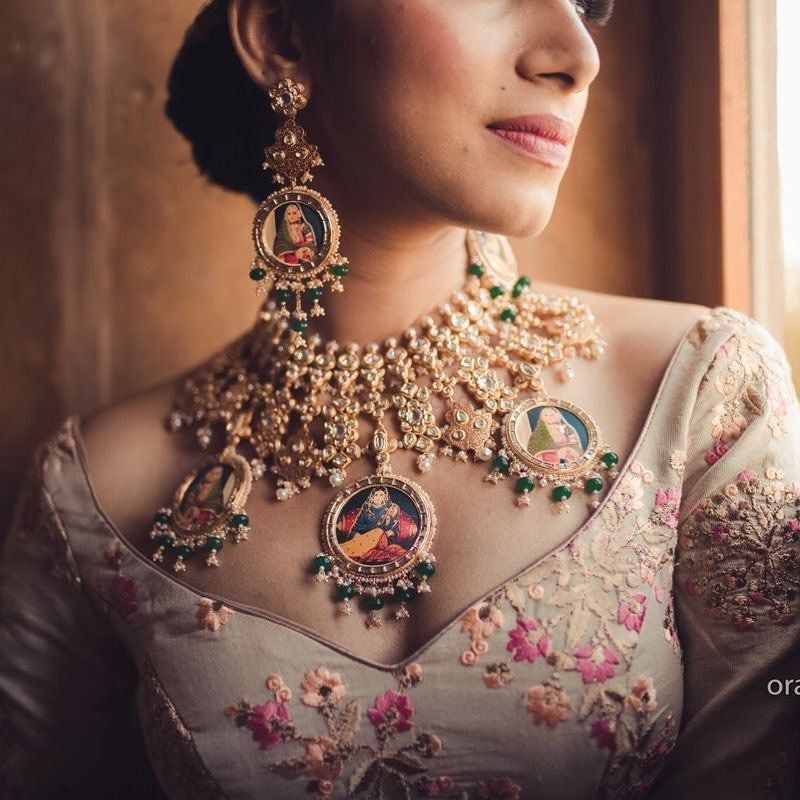 Image via Oragraphy★ 4
When you let you bridal jewellery do all the talking!
This choker necklace enameled in candy hues!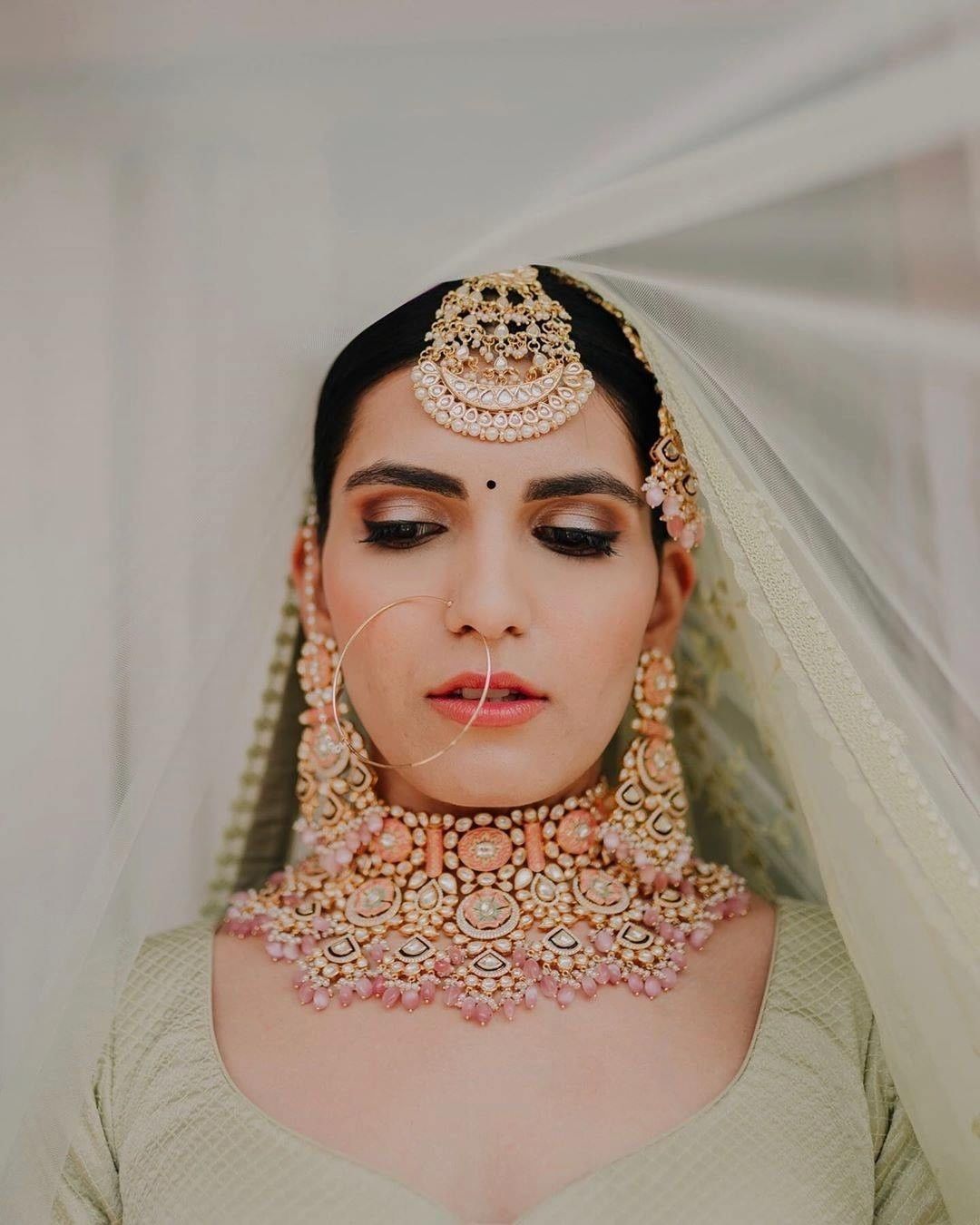 Image via The Picture Patch Photography ★ 4.8
Make a stylish statement on you big day with something as gorgeous as this statement choker necklace!
This standout polki necklace enhanced with red and blue meena!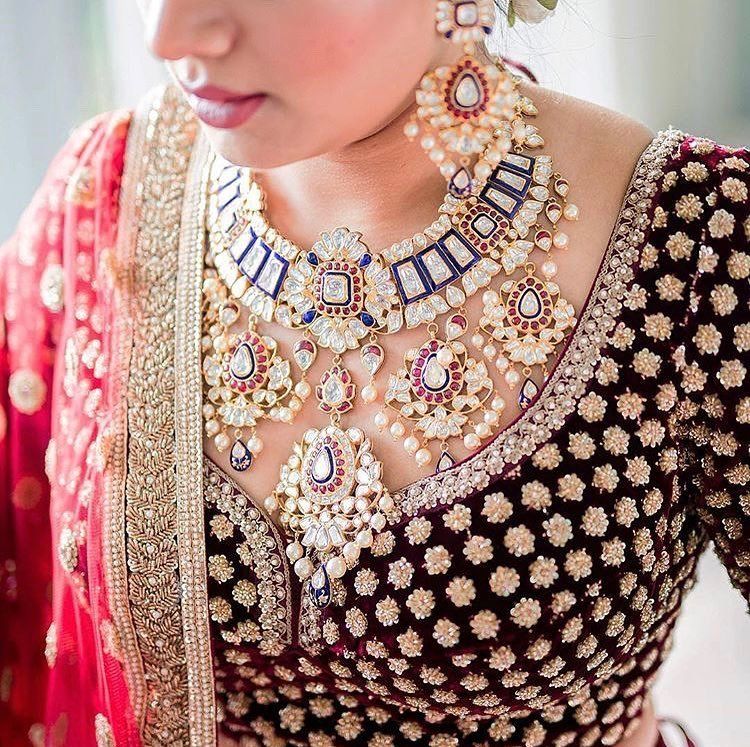 Image via Colorblind Production★ 4.6
Are you a lover of bold & huge necklaces? Then this one will definitely find a place in your jewellery box!
ALSO READ: The Most Unique Necklaces We Saw On Real Brides!
*Updated by Apoorva Pagar.