Budget Brides: DIY Mehendi Outfits That You Can Pull Off To Perfection!
BY The WMG Bride | 05 Sep, 2016 | 15974 views | 4 min read
For most brides, Mehendi= DIY. It may be a tiny little function at home, and apart from the squiggly lines you have to wait for 4 hours to put , the function is relatively low-key just with immediate family and friends. So while there are ton of DIY decor ideas for your mehendi, chances are even your outfit will be something you would put together n a jiffy. Here are a few ideas we put together for you to create your own dIY Mehendi outfit asap. And those ideas are simple and goooooood!
Add an embellished / embroidered cape to an old skirt + blouse  

 
Make a simple fabric lehenga with nothing on it except a border and bam, add an embellished cape to add glamour. Ideas like this don't cost a thing!
---
Just keep your lehenga simple + add an embellished blouse
Enjoy nice pastel hue lehengas in a great fabric and add a nice blouse to make them pop.
---
Make a Corset out of a Phulkari Dupatta
Pair a plain skirt with a blouse made out of a phulkari dupatta
---
Stitch your dupatta onto your blouse for an added effect 
Pin the dupatta onto your blouse in such a way that the silhouette looks new altogether and creates a new shape!
---
Wear a dupatta like a drape around your black tights
An embellished dupatta is great if you tie it up neatly like a toga dress on your black tights!
---
Add a brocade vest on anything 
Photo: Mahima Bhatia Photography★ 4.9
Brocade is in big time - so make sure you add in a vest to make your outfit pop. Get a Phulkari dupatta and get a top/jacket made from it. A phulkari dupatta is easily available at your nearest fabric store for about 600 Rs (cheaper ifyou stay in Punjab). Use it as is with a plain anarkali, or get a corset made out of it and pair it with a skirt. You could even get a crop jacket made out of the phulkari dupatta and get a plain raw silk skirt attached to it.
---
Make jewellery your BFF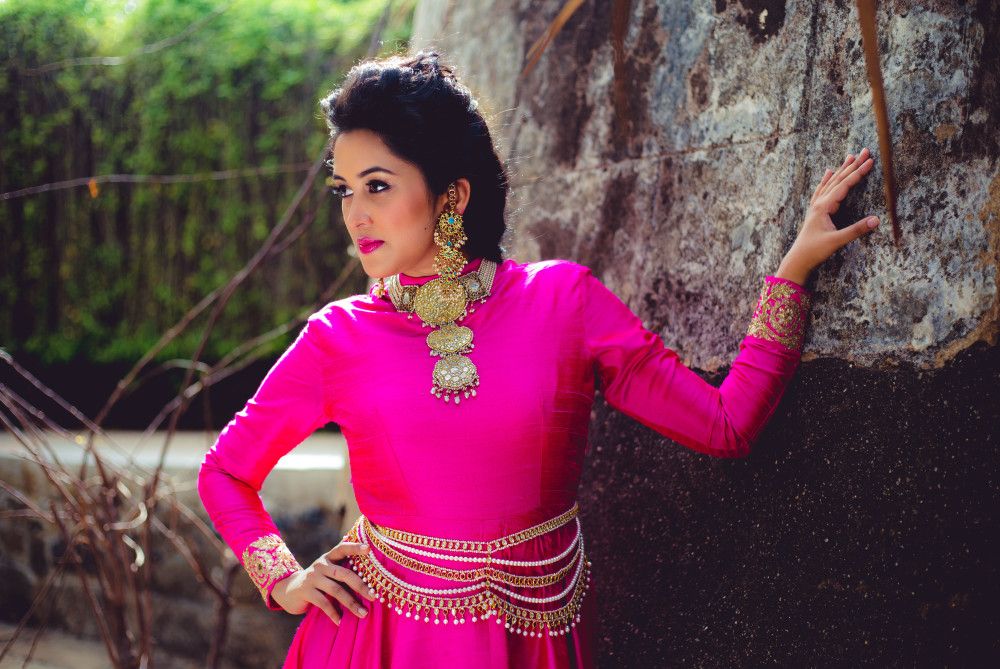 Buy jewel-toned material and stitch a dress out of it and add a tiny border on the sleeves and wear pretty jewellery to ramp it up!
---
Mix and Match a skirt and a top to come up with something fabulous
Photo: Beginnings For You★ 5
Don't want to run around tailors? Head to your nearest handloom store like Cottons, Fabindia or Anokhi and pick up a skirt. Pair it with a plain crop top and layer loads of vintage chunky jewellery from your mom over it. Simple, Effortless and amazing !
---
Embellish a simple kurta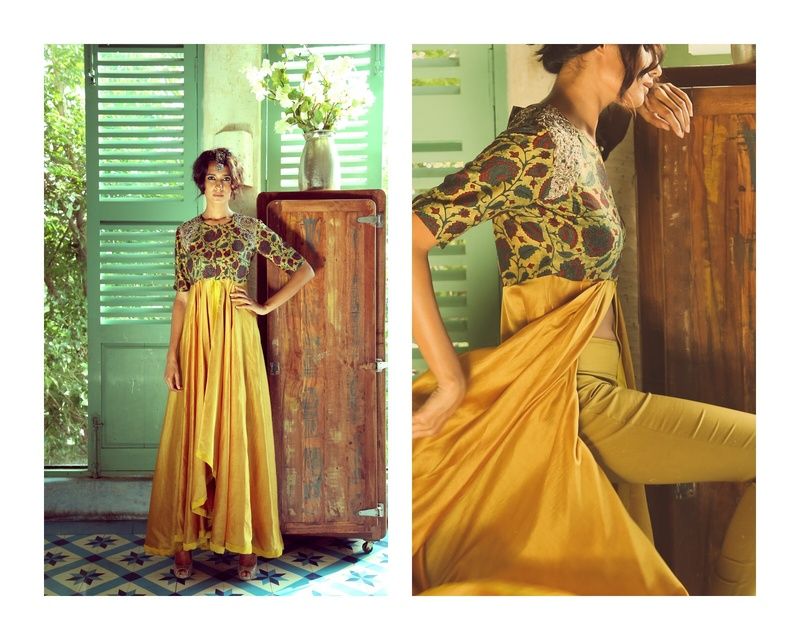 Find a simple handloom kurta and embroider it with nice resham thread and wear it with pants. YAY!
---
Use the pair of Palazzos in your cupboard
Picked up a pair of off white  or black Pallazos from Zara lately? Or maybe you have some plain pallazos with an existing Pakistani kurta. Get a simple gota patti short jacket made with it or even a small kurti. You can end it at the waist level for an ultra chic look, or make it end after the thigh for a more 'sharara' like look.
---
Get a high-low outfit made from your old anarkali
An ultra chic mehendi outfit could be a long anarkali style kurta with a high - low cut (higher at the top, and lower at the back). Wear it as is while putting mehendi, but you could add churidar below it later on.
---
Get an existing anarkali remodeled with a crop churidar
Want to wear something a bit different but still wear your mehendi look? Get your churidar cut just slightly higher than usual and have an anarkali with a side slit  to create an effortless Indo western outfit. You could even have the ends of the churidar embroidered and scalloped for an ultra pretty look.