Budget Brides: Tips on How to get your bridal outfit for (much) lesser
BY The WMG Bride | 25 Aug, 2014 | 2736 views | 4 min read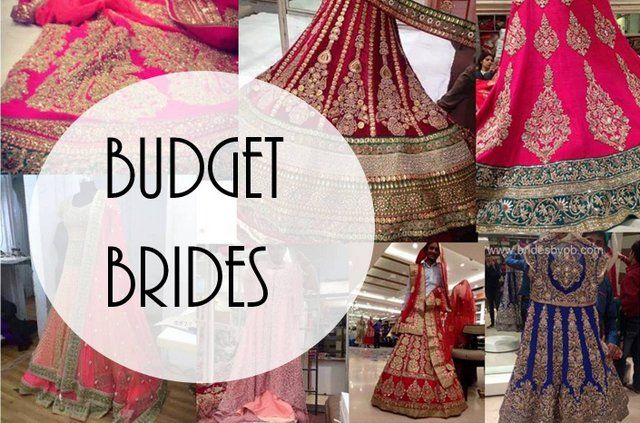 Okay so you have been rounding up your expenses and they are shooting through the roof !! Worse, once you take a round of all the stores in the  hunt for your bridal outfit, you feel like your budget is wayy short than anything nice - I mean nothing nice seems to come for less than 80,000 INR these days right? . Well, hold on a bit because you MAY be able to score a great deal.
Tip 1: Ask for a sangeet lehenga
When you do enter a store, don't tell them to show you a 'bridal lehenga' or ' bridal outfit' even though you may be looking for one. Tell them you want to see a sangeet outfit. Reason: Psychologically, everyone knows that a persons  budget for a sangeet outfit is lesser than the bridal one, and if you give them the hope that you will purchase your bridal outfit after the sangeet outfit, they will tend to tell you lower rates for the same lehenga . Trust us, its a proven experiment
Tip 2: Add embroidery to the blouse and dupatta, keep skirt minimal
Make a simple, low cost lehenga look bridal by adding embroidery to the blouse and dupatta at no extra cost. The way most girls go lehenga shopping is they see the skirt and then choose the lehenga. The skirt is actually the most expensive part of the lehenga, so if you go for a lighter skirt with borders , but with a very heavy blouse and heavy dupatta it can actually end up looking like a very stunning bridal ensemble and at a much lesser cost as compared to if you were to go with a heavier skirt. Also think about it- a photographer is for the most part going t be clicking you from waist up when you sit down- so makes sense to have a heavier blouse. Most places will not charge you extra if you tell them to give you an all over blouse or tell them to increase the motif on the dupatta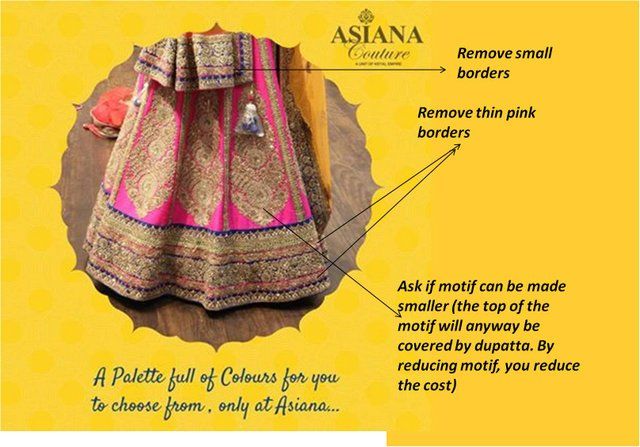 Tip 3: Reduce 1 inch borders
Reducing small, 1 inch borders can take anything between 6000-12000 Rs off your lehenga . It could be a tiny little miniscule border,which you wont even notice, but take it off and if the shop is willing, it will take a substantial chunk off your lehenga cost. The same is with  dupatta borders- a small centimeter taken off from there, a bit from the leheng skirt and soon your dream outfit would be within reach.
Tip 4: Reduce work on top half
Reducing the work on the top part of the lehenga skirt makes sense and cuts cost. Think about it- the top area of the lehenga skirt will mostly be covered by your dupatta and the embroidery on it would be hidden. So cut down the work on that part to save costs- you wont even be able to tell the difference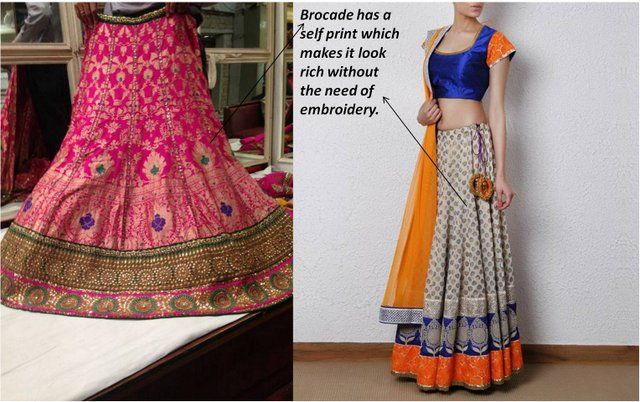 Tip 5: Go for richer fabrics like brocade and banarsi
Since most of the cost of the lehenga is because of the amount of embroidery on the skirt- try and go for fabrics which look self embroidered just with borders. For example- Brocade is a beautiful option- plain brocade lehengas with borders look rich because brocade has a gold print to it but they shouldnt set you back as much as there is no embroidery. Brocade/ banarsi lehengas can come for around 50k.
Tip 6 : Get freebies thrown in
Get freebies thrown into your lehenga . Pay attention to small details that can end up making your lehenga look like a bridal lehenga without costing  a bomb . The Latkans or hanging pom poms from your skirt for example- get the most beautiful, biggest, embroidered pom poms ever- most shops won't charge you for it.
Tip 7:  Reduce unnecessary work:
Example- some dupattas have large motifs at the four corners. Eliminate them.  if there are a lot of scattered motifs on the lehenga, reduce the density of the scatter and get it in budget.
Tip 8: Know which embroideries cost lesser
A Gota Patti lehenga, or a threadwork lehenga will ALWAYS be cheaper than a lehenga with zari/ zardozi and can end up looking equally stunning.
Tip 9: Buy that light lehenga
 Even if you like a lehenga that fits your budget but you think its too light. BUY IT. A bride will always look like the bride no matter how light the lehenga. The richness of your look can come with a lot of different things- layered jewellery, double dupattas, different drapes, using artificial jewelled waist belts. So spend on the accessories instead which would be cheaper to do.
Tip 10: Look for this showcase by filtering by city and budget on WMG
More resources:
- Delhi brides tips on how to get lehenga for less
- Crazy Indian Weddings tips on a grand wedding