Budgeting your Indian wedding: Splurge or Save?
BY The WMG Bride | 24 May, 2014 | 526 views | 6 min read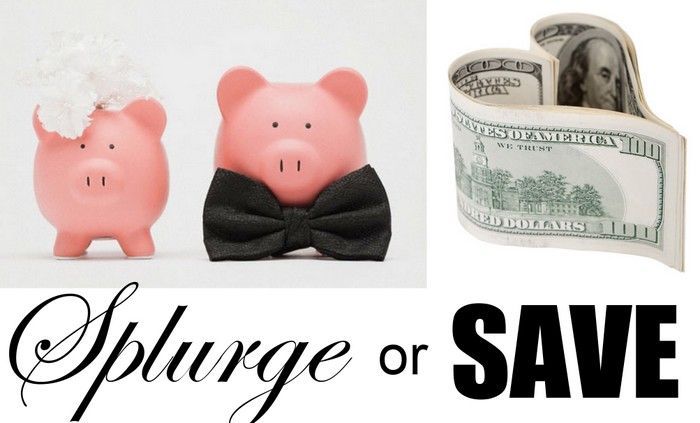 So the list of things that are draining your good looking wallet out are just growing and growing and you seem to have over shot your wedding by a gazillion times over? Here is a quick list of things where you should look at splurging/ cutting back !
- Choosing your Wedding Date: Be smart, this could lead to MAJOR savings
So ofcourse we know that your panditji is most likely to govern your wedding date but hang on a second. If by any chance your family isn't that superstitious, try and get a wedding date in off season. The discounts you get are UNBELIEVABLE
Photographers can charge upto 40% lesser in off season
Hotel rates halve in off season
Caterers give heavy discounts !
-Engagement Rings: Splurge on the girls, Save on the boys ;)
A girl is going to be caught staring at her ring adoringly everytime it catches the light, a boy would be lucky if his engagement ring even saw the light of day . They never wear it - and unless you plan to use his ring in the future for some earrings of your own ( Oh come on, everyone does that)..please save on his ring. There is nothing classier than the platinum band for a guy anyway. For a girl, a rule followed in the west is the
"2 month of boys salary"
rule .
- Photography: Splurge
The biggest mistake Indians make while planning a wedding . They will get the most expensive dress, venue, catering entertainment and then save on their photographer. Trust us, your budget lehenga or sari will look like a million bucks with the right photographer, not to mention the memories you will get for a lifetime . If there is one area you should stretch your budget for it is Photography. Do opt for candid photography specialists in India- its a myth that you need to shell out a bomb for them. We have some listed across budgets here:
Candid Wedding Photographers in India
- Catering : Splurge on quality,  not on quantity 
You can have the prettiest decor in the world, but serve people average food and that is all they will remember your wedding for. Get innovative with catering- you dont need to put exotic items in the menu. Simple items packaged in innovative ways (Eg: Chaat Papri served up in martini glasses for example) can make for a great effect! Get fun live counters, ensure the food tastes great even if you can't serve up a smorgasboard of dishes
- Decor: Research & Stick to Budget
When it comes to decor, do your research. Start with some of our list of
decorators here
Know which materials are cheaper and still look good (in our post here, Devika Narain mentioned how paper and origami are one of the coolest decor trends currently and also one of the cheapest ones around!) .
Know which flower costs more/ less than the other so that your decorator is not taking you for a ride.
We recently attended a wedding where the decor was done in strips of printed fabric and lace- zero flowers and just some hanging frames and fabric which made for a stunning english-vintage look
Try some DIY Center pieces like this one here
 Similarly- do your own mehendi decor with hanging silk sarees with tea lights on the walls, putting out large platters with colored powder and using candles and marigolds to do the trick
Getting an indoor venue will cut your decor budget by about half ! So keep that in mind while choosing your venue .
- Wedding Outfit: Stick to Budget
This may come as a surprise to you, but fix a budget in your head of the amount you want to spend on your outfit and stick to it (One month of the girls salary is a good estimate). You can get a DREAM outfit for much lesser with the few following neat little tricks:
Customise your dream outfit by removing unnecessary borders etc: Just a couple of minor deletions (eg: reducing a 1 inch border on the skirt, or making the bootis in the dupatta smaller ) can reduce the cost of a lehenga by 10K !
Look for outfits with lighter work, but ones that still have drama and elegance
A lighter skirt with a super heavy blouse and two dupattas works wonders and is much cheaper than a heavier skirt
Dont compromise on fabrics- choose the best quality silks, velvets and georgettes. They are the ones that make a lehenga look more expensive than it is.
Shop around: Most shops in Delhi carry variants of the same lehengas. Make sure you compare notes before finalising.
Look out for sales and promotions in lean seasons! Example- there is currently an offer for WMG readers on Liz Paul
- Entertainment: Save
You really do not need ultra exorbitant performers to shine on your wedding. If you really want some element of entertainment, research some alternative routes.  A local stand up comic for your engagement, a folk singer for your mehendi or just some amazing Shehnai people for your wedding can be much more effective than high profile names.
- Bridal Makeup: Splurge
90% of your photographs are going to be waist up (another reason why you should focus on your dupatta a lot more than your lehenga skirt since that will be visible in most cases), and nothing can ruin a photo faster than bad , melting makeup. Get the best possible makeup artist your money can afford and you definitely will not regret it !
- Wedding Gifts & Favours: Stick to Budget & Be Innovative
Read our ideas for
Unique Indian wedding favours
? You don't have to go out and get the most expensive chocolates or mithai in the world, a simple cake in the jar can actually be cheaper than buying a box an filling it with Mithai. Further, distributing tea, spices and a range of other options can actually make for very memorable favours that dont burn the pocket!
-Honeymoon: Splurge
Doesn't matter if your honeymoon is going over budget. Once the dust settles and you settle back into your routine you are going to hope and pray for a time where you are as relaxed, and free to plan a long vacation as you were in your honeymoon. So pick your dream location, do everything you wanted to do and dont compromise
 Hope this helps guys ! Do let us know what you think in the comment section below.