The Inside Guide To Co-ordinating Outfit Colors For Bride & Groom !
BY The WMG Bride | 11 Feb, 2017 | 46483 views | 4 min read
There has been way too much said already about coordinating outfit colors between the bride and groom . While  with most people the general tendency is to match outfit colors together, you may want to put a bit of a thought into contrasts as well.
Things to keep in mind:
If the bride is wearing a monotone lehenga, the groom may want to incorporate that color in the smallest detail of his outfit: Example, his stole could be a soft pink to match the brides, or his tie could be pink. Keep the coordinating color in small doses. 
Contrasts are actually the best way to coordinate sometimes. A peach lehenga on the bride- pick a mint green one for the groom- choose a contrasting color in the same tone and you will be set
If you are wearing a multicolored lehenga, you may want the grooms outfit to be based on the color which is least visible in your outfit so it does not look overwhelming
When choosing colors- think about if you were to pick an extra dupatta for your outfit- what color would you want it to be. That color is probably the color the groom should wear

---
Fail Proof Rules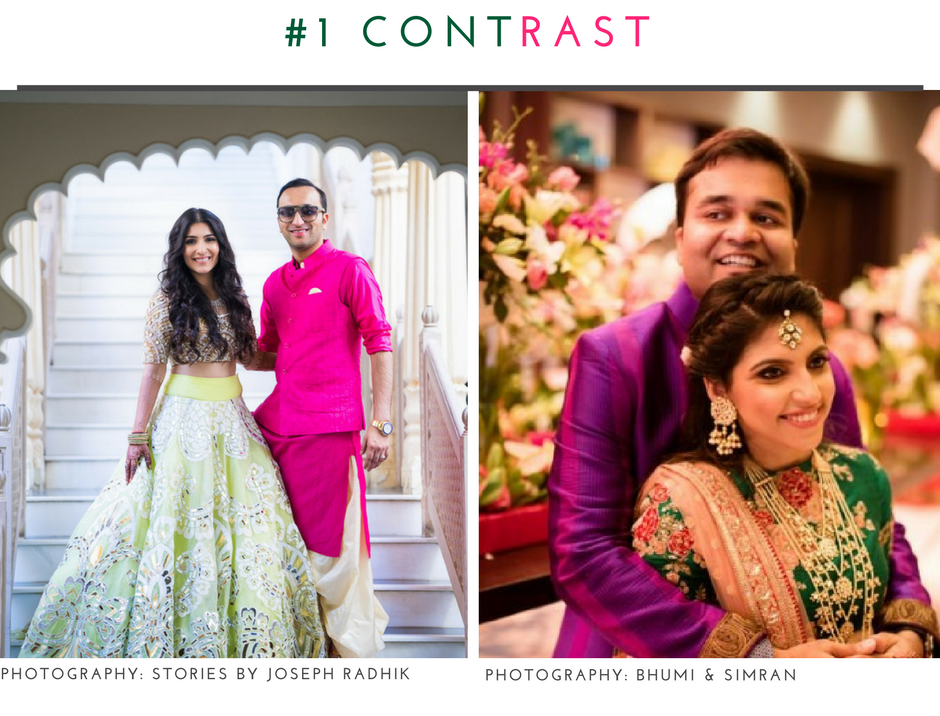 A fail proof rule for co-ordinating is to contrast with the most opposite colour possible like these couples did. The photos look bright and happy, especially if you're both rocking monotone contrasting hues. Here are some amazing ones which looked nice!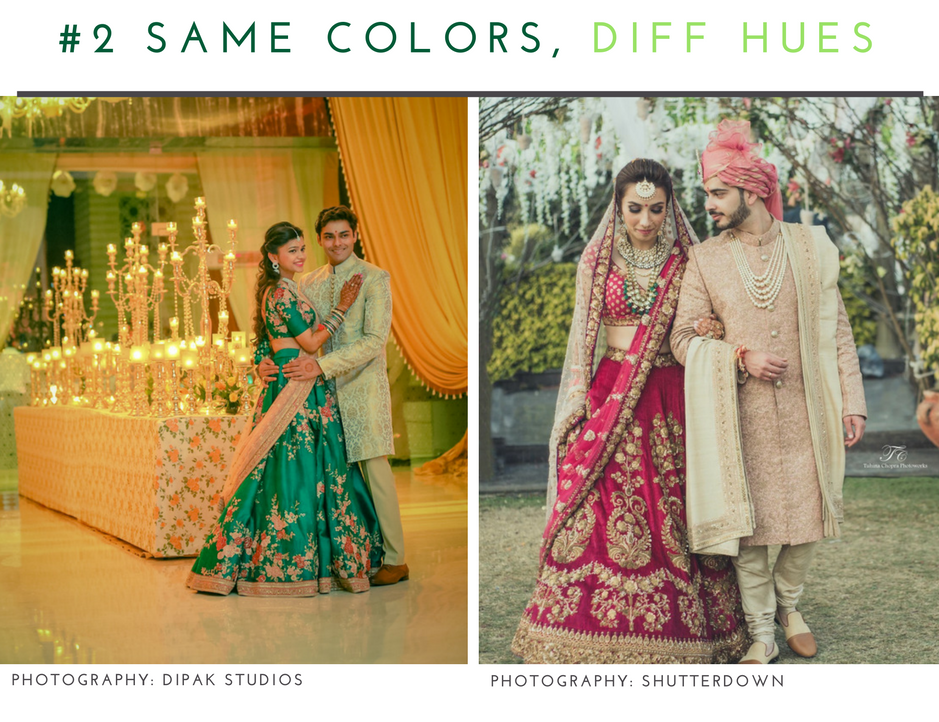 Another rule for co-ordinating is to pick the same color but get different levels of saturation. So a groom in mint green but a bride in emerald green. This works especially well with pastels- darker and lighter hues of pastels paired together look great. Here are some couples who absolutely nailed it.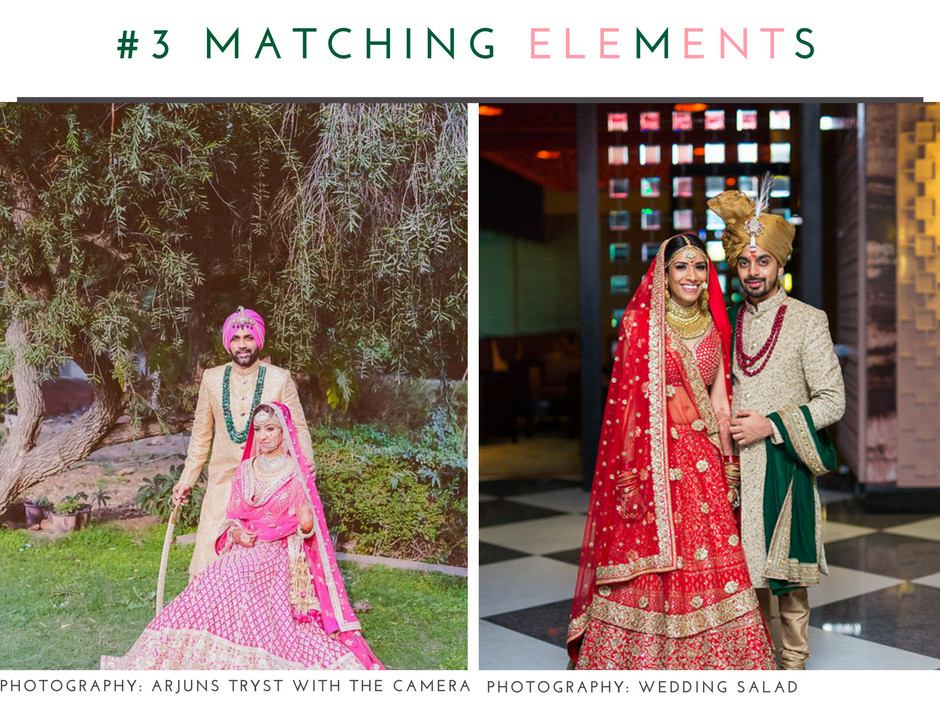 If you have already bought your outfits and you want to co-ordinate, don't worry. By adding elements of the other persons color in your outfit you can totally pull it off. Brides can match their necklace to the groom's safa or the grooms can match the safa or stole to the bride's dupatta. Here are some more new ways that couples are coordinating their looks with.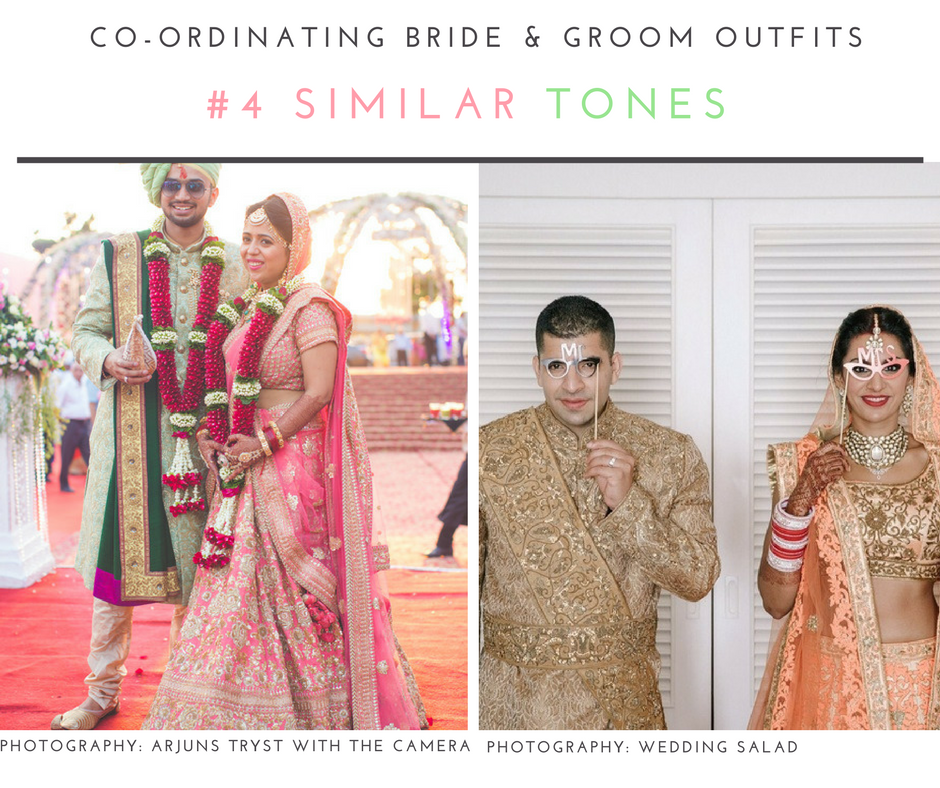 Another great rule for co-ordinating is to wear outfits in different tones but similar color families like pastels, emerald tones, etc. Here are some more interesting ways to colour coordinate with the groom!
---
Color Guide
Bride is wearing red or orange

Groom can wear cream, salmon, blush pink, peach, beige or mint green
Bride is wearing hot pink

Groom can wear cream, beige, soft pink, mint green, yellow
Bride is wearing baby pink

Groom can wear cream, gold, mint green, deep wine, emerald green or powder blue.
Bride is wearing deep blue or green

Groom can wear cream, beige, or very pale colors in the blue or green family
Bride is wearing bright yellow

Groom can wear mint, blush pink,  baby blue, peach , ash grey, white.
Bride is wearing deep purple

Groom can wear beige, lilac, grey, black, white, baby blue, powder blue.
Bride is wearing ivory, gold

Groom can wear navy blue, deep wine, emerald or beige
Bride is wearing a multicolored outfit

Groom should wear monotone outfit picking up the color that is least visible in the brides outfit.
How important is it to give this that much thought. Quite frankly, not much- however you may want to give it a thought or two because it matters most in photographs to give a comprehensive look. As long as you too are not in totally clashing colors (like purple and green) you shall be fine!
Stay updated with the latest wedding trends, Download the WedMeGood app now.