Colourful Telugu Wedding in Krabi With Cute Decor Details!
BY Latha Sunadh | 02 Jun, 2016 | 1572 views | 2 min read
Funky umbrellas, sweet beach rides and pristine waters - this Krabi wedding has all that and more. Because, it's a five-day affair with beach parties, a kickass Sangeet and a pretty all-hands-on-deck Telugu ceremony complete with marigolds, bangles and kanjeevarams. And all the beauty of this wedding was in complete contrast with those clear waters and beautiful natural foliage and this was all captured beautifully by
Sowmya Photography
.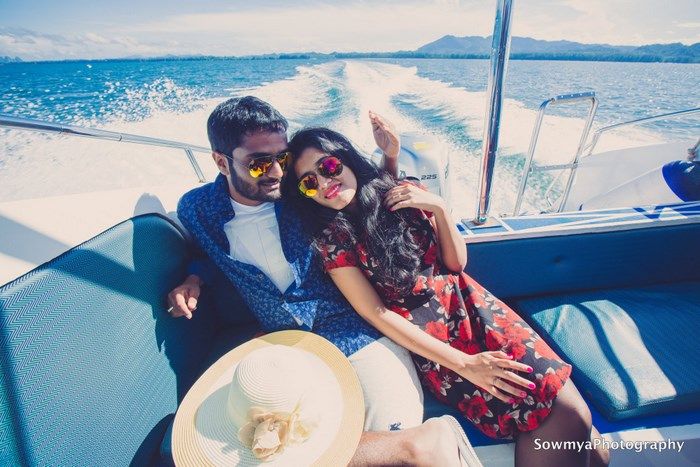 "Me and Aditya were family friends and that's how we know each other. Then it just happened," laughs Pooja.
"Our basic idea for the wedding was we wanted to have limited number of guests. If we had the wedding in Hyderabad the crowd would be around 10,000. We wanted all the guests to have fun at the wedding and participate in the events and that's how we decided to have a destination wedding. A travel agent based from Mumbai, JaiPrakash(who plans wedding all around the globe) helped us plan the event. Though we were a little worried about the concept, to our surprise everyone had an absolute blast. It was more like a picnic," explains Pooja.
"We have chosen Anantara resort at Krabi islands, Thailand. It was an island away from the main city. We have booked the resort for 5 days. We had a crowd of 300 people. The events were planned and implemented as per the plan. On the first day we had welcome ball and the dress code was black tie for men and long dresses for women. On the second day we had a beach party on a private island and it was a floral theme, Hawaiian shirts for everyone. It was followed by a Mehendi night with music n dance. Next day we had haldi event followed by a  Sangeet night. The Sangeet was on the sea side. And the last day was the wedding. I had my blouses done by Vaishali. My sarees were from Chennai and Kanchi. It was typical Telugu wedding away from the country it was a complete feast for the eyes," adds Pooja.