Dressing up the Kanjivaram: 10 Alternative Blouses !
BY The WMG Bride | 25 Mar, 2015 | 5928 views | 4 min read
Guest Writer: Krupa Kumar (Details below)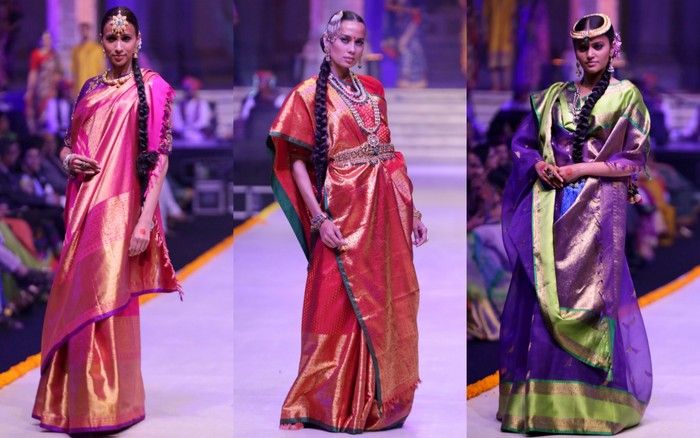 Stunning Kanjivarams by Gaurang Shah
If you are a South Indian bride, you probably have more than 5 sarees, most likely all Kanjivarams, to wear at your wedding. If you are frantically searching the web for blouse designs that are trendy, yet keep your precious silk looking timeless, then you hit the right link. As a Tam- Bram bride, all my ceremonies require me to wear pure Kanchee pattu (silk) sarees. While thinking of interesting and mom-approved blouse patterns, I realized that most of us feel very limited with South Indian sarees. However, that trend is changing now. Check out these ten alternatives to the boring "sleeve with border" designs that we normally wear.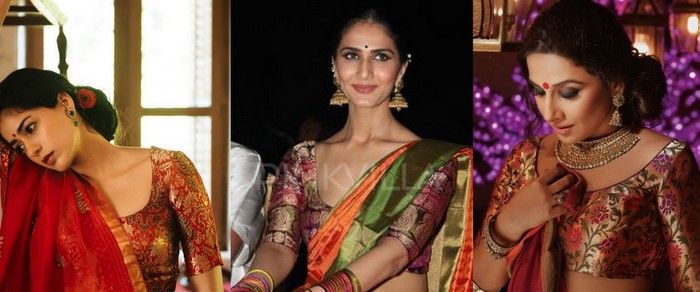 The Brocade / Bhutta blouse: If you are wearing a rather simple and single colored saree, go for the brocade or bhutta blouse. You can use a different gradient or shade of the saree color. For a cool twist, stay away from the paisley and temples prints, and pick something modern instead. Use the border on the sleeve or the border itself as the sleeve. This idea works brilliantly for brightly colored sarees.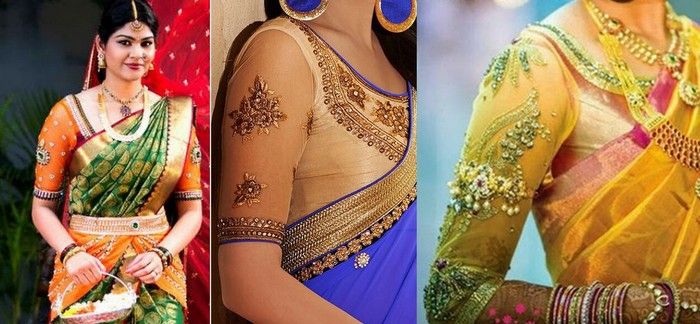 Net sleeves: This trend is fresh and new. You can wear a net sleeve to match the saree or to contrast it. The net material offers much room for creativity. Embellish the sleeves with zardosi or stone work, though if the blouse is a stark contrast to the saree, you may want to keep the design simple or eliminate it completely.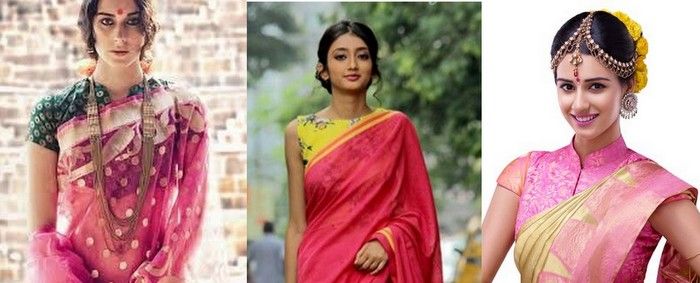 3. Higher necklines: High necklines are super hot currently, and experimenting with a boat neck on top of which you can layer your jewellery, or even a short chinese collar might look fab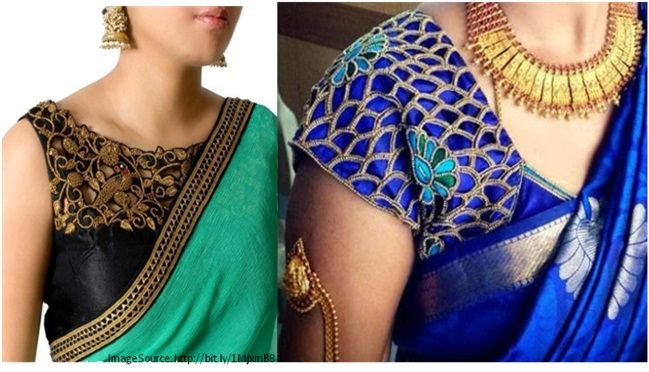 Cut / Lattice Work: This is a gorgeous way to enhance the sleeves and back of any silk blouse. They come in variety of designs, so try to pick ones with intricate work in them. One of my favorites is the bird weaved into this blouse. Match the color of the lattice to the color of your saree border. If it seems too heavy, stick to lattice/ cut work on the sleeve only.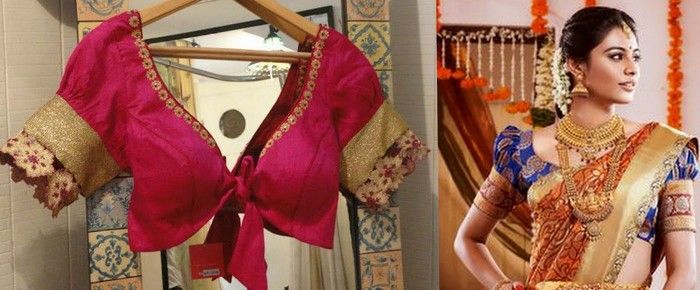 Puff it up: This style works very well for pure traditional Kanjis. You can puff up those sleeves and add a dash of retro vibe to your look. Puffed sleeves also accentuate the armband or vanki well. Try to keep the blouse to a simple monochrome; puff sleeves themselves attract too much attention so a contrast color just for the sleeve might make the look too jarring.
Experiment with the border: Most of us play with the border given on a saree on the sleeve and back. Try and use the border differently. Ask your designer for ideas. You can probably place it in a 'V' or 'U' shape of the neckline at the back. This will really help break the boring look.
7. Keep it simple: This is an evergreen trend, especially if your saree is ultra heavy and has a big zari boarder. Keep the blouse as a simple             monochrome, short-sleeved blouse that will do justice to the saree. This is especially true for the Dhaare or Muhurtham saree. Don't                         experiment with the blouses for these occasions.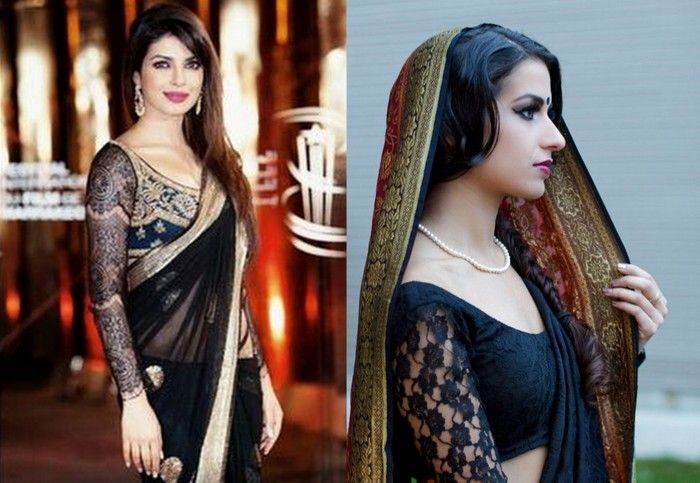 8. The Chantilly lace Sleeve: A style that you may want to experiment with is getting chantilly lace sleeves, they are exquisite and delicate and the gold lace sets off the saree beautifully . This hasn't been done too much hence no photos, but hey you could always be the trendsetter right?
9. Complete contrast blouse: I love this idea. Most Kanchee sarees come with contrast blouses these days, but in case yours didn't, pick a cotton silk blouse in a contrasting color. Make sure the colors are bold so they photograph well. You can even pick the color to match you favorite piece of jewelry.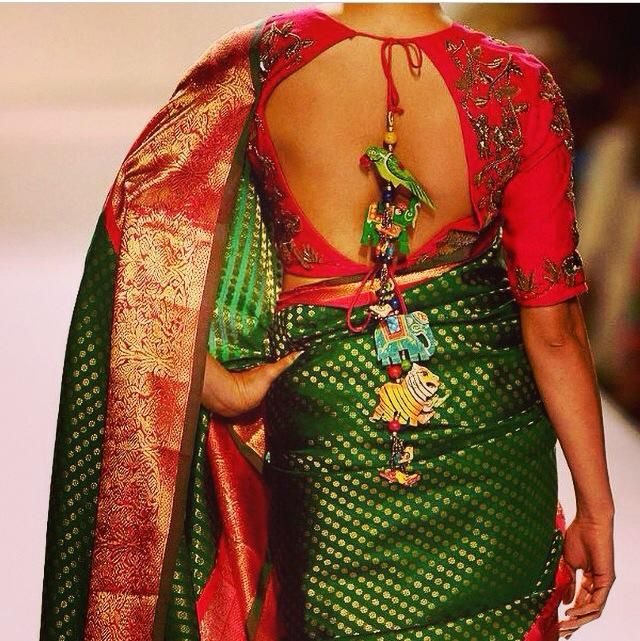 10. Back tassles: Go funky, go quirky or keep it classy. Experiment with tassles at the back of the blouse in the form of pom poms, shapes, metallic cutouts and more
We hope this helps and you have many options to choose from. Do you have any ideas and pictures of unique blouse patterns? Send them in to help us expand our pattern collection.
Also read:  Modern ways to style a Kanjivaram
---
About the author: Krupa Kumar is a soon to be bride and digital media enthusiast. She is currently setting up the digital wing of Oysters Advertising in Bangalore . She draws inspiration from people, places, and pretty things. Krupa enjoys baking, dancing, and food.
You can catch her on twitter @kkrupa29.  Instagram on@krupakumar. Facebook: www.facebook.com/krupa.kumar.7