Easy, DIY-able Decorations You Can Consider For Your At-Home Wedding!
BY Sakshi | 25 Jan, 2022 | 1749 views | 4 min read
The last 2 years taught us the adaptability and resilience of our brides-to-be. While the pandemic continues to come in waves, our couples have repeatedly shown us how they can manage things, while practicing safe distances and respecting all COVID protocols. And one thing that has surely emerged as a winner is "home weddings". 
If there's anything that the past two waves have taught us, it is that it's better to be safe than sorry, with smaller gatherings being preferable atleast for the time being. So, to help you with just that, here are some easy peasy decoration ideas you can pull off yourself for your home wedding which look amazing and are super inspirational!
This one with the hanging chandelier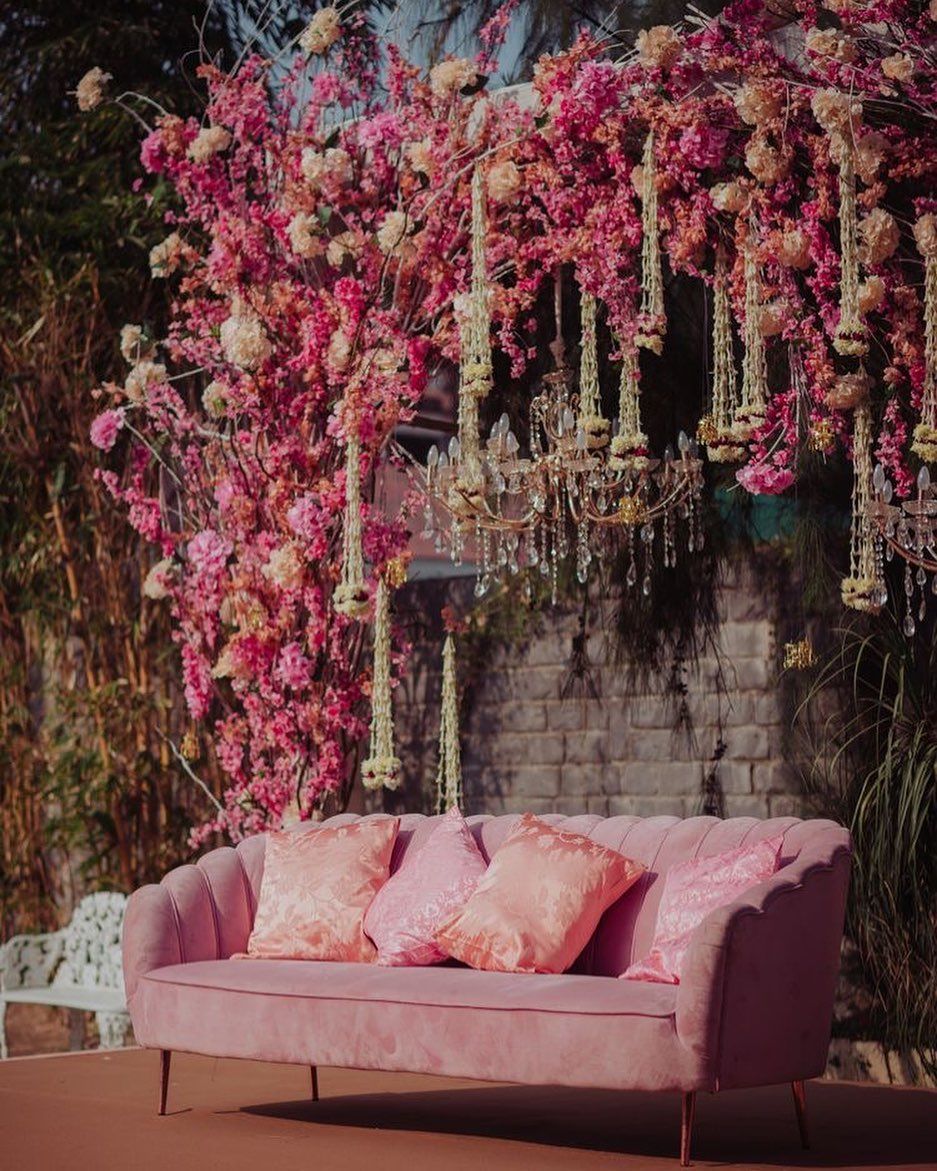 Image via The Wedding Conteurs★ 5
It's a beautiful decor idea against the boundary wall, and it looks so darn amazing. Absolutely love the idea of a chandelier hanging against the flowers. If you have a gorgeous bougainvillea hedge in your backyard, then that could work as well too! Rent, borrow or reuse a pretty sofa, and you have yourself a pretty decor backdrop.
This simple yet stunning backdrop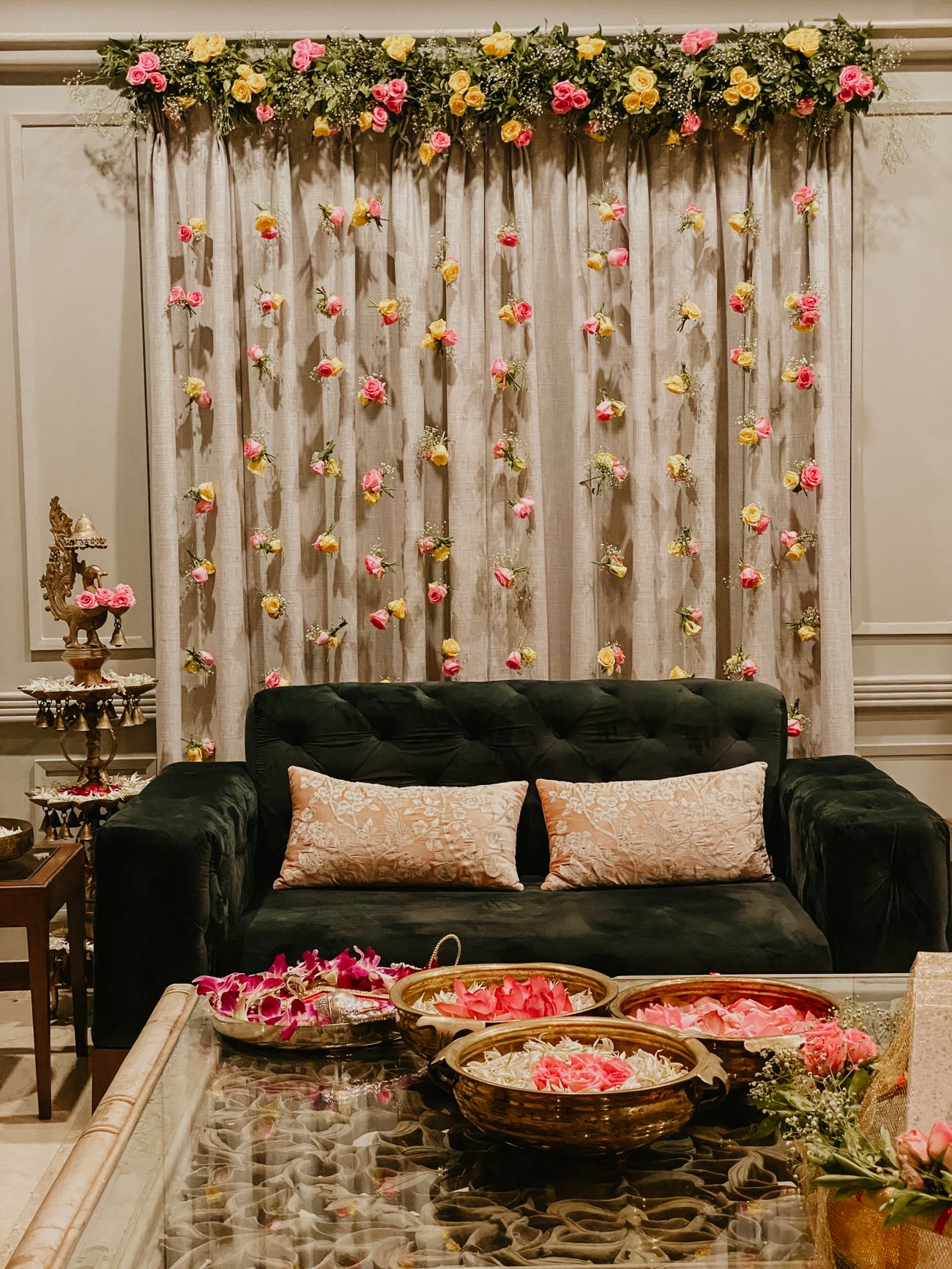 Image via Neer and Misaal
Florals all the way with this one, but installed in such a simple way. Get your florist to make some floral strings and hang them against a drape, and voila! You have yourself a nice and Insta-worthy backdrop. The brass vessels add a touch of traditional to the setting.
This one with botanical elements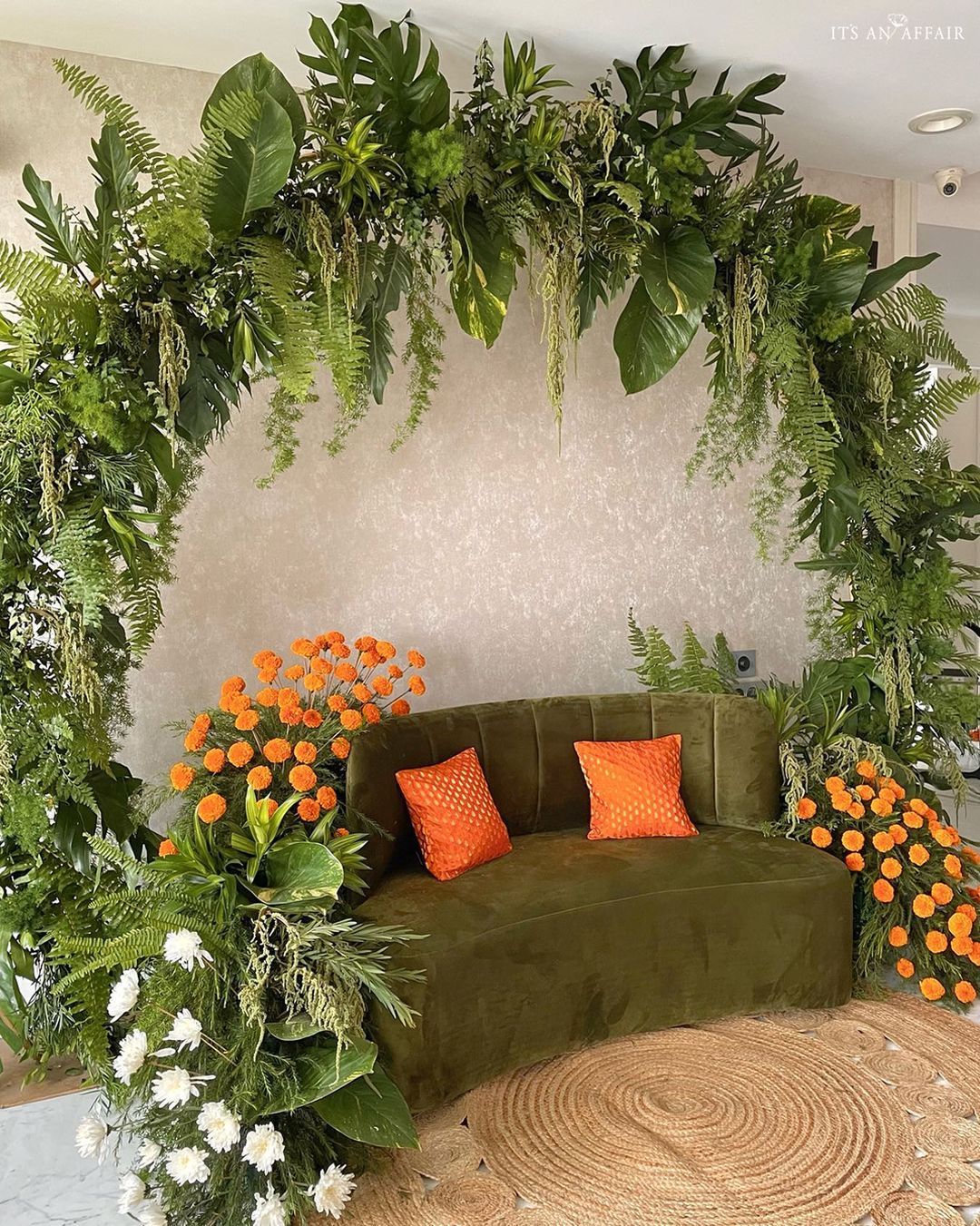 Image via Its an Affair★ 5
If you want something more contemporary, then how about this one with the botanicals and the marigolds? Love the jute rug that adds a rustic charm too! Arrange the botanicals in an arch formation, glam it up with some marigolds and matching cushion covers, and you have yourself a gorgeous setting! 
This sequin curtain backdrop with florals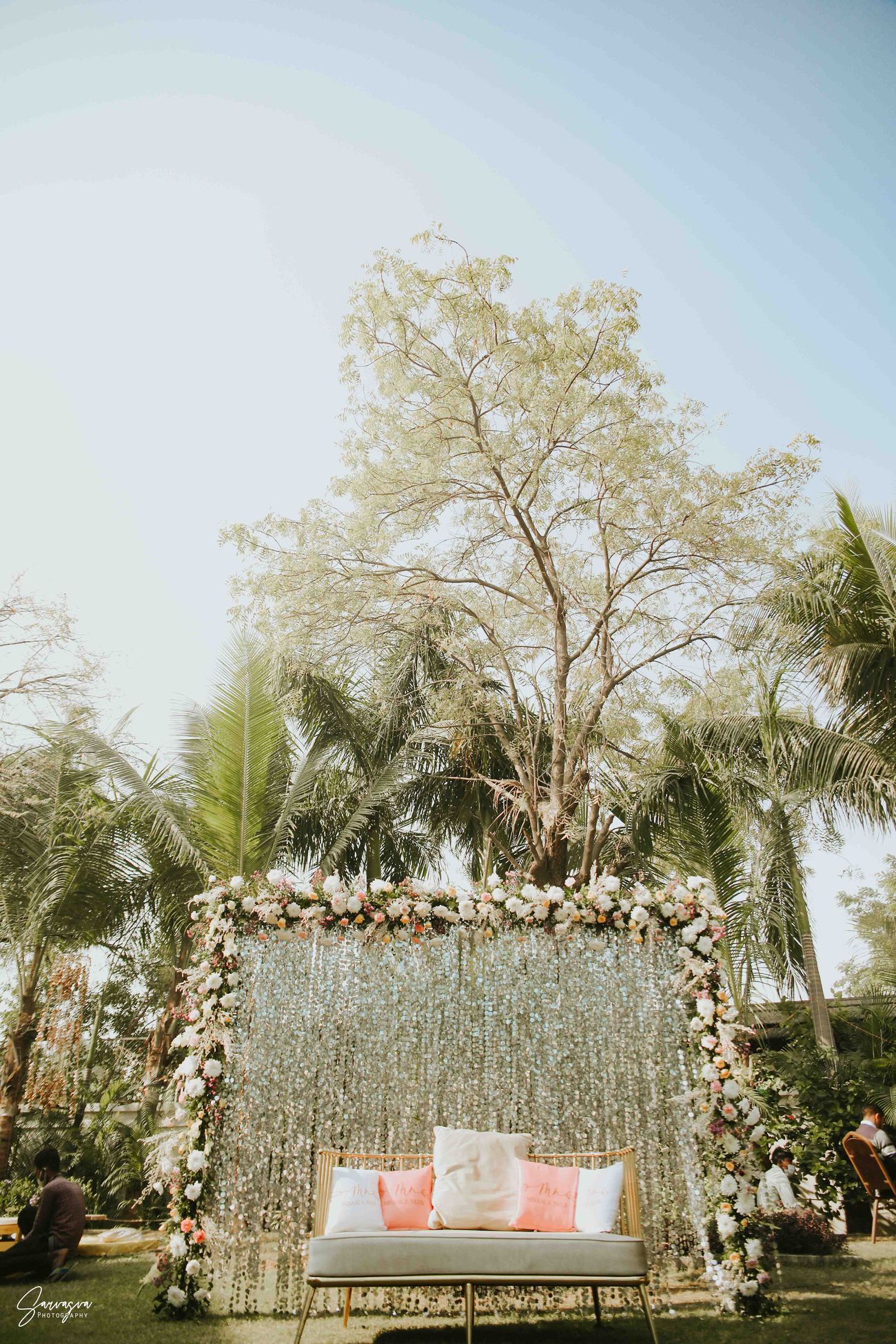 Image via  Elysian By Fuhaar
This is one pretty setting that can be pulled off indoors or outdoors- sequin strings to create a curtain and a floral arch and sofa to finish off the look! Will look pretty anywhere and for any function!
This picture perfect mehendi setting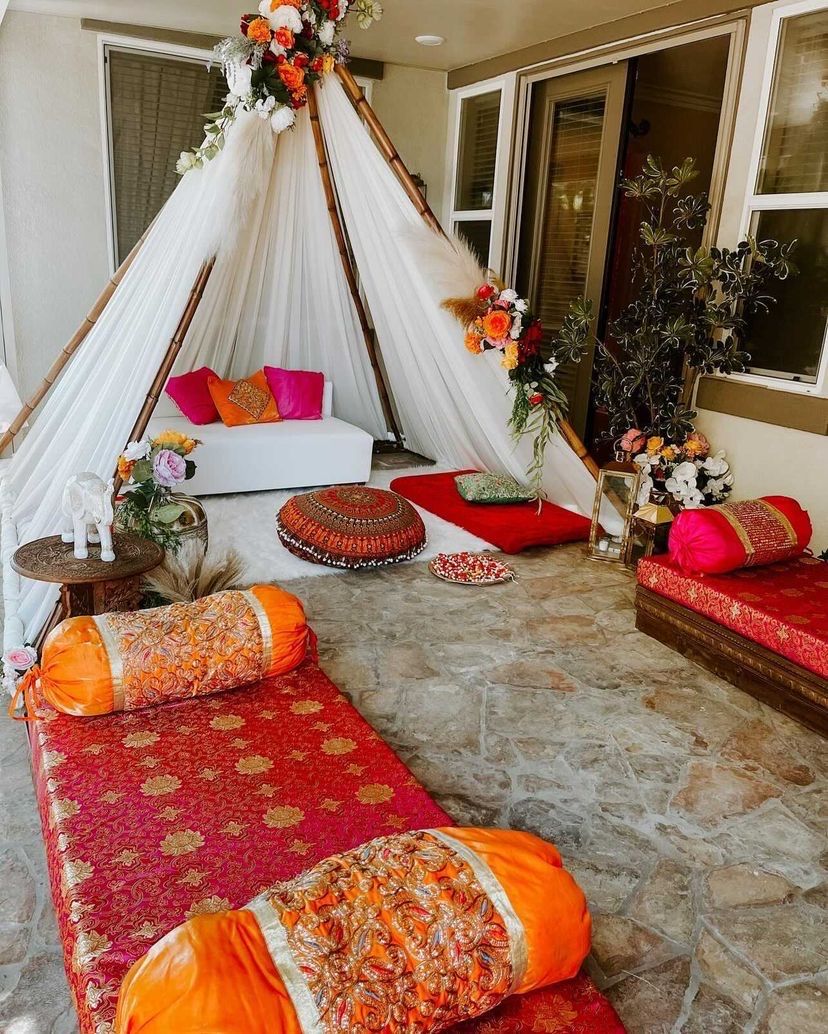 Image via Neha and Amit
Teepee tents are easy to assemble and you can adjust the height and room according to the space you have. They look chic and very grammable as well
This mandap with floral strings suspended from a tree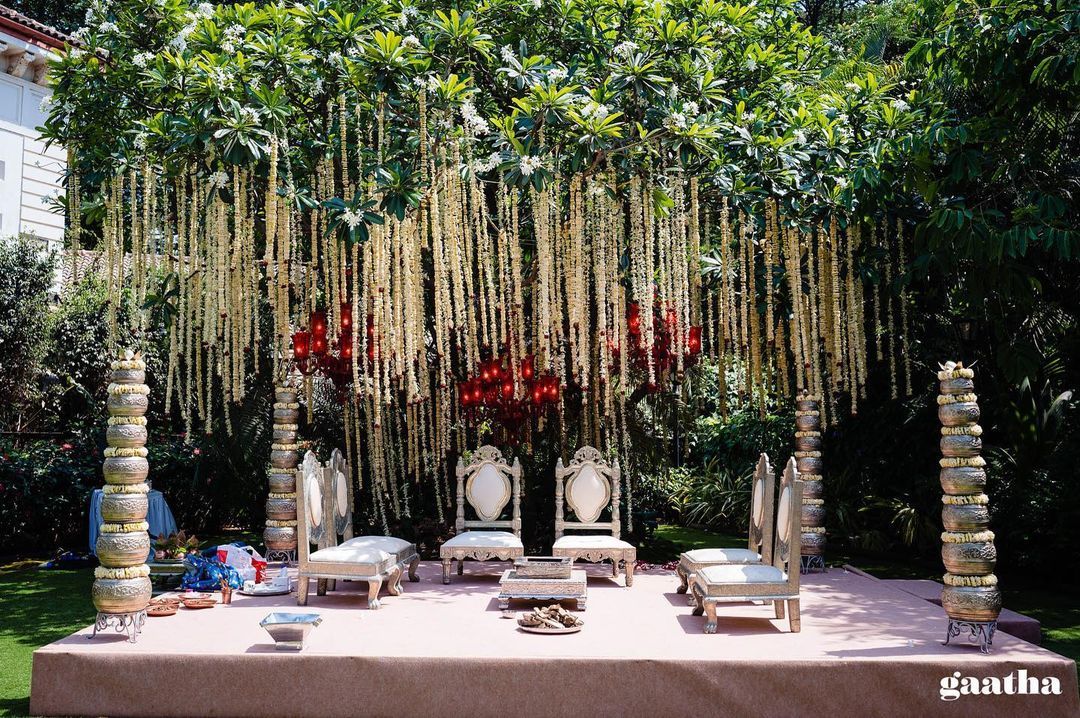 Image via With Love Nilma★ 5
This is an inspirational setting for a North Indian or South Indian wedding. If you plan to have a garden wedding, then make use of the trees outside like this. Hang floral strings from it, which gives such a nice effect and voila- you have your pretty DIY mandap ready!
This one which is apt for an apartment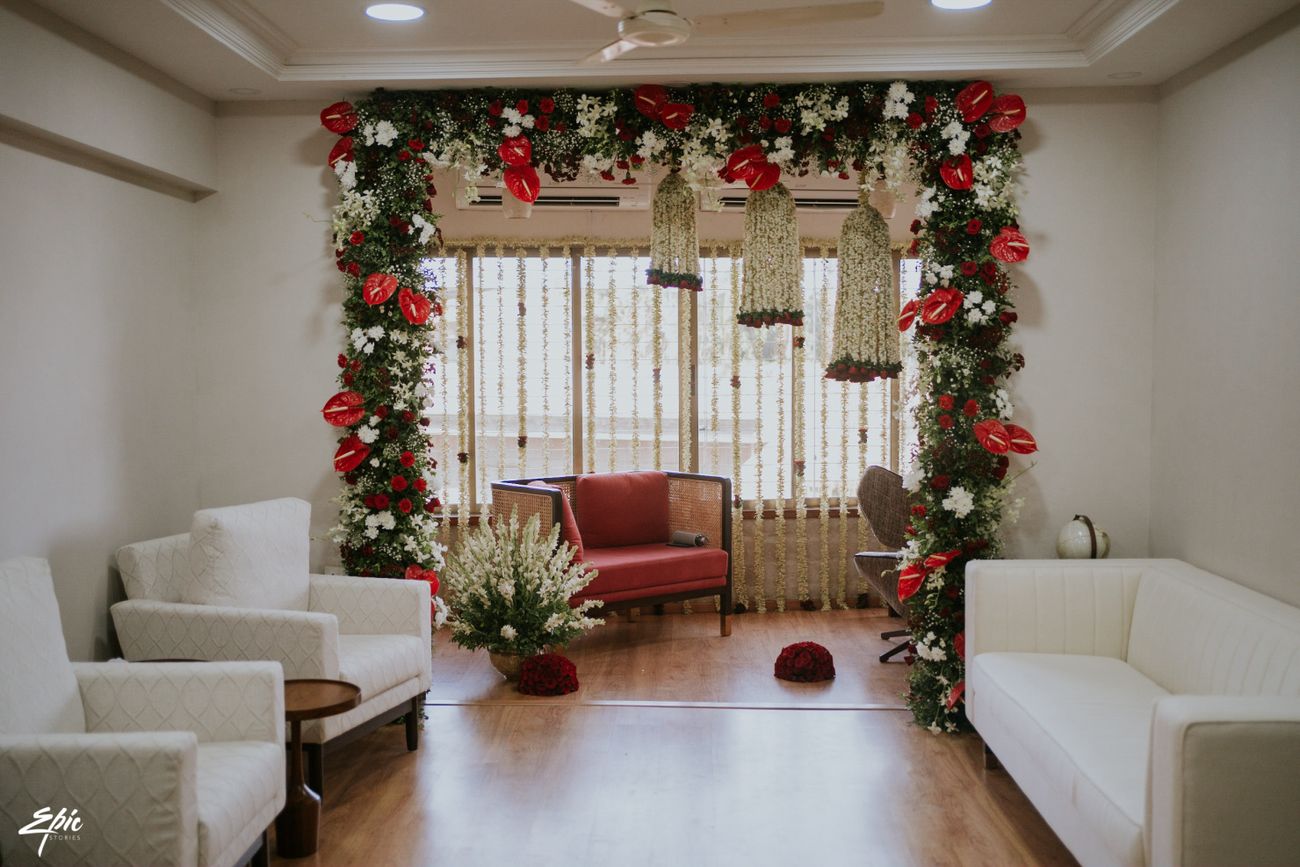 Image via EPICSTORIES★ 5
If you think an apartment isn't the right setting for an intimate wedding, think again. Just some florals and creativity can make a space stand out and how. Just a simple floral arch and pretty mogra strings that set the backdrop, and any vintage sofa to make the place look simple yet eye catching.
This simple yet pretty setting for a haldi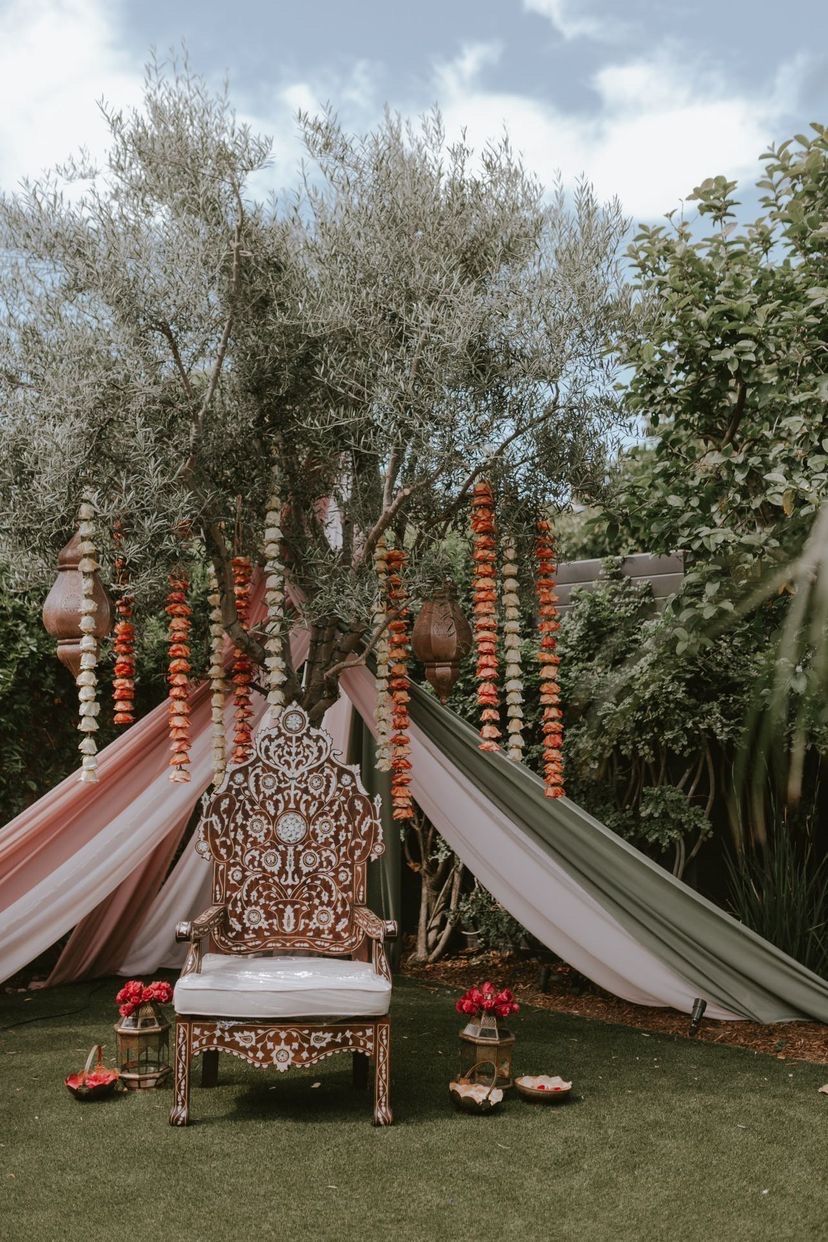 Image via Sasha and Aamir
Another pretty idea for a garden seating for the mehendi or haldi, or even an intimate wedding if you increase the seating. Just some floral strings suspended and a grand chair- and not to forget, the teepee style drapes from the tree hanging to create some drama. Finish off with some small little traditional pieces on the ground, and voila!
This one with banana leaves as a backdrop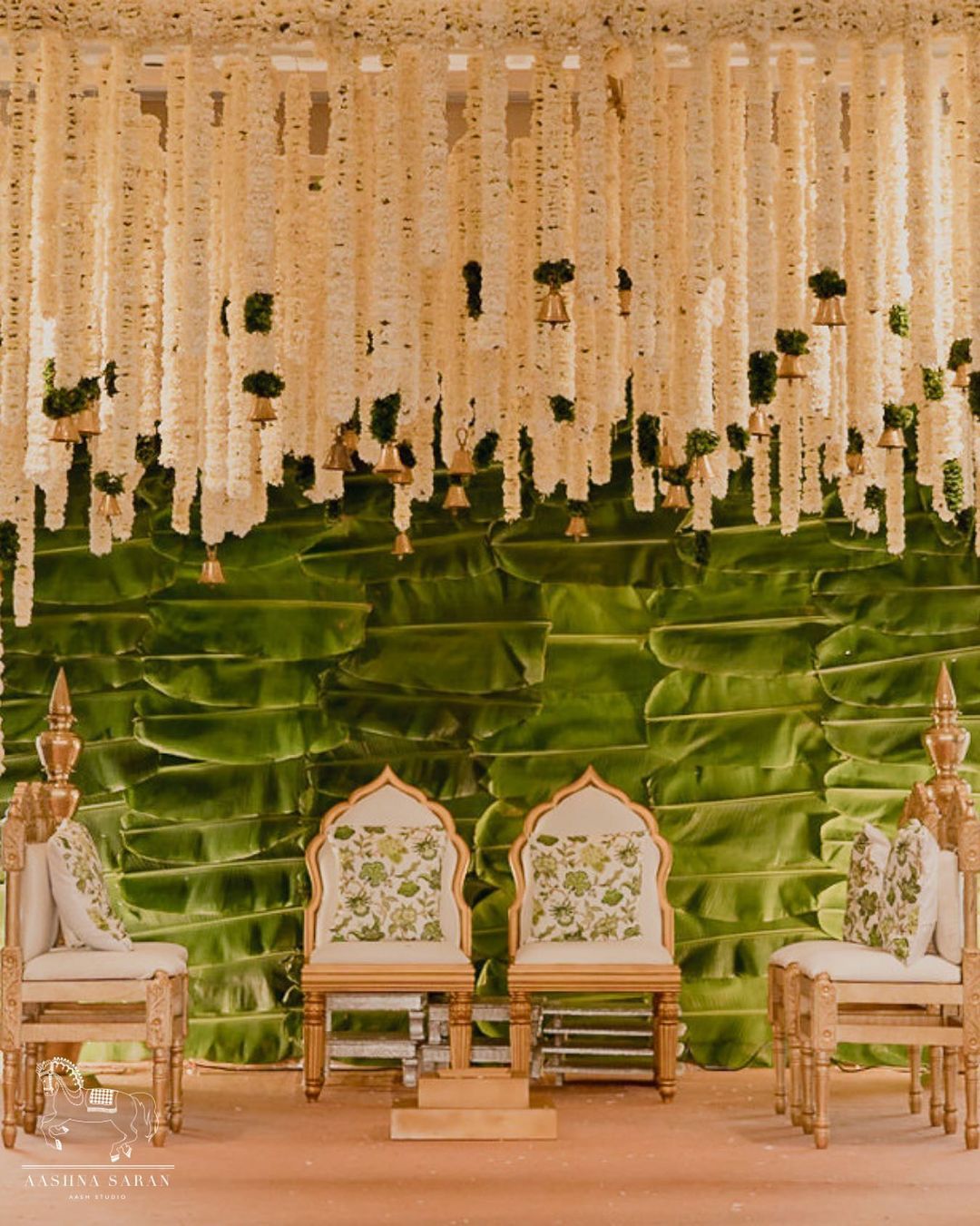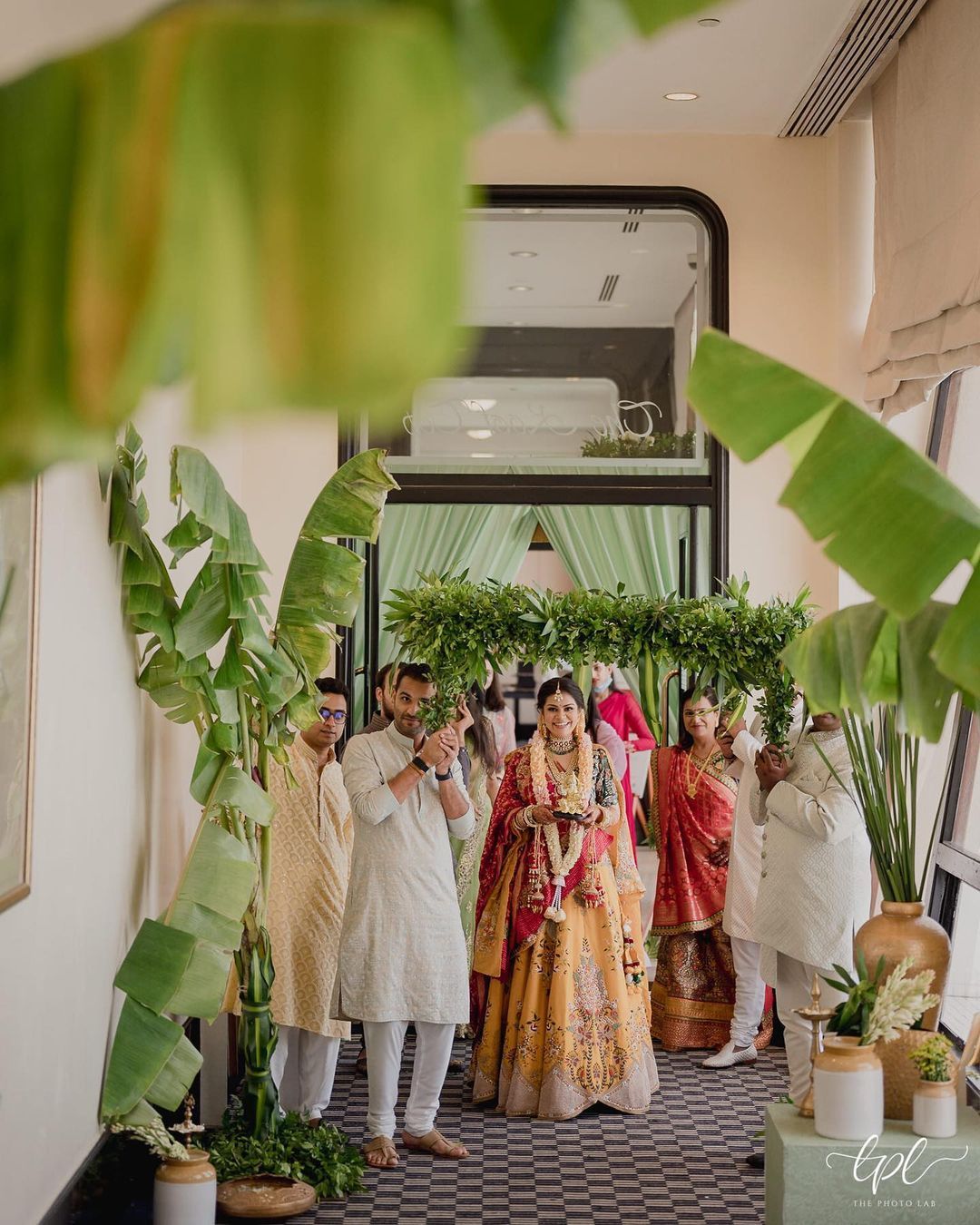 Image via Aash Studio ★ 5
Such a neat idea for a South Indian wedding! Banana leaves all pasted together to create a unique backdrop, which looks so so different! Quite a different idea we must say! Plus, it seemed to be the theme all over with the leaves - even the cushion covers and the entrance lining it. 
This simple yet elegant setting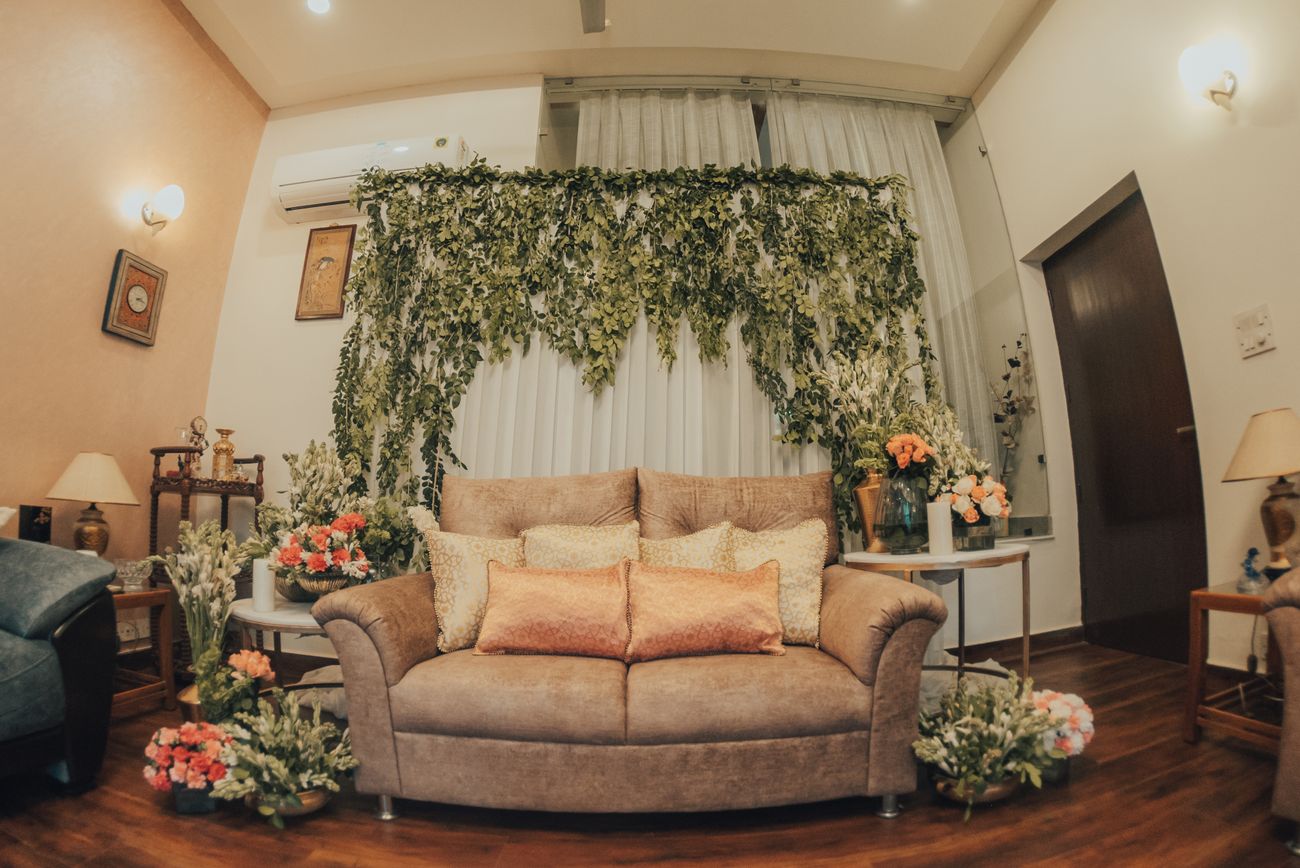 Image via Designer Events Inc★ 4.9
Florals all the way! Just a simple setting over the sofa to create a nice photobooth which looks nice in photos- and the florals on the side in vases and lanterns complementing it beautifully.
This one with the handmade elements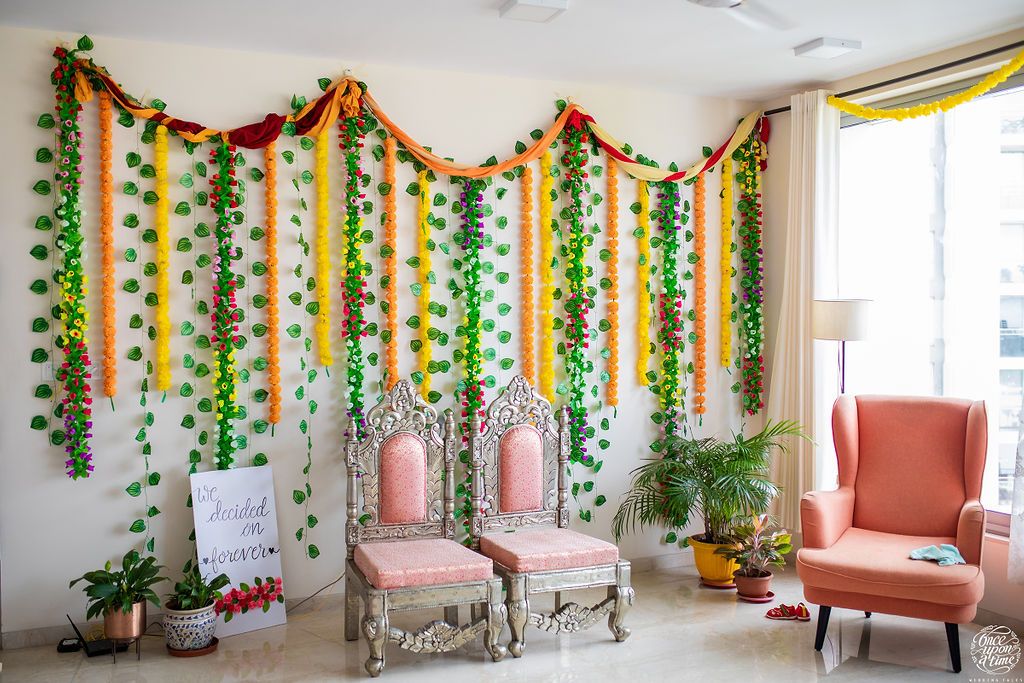 Image via Aditi and Shivam
Artificial florals and leaves when you can't get the real thing, they don't look bad at all too! A simple yet elegant setting perfect for an apartment. You can get as creative with this as you want.