Epic Phuket Wedding With Head-Turning Bridal Looks
BY Swagata Dam | 13 Jun, 2022 | 1809 views | 7 min read
Their love story started at a wedding. And now, they were finally embarking on a new chapter with their own wedding. Naturally, they wanted it to be all sorts of perfect. But they had to face a fare share of roadblocks before finally finding their happy ending and having the shaadi of their dreams. Originally meant to be in Phu Quoc in Vietnam before Covid, this couple's Phuket wedding turned out to be better than the original plan.
With nine grand events, a floating mandap, chefs flown in from India and Japan to bring their bespoke menu to life, some magnificent décor elements, stunning designer outfits and dollops of grandeur - this one was a larger than life nuptial celebration.
Meet Krishma & Dhiraj
The two of them had crossed path with each other for the first time at a common friend's wedding and then they ended up dancing together during the last function. Eventually, they realized they were meant to be, started dating and Dhiraj popped the question for Krishma during a romantic trip to Seoul.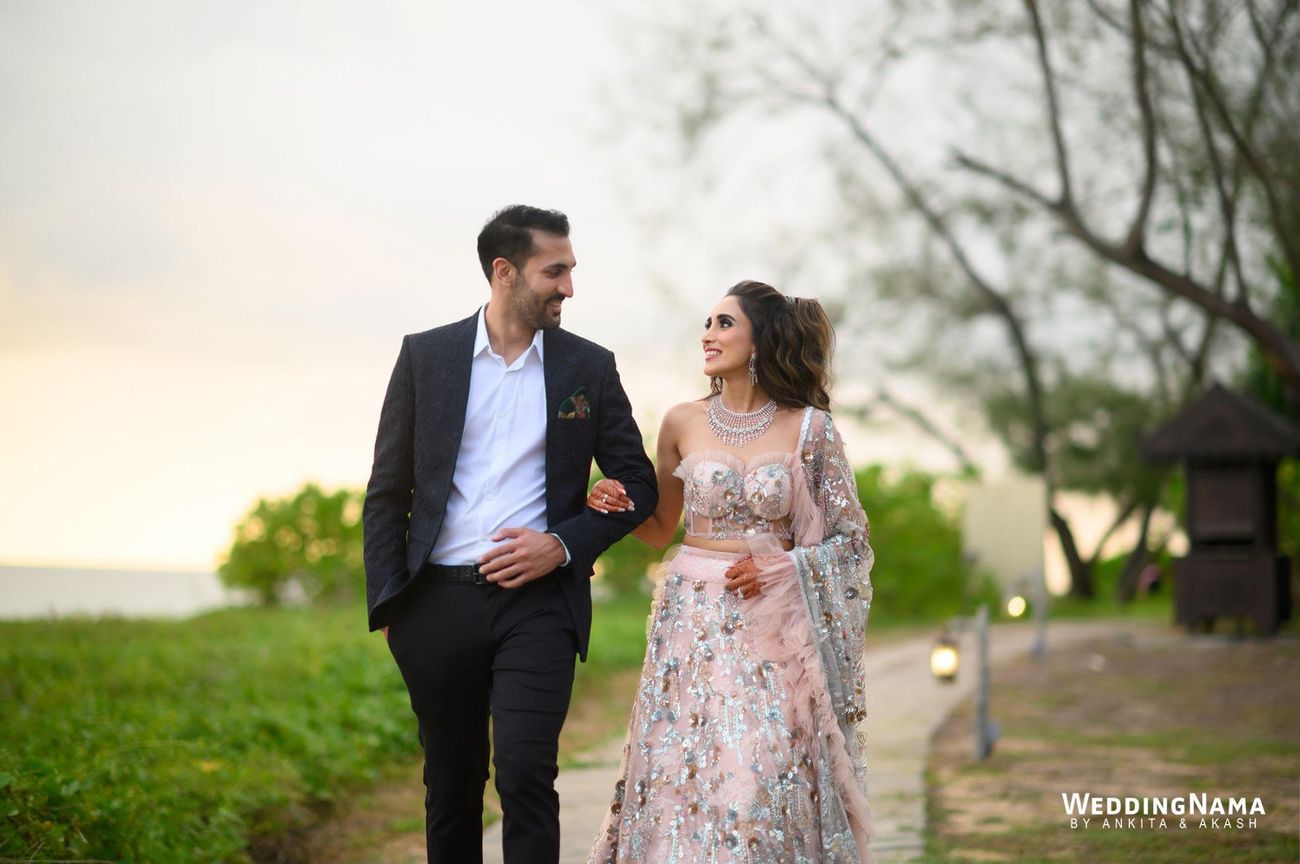 Haldi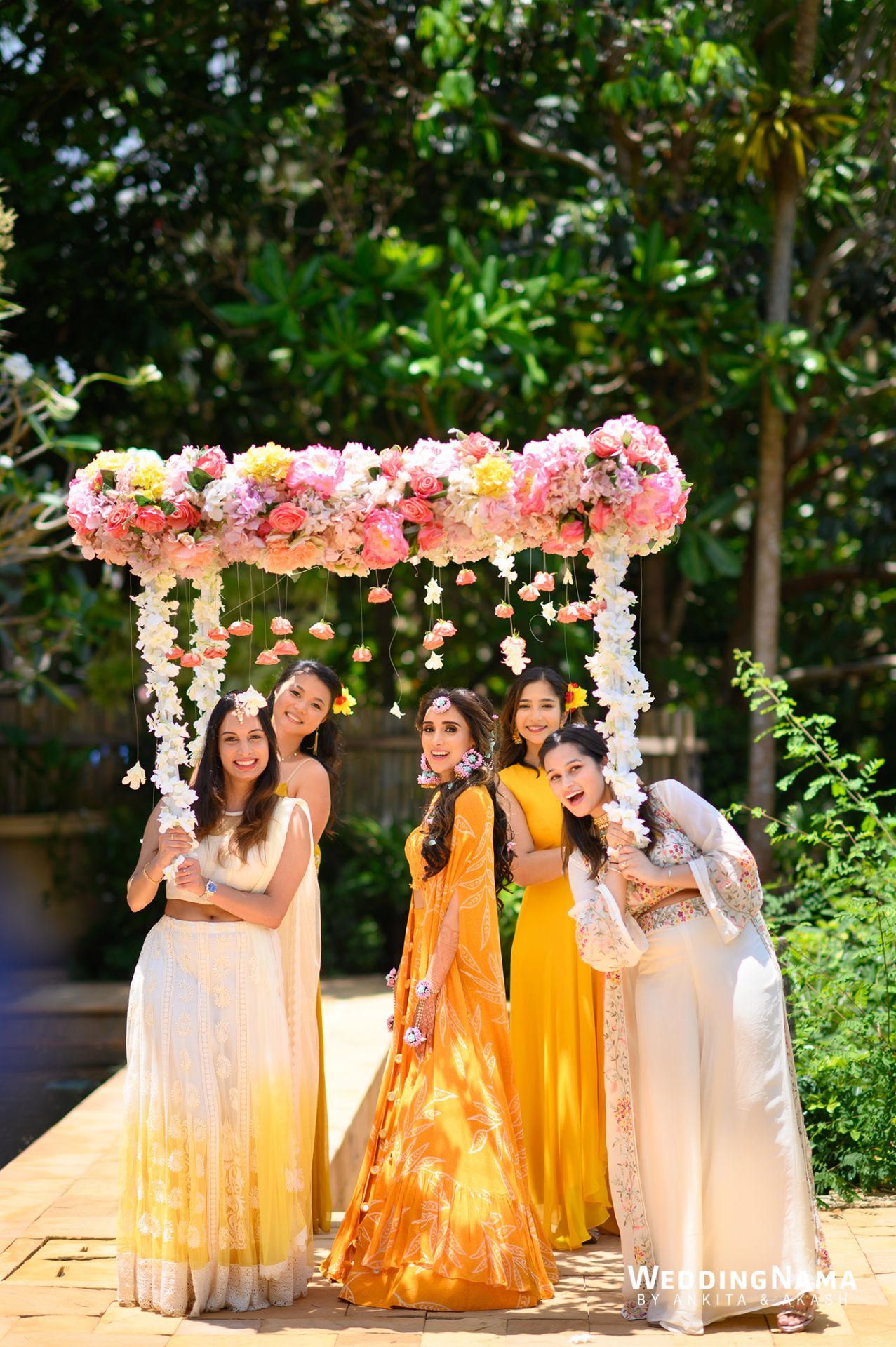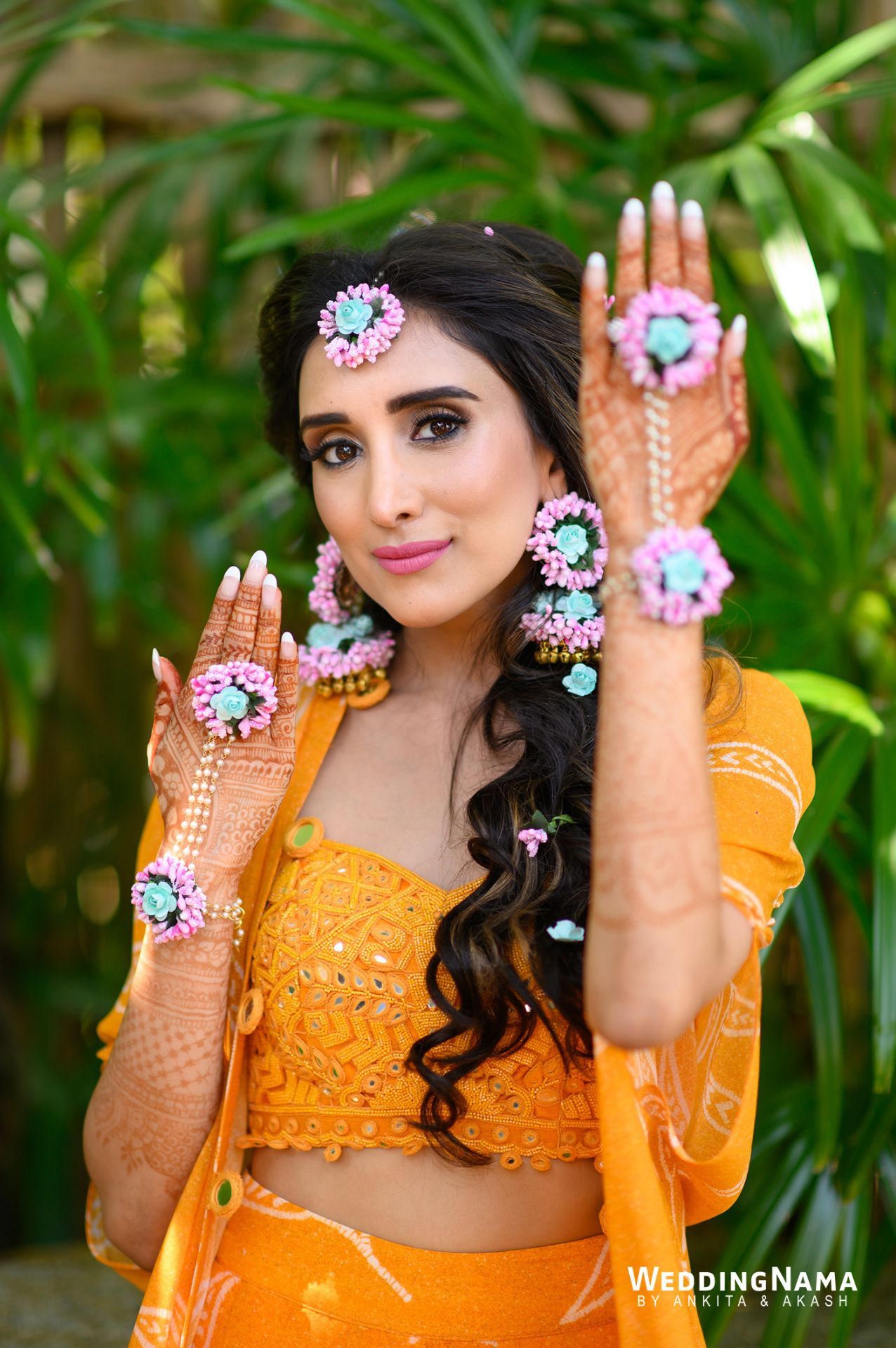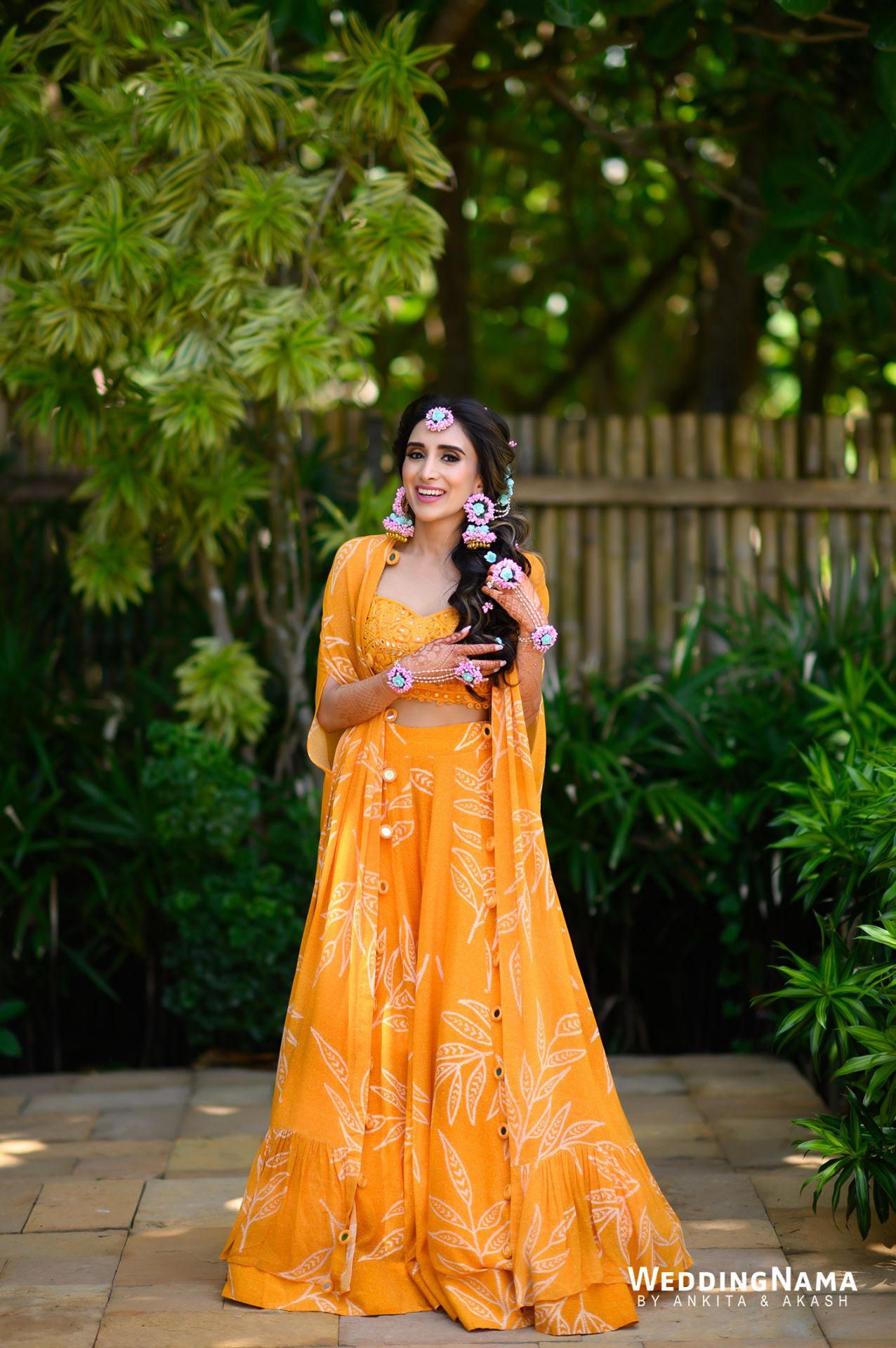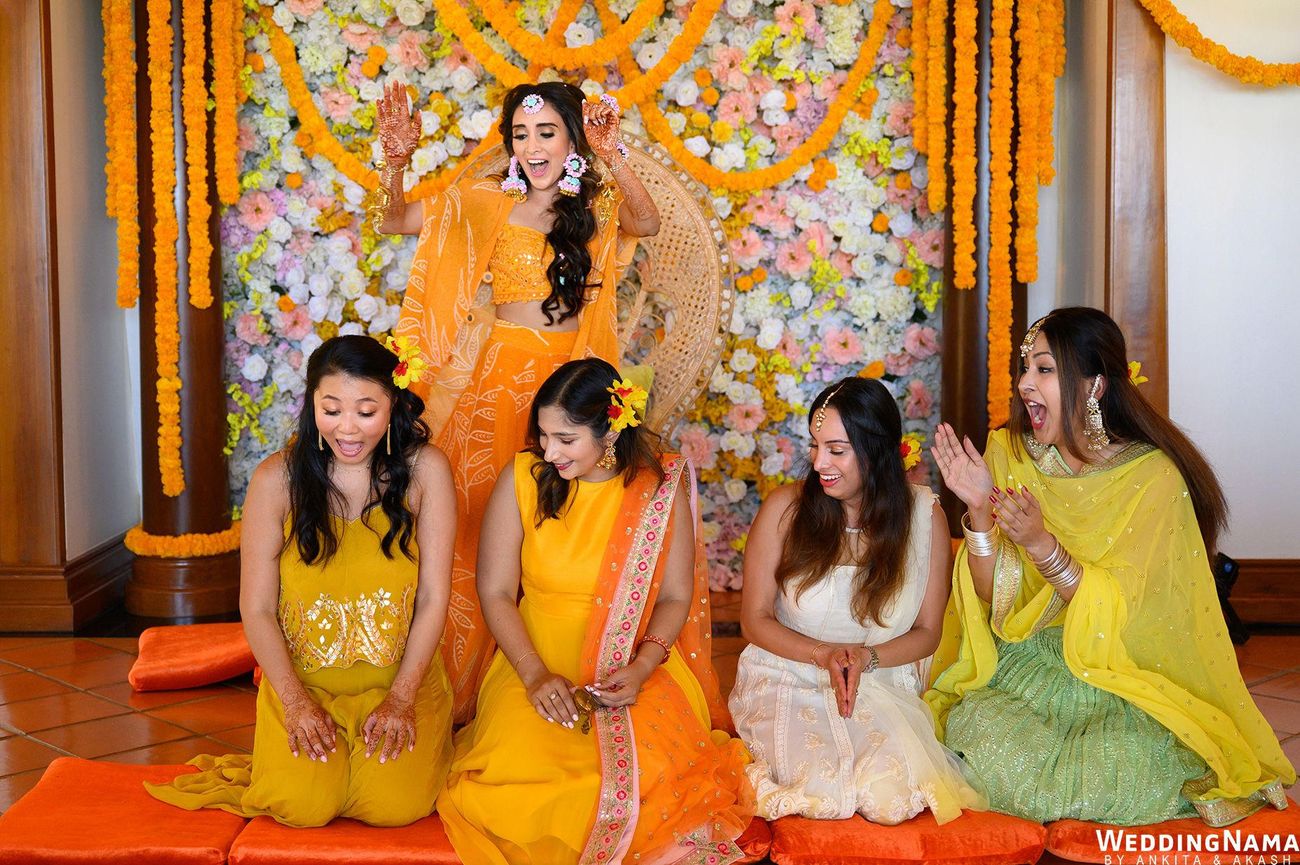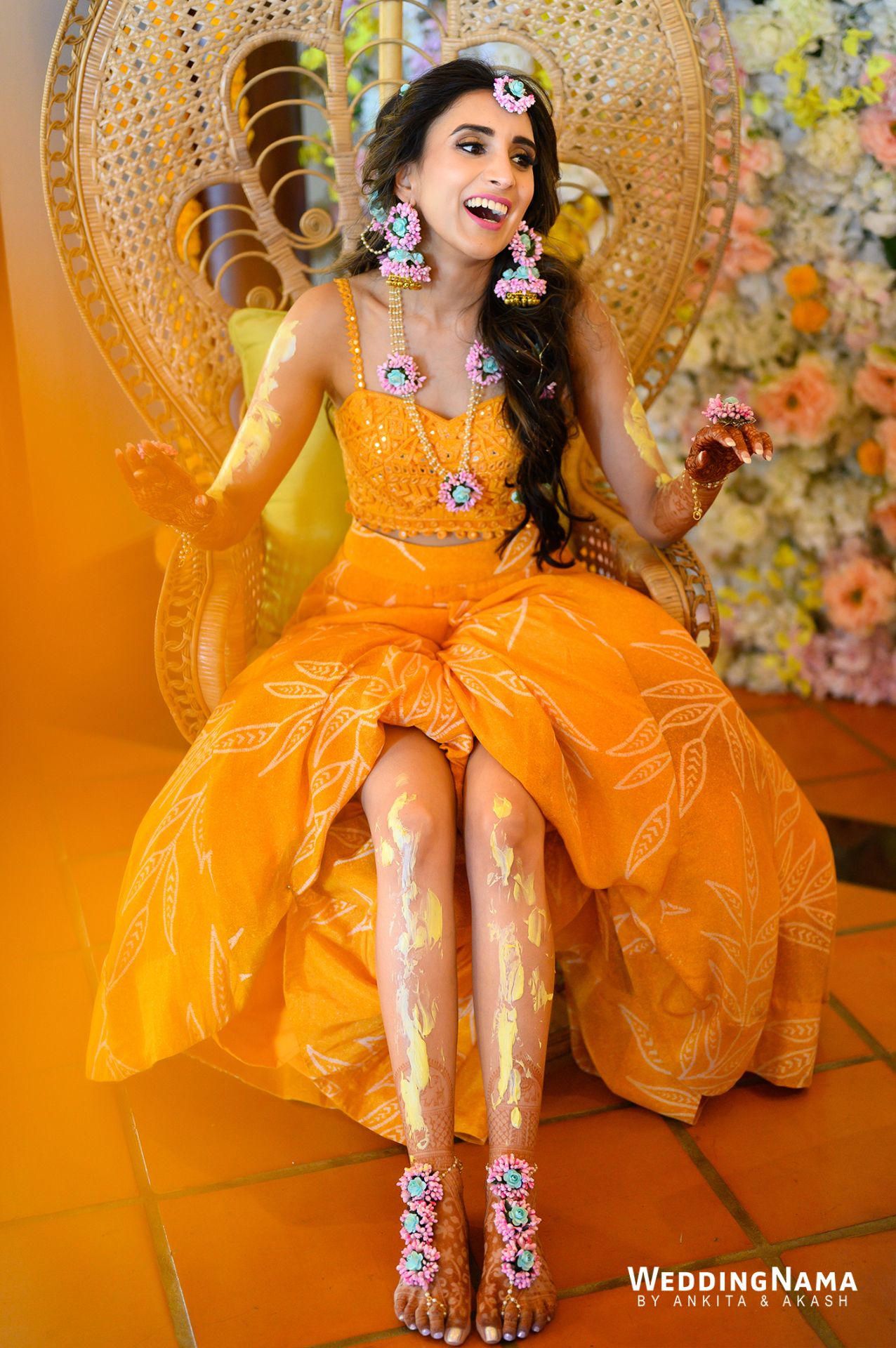 The Haldi was a simple affair, where the bride made a filmy entry while dancing with her bridesmaids and looked effervescent in a yellow co-ord number and some floral jewellery.
Mehendi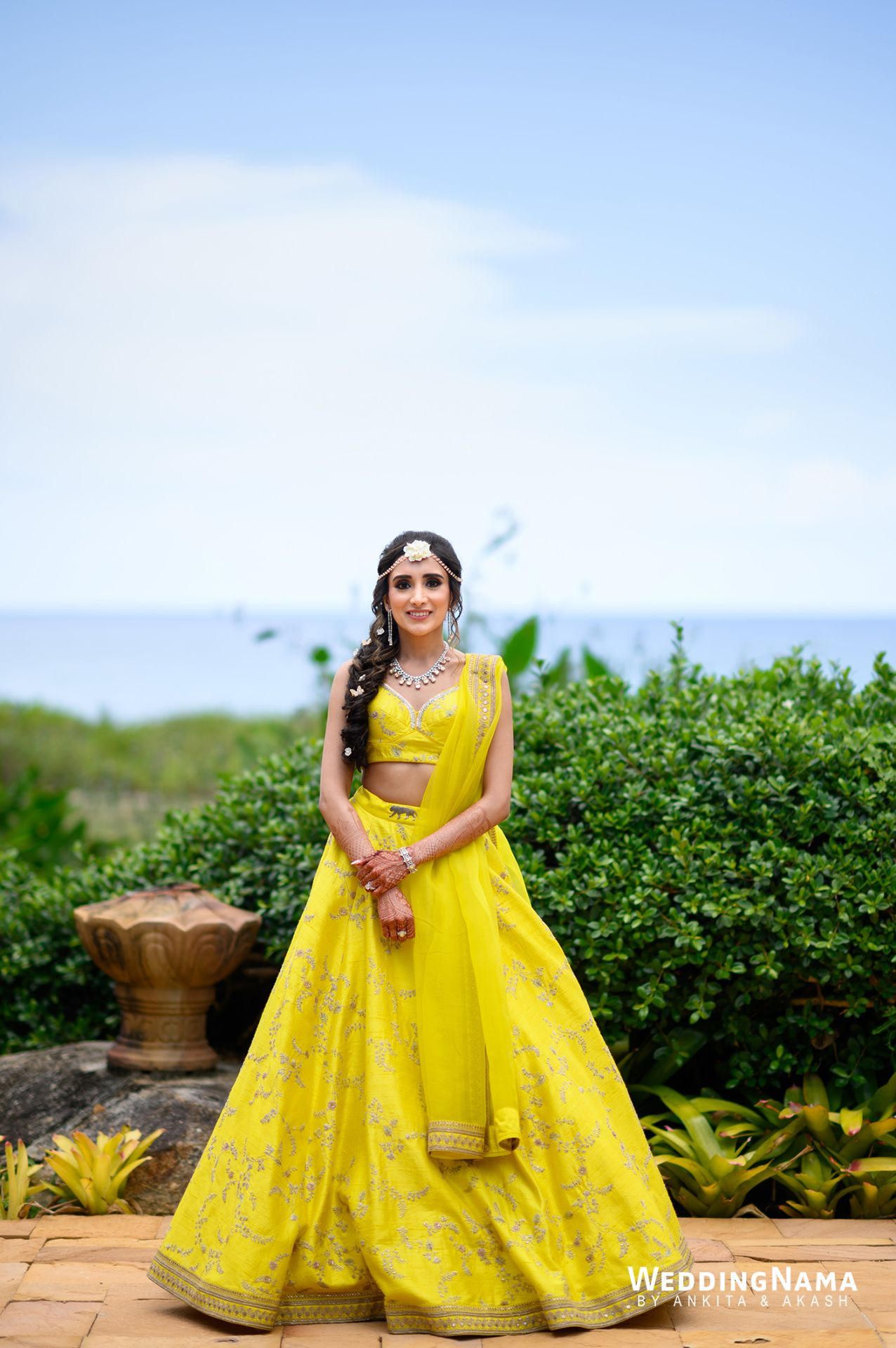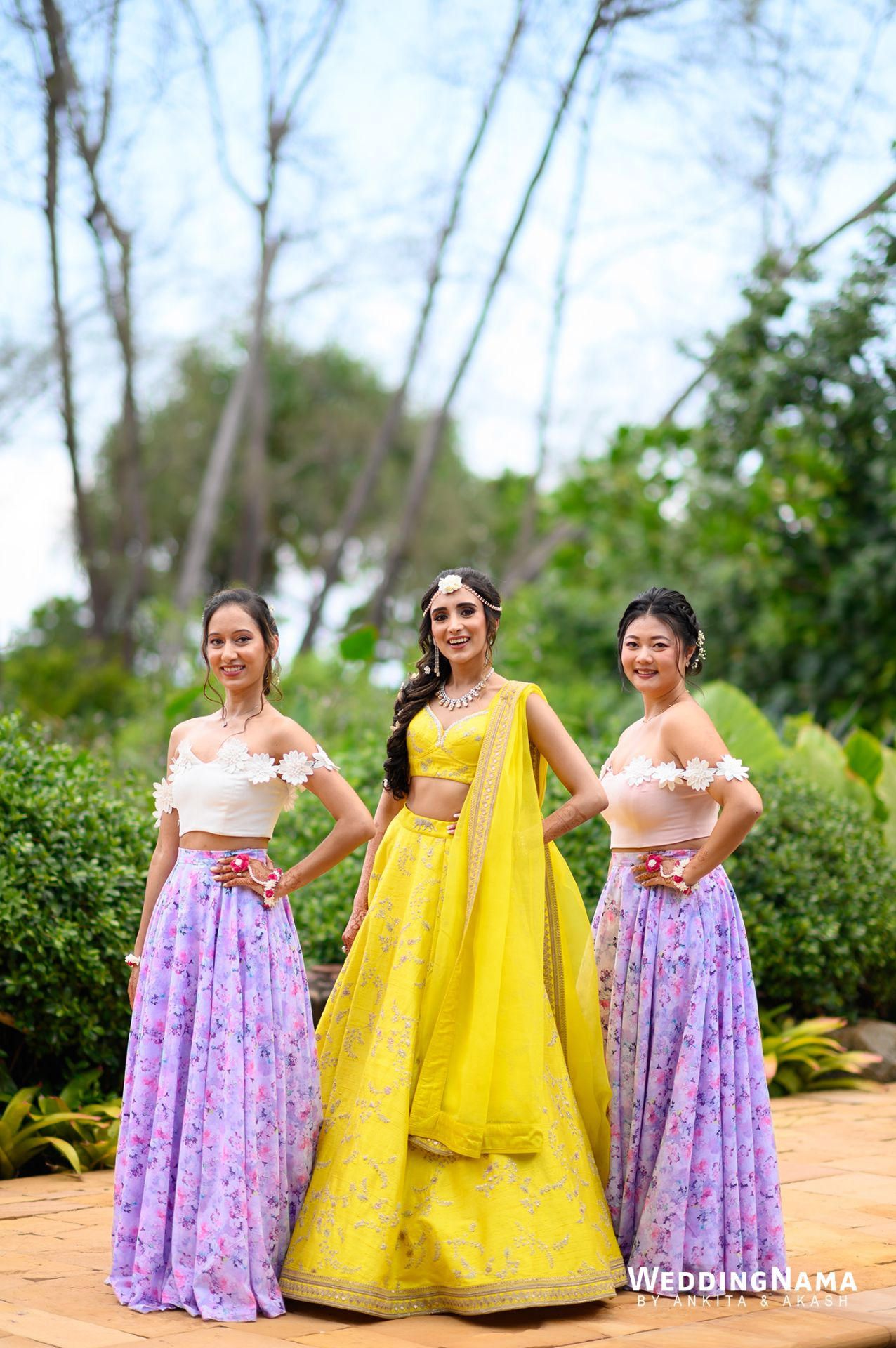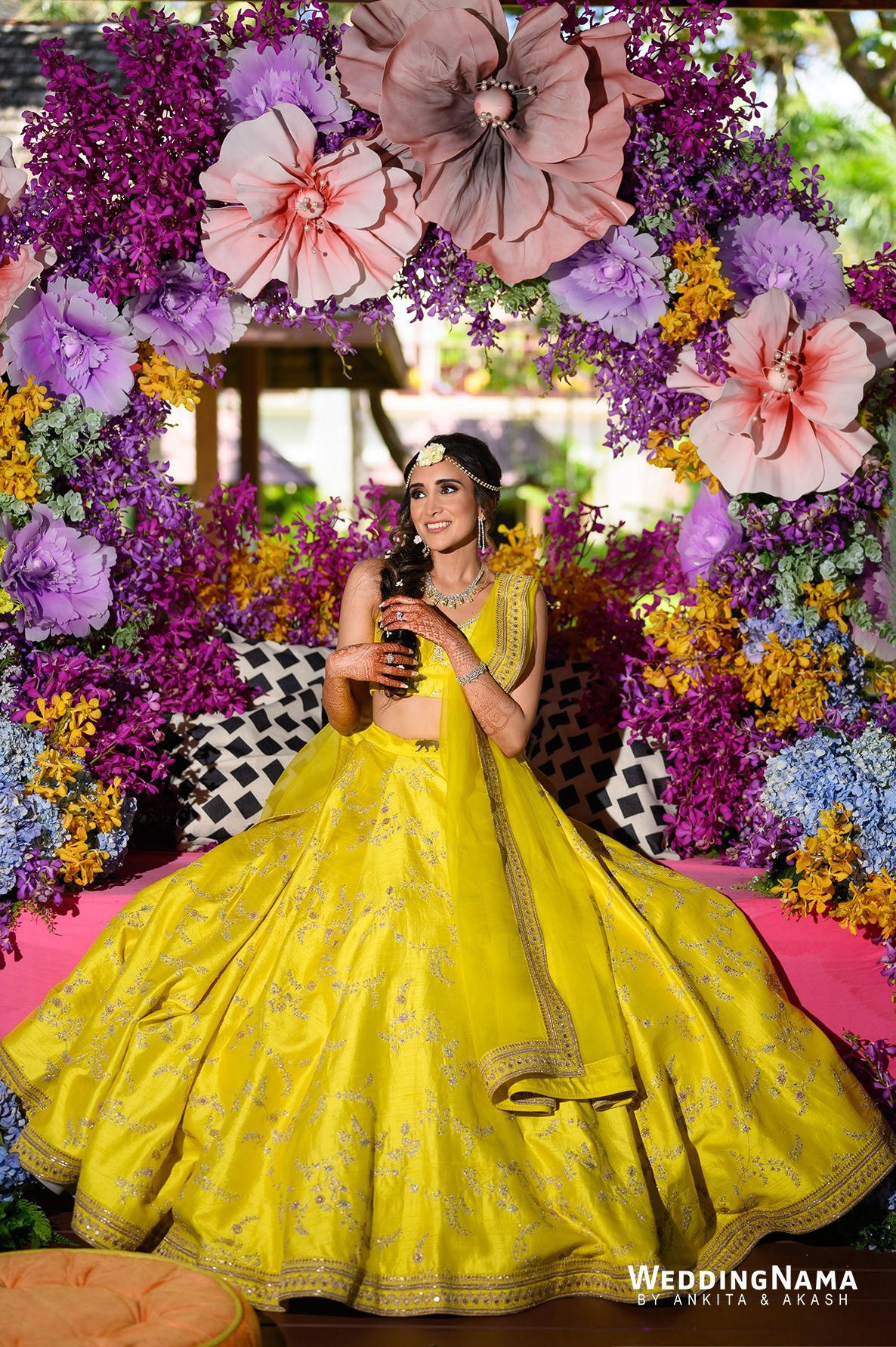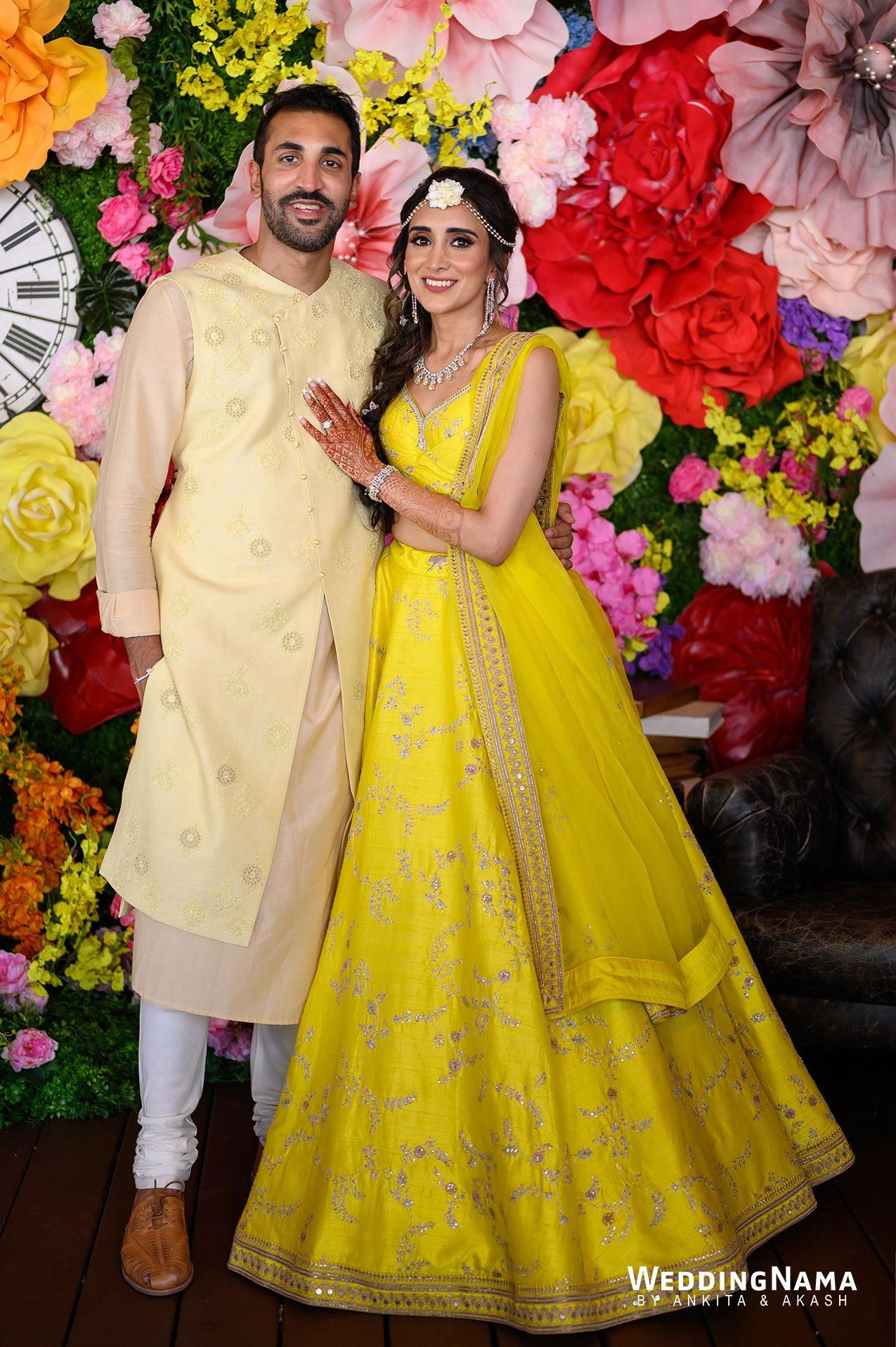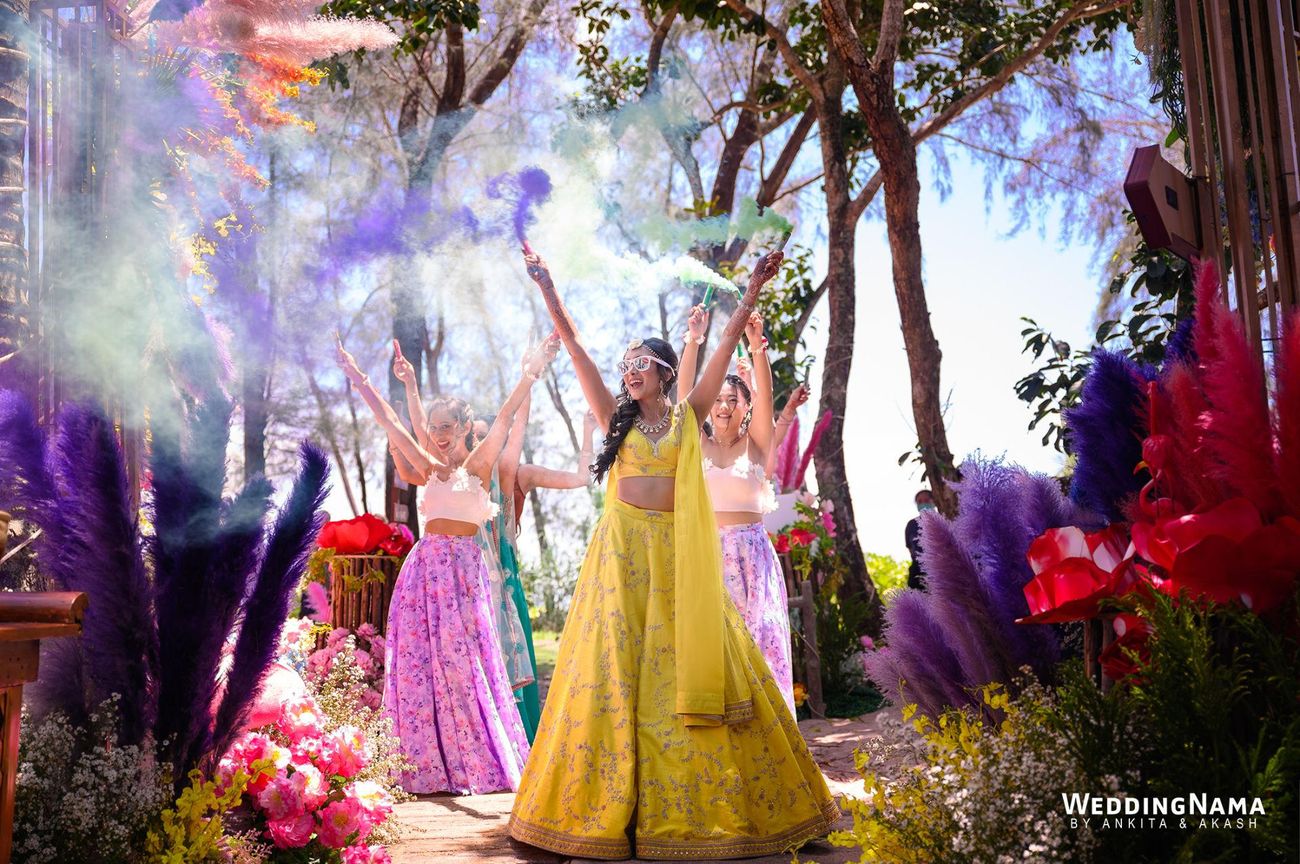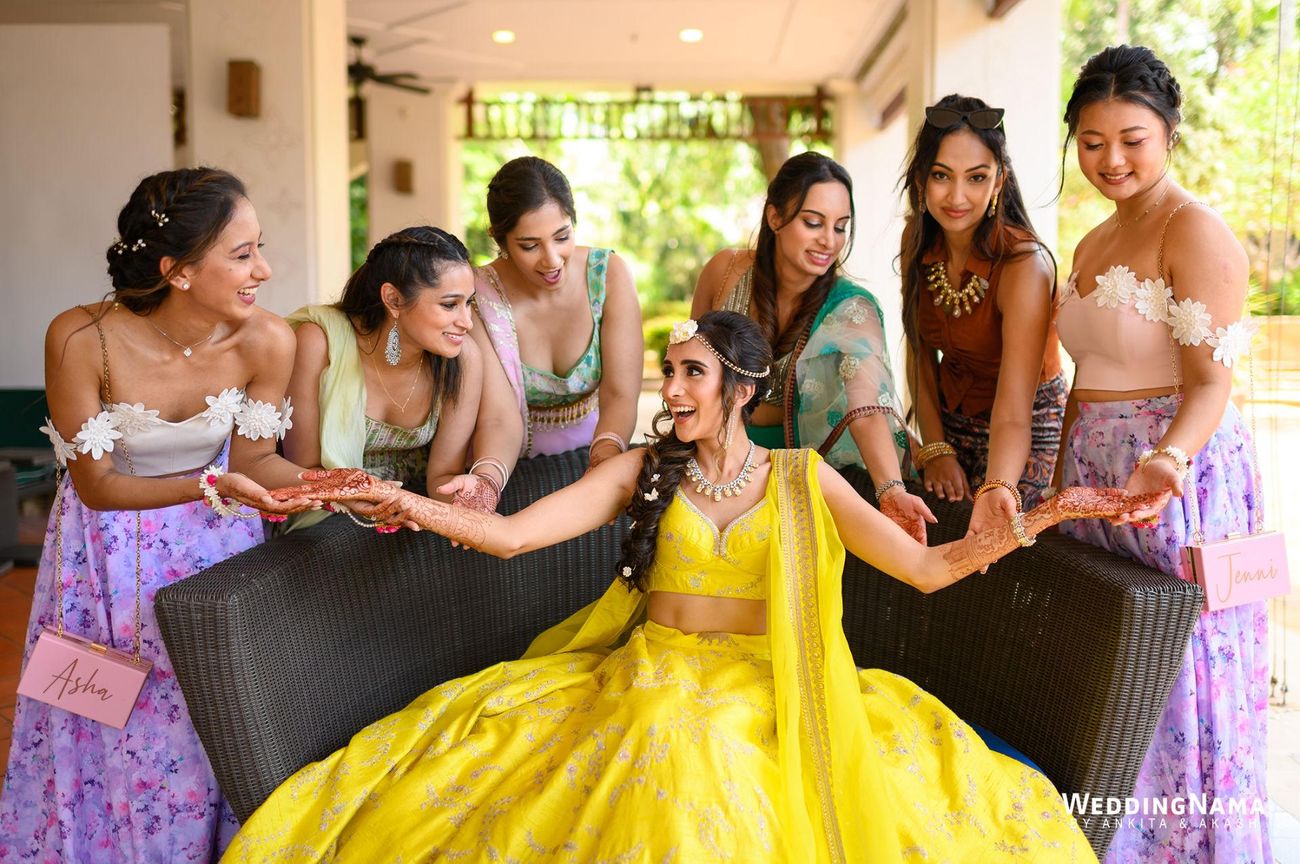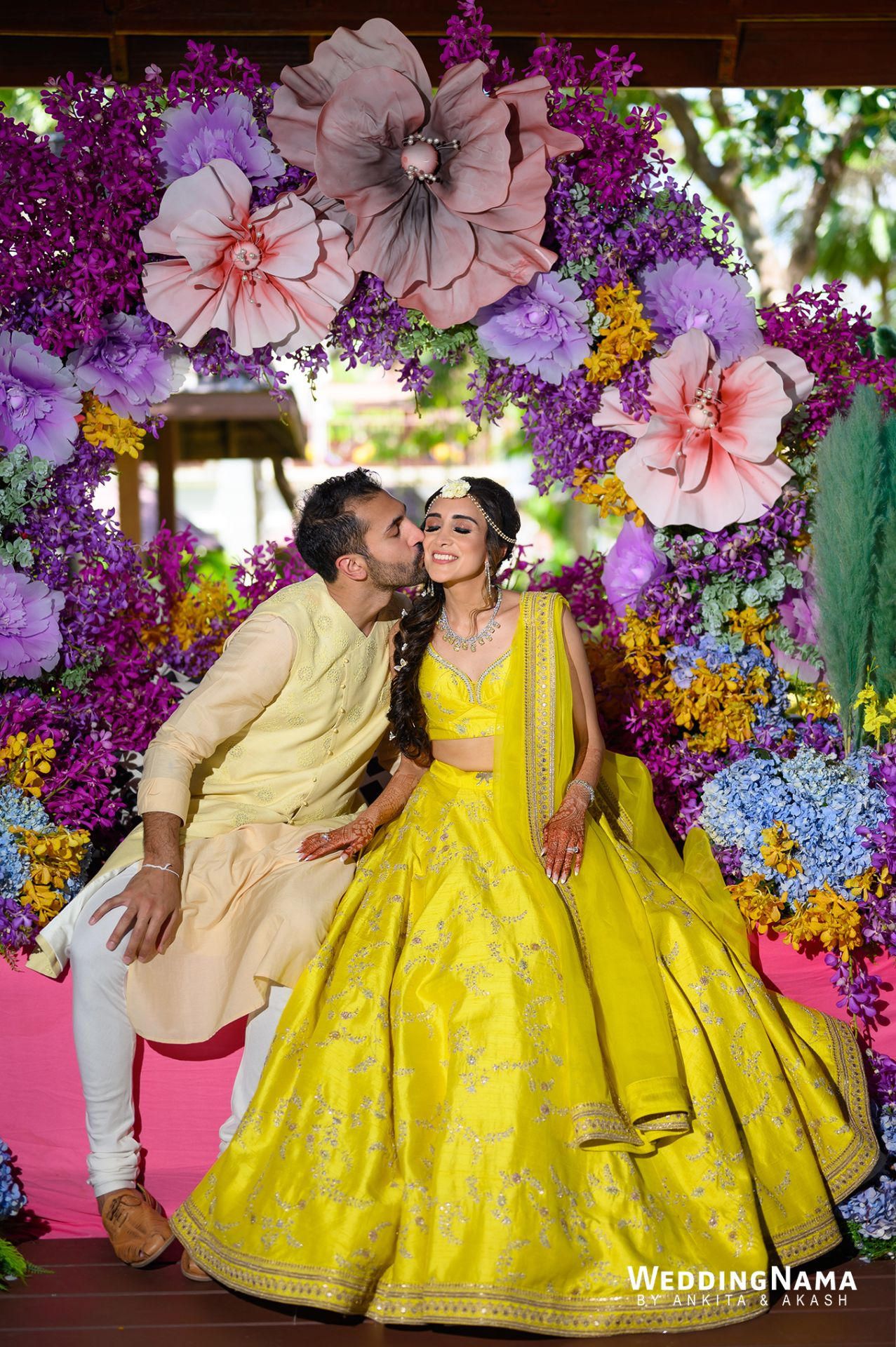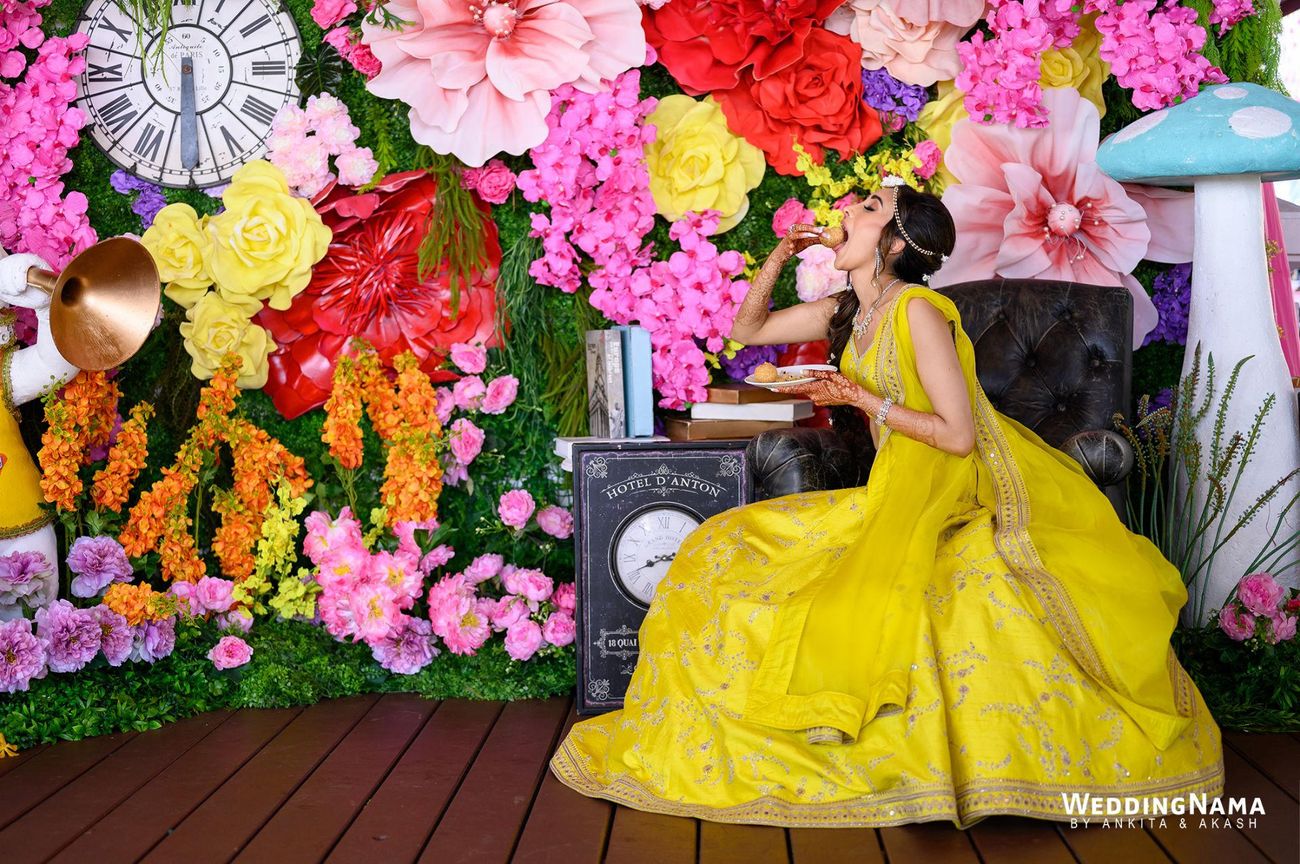 The Mehendi had a mad hatter 'Alice in Wonderland' theme with lots of bold colors, gorgeous floral décor and a whole lot of fun!
Wedding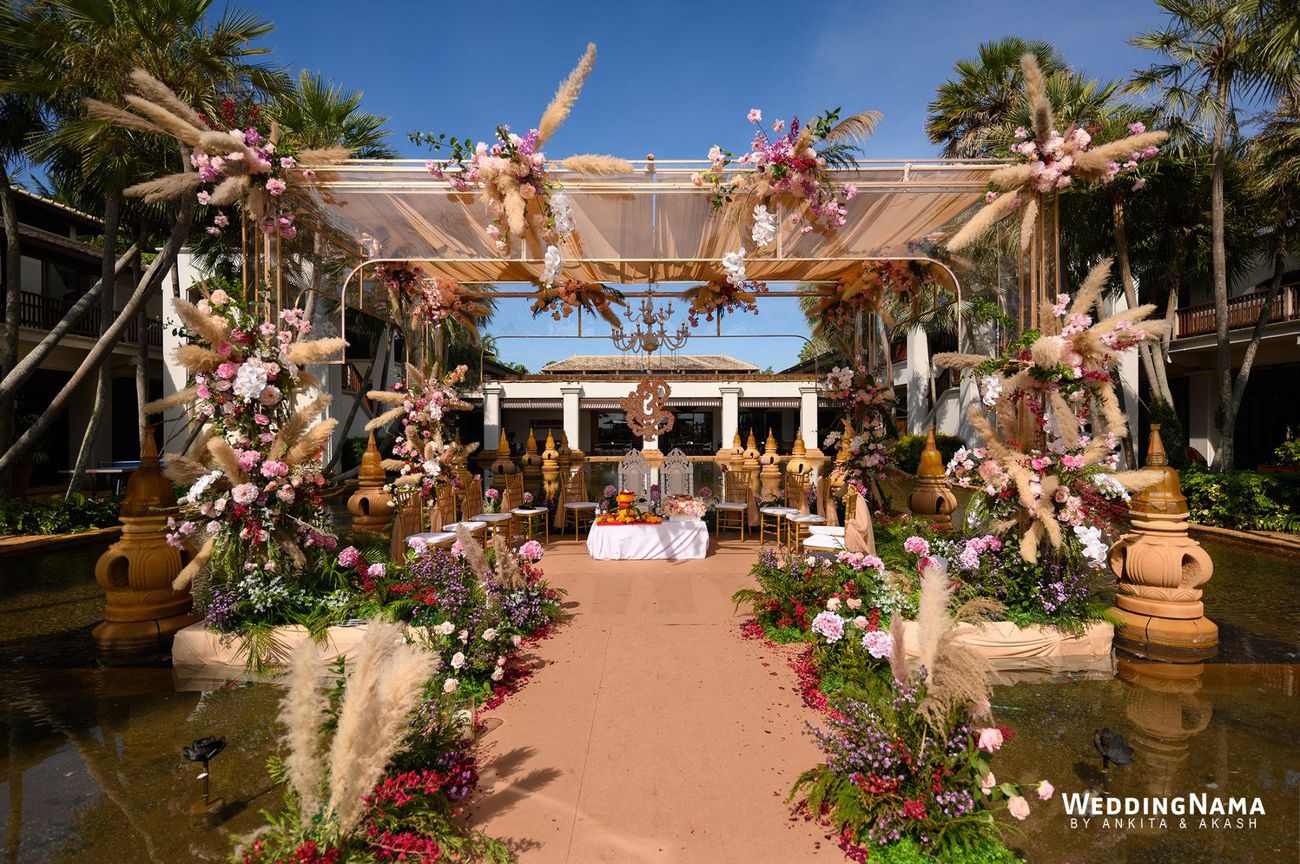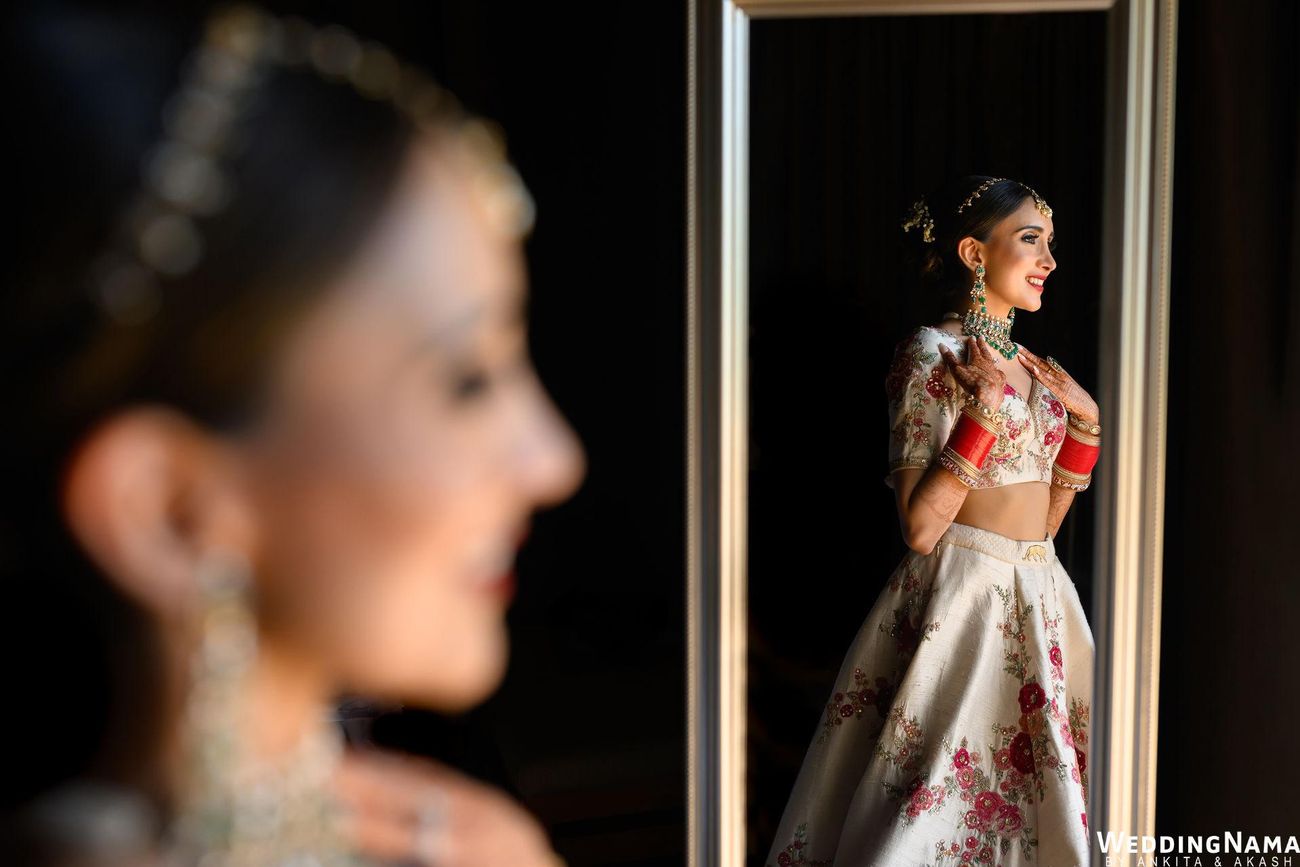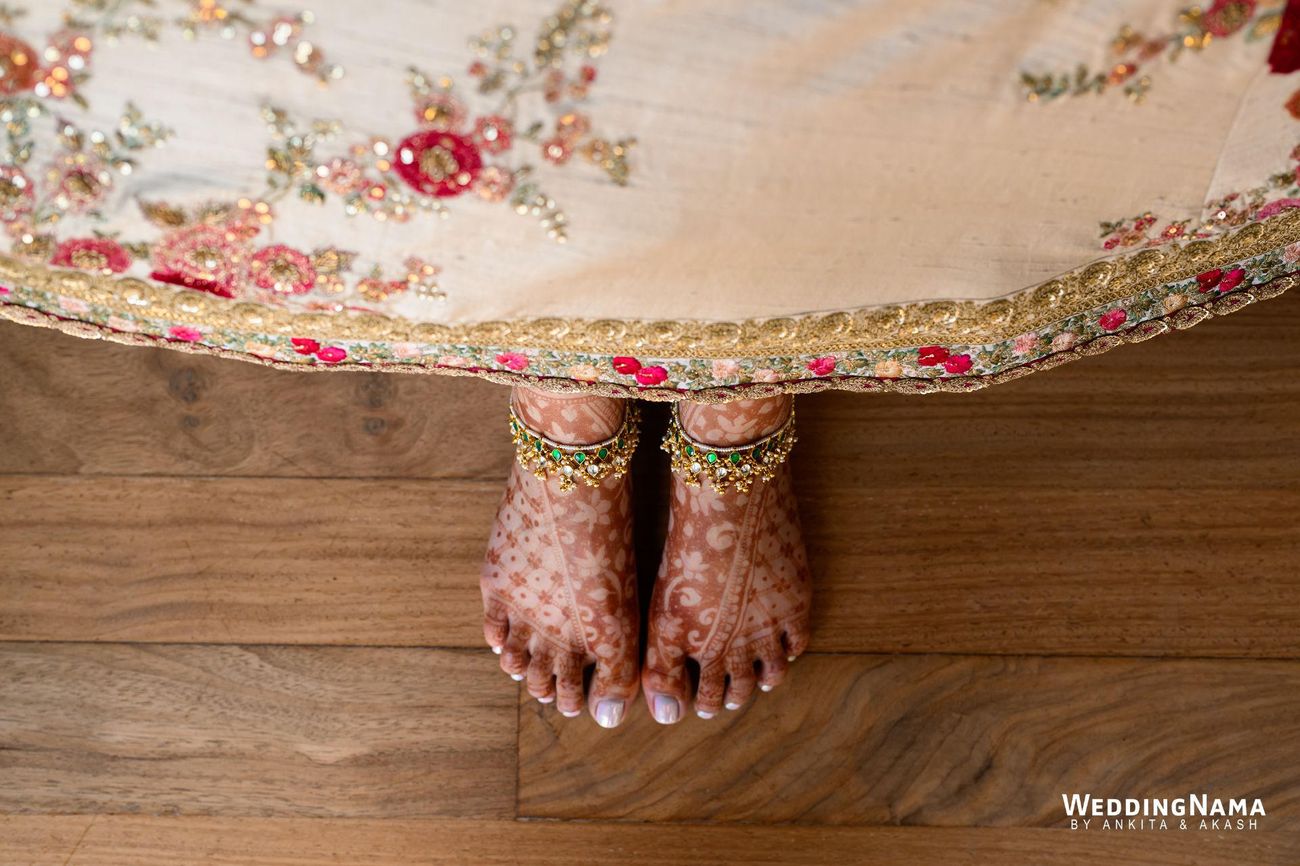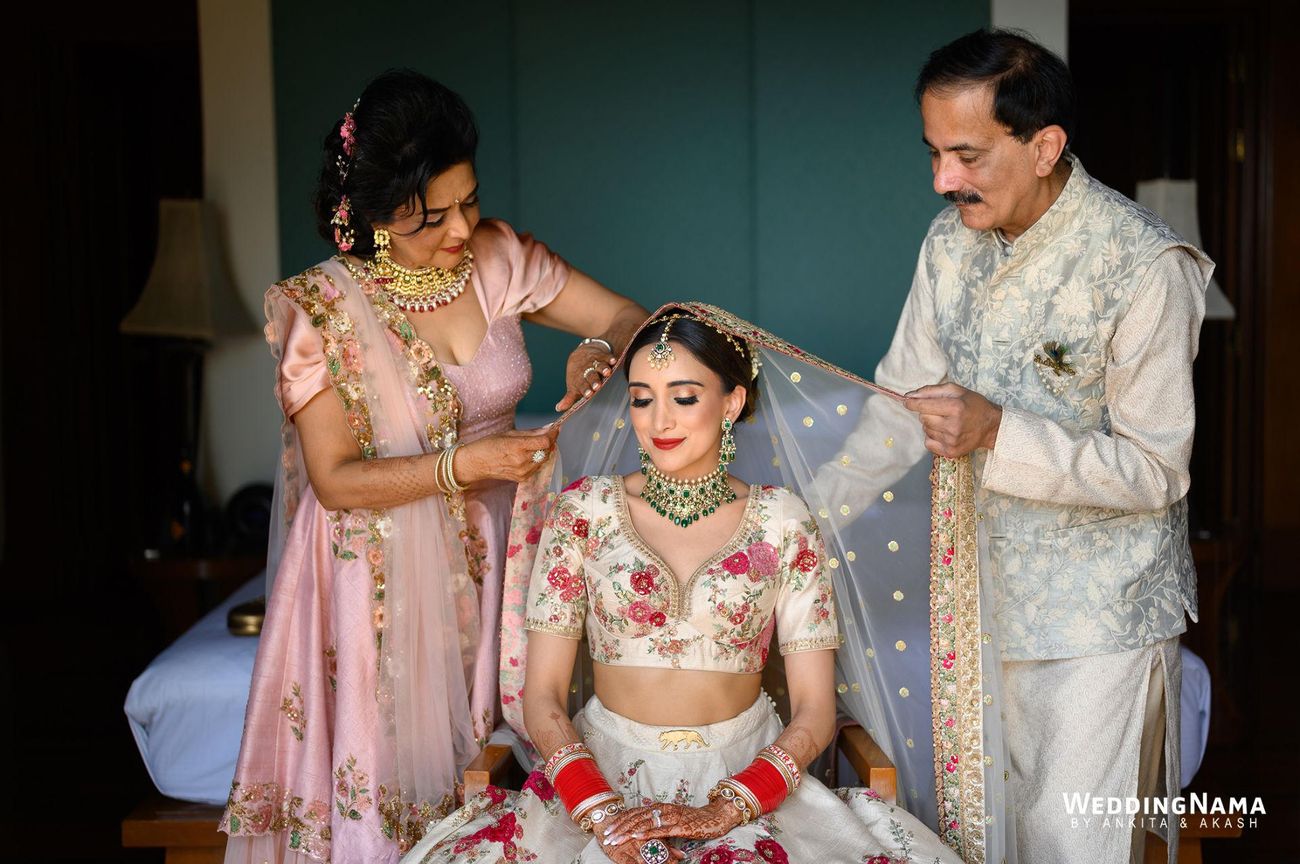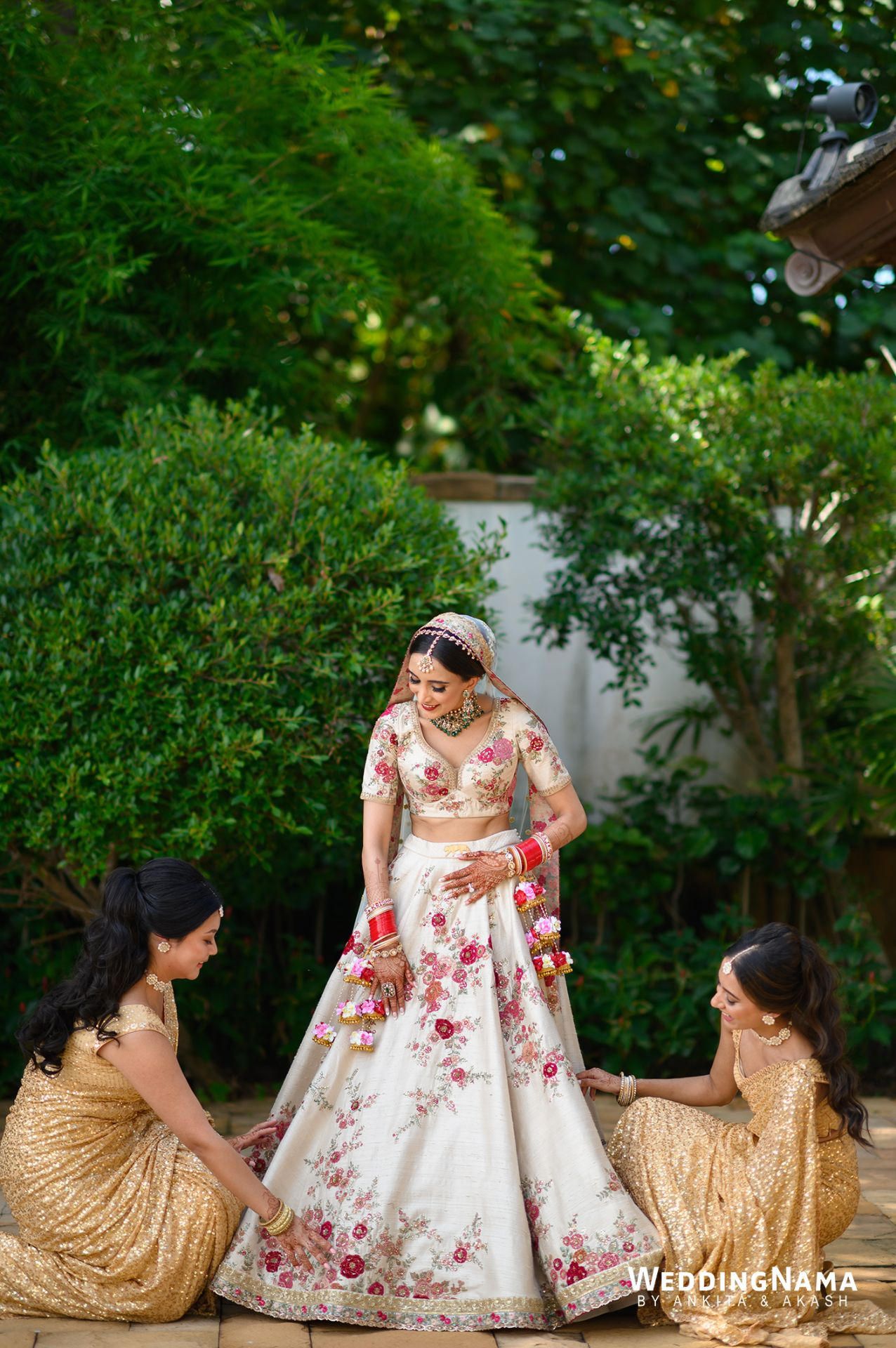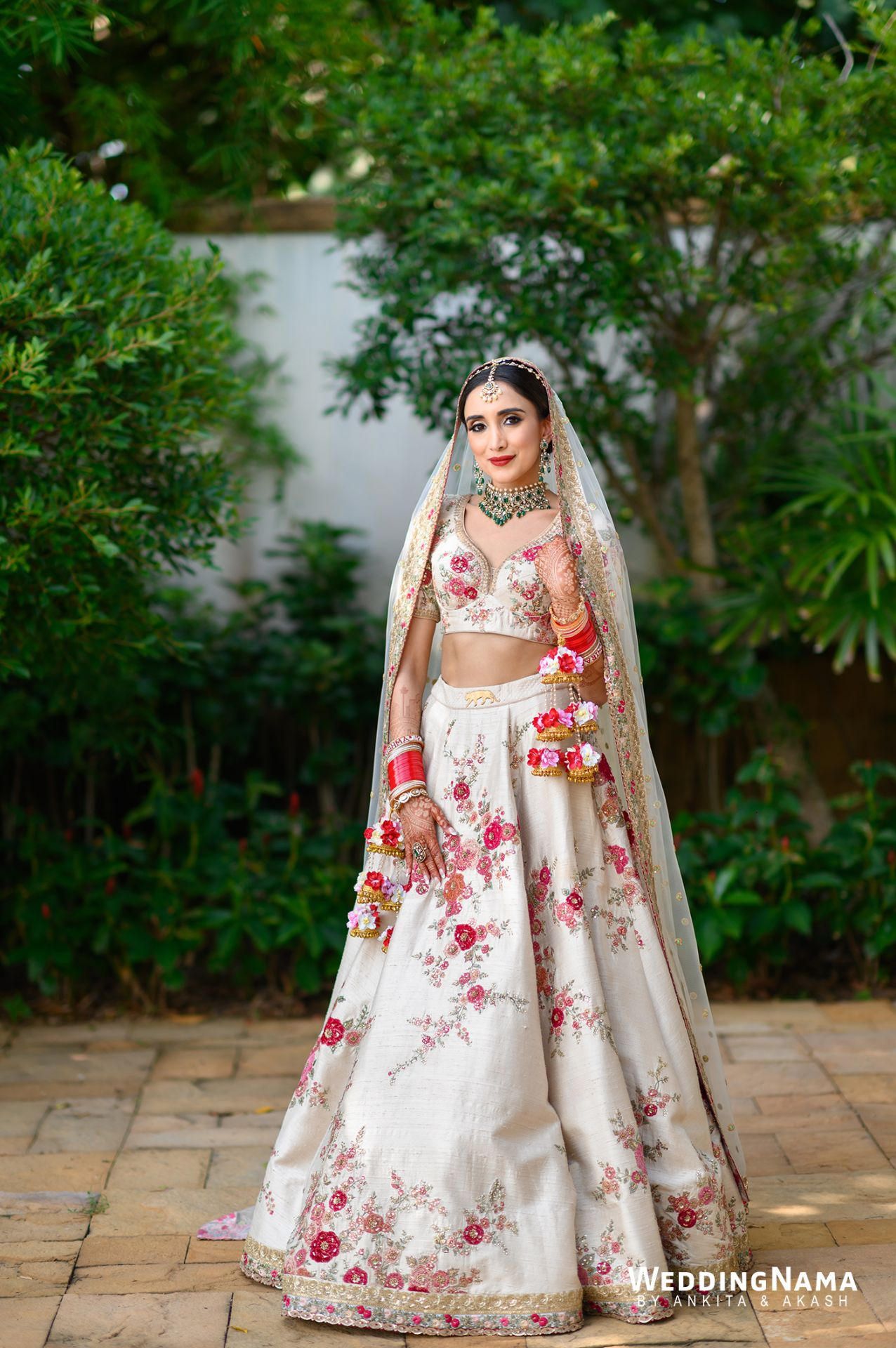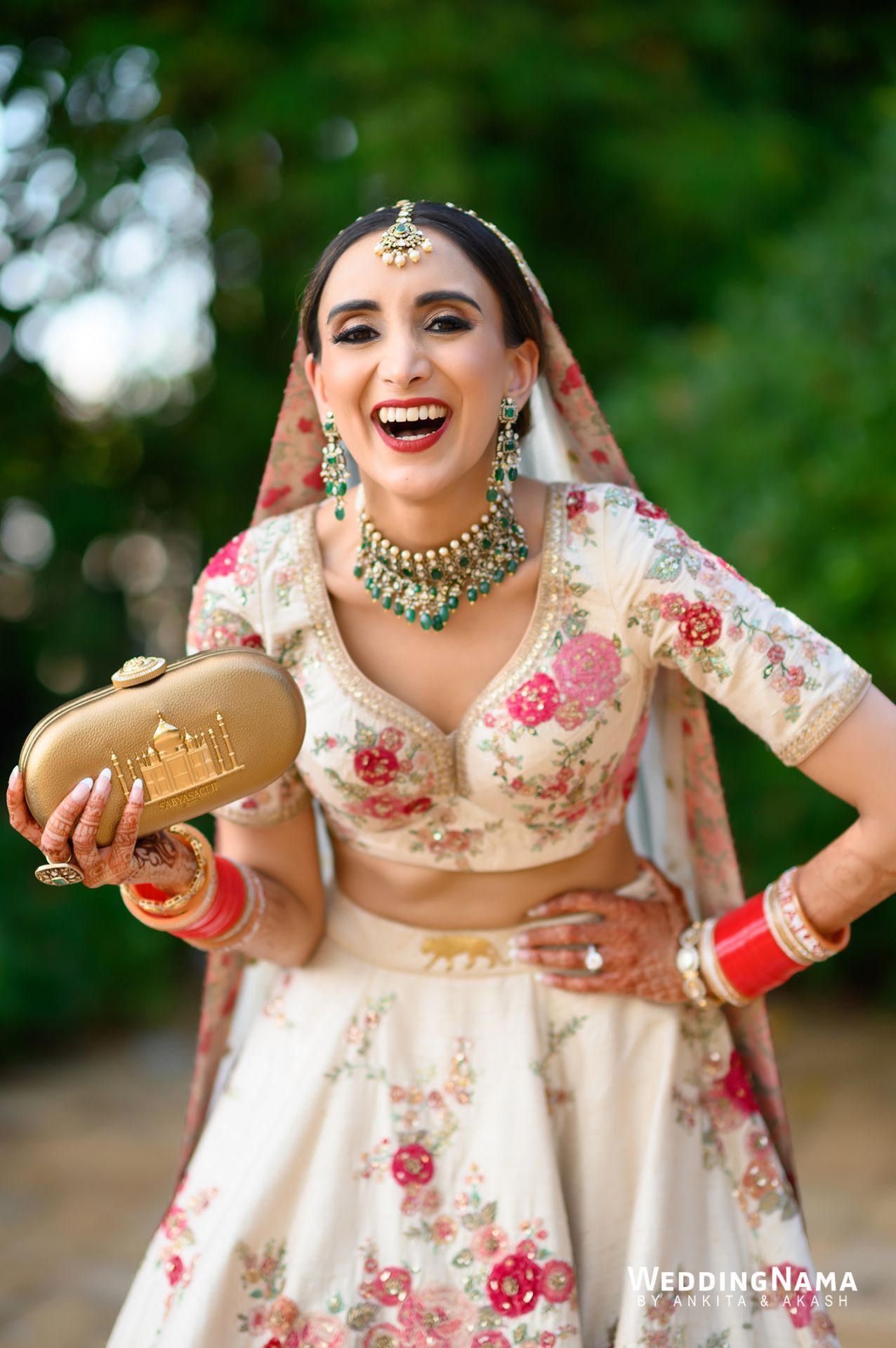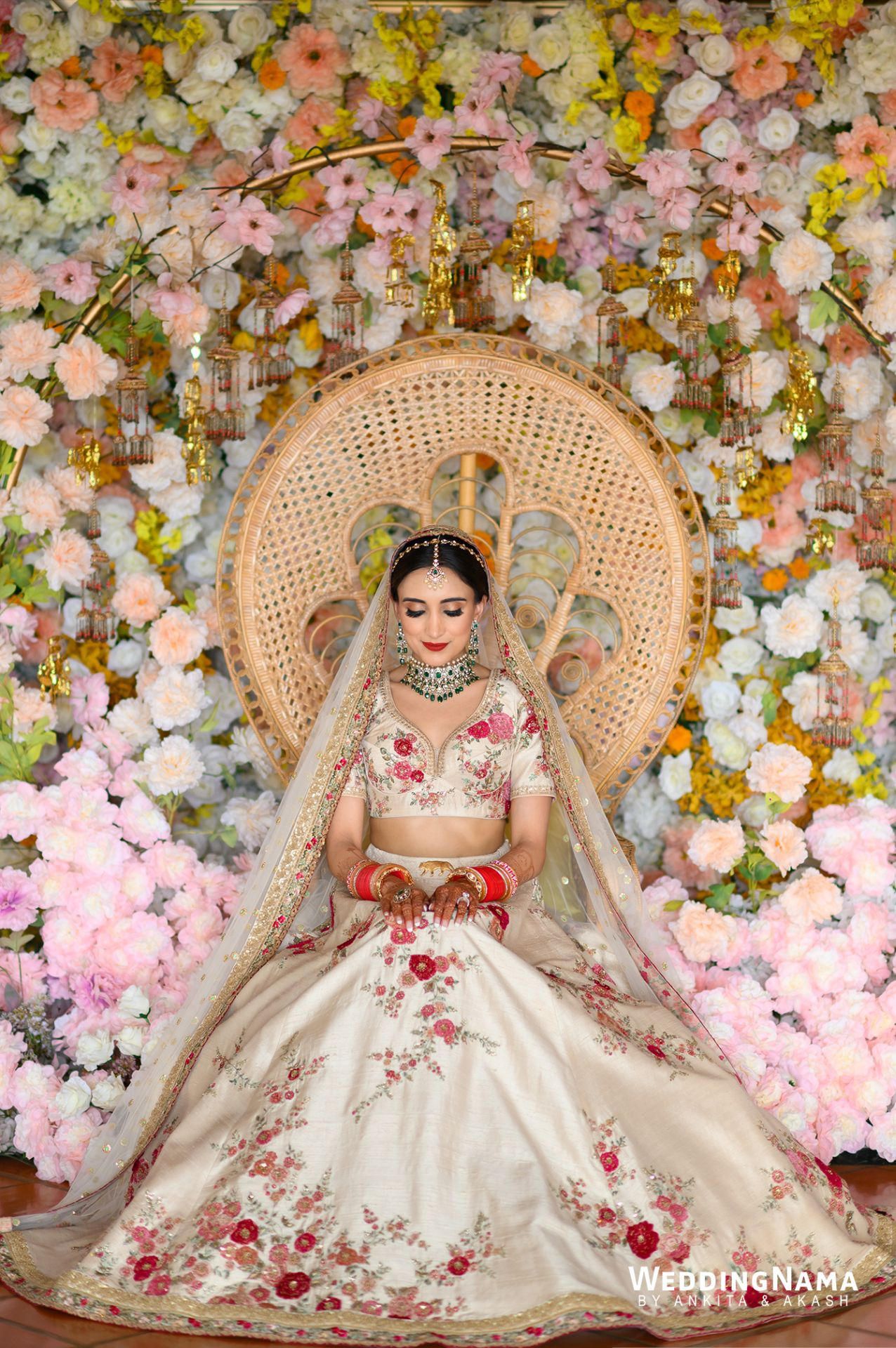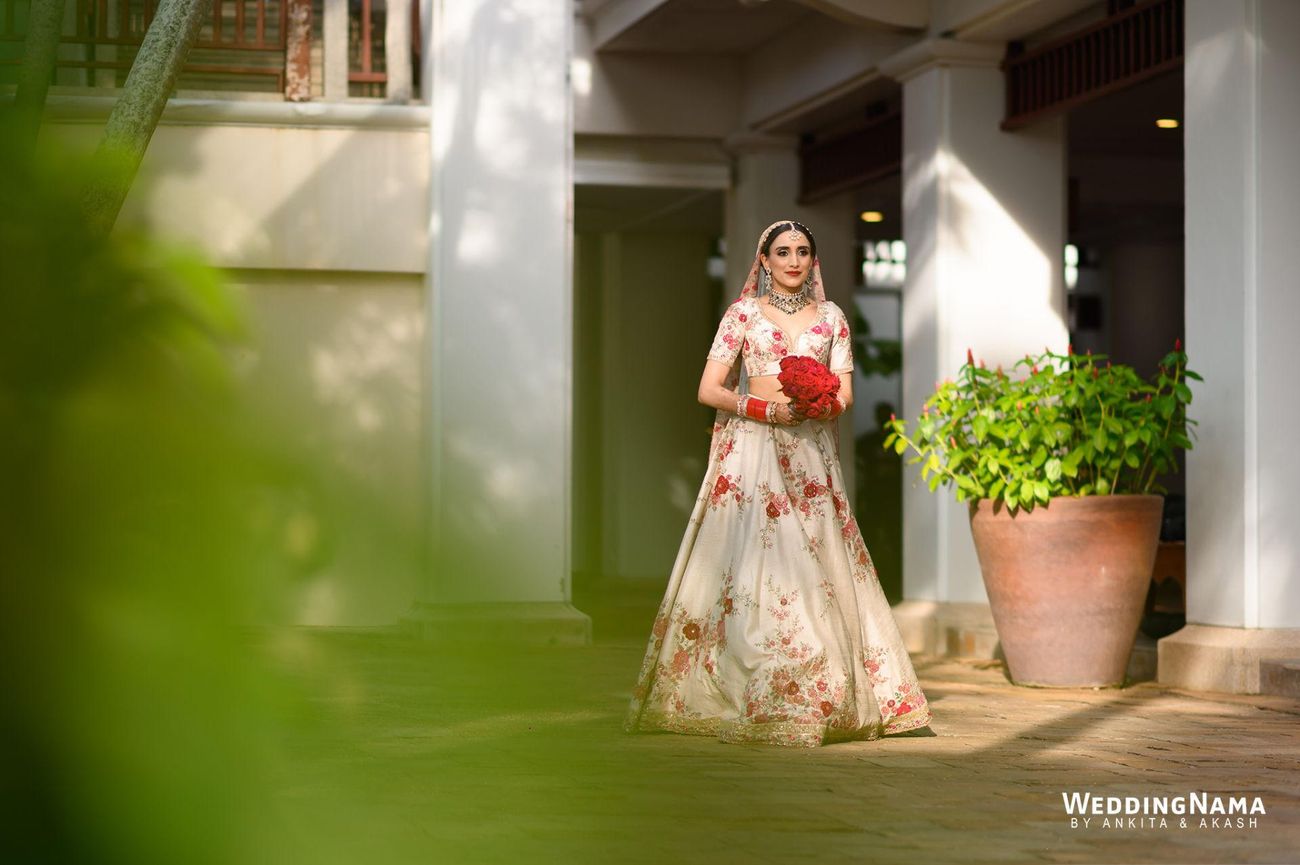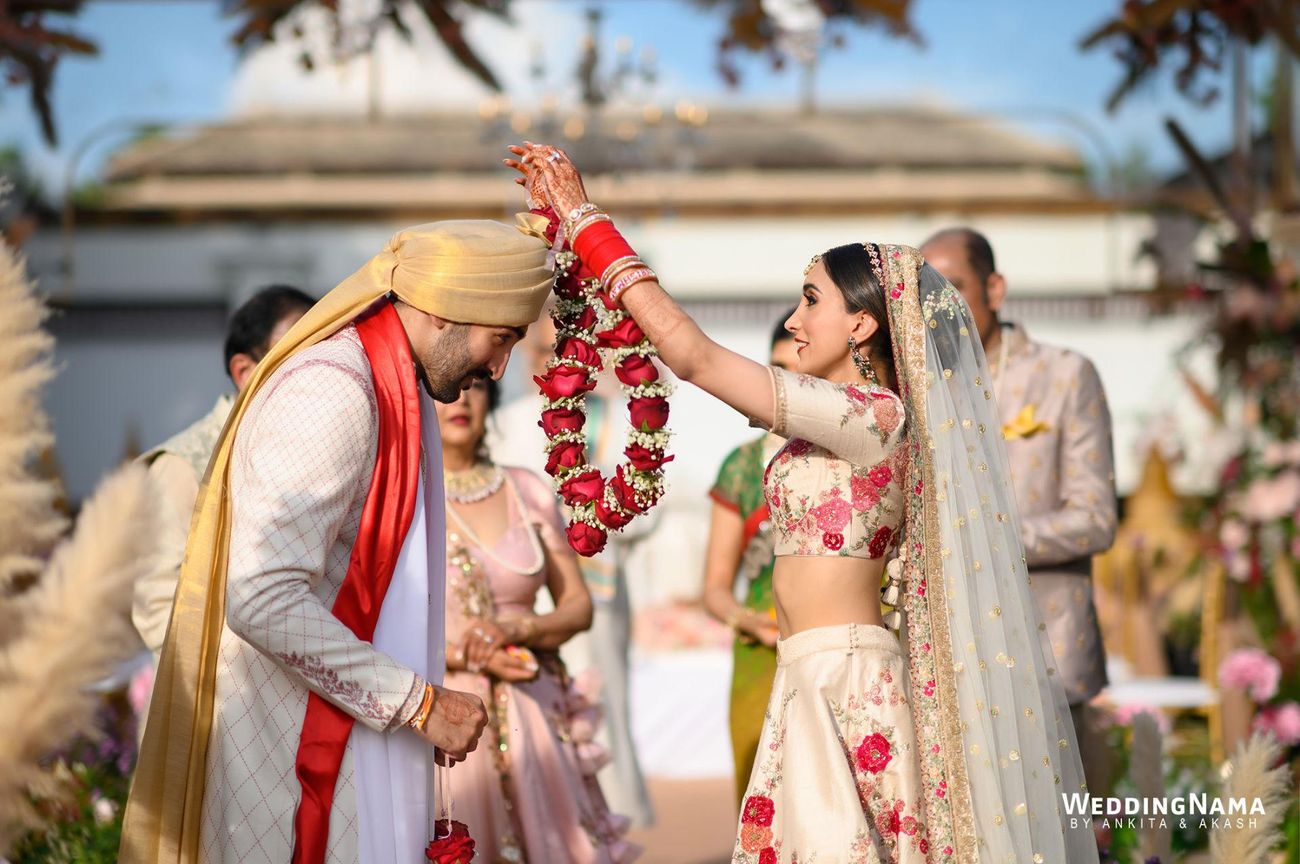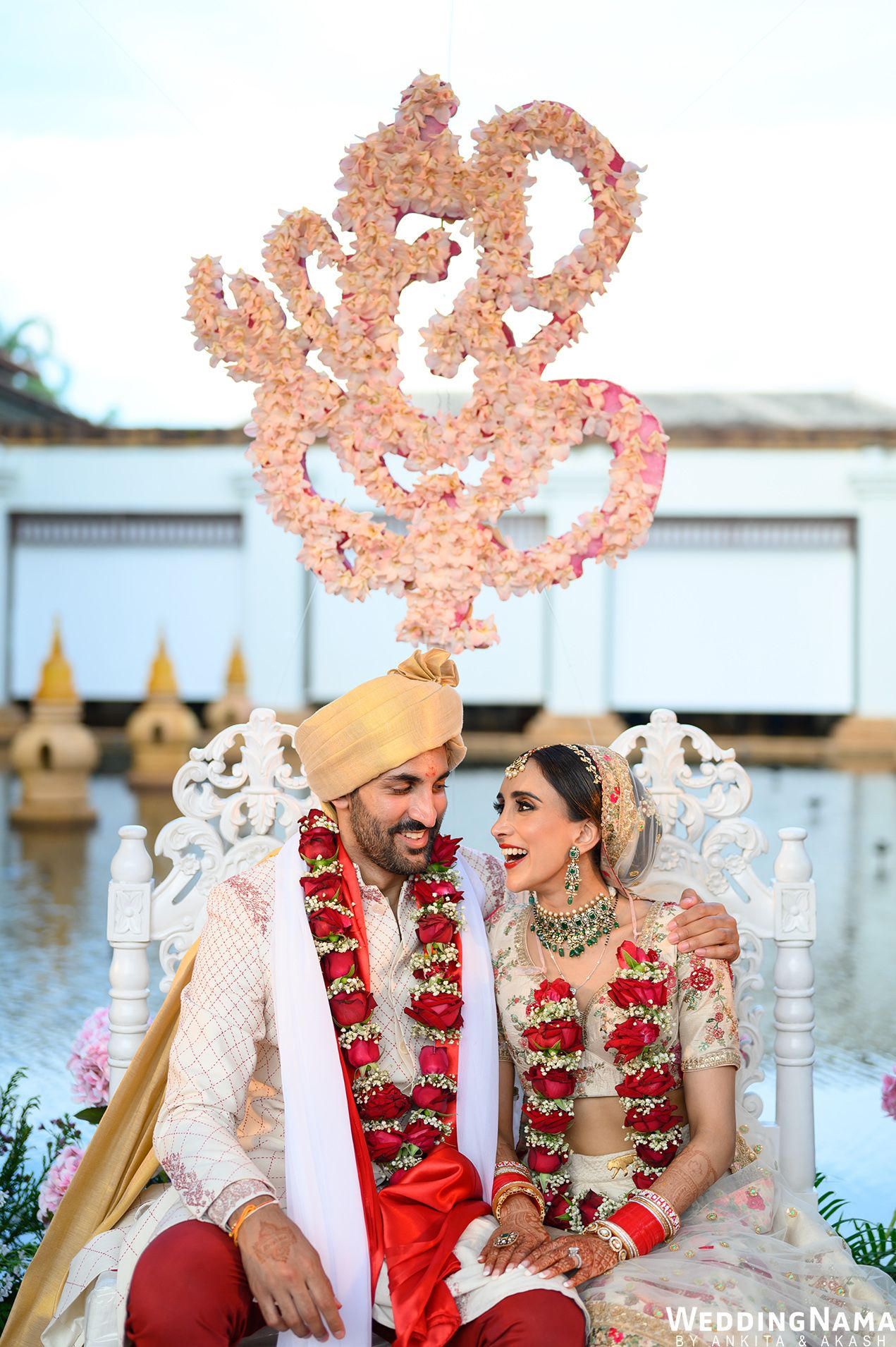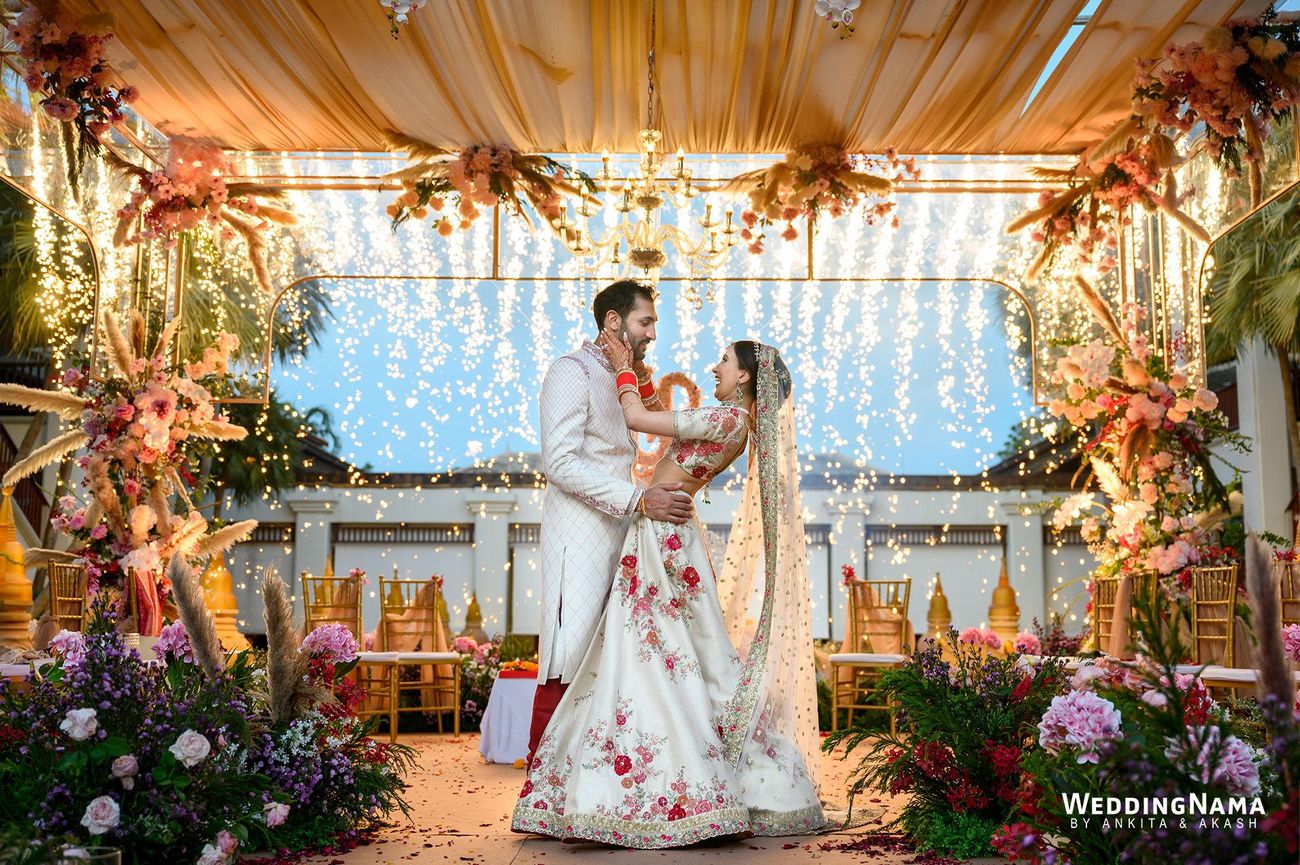 The wedding was a whimsical and elegant affair with a floating mandap overlooking the beach and located in the heart of the resort. Not to mention, Krishma looked like a dream in her Sabyasachi lehenga.
From The Bride:
My husband and I got engaged 3 years ago. But we live in Sydney and our border was closed for the last couple of years. So, our wedding plans had to be postponed thrice! Finally, in April 2022, we got married! We planned our wedding from Sydney 100% virtually as a destination wedding in Thailand. We planned the entire set of festivities in under 10 weeks with the Pink Palki planning team. It's a story of final triumph and happiness and never giving up! I am finally happily married after so many years, with a strong foundation of making it through so much together. We scaled things down to an intimate 120-people event and completely changed destinations (originally meant to be in Phu Quoc in Vietnam), we made the decision to move the wedding to Phuket, Thailand and it was the best decision we made. Dhiraj and I always knew we wanted an intimate wedding with only those people who cared the most about us! And that's exactly what we got - 120 people from over 7 countries. We loved every minute of it!
I got to work with so many amazing people for my wedding trousseau. The designer teams in India are truly one of a kind. I wore a wide variety of pieces from a diverse range of designers - I really curated each and every look to match my themes. I wore Manish Malhotra for my Sangeet night for that look of Indian elegance and picked an outfit for a pop of yellow (my dream Mehendi colour) from Sabyasachi. I was lucky enough to work closely with Gaurav Gupta to custom make my Reception lehenga as I wanted something light and classic in bright red! I also wanted to be able to dance all night and lift my arms up, the team helped design a signature blouse without boning in the structure so that I could be free. I actually choreographed most of my wedding dances as I'm a dancer myself, so it was really important to me that I could dance all night long in my outfits!
I wanted to really create a vibe for every single function and then compliment it with my dream look! We left no stone unturned with décor, custom mixologists, gift hampers - you name it! We just wanted guests to have the best time. After so many years of postponements, all of our vendors truly stepped up and went above and beyond to make things incredible for us. Each and every designer I worked with was amazing throughout the entire journey. They made sure I had everything I needed, even altering things over the years because I kept changing size, Manish (Malhotra) even organized extra blouses incase I changed my mind about what I wanted over time. Honestly, it was a dream team of people who all worked so hard. I am eternally grateful! Our story had a happy ending, a bit delayed but very, very happy.
About WedMeGood:
I wanted to tell you guys that the reason we got married where we did is because I saw a post about Thailand wedding planners on your directory and reached out to a few. After several frustrated attempts over the years and so many setbacks, we finally decided to change everything because we found a country and a set of planners that were feasible through your directory!
Vendor Reviews
Wedding Planning: Pink Palki
We honestly couldn't have pulled it off without them. We found them using the WMG directory and never looked back. At every turn, they were our eyes and ears on ground. They helped us pull off the impossible - a destination wedding planned 100% virtually in under 10 weeks, with no compromise on attention to detail - because honestly I am a perfectionist!

Photography & Videography: WeddingNama
These guys have been booked with us since 2019, when our wedding was going to be in Vietnam. They stood by us and made sure their entire team could attend our wedding. They felt the emotion of every postponement with us. Their photos are incredible. They know how to capture the moment. Truly we didn't want to get married without them and it was the best decision. Their work is outstanding. Their professionalism is unparalleled.

Mixologists & Cocktails: Flairmix
They are from Bangkok and together, we created bespoke cocktails for every single event to match the theme - from Mangosteen Martinis, to customized 'His' and 'Her' shots. These guys were the life of the party. They added flair to every single event. All our guests raved about how amazing the despond cocktails were.

Bridal Makeup & Hair: Paveena Rathour (makeup) & Paanita (hair)
Together, these two got my mum and I ready in record time for every single look. Their work was perfect. They knew how to work on our skin, sensitivities and how to properly set and drape everything! I had to be sewn into most of my outfits because as a dancer and choreographer, I was dancing so much! Paveena knew how to do it all! She was amazing and easy to work with. I looked like me during all all the functions - but just a glammed version.
Venue: JW Marriott Phuket
I can't tell you how awesome they were to work with. We did virtual tours of the property, spoke to our head Chef to customize and craft our menu. I work in the food industry developing snacks in Australia, so I'm really passionate about food. We created a bespoke menu for every function with over 11 live station cuisines, 15 buffet items and in general, a huge mixture of cuisines. They flew in Chefs from India and Japan to make our dream menu possible! The venue itself was amazing. Especially, where our wedding ceremony was held on a floating mandap that we built on a pond in the center of the hotel.
Décor: DP Designs
Everything was just wow. At every turn, we took decisions on rain/hot weather options. At the latest minute, we even moved our entire Mehendi function to a completely different location in the resort because the original venue was too hot on the day. The team captured our brief and every single detail was on point.
Wedding Stationery: Moore Designs
Resh is incredible. Her work is flawless. She helped us customize our invitations, with each theme matching the invitation/being brought to life in real life! She helped us get those finer details over the line.