Ever Seen This ? A Turkish Themed Mehendi Event!!
BY The WMG Bride | 10 May, 2014 | 498 views | 2 min read
Things we think of when we hear the word Turkey- ermm..lets see. Tombs in the Istanbul skyline, blue and white porcelain glassware , evil eyes and..an Indian Mehendi event??. Yup its true- while the
'Mela' 
themed mehendi events are a pretty common occurrence , when one of the decorators on our showcase
(Wedding Commitments)
told us about the '
Turkish Theme Mehendi
' they did, we were totally intrigued and got them to tell us more about this hot new trend !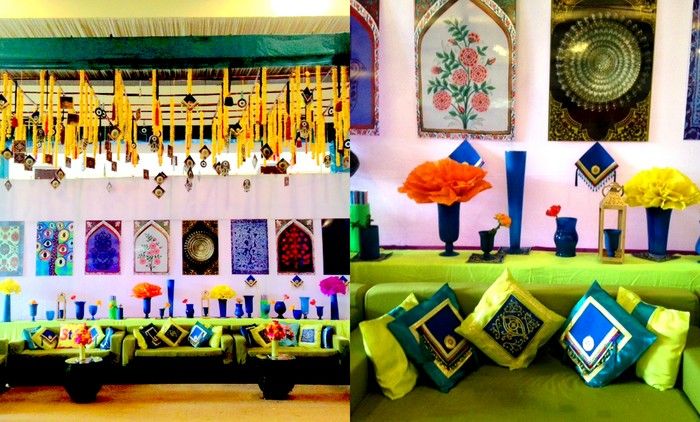 Click below for individual details...
[gallery type="circle" ids="2483,2482,2481,2480,2479,2478"]
Decor done by Commitments
From the Commitments team:
"Our aim was to create a space that could blend turkish influences with an Indian mehendi. We knew that the Evil eye is the turkish way of presenting "
nazar na lage
 " so the whole concept evolved around protecting and blessing the couple , protecting them from negative vibes and negativity in their  lives and blessing them with good luck and prosperity in their married life. We used:
- Floor detailing inspired by Turkish Tiles
- Evil Eyes descending from the ceiling
-Cushions with metallic motifs inspired by Turkey , with glass beads and tassles to represent turkey
- Blue glass vases strewn about the venue
- A spoofy painting of the couple on wood- almost like the ones at the back of trucks
- Turkey inspired paintings on the wall
We had a great time making the props and fabrics for the event and loved how it all came together"
Thanks guys ! Given that turkey is synonymous with color, this was the perfect country to blend in an Indian mehendi with. So will you be incorporating touches from another country into your mehendi?