#FirstPerson: "How I Planned My Indo-Canadian Wedding in Kerala with 2 Ceremonies and Lots of DIYs!"
BY Guest Author | 06 Aug, 2017 | 2095 views | 4 min read
We love it when a bride plans her whole wedding herself, and this one is special, 'cz it was an Indo-Canadian one that too in Kerala! The couple had 2 ceremonies, one Malayali and the other Canadian with loads of DIYs and it was all so picturesque and beautiful! Over to Pooja, who tells us all about it! The photographs by WeddingNama★ 5 are as gorgeous as ever!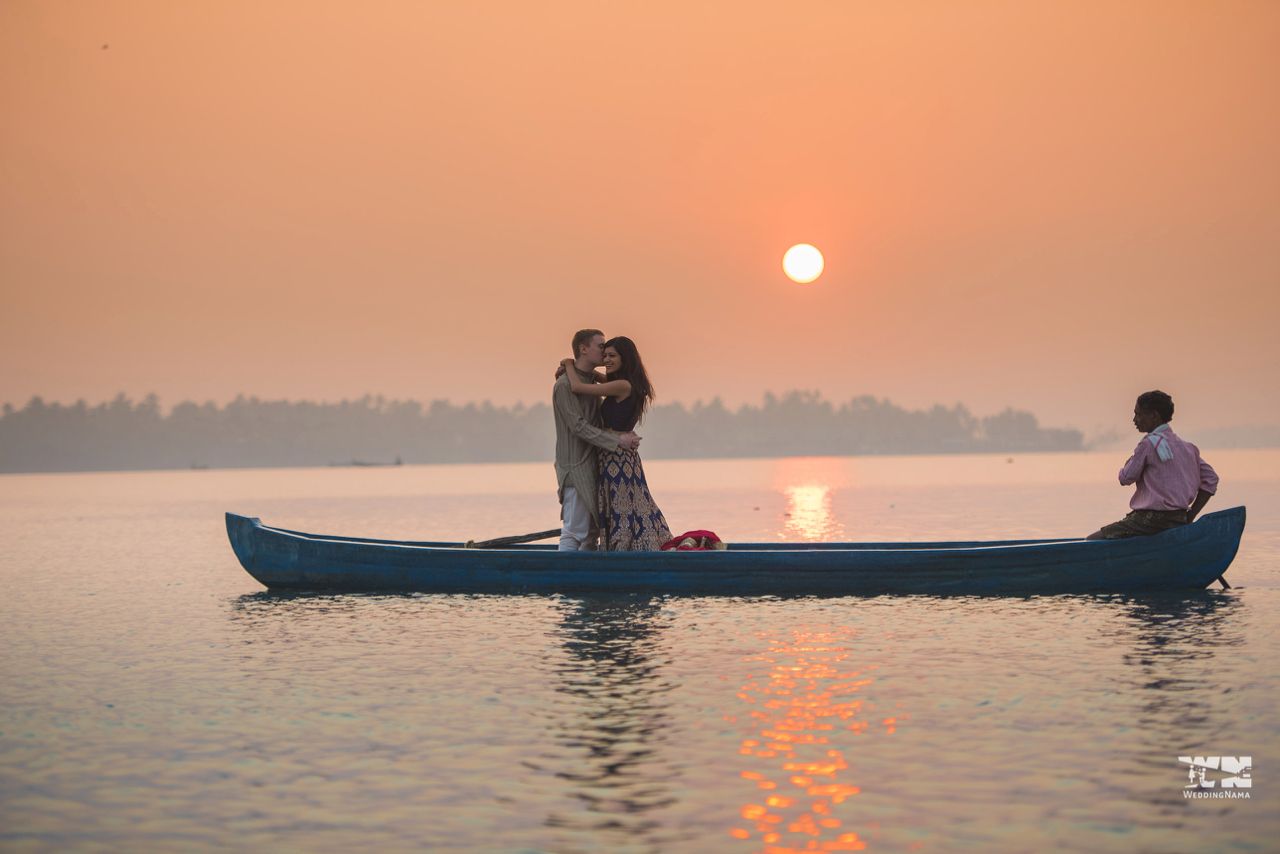 The dream proposal...
Andrew and I met on the first day of university 10 years ago - we built a raft together, which sank but it was the start of a wonderful friendship! Three months later, we started dating! When I moved to Boston for two years for my Masters, he drove 8 hours each way every weekend - the 100,000 miles he drove in two years inspires me to never give up. When I finally graduated, we couldn't wait to get married. He organized the most amazing summer, travelling through Switzerland and Italy. The day he meant to propose, he ended up in the ER with a kidney stone. But that didn't stop him. With the kidney stone in tow and high on morphine, we made it to the Amalfi coast and he gave me the engagement of my dreams!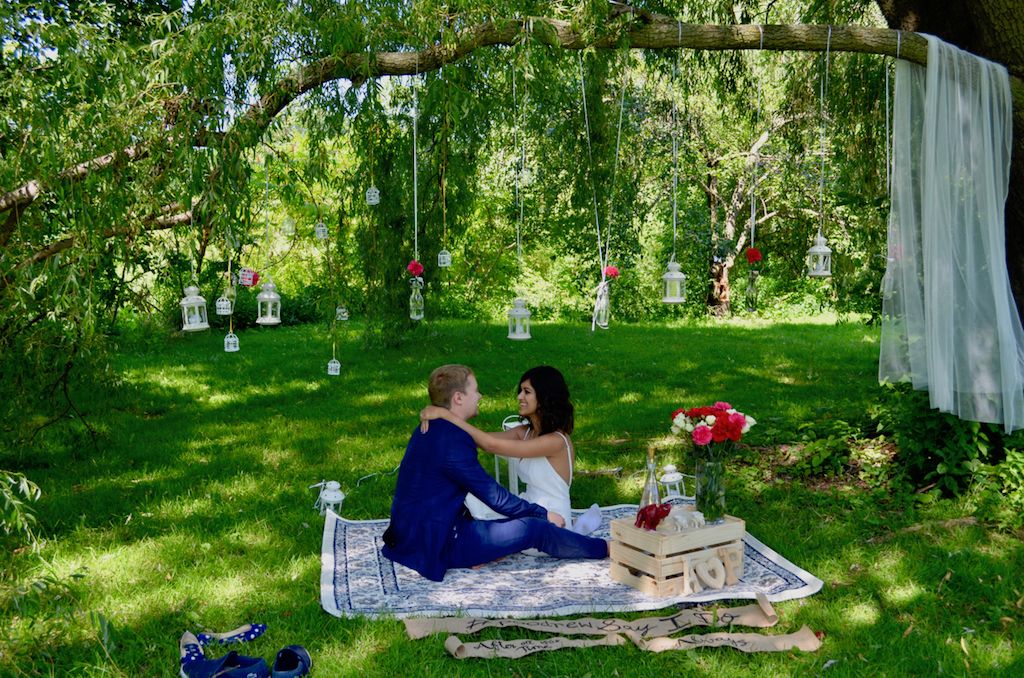 The planning...
To us, our wedding was our chance to celebrate our love with everyone who's been a part of our story. Our family and friends travelled from all over the world to Kerala - I wanted to introduce them to my roots and my culture.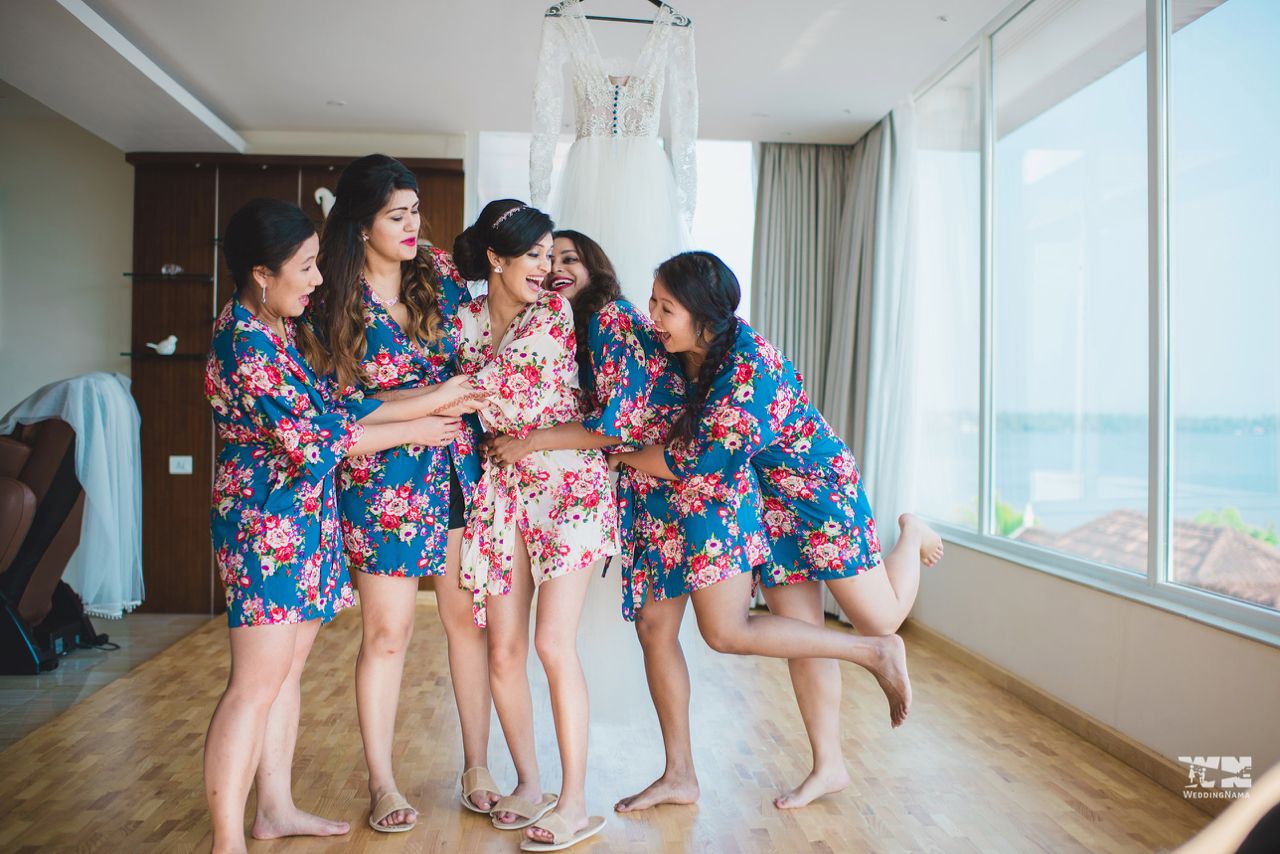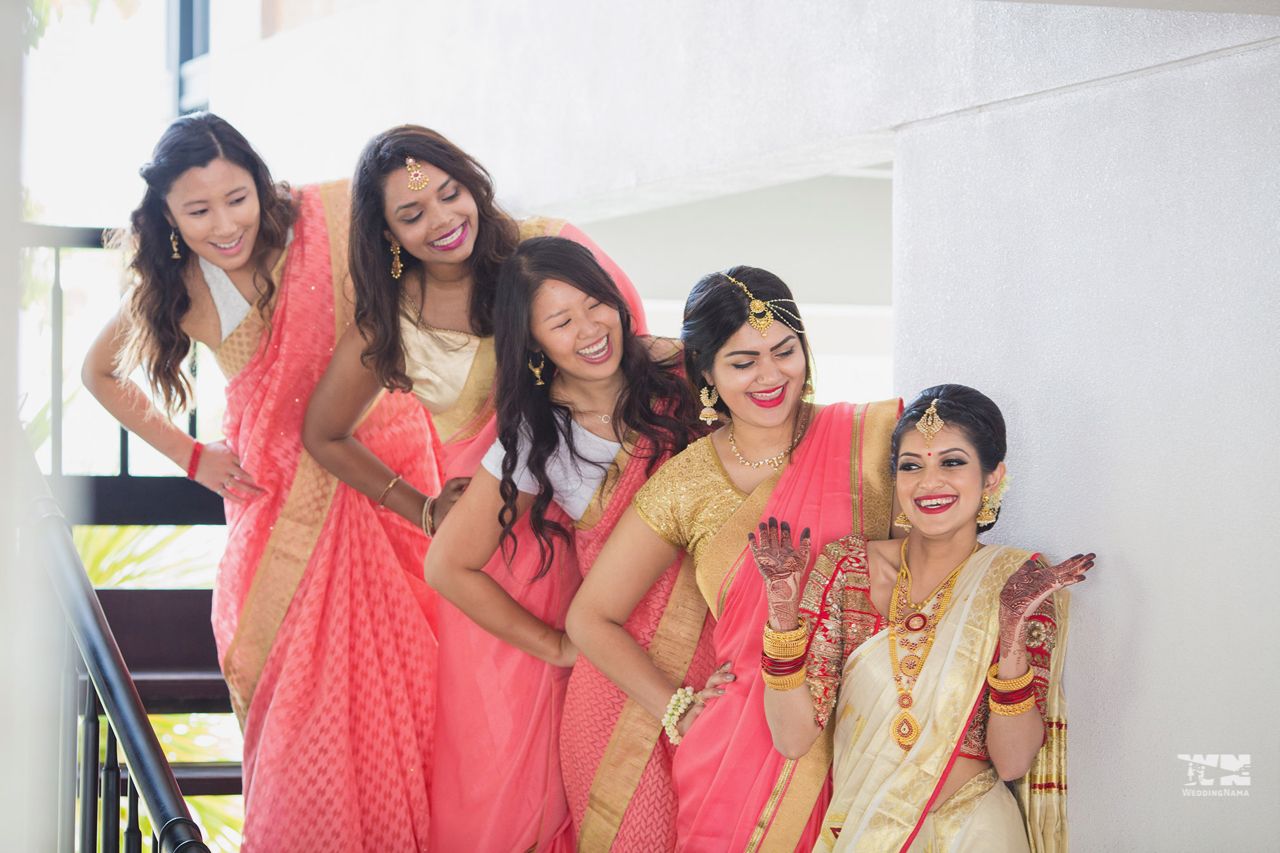 All of the decor was a team effort between me, my mom and sister, and our wedding planners who also happen to be my cousins! We printed and assembled our invitations ourselves, designed custom posters and stationery for each event, DIY'd table settings, sourced a large part of the decor from Amazon and sent my mom scouting to find special urns, parasols and more.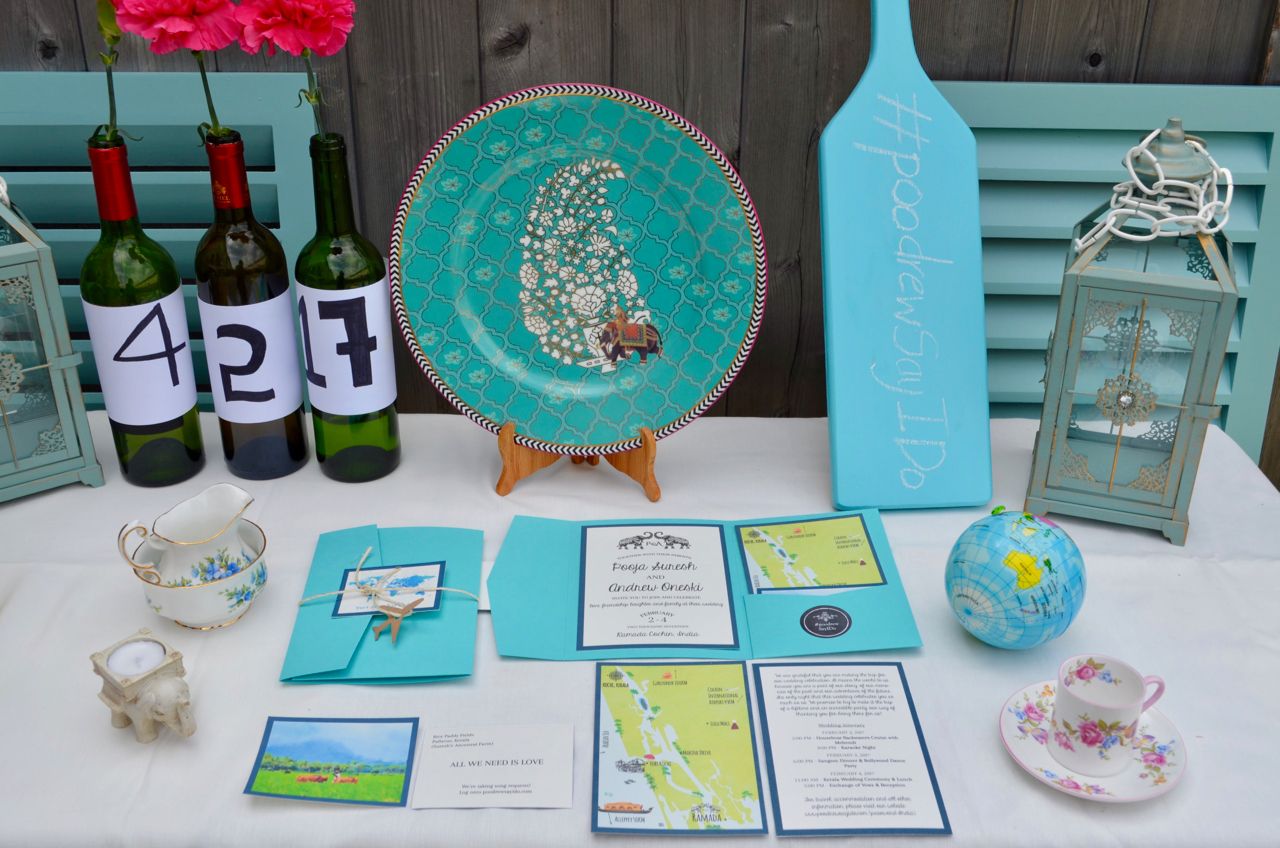 The outfits...
I was lucky to find the most amazing vendors to customize all of my wedding outfits - Roopkala, Mumbai for my lehengas, The Handmade Bride, Ottawa for my white wedding dress, where they allowed me to design my own dress and handpick every detail from the lace to the buttons, and a little village store in Kerala for my wedding saree that they hand-embroidered and painted.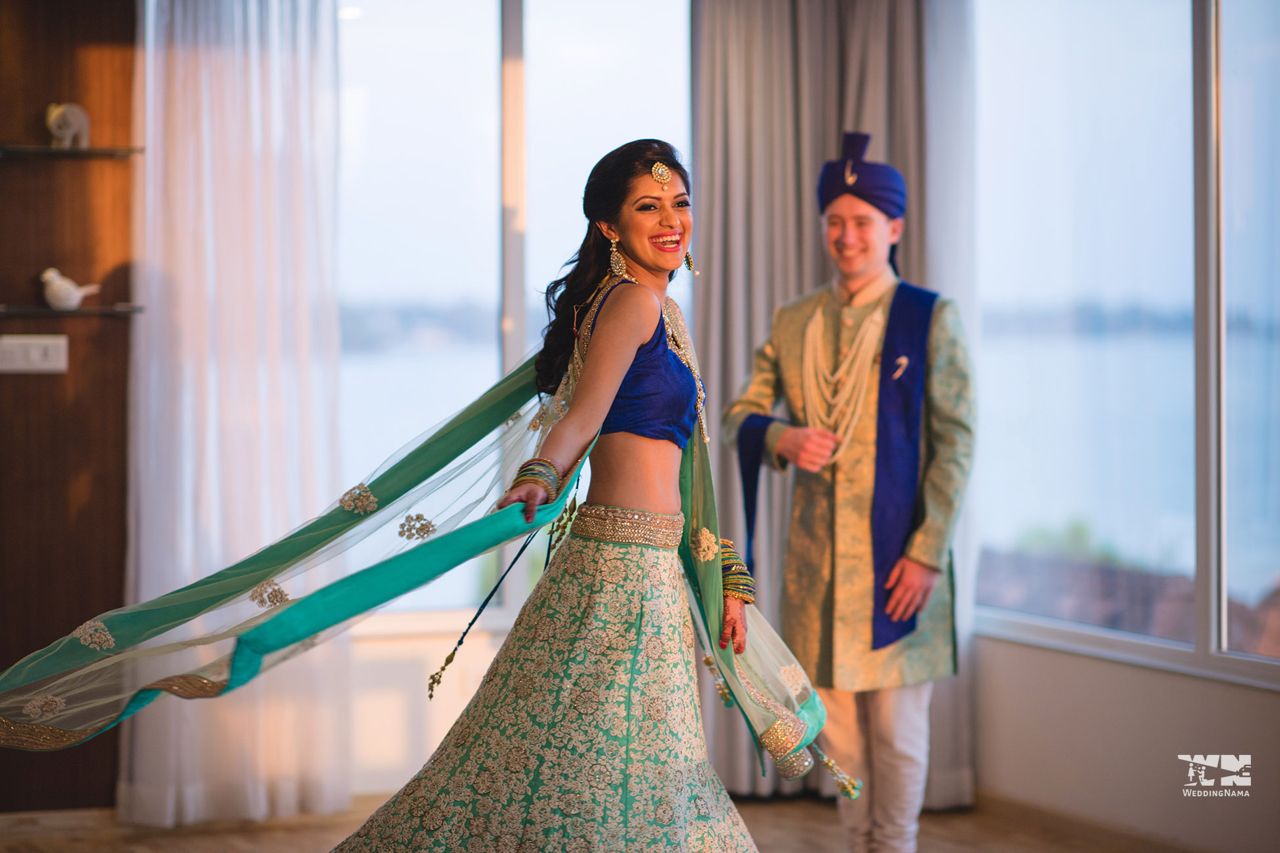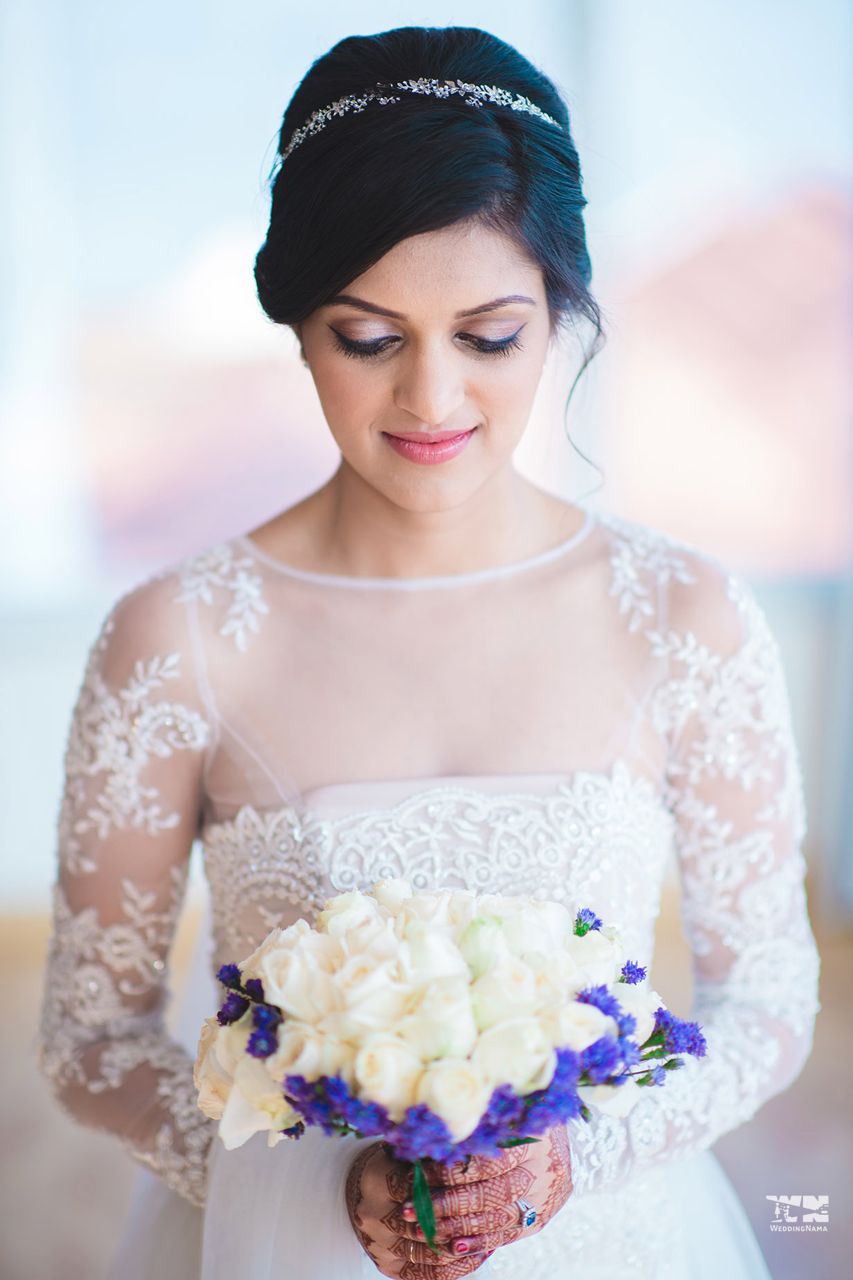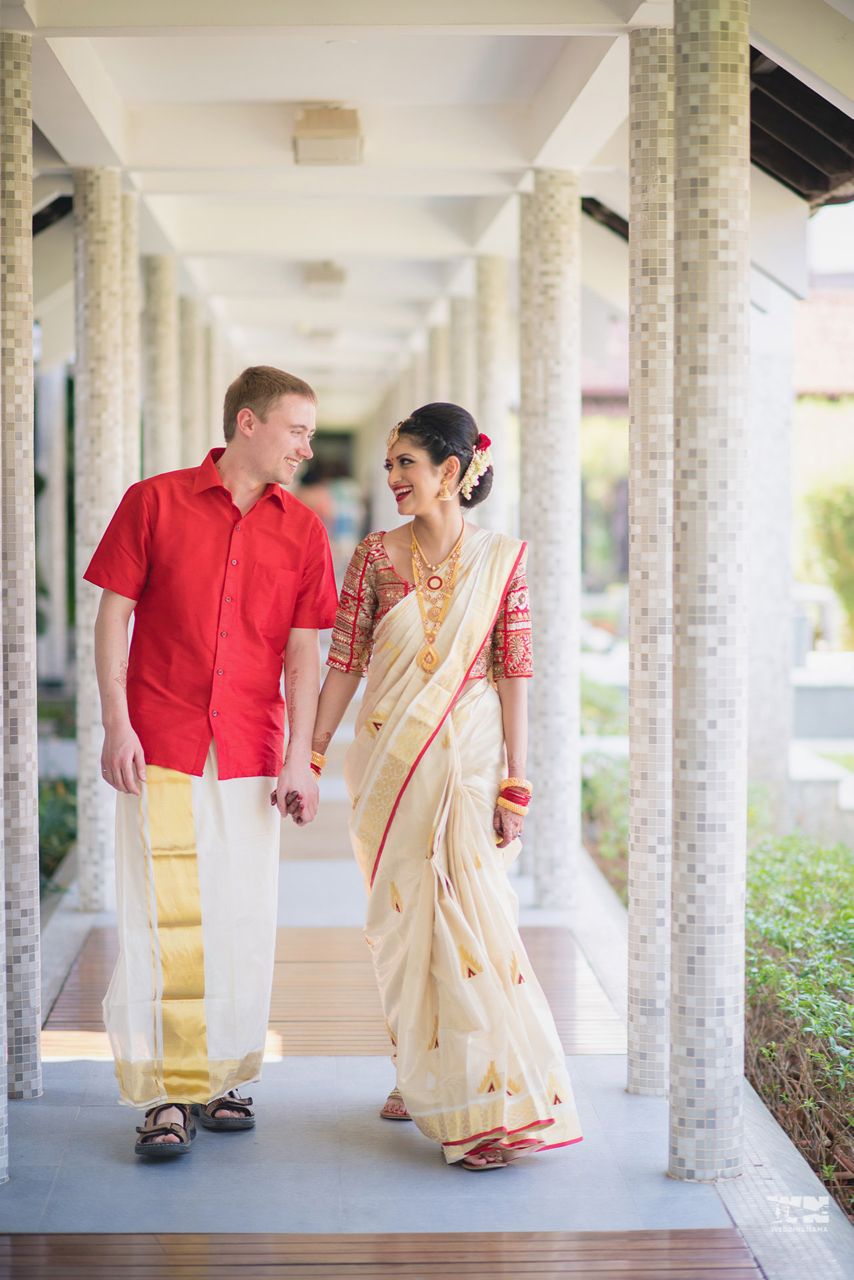 The unconventional wedding...
We started with sightseeing, volunteering, a small temple ceremony and then, an unconventional henna party where even the men got henna tattoos - the rum coconuts may have helped!  All the groomsmen got our wedding hashtag #PooDrewSayIDo tattooed on their arms! It was important to me and Andrew that we had fun at our wedding and nothing added to the laughter as much as Karaoke night, pool parties and then a Bollywood dance party the night before the wedding.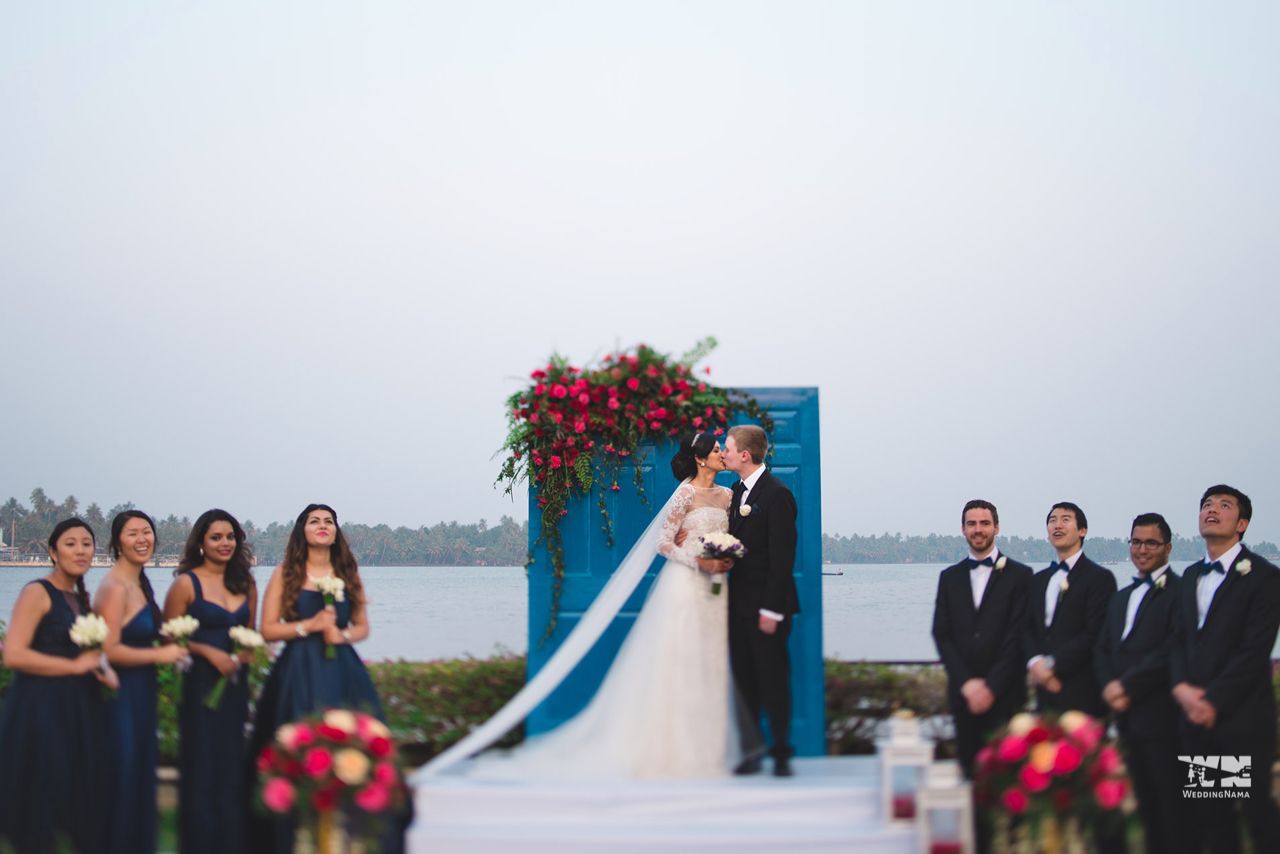 Finally, on our wedding day, we had two ceremonies - first, a traditional Kerala wedding in the morning and then an exchange of vows by the water at sunset. It was a testament to the love that surrounded us that day that everyone cried during our vows - it was an uncontrollably sobbing groom and a Winnie the Pooh quote that did them in. We had our first dance surrounded by a sea of light bulbs, sparklers and unconditional love!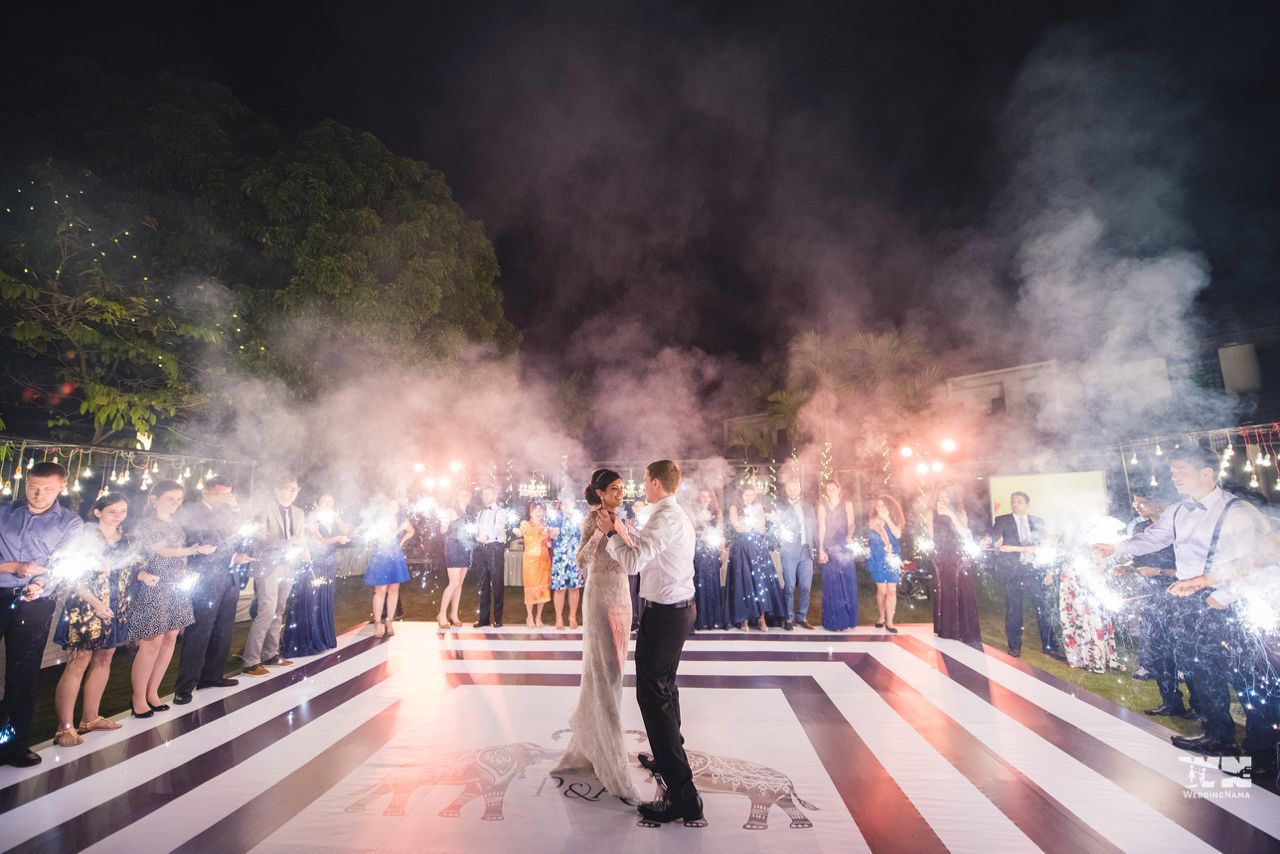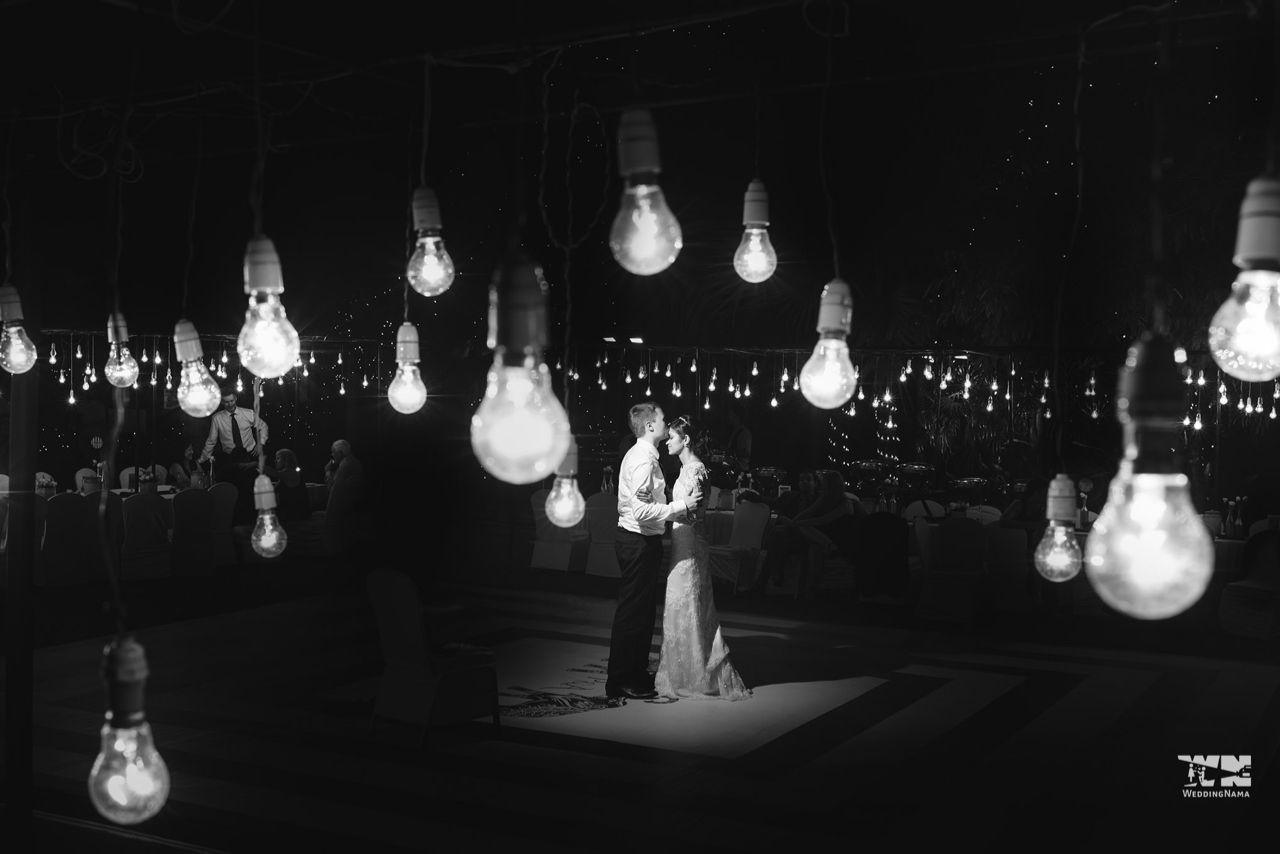 Fusing traditions from both sides...
We tried to fuse Indian and Canadian cultures with our own styles - vibrant colours at the Bollywood dance party, red and white to represent Canada while in traditional Kerala wedding attire, and blue and white, matching my ring, for the vows. To bring them all together, we used subtle unifying features such as elephants- from our wedding logo to banners, entrance decals, clay statues and name tag holders.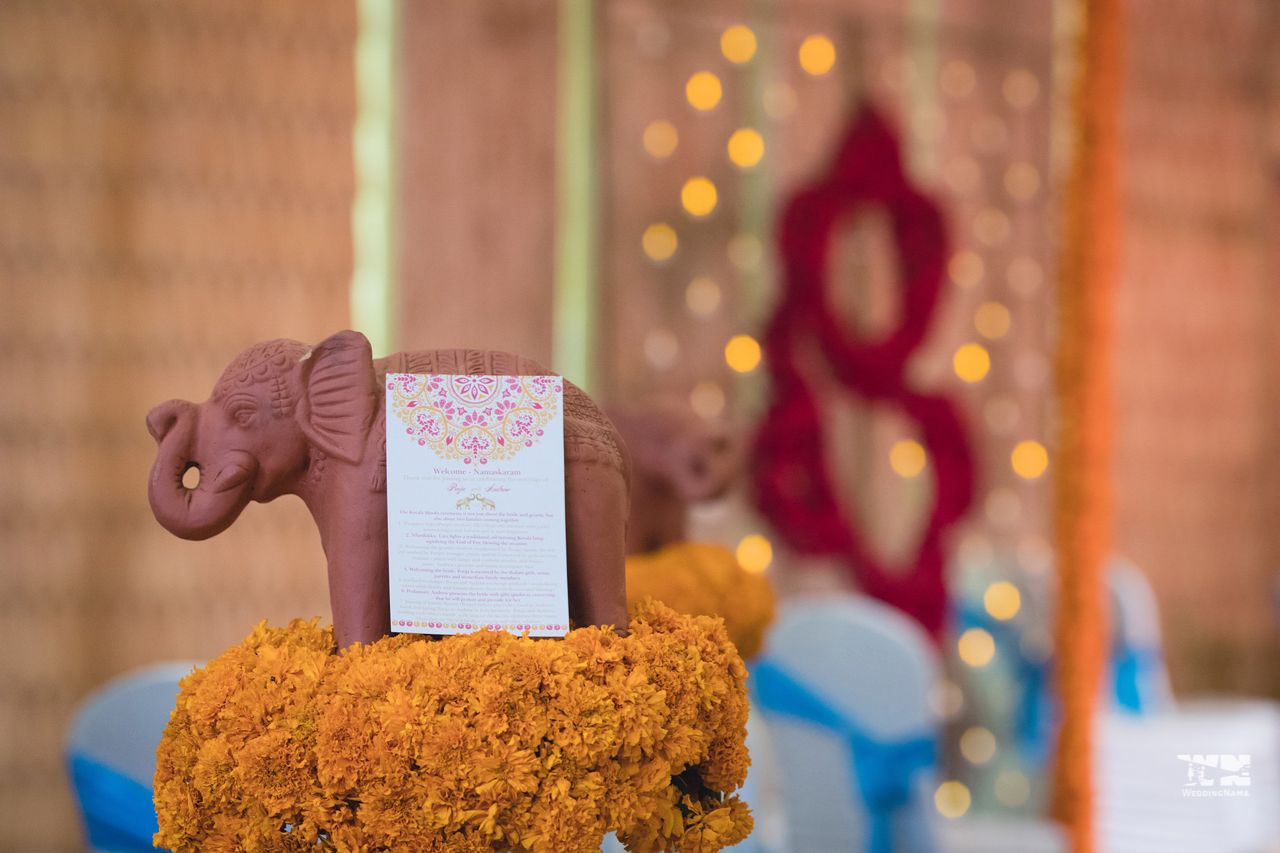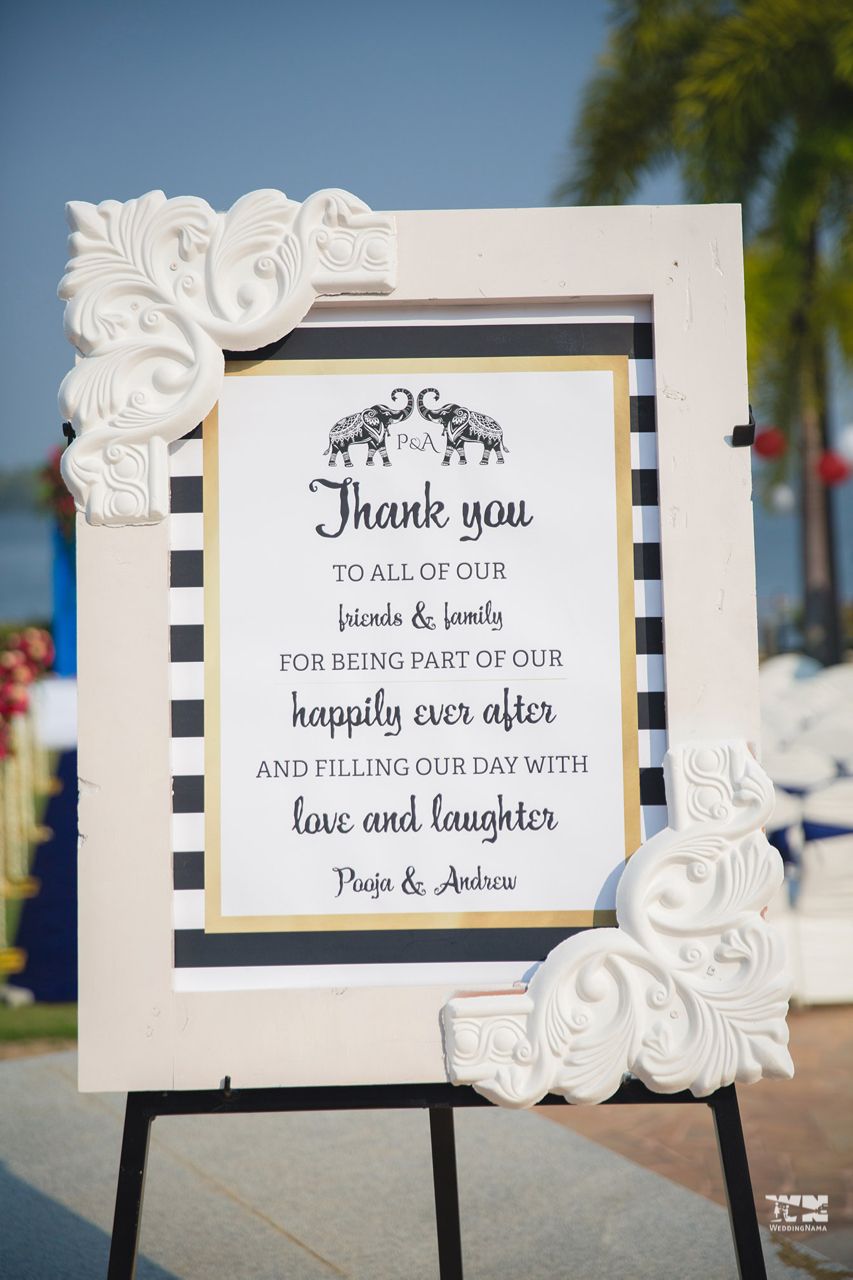 Our friends and family helped as much as they participated - they were Karaoke masters, DIY assemblers, bartenders and dance performers. Everybody - Indians, Canadians and Americans alike rehearsed choreographed Bollywood routines and they turned out absolutely amazing.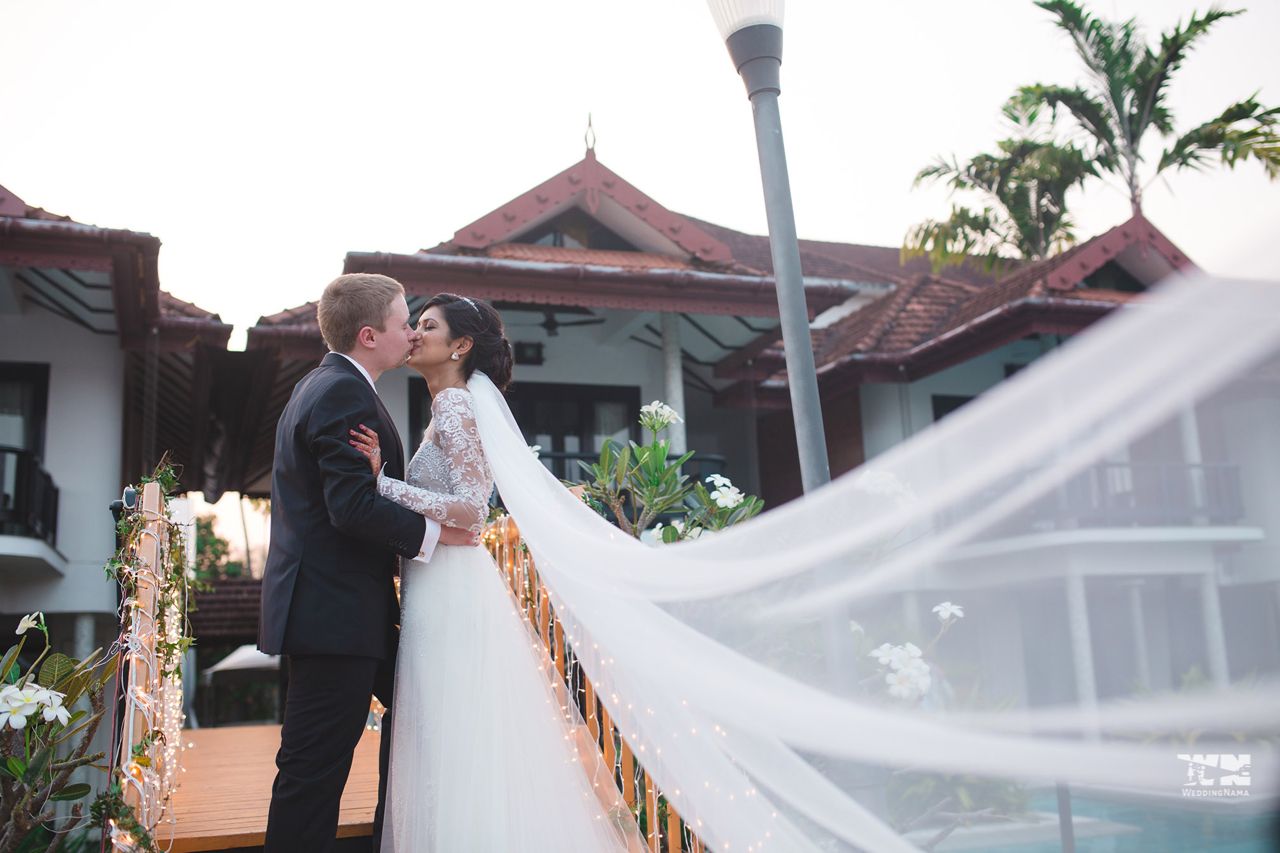 We are most grateful to our wedding planners, Pink Kurta Weddings who never said no to my million requests and to our amazing photographers, WeddingNama★ 5 who captured every moment so beautifully - to us it feels like they captured our ten years of love in every photo and video clip! Their teams blended in to be a part of the wedding and never let any of us know of all of the tireless effort they put in - it only showed in the results!
Vendors: Photography and Video: WeddingNama★ 5 , Wedding Planning & Decor: PinkKurtaWeddings, Venue: all events at Ramada Resort, Kochi, Kerala, Wedding dress: The Handmade Bride, Bridal shoes: Manolo Blahnik, Groom's attire: Hugo Boss & Manyavar★ 4.8 , Makeup: Shalu George
Picnic decor and photos at Arboretum, Ottawa, Canada by bride and groom.