#FirstPerson: "I created a fusion bridal look for my multi cultural wedding"
BY Sakshi | 12 Jun, 2017 | 2211 views | 4 min read
When the bride is Bengali and the groom is Punjabi, that's a blend of two VERY different cultures. Anwesha however navigated these cultures with ease by making her outfits a fusion of the two cultures. We were especially left drooling over her pretty temple jewellery  Over to Anwesha now, who tells us about her multi-cultural wedding and that gorgeous bridal look! Photography by Oragraphy★ 4.3 is on point!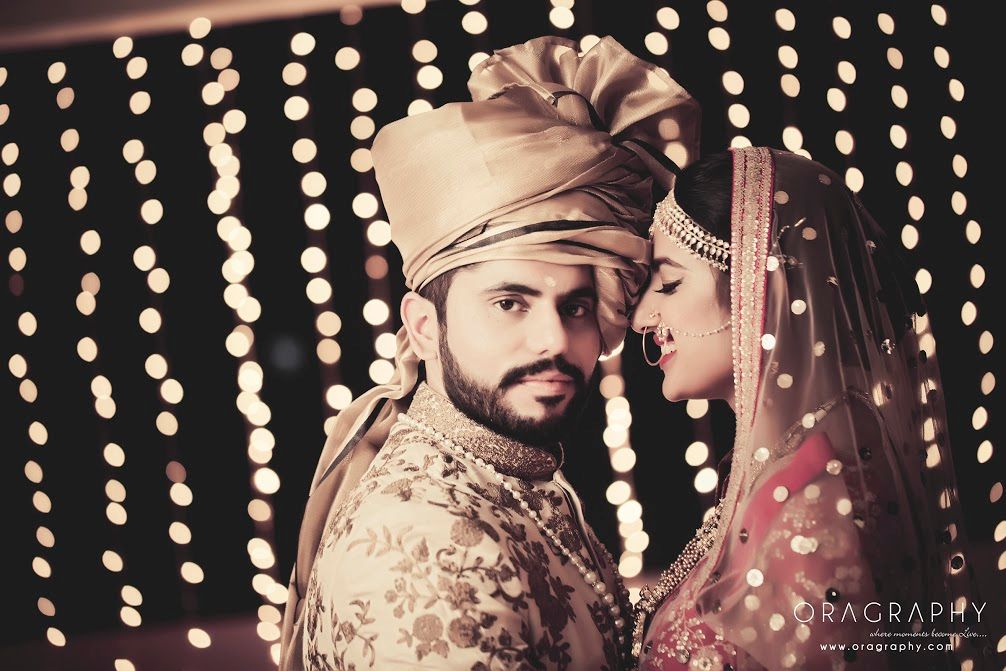 The wedding...
We are Bengalis living in Gujarat and they are Punjabis living in Delhi, there is a vast cultural difference yet the core values of both the families completely matched. My dad was emotional about having the wedding in Baroda and Divij's parents understood that and very easily agreed. I was emotional about having the wedding at my home and not anywhere else, and everyone loved the idea! Finally it was home so a bit of struggle here and there of cutting down the guest list but we finally met at a common ground and decided to have 2 more receptions, one at Delhi and one at Kolkata but keep the wedding personal and personal was 300 people! This is how my nani got married and my mother did and I was happy I too got married with the old-school essence like my favourite women.
Wearing a Lehenga With Temple Jewellery
I always knew I am not going the commercial way - I wanted everything to depict the traditions of Bengalis & Punjabis.  So for the wedding day look I wore a lehenga owing to Punjabi traditions but paired it with tradition Bengali style temple jewellery from Tanishq. I finished buying my jewellery way before my outfits were ready, probably the first thing to be finished. My mother likes Tanishq and most of my jewellery is from there. The neck piece and earrings I am wearing on my wedding day is a traditional Bengali make from Tanishq. The story of my temple jewellery is a different one again. I was done buying all my jewellery and wanted to keep it minimal, we just randomly walked into Malabar Jewels one day and saw this temple jewellery with Lord Krishna on it. We liked the pendant but not the haar, so we added the traditional ghungroo work for the mala and redesigned the haar around . The Malabar people helped us with that and we got the piece we ended up loving the most by fluke!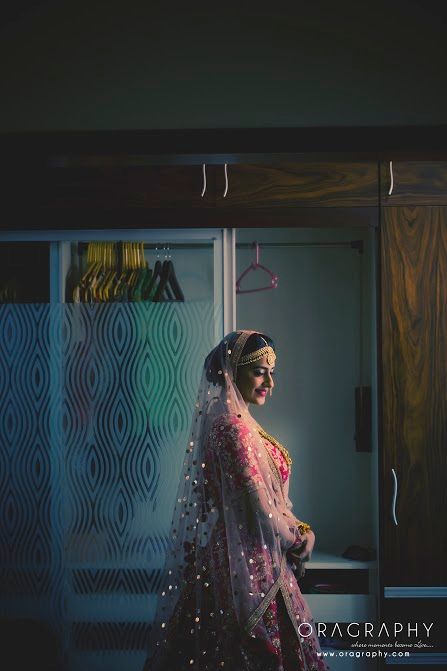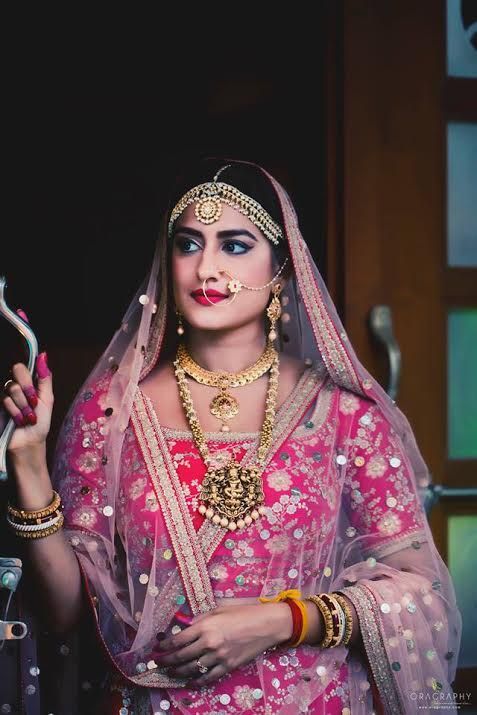 One month is too less a time for getting a lehenga. We saw a few designers but my search stopped at Sabyasachi Mukherjee★ 4.9 and all in 4 days my lehenga was decided.  I am not a very bling person but being a lil' old school with the choice of fabric and hand-work, I tried this lehenga and I was sure nothing made me happier than this! Because it was very last moment, my lehenga got delivered at my place just 2 days before my wedding! Phew! What an adventure!
Remade moms Banarasi Saree Into A Lehenga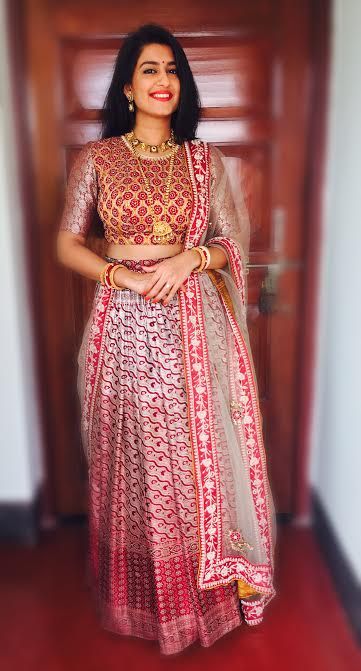 For my WEDDING outfit, I was very sure from day 1 that I want to remake my mother's wedding benarasi saree made of original gold zaree into a lehenga, hence merging emotions with Bengali and punjabi traditions. A lot of effort went into it and when it was made my mother felt it was great- but not wedding great. It was worn out a little because of it being 35 years old now so 1 month before my wedding I changed my plan! I decided to wear this outfit for Kolkata's reception and buy a new one for my wedding day! I couldn't find simplicity with a happy color and a good price. So I did it myself and it came out to be perfect and appreciated by all and at a price un-match-able!
The bridesmaids...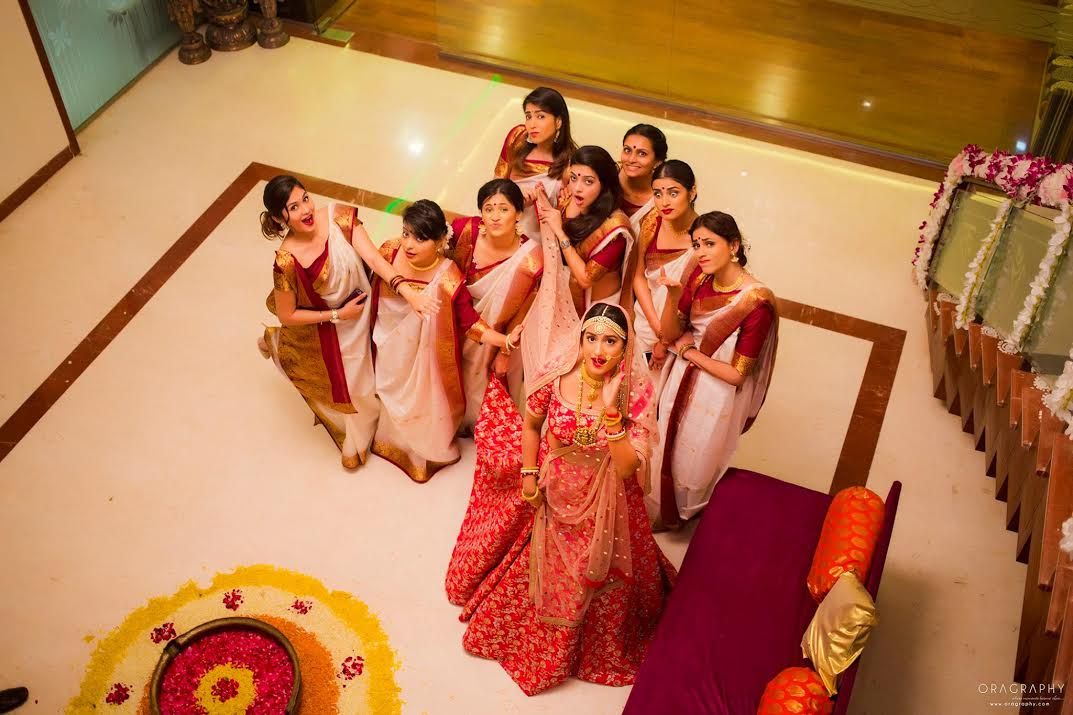 I had a vision for the clothes my nearest people should wear and luckily everyone trusted me. So I got traditional Bengali white-red sarees for all my 9 girlfriends and had a salon booked for them to make them wear the sarees in the Bengali way on the wedding day. For my younger sisters, I got matching red lehenga cholis and for my brothers a traditional dhoti- bengali silk kurta look. All of them were excited to wear them as they were doing it for the first time! 
Tips for other brides-to-be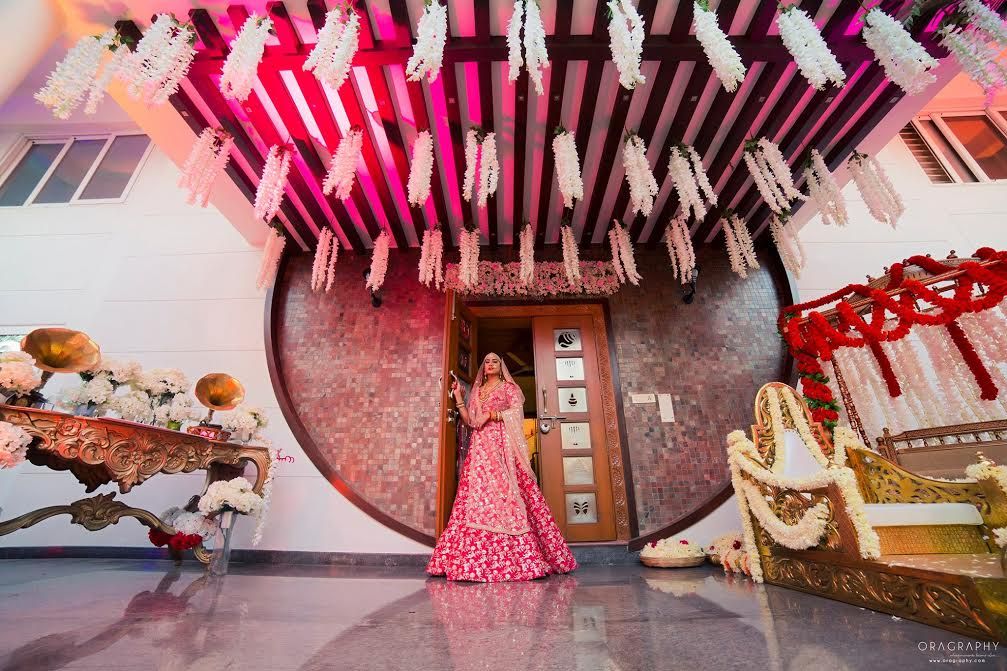 The tips that I would give to people who are going into multi-cultural weddings is to be very open to new ideas and old and incorporate it all in someway or the other. Indian traditions are beautiful and become even more so when added together.Also according to me chalking out exactly what you want to wear and how you want your decor to be makes life easy and if you are not very sure, it's best to trust the experts and be stress-free yourself.