#FirstPerson: "I Designed My Own Bridal Lehenga with Traditional Benarasi Weaves..."
BY Sakshi | 17 Jul, 2017 | 4933 views | 5 min read
We love spotting a bride in heritage handloom, and when it's in a bridal lehenga as stunning as this one, then we just had to feature her! Real Bride Netika wore quite a unique lehenga that caught our eye, and we were very pleasantly surprised to know that she had sourced the material and designed the lehenga herself! Over to her now, as she tells us all about it! Photography by Rajesh Digital★ 4.7  !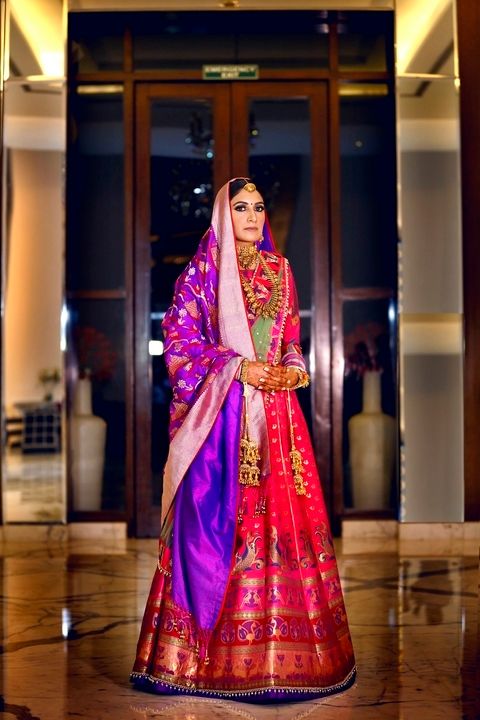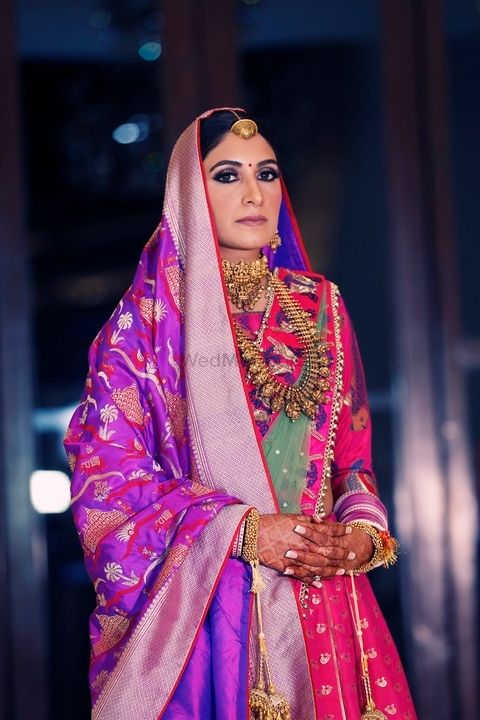 The idea behind the lehenga...
I'd say everything just falls into place when it has to. I was going through a wedding marathon for one and a half year, with my real sister getting married and almost the entire friend circle getting hooked and booked. I attended 11 plus weddings that season which means crazy amount of shopping! 
It was around that time I visited Benaras for a wedding and stepped into the haven of our heritage loom. I instantly fell in love with the Benarasi heritage and picked a lot of fabric. My mom loved what I got back from my this trip and started annoyingly teasing and encouraging me to make my own wedding lehenga even though my wedding was no where in the picture. But I guess Mothers secretly know it all! 
I kept the material hidden in my wardrobe - nobody ever sees it and for more than 2 and half year as it was hidden treasure. Finally the love of my life, my husband Kushank and I decided to settle down after 8 years of a relationship and 10 years of friendship. I got engaged on 22nd feb 2016 and the D date was 11th November. Before I realized I was secretly doing what my mom wanted me to do. Designing the same lehenga I had hidden as my treasure for 2 years!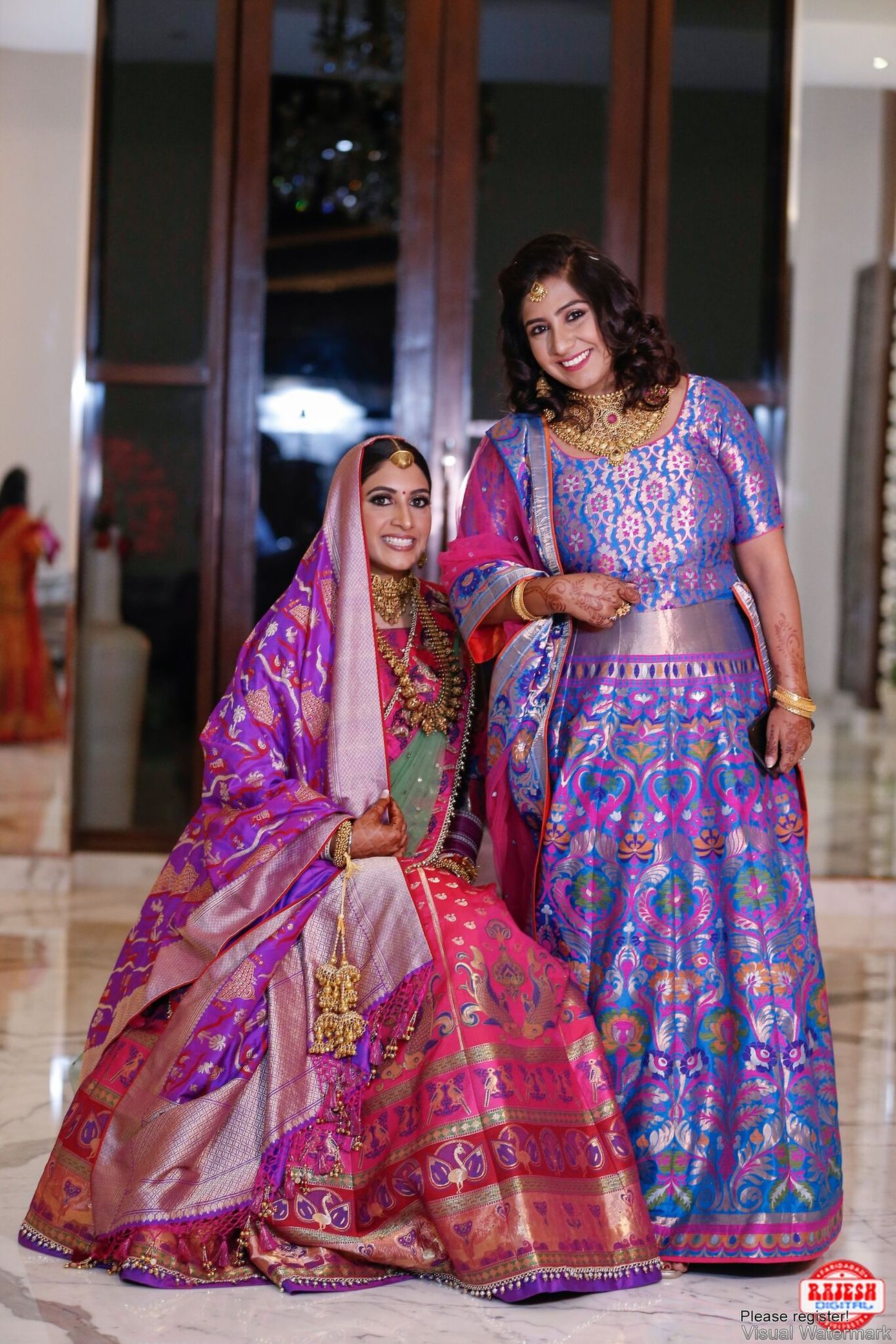 Designing the lehenga...
My mom and I flew to Benaras together in February. We spent days in the market there exploring as many shops as possible but the opportunities were non-ending. I carried my lehenga material along and was very clear in head what I wanted. After looking through several pieces, I shortlisted on a beautiful Benarsi pure silk pink coloured dupatta. Everything was perfect except the color. I wanted to color-block my lehenga to break the monotony and wanted a specific shade of purple for it. I got the same dupatta customized in the purple colour I had in mind and the shopkeepers were very generous enough to specially do that. Just the dupatta would take 2 months time and I was lucky to have enough time.
I returned to Delhi and then started working on the lehenga, blouse and the 2nd dupatta. Having a small unit of my own helped me to monitor the daily work and my masterji easily. We worked very hard as a team and my lehenga was completed and ready by 1st or 2nd week of August. I had kept ample of time for plan B because when you are customizing your own lehenga, you don't want it to turn out to be a drab. Just in case this wouldn't work out, I would have enough time to place an order for one.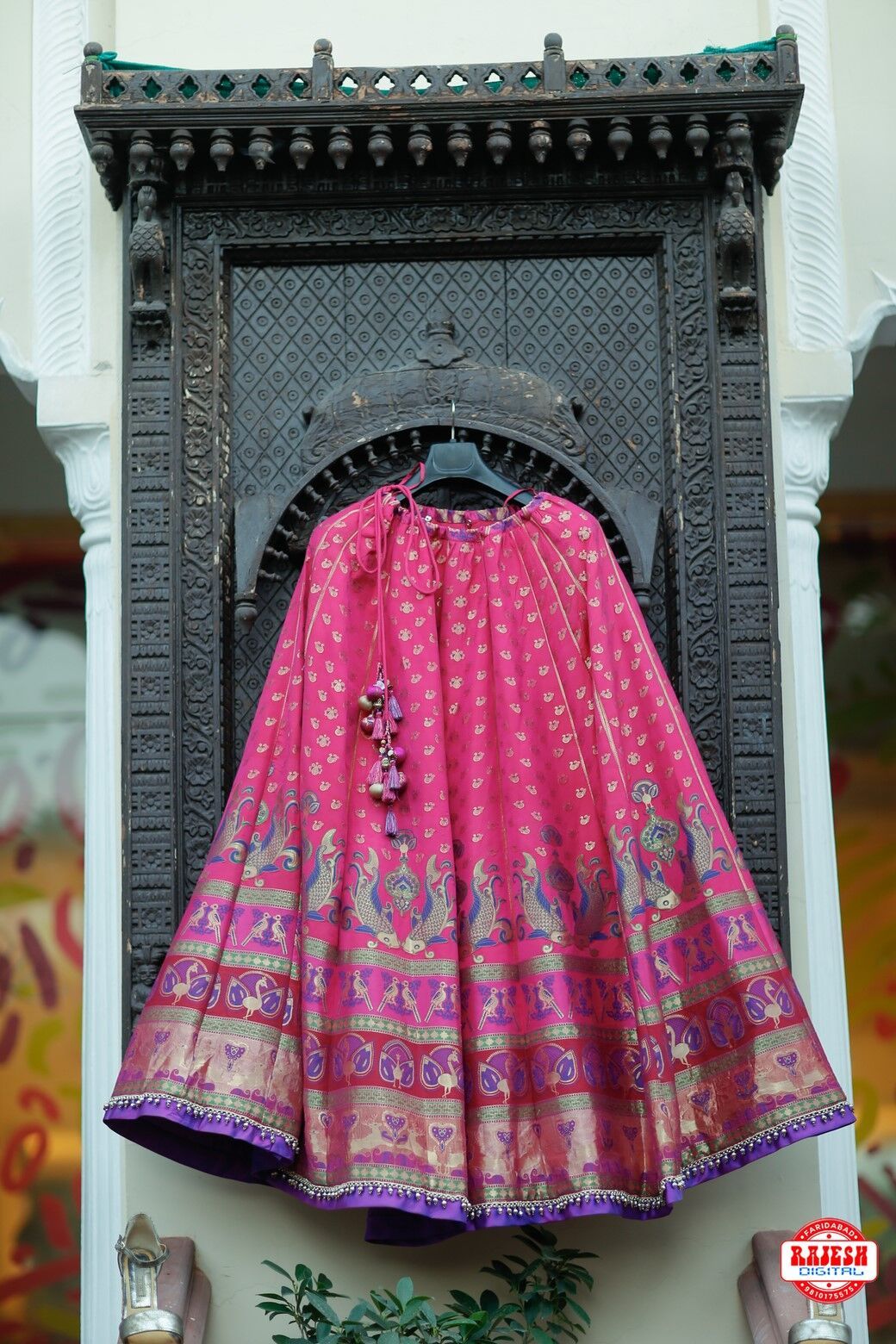 P.S: The main work starts once your receive all the raw material. My own unit and team did a brilliant job putting each piece together as I wanted. I made sure we used pure materials and even used pure materials for the lining of the dupatta and lehenga as I knew my dream outfit was in process of being made.
The love for Benarasi and heritage weaves... 
Being a total lunatic and fashion fanatic, I wanted my dream outfit to be ageless regardless of the era or time we are in or will be 
tomorrow
. I wanted and outfit which looks equally beautiful 50+ years down the line and I always know I only wanted to best way to do that his explore are preserved heritage weaves. Our rich heritage has always fascinated me, and I truly believe nobody looks more radiant and beautiful than the royal heritage Rajputana bride and being a Rajput I was always awed by my own culture. I even chose my jewellery very carefully and didn't pick the necklaces till I found the most exclusive piece. I wore temple jewellery with an exclusive half borla (maang tikka).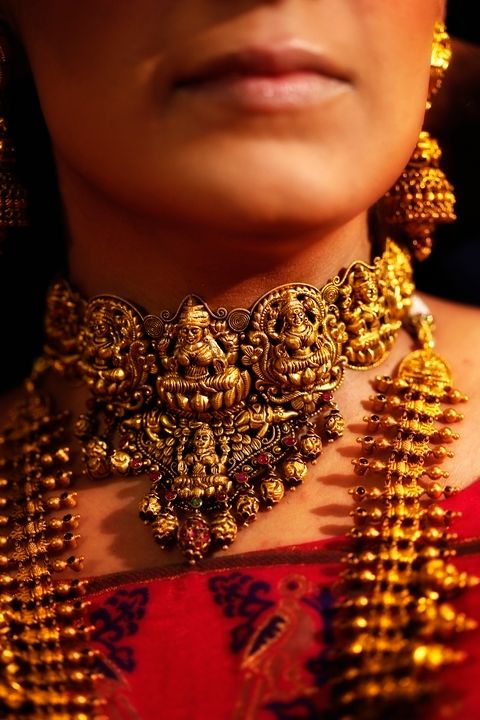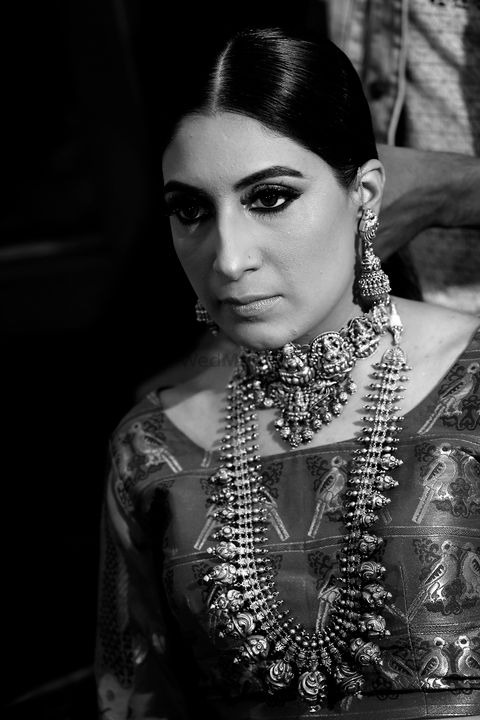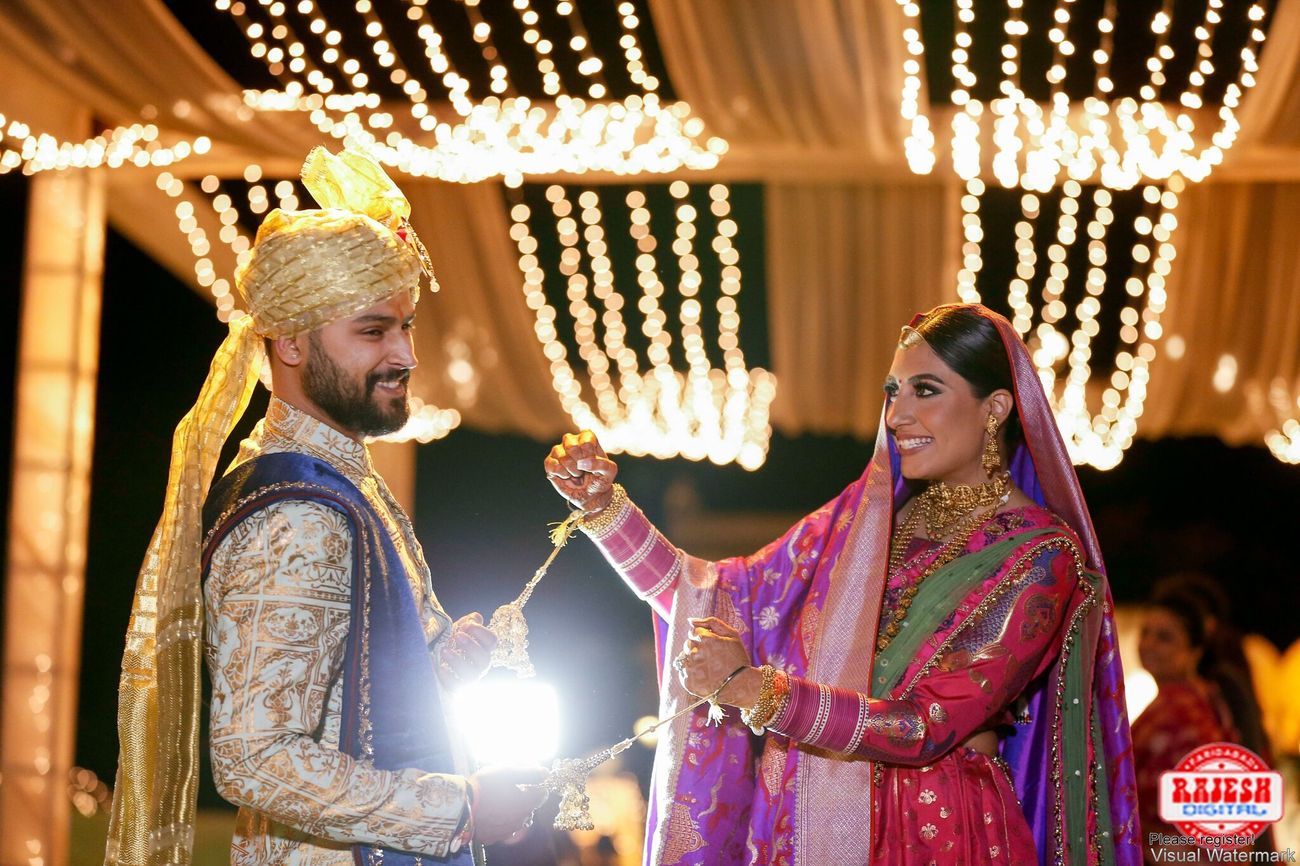 The cost of the lehenga...
The entire customizing and creating the lehenga costed be around 1.5-1.6L including all the overheads and this was truly worth it and value for money for me!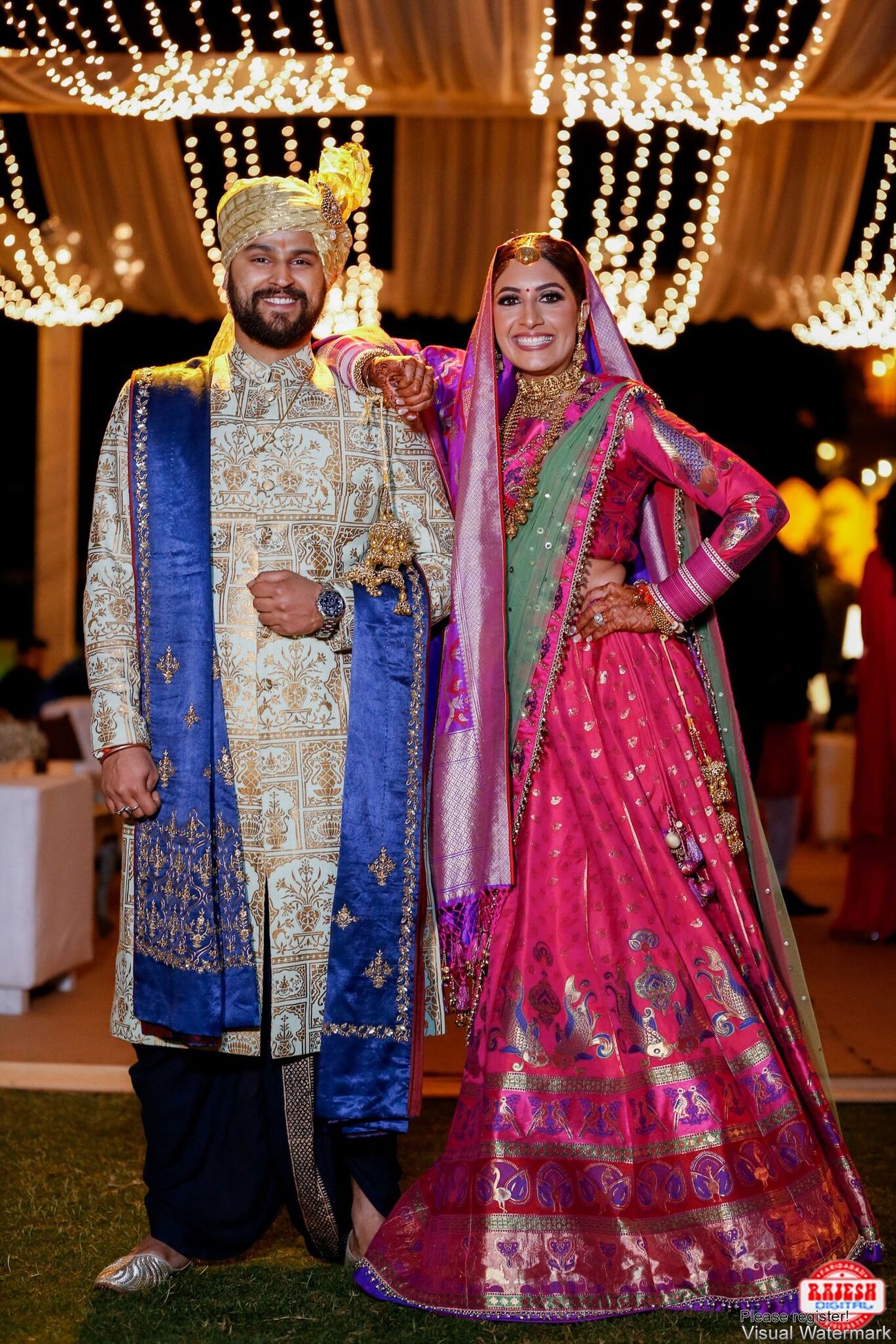 Tips for brides planning to get their own lehenga customised...
Keep a lot of time in hand to explore the maximum and pick the most exclusive pieces to bring them together. 
Explore your culture, Google and see how beautiful our heritage brides looked. Pay equal attention on details, tailoring and fitting and please and I repeat please equally focus on the groom's outfit because the needs then be in tune with your outfit and look. 
Ditch color coordination for once instead go for magical look creation. This is way more fun, unique and beautiful.
Everything has to be in sync that day. Your jewelry, outfits and most importantly your decor so that your family and audience can feel and see the magical era, theme you have tried to create and equally enjoy and be a part of it.

Try creating coordinated looks than just coordinating your outfits. Requires a lot of work but it is all worth it!