From 2016 to 2017... Hair and Makeup Trends Touted to be Big Next Year! *Update Your Makeup Girls!
BY Sakshi | 21 Nov, 2016 | 383 views | 4 min read
Having a wedding next year for which you've tirelessly started planning already? Well let us tell you, not all that's cool in 2016 will roll that well in 2017 as well, so here are the hair and makeup trends that are going to be all over next year! So that you can start planning in advance! Here are the trends that are going to go, and the new ones that are going to replace them!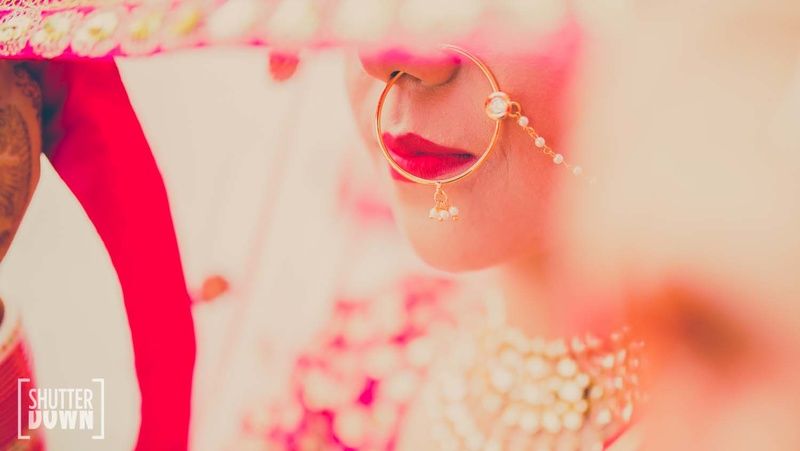 Pic viaShutterdown - Lakshya Chawla★ 4.9 ; Makeup by Shruti Sharma 
Eyes
Statement eyebrows will make way for natural looking ones
Photos Courtesy: Partha Sarathi Photography★ 4.9  and Makeup and Hair by Radhika★ 4.7
2016 was all about the painted bushy eyebrows which cannot be achieved without a brow kit at all.. basically making them look bigger and bolder than they are. In 2017, it will be all about natural looking eyebrows, which are a far cry from the ones in vogue right now. The eyebrow is more unrefined and natural-looking. So our advice? Grow em and stop plucking them so much till your wedding! We already saw Alia Bhatt rocking that look on Koffee with Karan's latest season!
Natural-looking eyelashes will make way for doll like lashes!
 Pic via Makeovers by Triptii Rastogi★ 5
Fake eyelashes are going to be all over in 2017. While till now it's been all about real-looking falsies for brides that don't really pop out, 2017 will be all about long, doll-like eyelashes with a heavy top eyeliner. Our advice? If you haven't tried wearing them, you better get used to it for your upcoming wedding!
Neutral eyeshadow will make way for bright coloured eye makeup!
Photo Courtesy: DotDusk Studios★ 5 and House of Makeup
Pastel and neutral makeup tones were all over 2016, and so were smokey eyes. But 2017 is going to be all about bright and bold eye makeup colours like purples, blues and greens- so get those bright eyeshadows and eyeliners out!
Face makeup
A heavily contoured face will make way for a more natural look.
Photo Courtesy: Wedding Photo Diary By Prateek Sharma★ 5 and Deepti Khaitan Makeup★ 4.9
Contouring became big in 2015, and highlighting got added to that in 2016. Now 2017 is gonna be all about a natural looking face- without the heavy contouring lines on the side of the cheeks. With a neutral blush and maybe a pinch of highlighter- that's the look that's gonna rule 2017.
Lips
Matte lips will make way for glossy ones
Photo Courtesy: Studio ANK and The Story Weavers★ 4.8
Matte lips, especially for brides have been big for a very long time now, but things are gonna change! Glossy lips will be big next year, the good of course if that they make the lips look fuller and plumper, but the downside is that it doesn't last as long as matte lipstick!
Brown / Maroon hues will make way for Berry shades and lush lips
 Photo Courtesy: Pinterest & Avantika Kapur★ 4.9
In 2016, there is this sudden trend of dark vampy shades like oxblood and deep maroon and browns. However, in 2017, that's gonna make way for more berry-toned colours- dark yes, but from a different family! Juicy raspberry, rich blackcurrant, or bright strawberry will be the shades that'll be in and all those wine-like shades? You can wear as much of them this winter!
Hair
Wavy hair will make way for finer, tighter curls
Photo Courtesy: Sumedha and Prateek's Real Wedding and Morvi Images
Wavy hair of course will not go out of fashion, but tighter curls will be in- not perm tight, but tighter than wavy! So make that curling iron your best friend!
Messy will be out, neater, neater buns will be in
Photo Courtesy: Kharishma Captain★ 4.9 and Amanat Gill Makeup Artist★ 5
One more up-and-coming trend in 2017 will be something that might not really look good on everyone- the messy hair buns won't be big next year, but will make way for more elegant, structured buns. This seashell-shaped bun is touted to be big next year, thanks to Kate Middleton!
So get ready for the new year with style!