From Low to High End: Mehendi Favour Ideas for Every Budget!
BY Sakshi | 06 Mar, 2017 | 11841 views | 5 min read
Favours are fun, inexpensive little trinkets for you and your girl squad to bond on your Mehendi. They make for some seriously cute photographs and a  coordinated set of  girls . Here are some Mehendi favours for every budget you can consider for your upcoming wedding!
Budget: Under Rs 200
Might not seem like much, but there's a lot you can do even in as less as 75 bucks per person!
Digital printed customisable coasters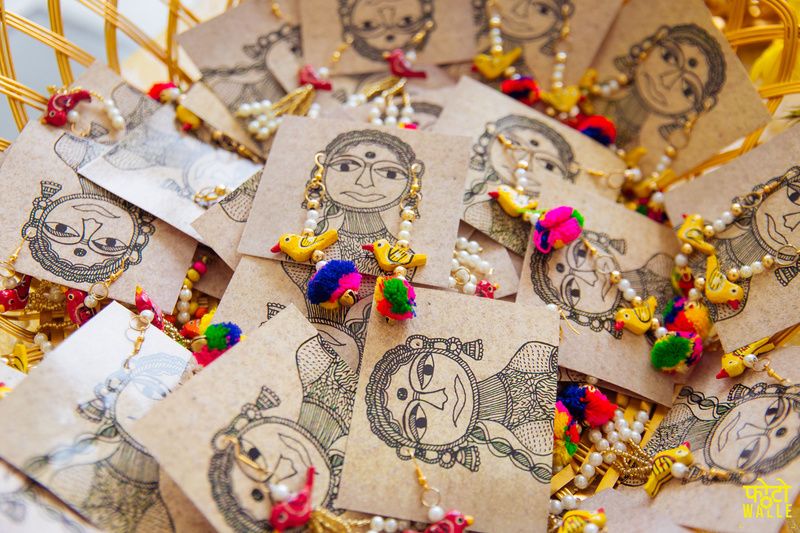 Image via Fotowalle - The Story Folks★ 4.9
Want a giveaway that's affordable but still would be the talk of the town? Get these super gorgeous customisable coasters. You can print your wedding logo, or just keep them jewelled! Super useful too!
Price: Starting at Rs 75 per coaster.
Buy them from: Moments by Riona★ 5
Jewellery:  Gota Maang Tikkas
Image via Mahima Bhatia
Super festive and so adorable! Imitation, gota or pompom jewellery is super in these days, something most girls own and wear... and they make awesome giveaways for the Mehendi, plus you can get them in all possible colours!
Price: Starting Rs 100
Buy them from: Ozel Bir Sey★ 5 , Floral Art★ 4.8 & Rasha Gota Jewellery & Mehendi Favors★ 5
Mehendi themed cookies, cupcakes or macarons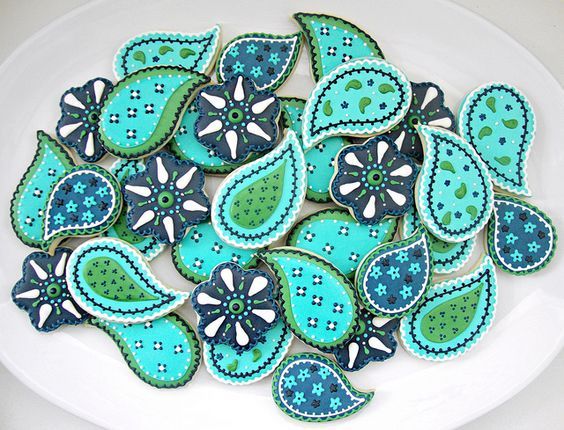 Image via Pinterest
Mehendi cookies and cakes have been big off late, and these are something not many of your guests would have seen or eaten before! You can get as creative with these as you want!
Price: Starting at Rs 100 depending on customisation

Buy them from: Favour from Mishmash and and Eclairs Bakery
---
Budget: Under Rs 500
A great budget that can get you a lot of things- from keepsakes to useful things.
Pom pom Haath Phools
Pom pom haath phools, are fun, affordable and super cuh-yoot for all your bridesmaids.
Price: Roughly 300 rupees a pair
Buy them from: Adirag★ 4.9
Henna candles or holders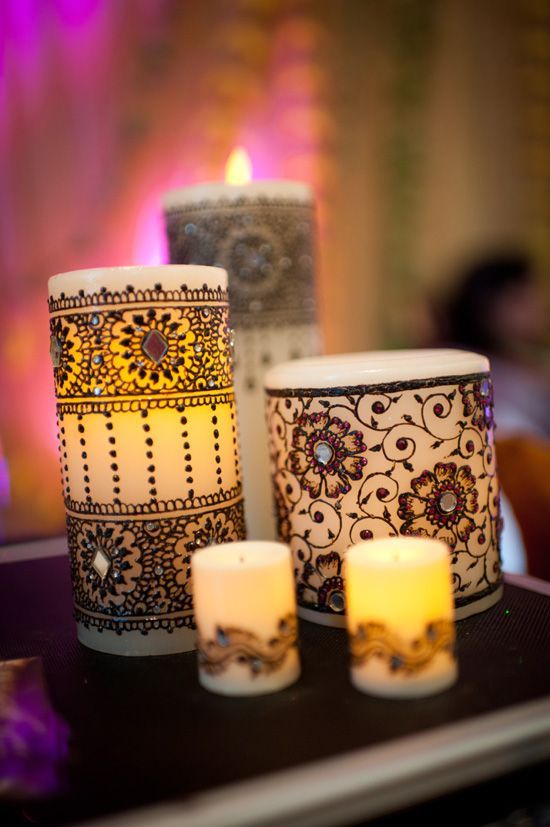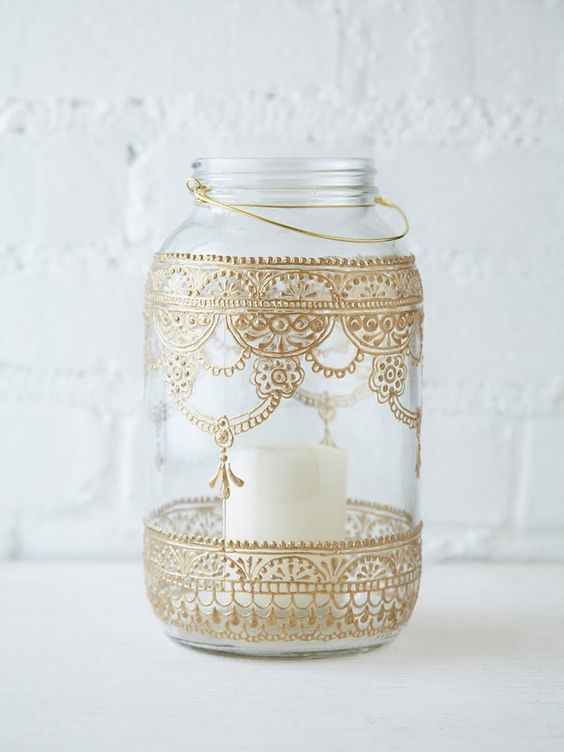 Image via Pinterest
These make for such cute Mehendi favours! You can gift single candles or even a set! And these are easy to DIY as well!
Price: Starting Rs 300 or DIY for cheaper
Buy it from: Online or place an order with a candle making company like The Amaya Store
Phulkari Dupattas or Bags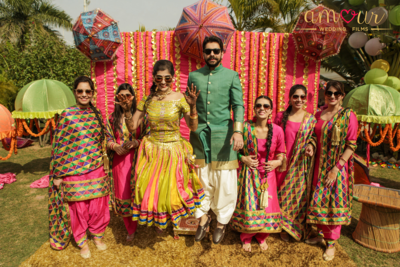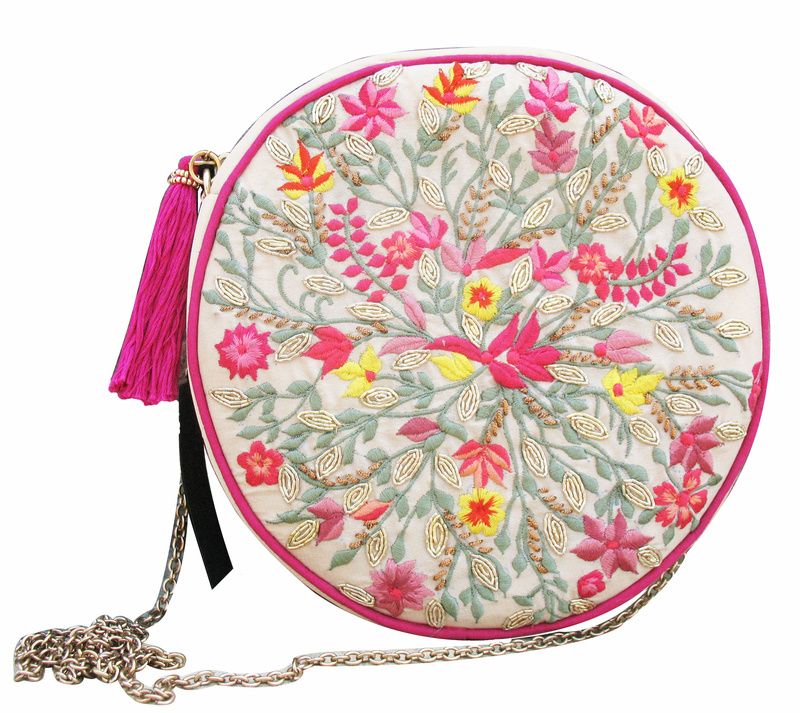 Image via AC24:19NY★ 5 and Amour Wedding Films
They're so pretty and super in these days! They can be carried off by women of all ages, and with the simplest of suits! Especially if you're having a Punjabi wedding, this is a good favour to consider!
Price: Starting at Rs 300
Buy it from: Dupattas from your local store or bulk order from Punjab or bags from AC24:19NY★ 5
Scarves with pompoms or tassels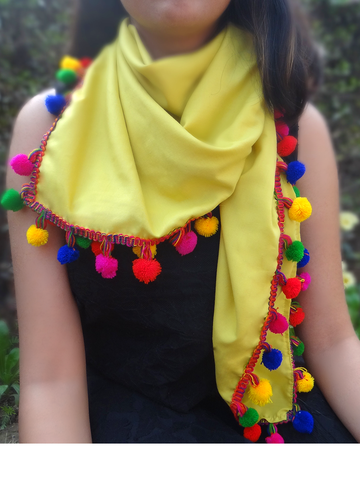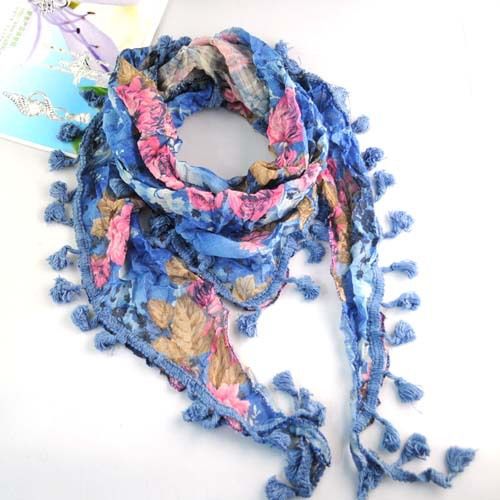 Image via Krafted with Happiness and AliExpress
Pompoms are super in these days, and scarves with pompoms are just adorable! You could buy them online or even DIY them!
Price: Starting at Rs 300 per scarf
Buy it from: Krafted with Happiness, local market or online
---
Budget: Under Rs 1500
A slightly higher budget which can become a lot if you have a big crowd coming in, but these gifts are so versatile and great as keepsakes!
Festive Clutch Bags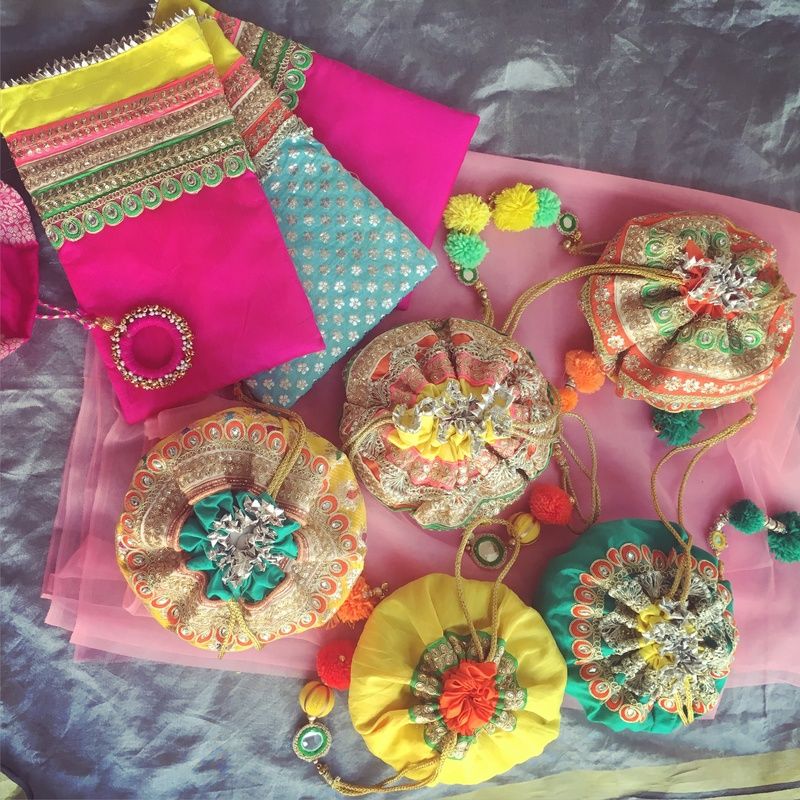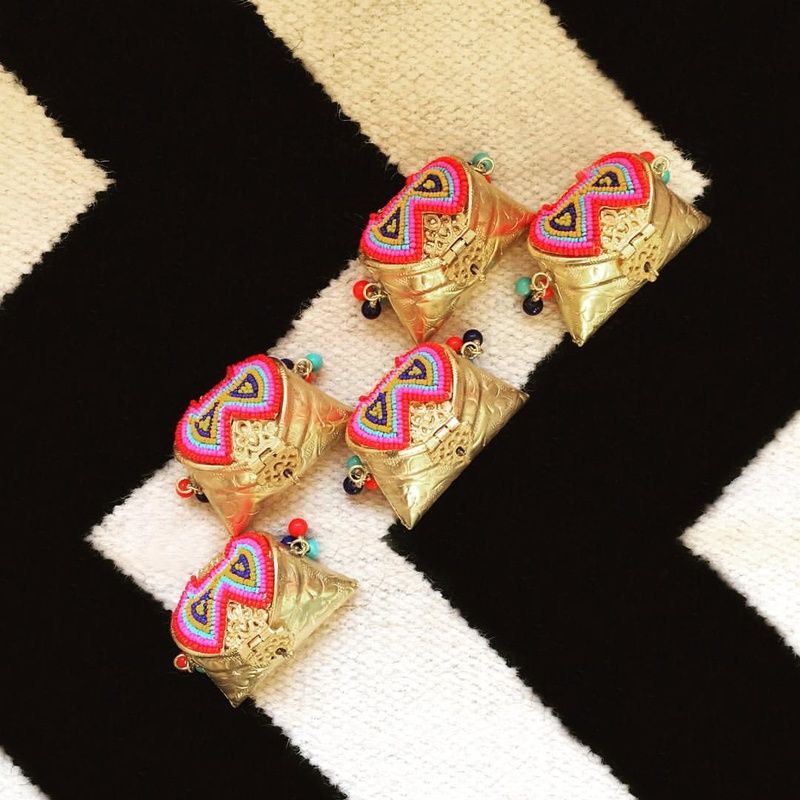 Image via  Ozel Bir Sey★ 4.7 Anaya by Akruthi★ 5 or Boutique Jalouze★ 4
Festive clutches and bags in all shapes and sizes make for such pretty Mehendi favours! Keep options in different colours so everyone can pick something they like!
Price: Starting Rs 500 per bag
Buy them from: Ozel Bir Sey★ 4.7  or Boutique Jalouze★ 4
Makeup Kits in Cute Pouches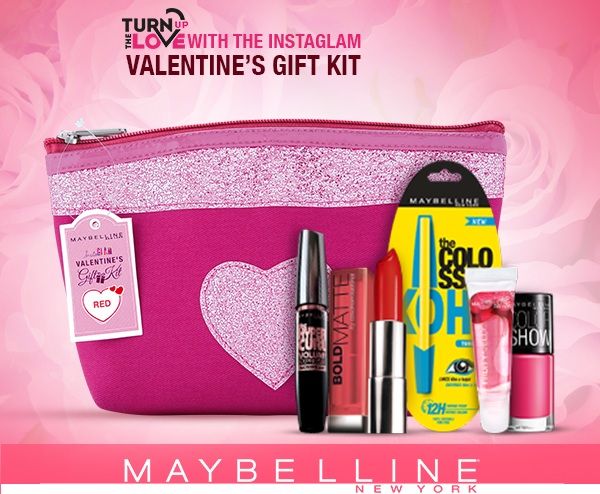 Image via Maybelline India
So most makeup companies like Maybelline, Revlon, Loreal and Colorbar do assorted makeup kits in cute little pouches with products in the same colour family- you can get these for the girls too!
Price: Starting at Rs 800 
Buy them from: Online from Nykaa, Flipkart or Snapdeal
Kundan watches or Hand Jewellery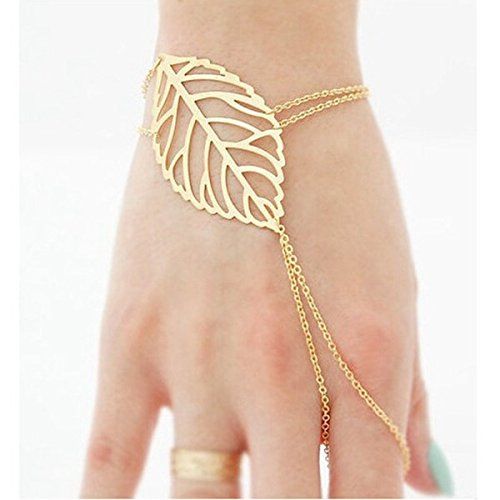 Image via Craftsvilla and Pinterest
This is something nice and useful, especially with Indian wear. A kundan watch acts as a nice bracelet as well, and is something women of every age can wear. Alternatively, you can also get some modern hand jewellery which looks super pretty!
Price: Rs 500- 1500 for non-branded ones.
Buy it from: Pipa Bella 
---
Budget: Over Rs 2000
Sky is the limit for such a budget, but here are some cute things we think will make for great Mehendi favours!
Cool Silver Gift Boxes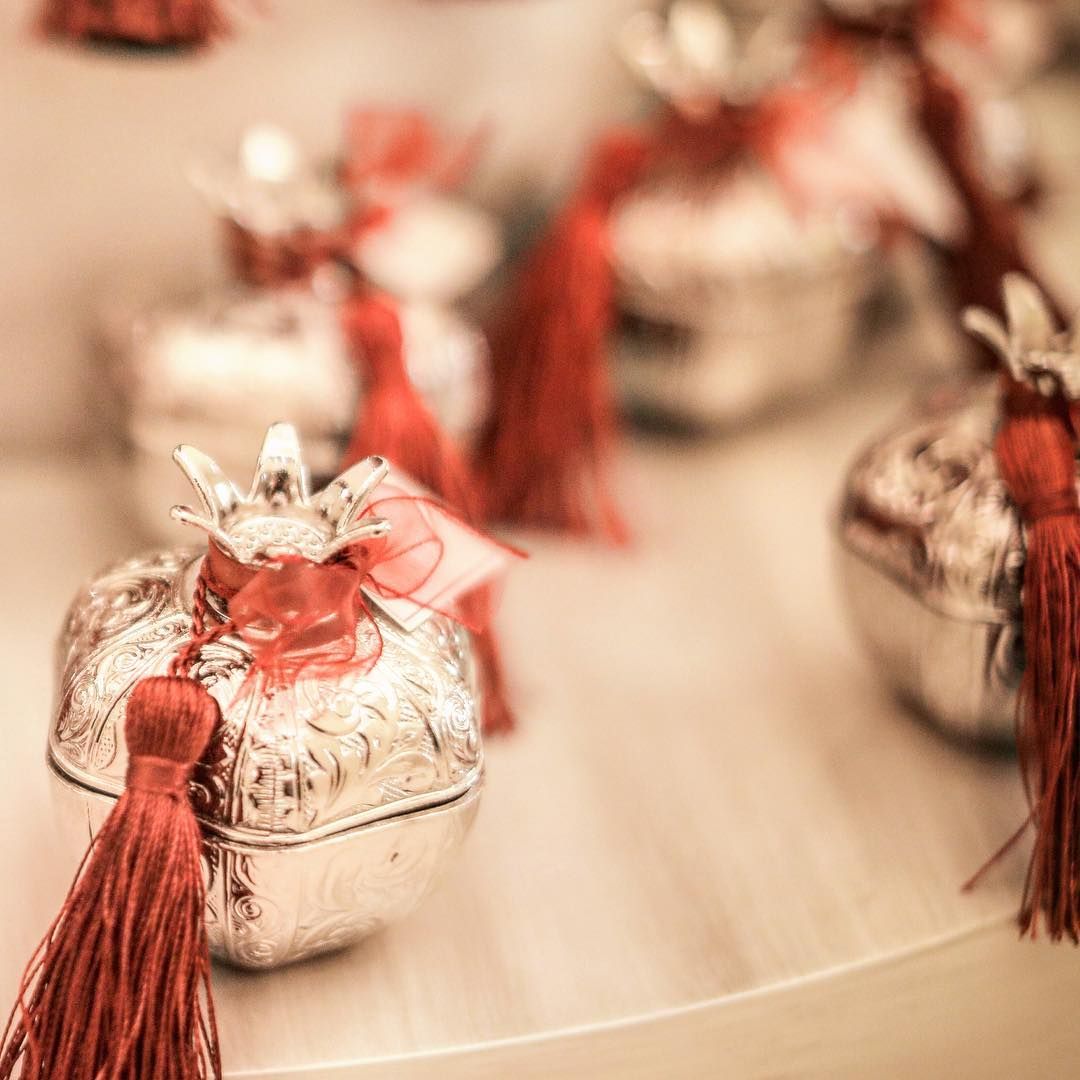 Image courtesy Eventchicdesigns via Instagram
These pomegranate shaped silver boxes are so cute! They can be used for so many things! You can get these made in silver instead of the same old boring traditional silver gifts that are usually given out at Indian weddings!
Price: Depends on the size
Get them customised in silver from a local store.
Silver Charm Bracelets
Image via Fourseven
Give everyone the option of customising their own charm bracelets! Get someone to sit and attach charms to bracelets- buy some cool charms and sterling silver bracelets and let everyone pick and choose what they like!
Price: Depending on material- sterling silver/silver will cost more, so approx Rs 2000 per customised bracelet.
Buy them from: Fourseven 
OPI Mini Nail Polish Kits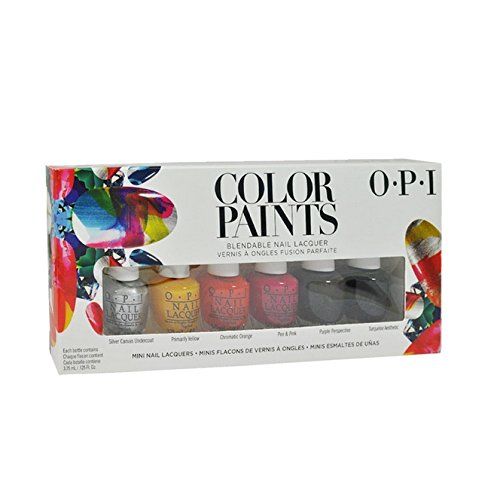 Image via Amazon
Price: Upwards of Rs 2000
Buy it from: Online from Amazon
For more awesome Mehendi ideas, click this link here.