Get Hitched At These Top Wedding Destinations In Delhi NCR
BY LBB | 30 Nov, 2022 | 1575 views | 7 min read
It's not the getting married bit which is difficult, it's the when, where, how that gets us all. Choosing a wedding venue can be as difficult (if not more) than choosing your partner. There are a million things to look into, and a billion things to consider and manage, while you try to match up to the perfect dream wedding you've always wanted. If Delhi is your place of choosing, then here are 10 of the best wedding resorts and hotels to achieve that dream.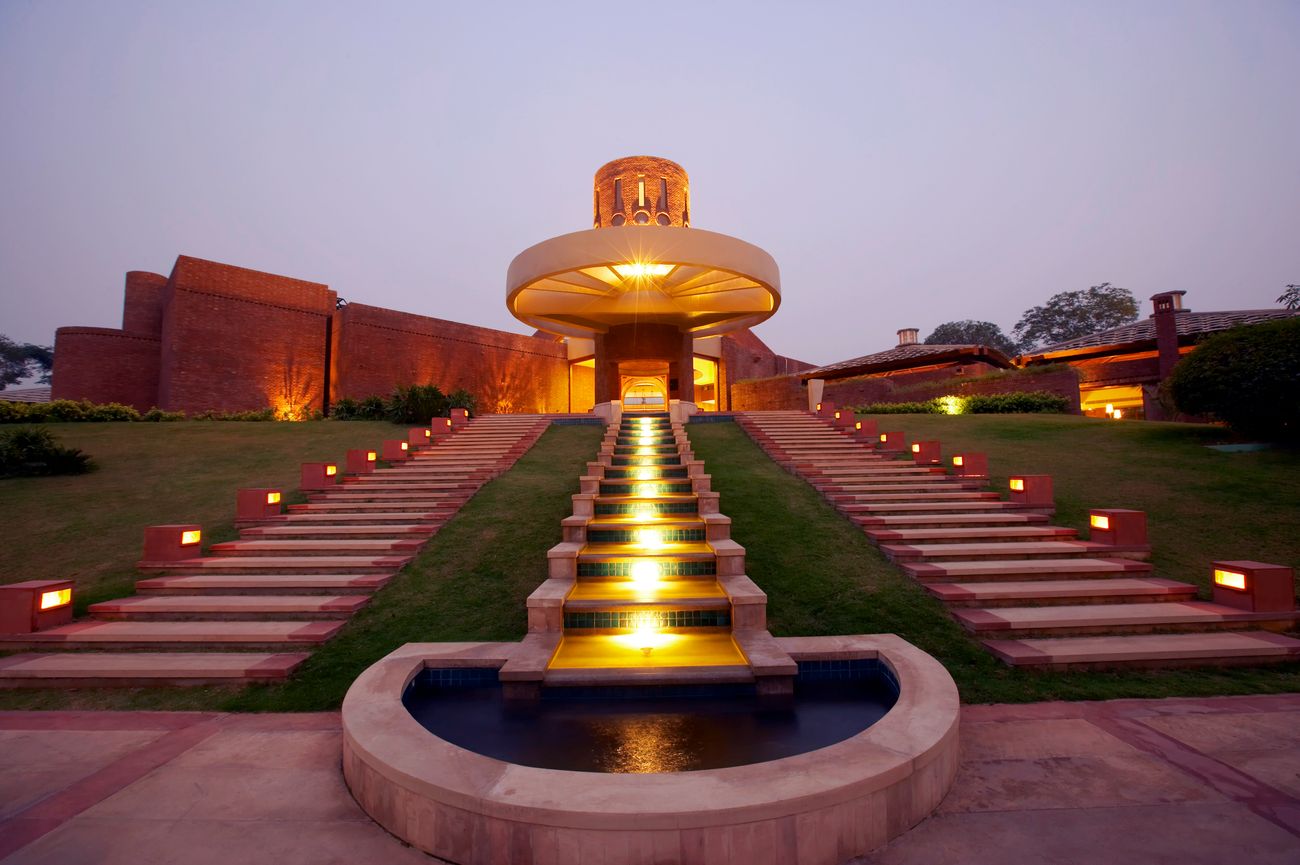 Located in Delhi NCR, minutes away from the International airport, Westin Sohna Resort And Spa is luxurious, inviting, and filled with modern facilities. The sprawling pool and red brick walls are perfect for a wedding no matter the season. A day wedding under the sun on one of their lawns or banquet halls, seems like the perfect way to tie the knot. They boast of 97 rooms which is perfect if you're planning your big Indian wedding with lots of guests. Outside decorators and wedding planners are allowed which is a plus point, catering, DJ, alcohol is all in-house. 
Find more such venues in Delhi.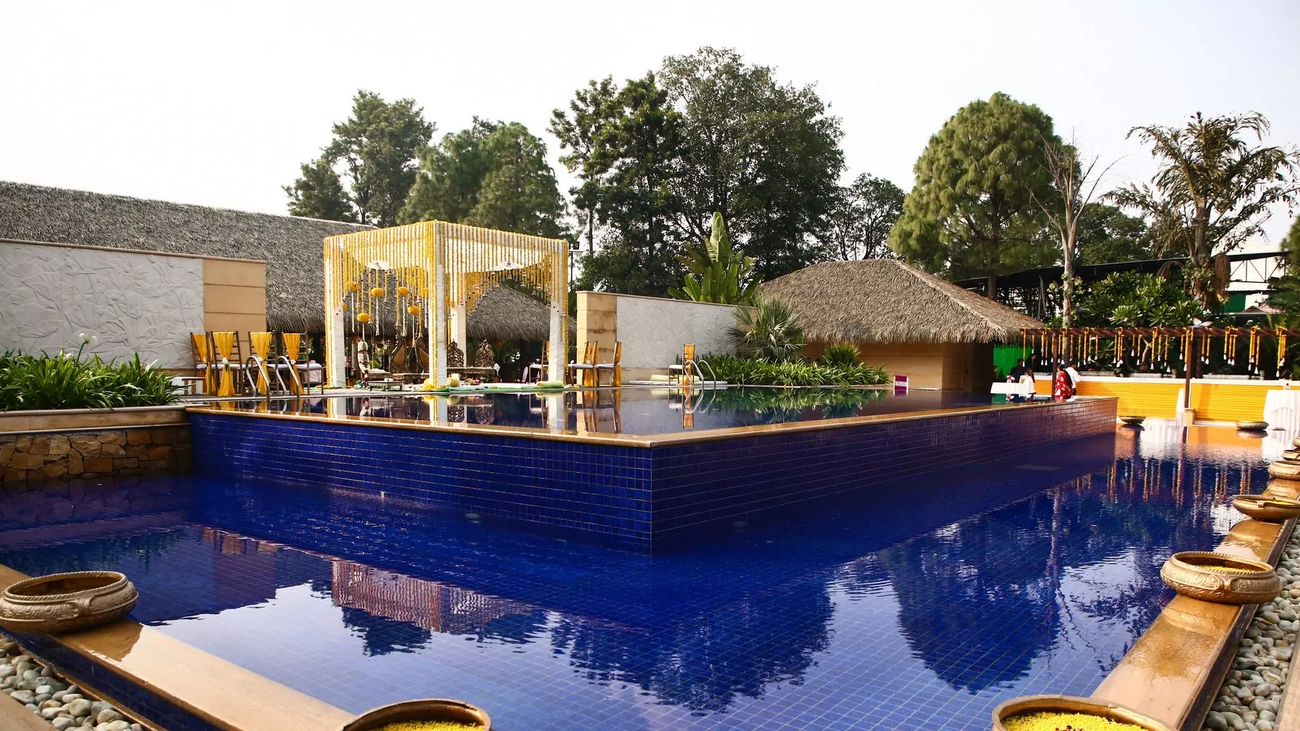 Mallu Farms had our hearts at first glance itself. The water side mandap is something that looks straight out of a Bollywood movie. Who wouldn't want to get hitched there under the winter sun surrounded by serenity, aesthetic, florals, and our loved ones? Located in Delhi, Mallu Farms come with 4 locations on the property that can easily host up to 2,000 people. They however do not have guest rooms where guests can stay. But there are a couple of rooms readily available for the bridal party. Catering, decor, DJ, valet, and the likes is all in-house which is more than convenient!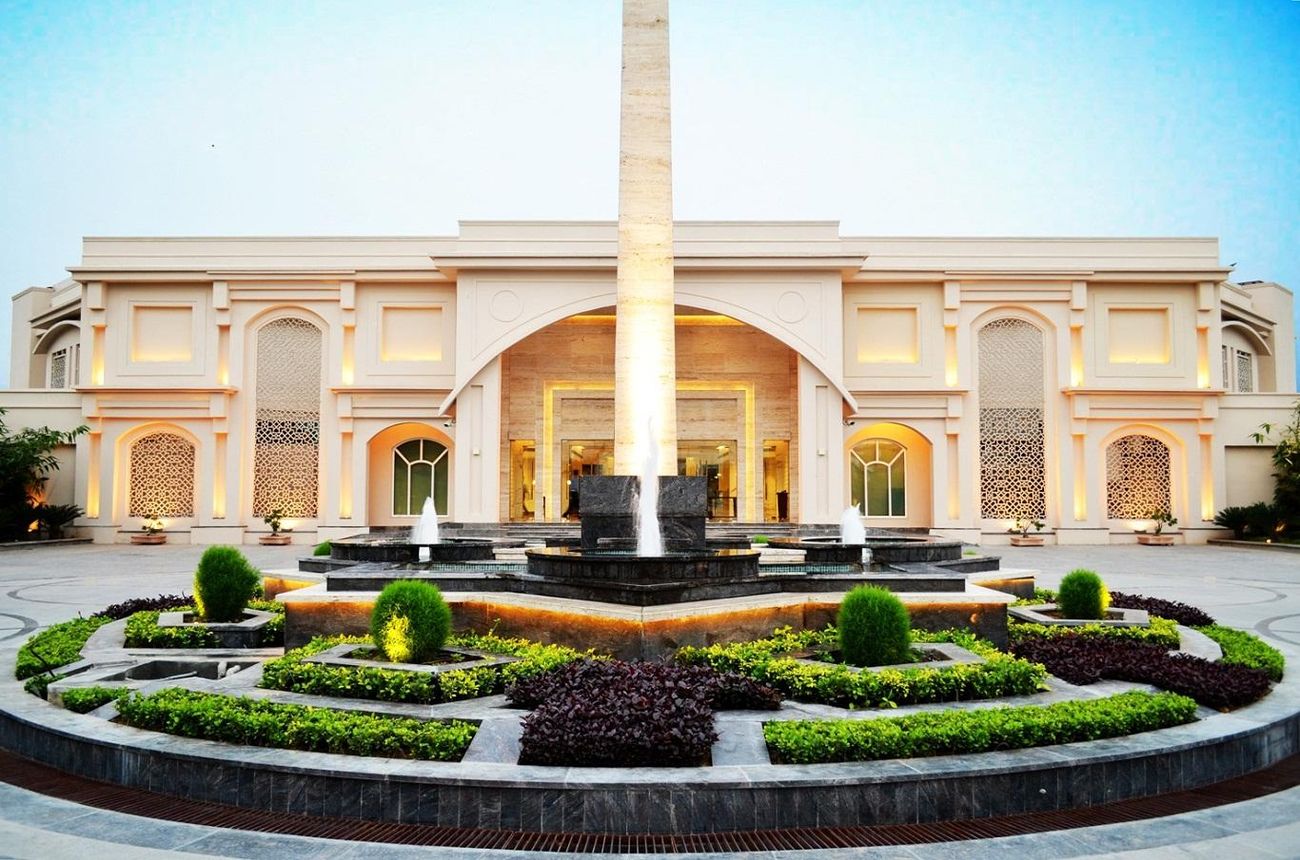 They are all about royal mystique with expensive modern decor and heritage like architecture. Situated amidst 15 acres of green, this place is 10 minutes away from the Delhi International airport. For weddings we love it for its sheer luxury, and constant consulting support. They help out with a number of wedding related services like—food and beverage, floral arrangements, wedding cake, wellness and spa, and wedding consultants who are dedicated specialists that will walk you through every minute. All the above mentioned services come with their own specially dedicated teams that ensure the service they promise is completed. 
They also have rooms and suites which are perfect if you have the wedding party, or family coming in from all over the world who'd prefer staying at the venue itself. Other than that, the property comes with two wedding/reception suitable ballrooms as well as a huge outside catering area.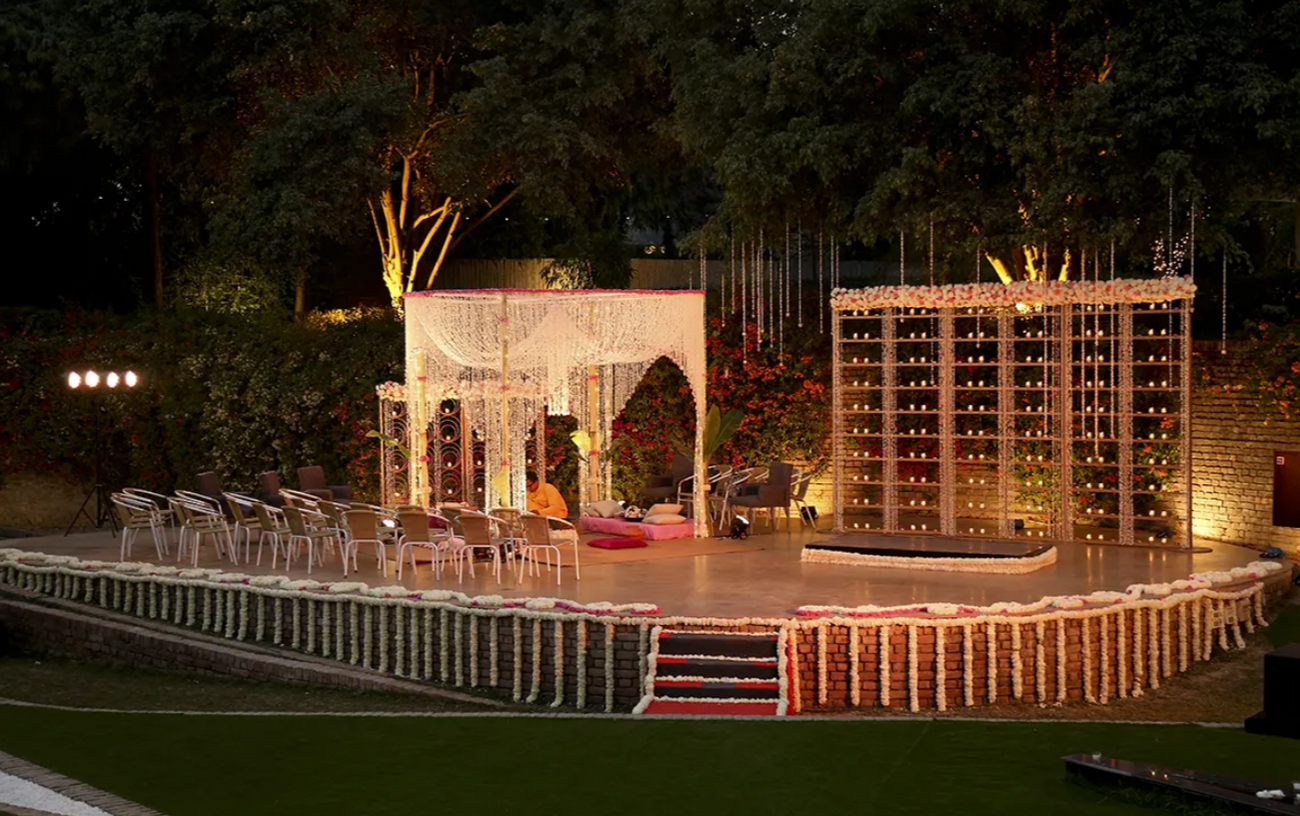 Inspired by the Greek hero, Zorba is a picturesque spot for events, especially receptions and weddings, Zorba is your typical Instagram worthy place with stellar modern decor. It is also appropriate for other events too like mehndi, sangeet, cocktail parties and the likes. We love it the most for their sense of aesthetic and the organizational weight that's taken off your shoulders. The property is situated on a green patch with a couple of outdoor and indoor spots like the amphitheater, the garden and the villa which can easily accommodate as many as 100 odd guests. Their decor alone stands out with hanging flower malas and diyas that adds charm to the whole environment. There are a few suite-like rooms available too which are mainly used by the wedding party itself. Food, decor, music is all in house and inclusive. If you're looking for a clean, contemporary, with old-school vibes thanks to the gigantic arches that'll make you feel like you're in a modern day haveli, then go ahead and get married here!
Find the list of best banquet halls in Delhi on WedMeGood.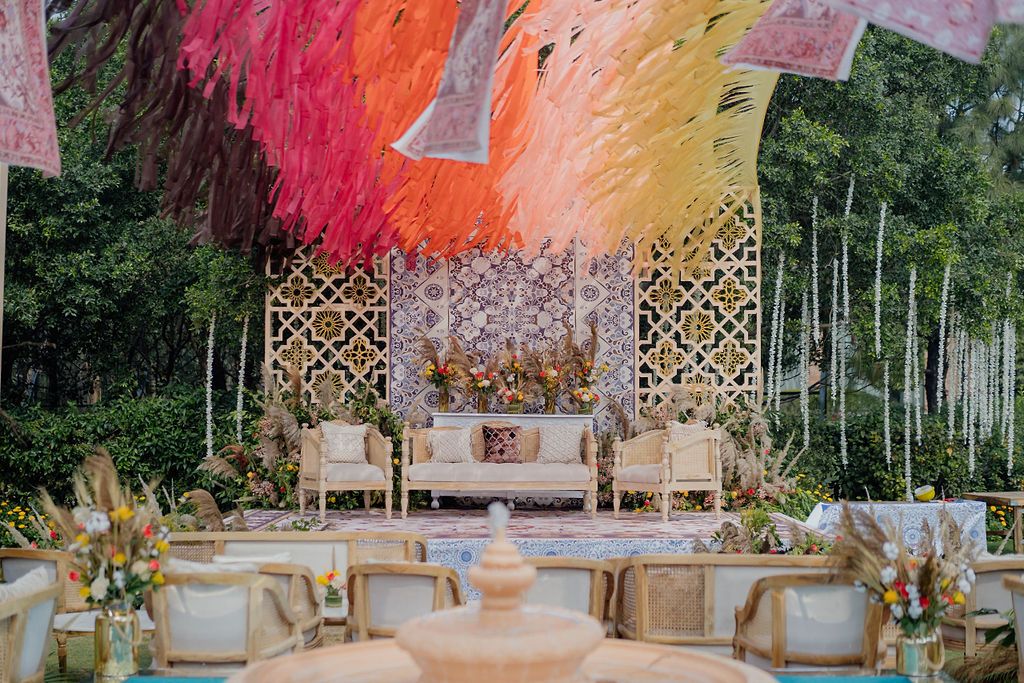 Image via Ritika and Rahul
This one is a nature inspired gateway for the urban nomad sprawled across 2o acres of land in the Aravallis Hills and the Damdama lake. COming from the chain of Taj hotels, expect luxury and amenities that are top-notch. They have 78 odd nature inspired rooms that are perfect for a large party of folks. The best thing about this resort is the prime, lush green location of the hills and the lake. It's perfect to host a picturesque wedding and pre-wedding ceremonies with a consulting staff for the best ideas, inspiration and themes.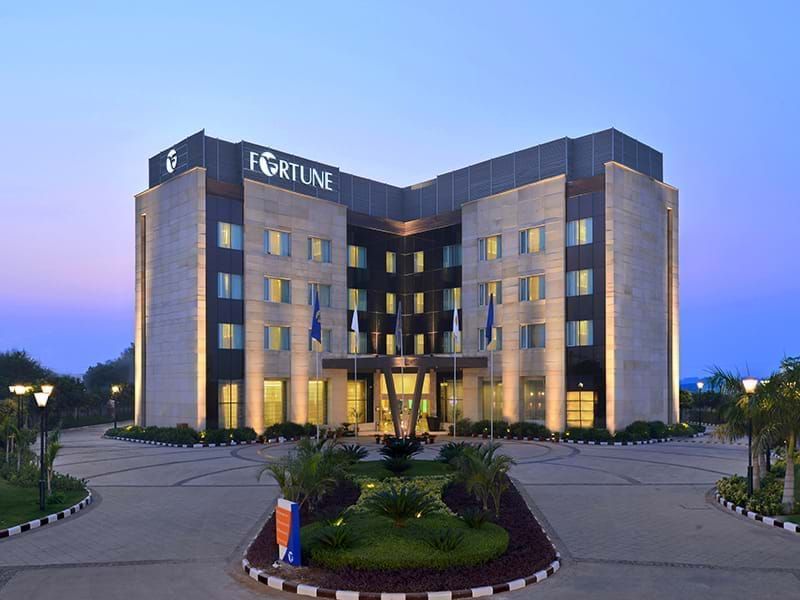 Located in Sidrawali, Gurgaon, the Fortune Park Orange is a part of the ITC hotel chain that screams luxury, grandeur, and a good time. They offer an indoor banquet space that can accommodate up to 280 guests, a lush green lawn for outdoor events and ceremonies that can accommodate up to 500 guests, and a pool-side venue for up to 100 guests. They have around 100 plus rooms which make for added convenience if it's a destination wedding! Food and deco is inclusive, while they also provide wedding consultations. We picked out this spot for the lovebirds who wish to go  the typical, traditional, and ever so popular lawn reception route with cluster chair seating while the bride gracefully glides through up to the center stage.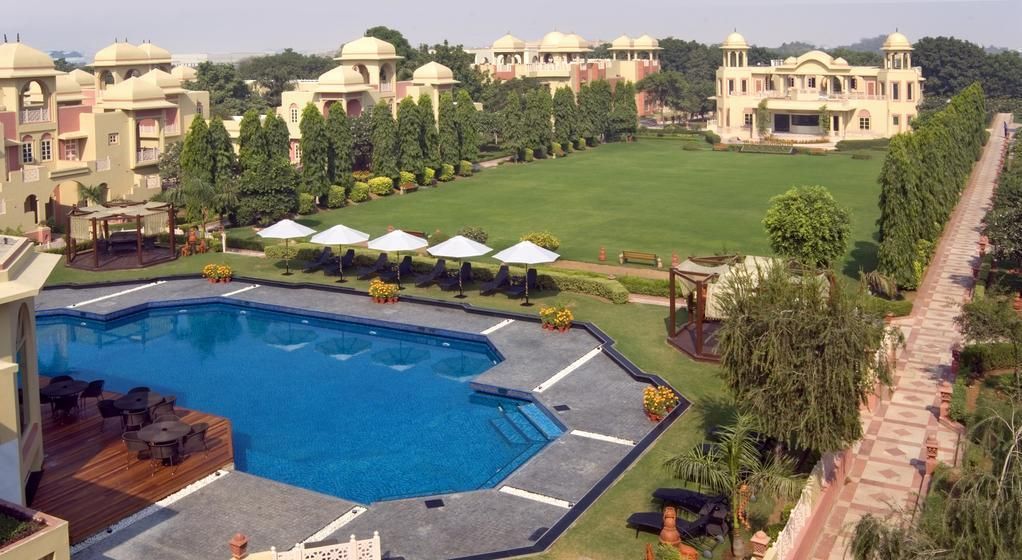 This resort is designed keeping in mind anyone who is longing for and always dreamt of a Rajasthani inspired wedding. Inspired by Rajasthani architecture, the resort in Manesar is right off the Delhi-Jaipur Highway (NH 8) What we love most about them is that it is pet friendly! So if you're already a dog parent, then they can most certainly be brought along. It has gorgeous spots through the property that are perfect for destination wedding ceremonies! They boast of 6 restaurants and bars each of which offer their own experience. The deluxe spa offers a wide range of wellness treatments for you to really kick back and relax before D-day. They have close to 70 odd haveli suits, villas, and rooms for your guests, with wedding specialists consultants, who promise to put up the wedding you want.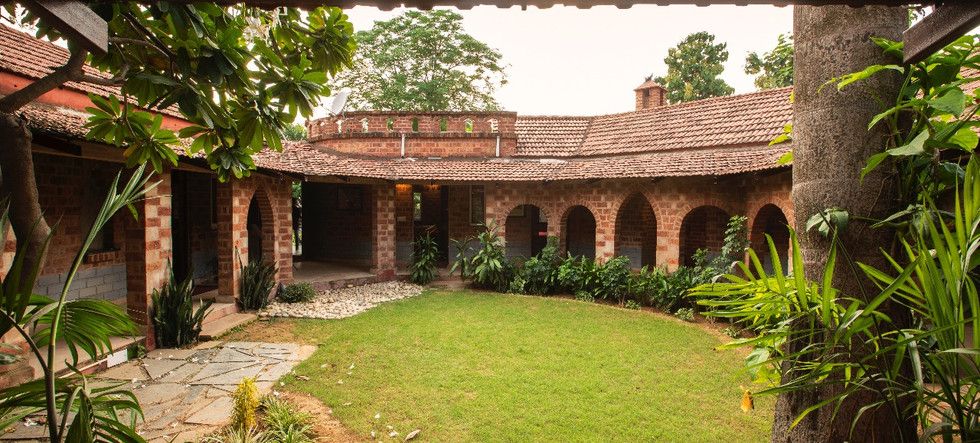 After Alia Bhatt got married on her balcony, everyone wants a quiet, super intimate wedding and Simbliss is just the place to do so! A gorgeous farm nestled in the lap of nature and quiet, with four bedrooms and a private pool, located 30 minutes from Gurgaon in Manesar. There is a walking path in the farmhouse, amenities for badminton, a place for a bonfire and lots of indoor games. They have in-house staff along with an in-house chef. Food and music is included, plus leaning towards the intimate wedding trend at the moment, we have to say this one is our favourite.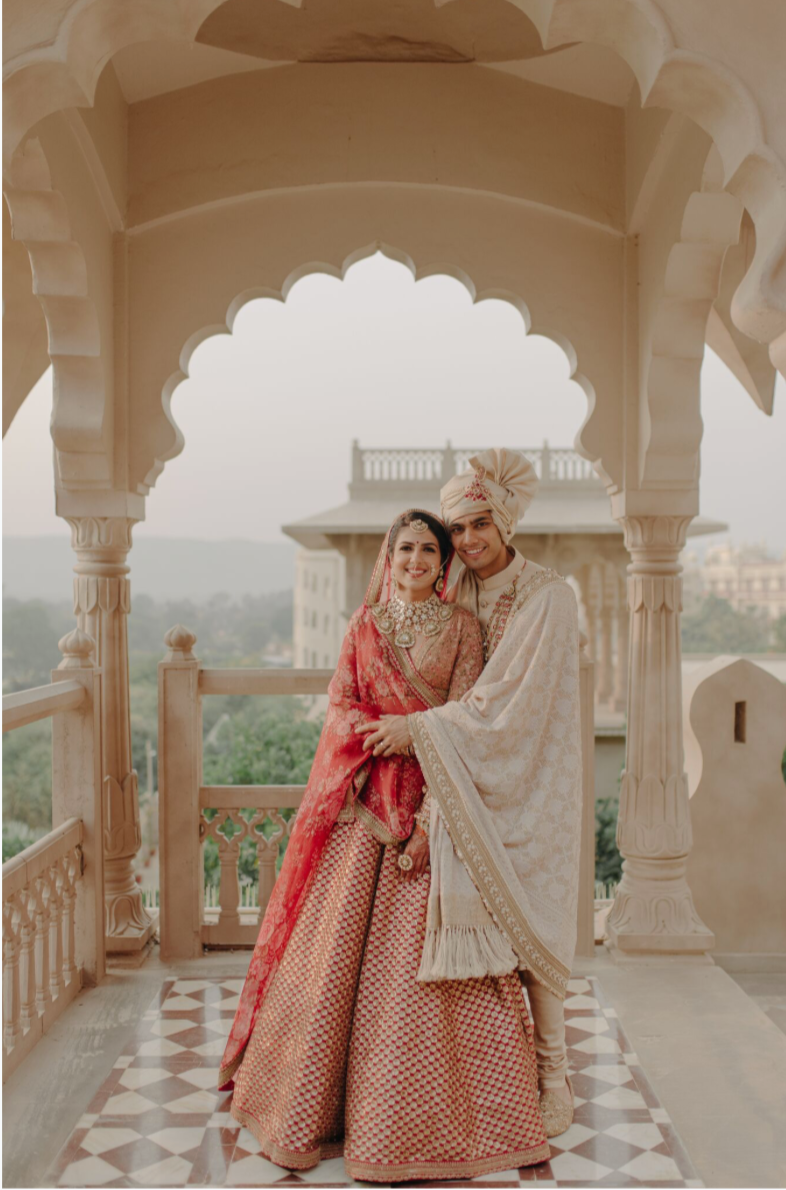 Image via Shaneez and Mohak
If a dreamy palace wedding and Priyanka Chopra's wedding is your sole source of inspiration, then look no further than Fairmont Jaipur. A graceful, luxurious destination for wedding venues for both large, and small parties. They have a dedicated team of wedding specialists that specialise in handling everything for you, so that all you have to do is get ready to say "I do." 
The architecture itself is regal, traditional, and welcoming with a mix of Mughal architecture and Rajputana charm and culture. From the grand ballroom adorned with crystal chandeliers, to pristine lawns, they promise to make your special day seem out of a fairytale, and we don't doubt it.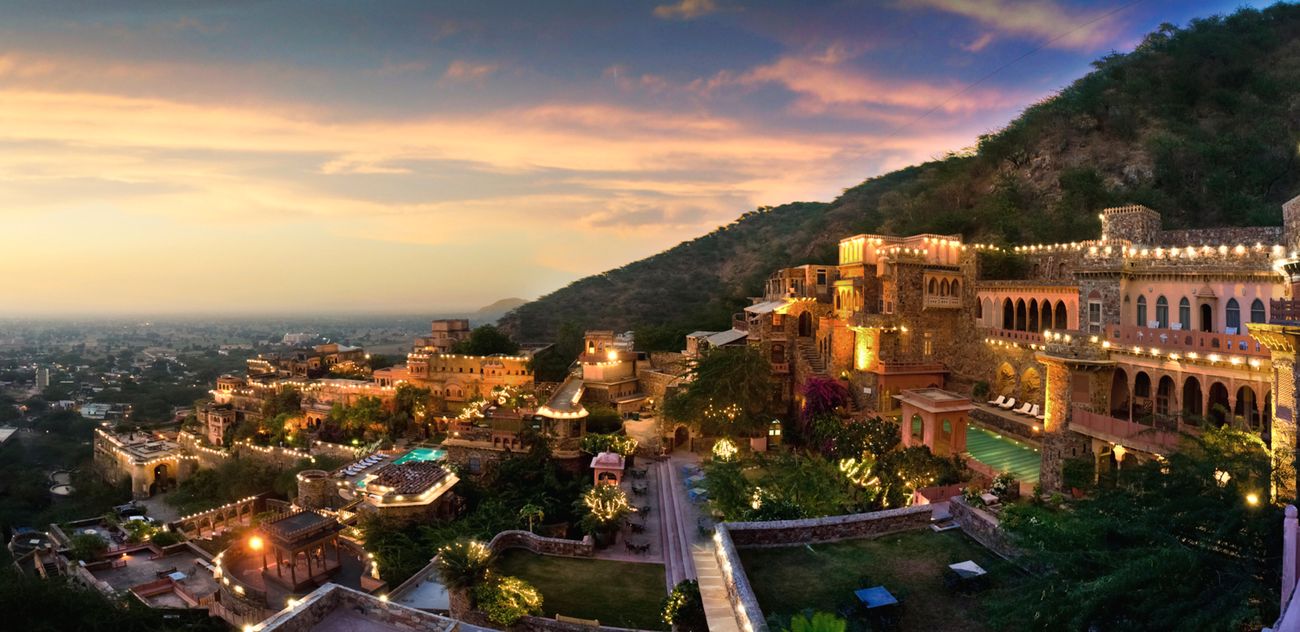 At this 15th Century Neemrana Fort Palace, you can have everything from an intimate wedding that requires only 6 rooms for your guests, to a big fat Indian wedding that'll need 60 odd rooms! What we love most about this place is that they host wedding ceremonies for non-resident Indian weddings too. From rose petal showers, fireworks that light up the whole sky, to classical music artists playing throughout the night, Neemrama is perfect if you want something steeped in history with grand architecture and contemporary facilities. They boast of a total of 11 venues on the property, all suited for various sizes of groups. 
Find out more such amazing outfit, beauty and accessories related wedding content on LBB's Wedding Edit.
ALSO READ: Top Destination Venues for 2022 Weddings