Go No Further For Sister Of The Bride Traditional Looks Inspo
BY Meenu | 14 Sep, 2020 | 30 views | 2 min read
As a sister of the bride we know that you have numerous responsibilities. From literally being the maid of honor of most brides you also would be reeling around with instructions from parents, planning last minute entertainment and yes making sure that everything works out without a glitch.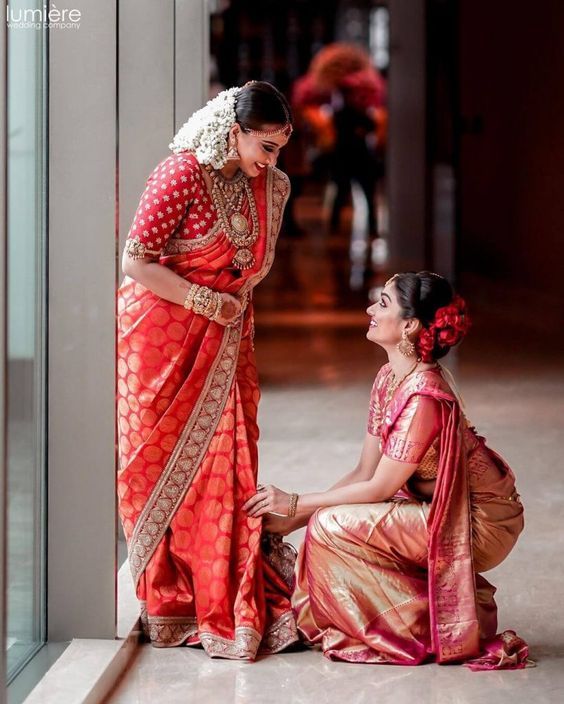 Image Via: Lumiere Wedding Company
In the midst of all this where will you find time to plan your look for your sister's Muhurtham?  Well we have you sorted. We chose the perfect sister of the bride traditional looks that you can check out.
Being the sister of the bride, you can dress up in all the frills but without the "traditional" norms the bride might have to follow. So the cold shoulder blouse with your Kanjeevaram is surely a resounding yes!!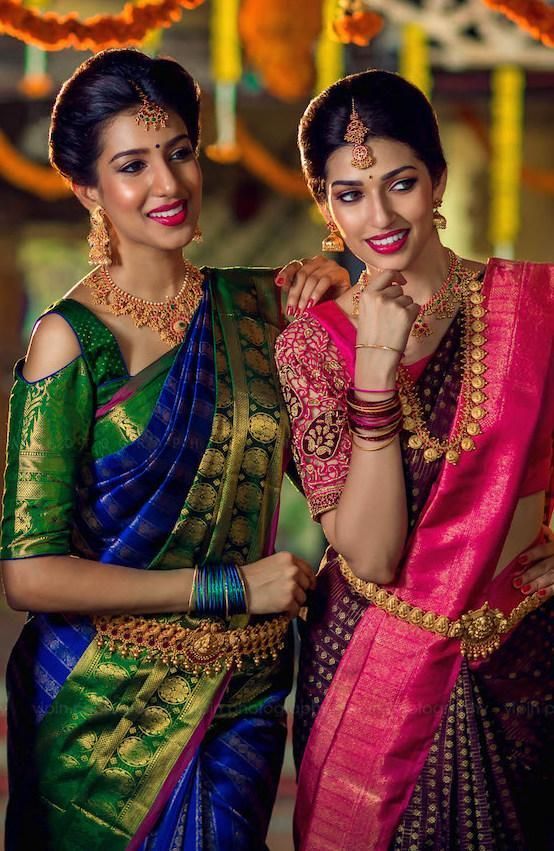 Image Via: Pinterest
If you are that sister who does not wanna wear a saree take a cue from this sister squad and try out a half saree or even a lehenga saree!!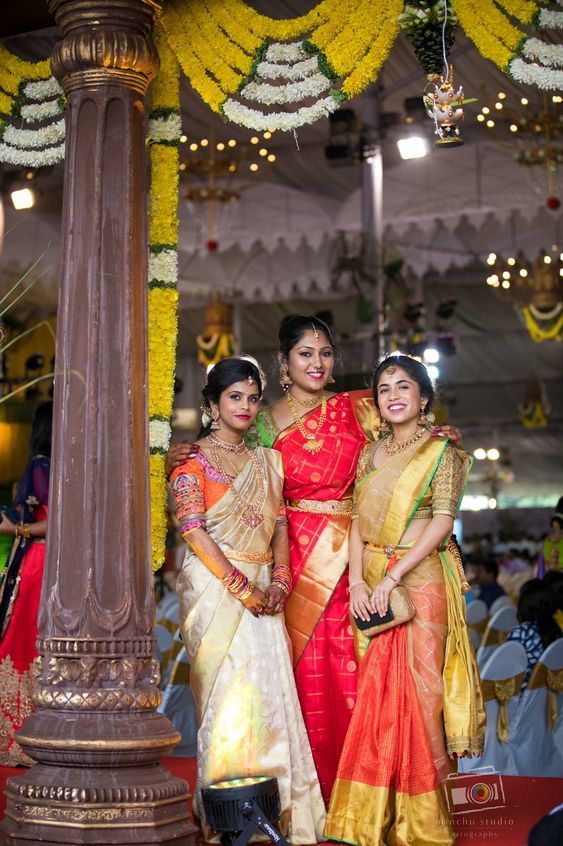 Image Via: Minchu Studio
Would you like to try this traditional crop top and skirt South Indian style for one of the pre wedding functions of your sister? We love this!!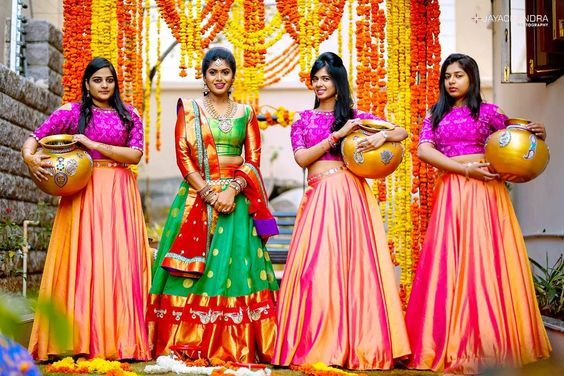 Image Via: Jayachandra Photography
For your sister's Muhurtham this is a classic look, that will never go out of style. A gorgeous Kanjeevaram, a heavy waist belt and jewelry and you are sorted!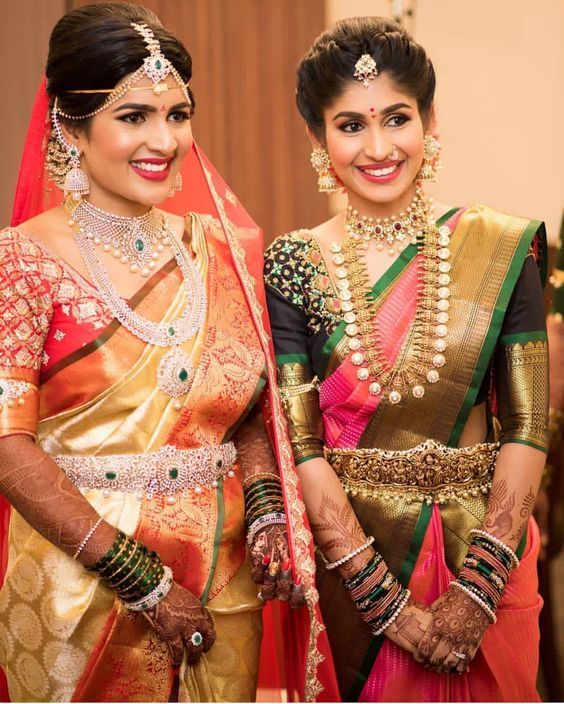 Image Via: Pinterest
This is one look that can be slayed be it at a day or night wedding. The yellow Kanjeevaram is a clean contrast to the bridal red and in turn enhances your look and also your sister's.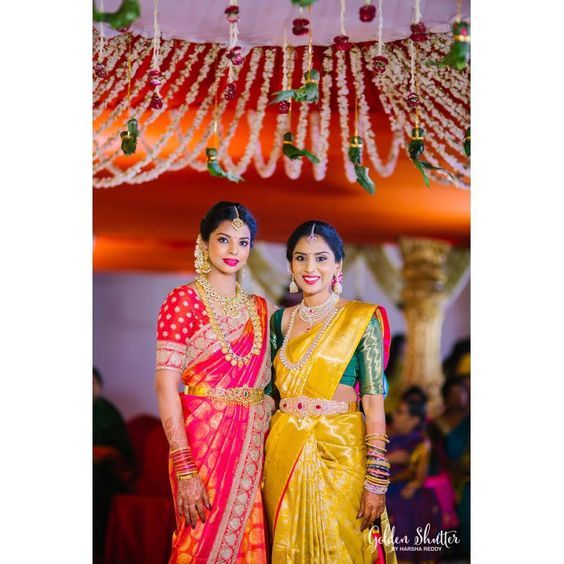 Image Via: Golden Shutter
We totally love this pic of the sister duo!! In fact this is a perfect pic that you brides should replicate with your sis!! For some more fun sister photo shoots you should click this right away!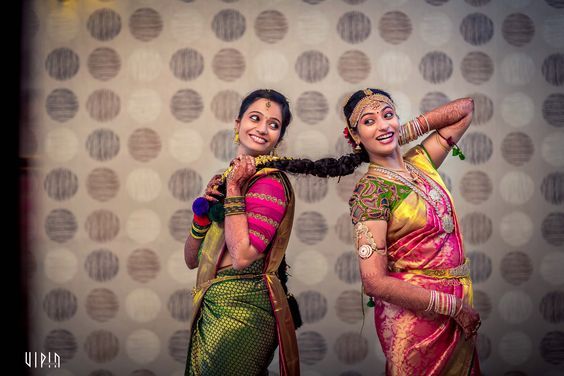 Image Via: Vipin Photography
Coordinating with your sister and how! This sister duo give us all the inspo. For more color options check out this set of pics!!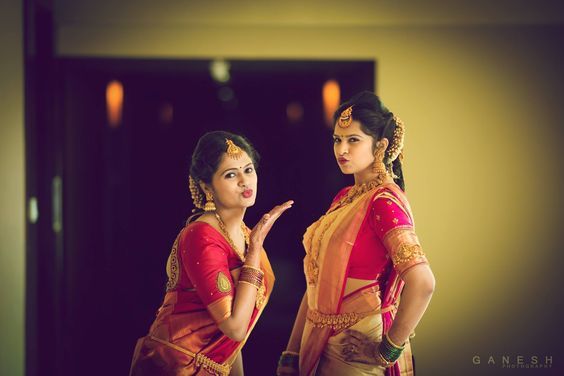 Image Via: Ganesh Photography
Are these traditional looks helping you dear sisters?? Oh this obviously works for the sisters of the groom too you guys!!