Gorgeous Anita Dongre Ready-To-Wear Lehengas Under 2 Lakh!
BY Apoorva | 14 Oct, 2020 | 27293 views | 3 min read
Are you a 2020-2021 bride who is hunting for that perfect designer lehenga without dropping 5 lacs on it? You have landed on the perfect spot! Anita Dongre★ 4.9 latest bridal lehenga collection is all sorts of amazing in terms of design as well as price. Priced below 2 lakhs, these brial lehengas are perfect for intimate weddings at home as well as at venue when you want something elegant without spending your entire bridal trousseau budget on it! Don't believe us? Check out these 12+ bridal lehengas from Anita Dongre★ 4.9 under 2 lacs that we shortlisted for you.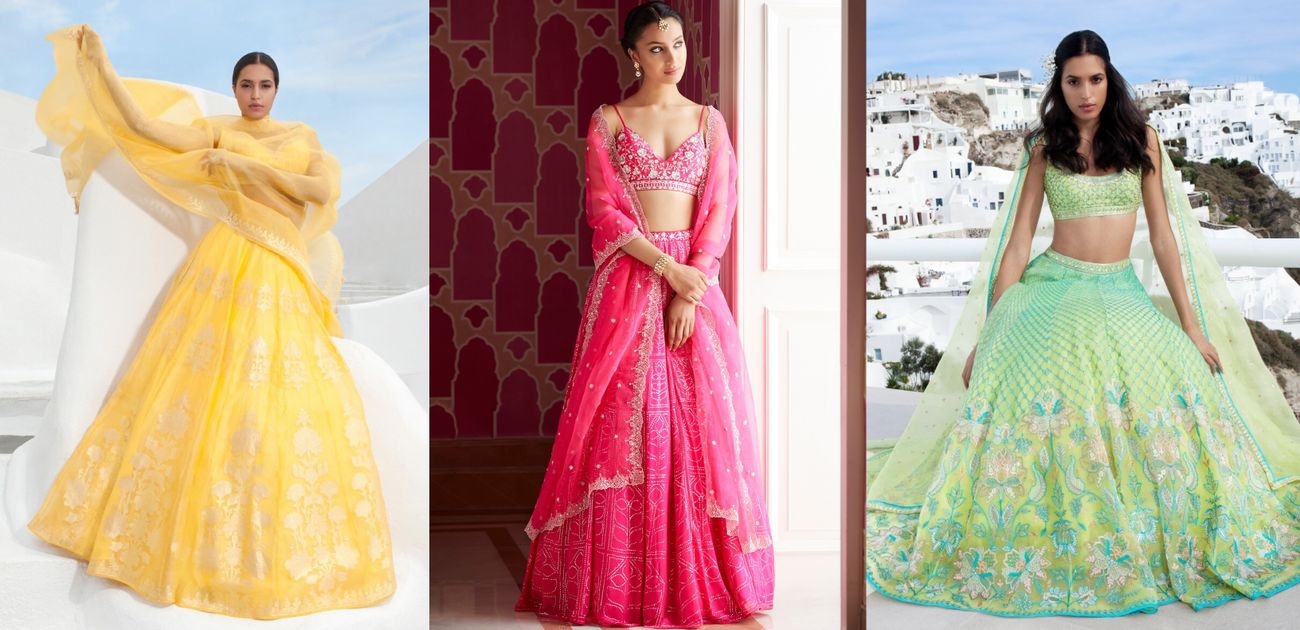 This Stunning Fuschia Pink Lehenga With Traditional Bandhani Craft Work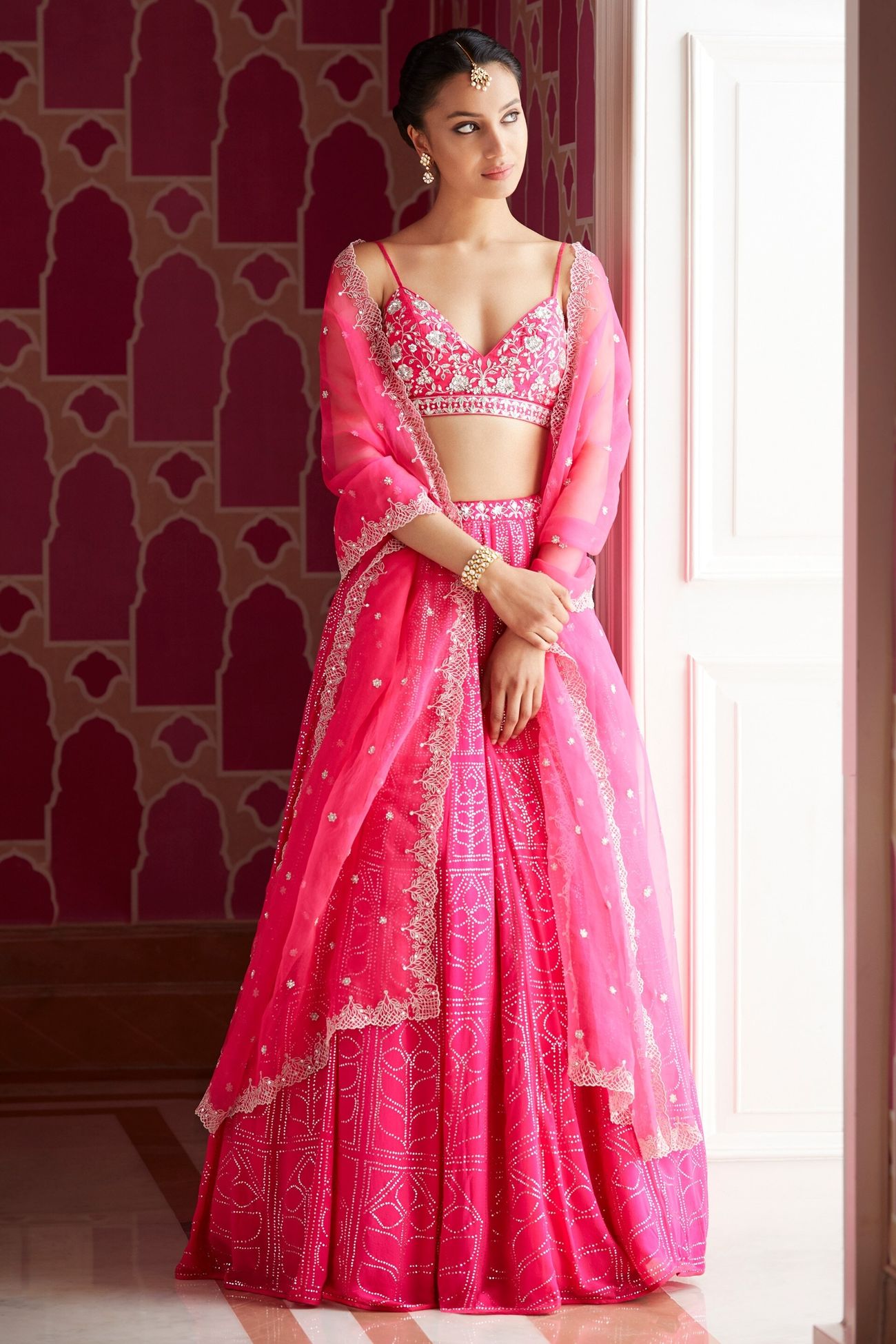 Paired with a matching organza dupatta and raw silk choli, this fuchsia pink lehenga is sure to make heads turn with its traditional bandhani craft work on the lehenga. It has gota patti, dori, pearl, sequins, zardosi and zari work
Buy it here for ₹198,000
Loving This Lime Green Stunner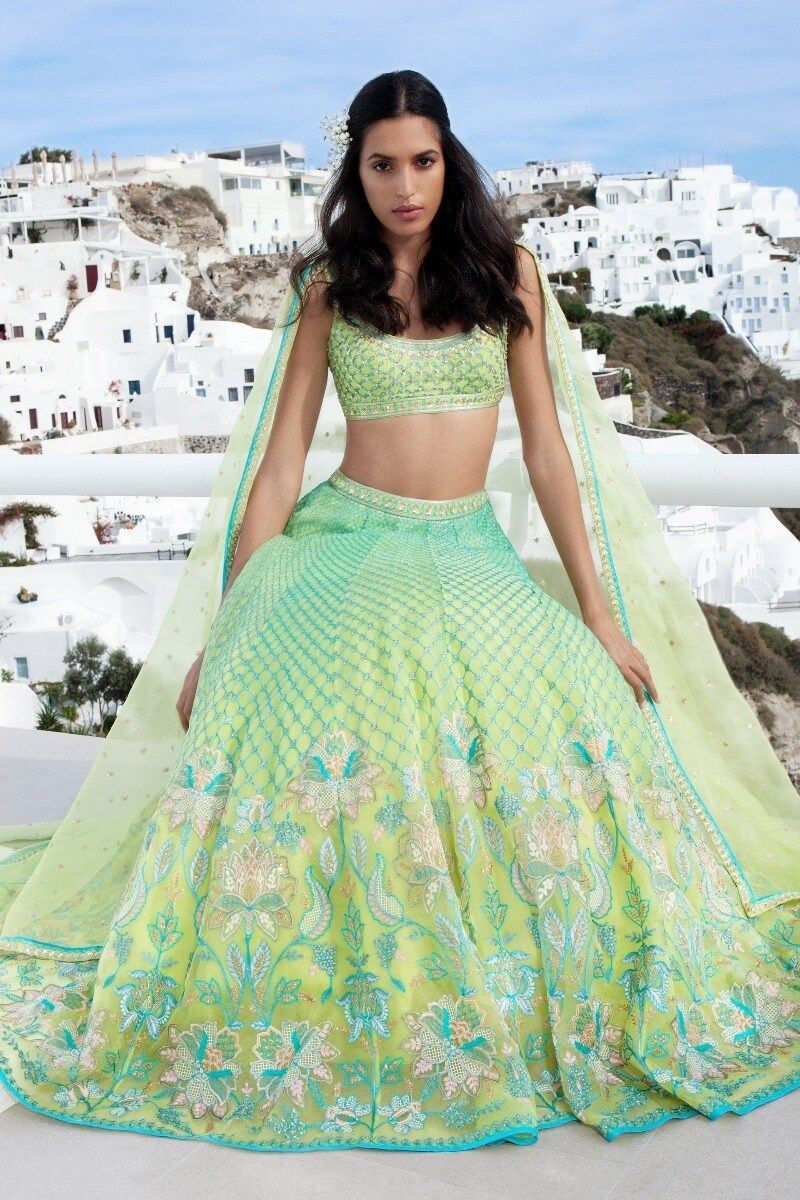 Looking for a refreshing hue? This crisp lime green lehenga with delicate blue ivies with a detailed choli and a dupatta is absolutely beautiful!
Buy it here for ₹175,000
This Gorgeous Turkish Rose Floral Beauty For A Day Wedding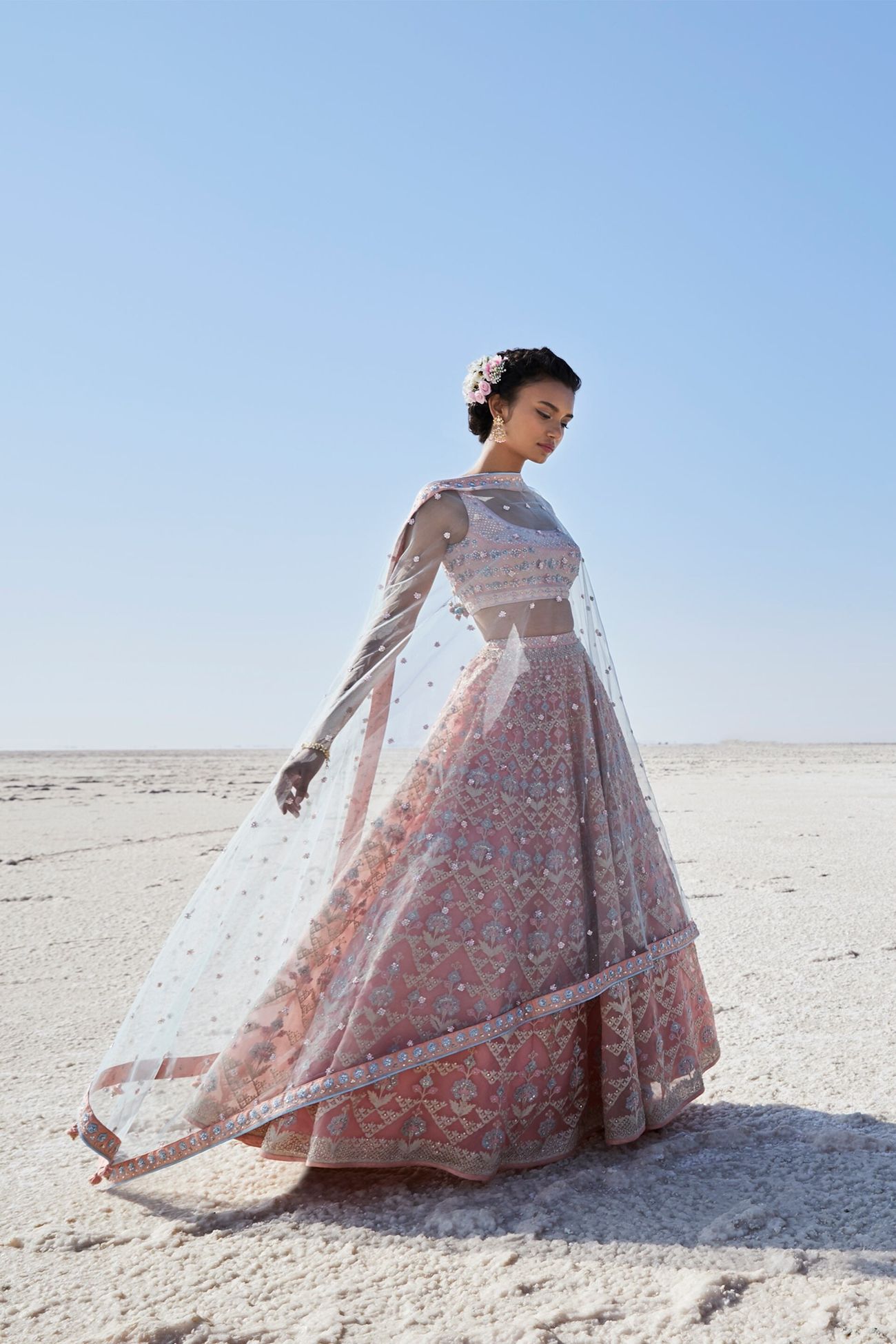 If you are planning a day wedding, especially at home this classic lehenga with intricately embroidered florals, embellished with pearls, sequins, zari and zardosi is a great pick!
Buy it here for ₹170,000
The Perfect Mix Of Tangerine And Vermellion For This Silk Lehenga!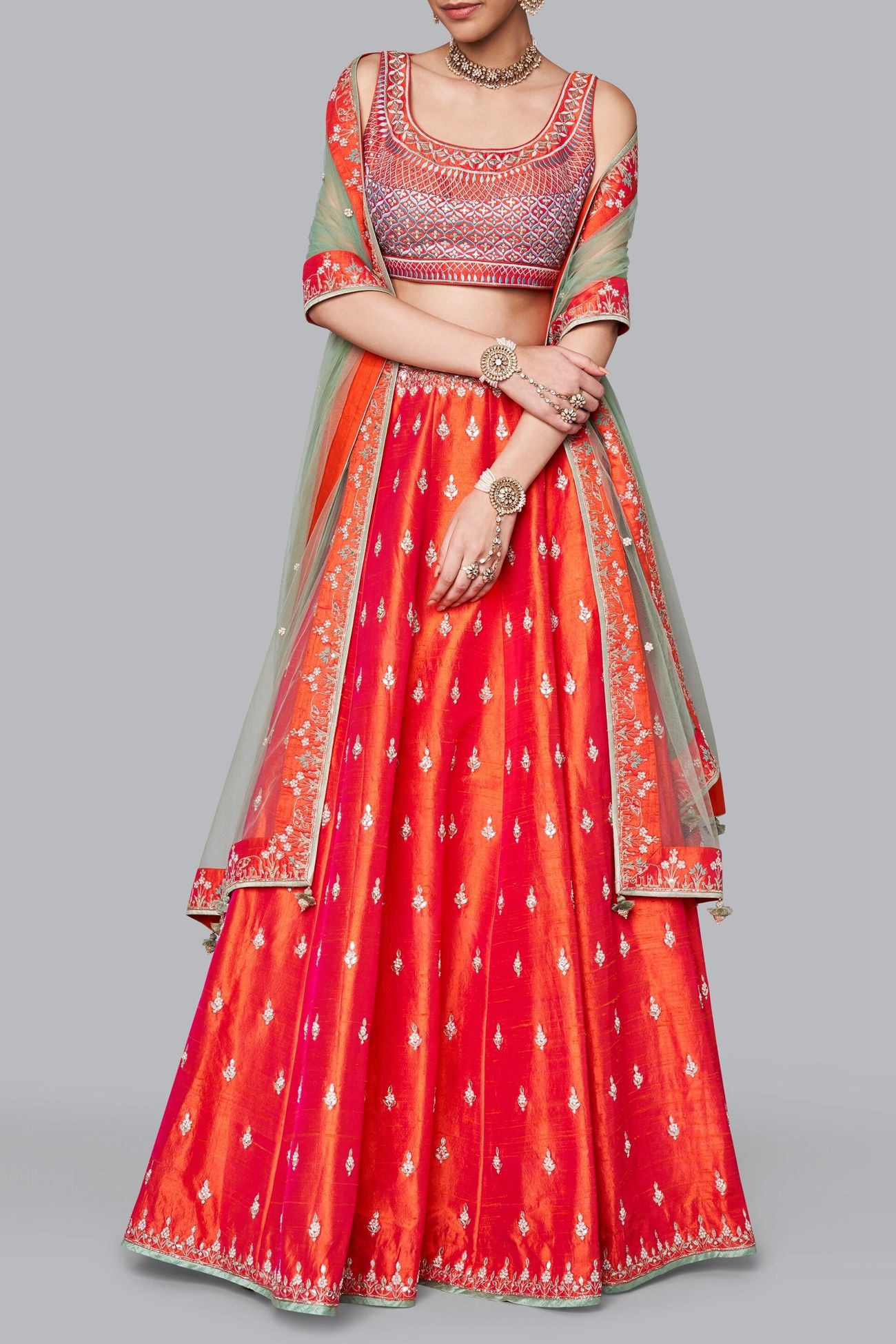 Exquisitely embroidered to perfection with zari, gota patti, dori, zardosi, sequin and Pearls, this beautiful lehenga is a great choice for brides who like bright colours!
Buy it here for ₹155,000
How Lovely Is This Powder Blue Wonder?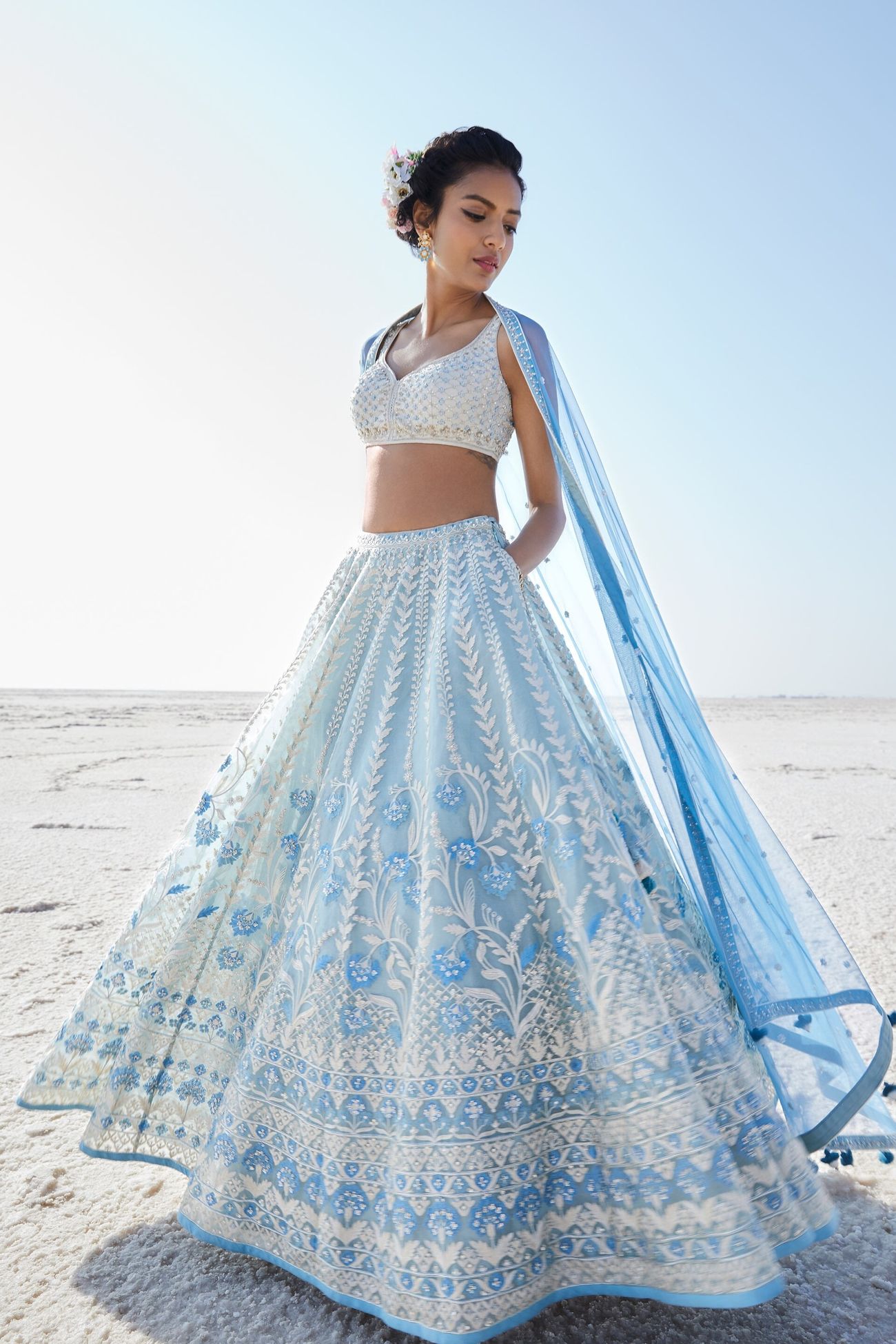 Crafted in exquisite silk organza, the embroidered floral motifs in hues of blue and ivory are further embellished with sequins and dori that look stunning against the powder blue lehenga
Buy it here for ₹165,000
Nothing Like A Stunning Bridal Red Lehenga With Resham Work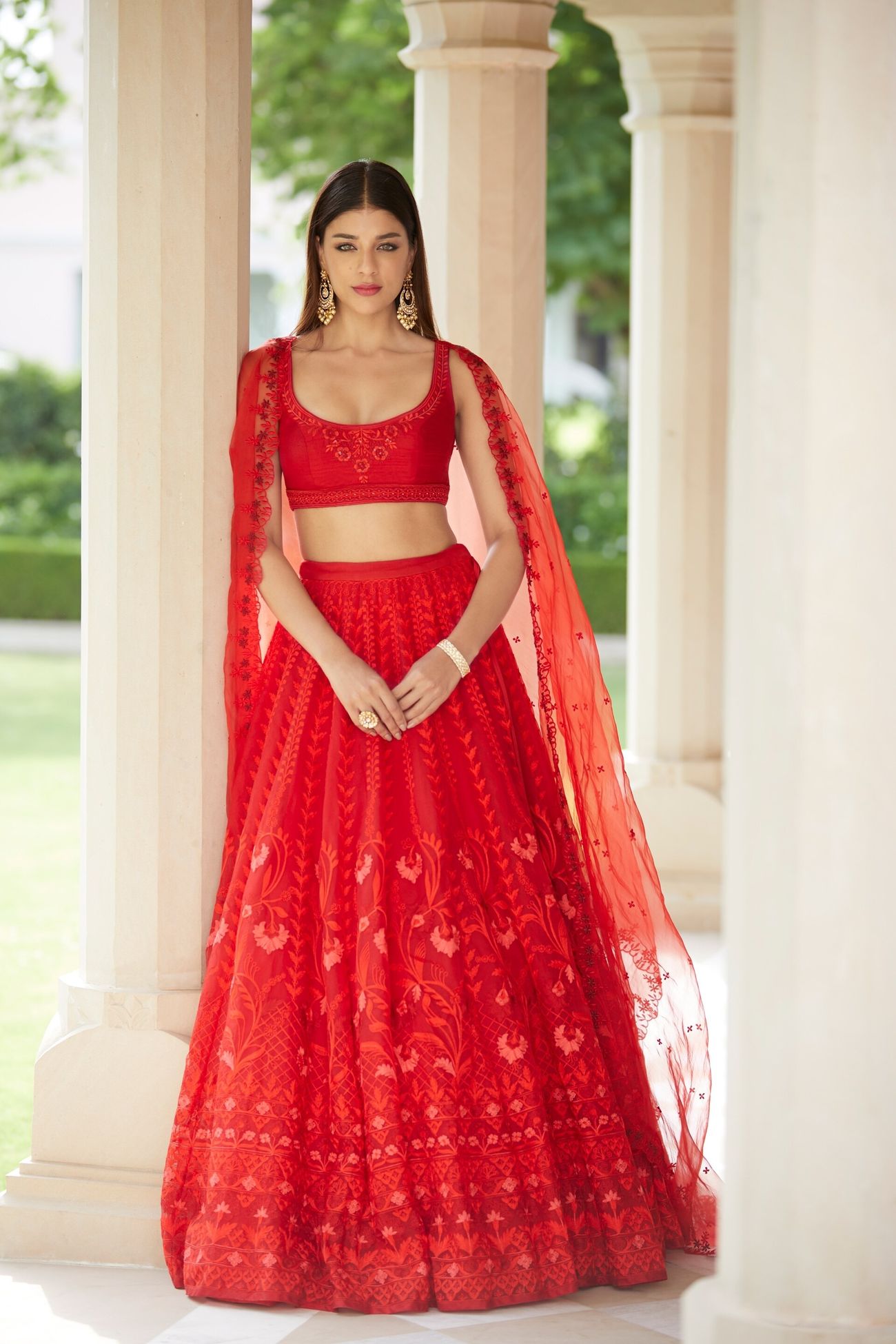 Crafted with intricate floral dori embroidery on lightweight silk organza, this lehenga is perfect for brides looking for a comfortable yet contemporary look.
Buy it here for ₹135,000
Loving This Happy Dandelion Yellow Beauty!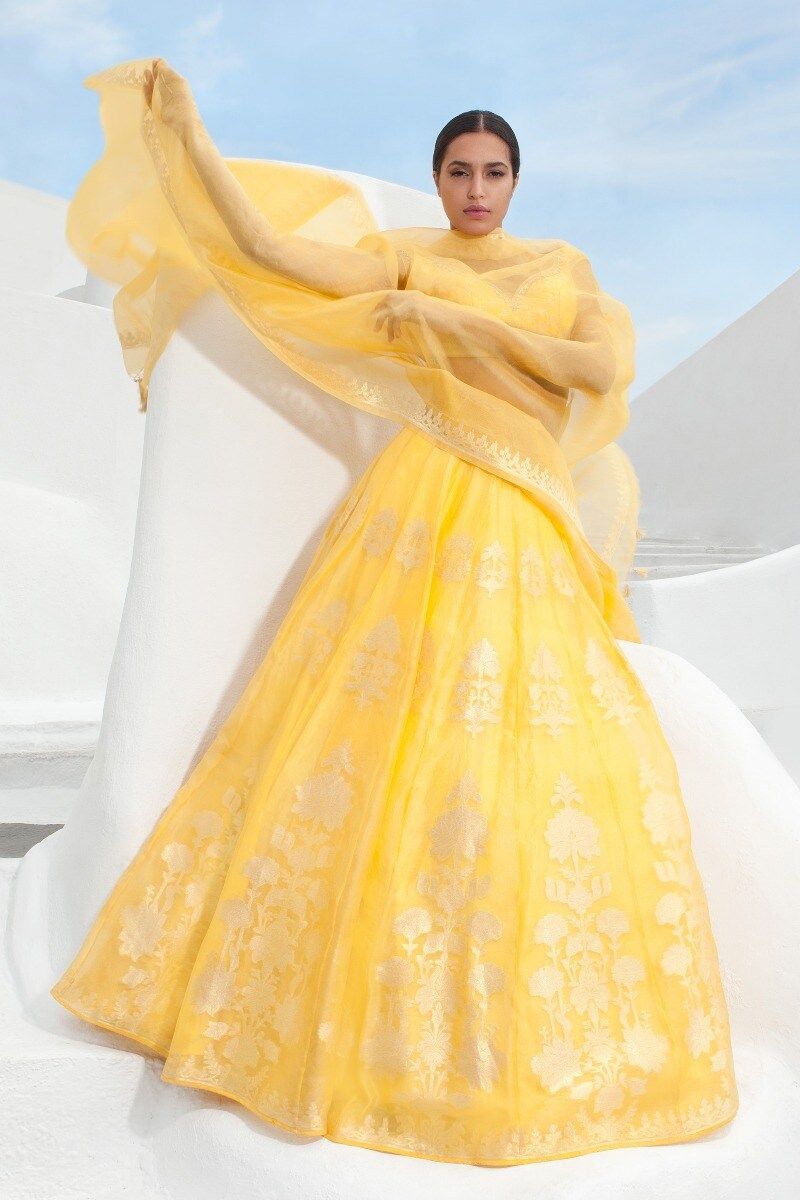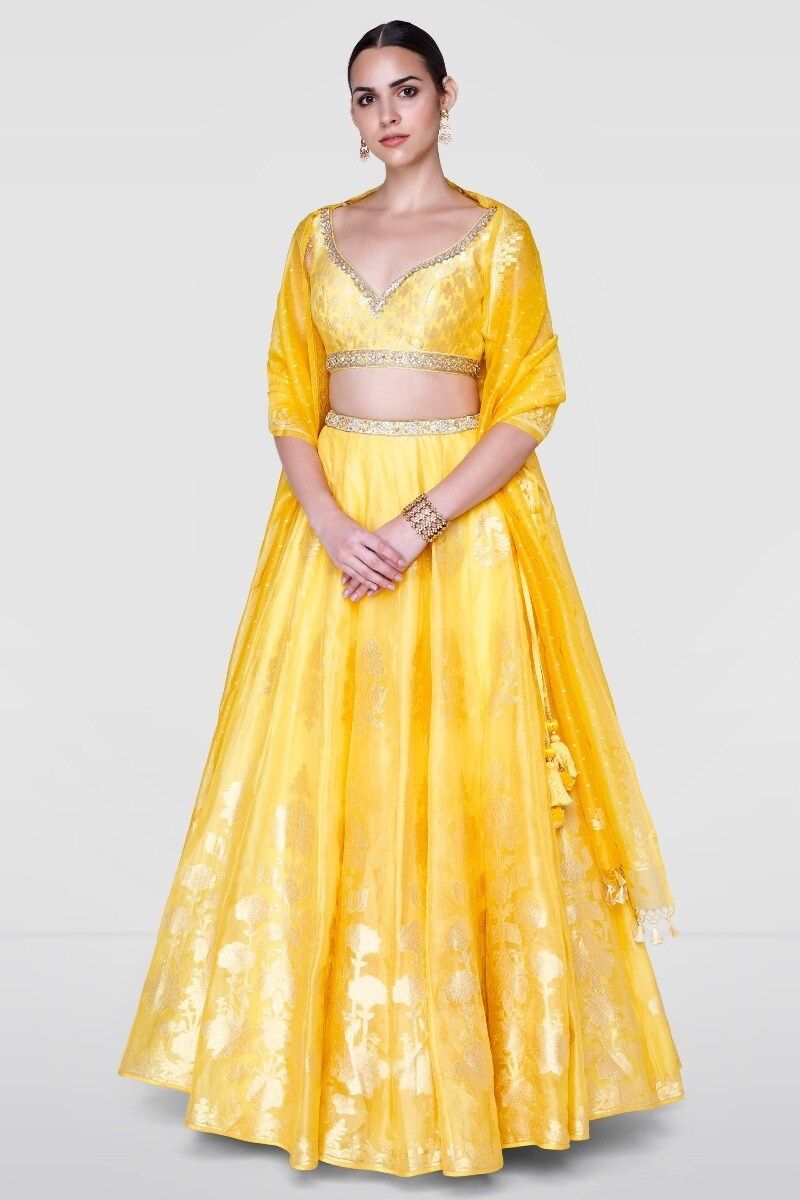 This beautiful fluid lehenga with rich gold details is such a fun and lightweight pick!
Buy it here for ₹150,000
Totally Crushing On This Seafoam Wonder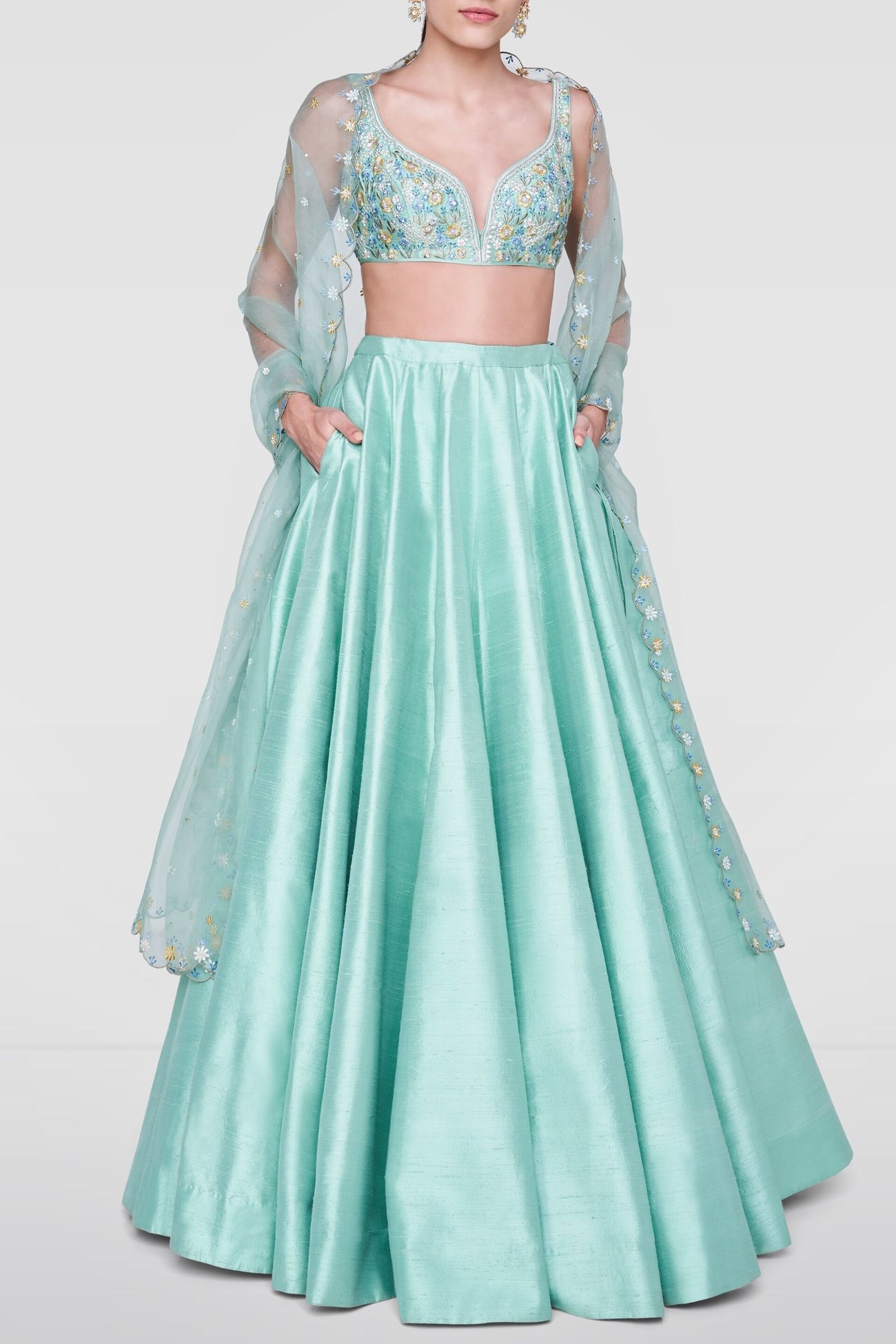 A contemporary classic, the sea foam hued lehenga is crafted to perfection in exquisite raw silk, intricately embroidered with floral motifs! Under 1 lac, it's a total steal deal. 
Buy it here for ₹99,000
Black Beauty!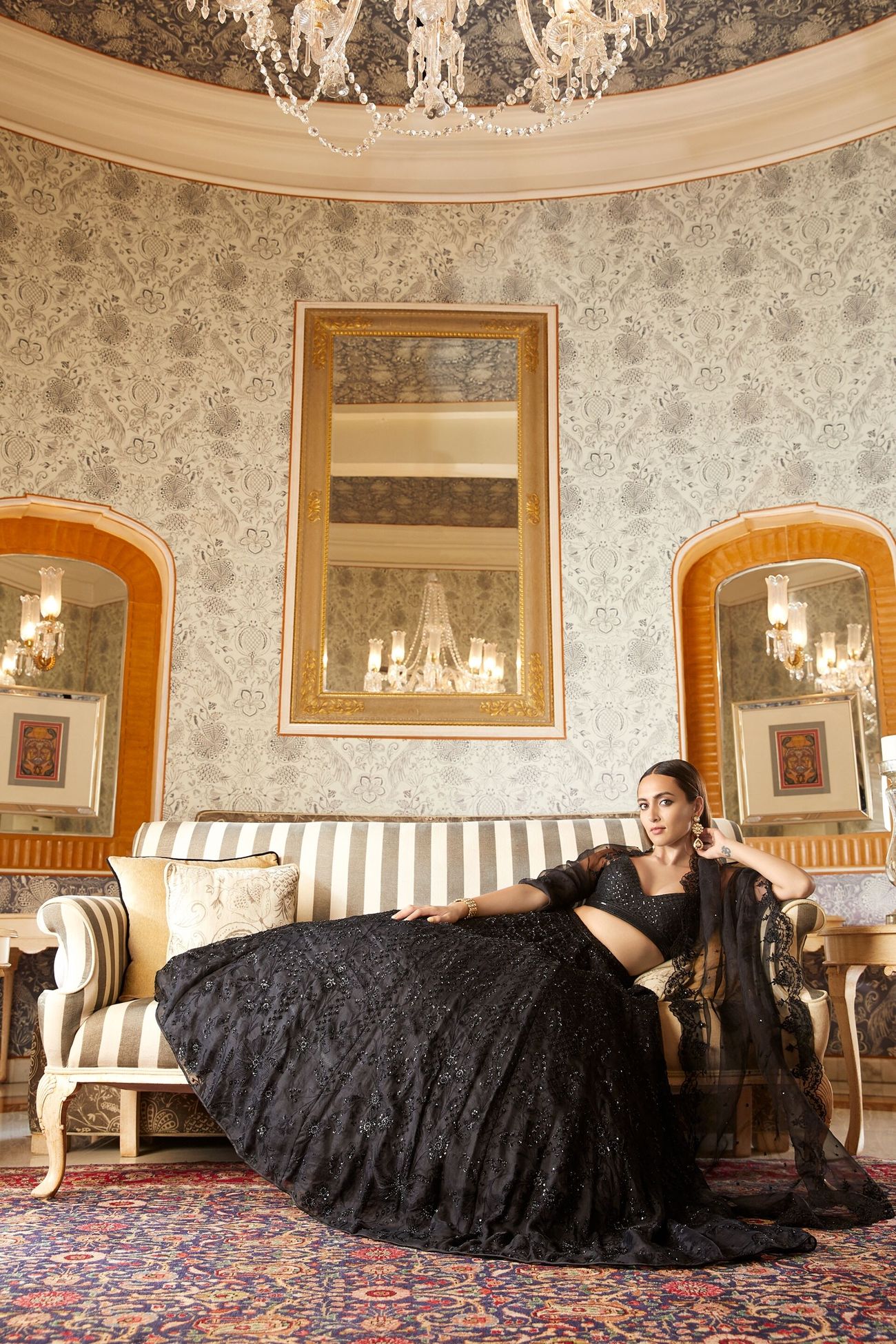 Dramatic yet elegant, this black lehenga is a statement lehenga for a reception look or even cocktail party! Embellished with dori, sequins, pearls and cut dana work, this black lehenga is a classic choice.
Buy it here for ₹199,000
Poppy Pink Silk Lehenga With Glorious Blue Detailing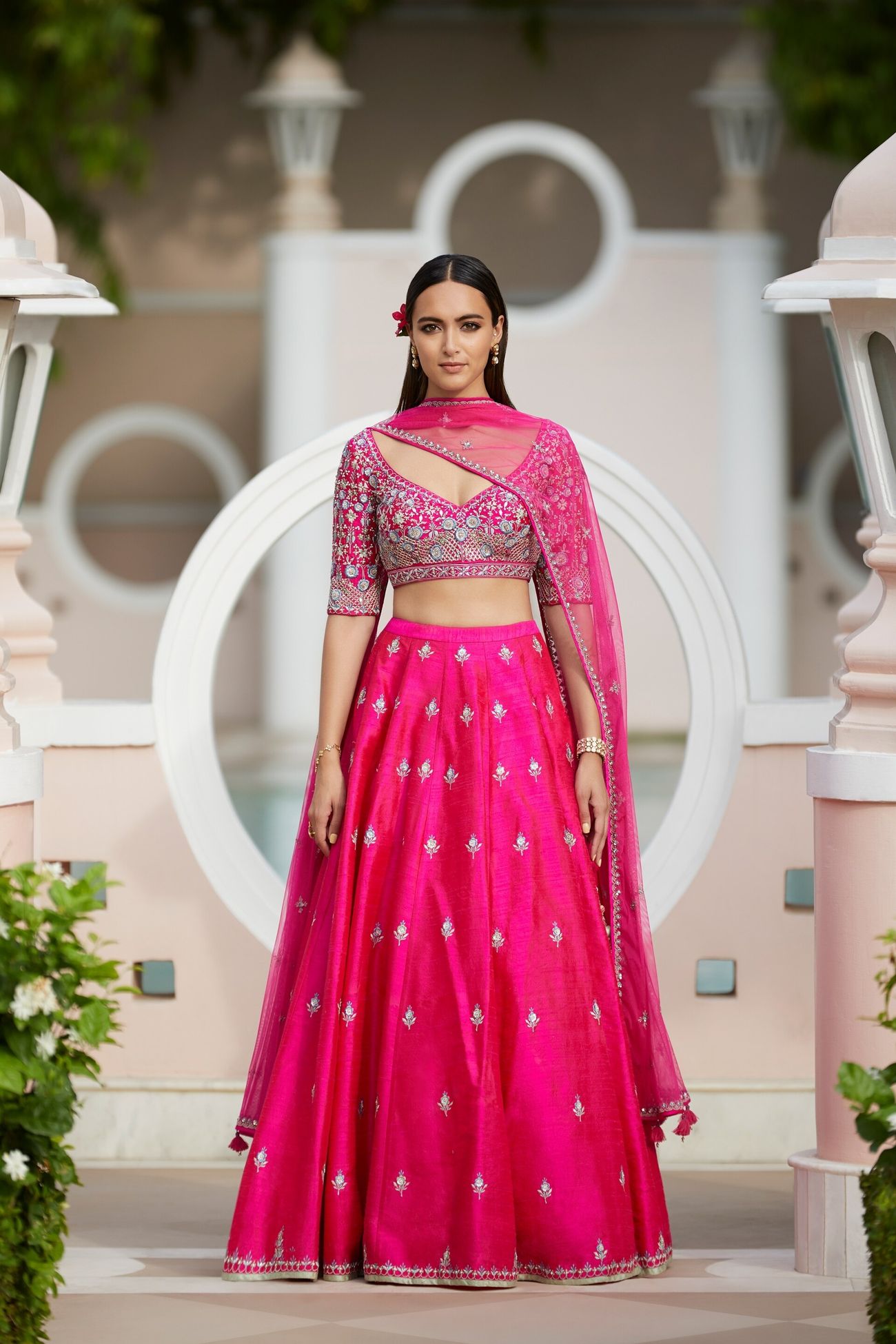 Pink bridal lehengas are always a great choice for your wedding day. Add to that a stunning poppy pink lehenga with blue detailing and pearl,zari and zardosi work, you just hit jackpot!
Buy it here for ₹155,000
This Refreshing Olive Hue FTW!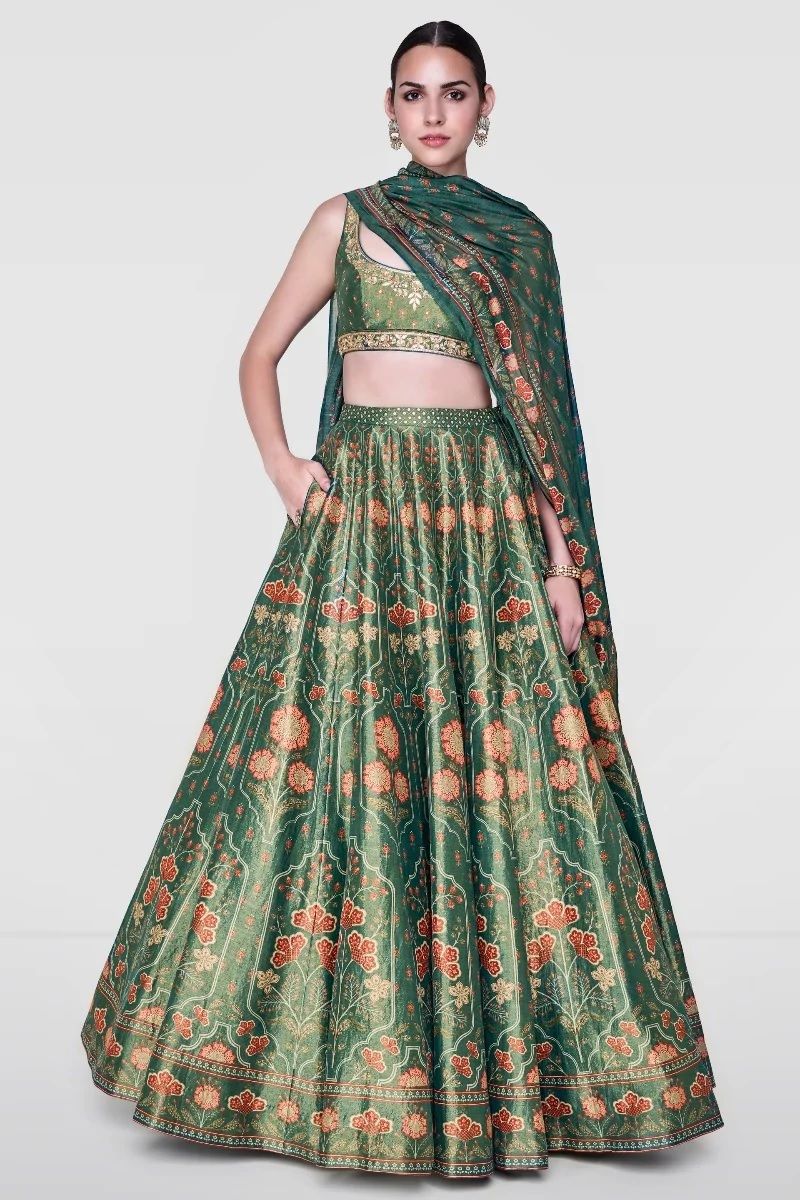 Lightweight and quintessentially Indian, this stunning olive green satin lehenga is such a stunner!
Buy it here for ₹75,000
Love Pastels? This Pale Blue Silk Organza Princessy Lehenga Is For You!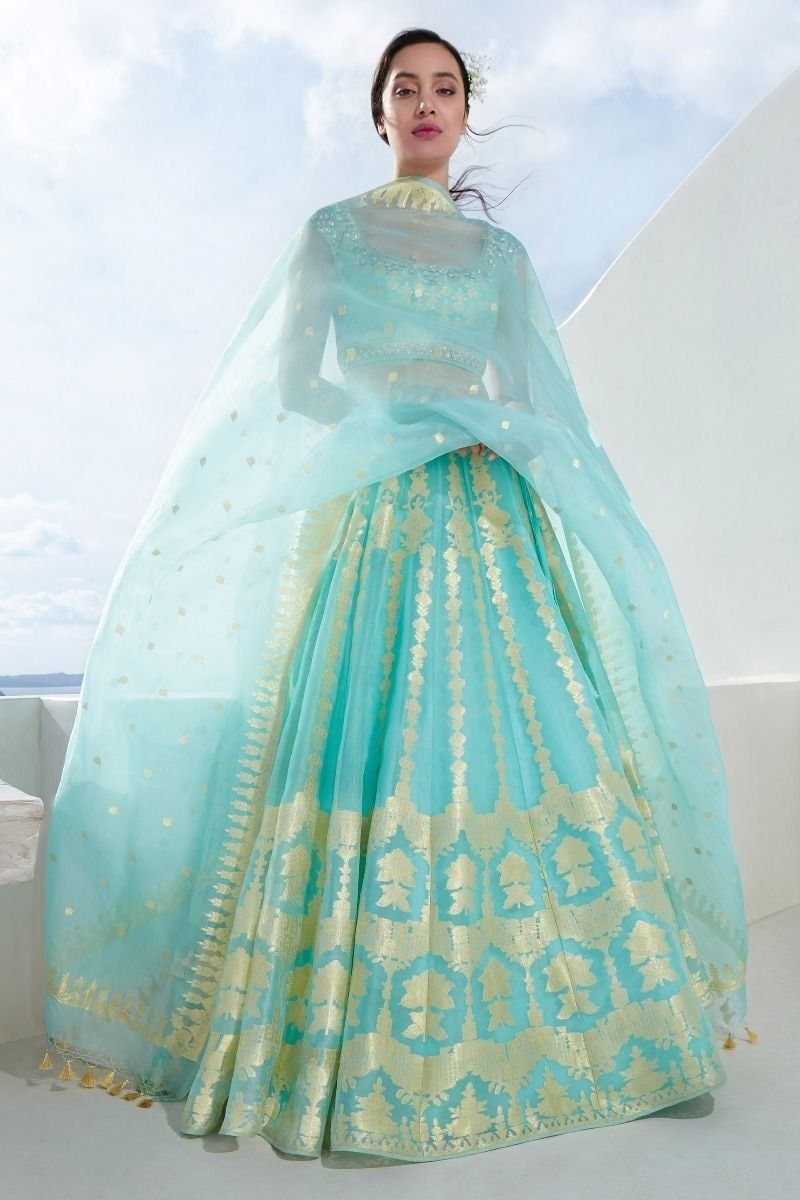 Loving this airy, pastel lehenga with metallic gold thread work that dazzles, while the complementing choli and dupatta add to its soft glamour.
Buy it here for ₹150,000