How I Planned My Wedding in India Myself Sitting In The U.S- Without A Planner!
BY Guest Author | 27 Apr, 2019 | 19092 views | 14 min read
We love a hands-on bride and have featured quite a few inspirational ones here on the WMG blog. This time around, we have a real bride based in the US, who planned her entire wedding in India while sitting abroad, and when we saw her level of research and planning, were absolutely floored! Yep, Ankita Mehta was a bride who took her wedding planning seriously and planned it herself, without a wedding planner- to the extent that she made her own sheets, her own PDFs and everything was super helpful for her and could be for you too. So we picked her brain to tell us more about her wedding planning, and how she went about everything- so brides-to-be, pay attention!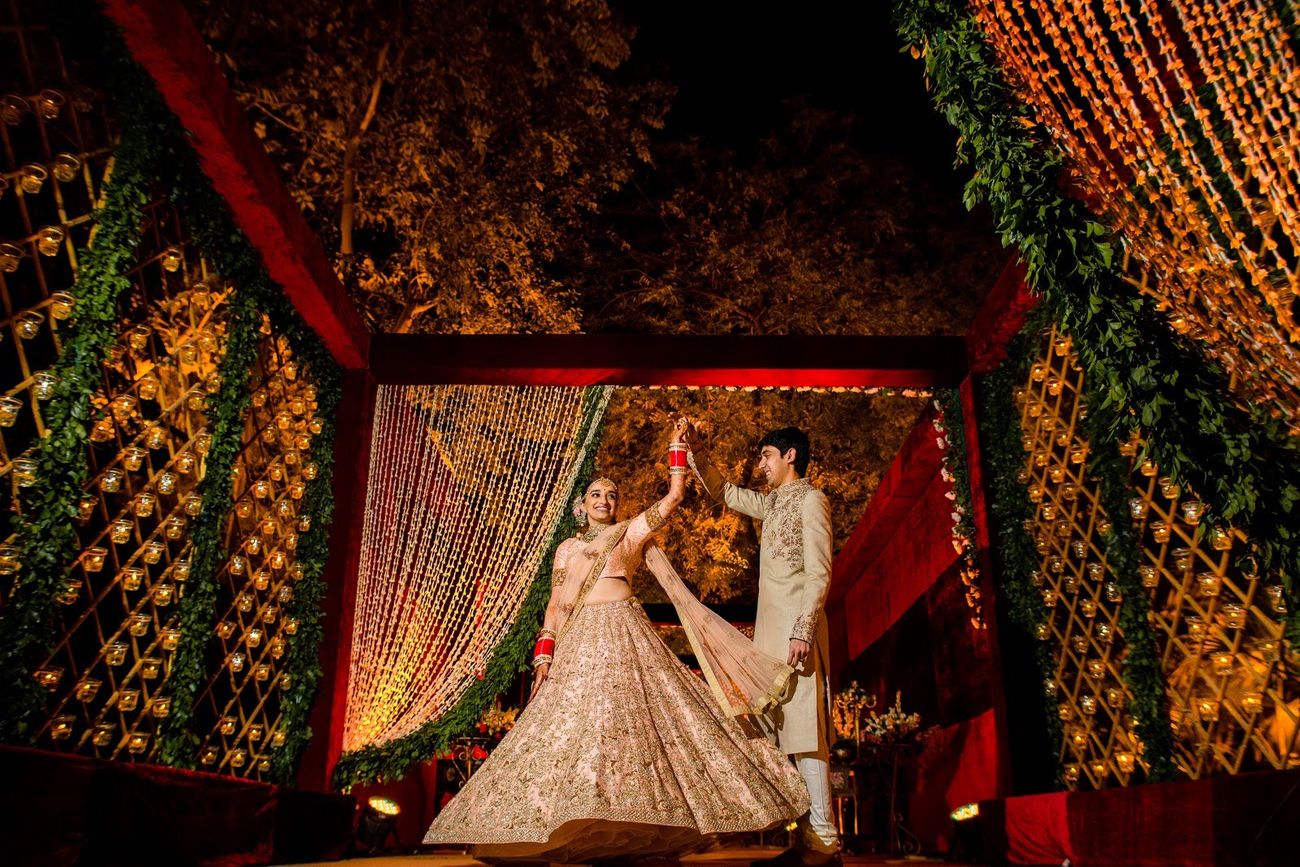 Ankita married Sharan after dating for 5 long years! Both of them are settled and working in California and planned their wedding in Ahmedabad while sitting abroad. Their wedding was a mix of both Marwari and Gujarati culture, with 4 ceremonies spanning over 2 days. Now let's get into the nitty-gritties of her wedding planning. Over to Ankita now, as she tells us everything right down to the small details!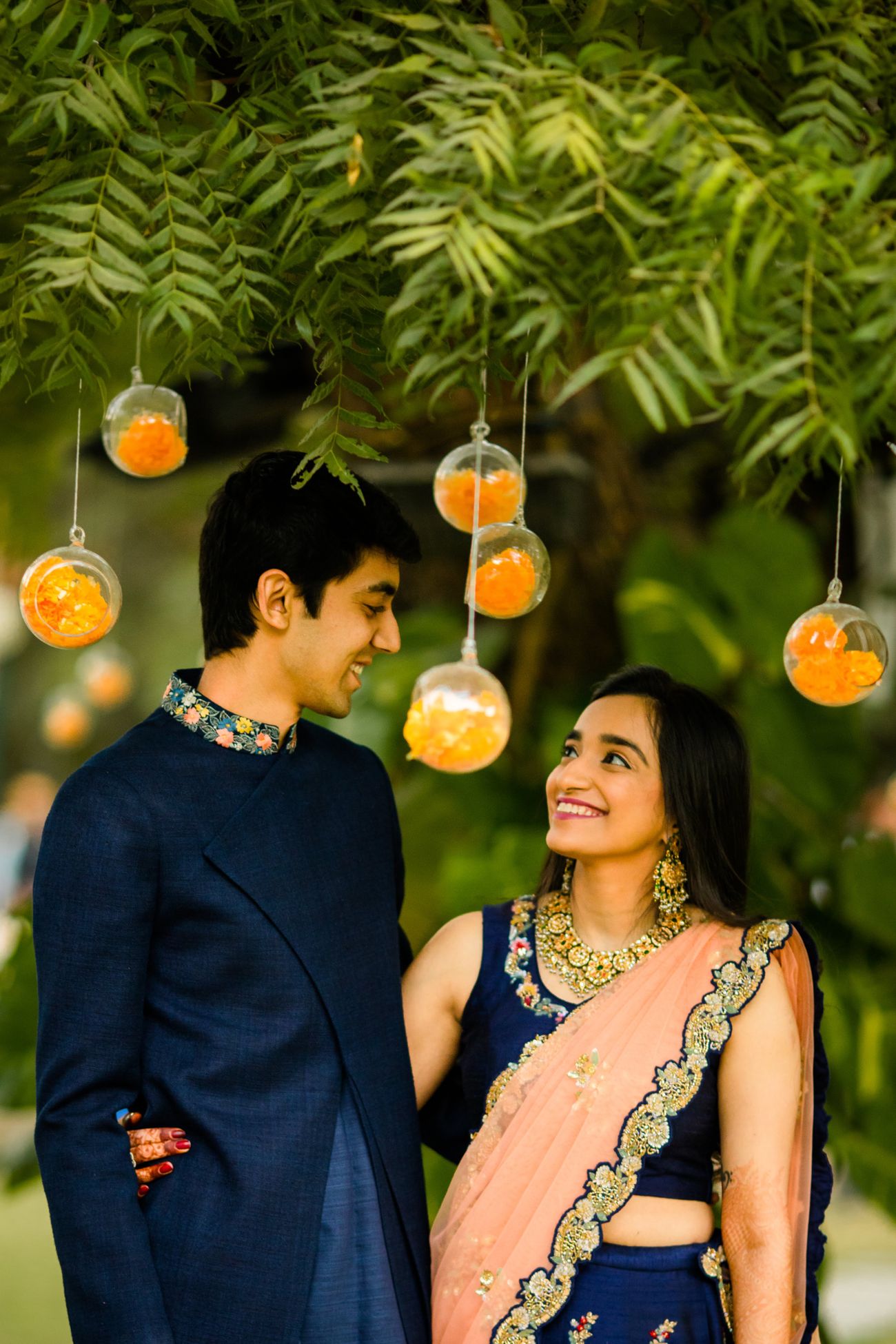 "I used a lot of images on Pinterest for ideas, read lots of blogs and followed various wedding accounts on Instagram for inspiration. I used google sheets for planning and making different checklists. For each ceremony, I picked a color palette and decided on the designs accordingly. I made a design PDF and emailed them to the vendors and everyone who was helping in the process. The execution was done brilliantly by our family members especially our moms."
Checklist
I made a timeline checklist for planning the wedding. This included tasks for things to do a year, eight months, six months, three months, two months, one month before and on the day of the wedding. Here is a template I used for these Wedding Preparations which both the Bride and Groom can use. Also, my handy sheet template for other brides - Bride's Preparation Guide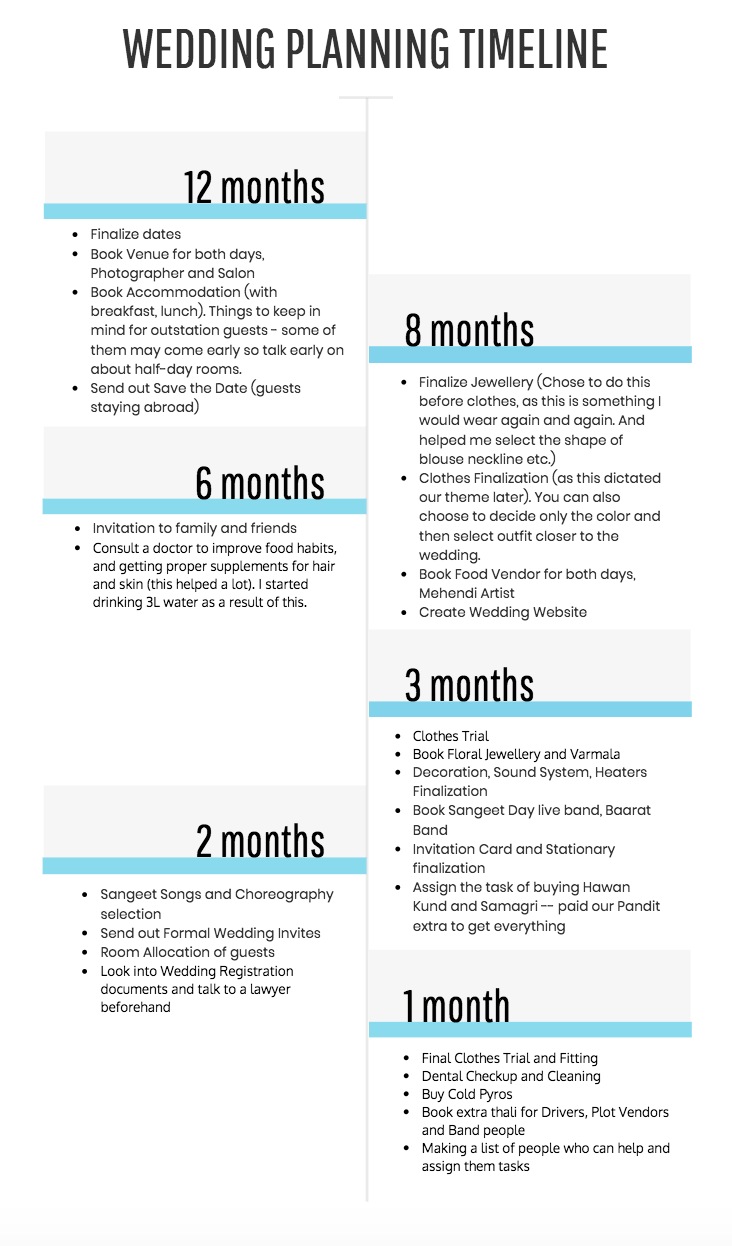 Outfits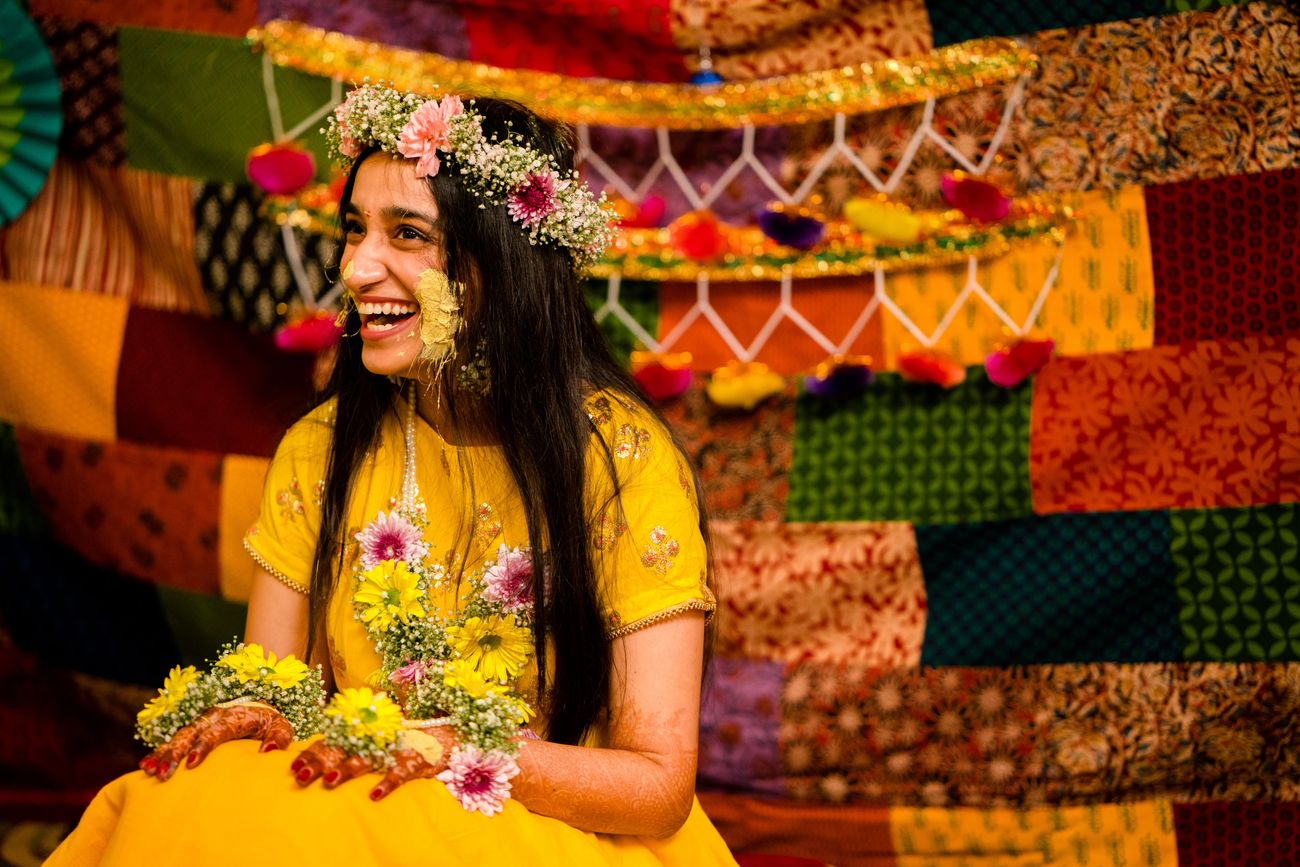 For Haldi, I wanted to go the traditional route and wear a beautiful floor length yellow Anarkali. I bought this outfit online through Meena Bazaar's website. Sharan wore a traditional yellow kurta with cream color dhoti which stitched by a local tailor.
For the evening functions, we both decided to wear coordinated outfits by Shyamal & Bhumika. The complete process was so seamless and stress-free. We coordinated with their team members through WhatsApp and they helped us choose the outfit that I loved and fit my individual style. They even took out the time to video chat to help me take the right measurements, and zero down on the blouse designs. They sent us clothes swatches so we knew what exact color of the outfits will be. Designer Shyamal and Bhumika also, personally helped us to finalize our dream dress and resolved our queries.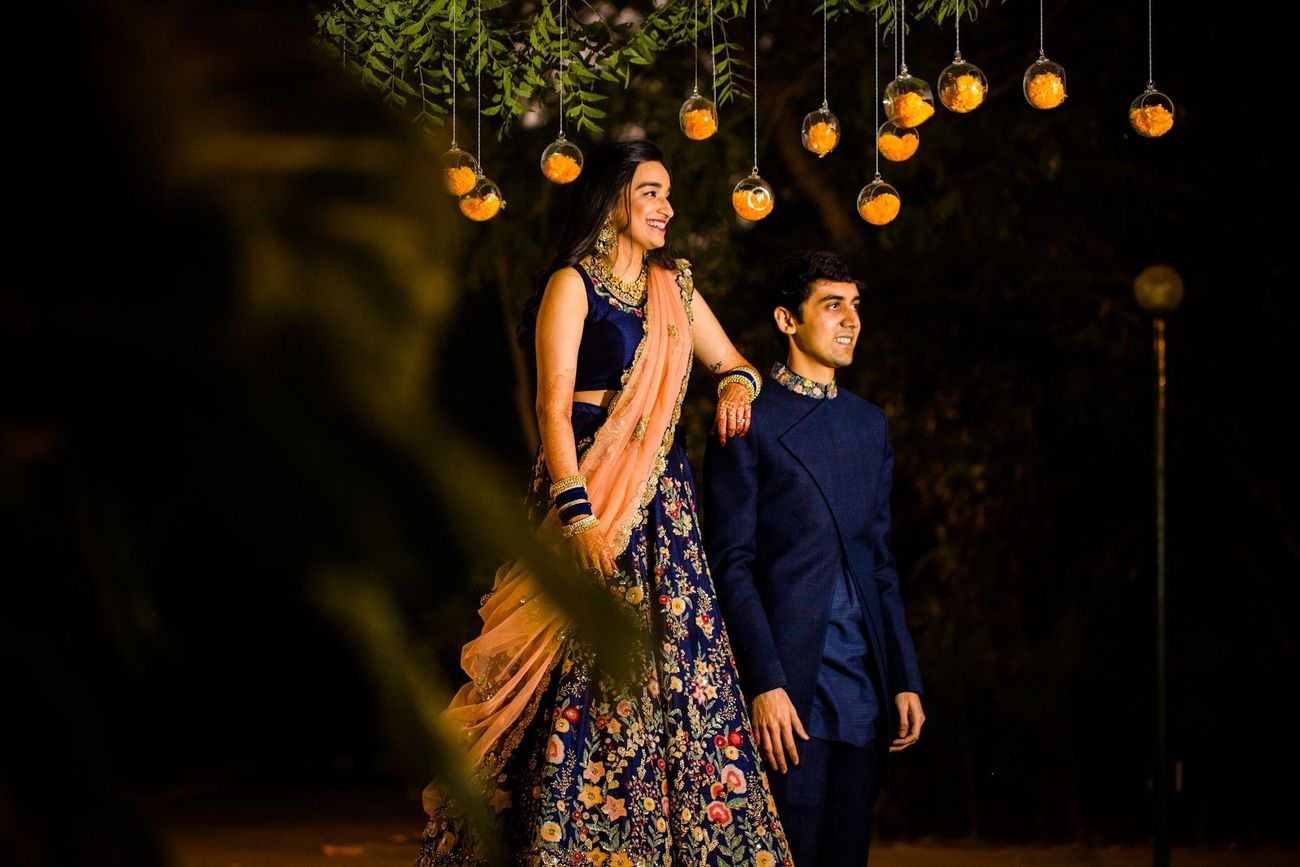 For Sangeet, Sharan and I both chose to wear our favorite color - blue - and mixed a bit of pink to compliment each other. My outfit was a glorious midnight blue raw silk lehenga, embroidered with resham thread, sequins and bugle beads, weaved together to depict vibrant landscapes. I combined the lehenga with a plain neckline bordered blouse and a pink dupatta. Sharan wore a silk matka asymmetric jacket embroidered with multi-colored threadwork on the collar, paired with a matka kurta and a pair of trousers.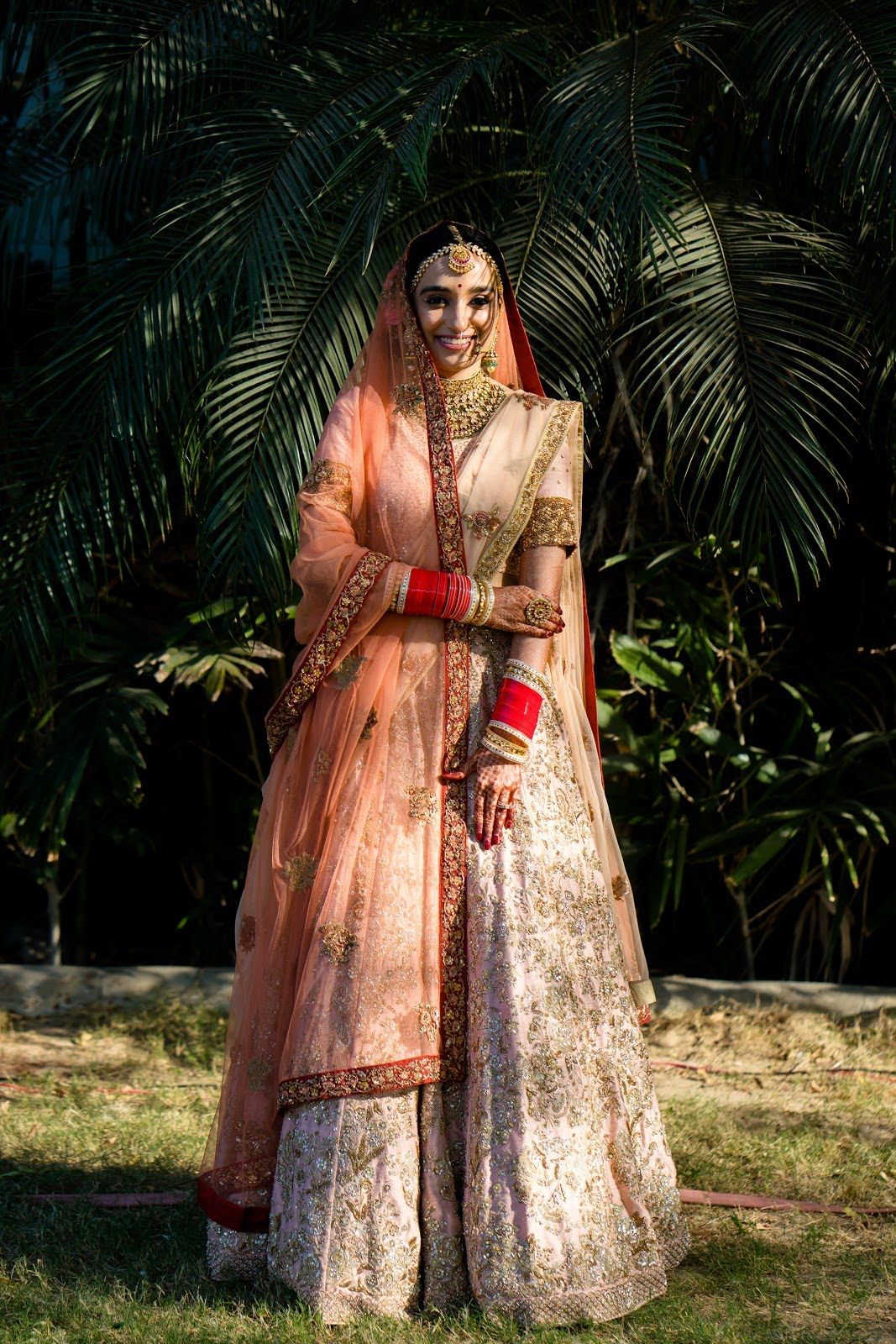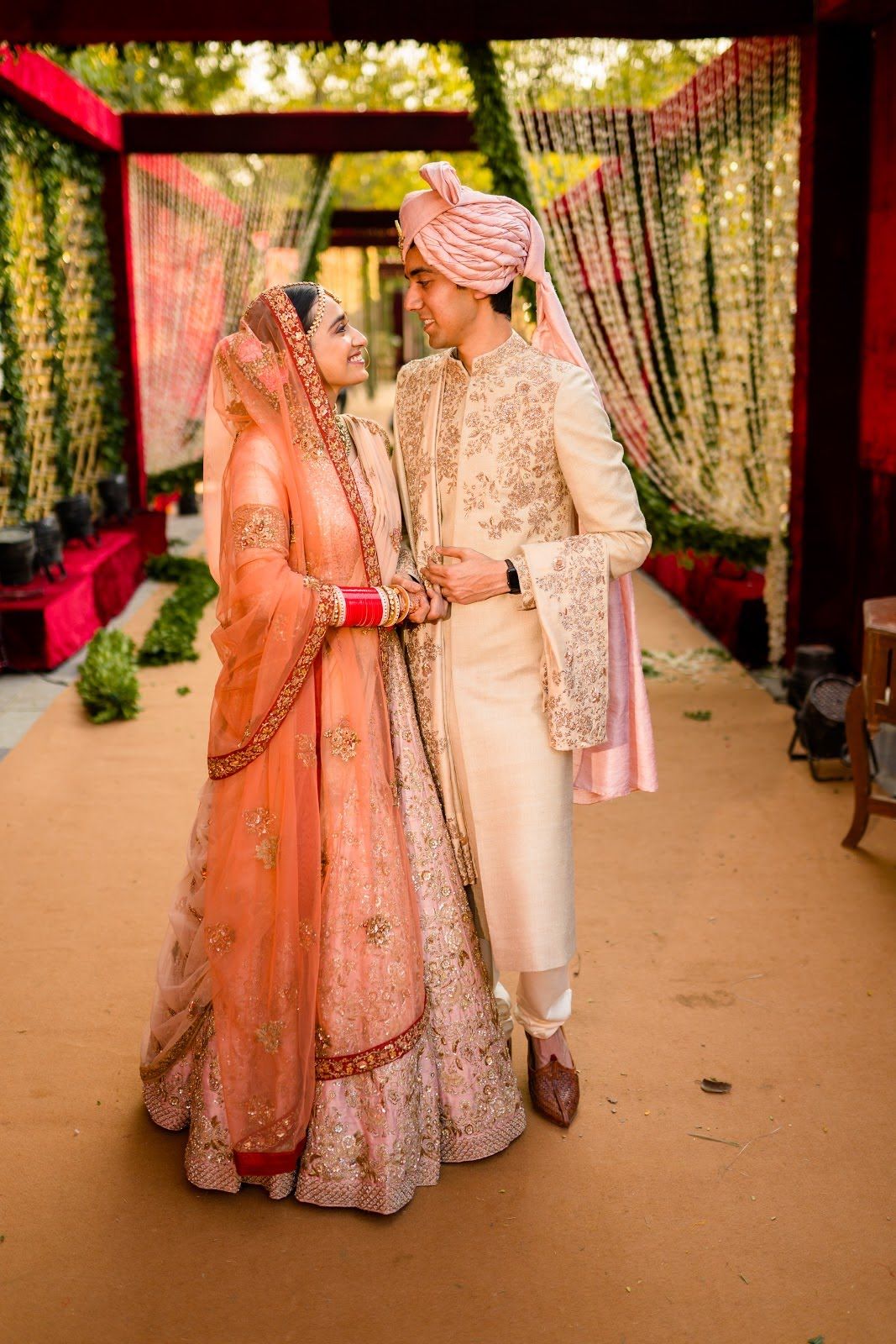 For the wedding, I wore a Shyamal & Bhumika Pink-Peach colored lehenga, a blouse, and a golden bordered dupatta. I paired it up with a beautiful sequined red dupatta as a veil to bring the element of a bridal red to my trousseau. We had our wedding immediately followed by our reception. And by removing the second dupatta as my veil, I was able to get a second look from the same outfit. Sharan wore a color-coordinated Pristine Ivory Sherwani with a matching Khes and a Pink-Peach Saafa.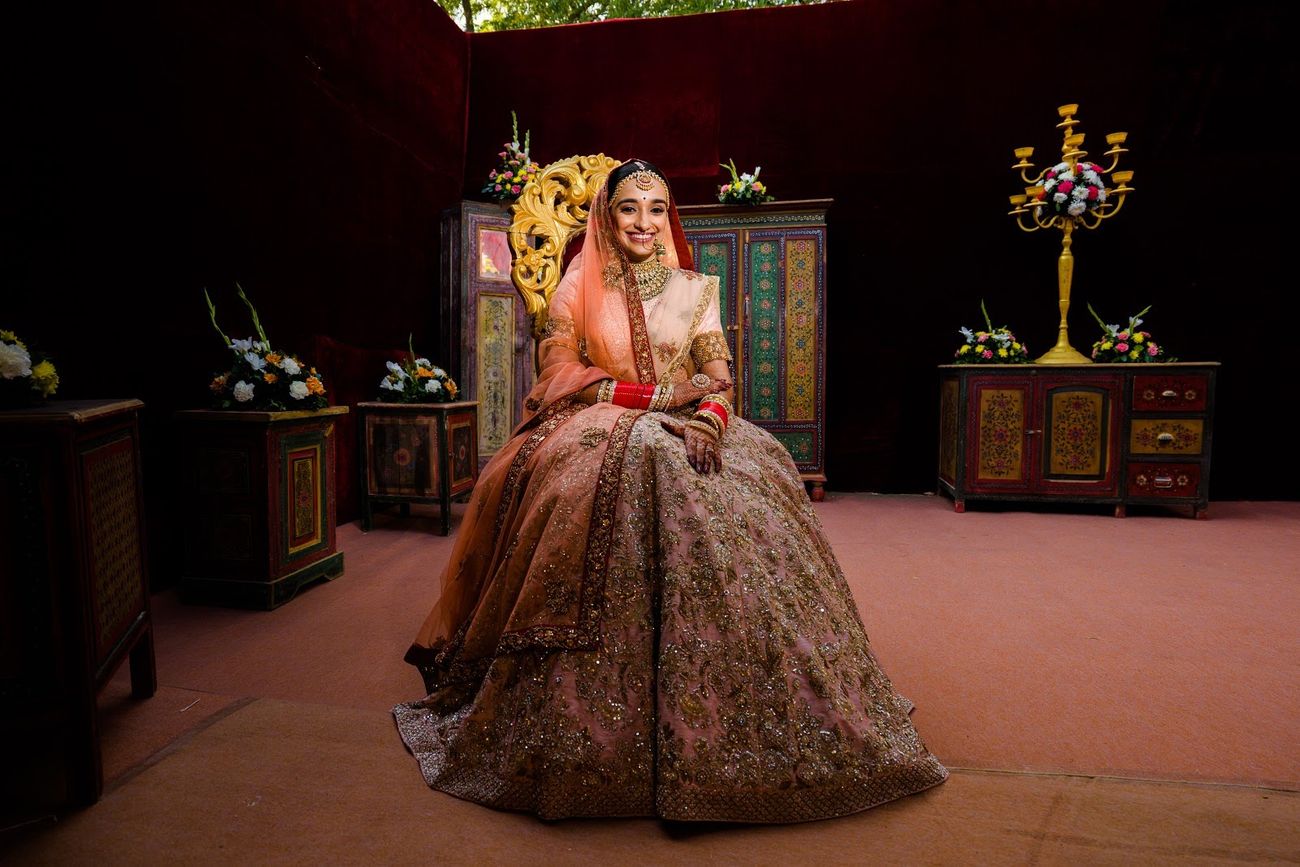 Tips for brides:
When I went for my outfit trial, I made sure that I took my jewellery, shoes, and lingerie. I ended up changing my heels from Stilettos to Platform since my shoes couldn't take Lehanga's weight during the trial. My tip to other brides is to make sure you have two trials - one few months (so that you know your overall look and can decide on smallest things like draping of your dupatta) and one few days before the wedding (for final fittings).
Jewellery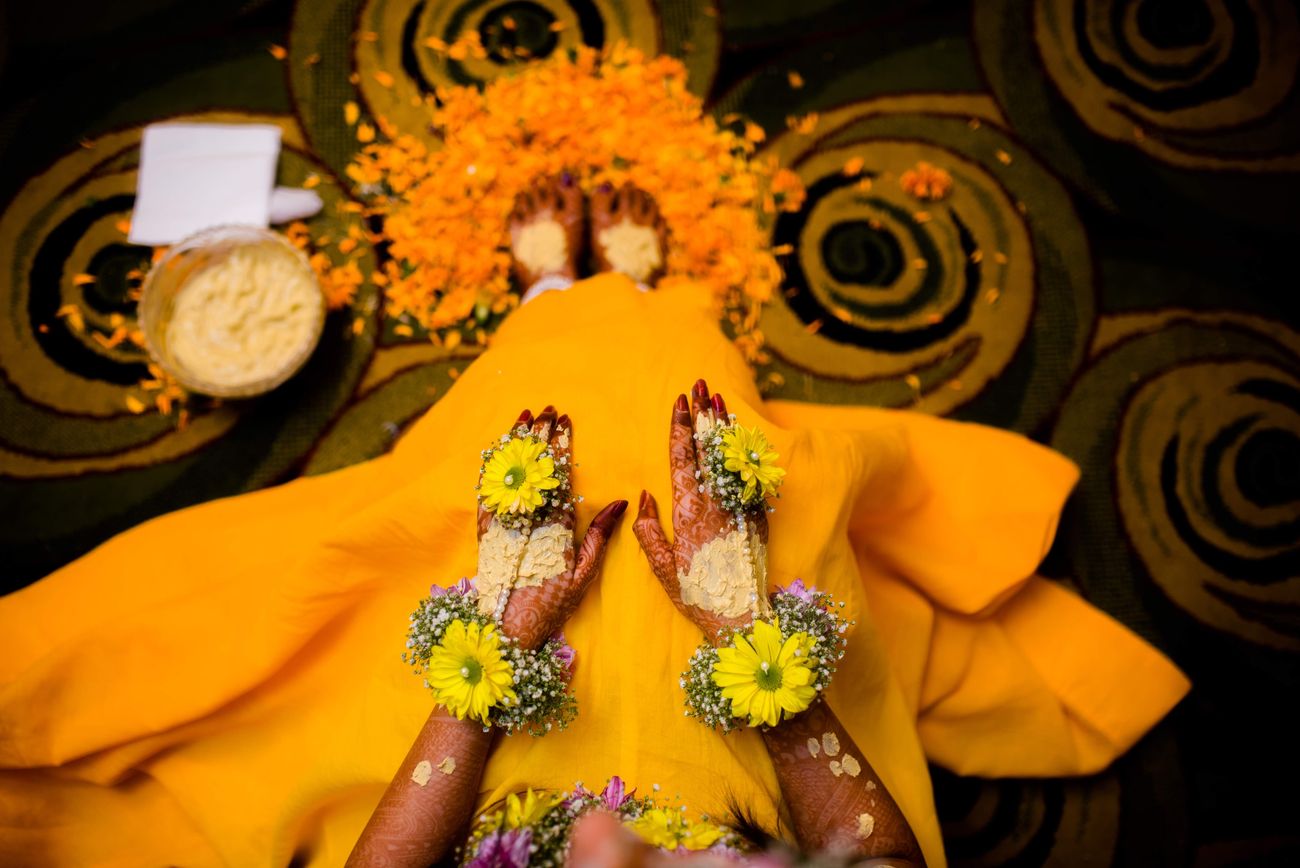 For Haldi, I completed my look with real flower jewellery (Tiara, Necklace, Earrings). I coordinated with Jayshree's Real Flower Jewellery and Veni based in Ahmedabad through WhatsApp and sent her reference photos and color palette before finalizing the real flower jewellery. I also wore Silver Anklets designed by Jai Ram Soni Jewellers in Jodhpur.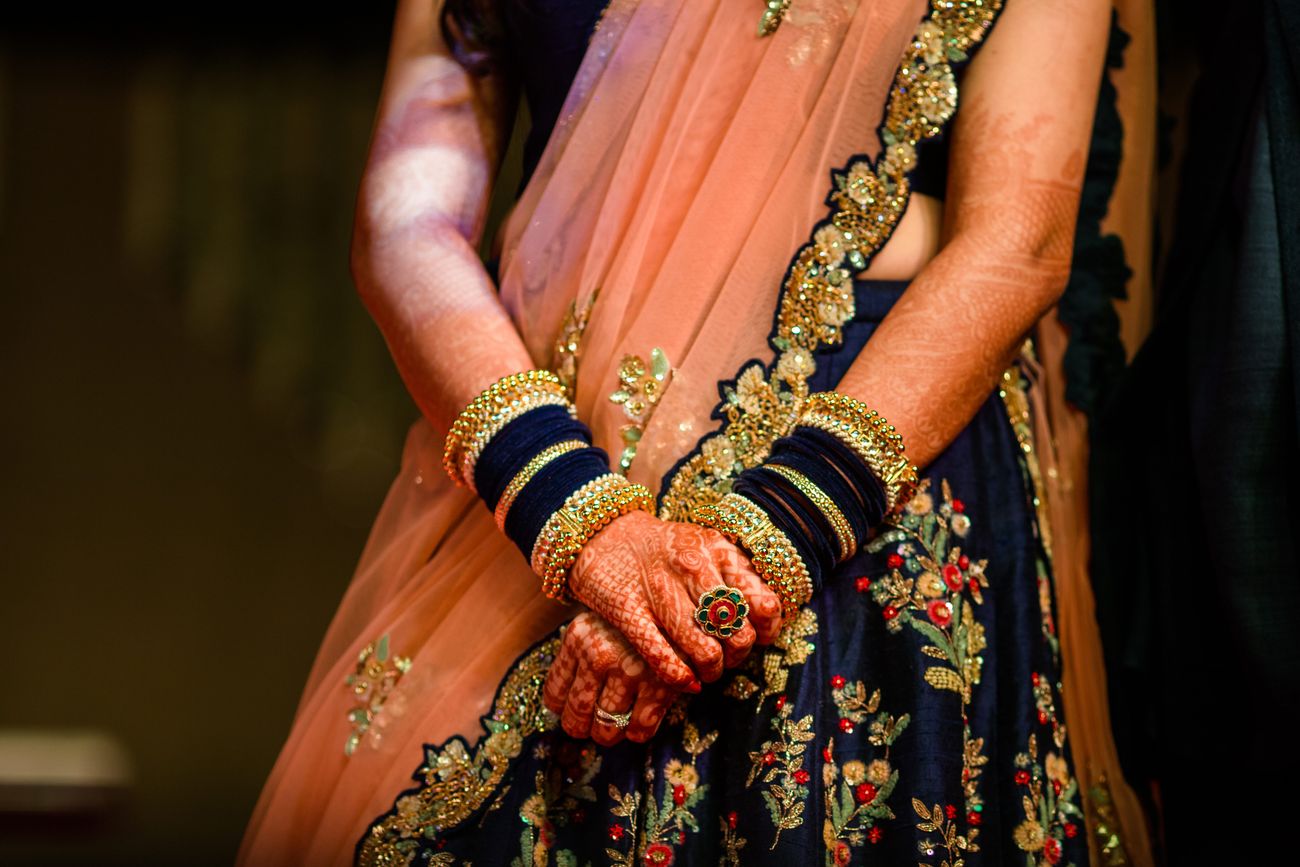 For Sangeet day jewellery, I wanted to wear something that looked glamorous but was lightweight and had the option of extending the earrings with pearl strings so that my earlobes could be supported with all the dancing and swinging. I found a perfectly matching Phoolbagiyaa necklace set online by Pal D'zigns that served my needs. Also, I wore very lightweight blue silk bangles with golden kada matching to my lehanga which I shopped through Instagram from Suhana Arts and Jewels. To dance comfortably, I purchased a pair of Fizzy Goblet Juttis online. They were super comfortable.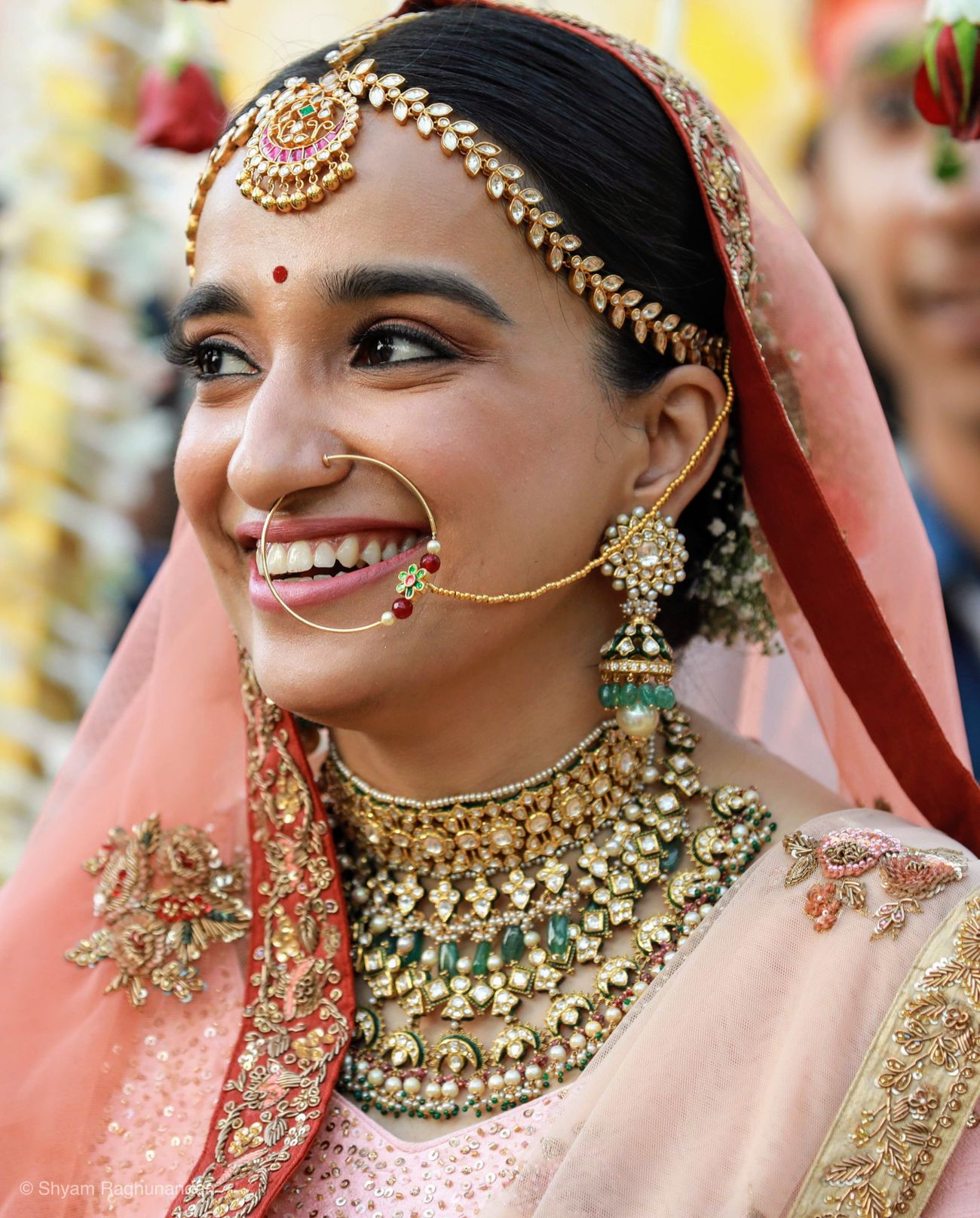 For the wedding, complimenting my outfit was a heritage kundan and green polki two-piece choker-necklace set with jhumkas customized and designed by Mauli Jewels in Ahmedabad. I shopped my delicate Matthapatti and Nath from Ra Abta by Rahul through WhatsApp. For my hands, I wore a bold ring and red chooda set which I bought through Instagram from Suhana Arts and Jewels. Wearing my grandmother's anklet, completed the whole look.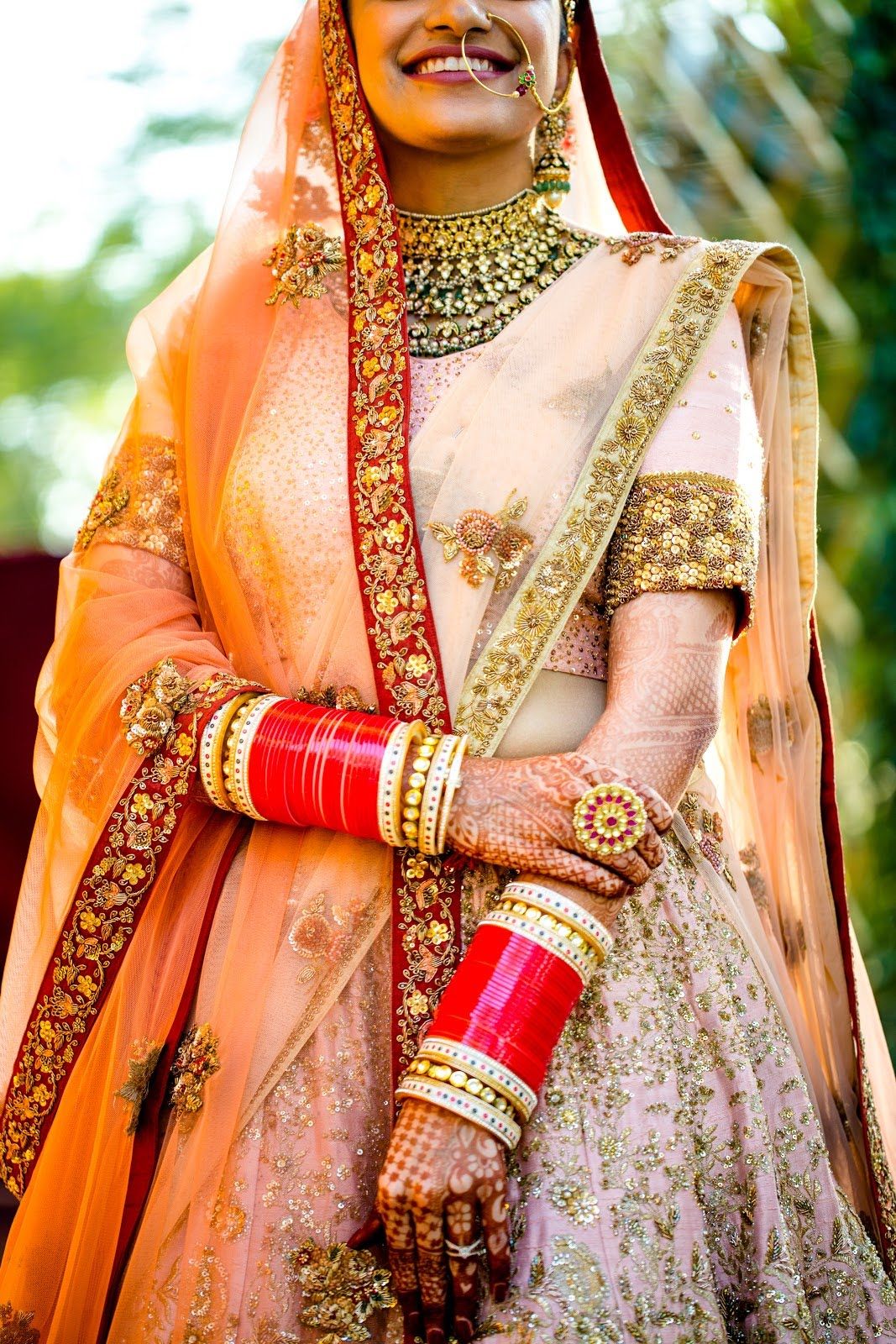 Destination Photographers
Tips for brides:
Choose your jewellery before clothes finalization, as jewellery is something you would wear again and again. And this could also help you to select the shape of blouse neckline. Finalize your clothes next. As this could help in dictating your wedding theme later in such a way that it is complimenting it. If not, then simply decide only on the color and then select outfit closer to your wedding from the latest collection.
Decor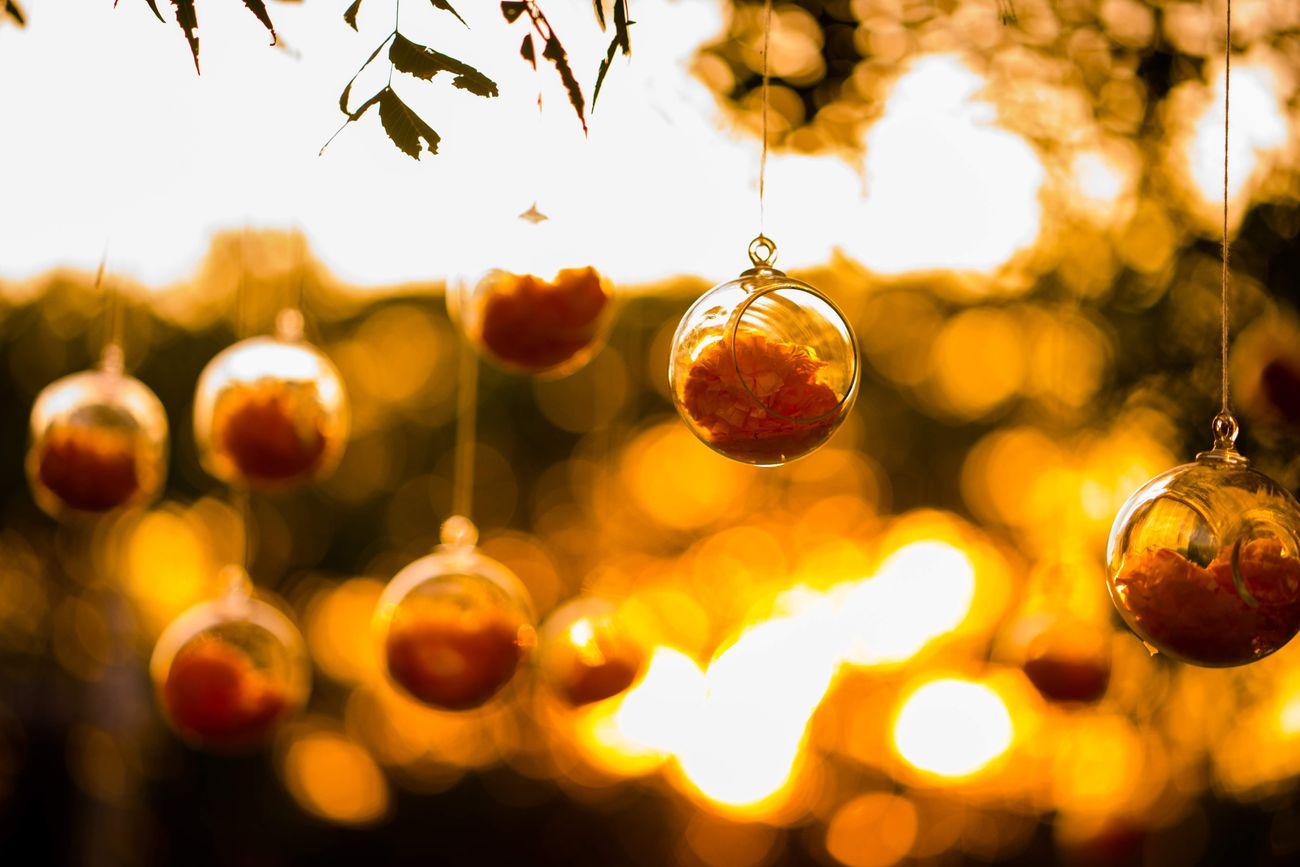 To make our Sangeet night memorable, I scrolled through images for hours and hours on Pinterest and Instagram. We finally to decided to have a guest message board where our family and friends could write their messages and wishes for us. We got the message board canvas customized through a family friend who is an artist. This gave our guests an opportunity to remain engaged during the evening. We also had set up a custom photo booth in the shape of a photo frame for the evening, so that our guests could click photos and have something to remember us by.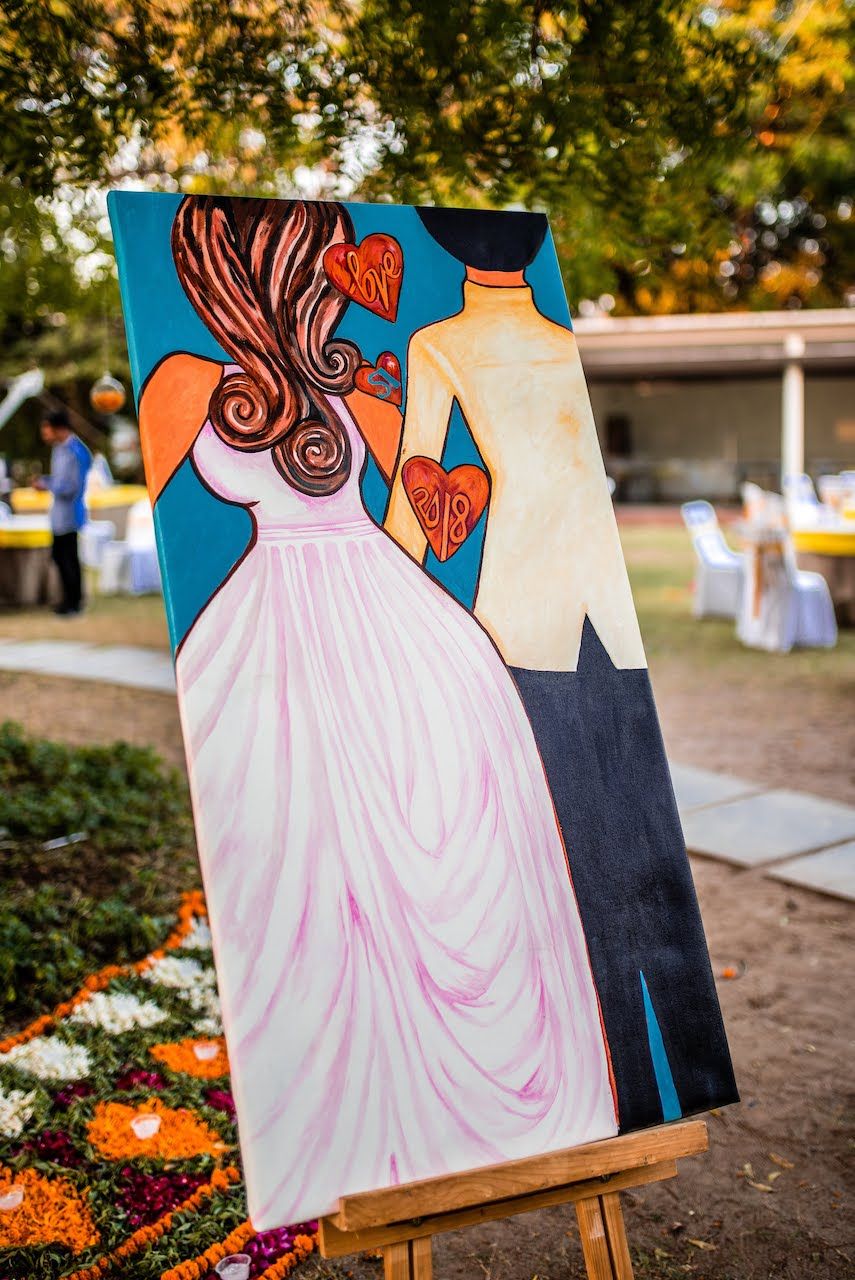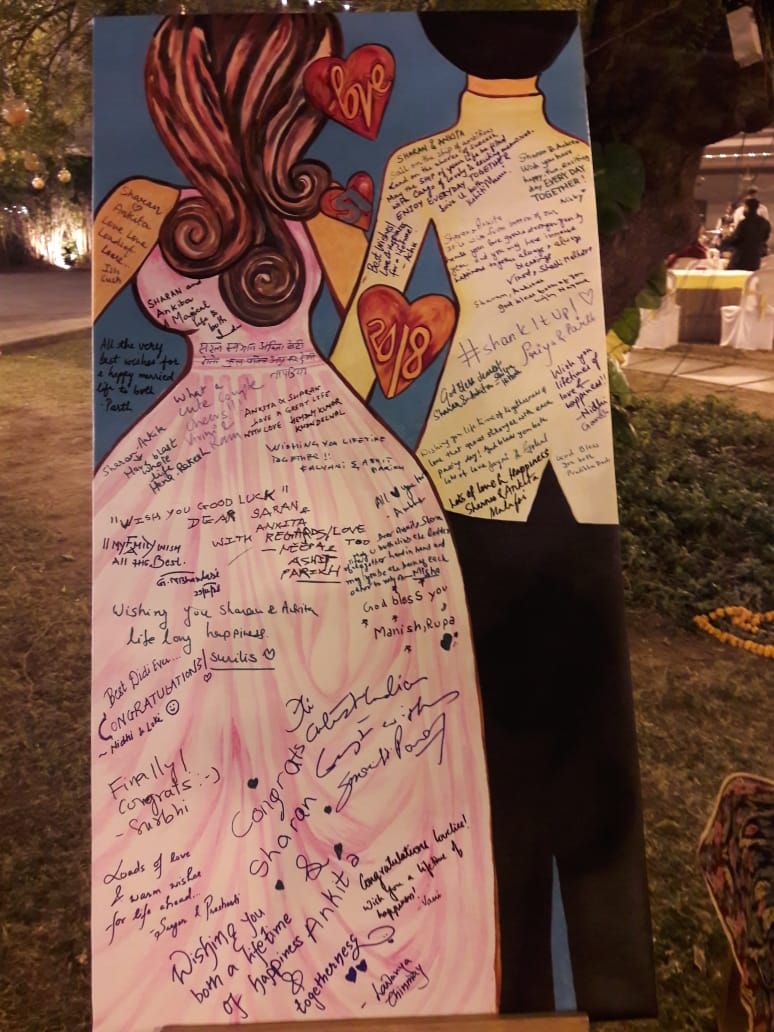 For our wedding, I chose a royal theme decoration for our venue with primary colors being Red, White, Golden, and Green. The guests were welcomed to the venue entrance with a Ganesh statue, lighted diya panels, hanging artificial flowers from the ceiling and a rangoli. The passage to the Mandap had old vintage furniture and flower vases guiding the guests. We converted the parking space into a carpeted area to set up the Mandap.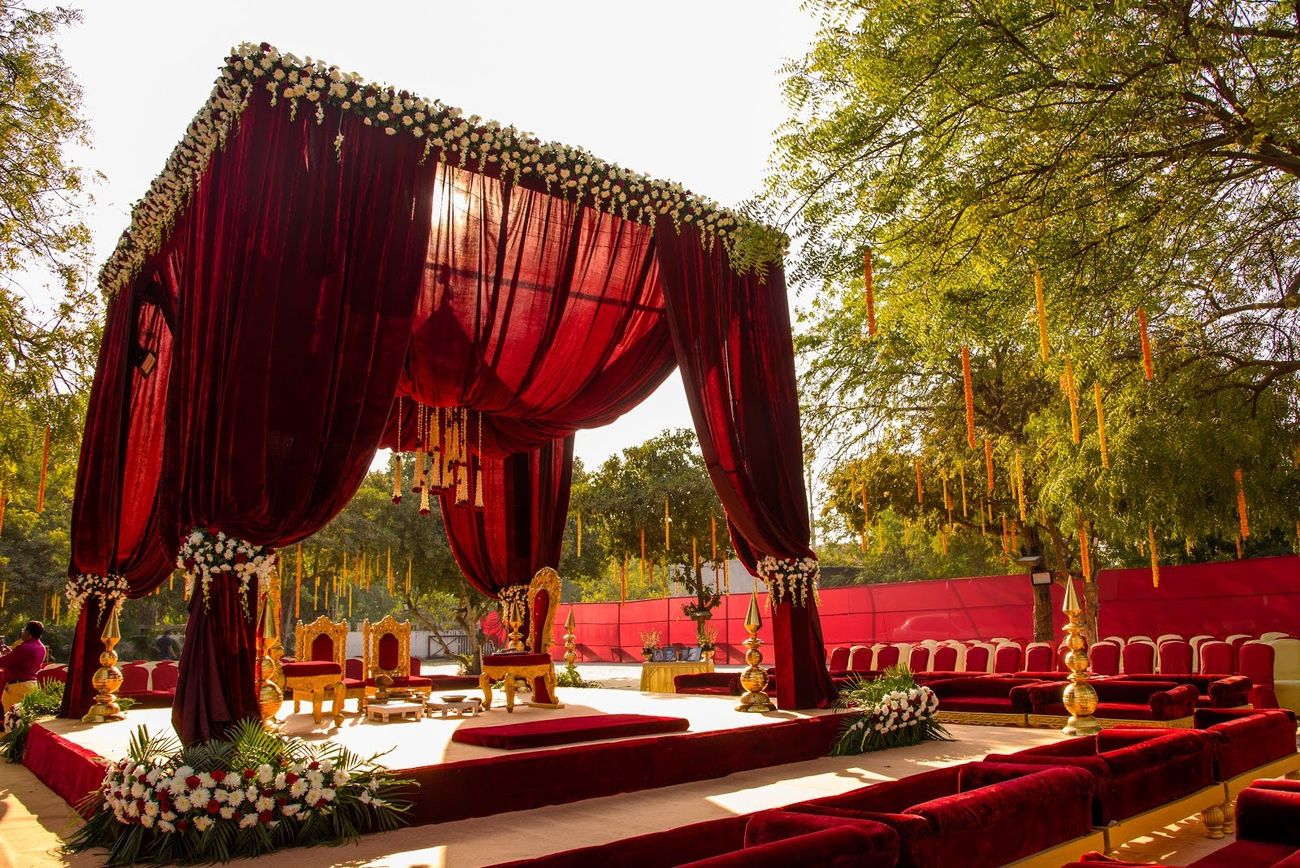 The tree in the Mandap area had flower hanging from their trunks. An area was created just near the corner of the Mandap with photos of our closest family members who are not among us but always giving us their blessings. The photos were kept on a vintage table and few flower vases to accessorize it.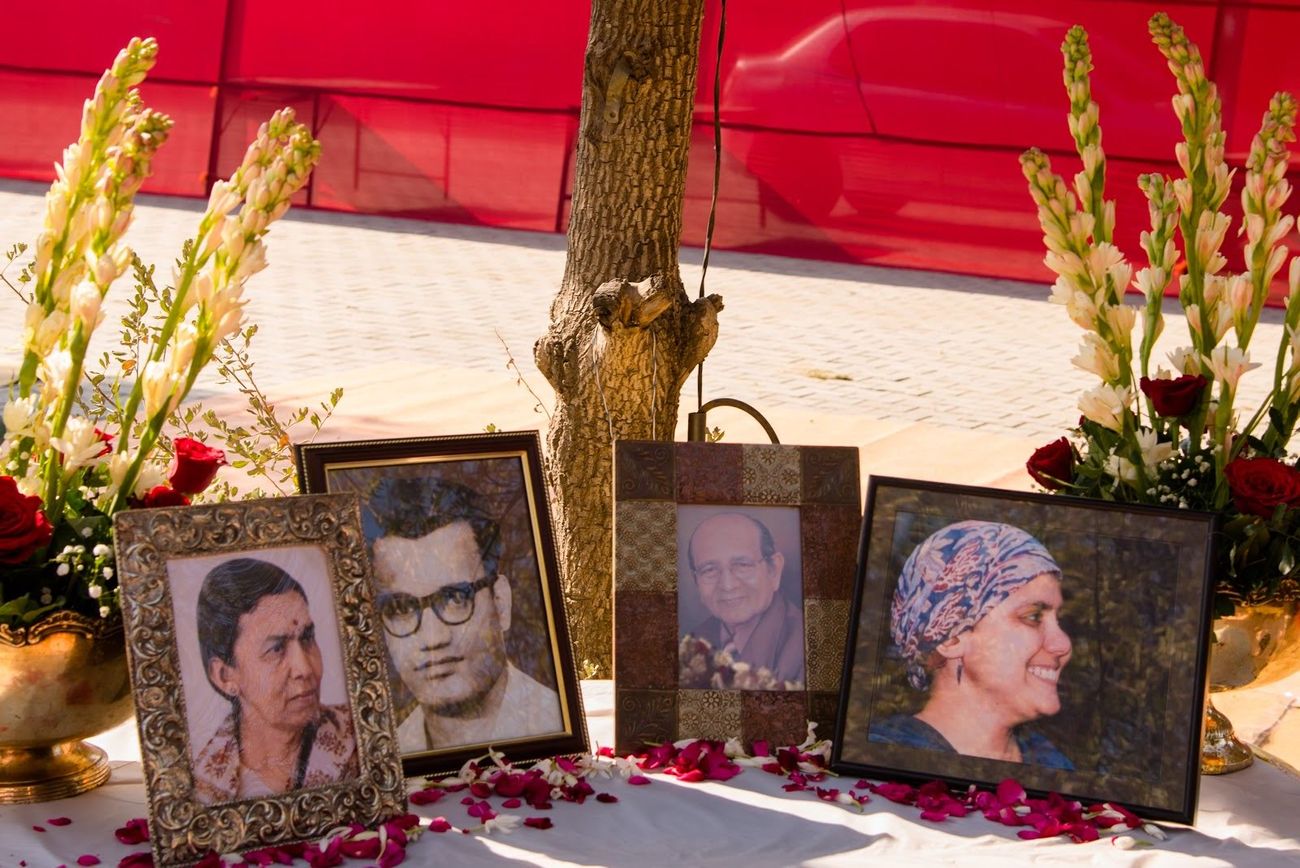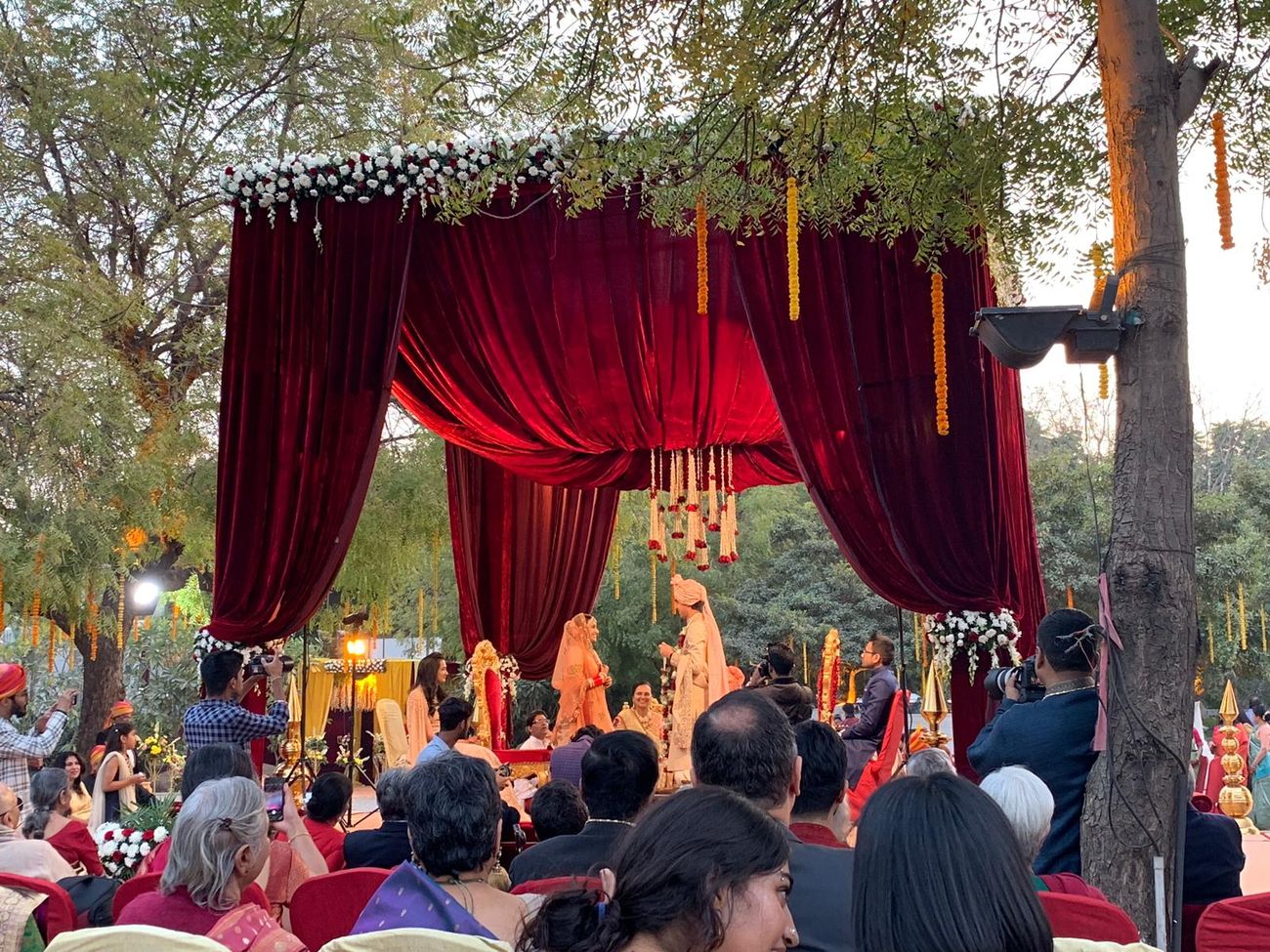 Inspired by Sonam Kapoor's wedding, I also got a Varmala made for us which could be opened and closed with a hook. Just like how you would open a necklace. This really helped in a great way since it didn't put pressure around my neck; pulling the veil dupatta and same applied for the groom; as it didn't spoil his saafa setting. I would highly recommend getting a custom Varmala made which is openable like this and also the added bonus is that it looks really good in photos.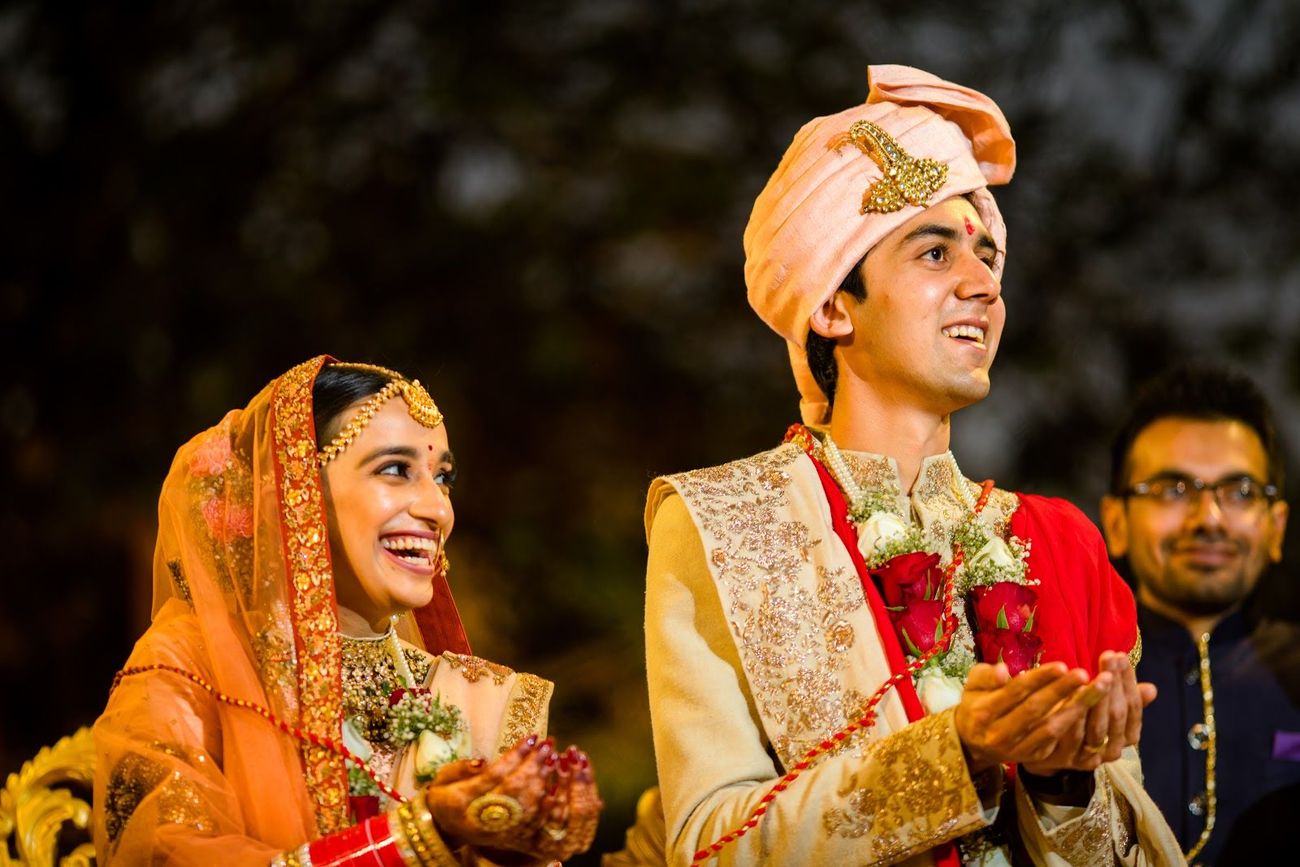 Our wedding and reception were held at the same venue. After the wedding, we asked our guests to move towards the Reception area on the lawn. The Reception also followed the Royal theme with the same color palette. The passageway was beautifully decorated with Rajnigandha flowers, green leaves ladi, velvet fabric, and fresh flower pasting. On the sides, there was alternating velvet fabric and diya panels. The guests were captivated by the smell and had high praises for this alternating flower-draped passageway.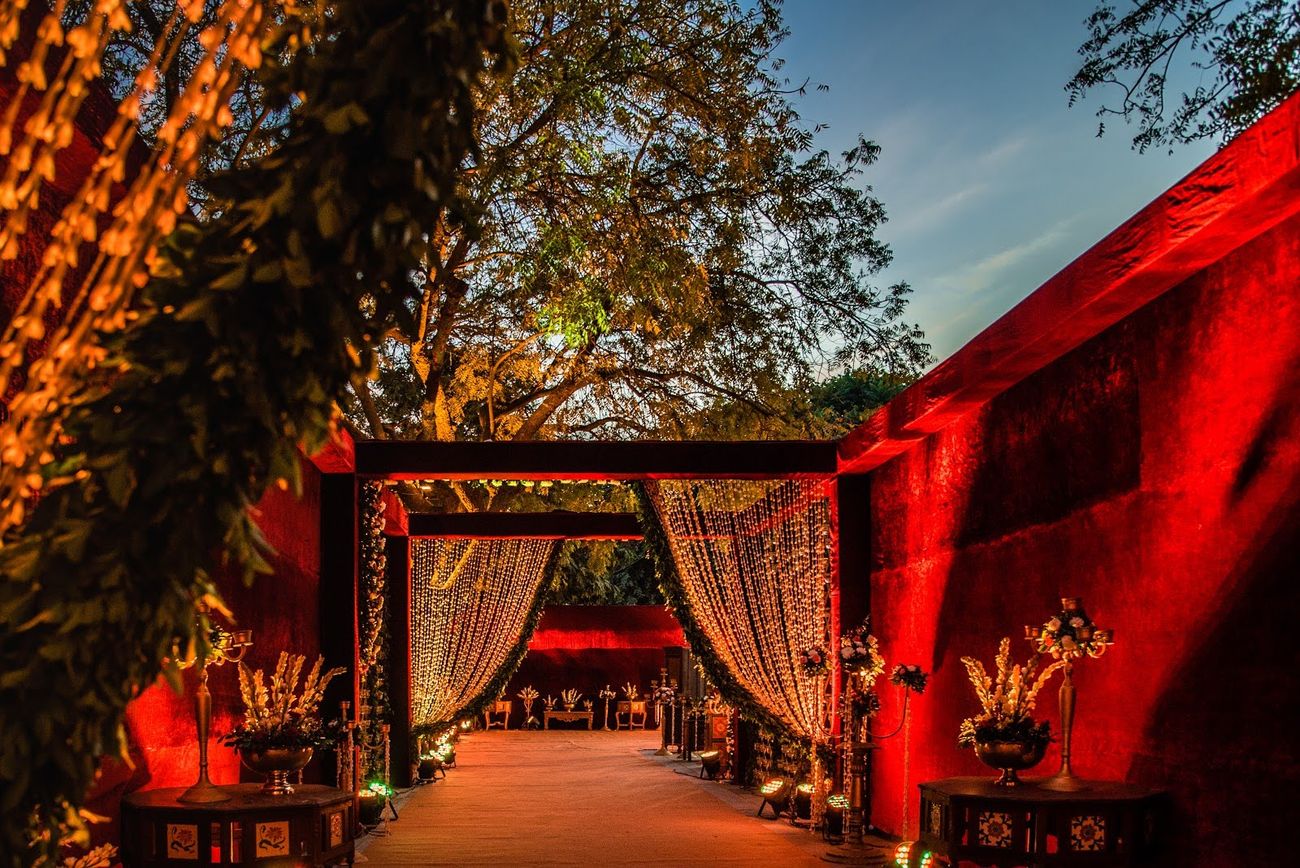 Similarly to Sangeet, we had another photobooth made for our guests on the Wedding Day also. This time it was a giant circle arch created with rustic wood branches and flowers for the backdrop. It was decorated with props like a vintage table (to keep photo props), a small sofa for people to sit and take photos on.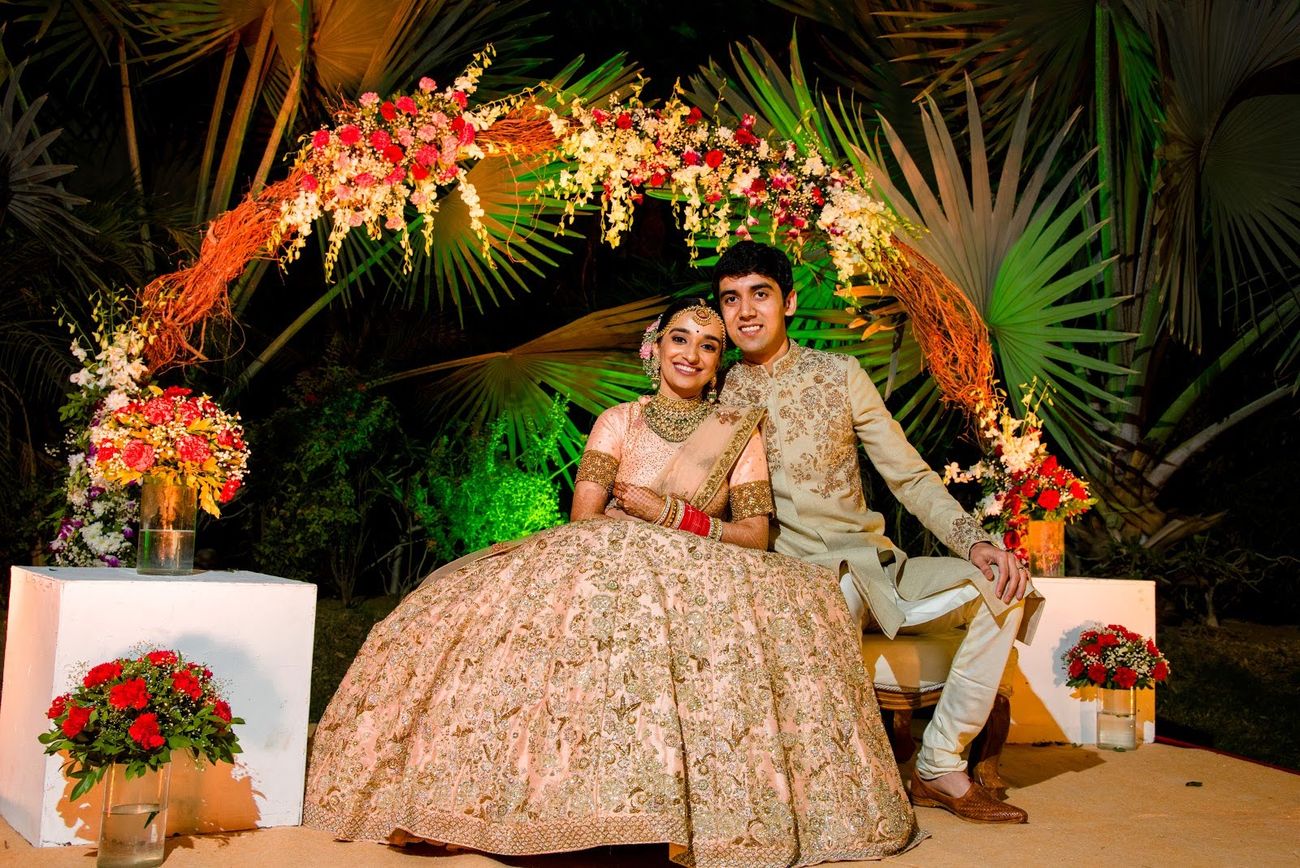 Tips for brides: The key to planning the decoration involved creating a Pinterest Board with different sections filled with image references I collected through months and months of researching on Instagram, Blogs and Pinterest itself. I first chose a color palette, finalized the designs I really liked and then sketched how I wanted all of it to look like for the final day. Main elements of designing and color coordinating the decoration included Venue Entrance, Entry Passage, Lawn Entrance, Mandap, Reception Stage, Tree Decoration, Sajjangoth and Chair Seatings, Photobooth, Bridal Chaddar, Lounge Area for Children and Aged people to rest in Winter, Lighting, Sound System. I made sure to send a PDF to all my vendors with photos and dimensions if applicable of what all they need to do. Here is a link to a sample PDF I made for our decorator.
Sangeet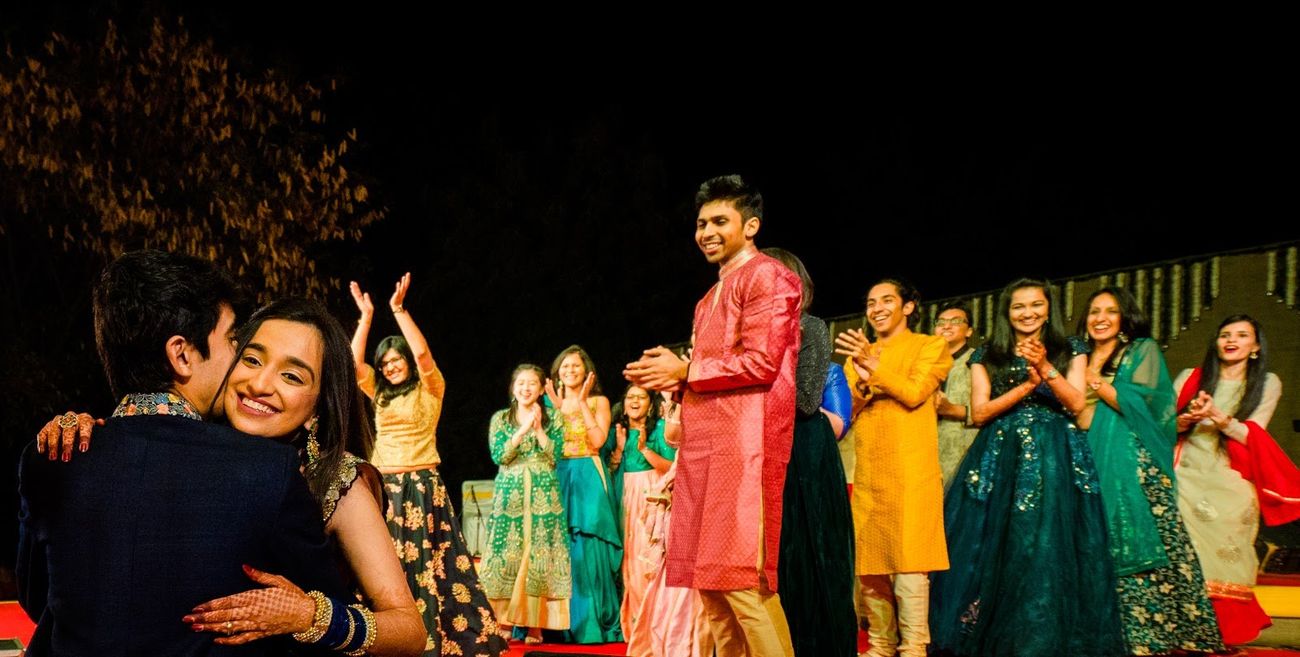 Planning the dance sequences were super special and very close to my heart. I had planned to start the performance with my Dad, sister and I dancing on super hit songs. I also had a surprise in store for Sharan- dancing on Marry You - and he loved it. It was my only chance to propose to him.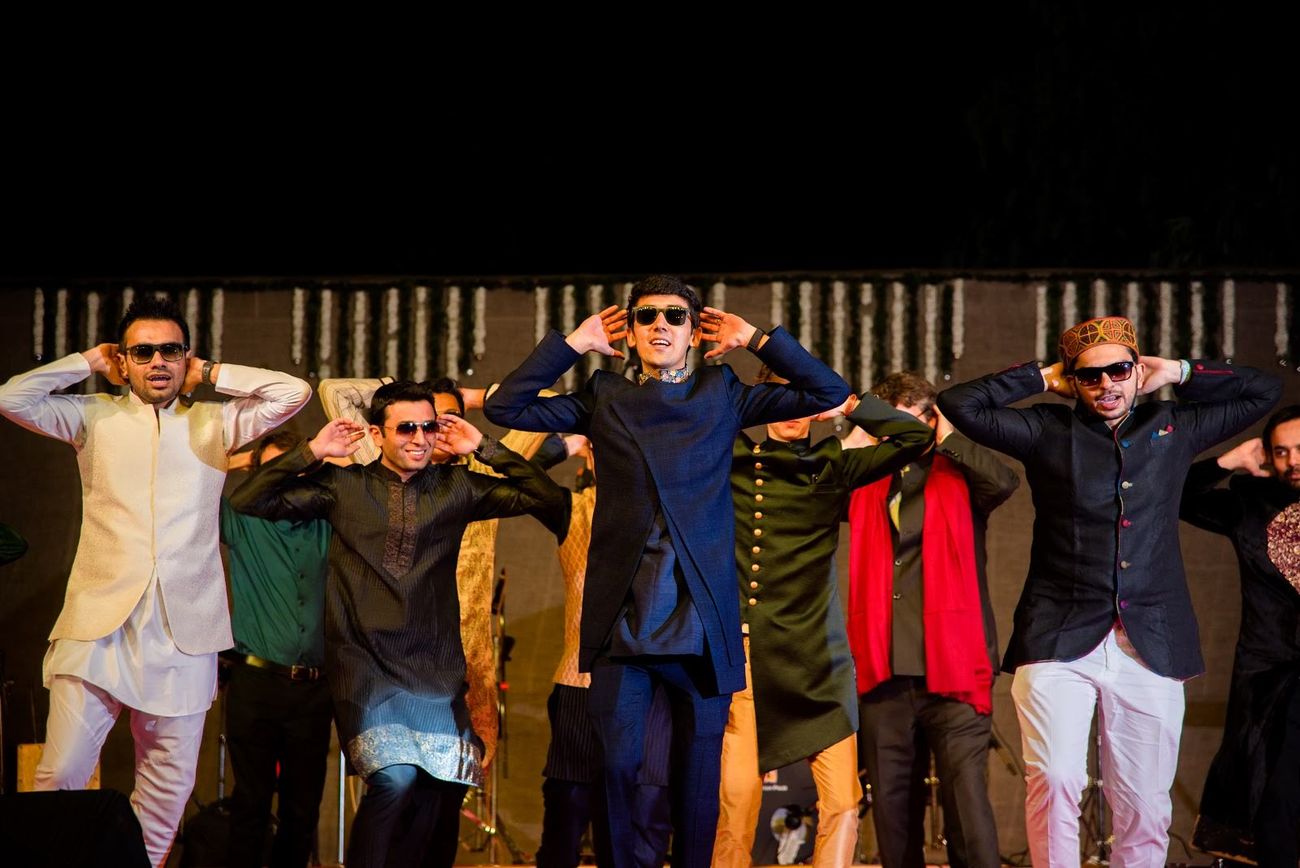 Tips for brides:
I had planned all the dance sequences by firstly collecting all possible songs to dance on in a sheet, with links to few choreography I could find on Youtube and Instagram. I then shortlisted the songs I really liked and divided them into sections based on the sequence of the Sangeet. Finally I created a big WhatsApp group and sent my family and friends practice videos that I choreographed for each sequence along with the audio files.
Wedding and Reception Entry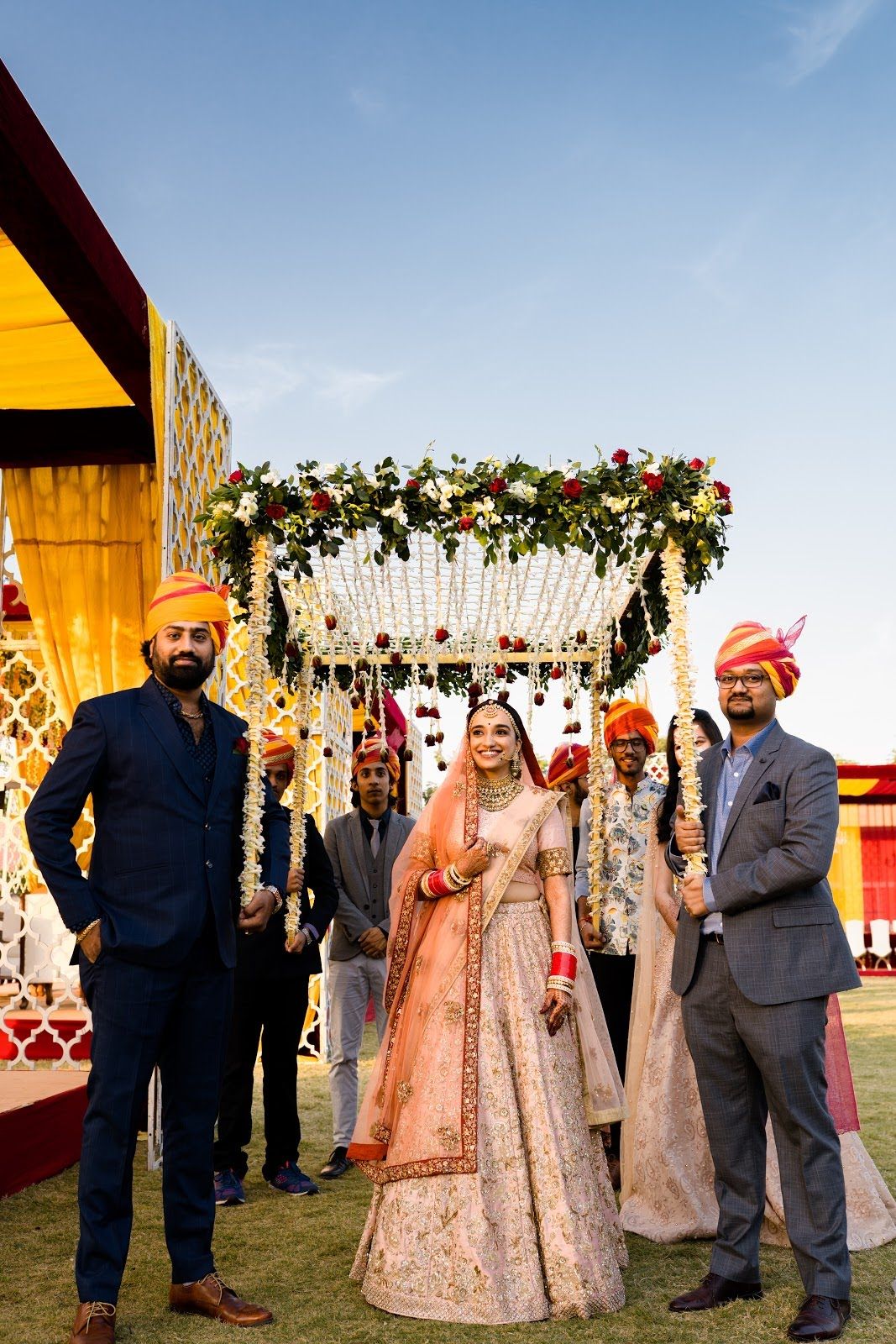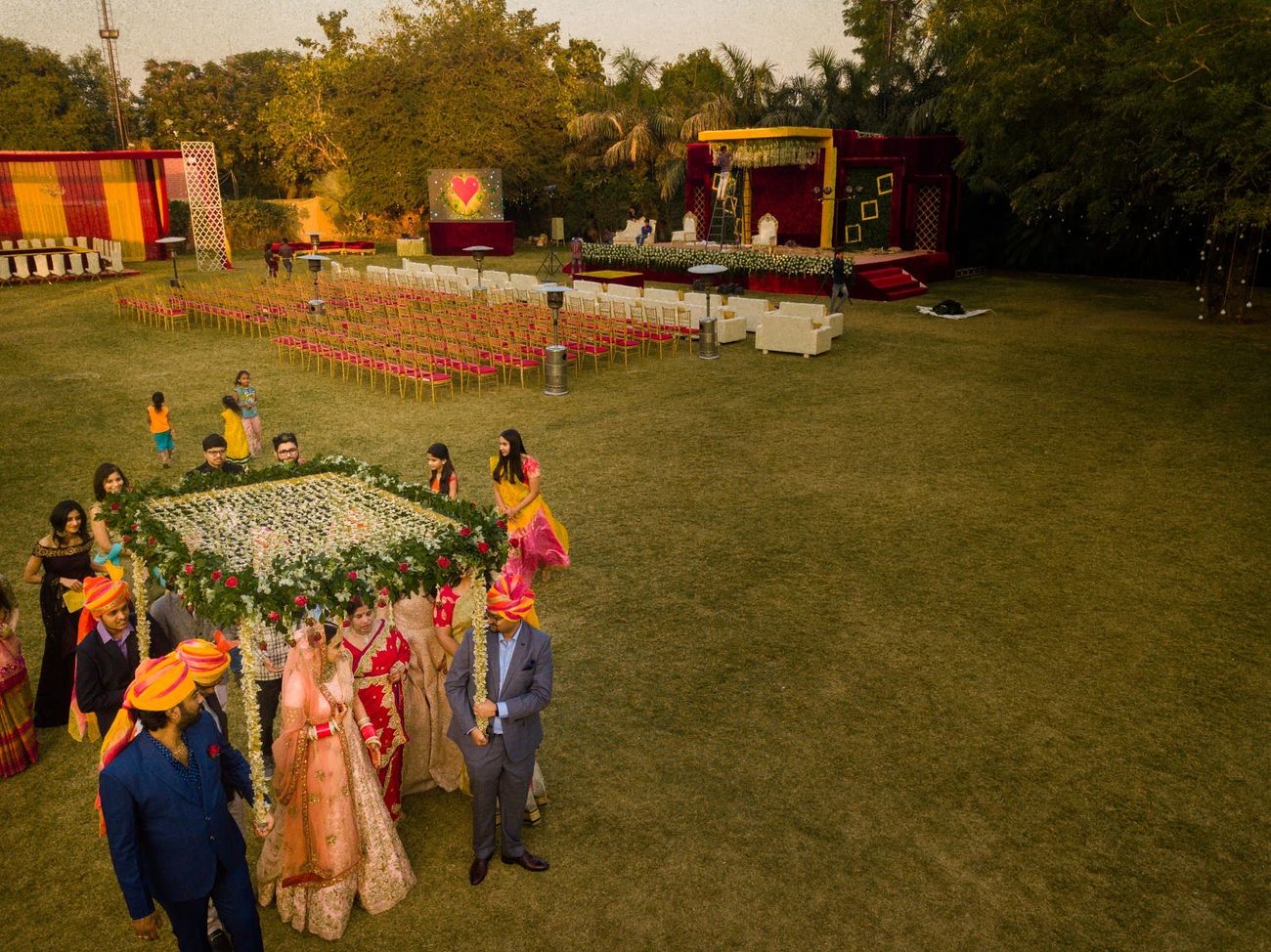 One of the most special things I was looking forward to was my bridal entry. I entered on the Nachdi Phira - ShutterDown Version (Feat. Jasleen Royal). I walked hand in hand with my mom, sister and my complete bride squad to the Mandap. My brothers held the chaddar with their pillars of love. Before finalizing the song, I did made make a list of roughly 10 songs that were other good alternatives. My second favorite one in this list was the Lar Gaiyan song. For Sharan's entry, Azeem O Shaan Shahenshah was played as he walked to the Mandap.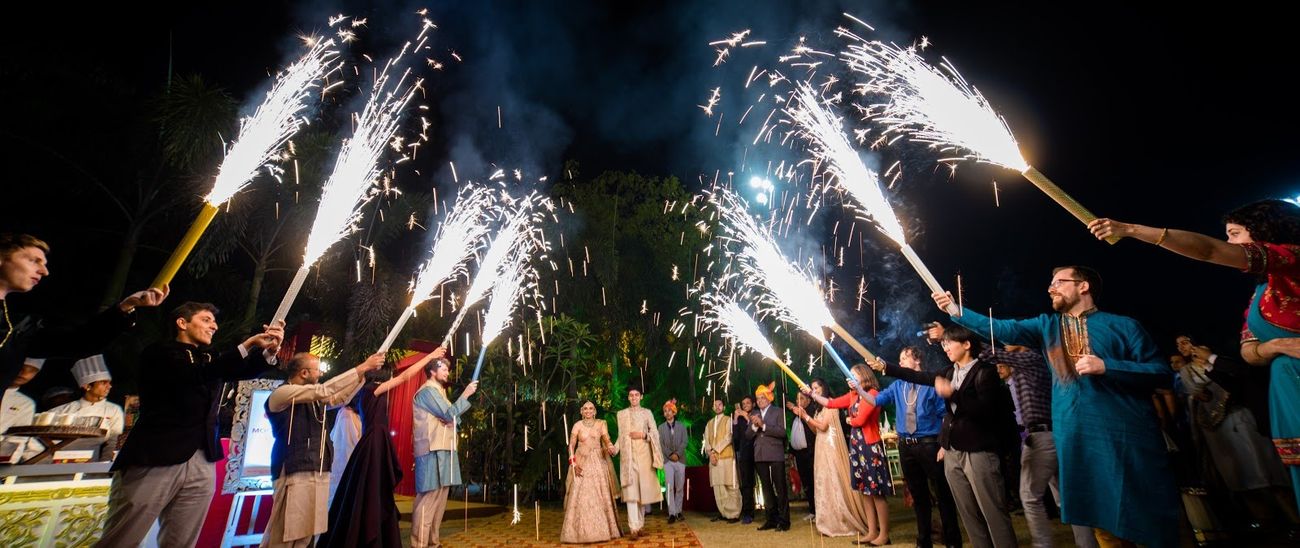 For reception, both of us made a grand entry with the help of our friends and family who held hand pyros. Arziyaan (Feat. Devangi Chopra) was playing in the background as Sharan and I walked together hand in hand.
Stationary
I used Canva to design all the wedding stationery - Welcome Note and Itinerary for Rooms, Thank You Note, Local City Guide, WhatsApp Itinerary for Guests, Poster for Hashtag Sharing, Travel Desk Placard, Wedding Ceremony Details.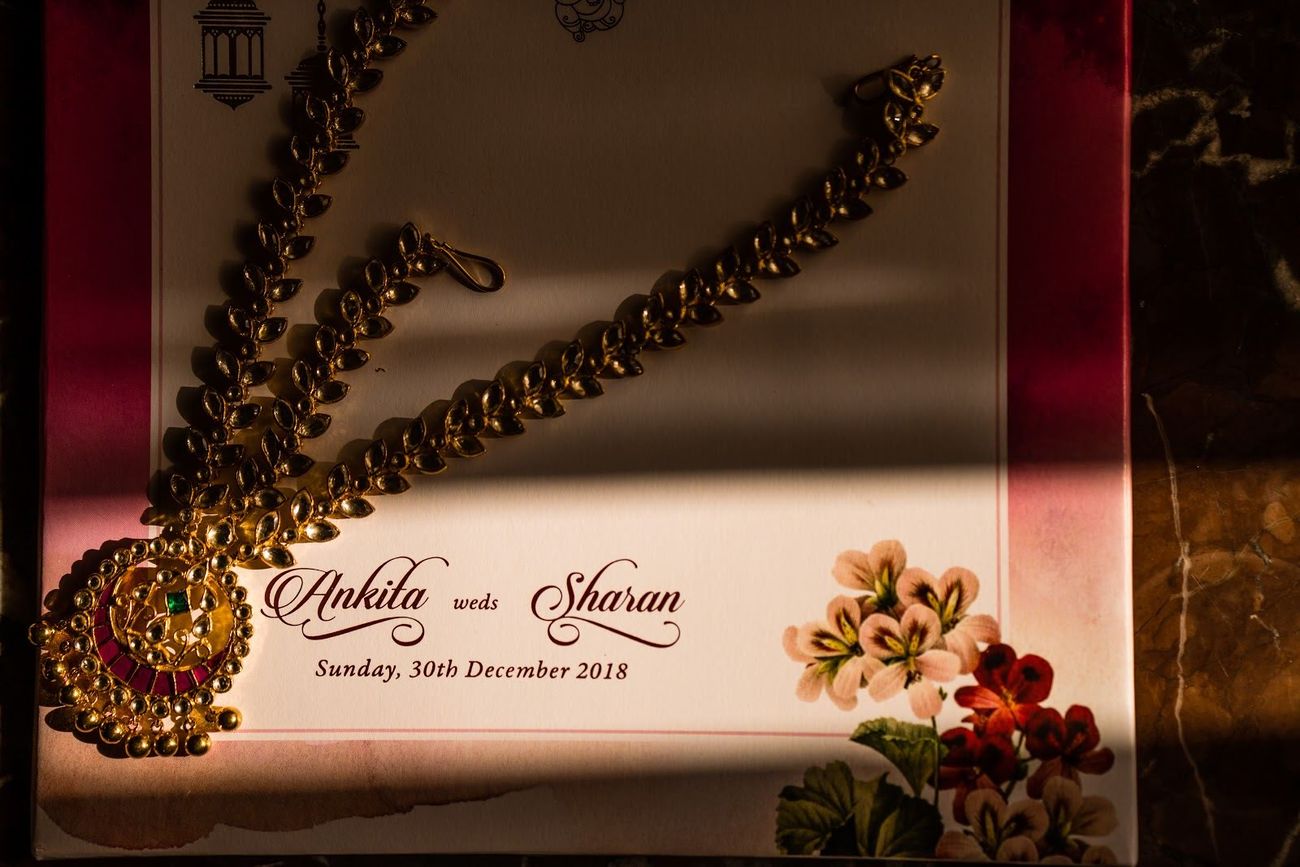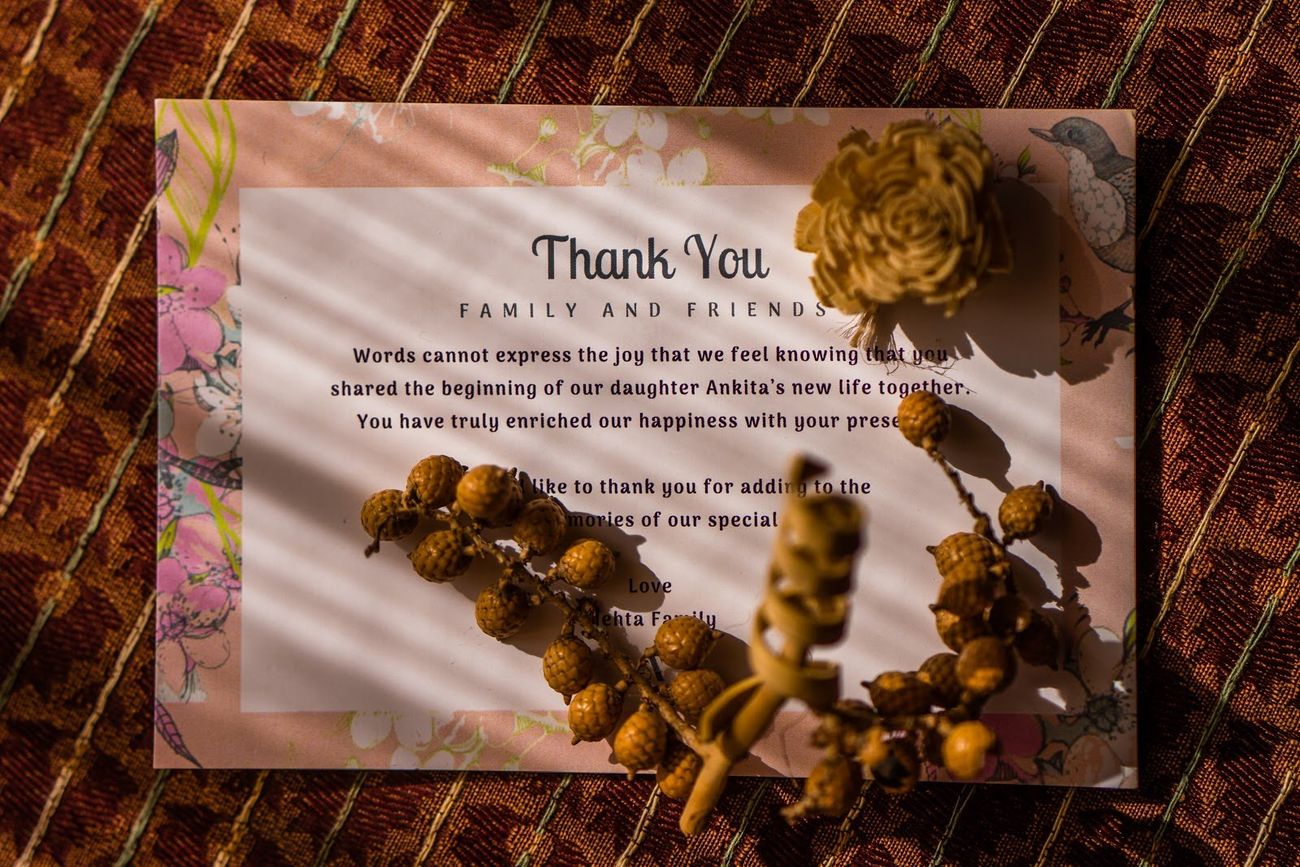 Also, a detailed card was handed to the guests before the start of the ceremony to explain all the wedding rituals performed. We customized the rituals in this card combining traditions from both Gujarati and Marwari weddings.
Favors
For Haldi, Decorative Wall Hangings, Bangles and Candle Stands were given to guests as favors. Keeping the decorative wall hangings made sure that the men also felt part of the ceremony.
For baarat swagat, we welcomed the groom's side with gifts such as Tie and Cufflink set for men; and women with Lipstick Holder and Hairpins. Also, instead of using traditional flower garlands for milni we used pearl beads necklace for men; which surprisingly many men kept wearing throughout the evening. During Sajjangoth we gifted our guests Hand Picked Saffron.
Tip for brides: 
For favors, try not to focus only on women but keep something in mind for men as well.
Diet, Exercise & Beauty
I consulted a doctor and a dietician few months in advance to improve my food habits, and get proper supplements for hair and skin (this helped me a lot). I started drinking 3 litres of water as a result of this. I also put in efforts to squeeze in 10 mins exercise routine available on Youtube by XFitDaily and Lucy Wyndham.

On the Haldi day, instead of using the regular turmeric paste I used a

Turmeric & Cranberry Seed Energizing Radiance Mask by Kiehls

. This helped me in avoiding any kind of staining and was also good for my skin.

In case you have stains then use raw milk to get them off. It contains lactic acid that acts as a cleanser, as well as exfoliating the skin and removing the dead cells.

I didn't get waxing done on the same day as my body brushing and facial. As it might have caused breakouts. And for an event prior to a few days before the wedding, I opted for bleaching instead of waxing; to have proper growth.

Before my Mehendi, I put Vaseline on my nails and applied nail paint beforehand.

I made a checklist for the big day of things I needed to do. This included brushing my teeth after lunch/before getting ready, popping in a breath mint, using underarm patch to avoid sweaty sleeves and wearing a good perfume.

Things I kept in my purse included - mint, power bank, water, straw, mobile, facial tissue, sunglasses, blotting papers for excess makeup removal, safety pin and a lipstick for reapplication.

I also

discovered

a heavy earring hack that one can use too to avoid your ears from hanging and paining throughout the ceremonies.
Photography
Choosing the right Photographer was always one of the most important decision of the planning. And it was the first booking we made after finalizing our dates. We locked onto Destination Photographers from day one and they did a splendid job of capturing 'us'. They even went out of their way, to create a video on the same day to give a surprise to Sharan at the Reception. They are truly magicians. The factors while choosing the photographers involved looking at their work which involved both candid and traditional moments, budget, talking to the team through Skype to make them understand what we were looking for. Also, I made a Pinterest board capturing photos of what we were looking for in Couple, Portraits, Family, Group, Decor, Accessories Photography.
Vendors: Venues: Pride Plaza Hotel, Ahmedabad (Haldi and Pre-Wedding Dinner), 129 Weekend Villas, Ahmedabad (Sangeet), Vrundavan Premium Party Plot (Wedding); Bride's Outfits: Palak Arora  (Pre-Wedding Dinner Blouse), Akanksha Gajria Label★ 4.4  (Pre-Wedding Dinner Skirt), Meena Bazaar★ 4.7 Meena Bazaar★ 4.7 Delhi NCR (Haldi), Shyamal Bhumika★ 4.7  (Sangeet and Wedding); Groom's Outfits: Shyamal Bhumika★ 4.7  (Sangeet and Wedding); Bridal Jewellery: Pal D'zigns Jewellery★ 5  (Sangeet and Pre-Wedding Dinner Necklace Set), Mauli Jewellers  (Wedding Necklace and Earrings), Raabta By Rahul★ 4.8 , (Wedding Mathapatti and Nath), Suhana Art n Jewels★ 4.7  (Rings and Bangles for Sangeet and Wedding), Jai Ram Soni Jewellers, Jodhpur (Anklets for Haldi and Wedding); Bridal Floral Jewellery: Jayshree's Real Flower Jewellery and Veni, Ahmedabad (Haldi Floral Jewellery and Varmala); Makeup Artist and Hairstylist: Ulupi Salon and Spa, Ahmedabad (Sangeet and Wedding); Mehendi Artist: Gazala, Ahmedabad; Photography: Destination Photographers; Bride's Wedding Invite and Stationary: Sunmoon Cards, Jodhpur; Wedding Favors: Jaipur Ace, Jaipur (Silver Tray and Bowls as return gifts for Guests), Wedtree★ 4.5 , Chennai (Lipstick Holder for Baarat Swagat and Saffron for Sajjangoth); Entertainment: Rhythm Pulz (Akul Raval), Ahmedabad (Sangeet); DJ: DJ Rajan; Caterers: Shabri Caterers, Ahmedabad (Sangeet), The Grand Shubham, Ahmedabad (Wedding), Pride Plaza Hotel, Ahmedabad (Haldi)