How To Avoid Stained Bright Yellow Skin On Your Haldi!
BY Sakshi | 18 Mar, 2019 | 19707 views | 6 min read
While the Haldi is definitely fun, we are sure no bride wants to look like a member of the Simpson family after that, which is very possible if you are on the fairer side! Plus, the nails and the hands might become bright yellow too, and that's not what you'd want shining bright under your bridal mehendi. So we got your back with some tried and tested ideas that are perfect for your big day!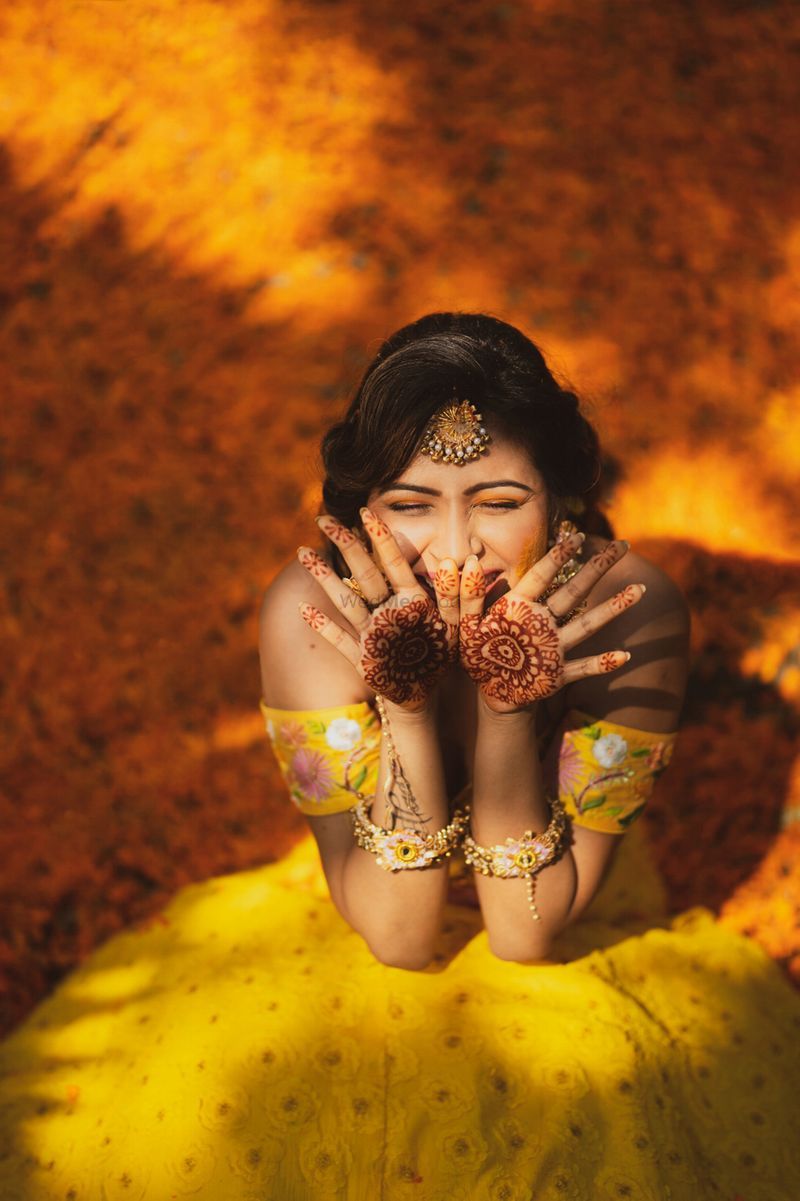 Image via Priyam Parikh Pictures★ 5
So here are some tips and hacks that might come handy- some to be implemented as precautions and some to reverse the mess after!
Before
Pick the right kind of haldi
Not the one we have in our kitchens, which might have artificial colouring added to it as well. Pick an organic variety or grind some fresh turmeric. Also, do not mix with water. Mix it with milk to cancel out the staining effect. 
Make a nice pack out of it with curd or besan
So this is one of the packs Huda Kattan swears by, and why not just make a whole DIY pack out of the Haldi which won't stain as much? 
Mixing a pinch of the Haldi with a cup of yoghurt or besan is a great way to dilute the stark colour, and still get the whole benefit of the Haldi!
Use Vicco Turmeric instead
If you have sensitive skin or are not very sure how Haldi will react on your skin, using Vicco Turmeric is a safer bet as it does not stain and has the whole bright yellow colour which you'd need for Haldi photos too! Another idea is to mix a little bit of haldi in it after taking it out in a bowl so that it becomes brighter and more Haldi-appropriate. 
Or use Sandalwood paste
Sandalwood paste or Chandan has a light yellow colour, and you could add just a little pinch of Haldi to it. This will be good for your skin and not stain it too!
Use oil on exposed skin beforehand
If you don't want the haldi to stain like crazy, then use the Holi trick- rub some coconut oil on your exposed body parts before hand, so that it forms a barrier between your skin and the Haldi, which will save you from staining your skin!
Put a clear coat of nail paint
We tend to think of our faces, but what about the yellow mess Haldi leaves on the nails? So put a clear coat of nail paint or over your existing one to avoid nails from becoming yellow. You could also add a layer of vaseline on top of this to be extra protective. 
Don't forget your roots!
The last thing you want is having a yellow scalp. So apply some vaseline or oil to protect your scalp too beforehand.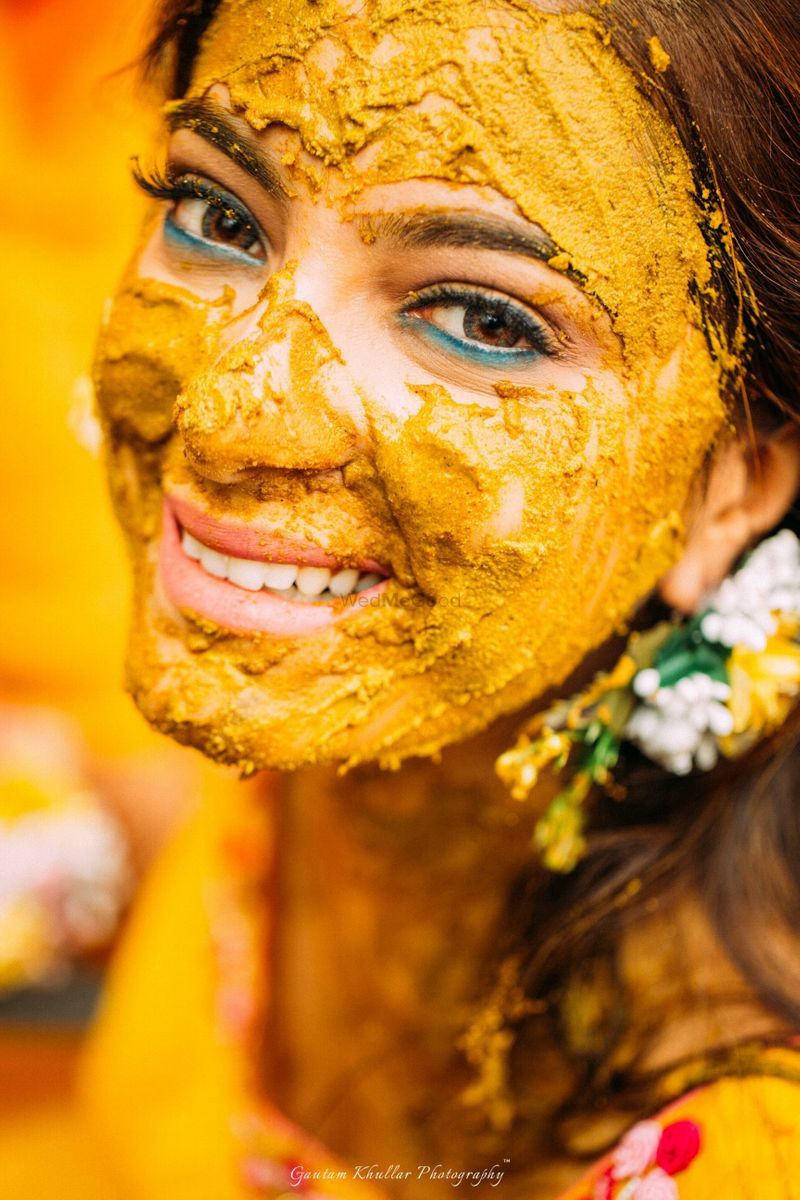 Image via Gautam Khullar Photography
After
Don't use water- use oil
Since curcumin is non-water soluble, washing it with water a lot will probably make it worse. So rub the stain with oil- like coconut or olive or castor oil using a cotton ball dipped in it to get rid of the stain!
Milk is good too!
Milk has lactic acid which is useful in removing turmeric stains. Use a cotton ball saturated with raw milk on your face or normal milk on your body and rub it with a cloth or cotton to get rid of the stain or make it much lighter. 
Micellar water might help too
This one can remove the toughest lipstick stains, so we are sure will be effective against Haldi too, plus, it's gentle on the skin!
Use a sugar scrub
This one is especially handy for the skin and especially the body- DIY some with honey and a drop of lemon and it would work wonders to remove the stain off your skin.
Shaving foam to the rescue
This one might need a few attempts, but works! The hydrogen peroxide in the shaving foam helps in getting rid of the yellow stain, but make sure to use this one only for the arms or legs and not the face. So cover the stain with foam and wipe it off using a cotton ball. You might have to repeat it a few times before the stain comes off.  
Baking soda for nails
This one can really help in getting that nasty yellow colour off the nails! Make a paste of baking soda and water and scrub your nails with the paste, using a nail brush. It will lighten the stain and then go ahead and wash up with soap and water. You could even add a few drops of lemon to it to make it even more powerful. 
Hydrogen Peroxide or Apple Cider Vinegar for nails
If the is situation on the nails is too bad, then you might have to bring out the big guns! Hydrogen peroxide is a powerful bleaching agent so use it wisely. 3% hydrogen peroxide is ideal for this remedy. Dilute one tablespoon in 2 tablespoons of water and using a cotton ball, rub it on the stain. The same can be done using apple cider vinegar too with a 1:1 ratio with water. 
ALSO READ: Haldi 101 – How To Get Rid Of Haldi Colour And Still Maintain The Glow!