How To Calculate How Much Alcohol You Need For The Wedding
BY Sakshi | 26 Oct, 2021 | 664 views | 5 min read
"How To Calculate How Much Alcohol I Need For The Wedding?" is a question every couple is bound to wonder during the wedding planning process, if you plan to serve it at any of every function of your wedding. While you may choose to have an open bar at the hotel or resort you're having the wedding at, if you choose to BYOB or source the alcohol needed yourself, then this is something you'll need to figure out. Here is some help to know how to estimate how much alcohol you'll need at your wedding, and the factors that will influence that decision.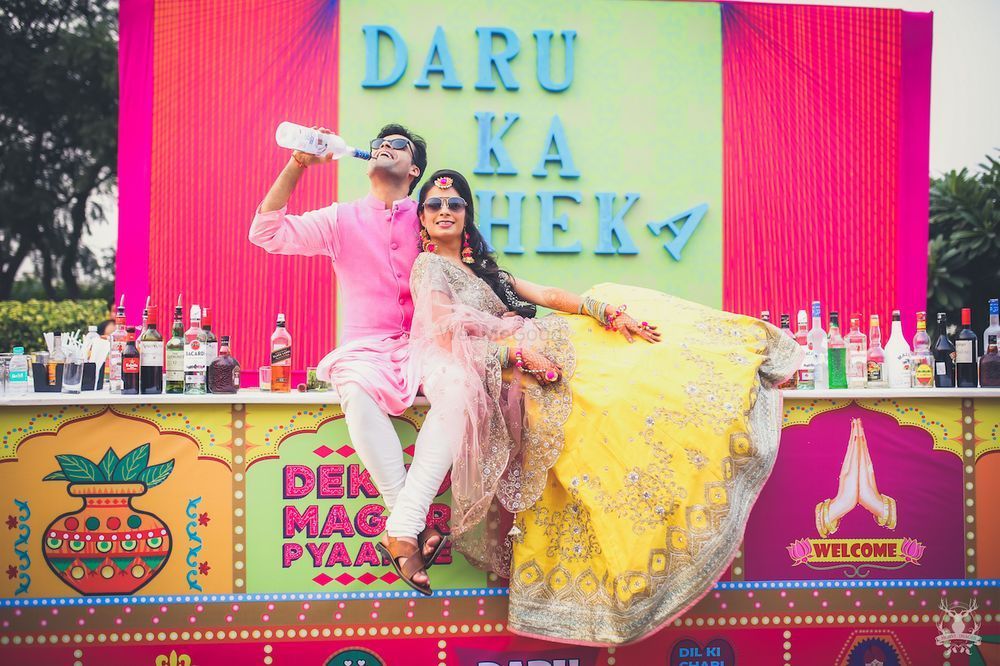 Image via Nimira & Aman
The good part is that alcohol estimate can be done closer to the wedding, when even you have a clearer estimate of the guest list and the RSVPs. It will be much easier to purchase or place an order for the alcohol accordingly, it doesn't have to be done too much in advance. 
As a general rule for an evening reception, you can estimate that your guests who do drink alcohol will have 2 drinks during the first hour of your reception and probably one drink per person per hour after that.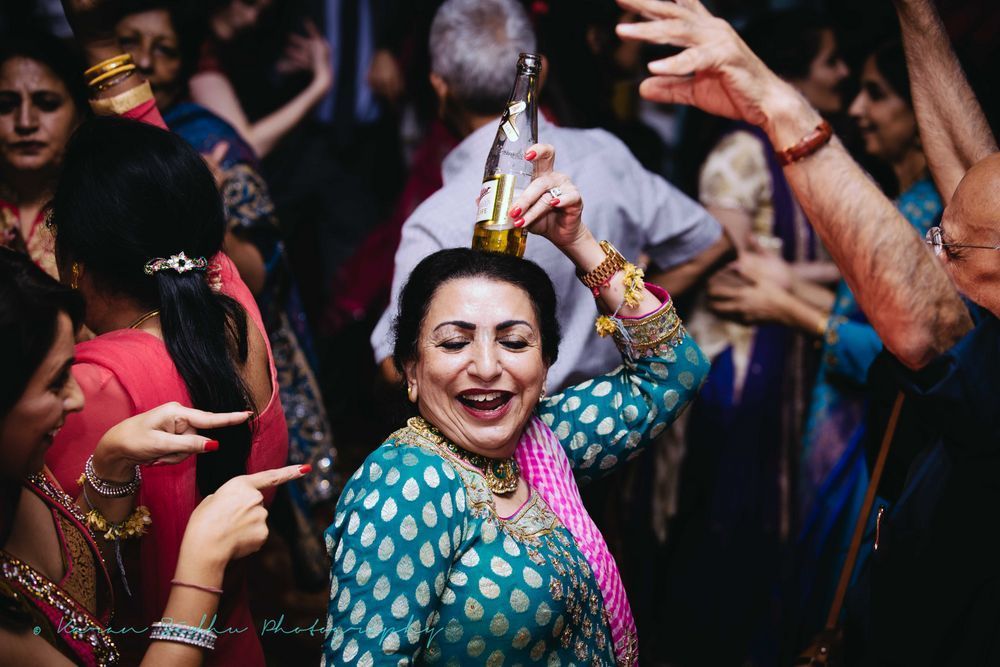 Image via Karan Sidhu Photography★ 5
Since some guests will drink more than the others, this is bound to even out. Kaveri Vij and Akshay Chopra from Designer Events Inc★ 4.9 elaborate on a simple formula to determine how much alcohol will be needed at the wedding:
"Approximating Liquor for any wedding event can be quite a tricky bet. To make is simple for you all, firstly consider the time of the year - whisky's and rums are winter go to, but beer and wines are more summer drinks.
The next thing to consider is the time of the day - whether you are hosting in the day or at night. The next assumption needs to be the type of event - guests are likely to consume more alcohol on a cocktail night than a wedding event. Please approximate a percentage of the number of guests who would be drinking. And then we fall back to some maths to make this more accurate. Number of pegs per bottle multiplied by the number of drinks likely to be consumed by a single person. Once we have this for each of the brand/alcohol type we plan to keep at an event we can simply multiply this by the assumed number of people. Also, to assume the percentage of people having each type of drink we will have to work with a pure assumption percentage based on the season, time of the day and the brands kept. "
Yep, might not seem so, but it's simple mathematics. Let us give you an example:
Suppose you have a 200 people wedding, and you know that 50 percent of them are going to be drinking. That's going to be a 100 people. So how do you calculate an approximate value of the number of bottles required? Assuming the bartender is making large 60ml pegs, that means you will get 16 pegs out of a litre of alcohol, and 12 pegs from a 750 ml bottle. If we assume everyone will have at least 2 drinks, that means you need to do this calculation:
No. of pegs per bottle (assuming 12) x No of drinks per person (assuming 2) 12 x 2 = 24
Total no of drinkers = 100, 2 pegs per head makes it 200 pegs in total
Which means, one would need 200/12 number of bottles= 16 bottles of alcohol, so you can order a mixed variety of alcohol accordingly. Always a good idea to order some extra! 
So this easy calculation should give you a ballpark figure of the amount of alcohol you would require at the wedding or the particular function in mind.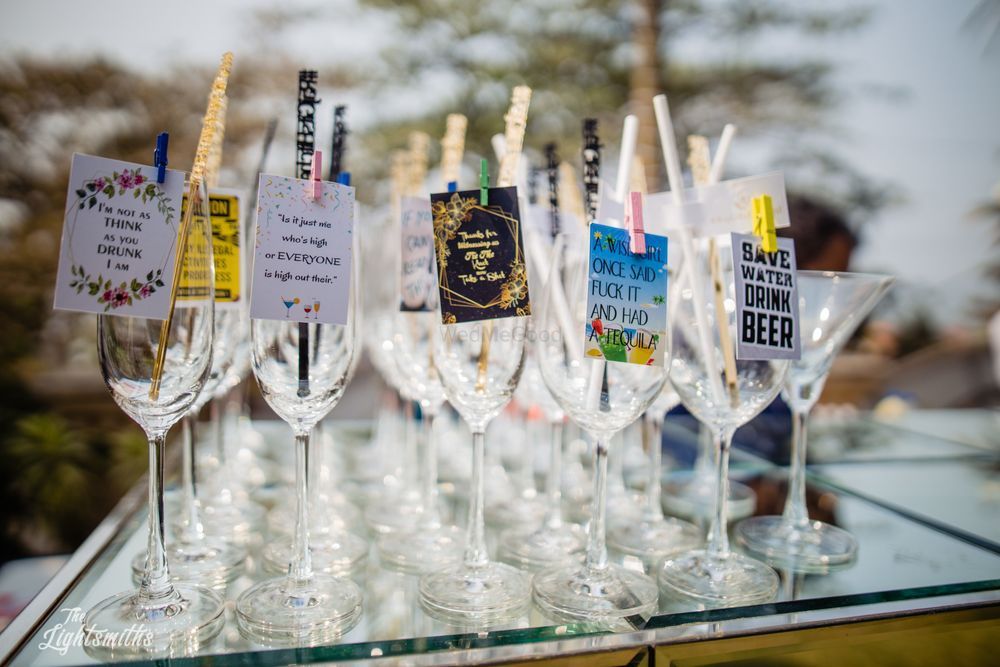 Image via Kith and Kin★ 4.5
By the way, the formula may be simple! But, here are some factors that may affect the alcohol consumption at your wedding, requiring more or lesser: 
The weather. People tend to drink more when it's either too hot or too cold. There might be more takers for chilled beer, cocktails or breezers in the summers and warming drinks like whiskies and rums in the winters.
The time of day of the wedding/ function. If it is a morning wedding or function, the alcohol consumption might be much lesser to a night or sundowner event. 
The type of function. There will definitely be more people drinking at an event like the cocktail, sangeet or reception rather than a wedding.
The crowd. You would know best whether your guests, or rather the majority of them are heavy or light drinkers. Plan accordingly for alcoholic and n/a drinks. Whether there are more men or women in your wedding or reception who are drinkers will also matter when choosing the type of alcohol.
The brands of alcohol up for choice. It goes without saying, better the alcohol, more the takers. 
The capacity of the alcohol bottles. Again, remember, a 750 ml bottle has 12 pegs of 60ml and a litre of alcohol gives you 16 pegs of 60ml. So calculate accordingly. Beers go out as single units, so keep the pints stocked up accordingly.
So, go ahead and make yours a happy 'high' cocktail!
ALSO READ: 8 Creative ways to serve alcohol at your wedding: OMG!