How to choose a Bridal Lehenga for Your Body Shape !
BY The WMG Bride | 09 Mar, 2014
If we could get a dime for everytime we hear a bride say   "I want a 18 kali full flared lehenga" , we would be millionaires by now! And while a lehenga with a humungous flare that is larger than the mandap itself seems to be every Indian Brides dream  , here are a few pointers to keep in mind while choosing a lehenga for your Body type .
Getting Hitched?
Dont forget to check out our vendor guide as the best wedding professionals in your city handpicked by us
HourGlass Shape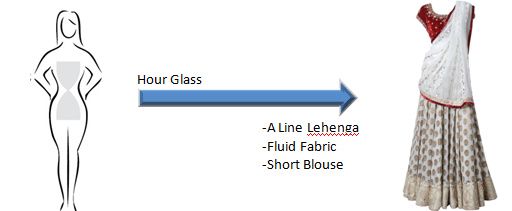 If you have an Hour glass body, then first of all Congratulations - pretty much anything would look good on you ! However having an A-line lehenga in a fluid frabric (Velvet, Georgette, Chiffon) that doesnt stand stiff is most likely to complement you. Pair this with s short choli to show off that waist of yours and you are on your way to look like a million bucks ! Here are some more options for you if you have an hourglass figure !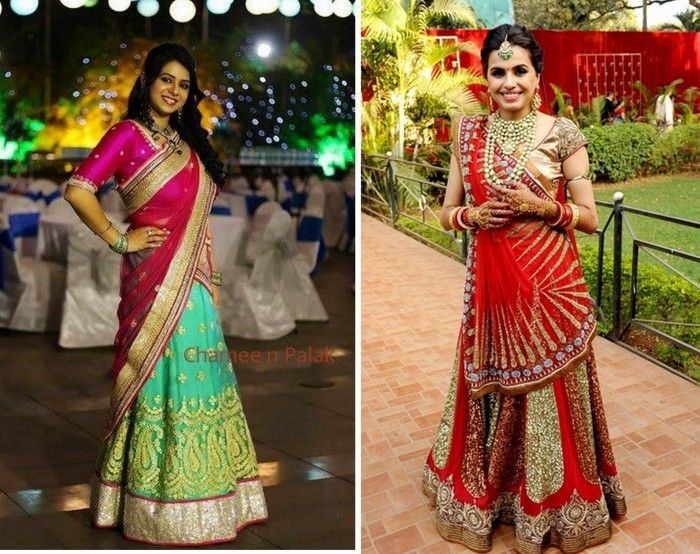 Both of these are A line lehengas. The left is by
Chamee & Palak
, the right by
Anand Kabra photographed by Atul Pratap Chauhan
Rectangle Shape
If you have a rectangular body- or an athletic, skinny frame without the curves, then hun your lehenga needs to create those curves for you! Choose a wide, full skirt in a stiff fabric to add volume at the bottom- Raw Silk is perhaps the perfect fabric for you followed by Net.  Pair with a blouse that is low and plunging to create the illusion of curves. Here are some more options for you!
Left:
Lehenga by Frontier Raas photographed by Navdeep Soni
, Middle Lehenga by
Dolly J
, Right Lehenga by
Dolly J
photographed by
Dot Dusk
Top Heavy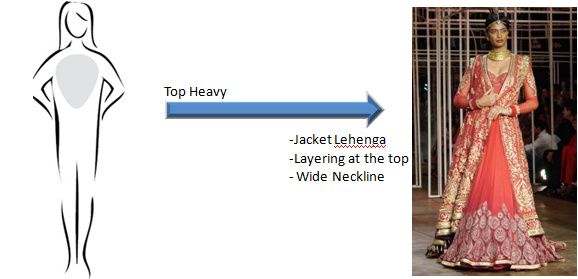 If most of your weight is at the top, then layering is your best friend. Plus Jacket lehengas are super in as well to time to cash in girl ! Choose soft, sheer fabrics to layer over each other and keep the neckline wide. The more closed up a neckline looks, the wider a person looks at the top- so make sure the neckline is wide ad open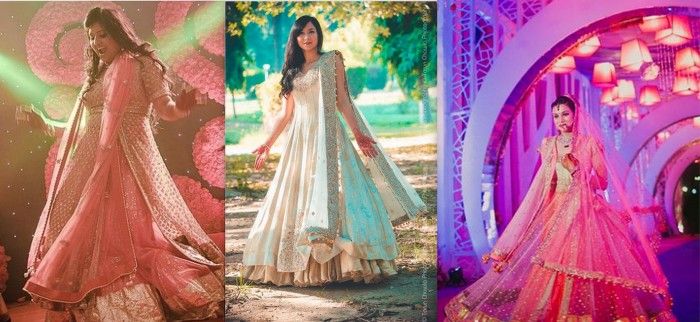 Left: Lehenga by
Om Prakash
photographed by
Arjun Kartha
, Middle : Photographed by
Tarun Chawla
. Right: Photographed by
Rahul Shah
Weight All Around the Waist

If your weight is mostly evenly distributed, and specially your problem area is around your waist and tummy then 'Sharara cut lehengas' are your best friend. A longer top til the hip paired with a fluid fabric lehenga looks absolutely fab. Even if you want to go with a shorter top- experiment with sharara cut lehengas- these are lehengas with a frill at the bottom and give the look and flow of a sharara!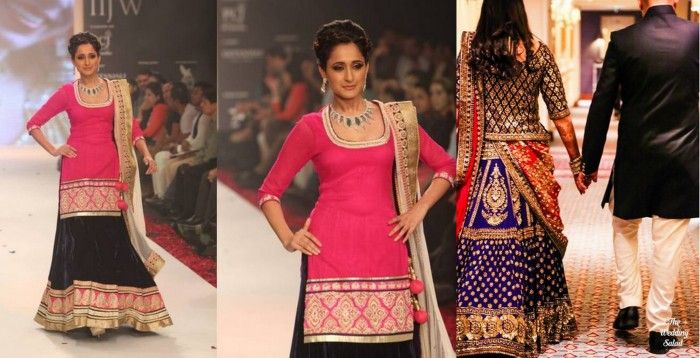 Left: Lehenga by
SVA
, Right: Lehenga by Sabyasachi photographed by
The Wedding Salad
Here is a helpful Infographic for you guys to pin: