How to Choose a Bridal Lehenga for Your Body Shape!
BY The WMG Bride | 11 Sep, 2017 | 69648 views | 5 min read
If we could get a dime for everytime we hear a bride say "I want a 18-kali full flared lehenga", we would be millionaires by now! And while a lehenga with a humongous flare that is larger than the mandap itself seems to be every Indian Brides dream, here are a few pointers to keep in mind while choosing a lehenga for your specific body type.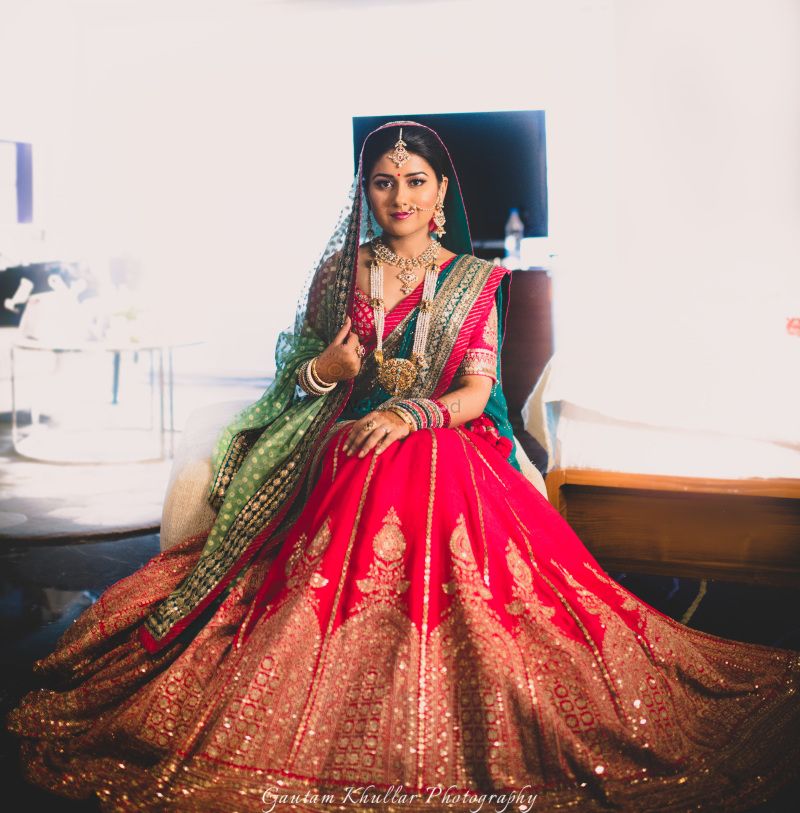 Image via Gautam Khullar Photography★ 4.8
For starters, if you don't know what your body type is, here is an online calculator that will tell you which body shape you are. Here in this article we deal with some of the most common body shapes, which are- Hourglass, Apple, Pear, Rectangle and Round Shaped. So let's get started!
Hourglass Shape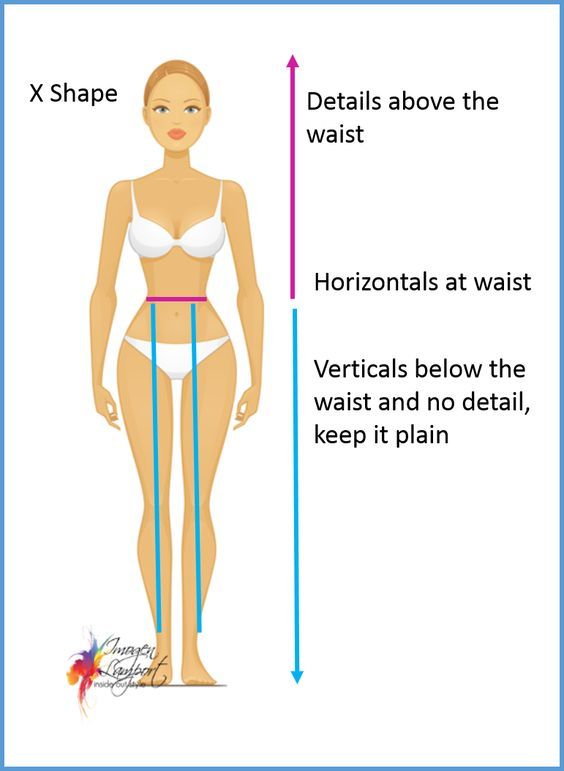 If you have an Hourglass or an X shaped body, then first of all congratulations! Pretty much anything would look good on you!
Lehenga Skirt
Pick an A-line lehenga in a fluid frabric (Velvet, Georgette, Chiffon) that doesnt stand stiff is most likely to complement you.
Lehenga Blouse
Pair your A-line lehenga with a short choli to show off that waist of yours and you are on your way to look like a million bucks!
Lehenga Dupatta
You can get away with any kind of drape- just make sure your waist is visible and the dupatta does not cover it up!
Here are some lehenga options for you if you have an hourglass figure !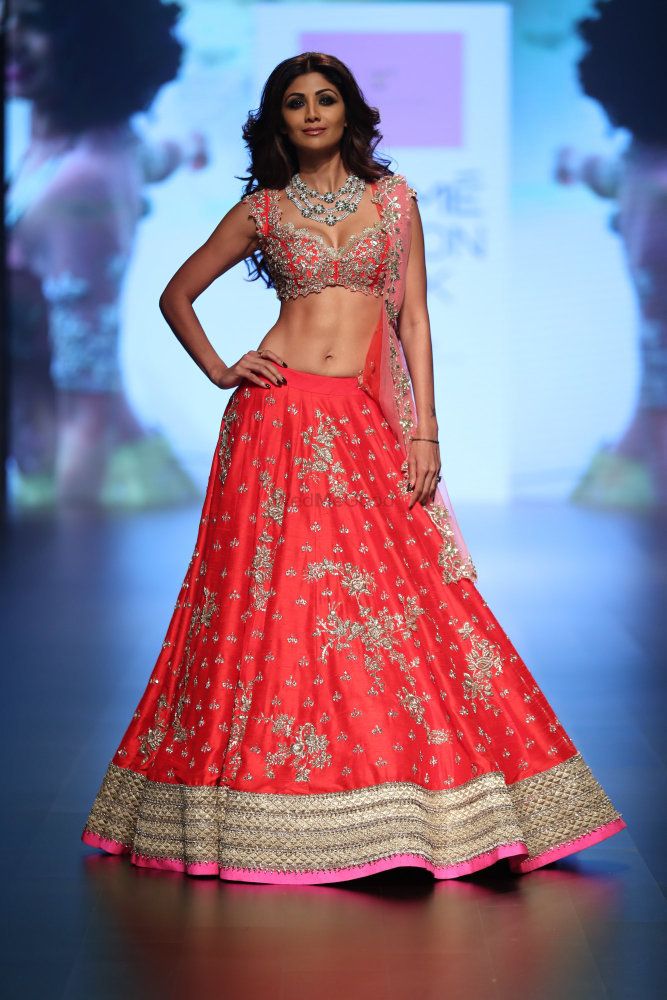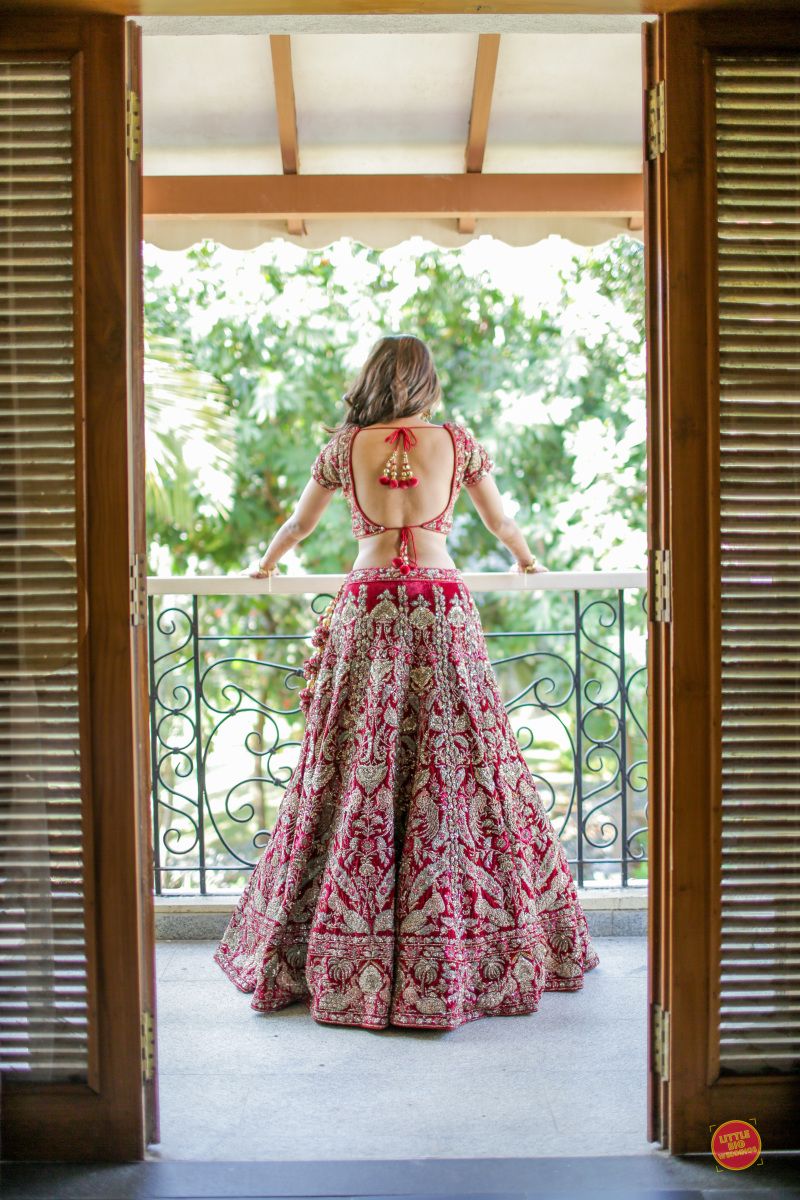 Image via Anushree Reddy★ 4.7   and Little Big Weddings★ 4.6
Rectangle Shape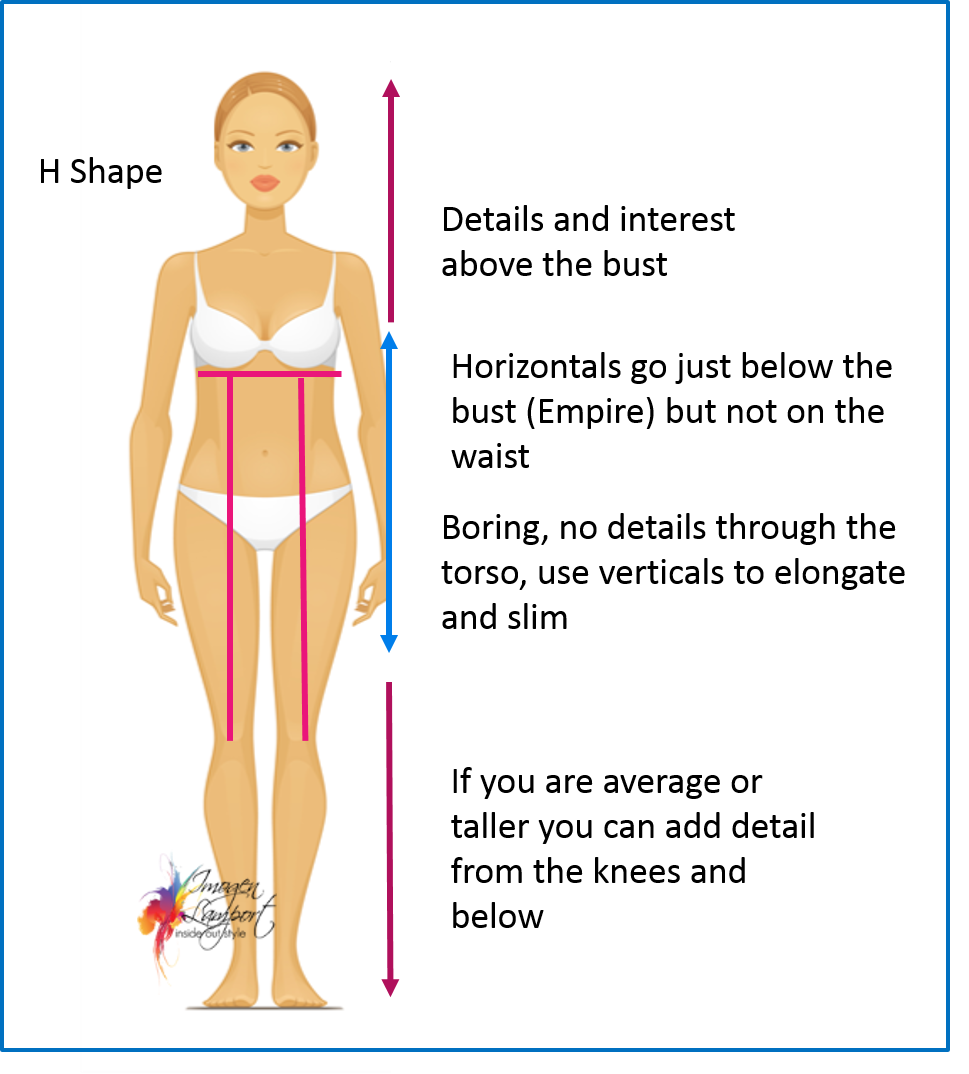 If you have a rectangular body, which is also called H shape, then you probably have an athletic and skinny frame without the curves. Then your lehenga needs to create those curves for you!
Lehenga skirt
Choose a wide, full skirt in a stiff fabric to add volume at the bottom. Raw Silk is perhaps the perfect fabric for you followed by net. You can add a lot of can-can to the lehenga to make it flare out a lot.
Lehenga Blouse
Pair your flared lehenga with a blouse that is low and plunging to create the illusion of curves.
Dupatta Drape
Since you might have broad shoulders, make sure the dupatta is not a stiff one which increases their width even further- take a flowy and soft dupatta to add some softness to the look. 
Here are some lehenga options that will look good on you!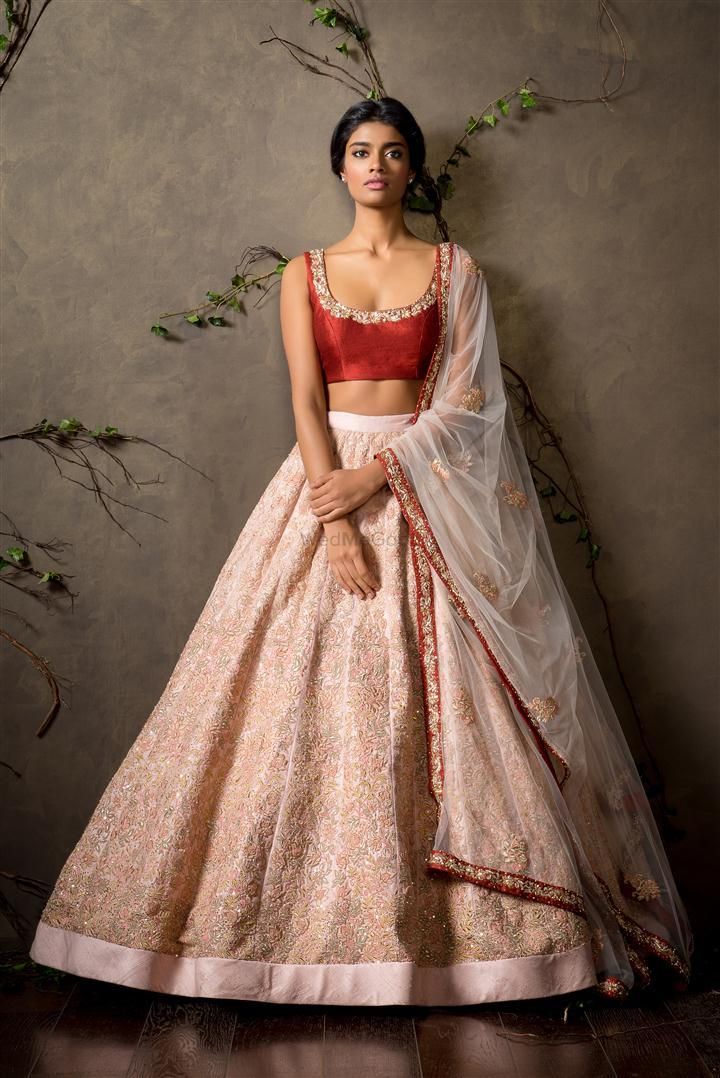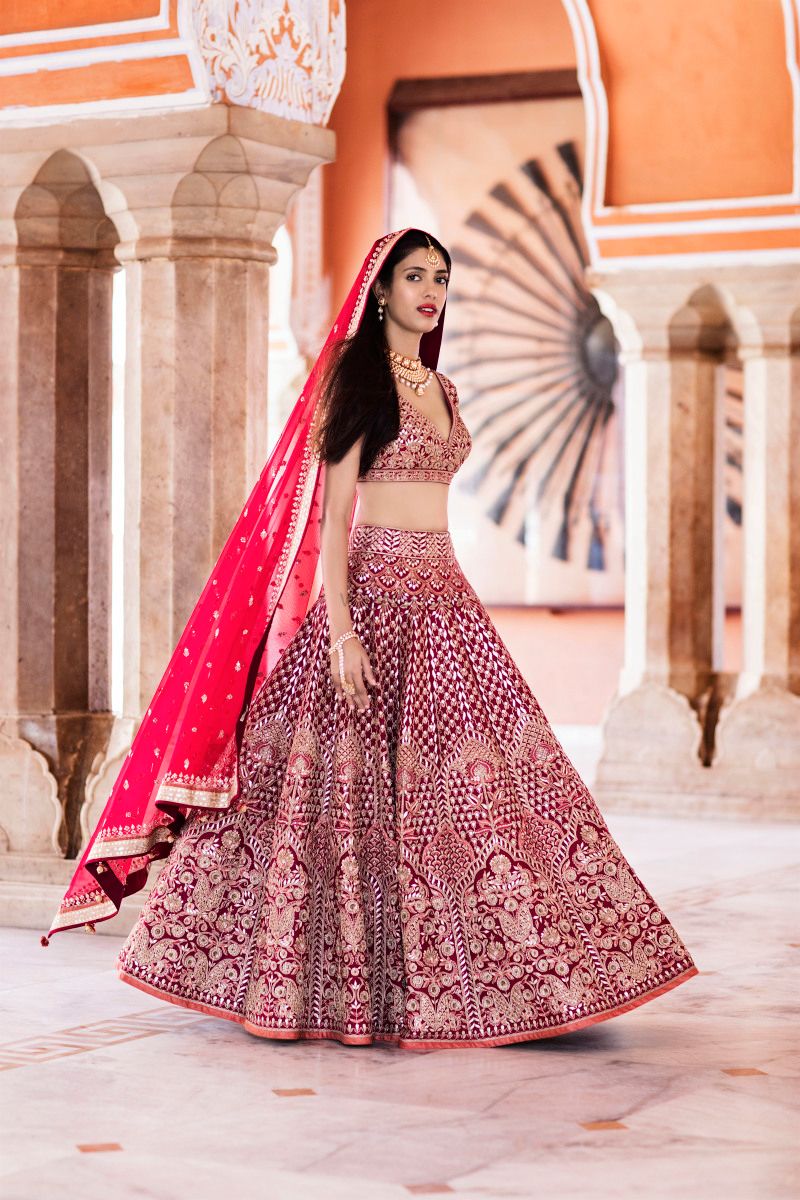 Image via Shyamal Bhumika★ 4.7  and Anita Dongre★ 4.9
Pear Shaped body or Bottom Heavy
You have what most people would refer to as an A shaped body- very narrow on top, probably with a relatively flat chest but heavy and curved hips and bottom, which is why you have to pay most attention to the bottom half of your body. 
Lehenga Skirt
Use horizontal details to balance out the shape of your hips and make it look proportional to your top half of the body. Your lehenga skirt should not have too much work, and stay away from fish-tailed ones or those that fit snugly. Something that's plain and flowy on the bottom should be good- do not get anything with too much flare as it might make your body look disproportionate. 
Lehenga Blouse
Your blouse should be the highlight of your look- something with a bit of padding and maybe with a deep neck is a good idea. This will help balance out the bottom half of your body. Cape lehengas, high-neck, off-shoulder or sleeveless blouses are a good option for you!
Lehenga Dupatta
A cape dupatta is good for you. Just make sure the dupatta does not end up flaring at the bottom to make it look even heavier.
Here are some lehenga options that will look good on you!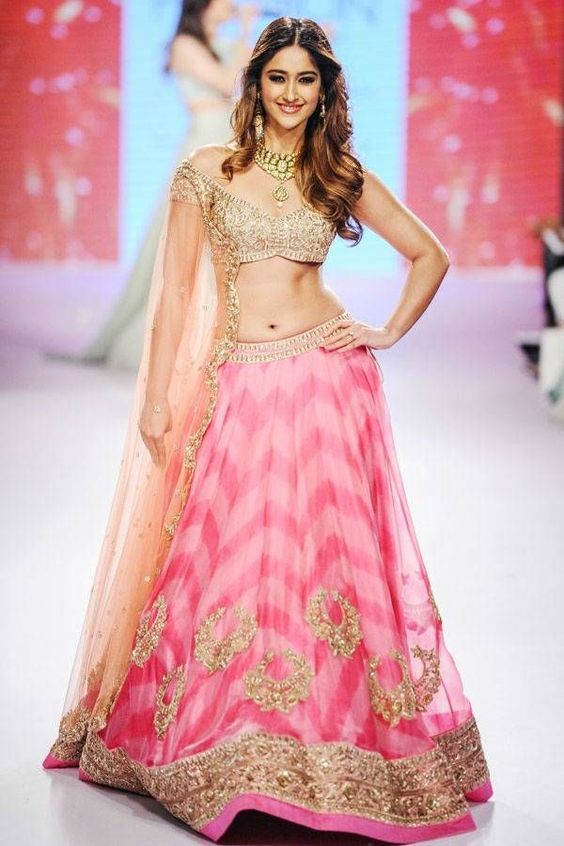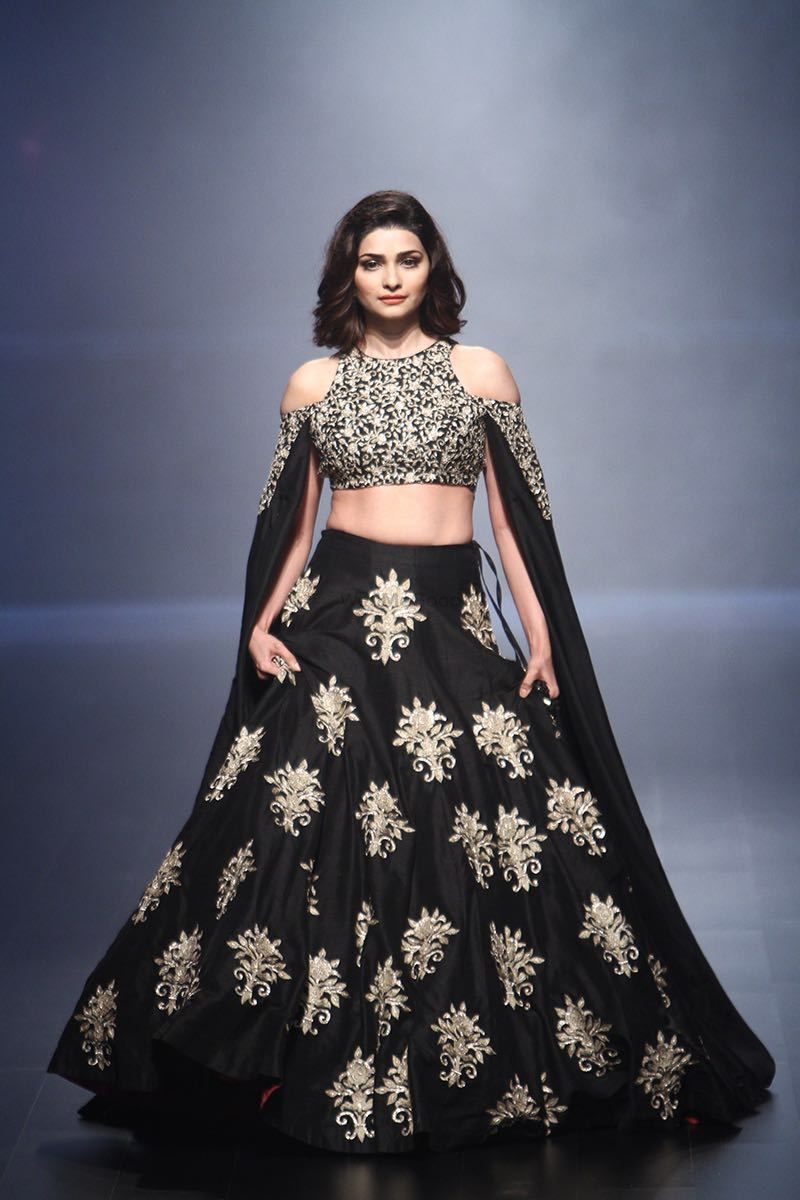 Apple Shaped or Top Heavy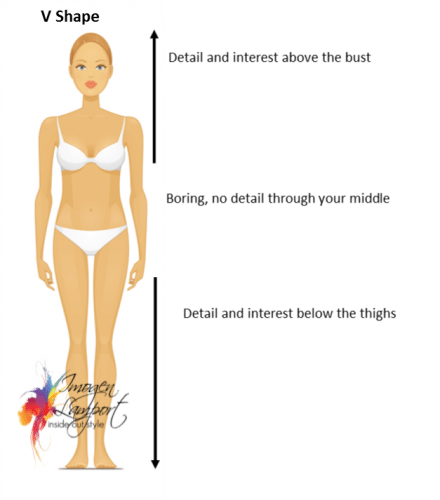 If most of your weight is at the top, then you might be an apple shape, V shape or inverted triangle. In any case, layering is your best friend!
Lehenga Skirt
Jacket lehengas are super in as well to time to cash in girl ! Choose soft, sheer fabrics to layer over each other and keep the neckline wide. Avoid fabrics like brocade or tissue which might give a flat look to your bottom. Pick something in a flowy material.
Lehenga Blouse
The more closed up a neckline looks, the wider a person looks at the top- so make sure the neckline is wide and open. You do not want to give the illusion of a heavier look on top. Avoid off shoulder, deep necks and sleeveless blouses. 
Lehenga Dupatta
The dupatta should not be wrapped around the neck or the bust- it will make you look heavier. Taking it around the elbows is a good idea!
Here are some lehenga options that will look good on you!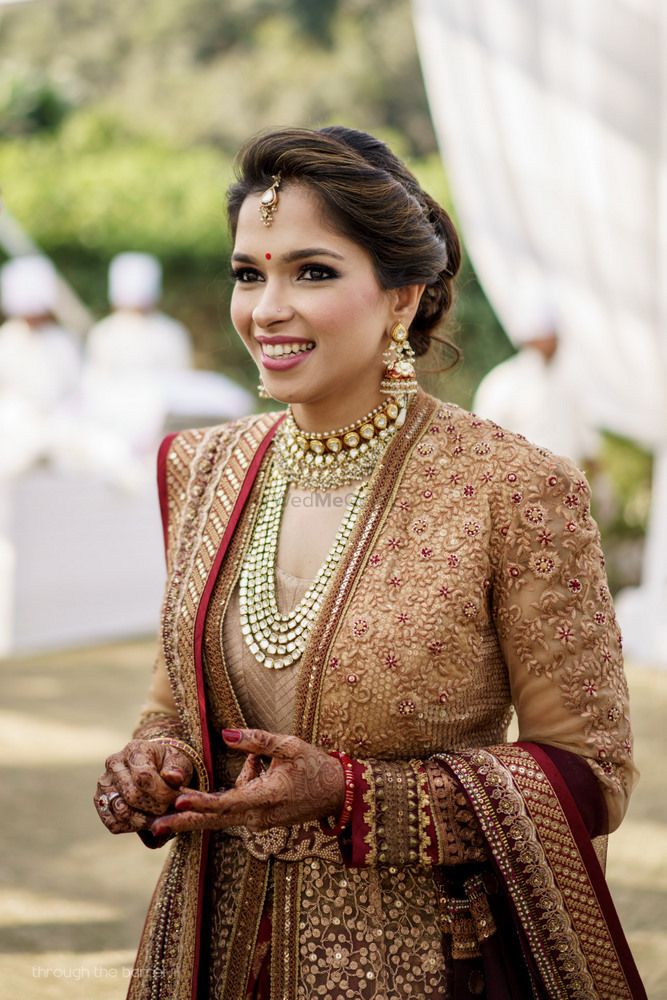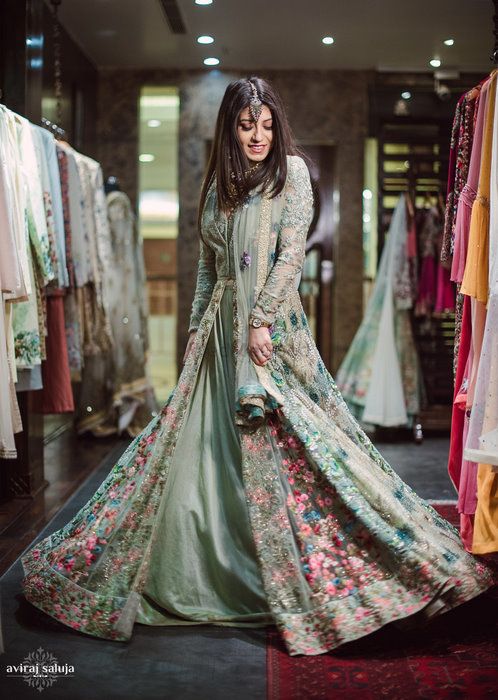 Image via Through the Barrel★ 4.6  and Varun Bahl★ 4.9
O Shaped Body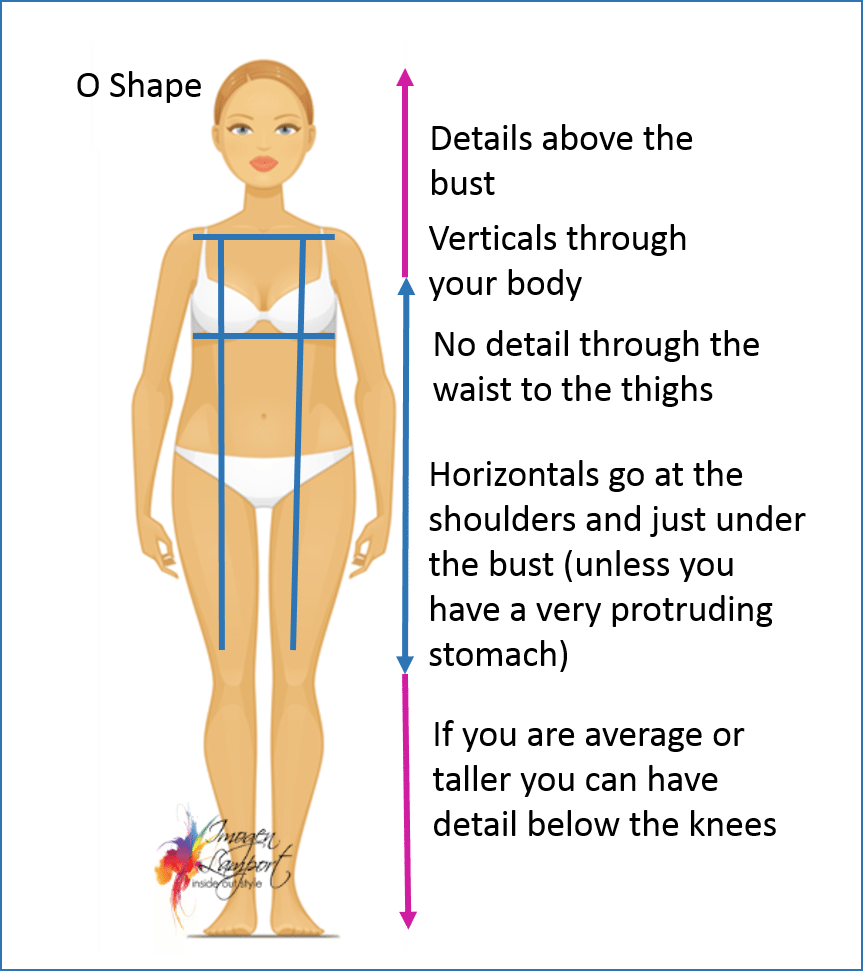 If your weight is mostly evenly distributed, and specially your problem area is around your waist and tummy. You might have a slim face and legs, but the centre part of your body might be chubby.
Lehenga Skirt
'Sharara cut lehengas' are your best friend. A longer top til the hip paired with a fluid fabric lehenga looks absolutely fab. Even if you want to go with a shorter top- experiment with sharara cut lehengas- these are lehengas with a frill at the bottom and give the look and flow of a sharara! Alternatively, a high-waisted lehenga will also work well for you!
Lehenga Blouse 
Lehenga blouses that do not show your tummy are a good idea, as are those that just show a little peek of the area just below your bust, which is the narrowest part of your body. 
Lehenga Dupatta
You can use the dupatta to cover up any body part you want- right from the bust to the tummy area if you are conscious of any of them. 
Here are some lehenga options that will look good on you!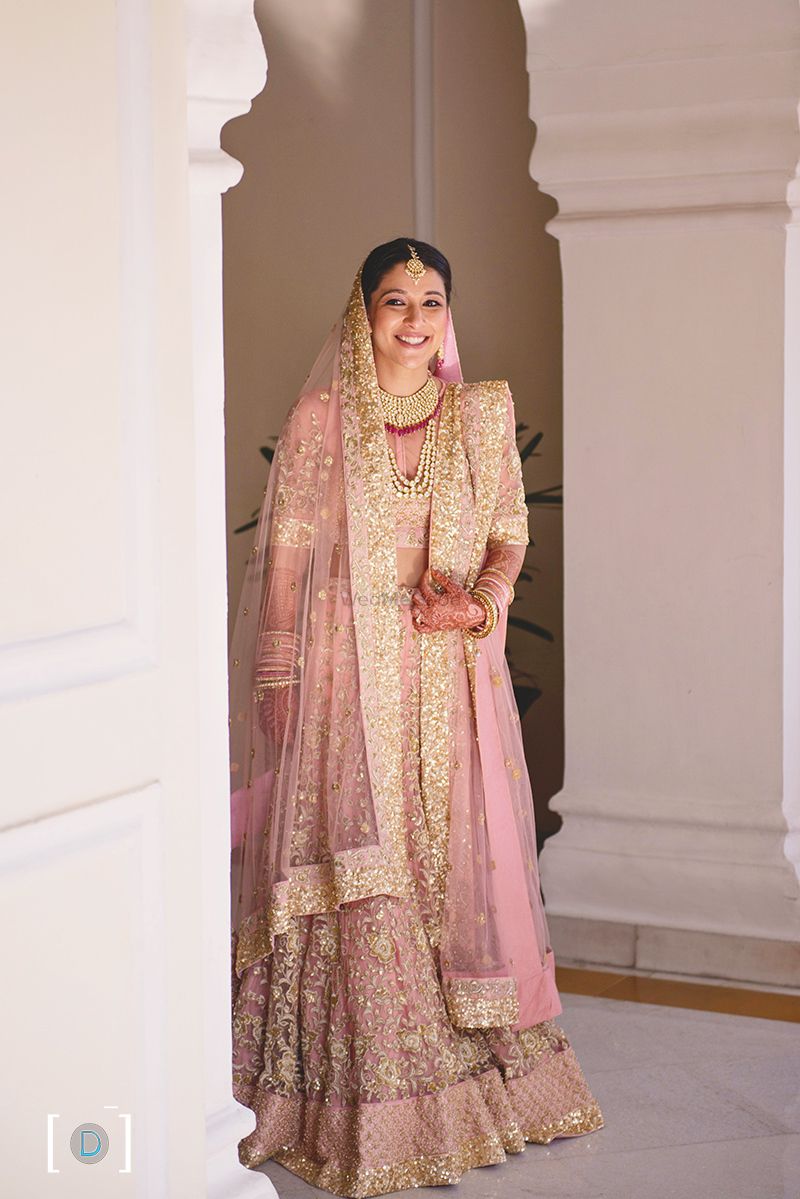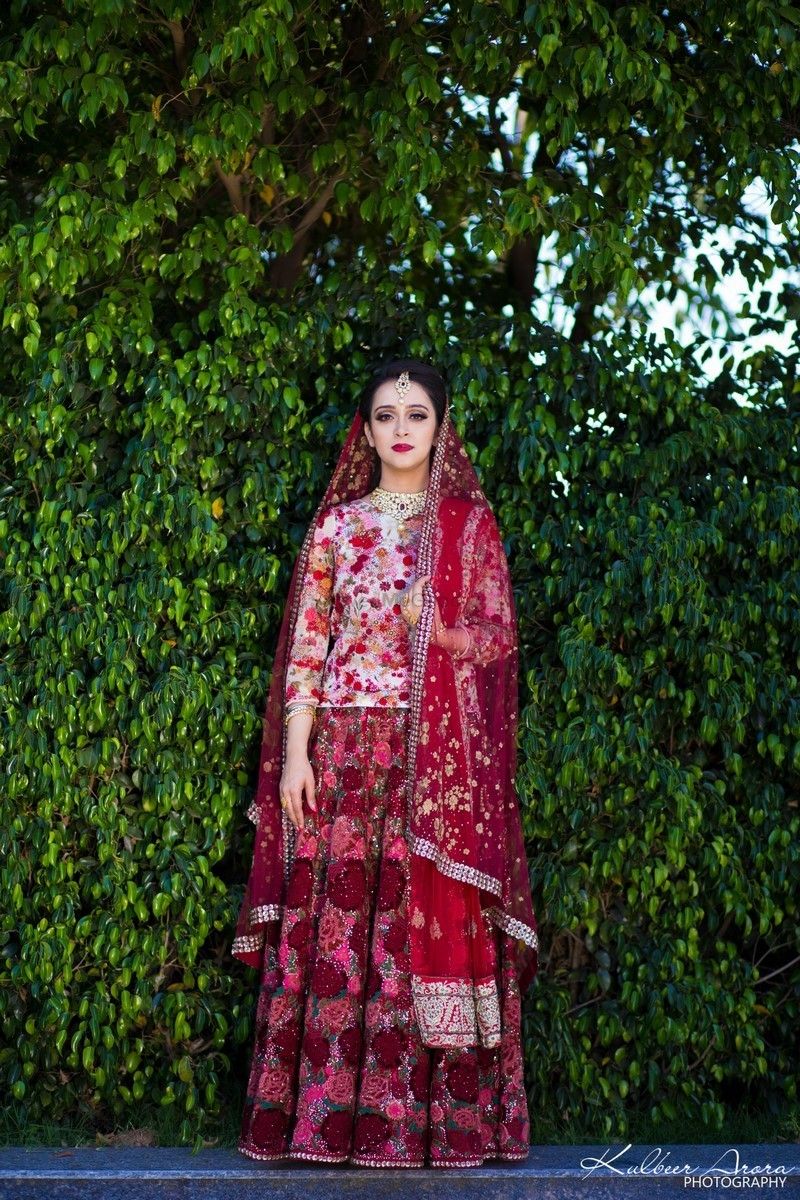 Image via Dhanika Choksi Photography★ 4.9  and Kulbeer Arora Photography
Here is a helpful Infographic for you guys to pin: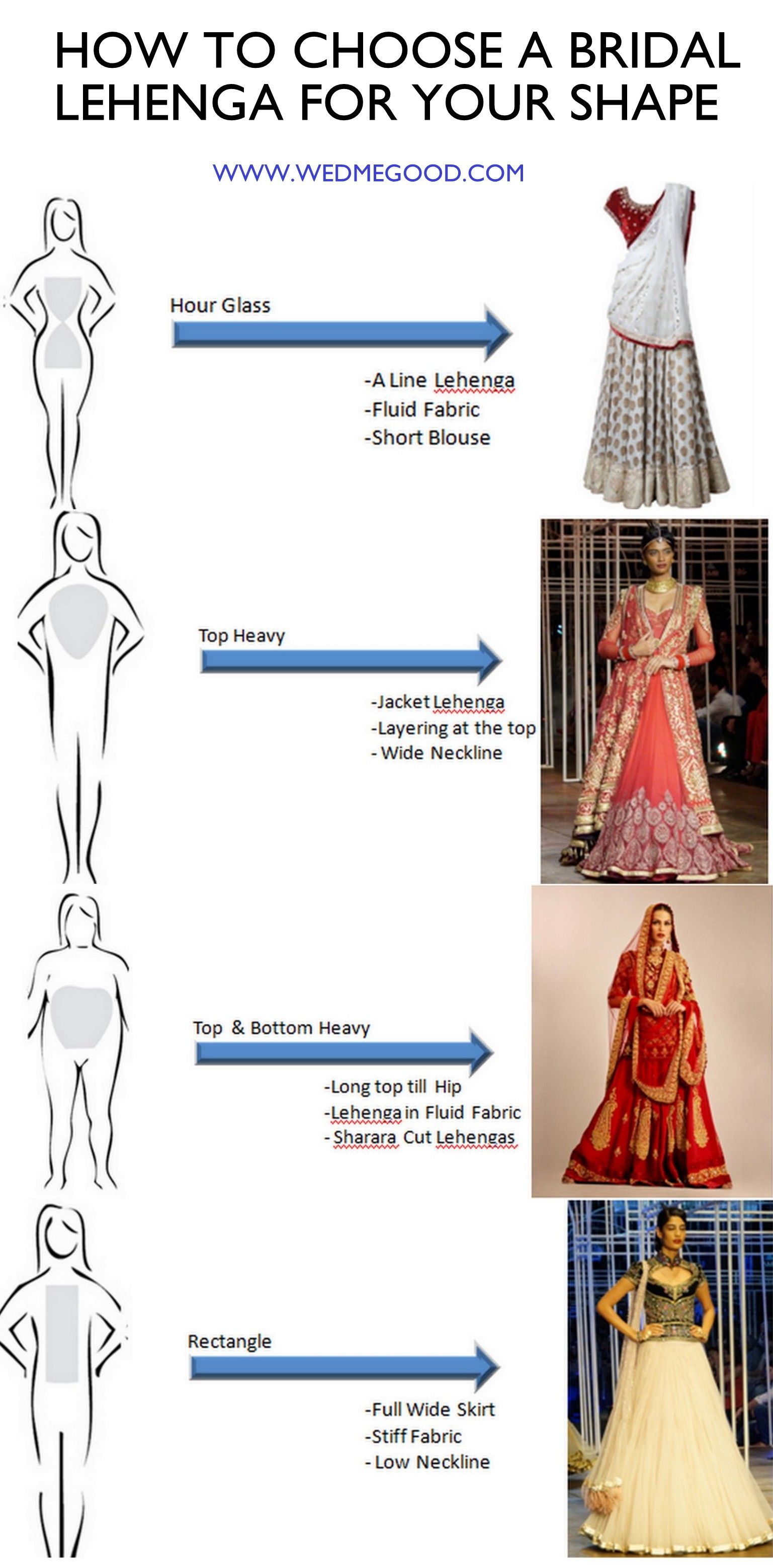 All body shape images via www.insideoutstyleblog.com
ALSO READ: What Curvy Brides Should Know Before Getting Their Wedding Lehenga and Heavier On The Bust Or Shoulders Looking Broad? We Found The Perfect Wedding Blouse For Every Body Type!
Stay updated with the latest wedding trends, Download the WedMeGood app now.