How To Design Your Lehenga In Under 50K! *Tips, Tricks & Other Ideas
BY Latha Sunadh | 03 Apr, 2017 | 13721 views | 4 min read
Yes, it's possible. Our advice: Stack up your cash and cards for your wedding lehenga and jewellery but DIY your Mehendi lehenga to awesomeness. Don't know where to start, here are a few ideas that can help you create the lehenga of your dreams in under 50K. So chin up and take notes, coz we have some really interesting ideas that will kick any designer lehenga right out of the park.
Drama with fabrics: Chevron & Ombre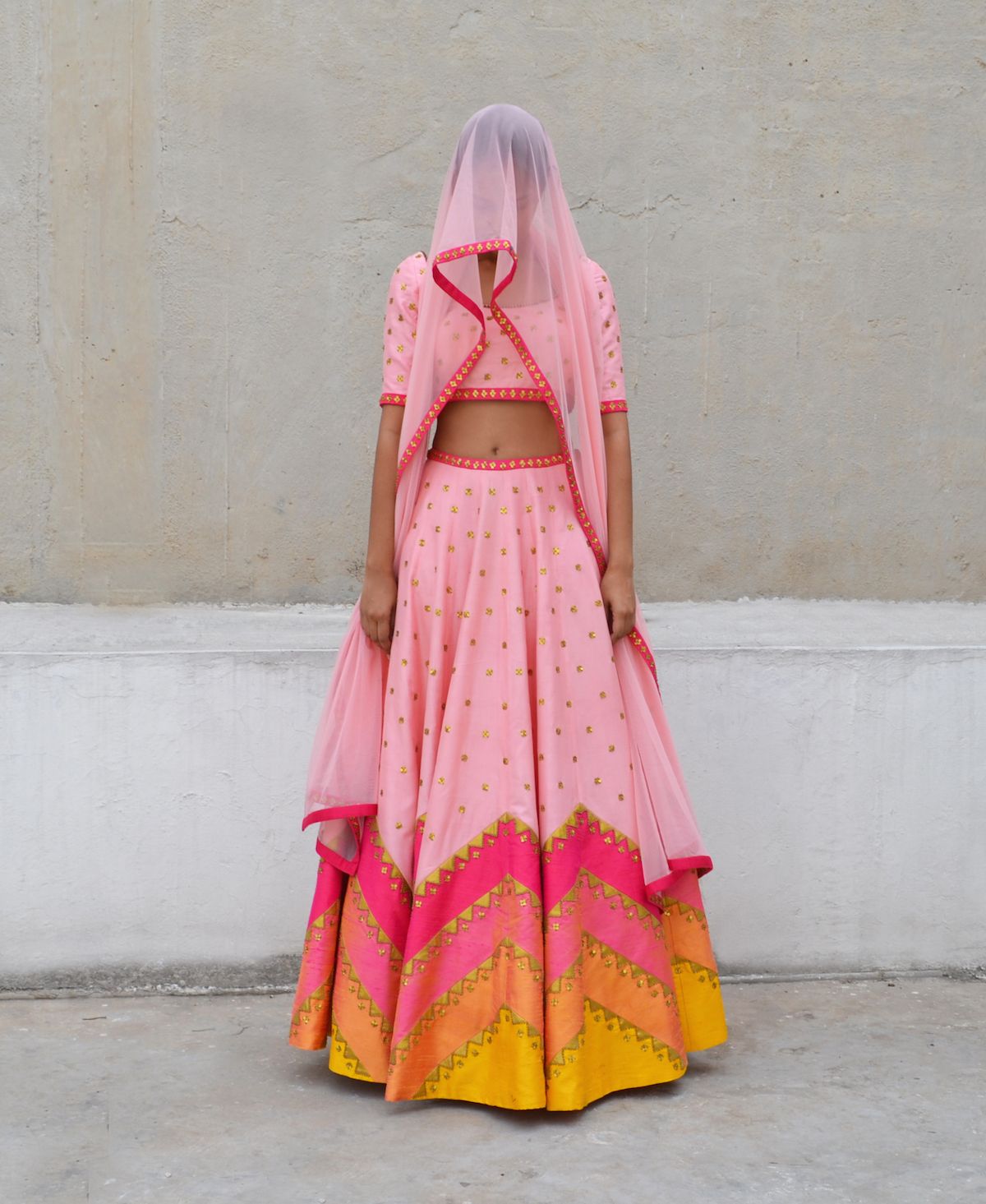 Pic via Mrunalini Rao★ 4.9 ; Priyal Prakash House of Design★ 5
Lately, chevron and ombre have been used as great design elements to stay off heavy zardosi and embroideries. Thanks new-age designers. So with styles in tandem with Priyal Prakash and Mrinalini Rao who loves ombre, you can dip dye or add layers with new colours of the same fabric to create a border of sorts.
There's not a thumb rule that your lehenga needs to be just one fabric. So do it this way - pick an expensive fabric like georgette or chiffon for the lehenga, it comes to 180 - 200 bucks a metre and pick silk or Benarasi for your blouse at Rs 600 - 1200 a metre. That way, you know you can mix and match to make it wallet-friendly. The swishy faux Benarasi in chiffon is available for Rs 370 a metre and you can mix that with a real Benarasi blouse. You need not compromise on everything, just make sure one item of your clothing is made of expensive fabric. Add lace or satin in places to reduce the heaviness.
Say goodbye to borders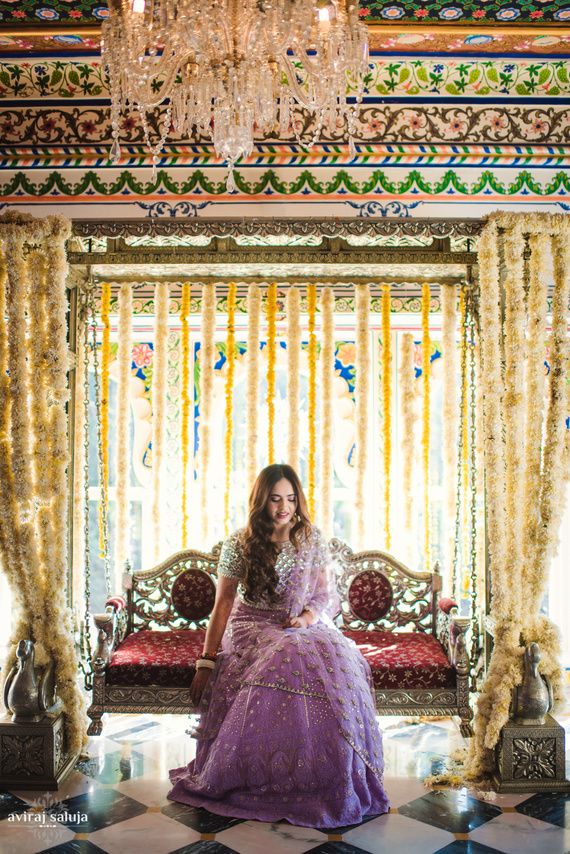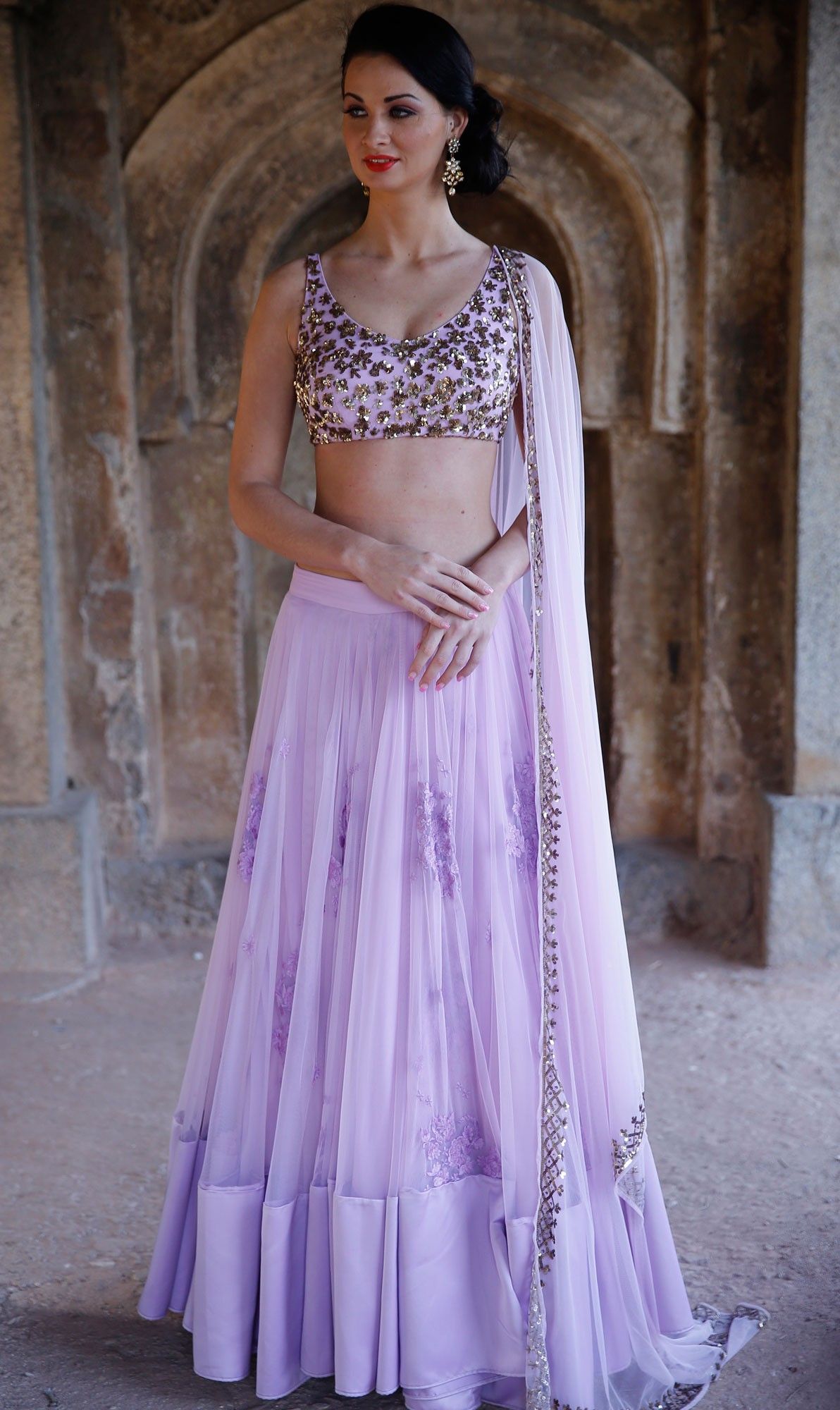 Label:Monisha Jaising★ 4.9 ; Astha Narang★ 4.1
We are seeing a new trend these days where brides are doing away with borders. And concentrating more on a dupatta or the blouse. Now, that really makes sense because borders cost big time. Either you go with a fluffy skirt or a small border created with another fabric like satin or Benarasi.
Look at fabrics that are cheaper but look luxe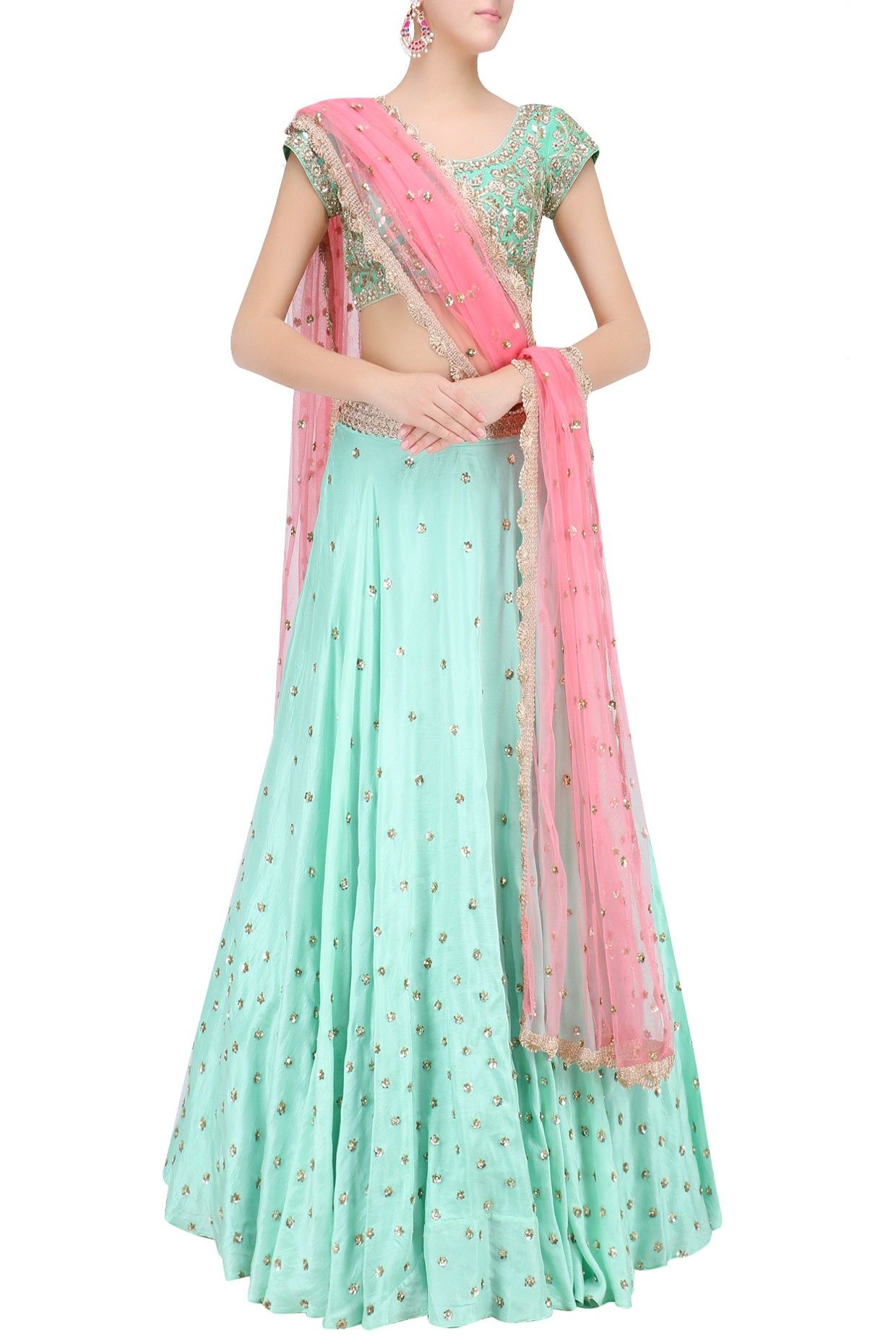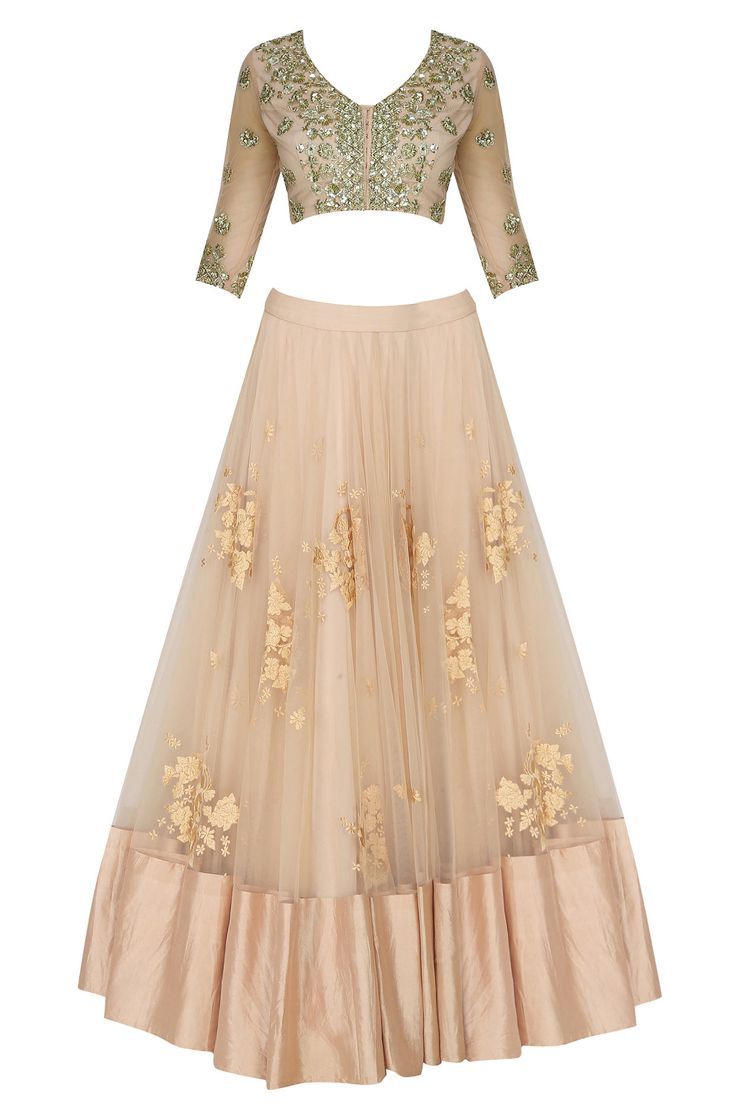 Pic via Mrunalini Rao★ 4.9 ; Astha Narang★ 4.1
Chanderi, satin, chiffon, georgette are all great fabrics that come on a budget. Pure Benarasi or raw silk are a tad expensive. So choose accordingly. Silky floral fabrics are in so go to your tailor with a kick-ass off-shoulder design and let him make it for you. No fuss, no muss.
Know your embroideries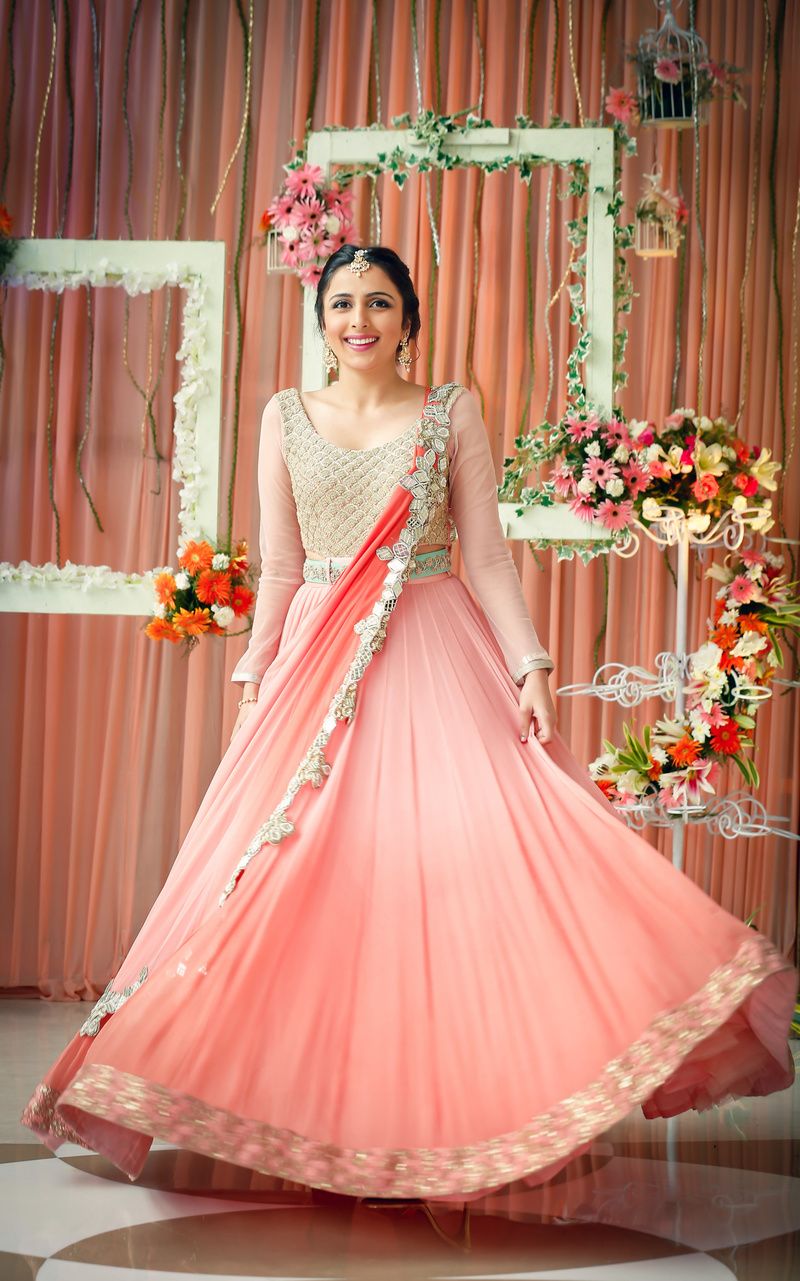 Ayinat by Taniya o Conner★ 4.9 ; Dipak Studios★ 4.8
Sequin embroidery and zardosi are expensive. Instead go for just interesting prints that can do away with embroideries as a whole. You can embroider parts of the fabric in thread to give it a 3D effect. Or you can add beads at strategic places. Gota work and gold foil prints are cheaper but give the look of a luxe option. Use them tastefully.
Space your design out for maximum impact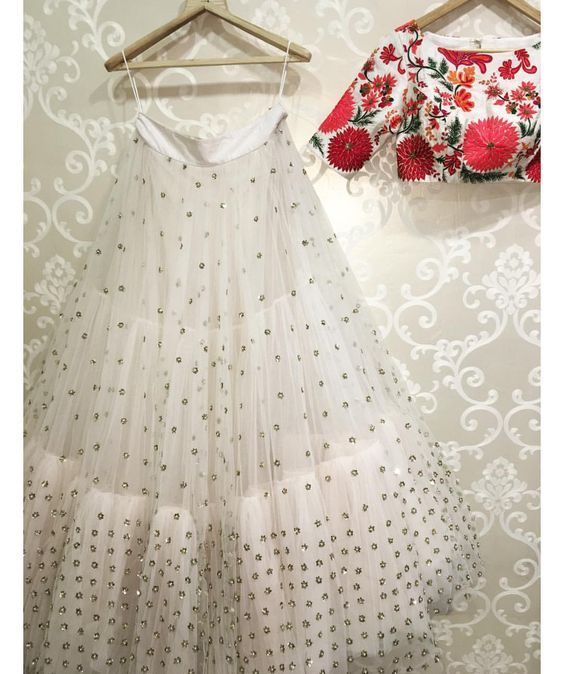 Pic via Mrunalini Rao★ 4.9
Bhuttis are better than bold embroideries, so aim for those.Or go with simple zardosi dots or flowers, just teeny tiny ones so your costs stay down.
Colours do the job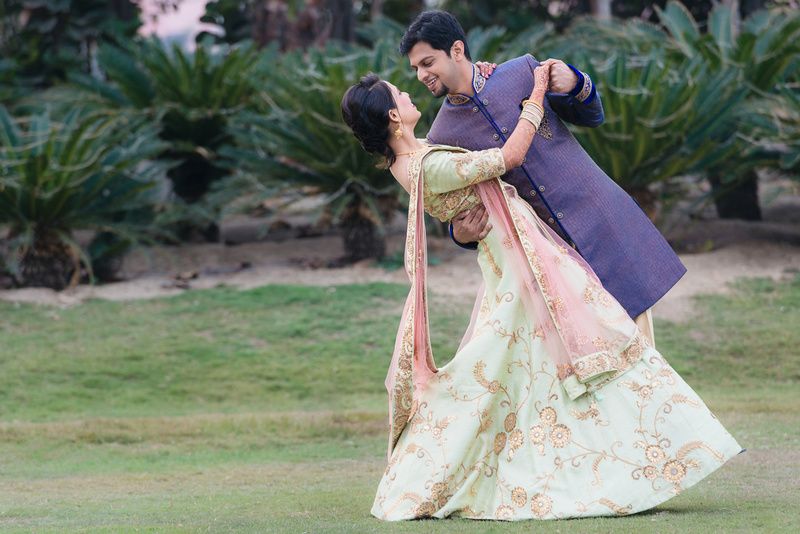 Photo by: Rohan Mishra Photography 
Sometimes it's about the colours and not the outfit. Operate with new hues like lilac, mint or even dusky rose so you look fabulous in less embroideries. Pastels are a great way to stay luxe without adding too much to it. On the other hand, a bright red or blue might look odd with nothing on it.
Invest in a blouse, keep your lehenga simple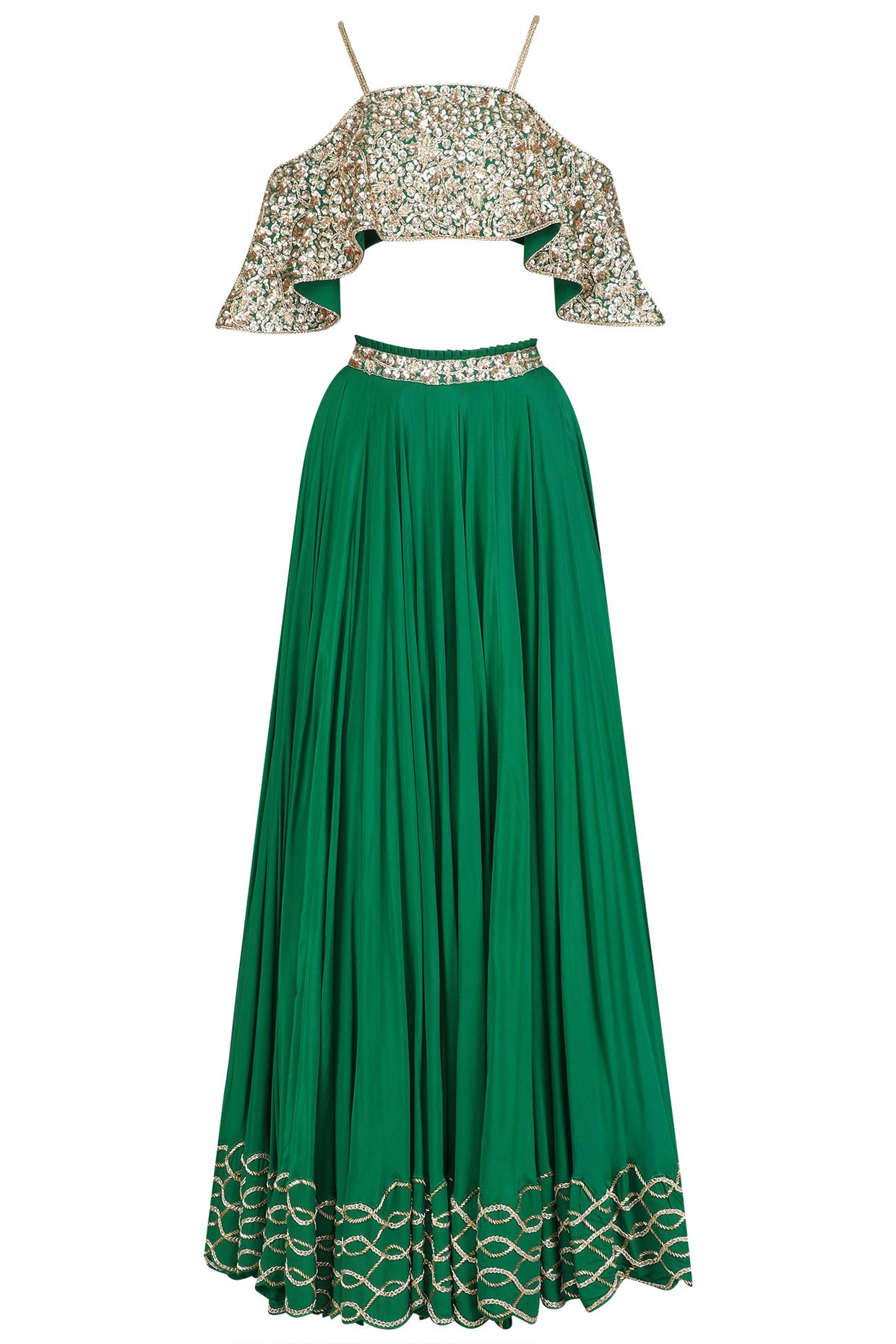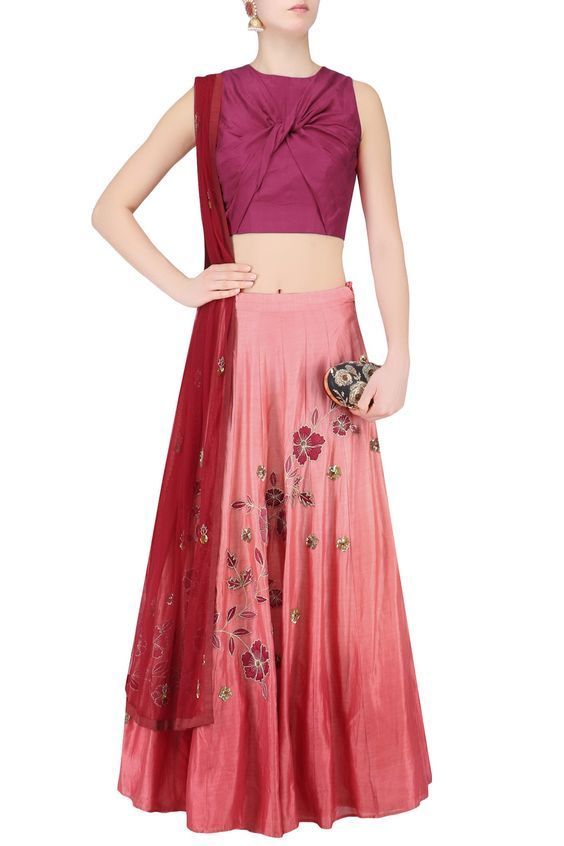 Pic via Mahima Mahajan★ 3.9 ; Anshika Jaipur
Plain lehengas in the fabrics you like are big now. So divert your monies into the blouse - opt for a plush fabric, get zardosi work done and keep it heavy in under 20K. We know a bride who even rocked a white shirt with a fab lehenga to balance out the look.
Make one item stand out, Invest in a designer piece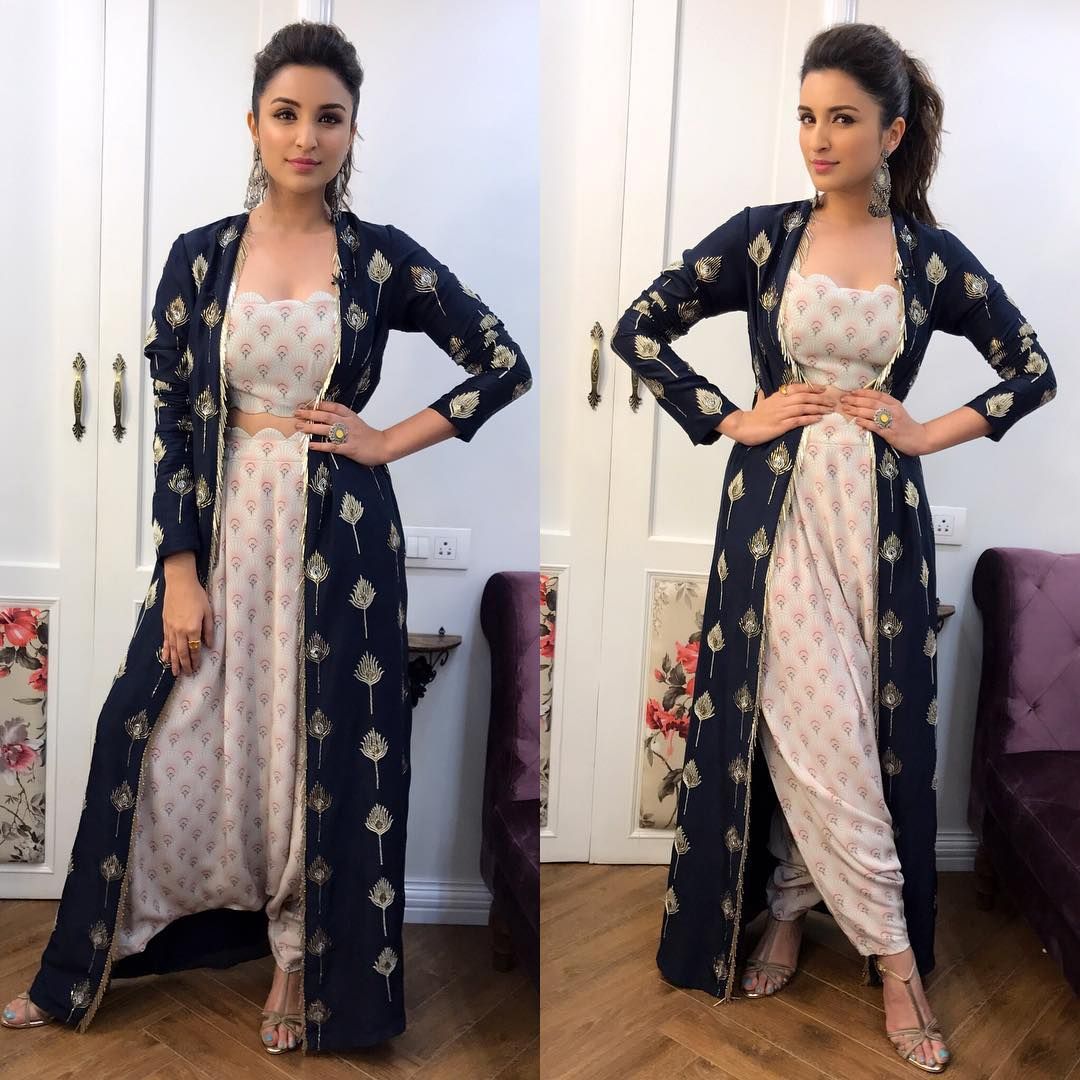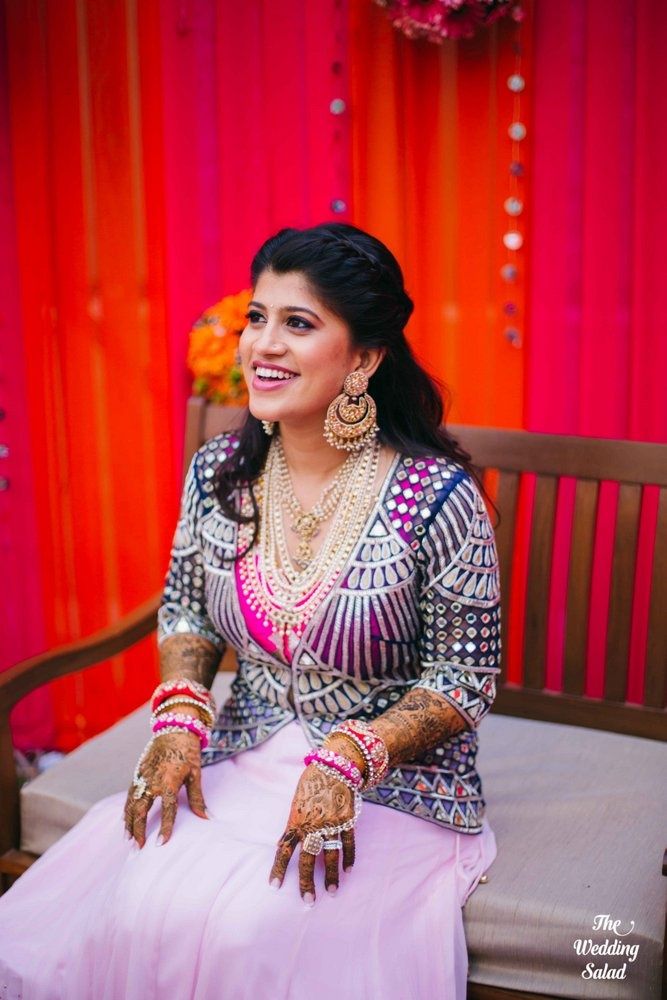 Pic via Payal Singhal★ 4.8 ; Arpita Mehta
We loved how this bride just invested in a nice luxe jacket and kept the rest of her outfit simple. The jacket is an Arpita Mehta and it gave the outfit the much-needed push. Same with the Payal Singhal outfit on Parineeti, the jacket adds all the drama. Get it under 25 K.
Skirt and top: nothing more!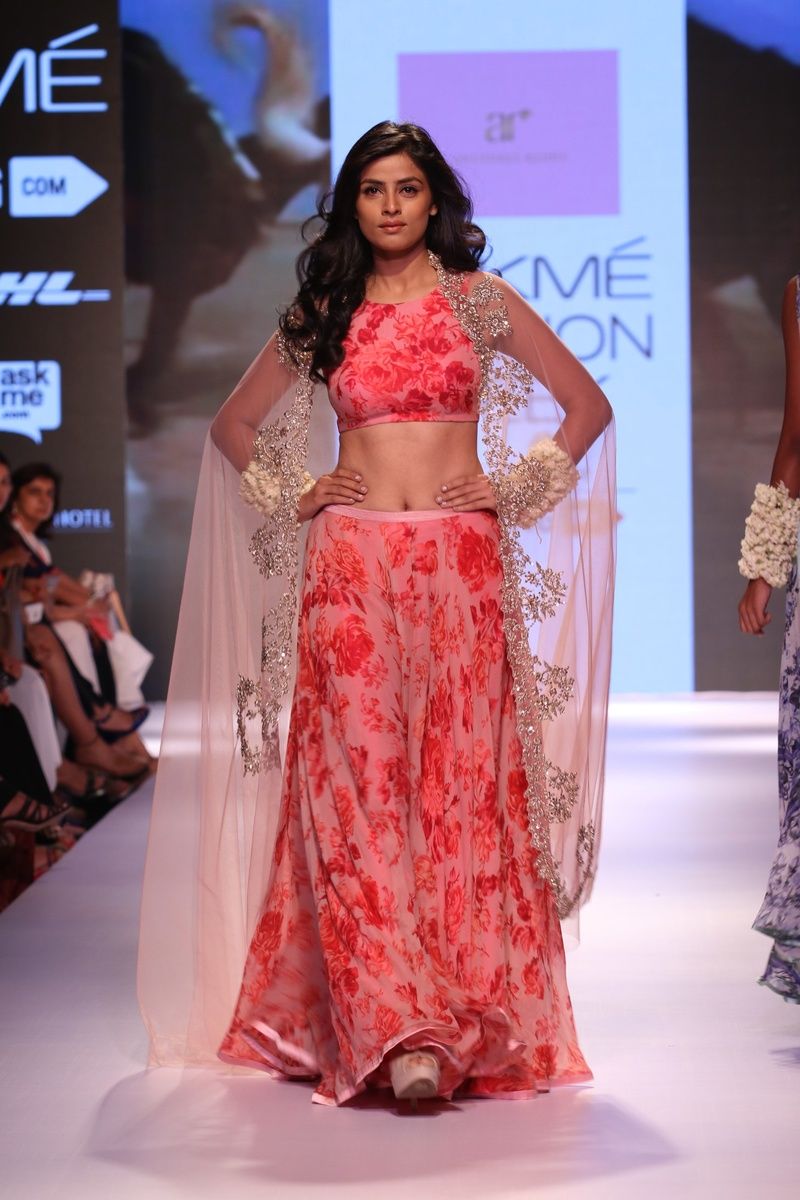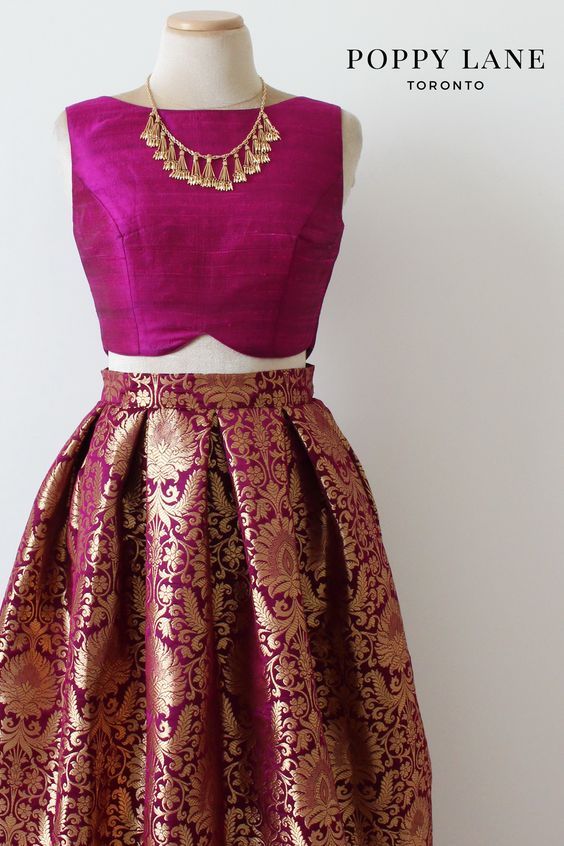 Anushree Reddy★ 4.8 ; Poppylane via Pinterest 
So if you're a simple bride, this trick will work wonders. Just get a beautiful Benarasi fabric and get a simple skirt made. The blouse can be plain or go to zara and pick up their most luxe, most fun top. Tada!!!!