How To Have More Energy At Your Wedding! #InstantEnergyFixers
BY Sakshi | 09 Mar, 2018 | 882 views | 6 min read
All that preening and posing needs a lot of energy! You might be taking very good care of yourself in the run up to the wedding, keeping yourself hydrated and giving your body some much-needed TLC. But as you get closer to the wedding day, you will realise that your energy levels are dipping- you might be running on auto-pilot mode thanks to sheer adrenaline and excitement, but that would come at the cost of being (or worse, looking) exhausted! The run-up to the wedding- the planning, the travelling, the Engagement, the Mehendi, the Cocktail or Sangeet can really take a toll on your mental and physical energy (excessive smiling can become painful too :P), so here are some quick ways to keep that from happening, or rejuvenating yourself just in time!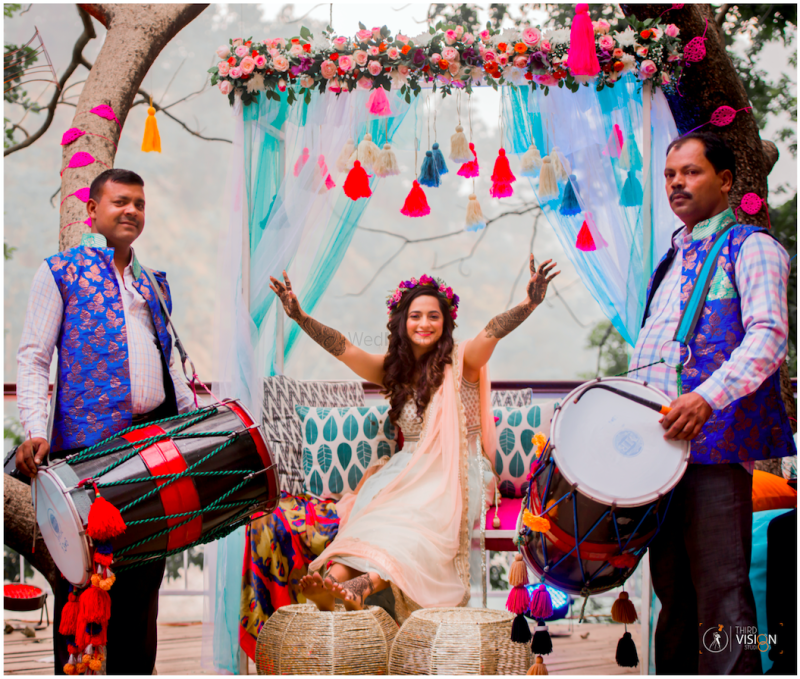 Image via The Wedding Planning Company
Delegate, delegate, delegate!
If you have a planner at the wedding, this might not be required, but if you have planned the wedding yourself, then realise that the bulk of the work is over and now someone else can do the running around and calling on your behalf. Delegate the work to a sibling or a friend- if they have been involved from the start of the planning process, even better! 
Make a power-packed playlist to make you all energised
A motivation or workout playlist just for you which puts you in a happy mood! Apple music has a great workout playlist- try it- might just be your jam!
Keep a track on your period
Don't forget all about it in the run up to the wedding- keep a track on it before, and speak to your gynac for options to delay them in case the dates clash. Also remember, stress can shift the period a couple of days here and there, so it might come knocking early! PMS time would also be a bad time to have your wedding since it can feel very irritable and energy less! 
Keep a cute sipper handy and keep sipping
Get your own cute bridal sipper and keep on sipping water- dehydration can make you tired and take a toll on your energy levels too, and if you have your own, then its unlikely you ll misplace it or others will drink from it. Get one with a straw which will make it easier to have water without ruining your lipstick. Drink a spinach and coconut water smoothie for an instant pick-me-up!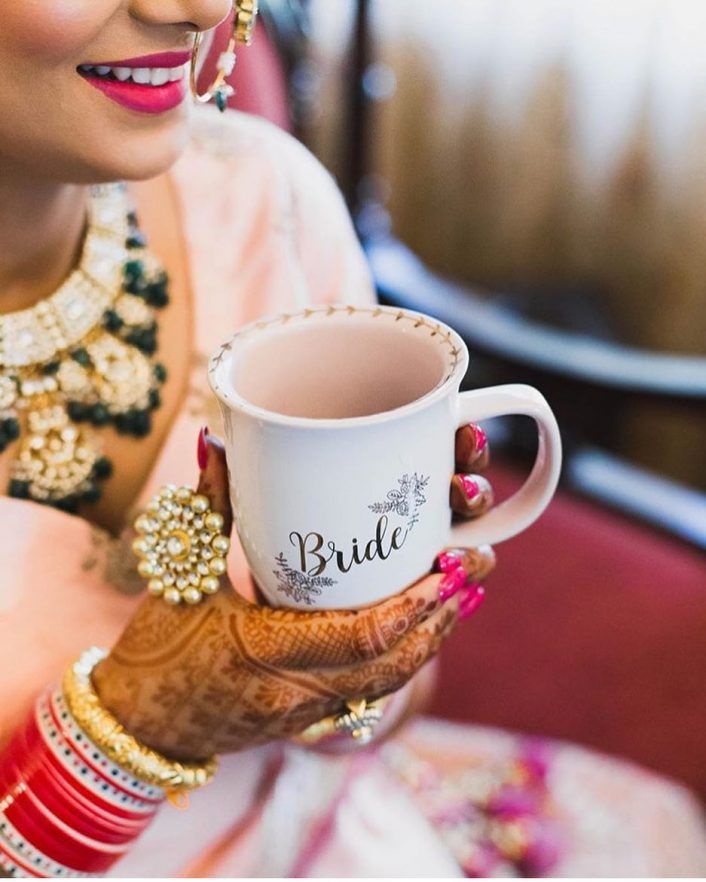 Image via Harleen Deol Photography★ 5
Try to avoid alcohol and caffeine
Stay away from alcohol and caffeine too, no matter how tempting it is! If you do have to have coffee, consider a black coffee+ice combo! Tastes yum and can really recharge you! Otherwise green tea and white tea are both known to boost your energy.
Do some calming Yoga poses or meditate
Yoga is good for the body and the mind, and some stress-easing poses or even deep breathing can be very helpful! Download the best Yoga app currently- Yogaglo
Eat a hearty breakfast and try not to skip meals
On the morning of your wedding, consume a combination of carbohydrates and protein, which will keep you energised well. The carbs will provide the initial burst of energy you need to get going, and the protein will keep you feeling full. 
Carry some snacks with you the whole time
You know, when you're getting your hair done, or just relaxing in your room. Keep some trail mix or granola bars for a boost of energy, or a banana which can get rid of hunger pangs. Make sure to not keep anything that'll get stuck in your teeth or with too much salt or sugar.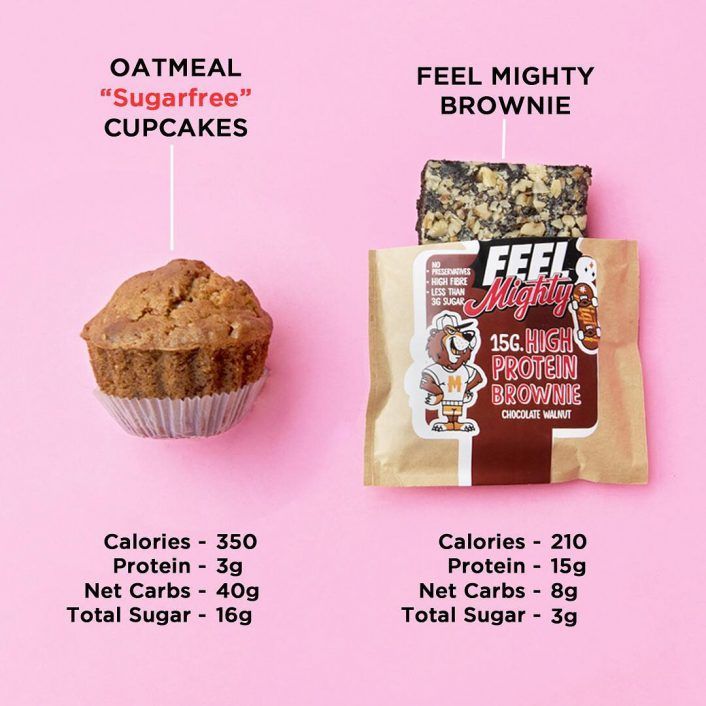 Image via @feel_mighty
Keep some healthy energising foods handy too
Healthy snacks which are energy packed! Get yourself a yogabar or protein brownies from Feel Mighty- they come with the perfect macros! You could also drink a shot of wheatgrass or depend on the old almonds and walnuts or even dates for some vitamin goodness!
Learn to let go and settle for things
We don't mean the groom!!! We mean other things like the decor and all- you might have imagined the decor to look a certain way- but if doesn't look EXACTLY like what you imagined, but a close second or maybe something a bit different, let it slide- don't let them get to you and ruin your mood or waste your energy over it. 
Hang out with positive people
You know that aunt who will for sure pick out faults with everything, or that frenemy who has always been jealous of you? Keep such people away and hang out with only positive people around the wedding time- you will be much happier and hassle-free! Stay away from negative people and negativity as much as you can!
Play or hang with someone or something little and cute
Babies are the best! If you have a cute niece or nephew, spend some time with them (and get some cute photos)! They can really put a smile on that hassled pretty face of yours! If you have a pet, get it to the wedding! Yes, pets help in destressing too!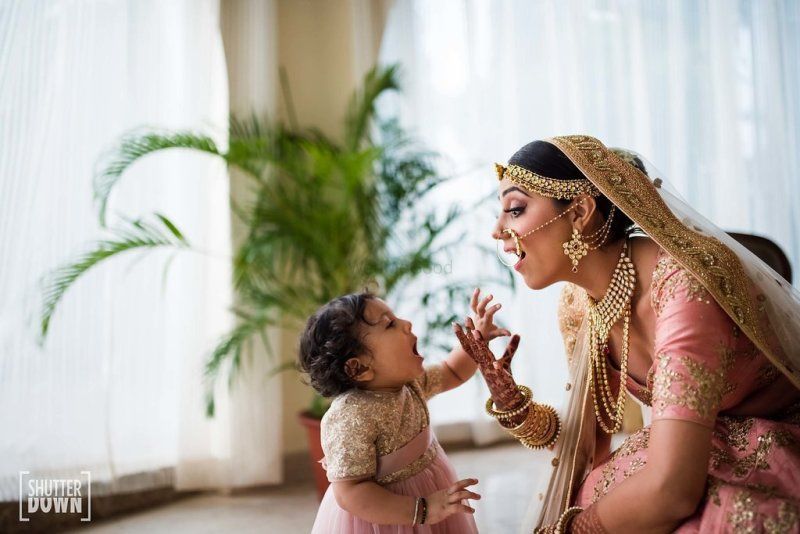 Image via Nikisha & Shyam (Goa)
Get a massage, take a relaxing bath... or a cold shower!
This can work very well- trust us! If you can book a massage, or get one in your room it's highly recommended! You can even draw a relaxing bridal bath and let go of the stress- works wonders! Also, we hear cold showers work really well- Researchers claim a three-minute long cold shower could be enough to counteract some of the effects of chronic fatigue!
Invigorate your senses
Smell good things- even if you can't manage a luxurious candle, just smell a lemon or some lemon essential oil- is said to work wonders for stress! Also we hear seeing the colour red helps- it is associated with winning and self-confidence, and seeing or wearing them helps one feel more awake!
Take 5 minute power naps & get a good night's sleep!
Power naps can really help in recharging you! Just shut your eyes and get some rest whenever you can! Also, as fun as your wedding might be, its usually a very long and tiring day, so you need to make sure you're getting proper rest! Try going to bed early the night before and don't let anxiety get the better of you! 
ALSO READ: Stressed Before The Wedding? Here's What Every Bride Needs To Do To Get Her Mind Off The Madness!