How To Plan & Execute A Pre Wedding Shoot At Home!
BY Sakshi | 10 Apr, 2018 | 5626 views | 4 min read
While you always have the option of having a theme pre wedding shoot- one that is all setup like you guys are models from a glossy, or travel to an exotic location to get some gorgeous shots, but we are quite loving simple pre wedding shoots these days! Yup, ditching the picturesque locales and glam outfits- pre weddings that are just about pure chemistry- showing off your love in the simplest of settings! Yep, home is where the heart is, and home is also where you guys can pull off an amazing pre wedding shoot too- here are some ideas that are amazing and do not cost a bomb!
Make use of every room in the house, even the kitchen!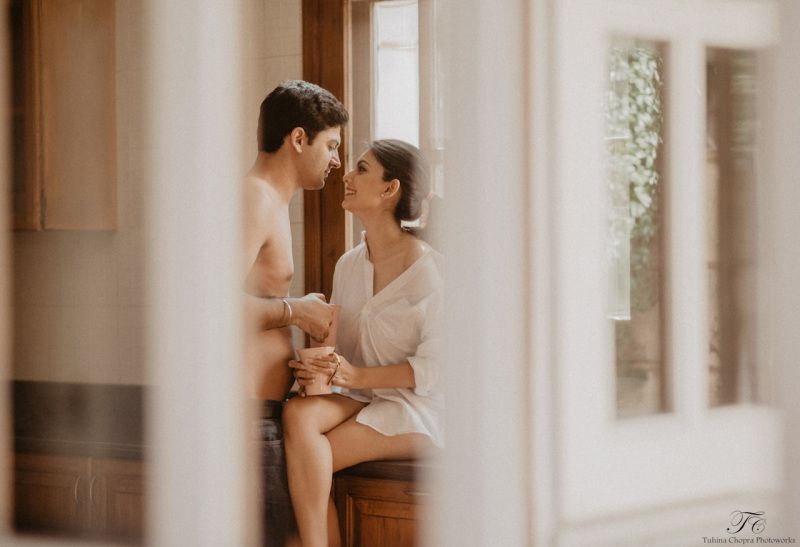 Image via Tuhina Chopra Photoworks
From the kitchen to even the bathroom (if you want things to get a bit saucy) make use of possibly every room in the house to add more variety to your photos so they do not end up looking limited in terms of venue- come up with cute little ideas to add as much variety as possible!
Keep the clothing casual, but give it some thought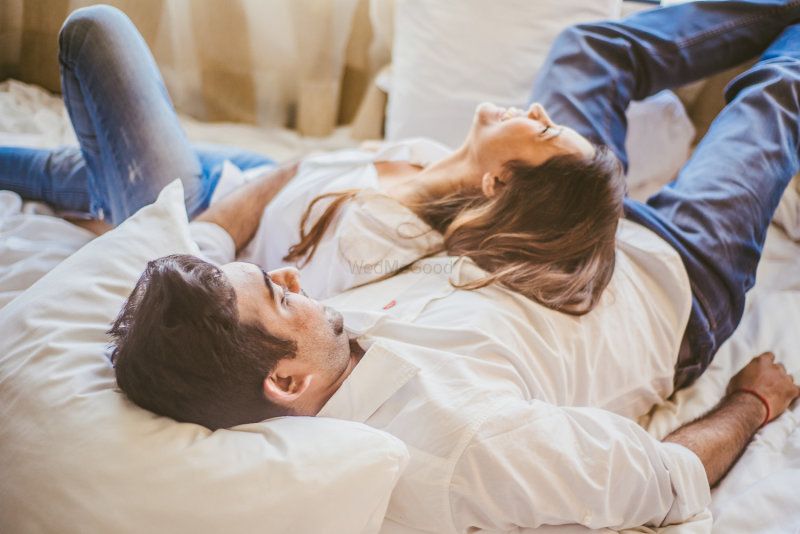 Image via YOU by Poonam Kotecha
The clothing has to be casual and very relaxed- no roams around in a gown at home, but put some effort and thought into it- you can wear something matching like white shirts and jeans, cute shorts, pyjamas- we have noticed that some similar element in the clothing makes the photos look cuter!
Add some cute little decor pieces which do not distract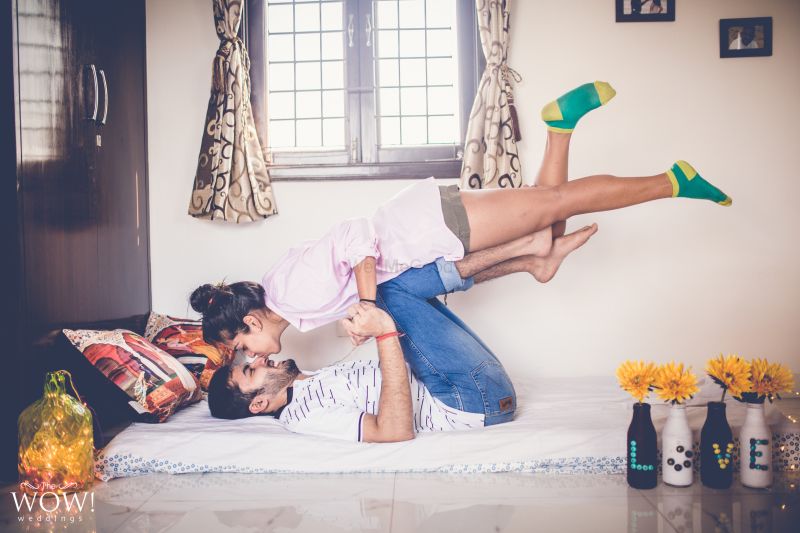 Image via The Wow Weddings
Some cute little decor things- like the DIY beaded bottles and cute cushions can add so much more personality to your shoot- but make sure they aren't overpowering- YOU are what should be the main thing to focus on in the photos!
Hold some simple props from your own routine and home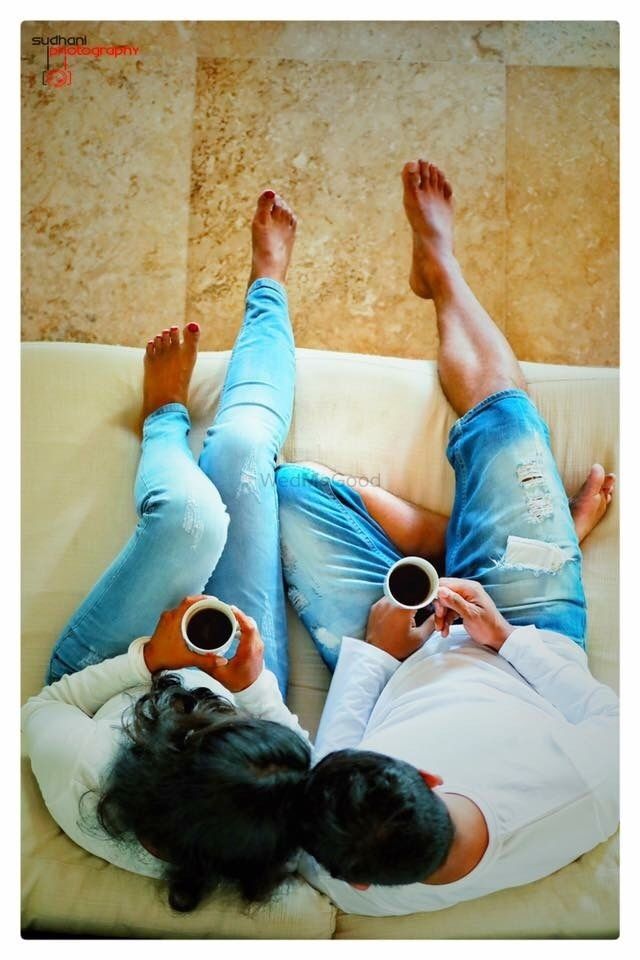 Image via Sudhani Photography
Simple props like holding coffee mugs or books works as well- makes it all look more natural and makes you guys look like you're in the zone!
Fairy lights can add a lot of magic!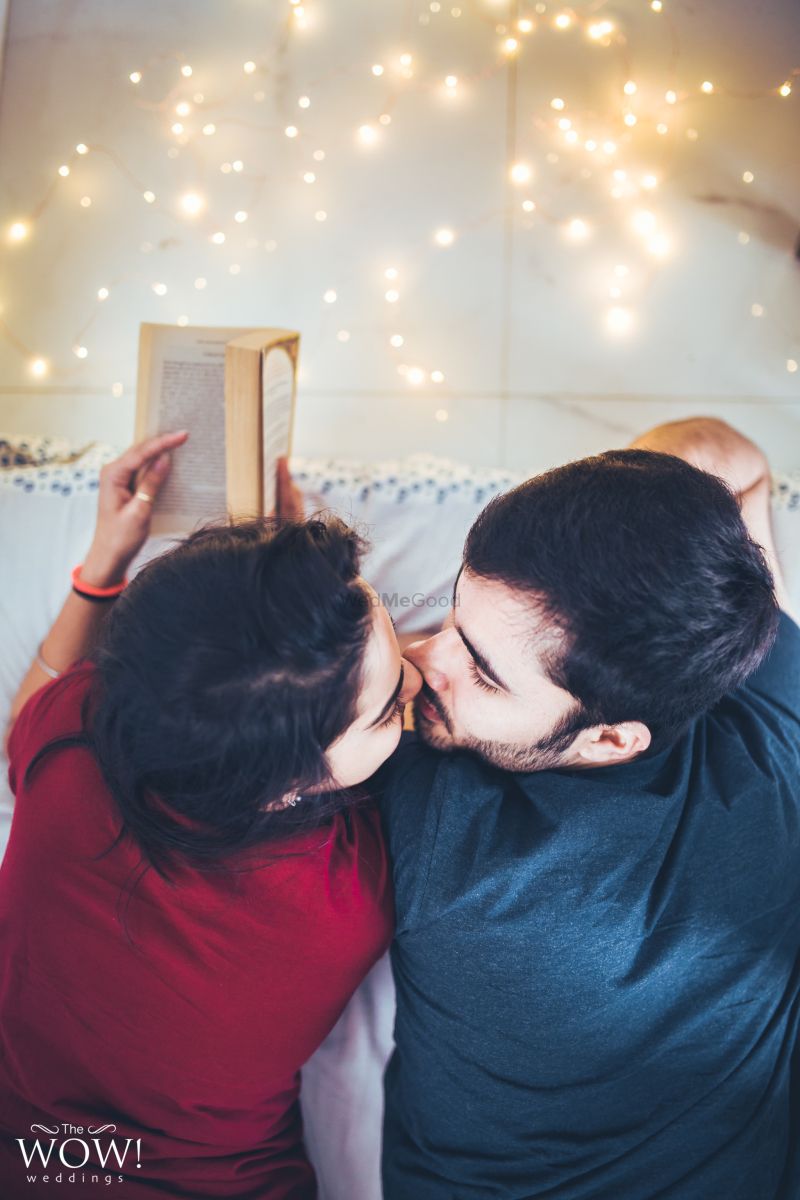 Image via The Wow Weddings
They are simple lights on the floor, but they add so much more brightness to the photos! You can even hang them in the background for some added warmth!
A blanket for adding coziness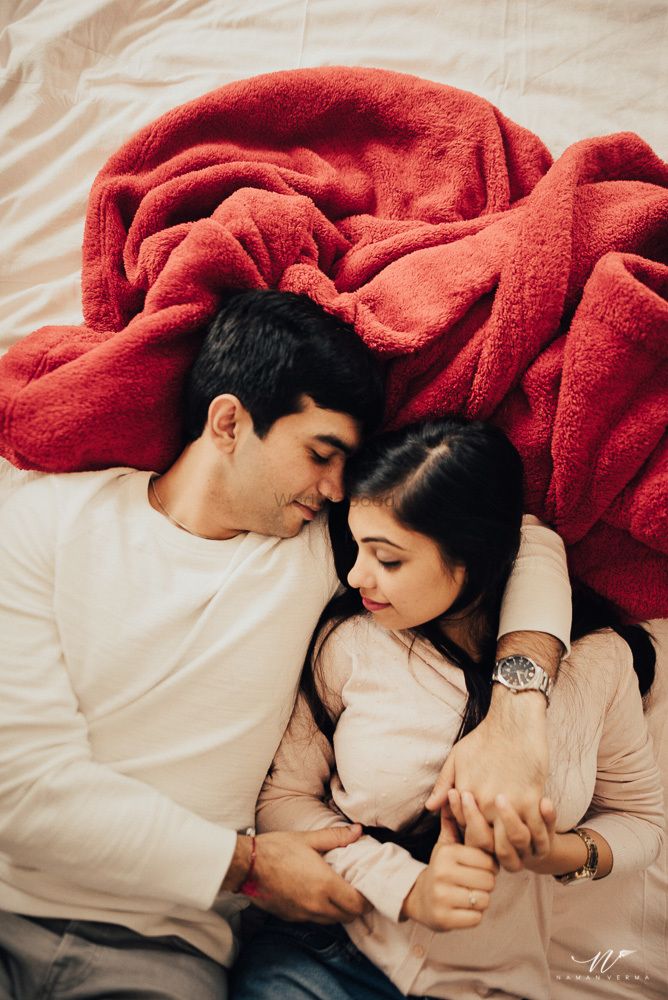 Image via Naman Verma Photography
No need to get into it, but just adding a blanket to the backdrop makes such a different to the photos- not only does it add coziness, but in this photo, notice how it adds a pop of colour too!
Or a soft fur rug that looks adorable!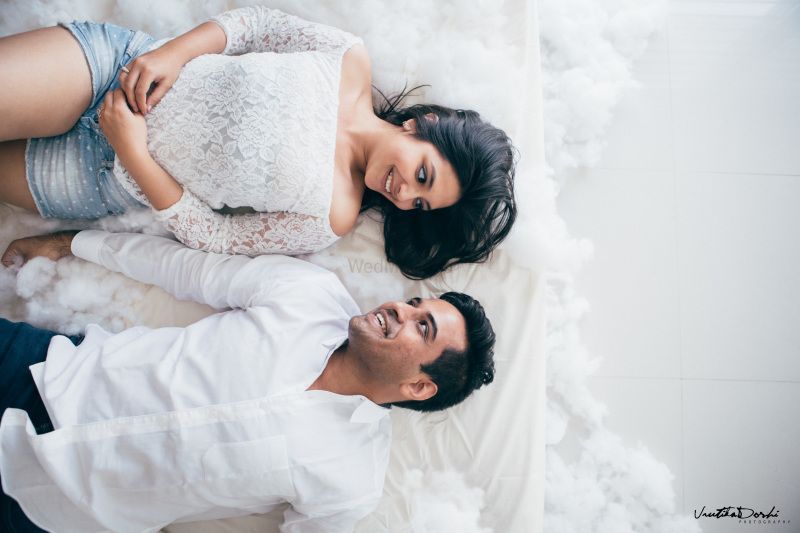 Image via Vrutika Doshi Photography
A fur rug looks super cute too! It adds a certain amount of coziness and a white backdrop always looks classy!
Have a pillow fight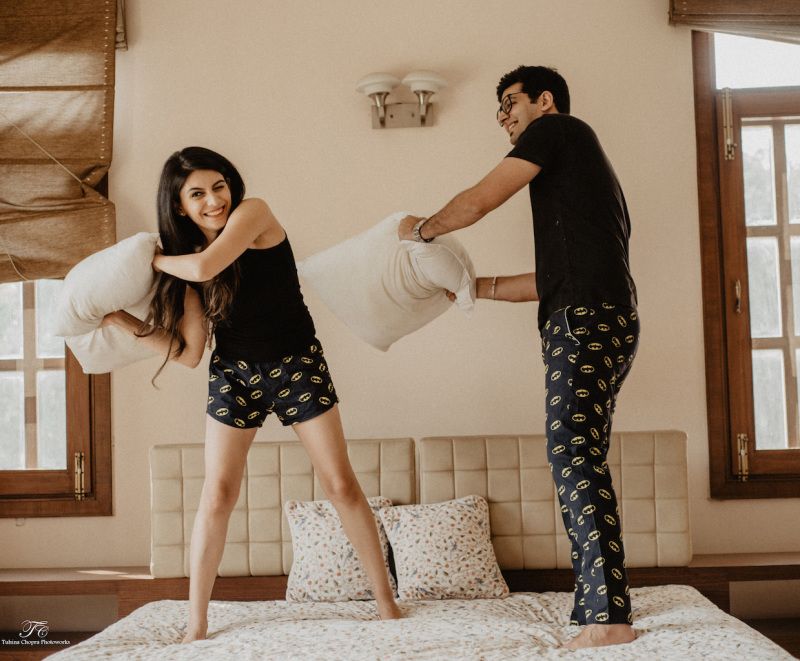 Image via Tuhina Chopra Photoworks
I mean, doesn't that look so cute! You might not have one in real life, but it does make for a cute photo-op!
Or just jump around and go crazy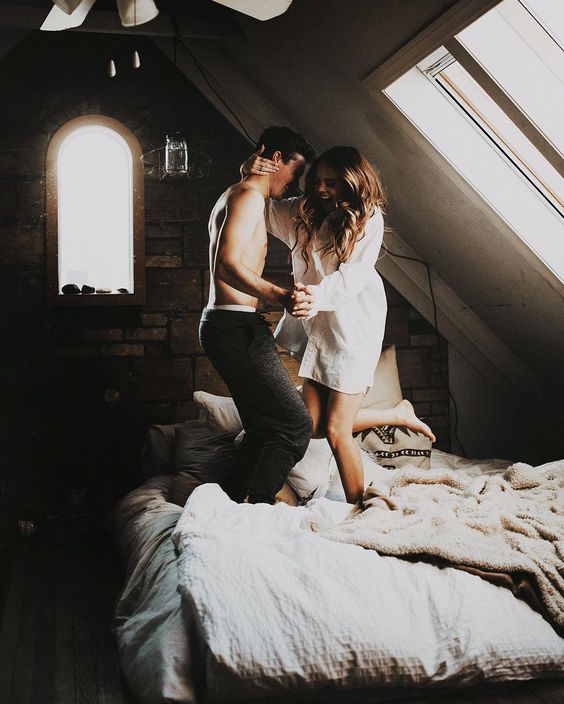 Image via Pinterest
I mean, you're at home, so do whatever you want really! Go as crazy as you want and let that reflect in your photos too!
Do as much PDA as you want!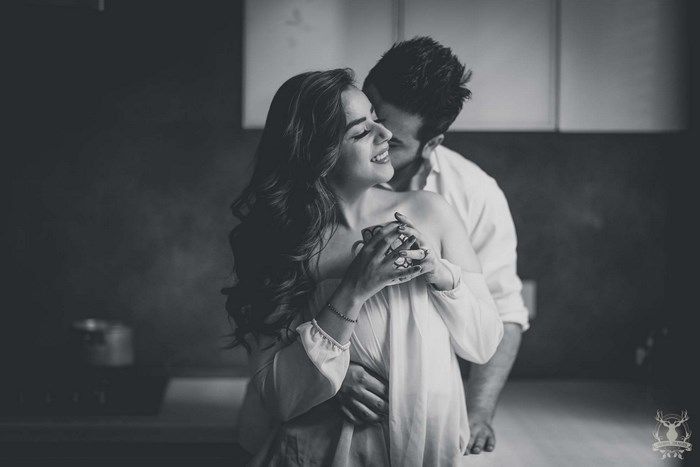 Image via Morvi Images Photography★ 5
You're not out in public- it's just you guys and the photographer (or at least try and keep it that way) so you guys can get as comfortable and do as much PDA as you want!
Or just do something cute!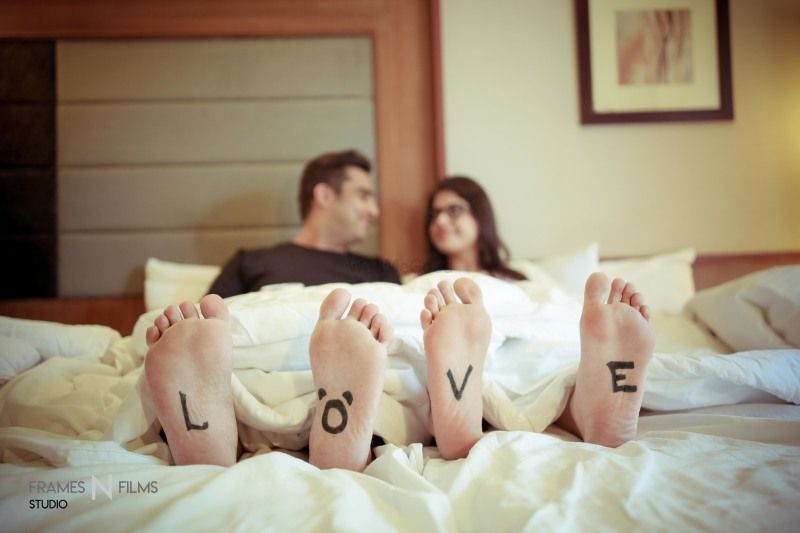 Image via Frames n Films Studio
This is something so simple, but does make the photo look super cute- and the best part is, no props required!
Pull off a theme that doesn't require much of a setup!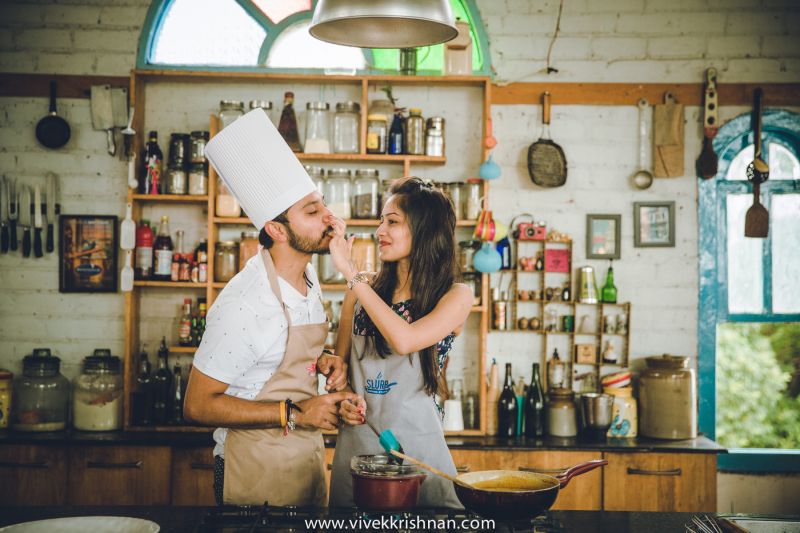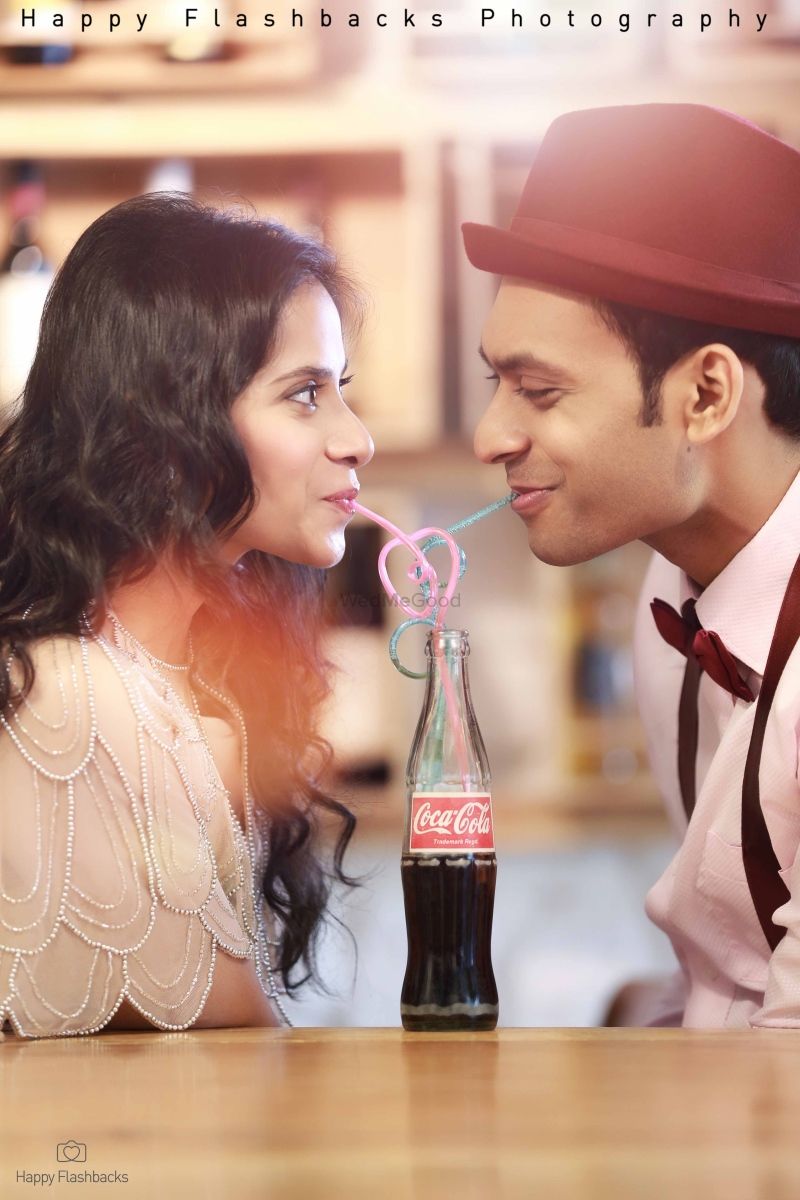 Image via Vivek Krishnan photography and Happy Flashbacks
Simple theme shoots that are easy to do- they can be pulled off at home with a lot of ease!
Make use of the garden!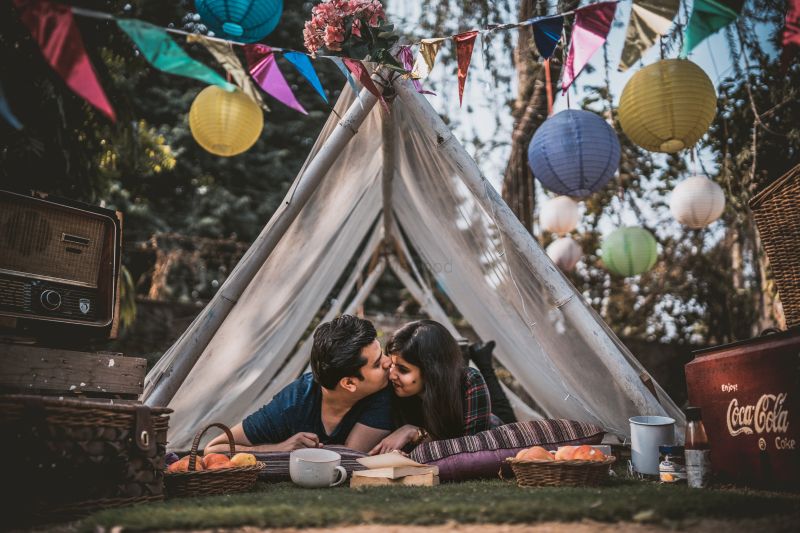 Image via Candid Wedding Stories and The Wow Weddings
Have a simple picnic setup or go all out with glamping- if you have a garden or a park nearby in the locality, make use of it and get a few cute shots there too!
ALSO READ: 35+ Super Unique Pre Wedding Shoot Ideas!