"I Rented One Of My Wedding Outfits & Have Zero Regrets!"
BY Soha | 19 Jun, 2019 | 60812 views | 4 min read
While some of the girls at office were wondering how did her parents' ever allow Harkirat to rent one of her wedding outfits, there were quite a handful of us making a mental note of all the places she can visit, fancy breakfast spreads she can indulge in and the things she can do with the time and money she saved!
Choosing your wedding outfits is a daunting task. But you know what's worse? Finding something you absolutely love, all within your budget! Add onto it the additional costs of alterations and modifications-do you think you'll be able to wear those 1 lakh+ outfits ever again? 
Renting is a good way to go about it. See, there're so many benefits! One, you save the guilt and money of spending so much on an outfit you're probably never going to wear again. And two, it's a fairly simple process- go to a store, pick what you like, wear, and return! Poof!
Meet our know-it-all bride Harkirat, who knew she did not have to spend a million bucks to look like a million bucks! A few clicks of a button, some out-of-the-box thinking, and she ended up renting one of her wedding outfits! Over to her for all the deets!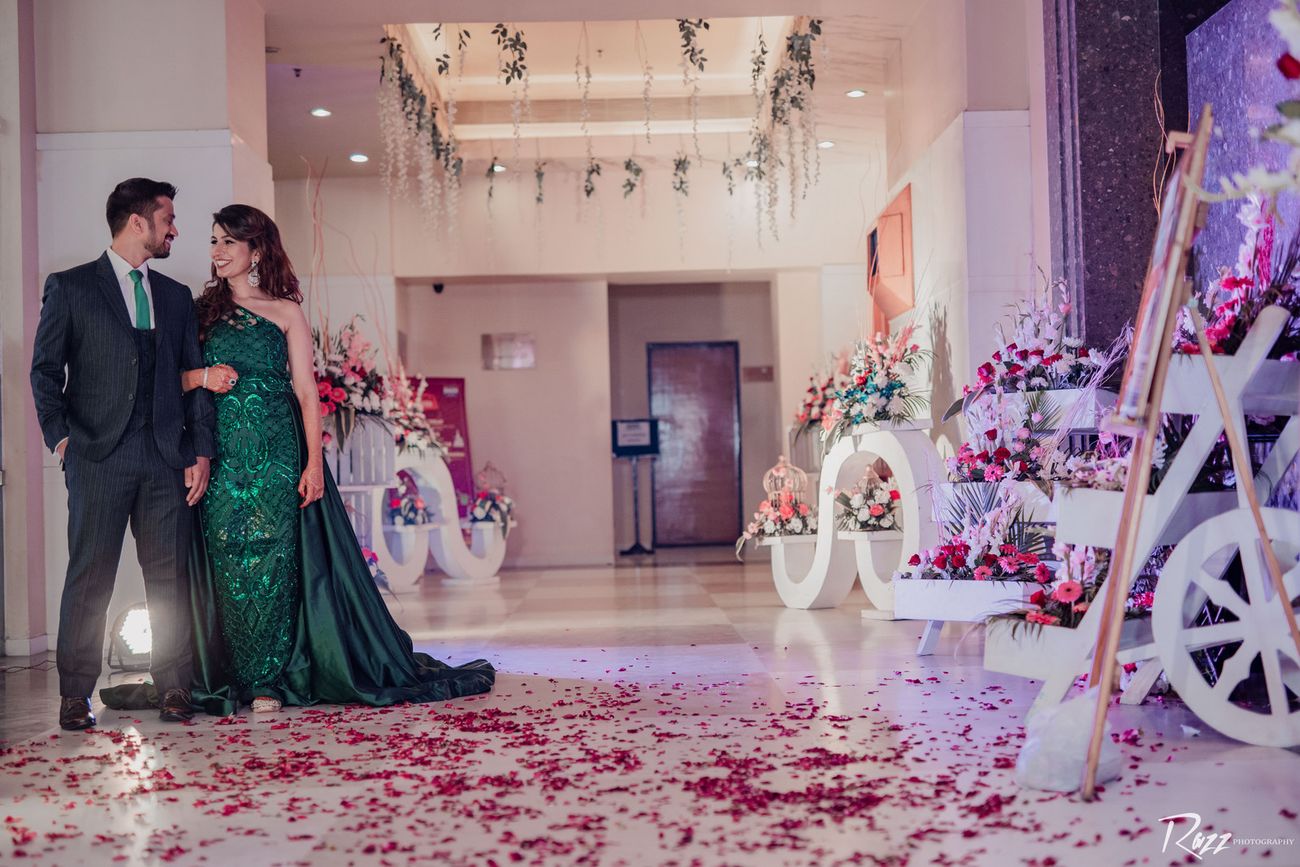 From The Bride
"I won't deny, I know women who want those larger-than-life weddings. The kinds where you walk through large, airy corridors, with your gown's trail slithering down the stairs. Everything that we have seen in those KJo films. But, do you realise all that money that'd require? 
The math was very simple for me, I wanted my outfit to be larger than life because it was my engagement but I also knew that I would never be able to wear such an exquisite outfit again in my life. So I thought why not rent a premium outfit which rocks the day and then return it back? Genius, right!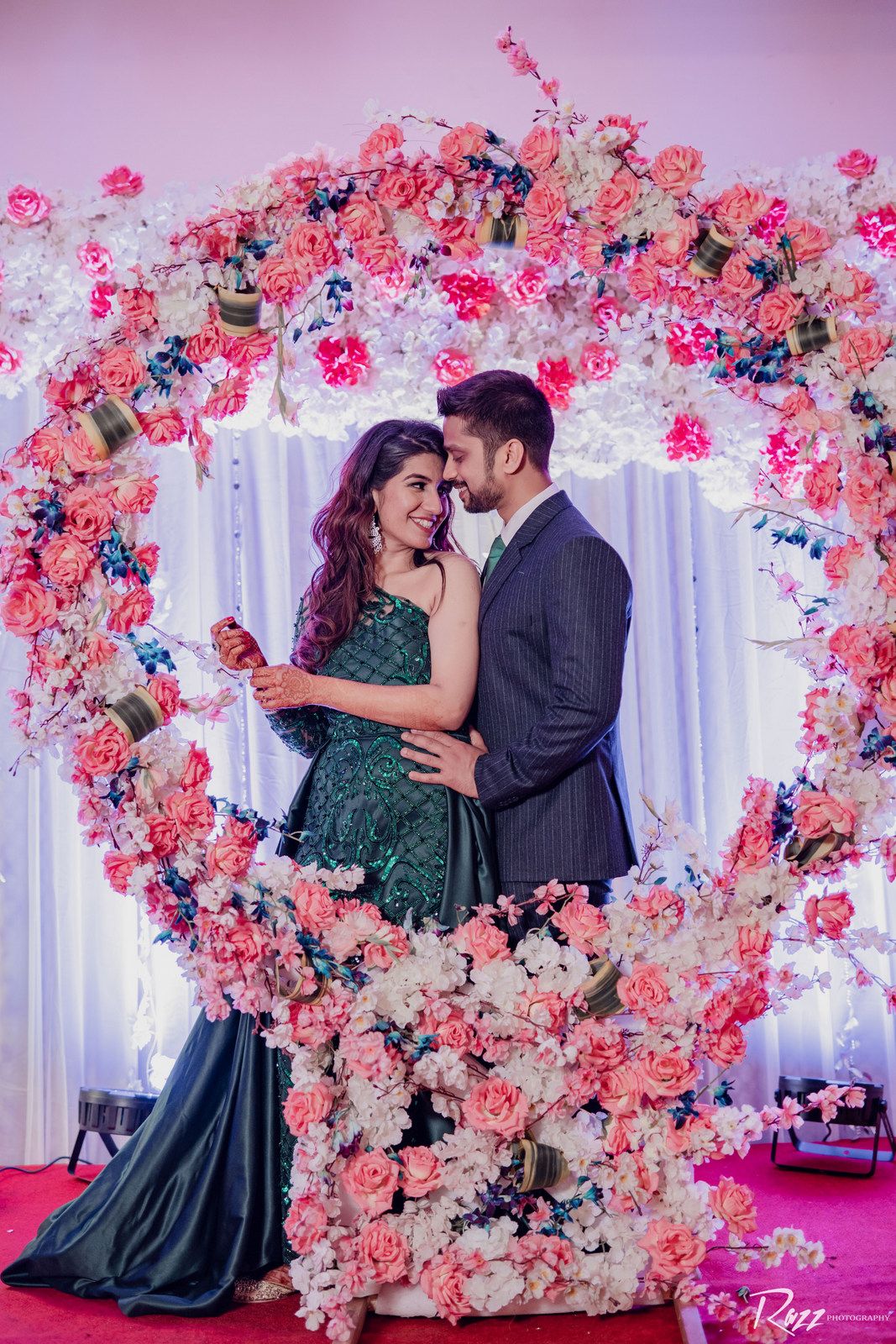 The internet is a wonderful place! I scanned 3-4 online rental places and found this amazing place, Flyrobe★ 3.2 - a rental website that specialises in wedding and festive wear. It was the best in terms of range of designer wear options, especially western outfits, flexibility in tailoring the outfit and the extensive details about the outfit sizes that they display. Trust the brand to ensure you have a smooth experience; I sure did!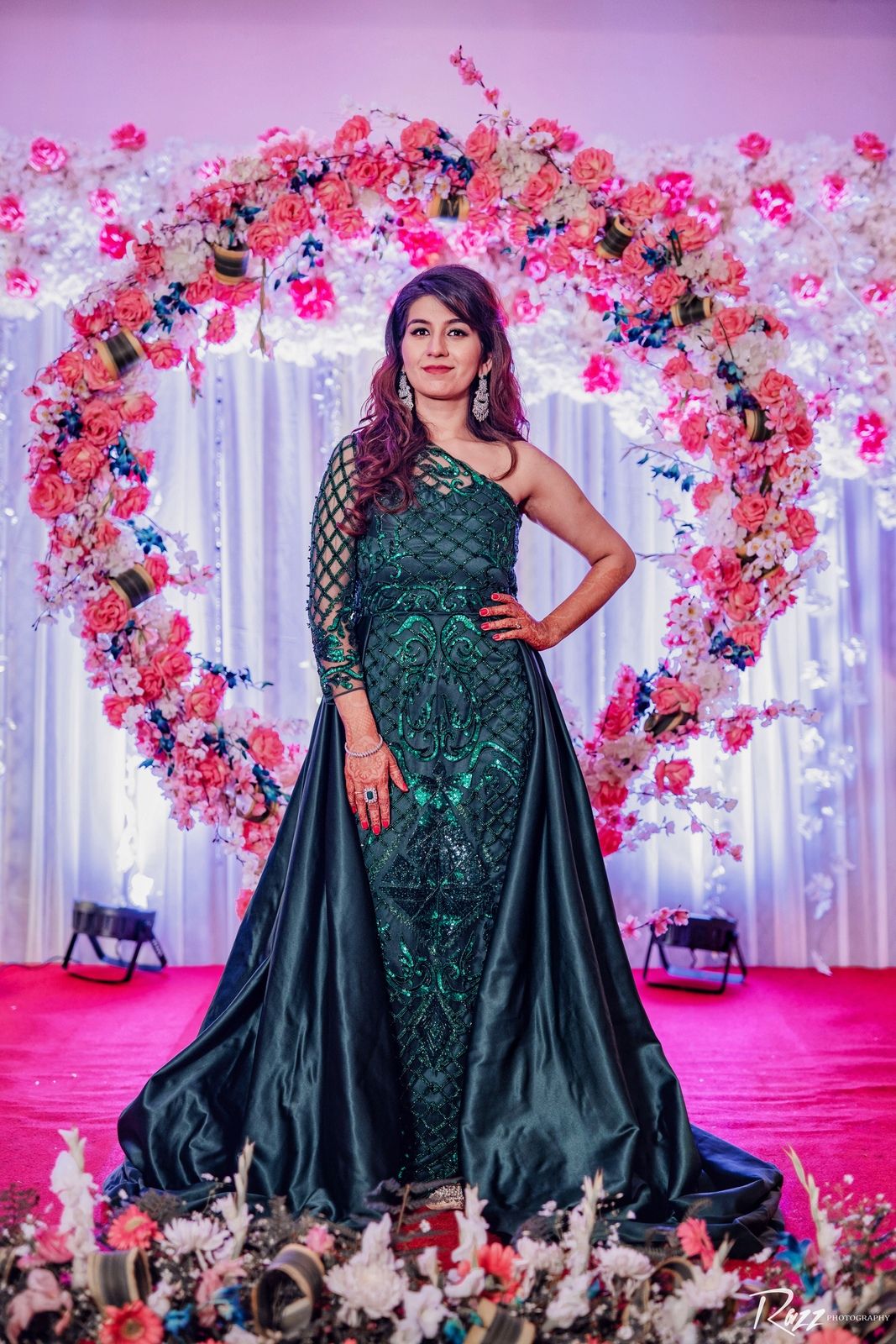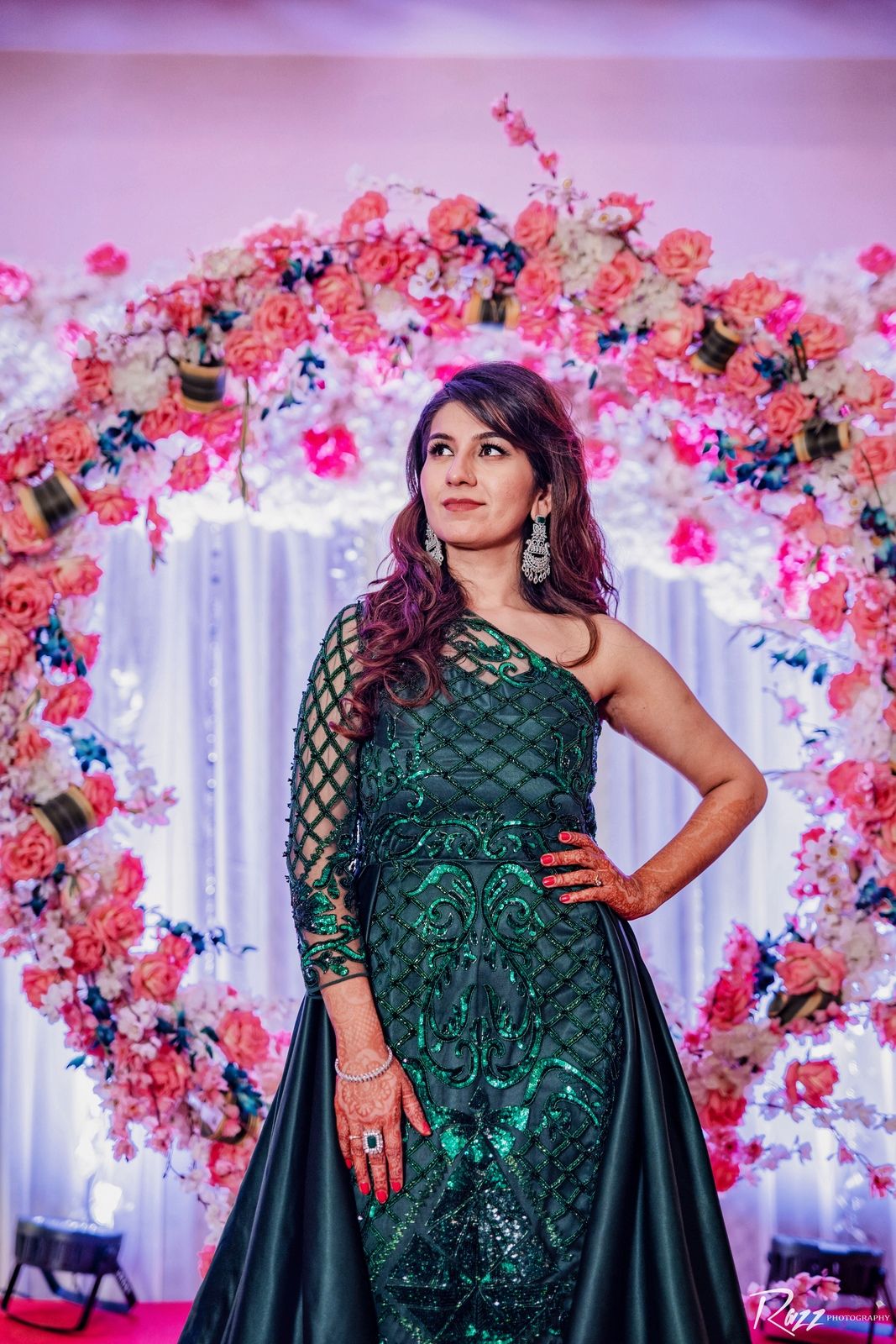 I picked an emerald green off-shoulder gown with a long trail for my engagement. The outfit rental was 18% of the overall cost of the outfit. Isn't that a steal?
To tell you the truth , it was the best decision of my wedding. I got a fabulous outfit in less than 1/4th the price and I don't have to live with the guilt of shutting it in the cupboard for the rest of my life. Because frankly, isn't that what happens to every bridal outfit?"
Impressed, aren't you? Because we sure are! Harkirat is the face of the modern Indian bride- women who want zero drama and max comfort!
Comfort?
Ah well, did we say that right, because there's more to Harkirat's story!
Apart from renting her engagement outfit, she also got her bridal lehenga customized to be able to truly enjoy her celebrations! 
"Haven't you heard what they say- dancing brides are the prettiest? Or wait, was it happy brides? Who cares, I wanted to be both- a happy, dancing bride! So, I got my bridal lehenga customized as well!," shares Harkirat.
 "I wanted a lehenga with heavy work and zero bling for my wedding, to nail that elegant look. So I chose a colour which is not too bright but also super royal - rose gulkand from Pakeeza Plaza★ 4.6 , Chandni Chowk. There's nothing that says happiness like a customized lehenga- I got the borders on my dupatta to be thinner for that minimal look and paired it with a velvet dupatta to match the heavy embroidery on my lehenga.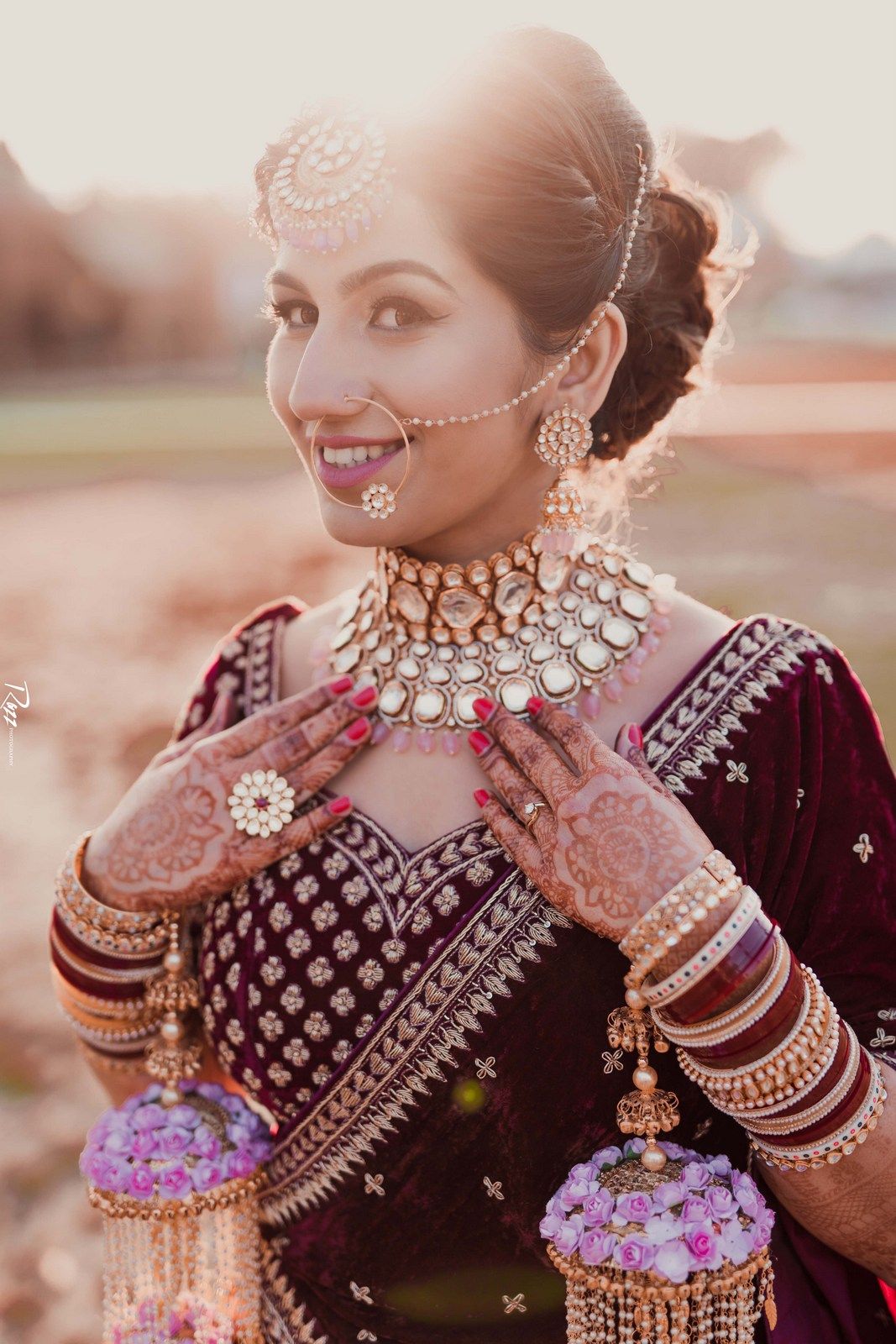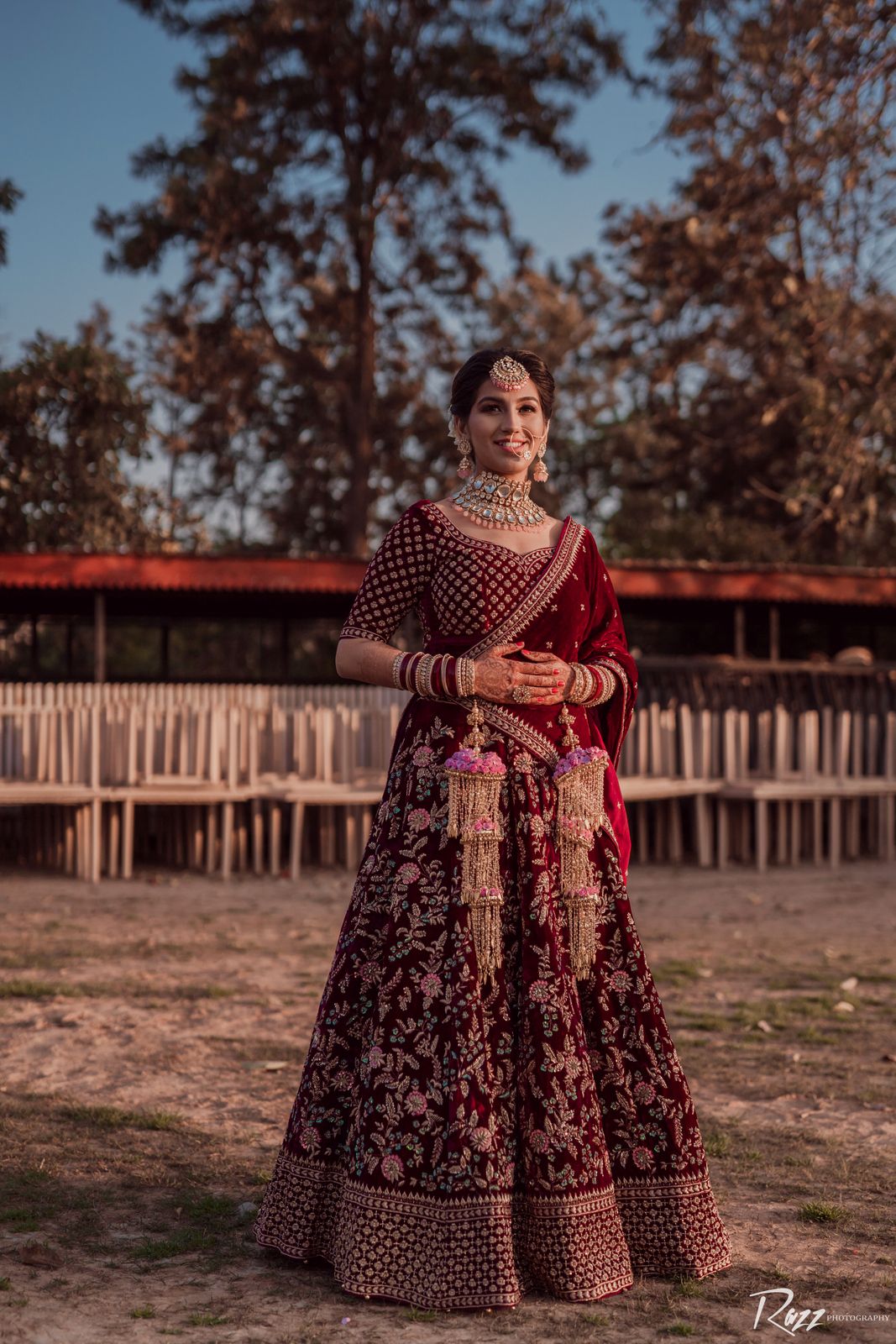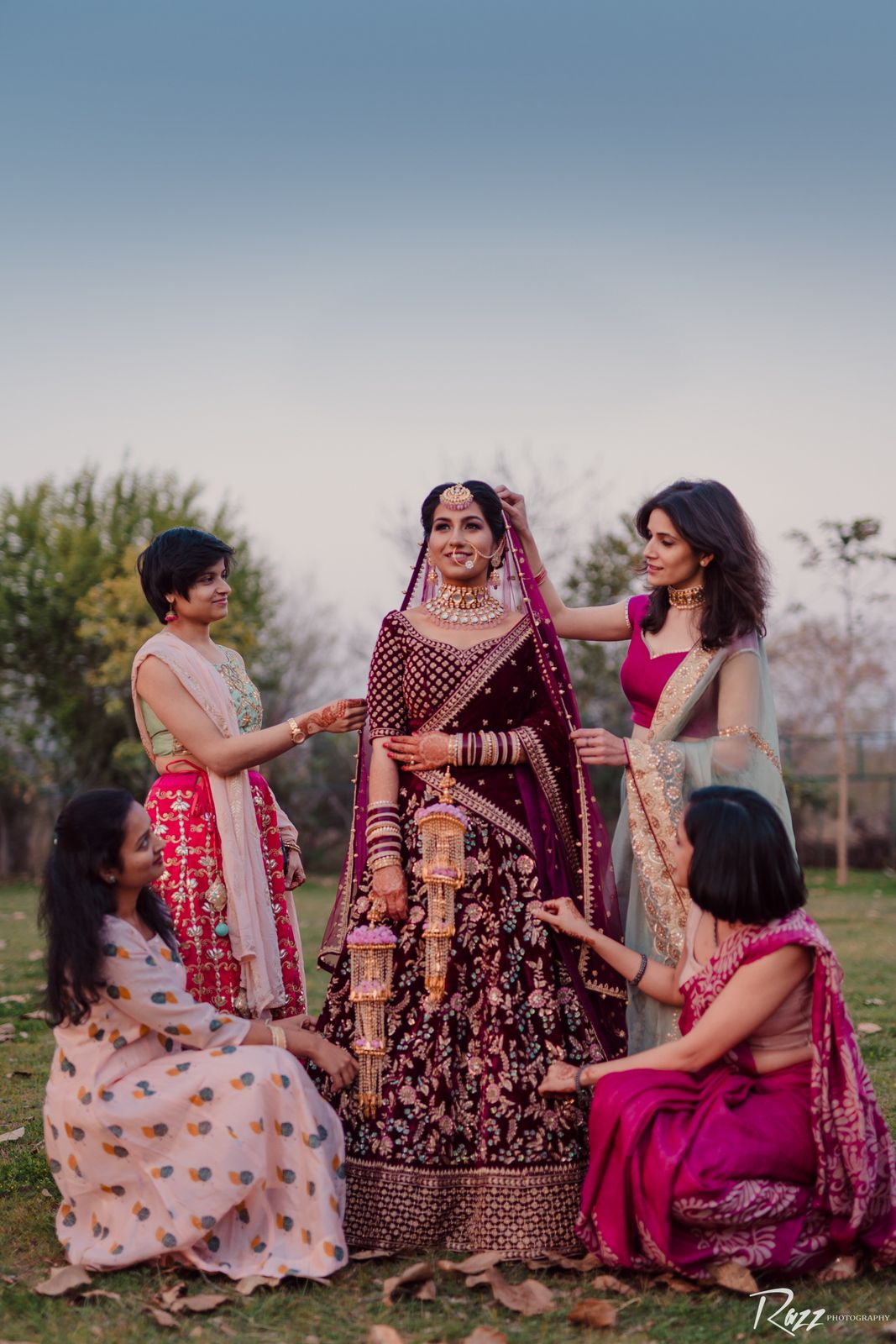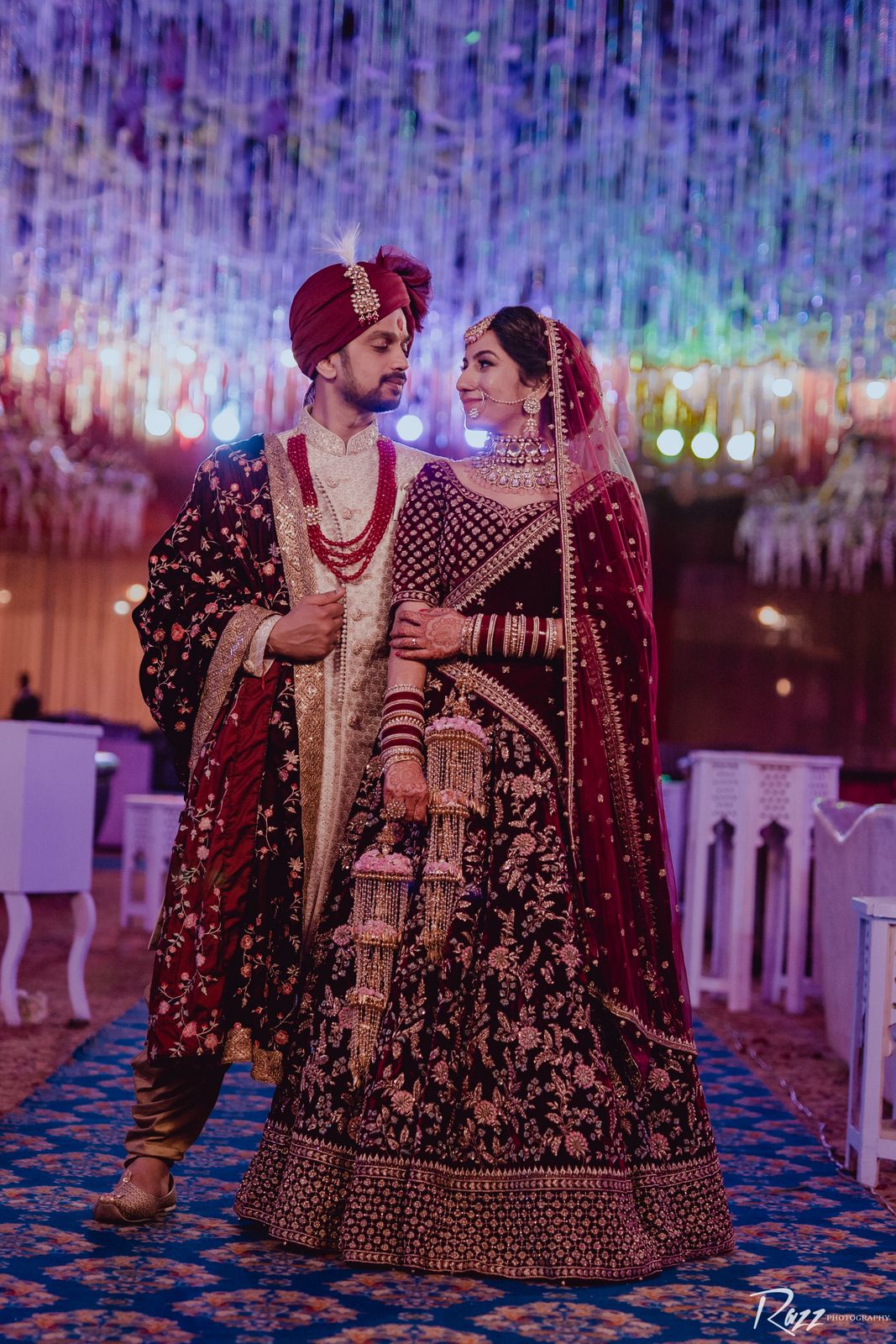 I also wore a punjabi jutti for my wedding to be as comfy as possible. And completed my look with a kundan choker with pink bead because I believe green is now passé!"
And that's not all!
Even Akshay, Harkirat's now-husband rented his sherwani from Flyrobe's Prime Collection! Are you following us? A custom-stitched sherwani in his preferred style, which he conveniently returned after the wedding! Because, as Harkirat rightly says, "Frankly when is a guy ever going to wear his sherwani after the wedding?" and we can't agree more!
There's so much that we can learn from this #BossWoman. Do let us know what you think about it in the comments below!
Shot by Razz Films And Photography★ 5