Indian Wedding cakes : From top to bottom!
BY The WMG Bride | 22 Dec, 2014 | 7279 views | 5 min read
You know how the earliest
wedding cake
started? One of the first traditions began in Ancient Rome where bread was broken over the bride's head to bring good fortune to the couple. Today, with all the HD makeup and the elaborate hairstyles, let's just thank god the world grew out of this tradition. While the wedding cake business in India is pretty much a baby…we are no strangers to the desserts taking the centre stage at Indian weddings. From Motichoor Laddoos to Rabdi to Rashogullas…we have all been there and ate that! The weddings cakes outside India are of a different league altogether. They are part of a special ceremony and hence the families leave no stone unturned and spend a fortune on these cakes. The cakes are 4 or 5 tiered and have special personalized decorations like a cake topper with the miniatures of the couple. India, on the other hand is just starting with wedding cakes because there is no such tradition or a ceremony in our weddings. One thing I am sure of is that it will sure make heads turn and your guests will love the idea and remember your wedding for all the right reasons.
Some of the prettiest wedding cakes done by India's top bakers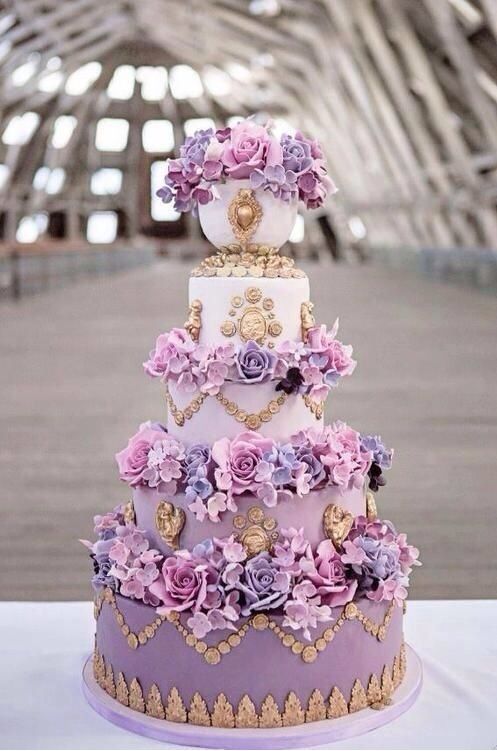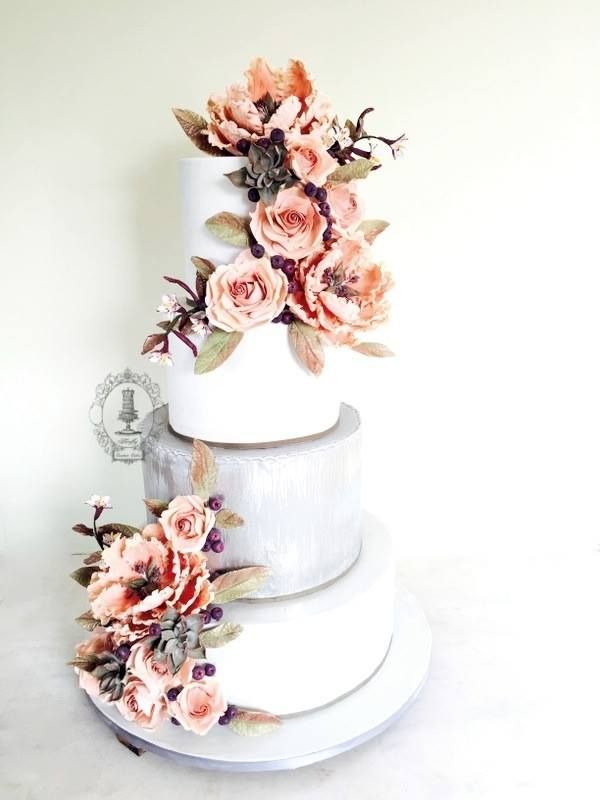 Left:
Cake by
The Sweet Boutique Delhi
. This stunning masterpiece has shades of lavender in an ombre effect going from the bottom layer to the top. Rich gold icing decorates the cake and stunning indigo and violet flowers form each tier
Right:
Cake by
Firefly Bakery Delhi
. Firefly cakes are minimal, gorgeous and unique in their own right. Each of those flowers are edible, and the cake features a 4 tier cake with a rustic, worn out look in the grey tier. Peach and olive green sugar flowers  with purple berries decorate the look.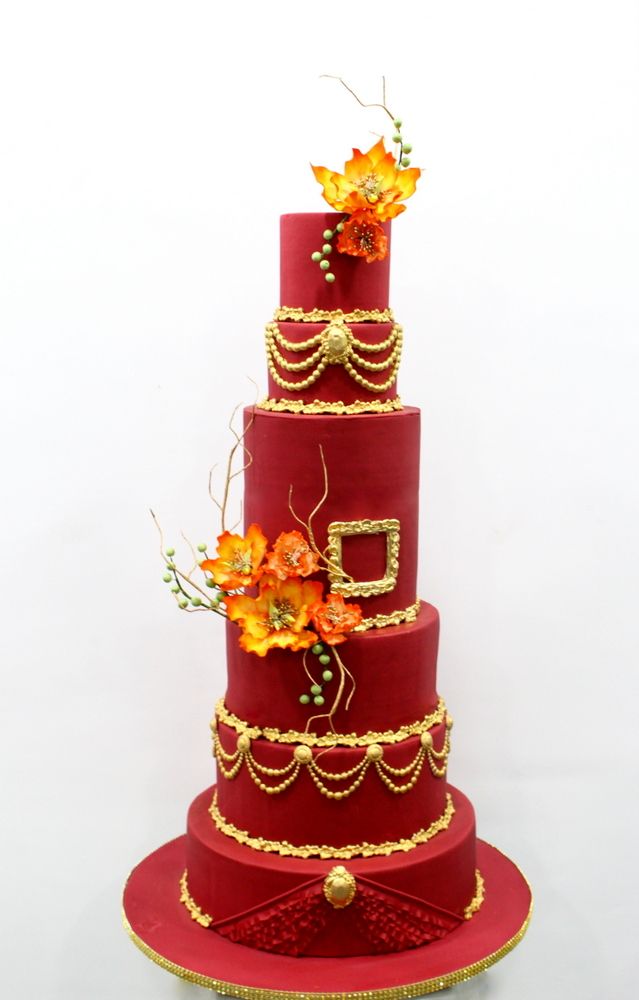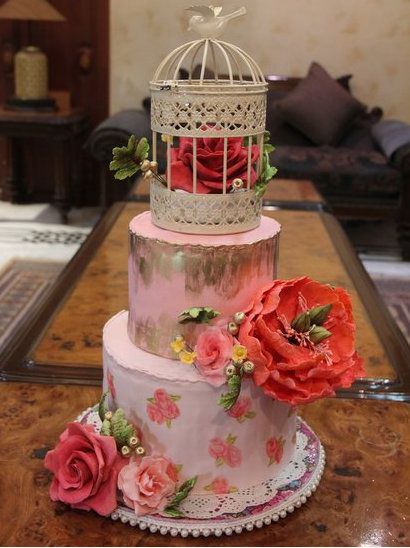 Left:
Cake by
Joonie Tan (Lavonne Bakery)
, Bangalore.  This rich, jewel toned cake for an Indian wedding has intricate gold detailing and beads.
Right:
Cake by
Confiserie Cakes, Kolkata
. We ADORE the birdcage on the top , with hand painted flowers at the base of the cake.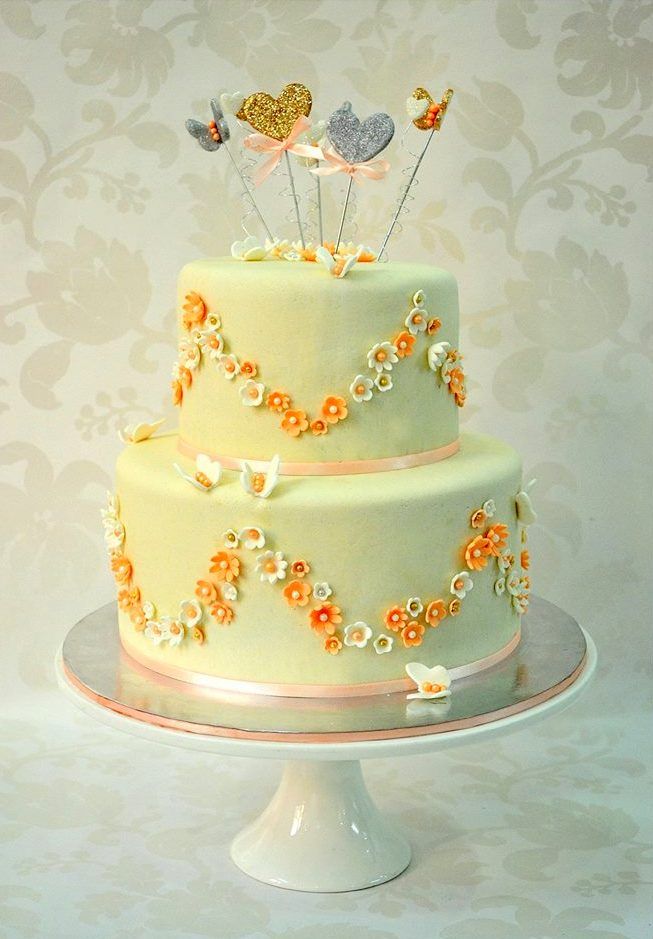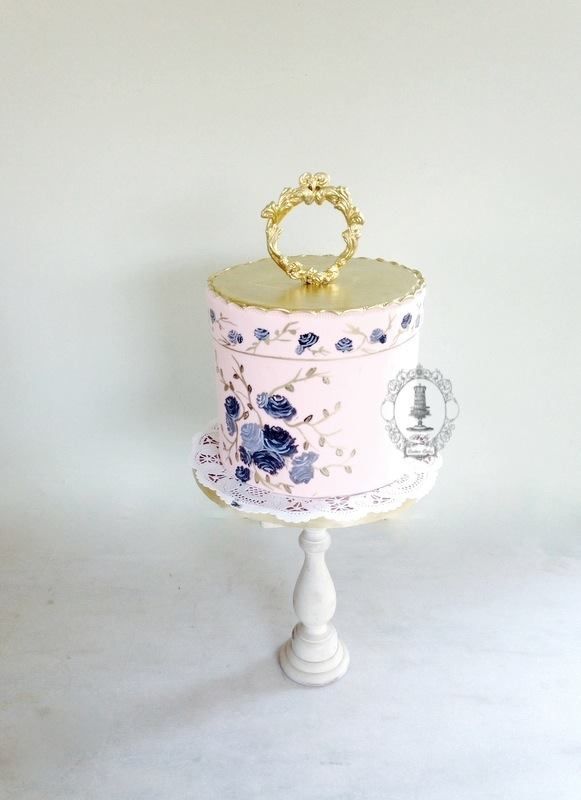 Left: Cake by
Papillon Bakery
Right: Cake by
Firefly
Who & when to book:
Since the wedding cake market is relatively new in India, there are only few good pastry chefs who can make a stunning elaborate wedding cake.
You can find them here
Normally you should plan well in advance as to which baker you want for your wedding especially if you are getting married in the season. They are booked completely during the season and it is better to book well in advance if you want the baker of your choice. A minimum of 45 days to 2 months in 'In season' timings and in off season - it is ok to place the order even 15 days in advance.
How many kg of wedding cake do you need?
In general a good rule to follow  in India is for a 200 people wedding, get a cake of about 5-7  kg. It may seem less ,  but remember there are a dozen sweets at your wedding and the elders don't really care about that buttercream and baileys frosting - all they want is the Jalebis ! The cake will mostly be enjoyed by the younger people.
When do you cut it?
Since in India we don't have a formal cake cutting ceremony on the wedding day, the cakes generally form as a part of either the engagement or reception celebrations. Take a brief 15 minute window before the food is going to be laid out to cut through your cake !
How to select you wedding cake?
The flavors. What cake do you and your partner like?  - You could do a chocolate base, or a pineapple cake or anything else you love.. Frosting anyone? Do you want a bald cake with no frosting (one of the hottest trends abroad are naked cakes). You can choose from basic frostings like butter cream, fondant and tempered chocolate. Just be sure to have a talk with your baker regarding the time of the wedding because if it is a summer wedding, butter cream will just melt. Share your preferences with the baker and let him decide the final cake because he knows best in terms of what flavors go well together. Indian flavors give such a traditional twist to the wedding cake. Paan, Mango lassi or Chai cake anyone? Sorbet flavors are a rage this season!
How much is too much??
ndian cake boutiques charge around INR 1500- 3500/KG for a delicious, gourmet wedding cake. So doing a tiered  cake should set you back anywhere between 8000 - 20,000 INR. There are ways to cut that cost down:
Cut down on decoration-Intricate handmade flowers are obviously going to cost more as they are labour intensive. Pearl piping or natural flowers look just as good and bring the cost down.
Book your cake early.
Go easy on the assorted flavors and icing.
Discuss with your baker about the options and be upfront about your budget.
Post by mily