Intimate Wedding With A Cool Bride In Sneakers & Just 7 Guests!
BY Garvita | 20 Nov, 2020 | 7566 views | 8 min read
This pandemic has made us witness numerous intimate weddings but this one's special! With only one week to plan the celebrations, the couple ensured that the affair exude truckloads of fun, class & elegance, and we loved every bit of it. While the wedding decor perfectly matched the minimal vibe, the couple took their outfit game a notch up by color coordinating in muted hues. The best bit about this union was, it was legit a 'micro-wedding' - with just 7 wedding guests present and 100 close ones plugged in via the internet. Coronial wedding done absolutely right!
Also, we cannot stop admiring the bride, Aditi's choice of bridal footwear - uber-cool and comfy sneakers because that's what better than these to dance it out?
Aditi's soft, dewy face, beautifully done by Doll You Up By S, made our hearts flutter in awe, and Recall Pictures★ 5 ' magic was quite evident in every wedding picture. Scroll down and experience this fresh wedding.
Meet Aditi & Ronil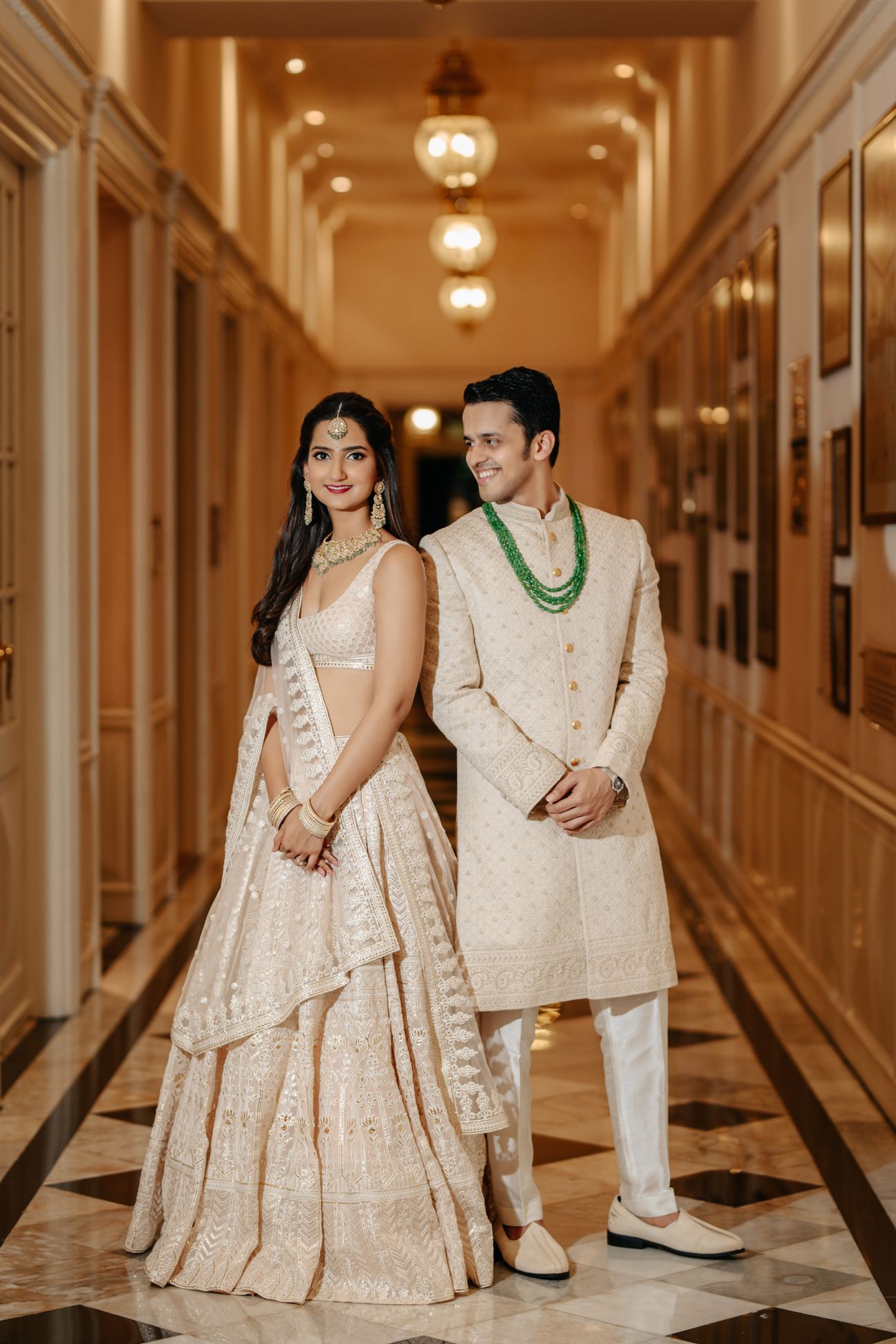 "Ronil and I first met 4 years ago at club. We were introduced by common friends and we immediately hit it off that evening. Our first date was exactly the week after and the rest is history!" - shares, Aditi.
The Haldi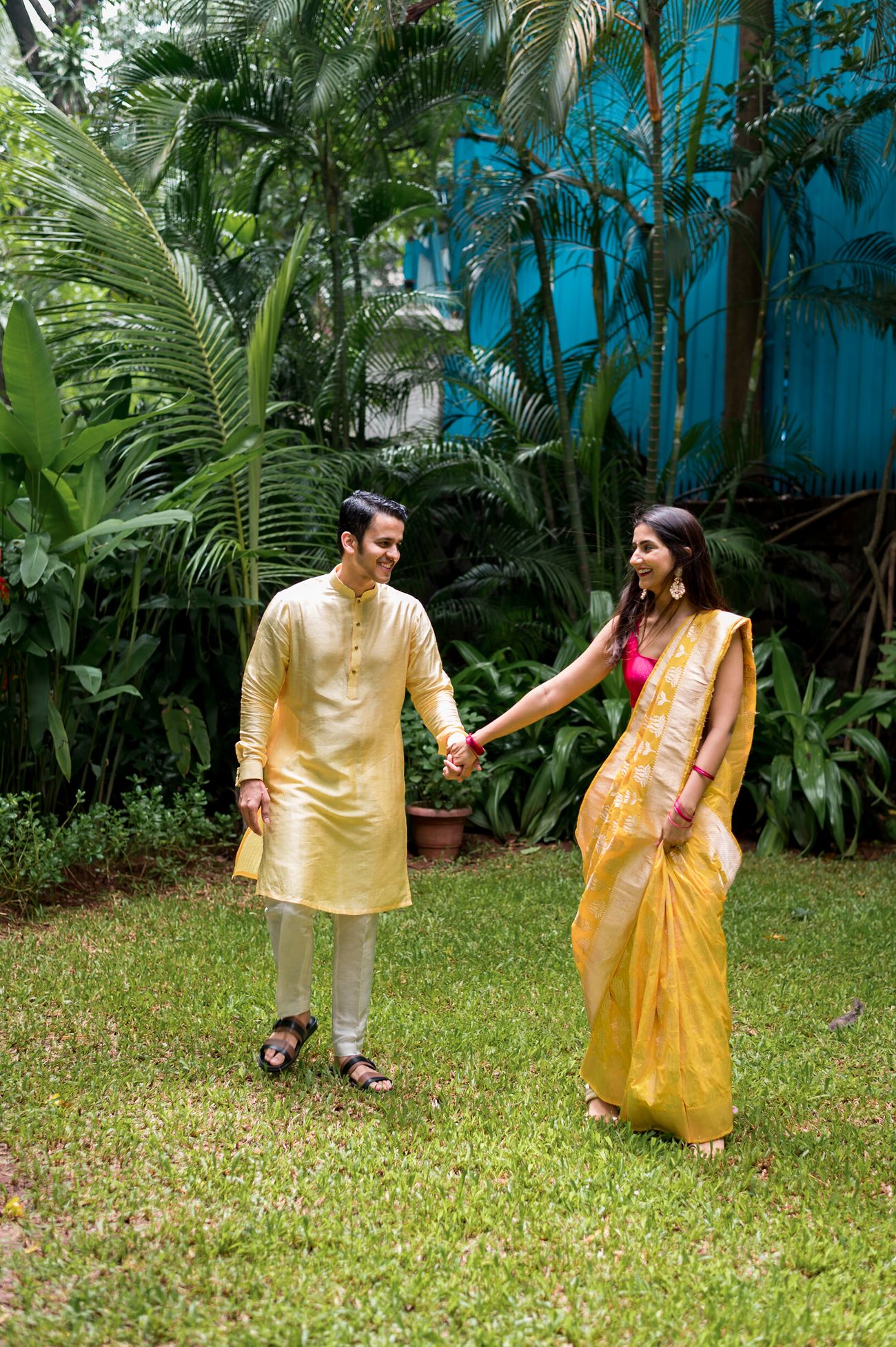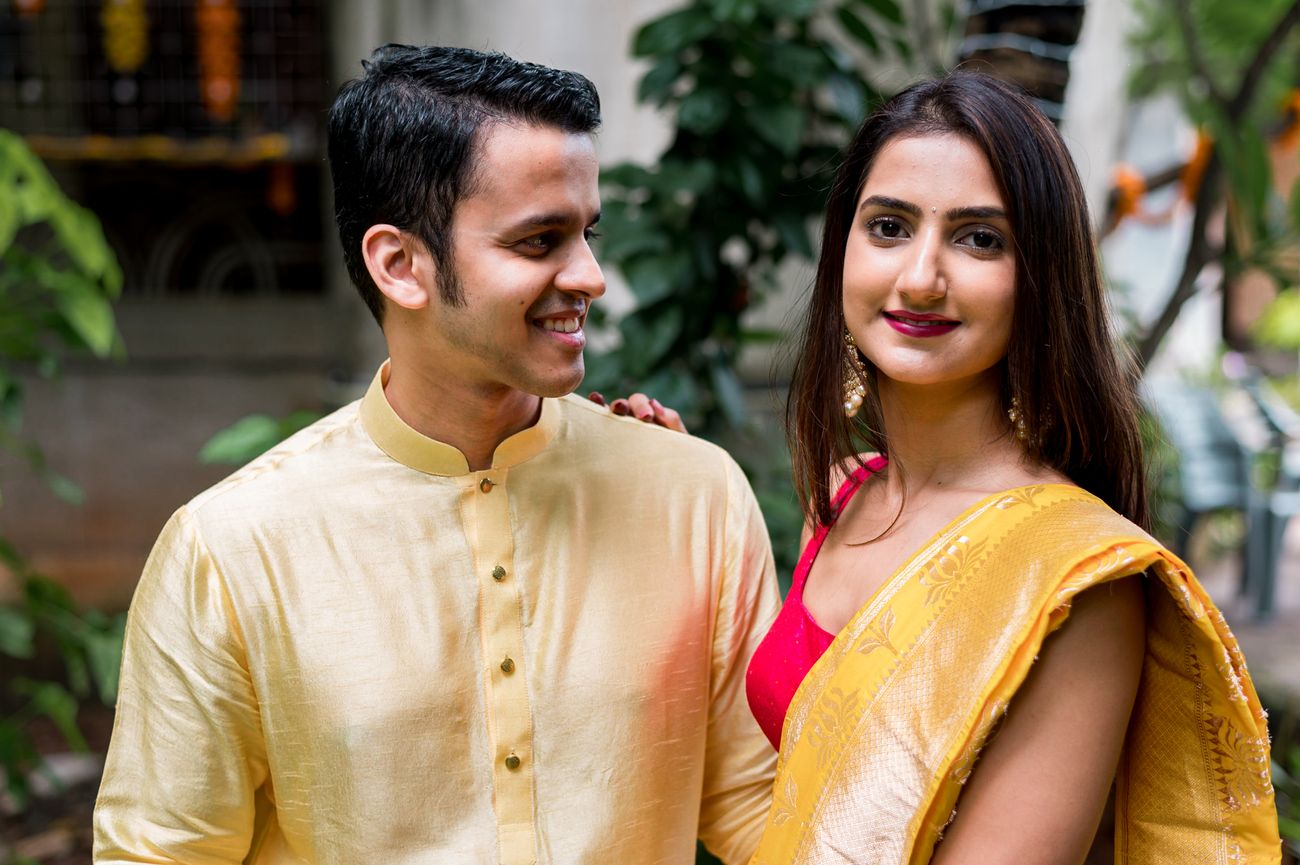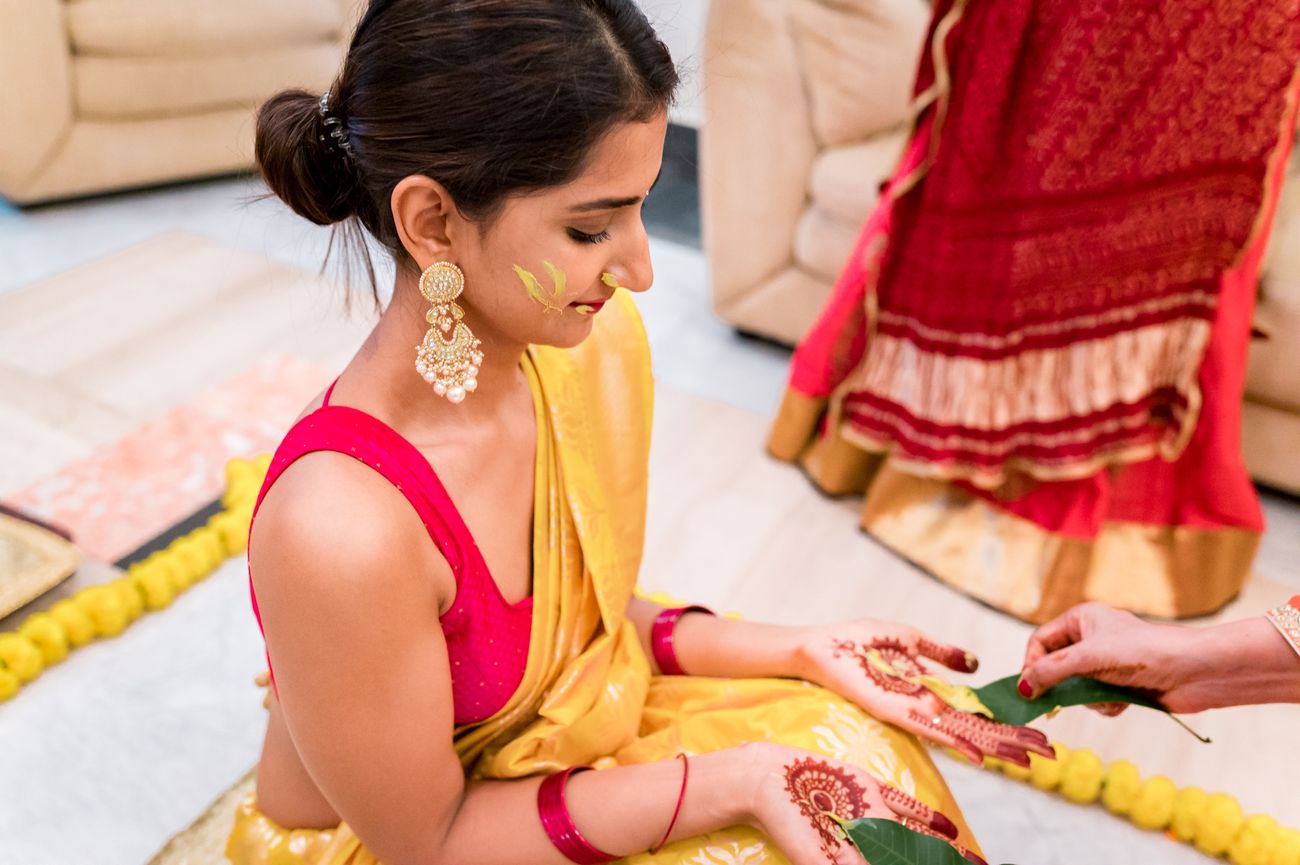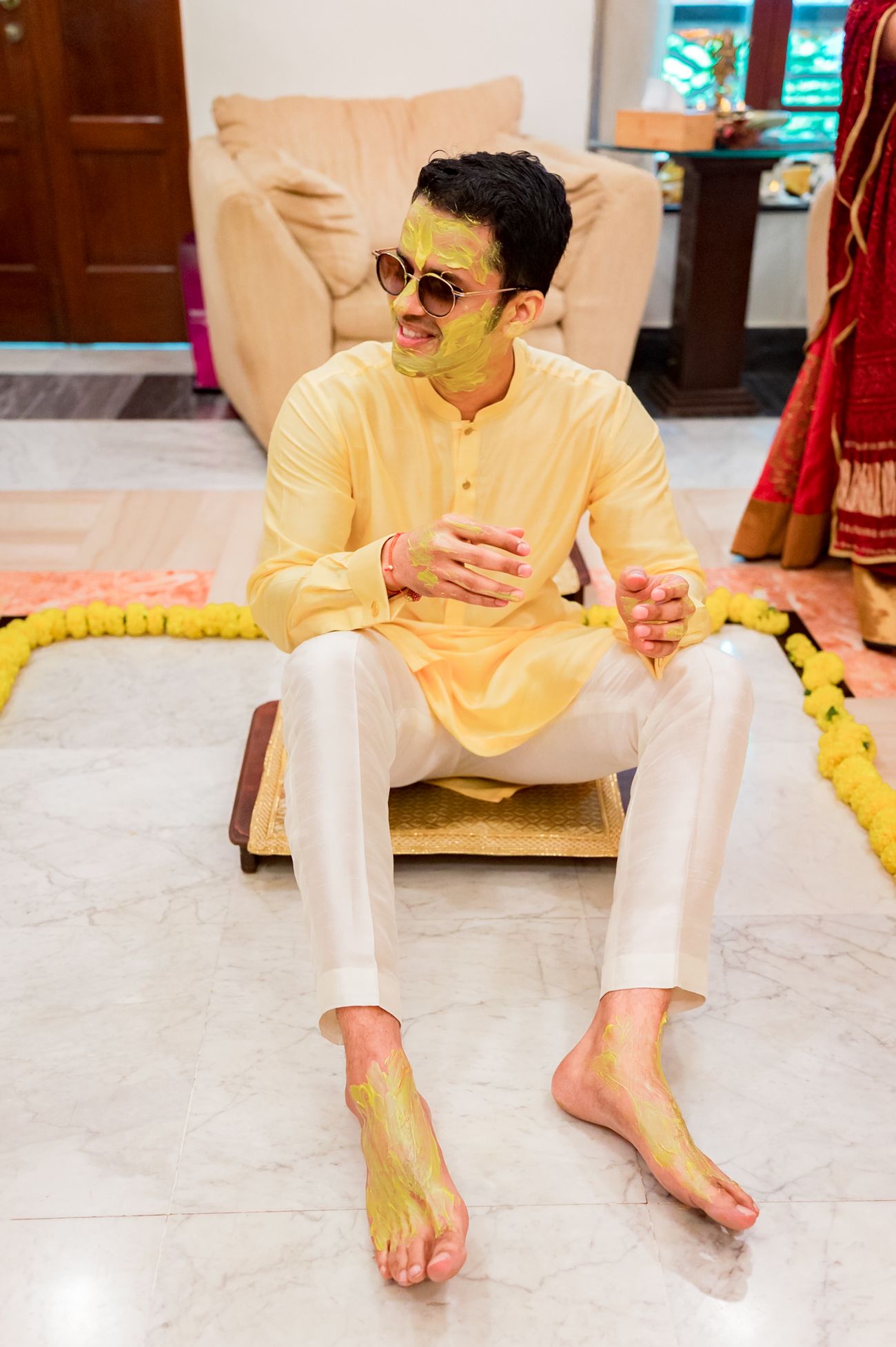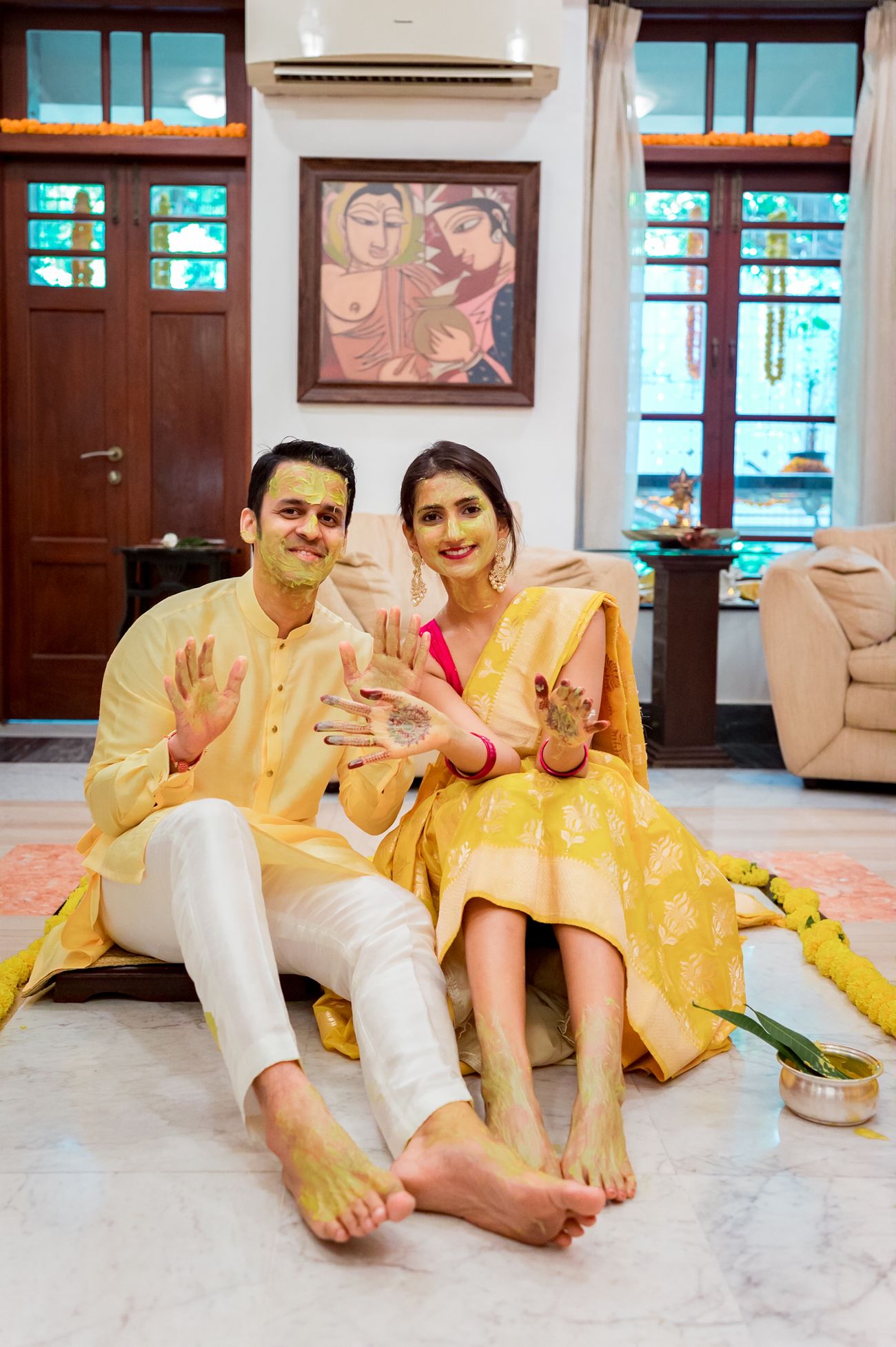 The Wedding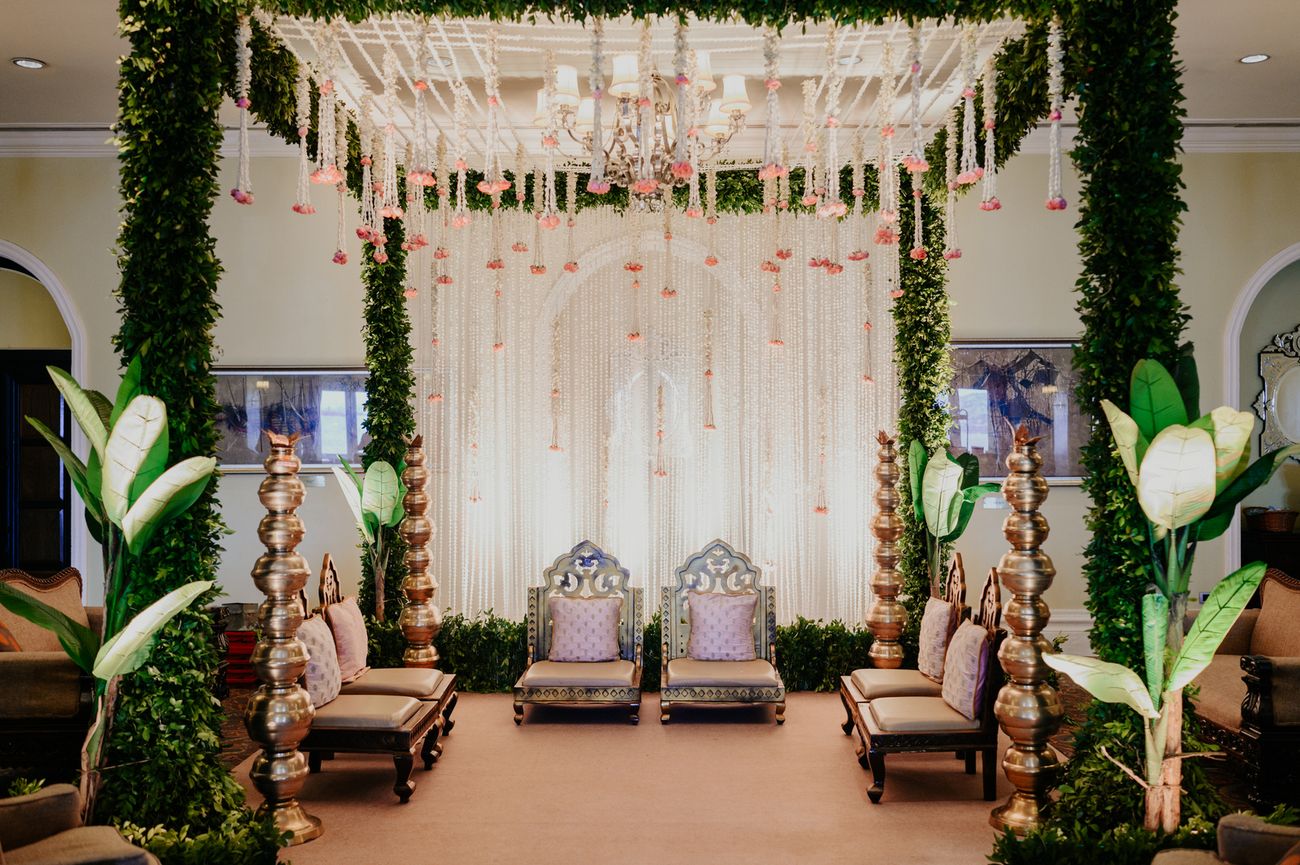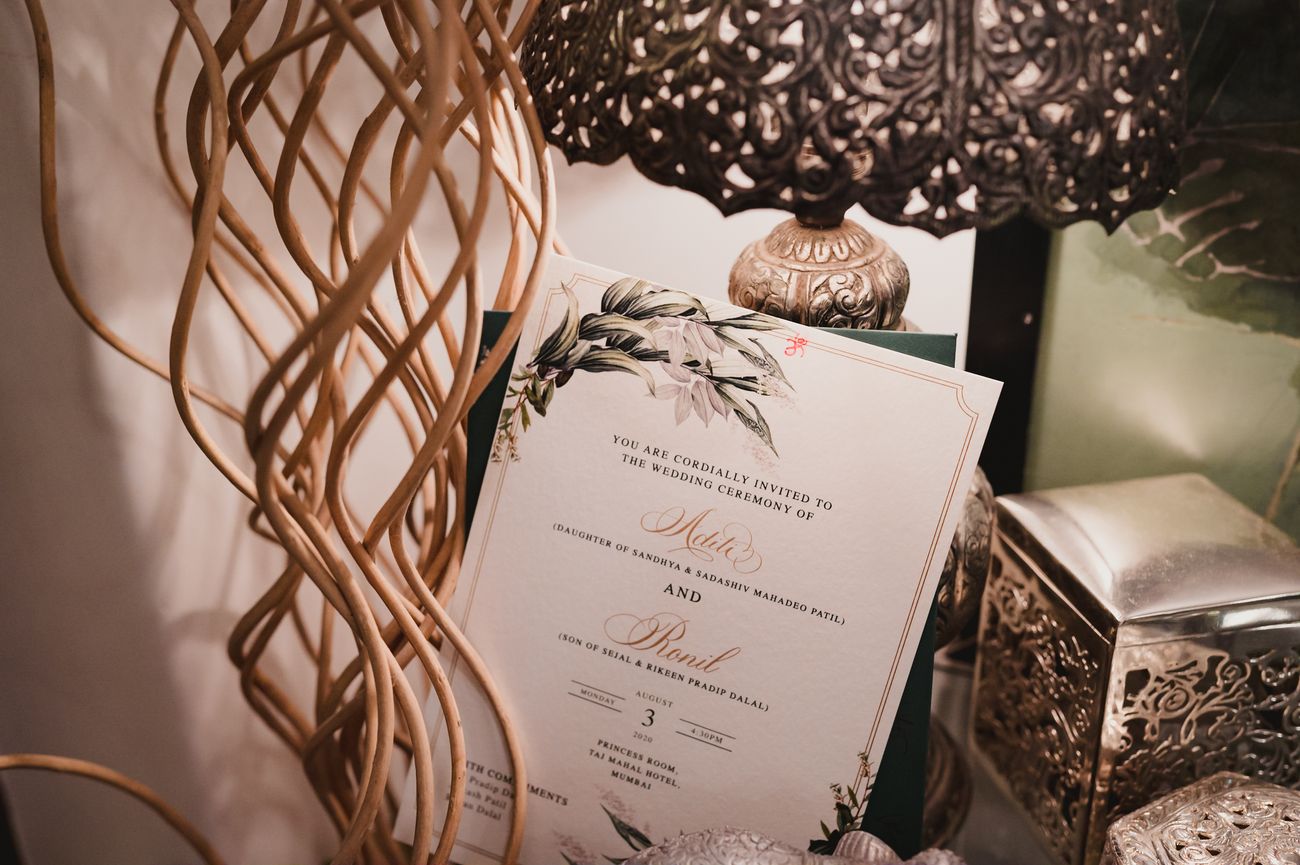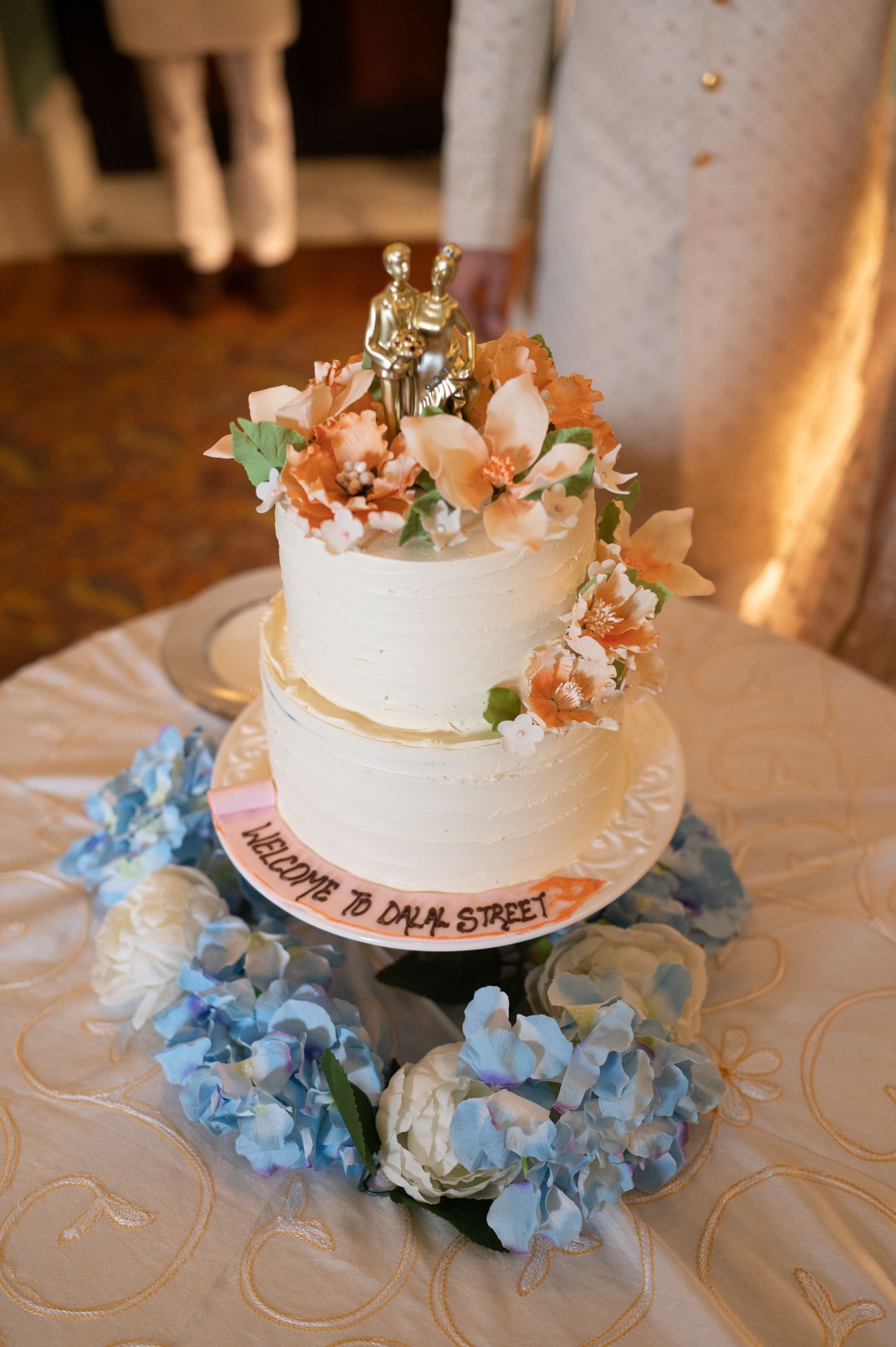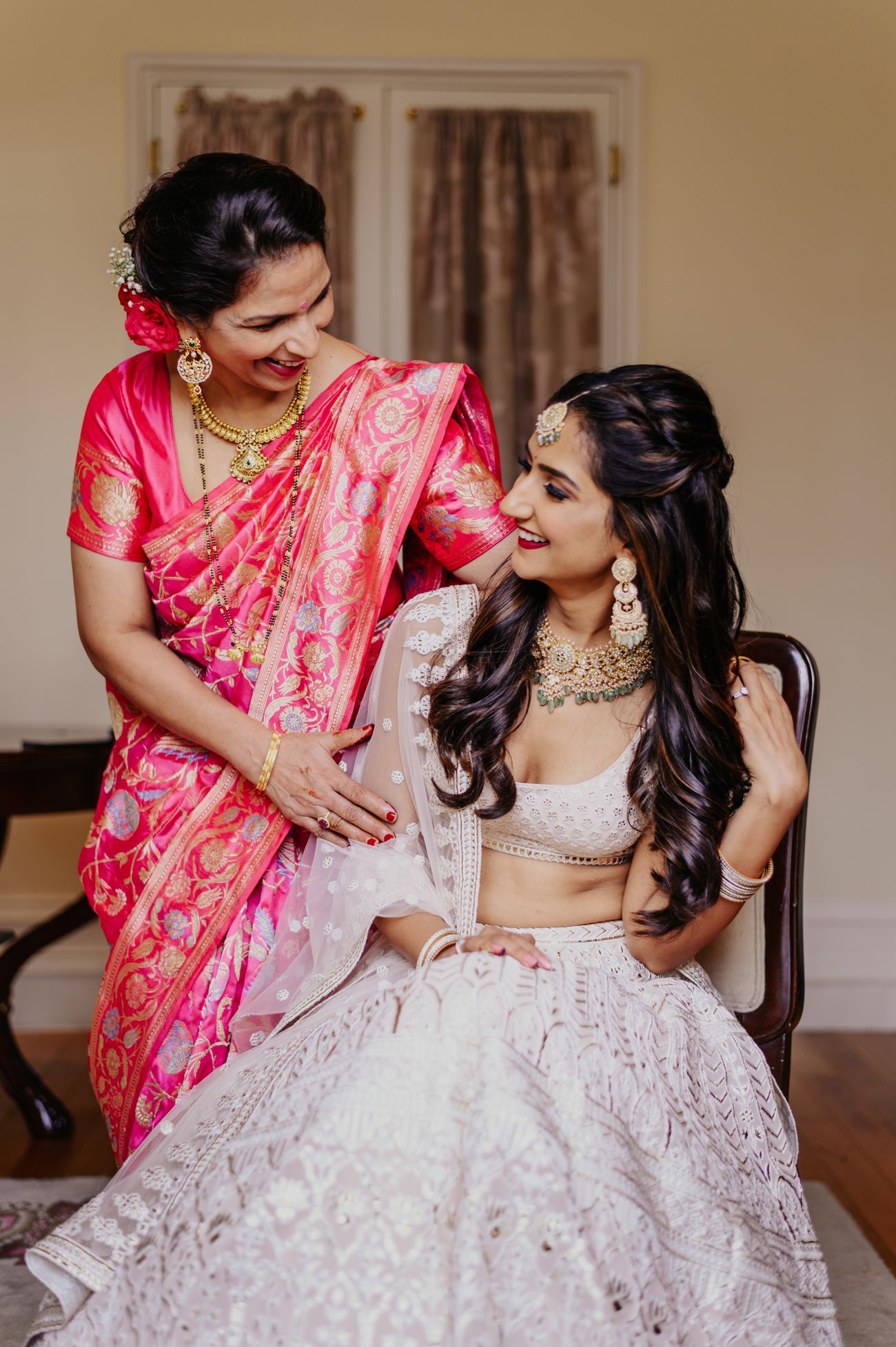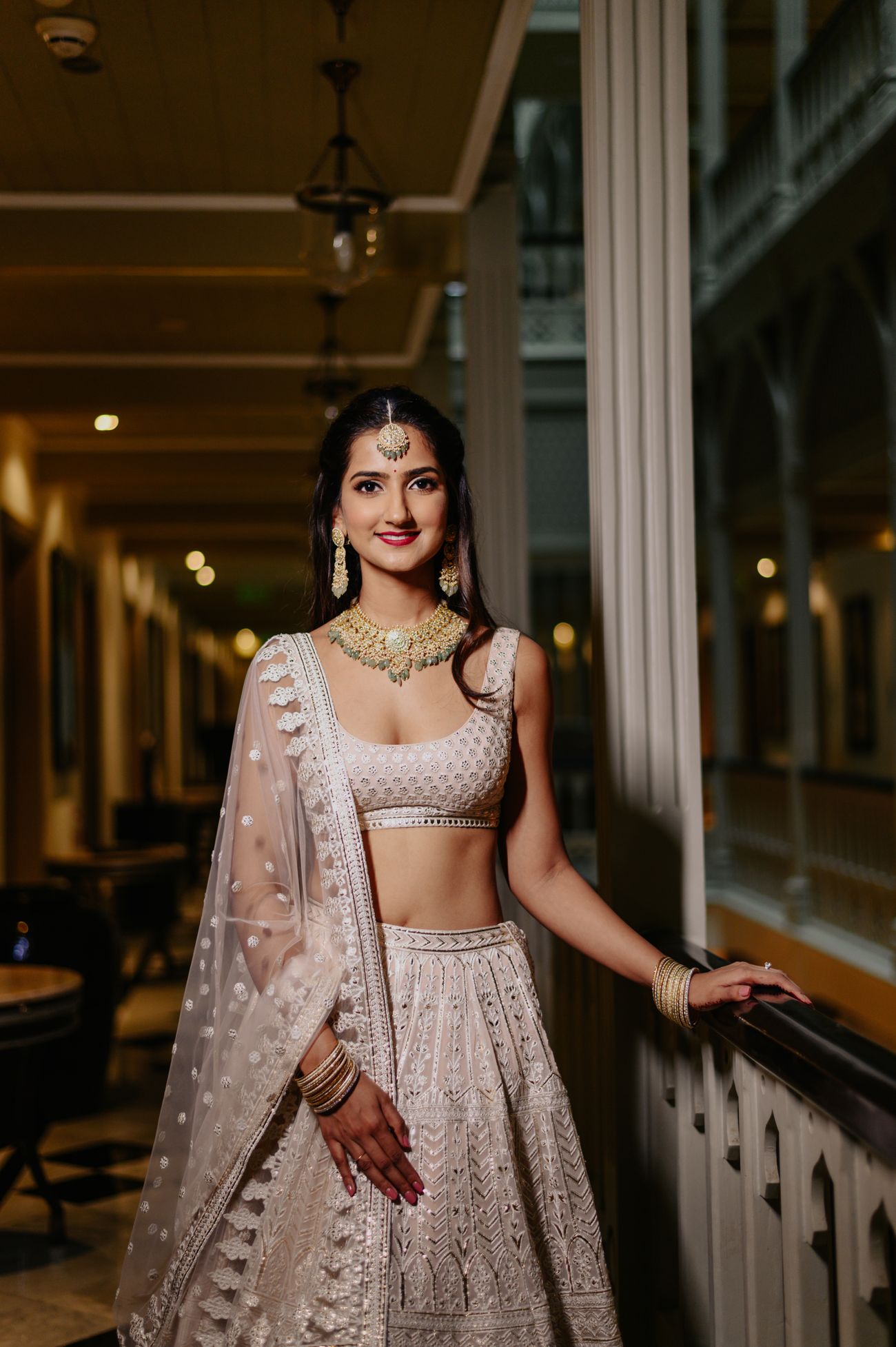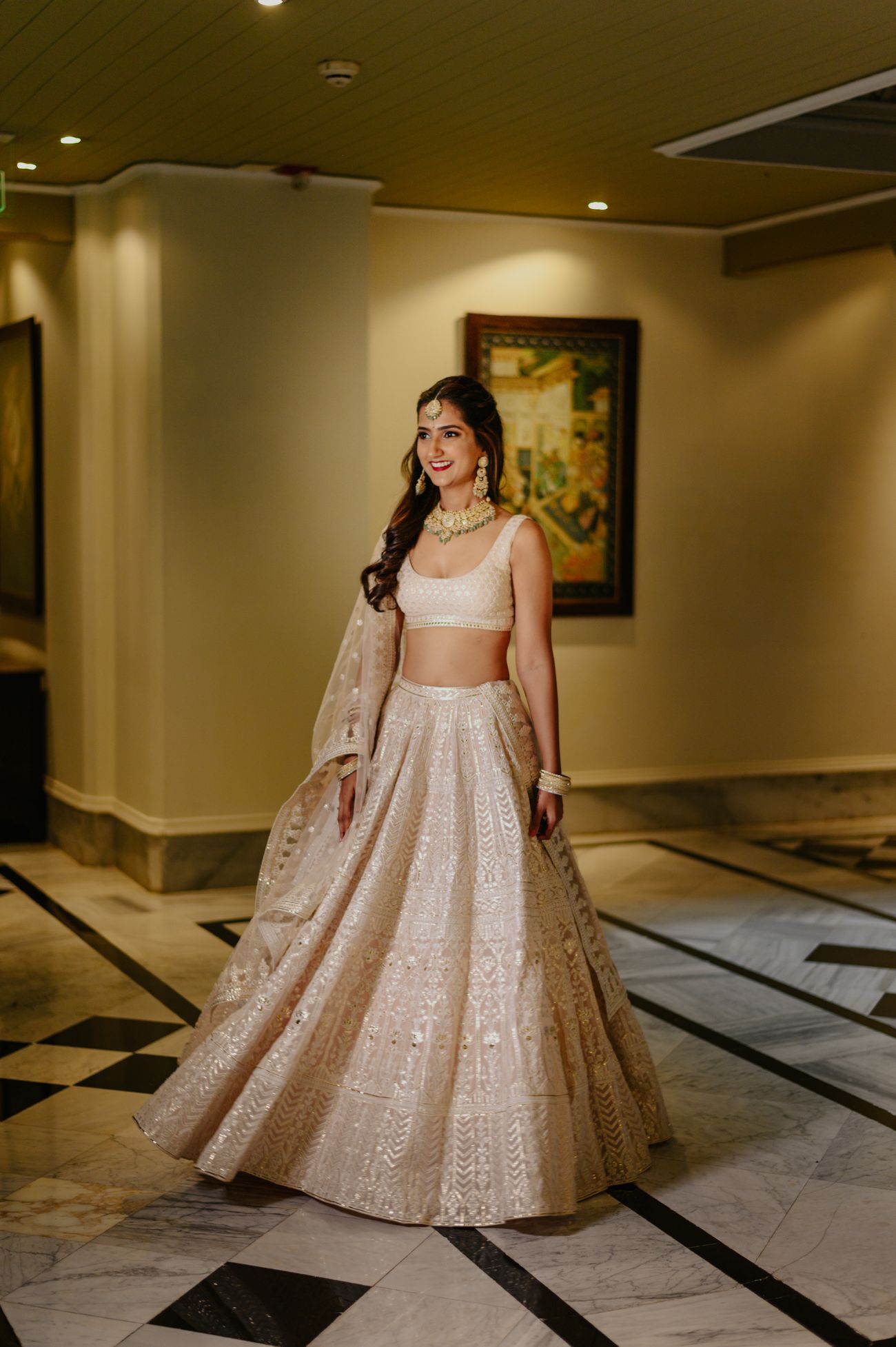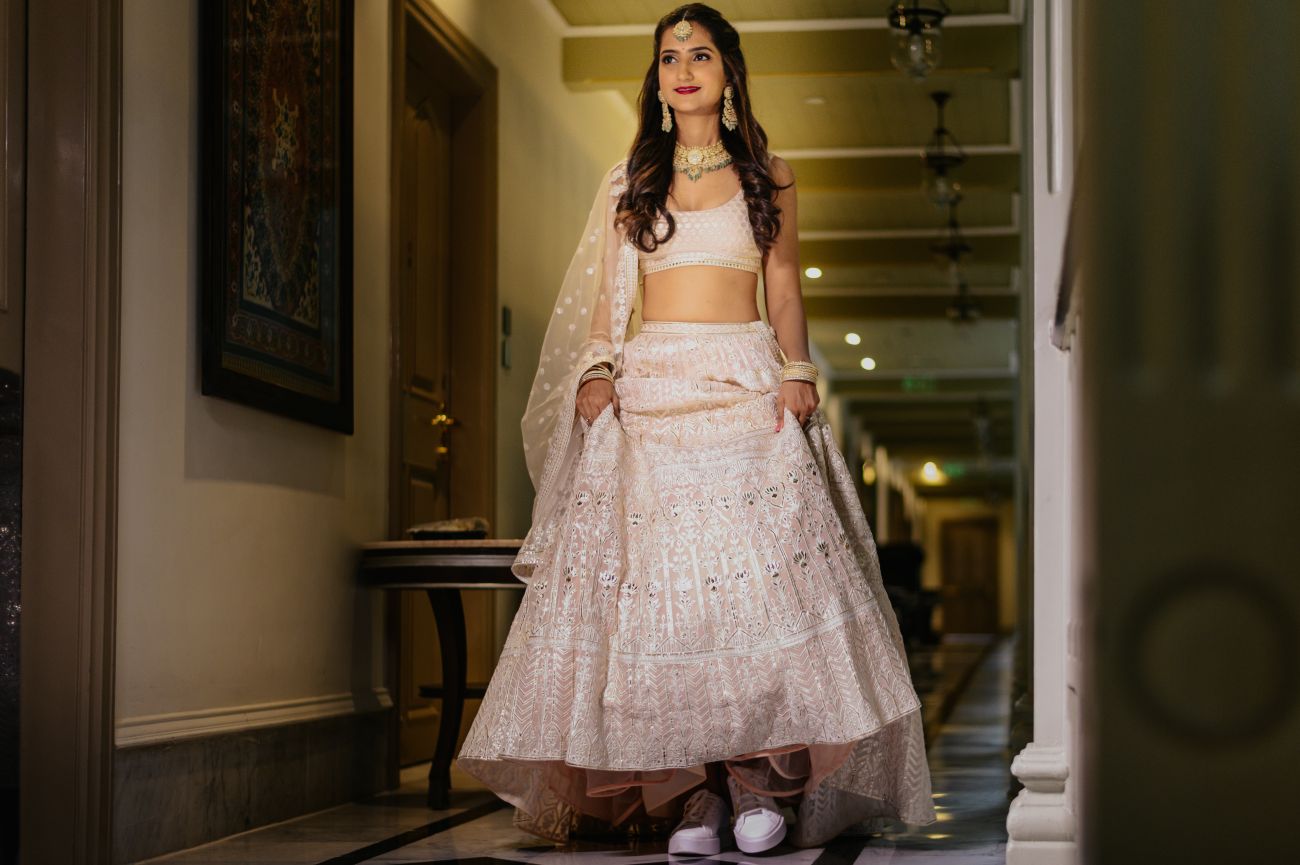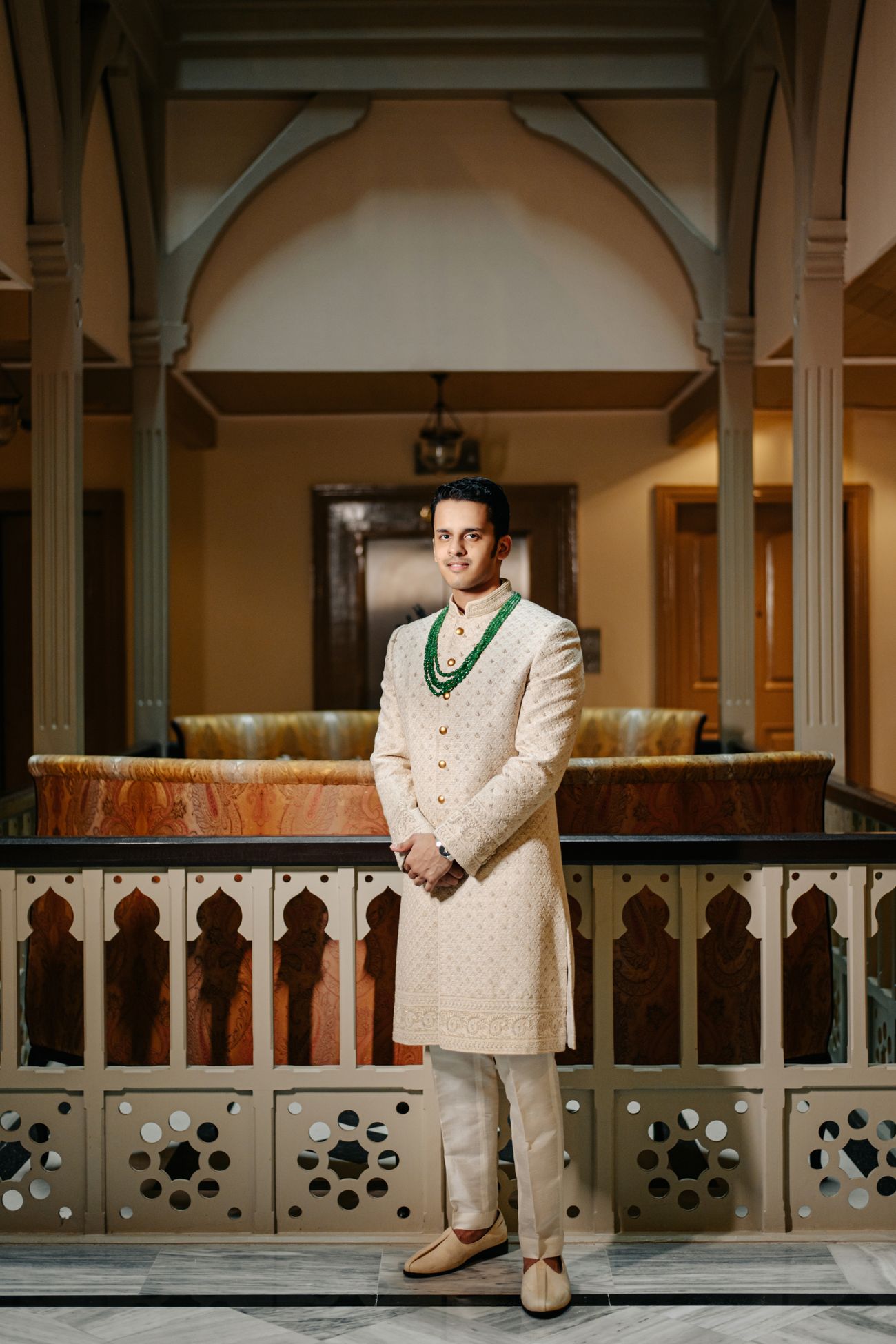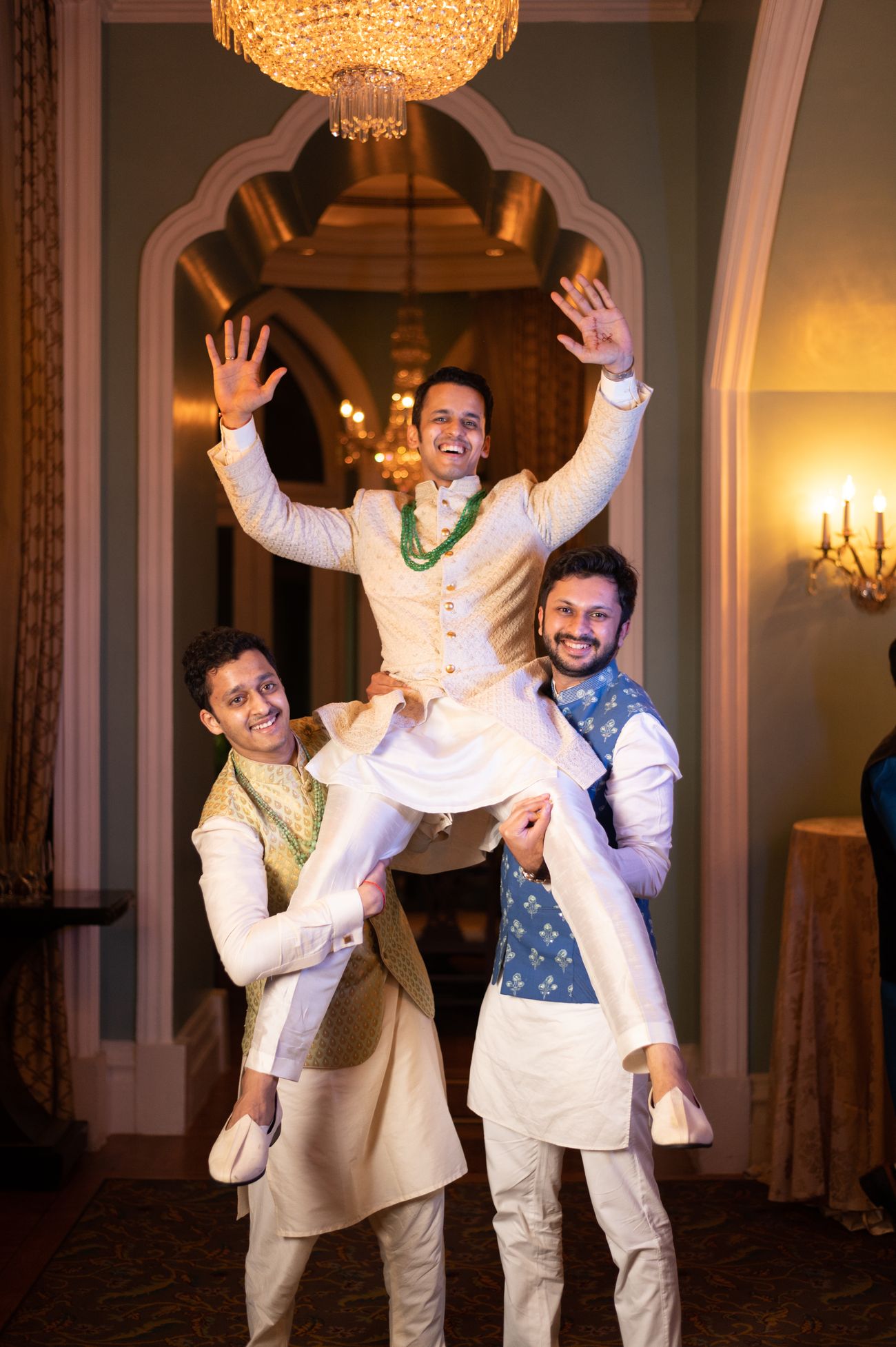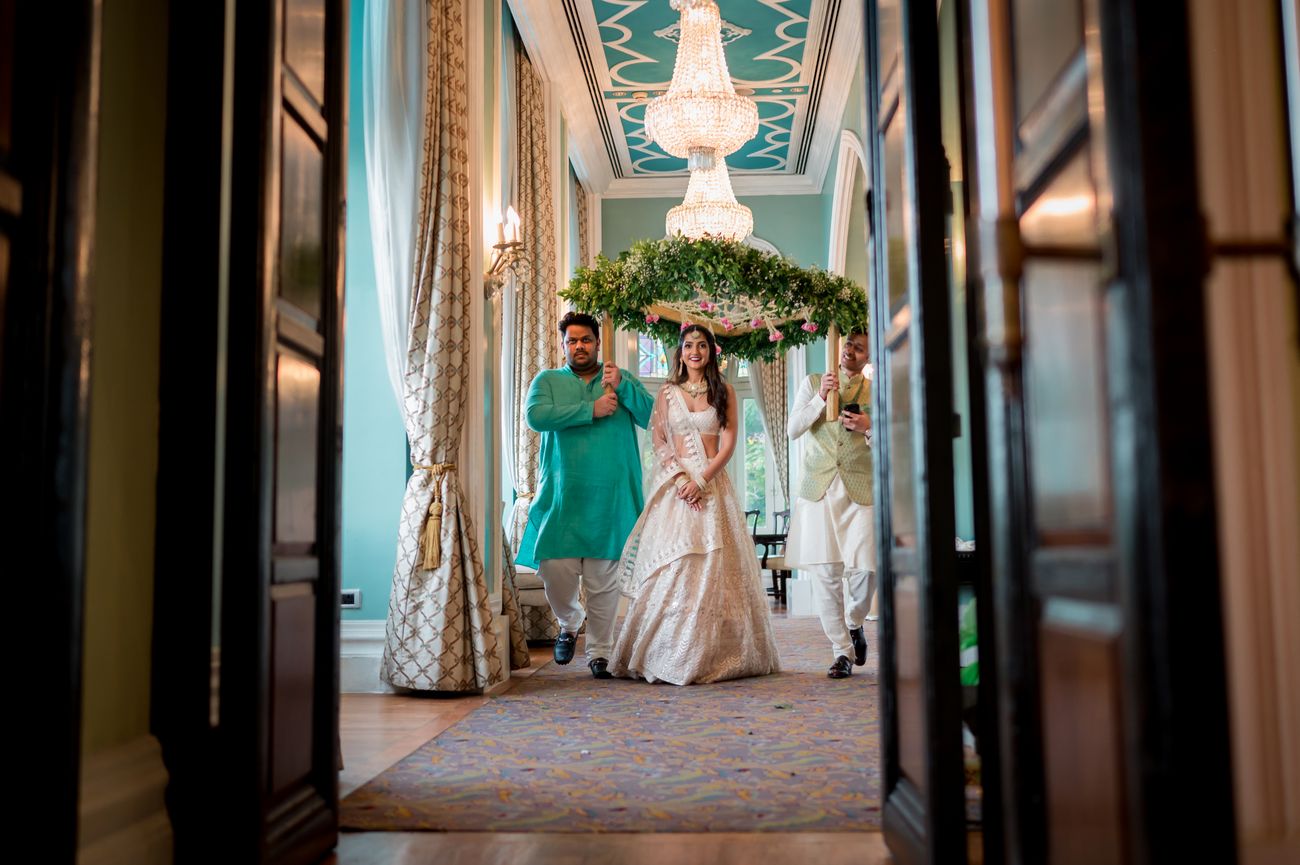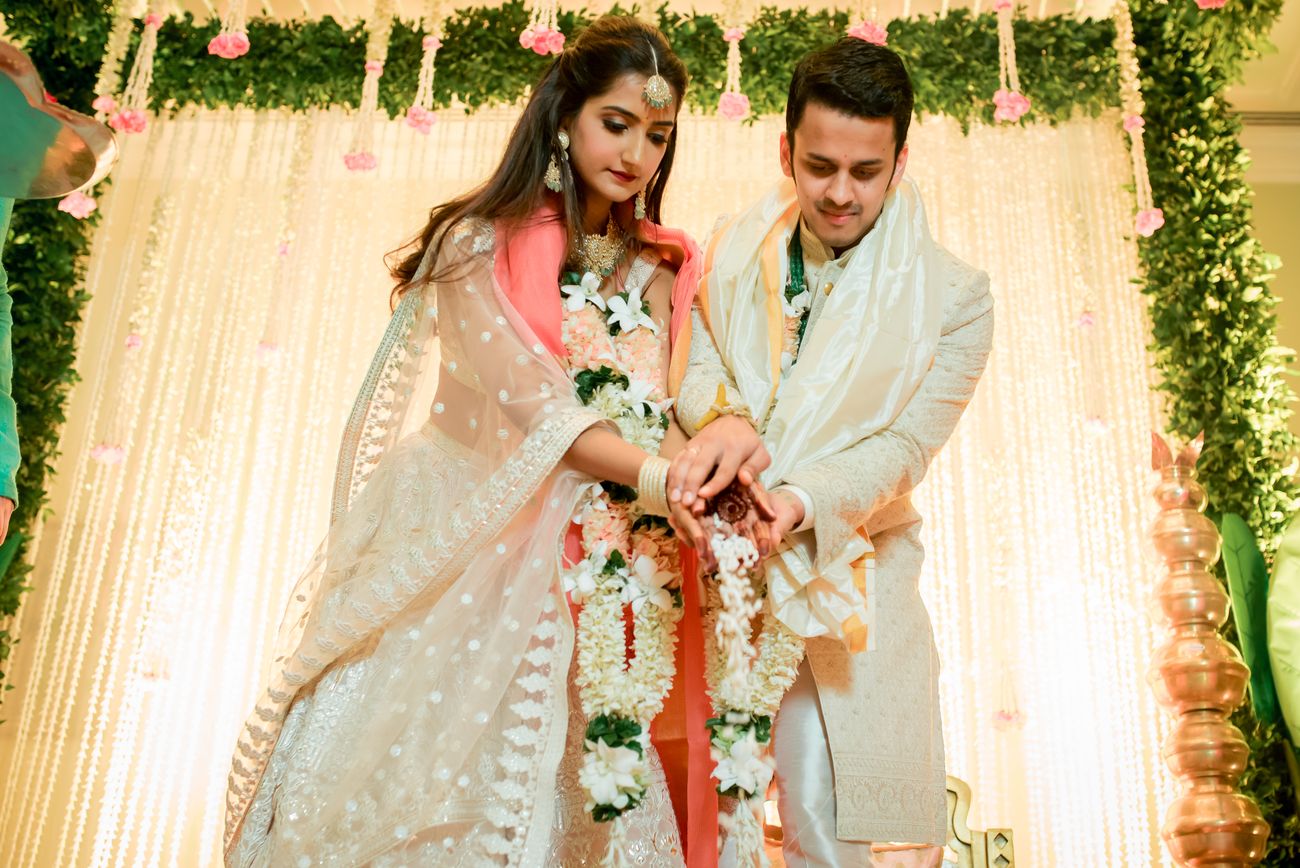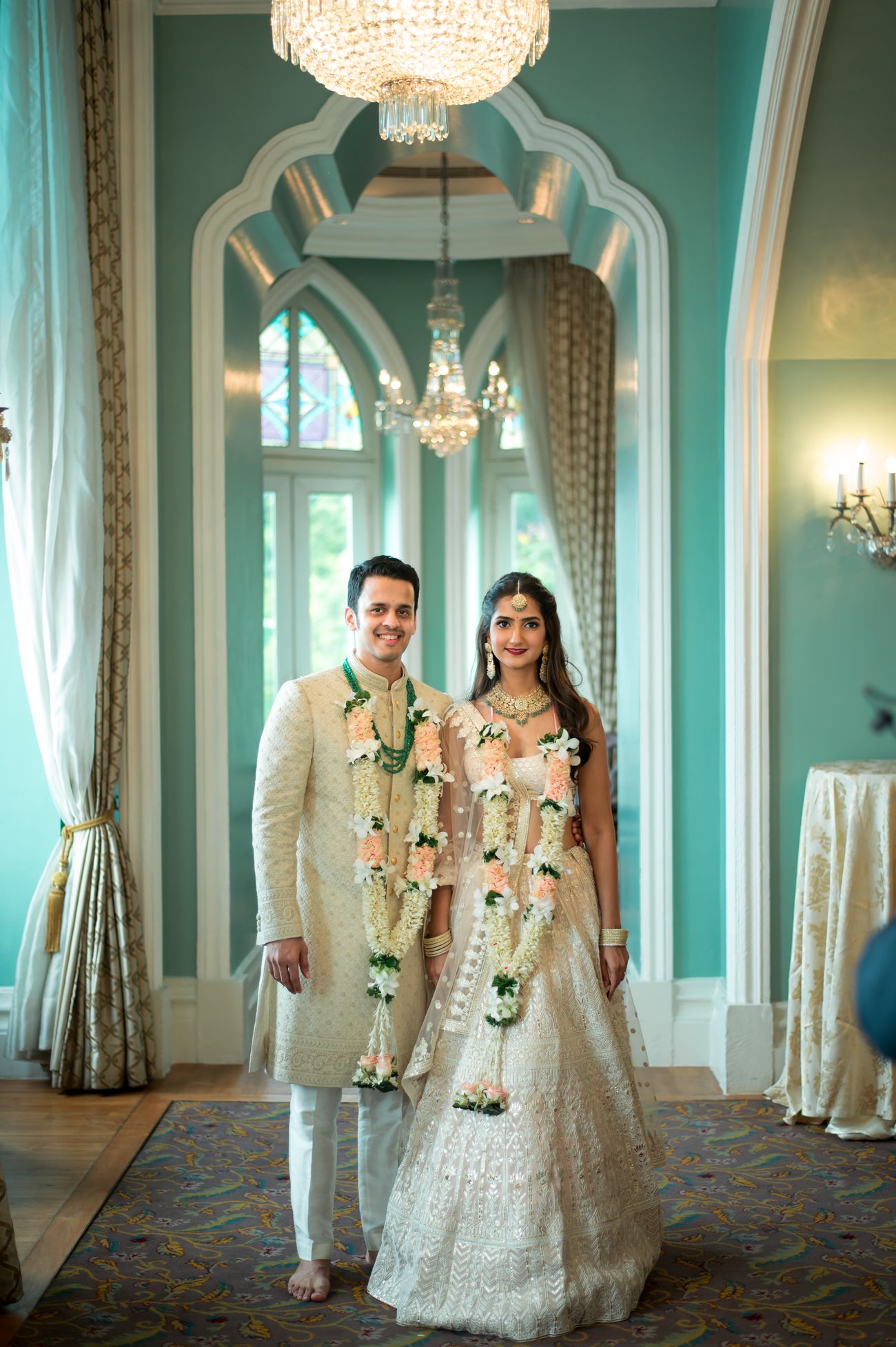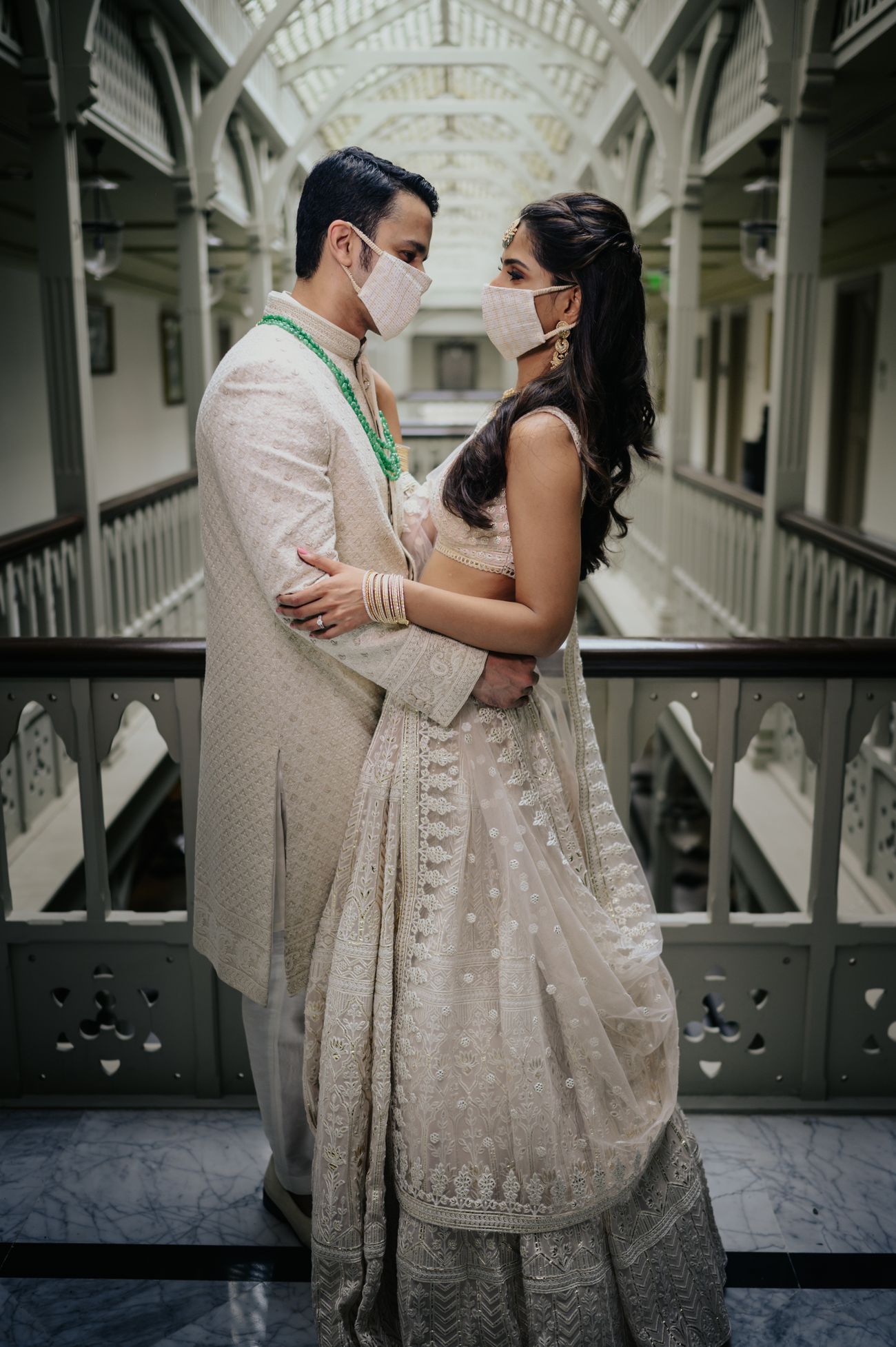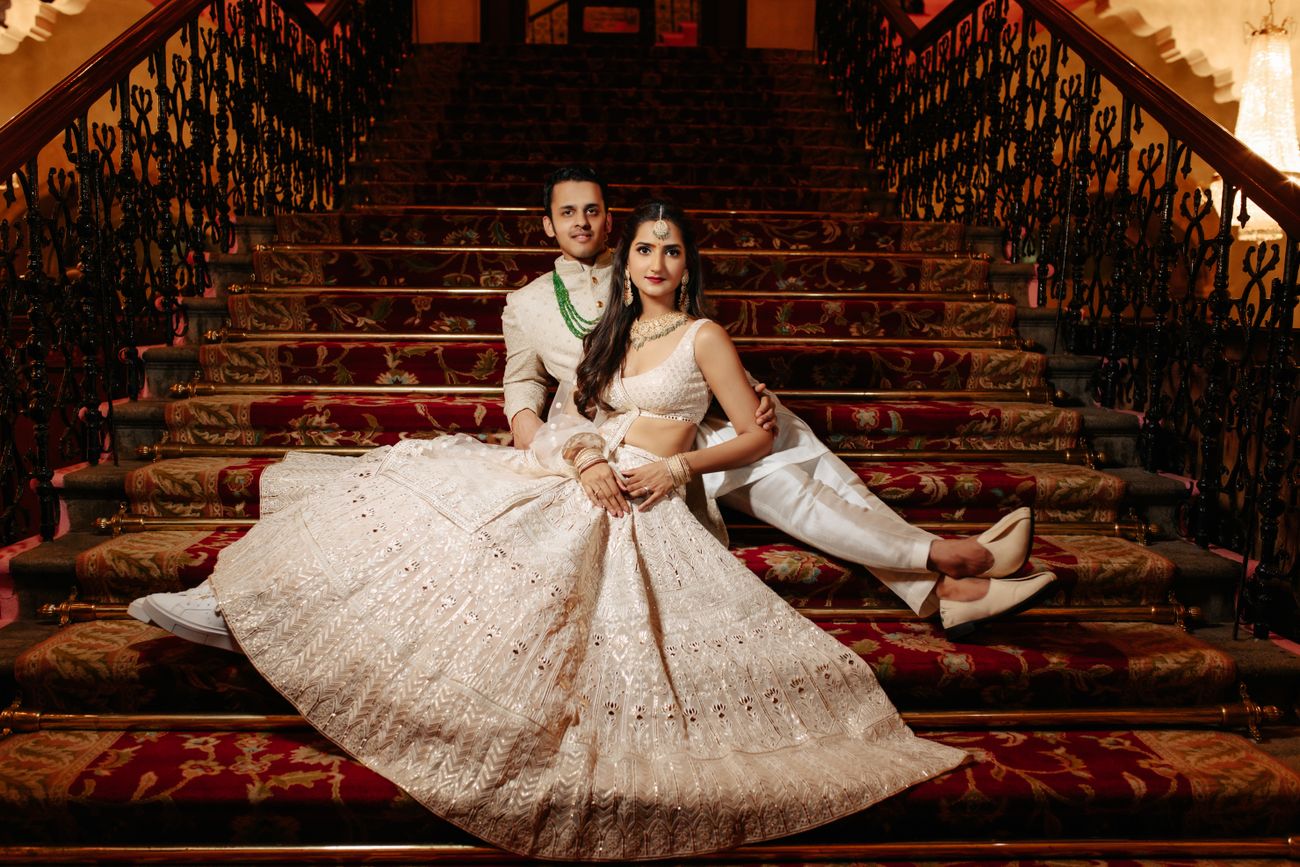 From The Bride 
Ronil and I always envisioned our wedding to be an intimate, classy, and elegant affair. Even though we just had a week to plan, we did not want to compromise on our vision. We did all the things we would have done had it been in a non-COVID world. We went with our gut on most decisions including our outfits! While most couples have the luxury of time to select as well as coordinate their outfits, Ronil and I didn't. Moreover, I had not even tried my jewellery and outfit together as it all arrived just a day before the wedding! Well, at that time there wasn't much I could do and after all, I was just happy I was getting to marry the love of my life. It was going be a surprise for me as well as the 7 guests at the venue and around 100 close friends and family plugged in via zoom. However, on the day of the wedding, it all came together beautifully - our outfits not just complemented each other's so did our masks (courtesy Ekaya Banaras). Additionally, every little detail of the day was just perfect!! Everything from our wedding invite, venue, mandap, garlands, great food including a two-tier wedding cake!! This was in every way our perfect wedding!!
From The Groom 
We were both very clear from the beginning that a wedding is a celebration best shared with near and dear family and friends. However, since when do the bride and groom get to have such a wedding? After adding together all the lists from every family member in your house you will be lucky if the number is below 1000 people.
Of course, 1000 people might be high but when we said small we definitely never thought it would be just 9 of us! We did miss our families and friends dearly (Hopefully can throw a big party sometime next year) but to be fair we wanted a small wedding and we got it! We also wanted the wedding to be elegant and subtle and so that's the way we went about selecting every element, be it the venue, the decoration, the mandap, the clothes, the food and somehow it all fell in place and that too in 9 days with no help from anyone besides immediate family (us +our parents)!
One important decision we took is that we would not wear masks since it was just 9 members of our family in attendance. I think that was the best decision in hindsight or the 2nd best decision after the one to get married haha! We will remember this as a unique and happy wedding indeed but I don't think the negativity around the word Covid will be able to touch the memories we made that day (courtesy no masks and gloves when it was just us). In a happy turn of events friends and family who could not attend sent their love in many beautiful video messages and could also participate in the ceremony through Zoom (Thank god for Zoom). The cherry on top was that 3 of our closest friends who would not take no for an answer also happened to crash the wedding which became a happy surprise and really cheered us up (also 14 days have passed and we are all healthy ;)
Vendor Reviews
Venue – The Taj Mahal Palace, Mumbai
We all concluded that Taj Mahal Palace, Colaba was the best place and safest under the circumstances to host it. Additionally, given that we were originally planning to host our big fat Indian wedding at the Taj, we felt most comfortable with this venue. A special mention to Chef Surendra Khambra (Executive Sous Chef), who helped curate a personalized menu for sit down dinner, and Chef Prashant Sabne (Executive Pastry Chef) who created a custom-made heavenly two-tier chocolate wedding cake coated with white frosting and pastel-colored flowers. Ms. Muriel Fernandes (Catering Sales Executive, Taj Mahal Palace) made arrangements, emails went back and forth, she organized conference calls with chefs, zoom / digital service representatives, front desk room bookings and also giving us one person contact (Mr. Mohit Vichare )for all our needs. They went out of their way to meet all the requirements for our special day and ensured we enjoyed Taj's legendary hospitality even during these times! We are glad that we decided to have our special day at the Taj!
Makeup Artist Details - Shradha Luthra (@dollyouup_bys)
It was an absolute pleasure to work with Shradha. I absolutely loved that she was extremely professional; she said she would arrive at the venue at 9.45 am and there she was sharp at 9.45am! I booked Shradha just 2 days before my wedding day and in that time frame, she was extremely responsive and involved in discussing my look for the day, brainstorming ideas around what would look good, pre-care before the day of the wedding. Most importantly, Shradha just was able to understand my vibe, and at no point did I feel that her views were forced. In fact, it was a really collaborative process. I had also expressed that I did not want anything that looked over the top and I wanted to look classy and elegant and she hit the nail in the head!! My makeup was absolutely flawless on the day and I absolutely loved how it came together. She and her assistant also did my mother's makeup and hair respectively and again, just as for me; they crafted the perfect look for her. Post the wedding; I had quite a few friends compliment not just my look but also my mother's. I would highly recommend Shradha to other brides.
Photographer - Recall pictures
We decided to go ahead with Recall Pictures for our special day, as we had heard great reviews from friends, and sure as hell, they did not disappoint!! Roanak and his team more than lived up to their reputation. We were really happy with the quality of work wherein the team managed to capture all our special and candid moments during the ceremony, as well as family portraits that will be remembered for years to come. Lastly, given COVID, we were especially happy with the level of care and precaution taken by the team – they were careful to maintain a safe distance at all times and had donned face mask, face shields, and gloves! I would highly recommend the team at Recall Pictures.
Decor - Vivaah Wedding Decor
Ms. Rachna (@Vivaahweddingdecor) - Despite being faced with what could possibly be every decorator's nightmare - unavailability of flowers due to COVID, lack of staff, and inability to work overnight given strict restrictions at the venue; Rachna managed to not just get the brief right in just an hour of conversation but also managed to deliver on time!! She was an absolute gem and delight to work with.
Vendors: Venue - The Taj Mahal Palace, Mumbai ; Bridal Makeup - Doll You Up By S ; Photography - Recall Pictures★ 5 ; Decor - Vivaah ★ 4 ; Bridal Wear - Haldi: Ekaya Banaras★ 5 , Wedding: Falguni Shane Peacock ★ 4.9 ; Groom Wear - Bellani Bespoke, Daponair (shoes) ; Wedding Invite - The Bombay lettering Company