Marathi Superstars Mitali & Siddharth Tie The Knot In A Dreamy Ceremony
BY Aakanksha | 09 Feb, 2021 | 46 views | 6 min read
Mitali Mayekar Chandekar & Siddharth Chandekar are well-known names in the Marathi industry! Known for their leading roles in Marathi Television, the couple had an intimate, dreamy celebration in Pune. The venue was a traditional Wada and Mitali & Siddharth donned traditional Marathi attire for the wedding. Their love and joy at being together were evident from the beautiful pictures captured by the skillful team of Gaatha. Adding to the whole vibe was the emotional wedding teaser they released, which showed just the amount of fun and madness that brewed throughout the 3-day celebrations. Scroll down and see for yourself this crazy yet lovable celebrity wedding. 
Meet Mitali & Siddharth
Both of us are actors in Marathi Industry. So, obviously we knew each other just like that. But we actually met at an event in which I was performing and he was hosting it. We met in the afterparty, had dinner and became very good friends. Later on we connected on instagram.
The Mehendi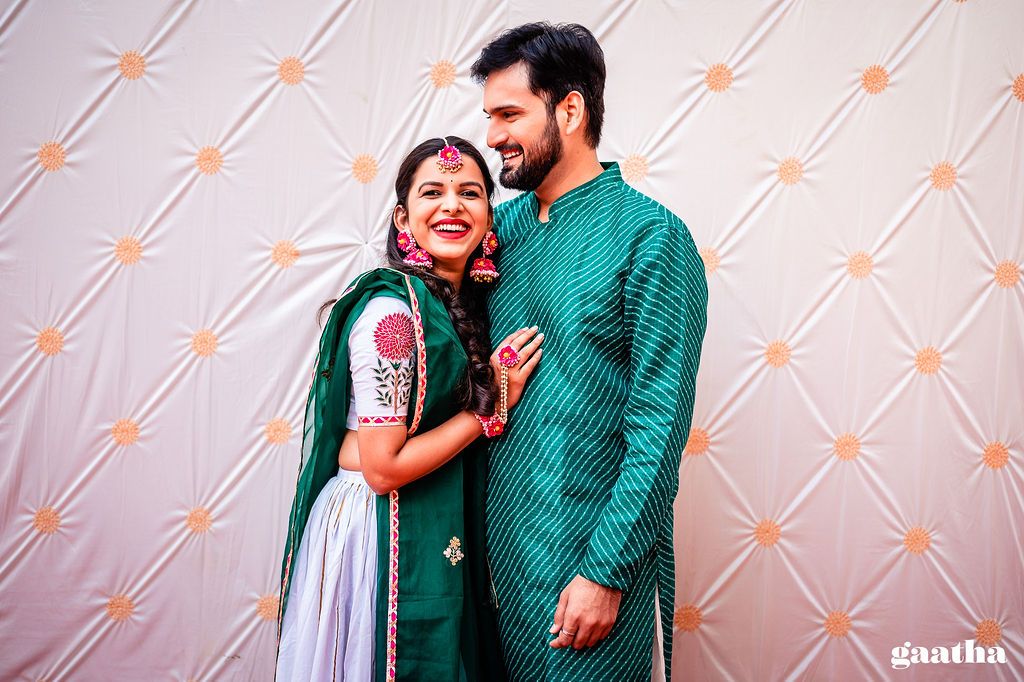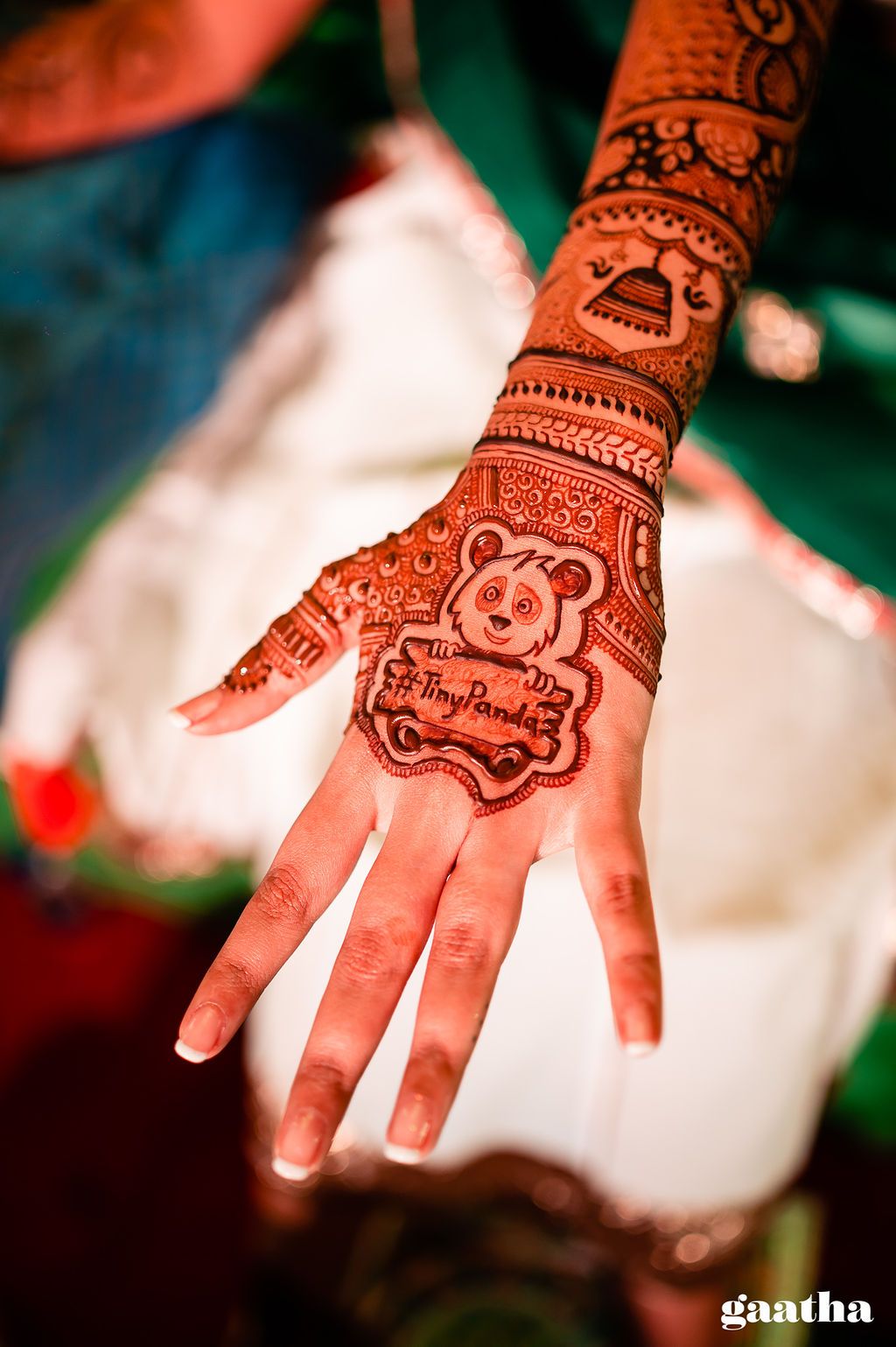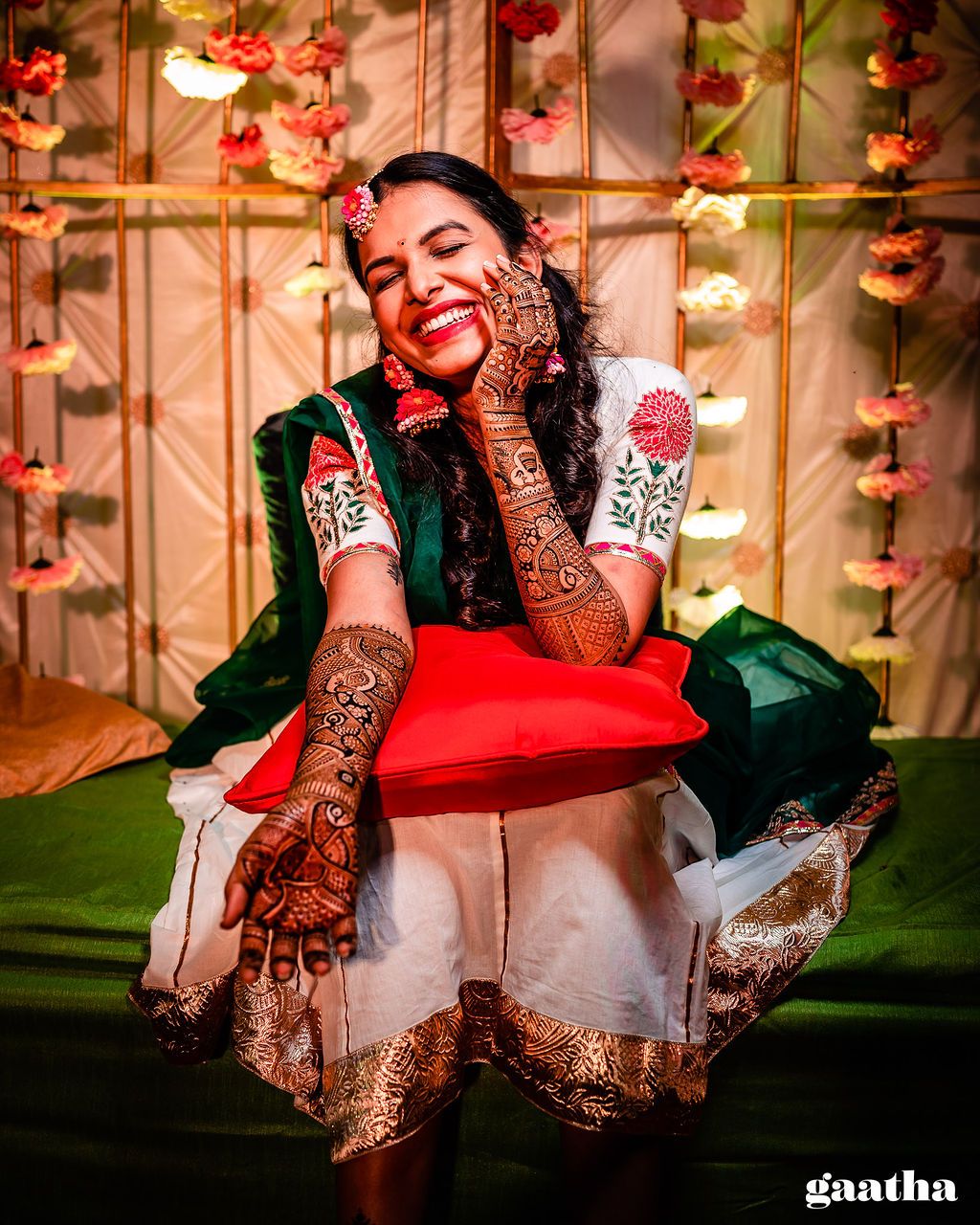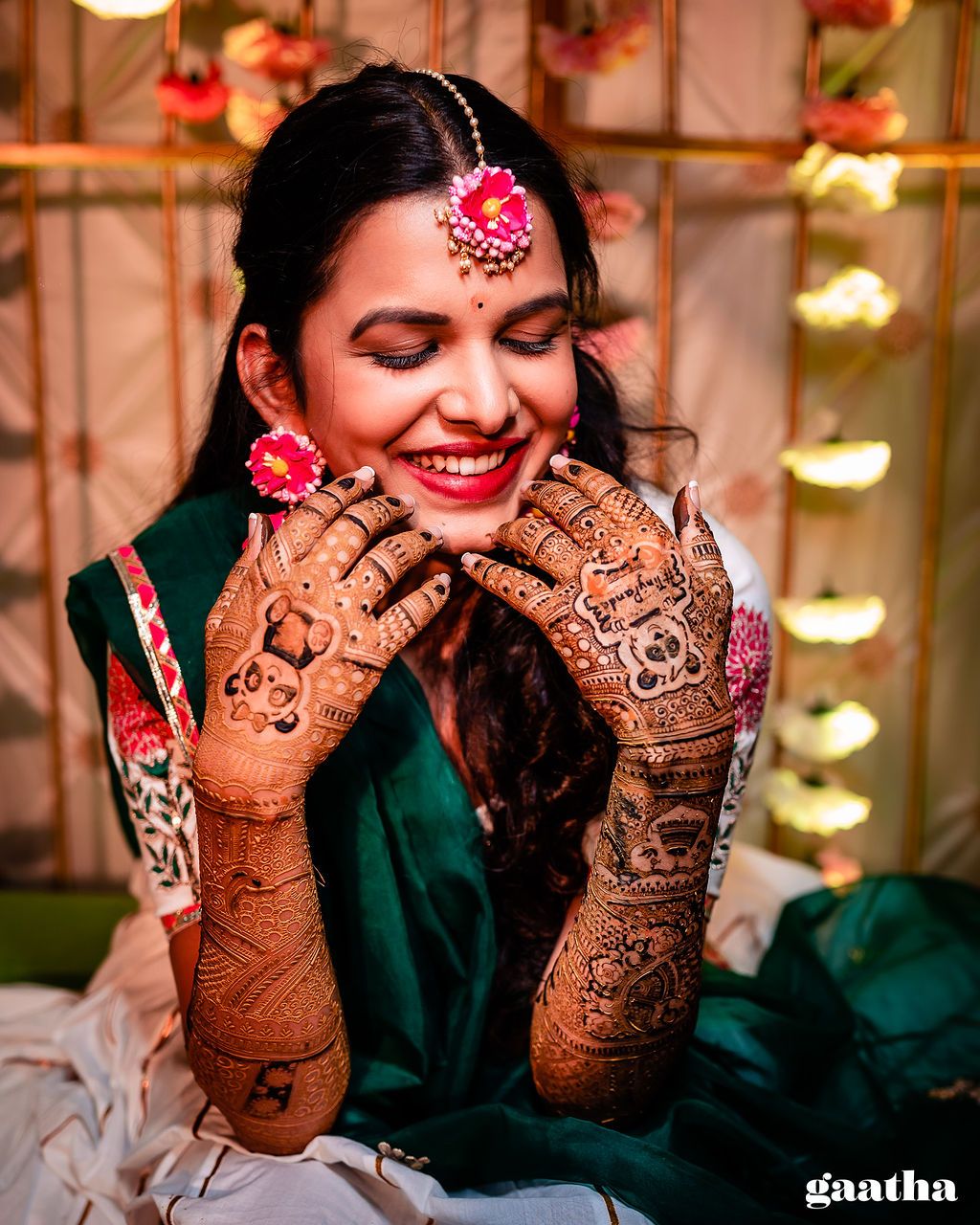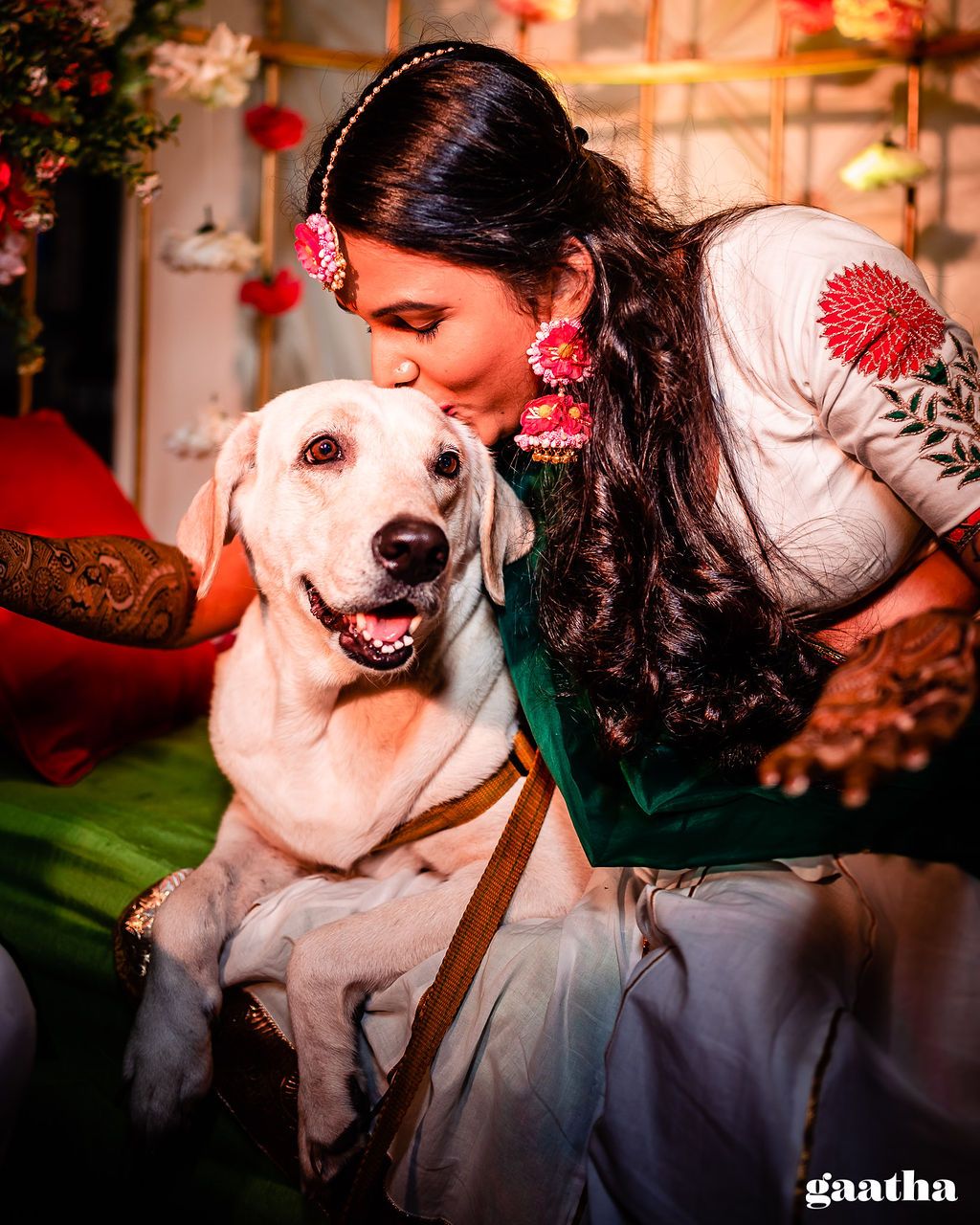 The Wedding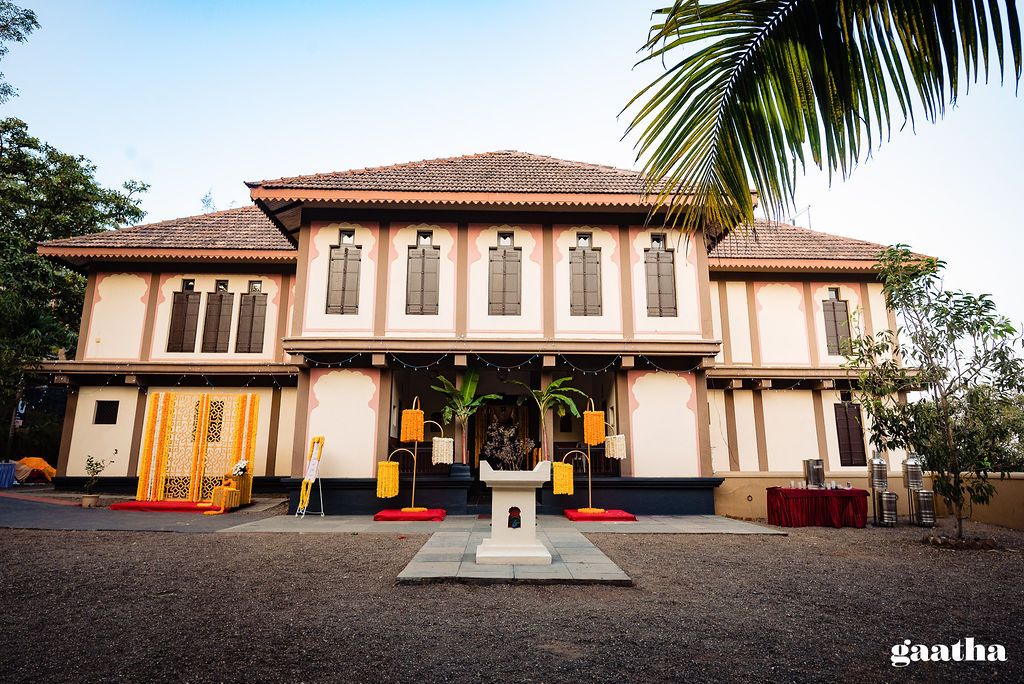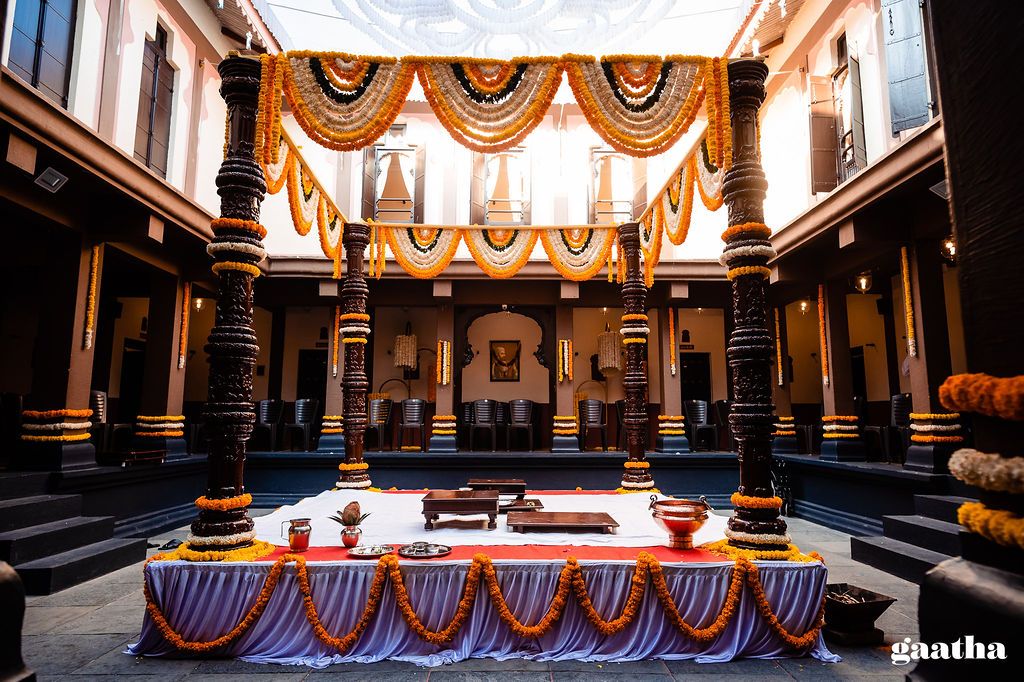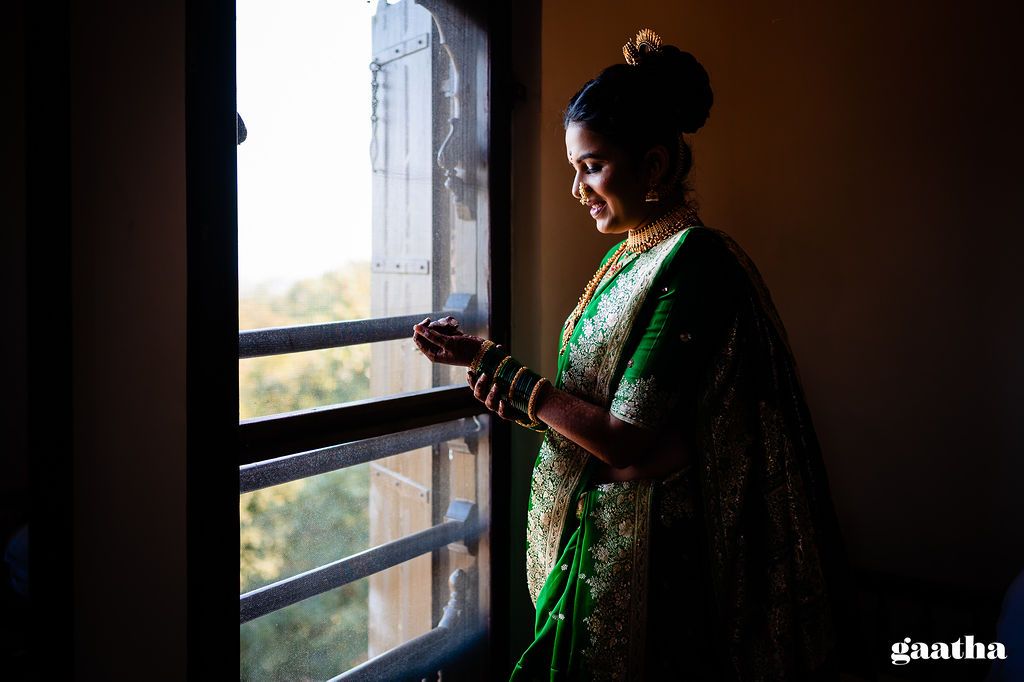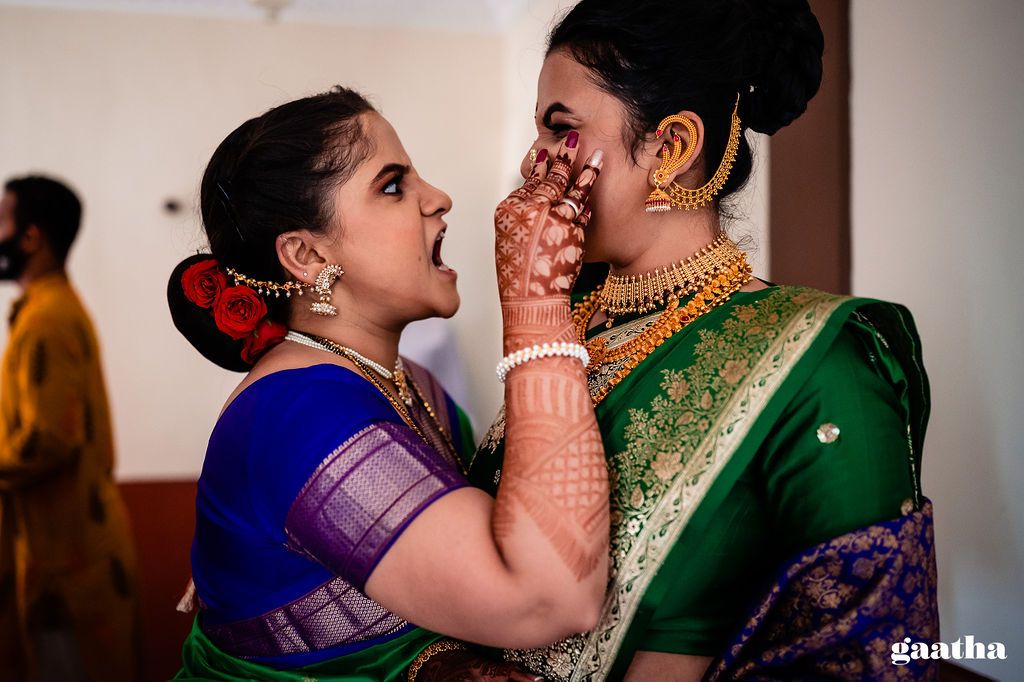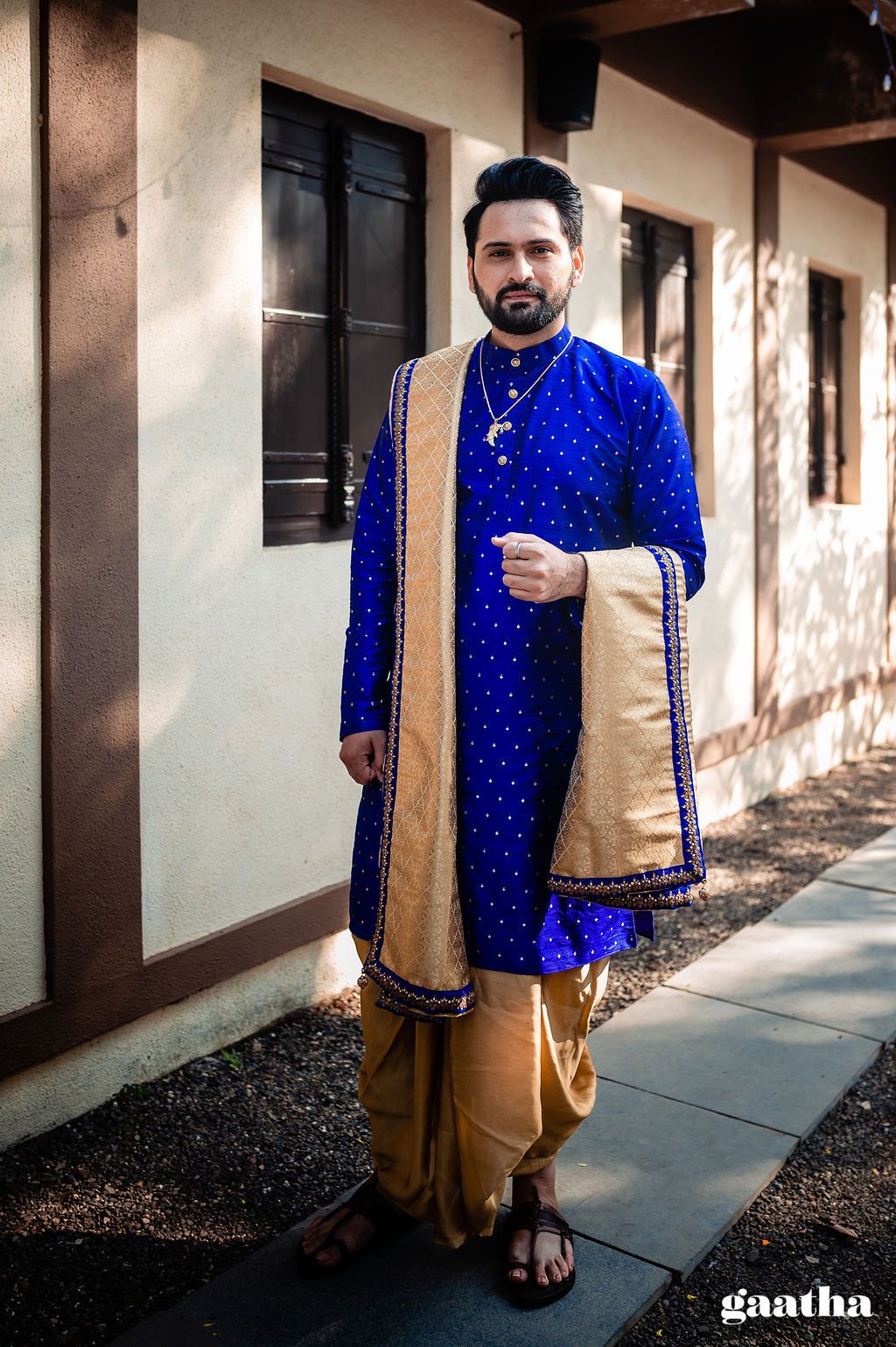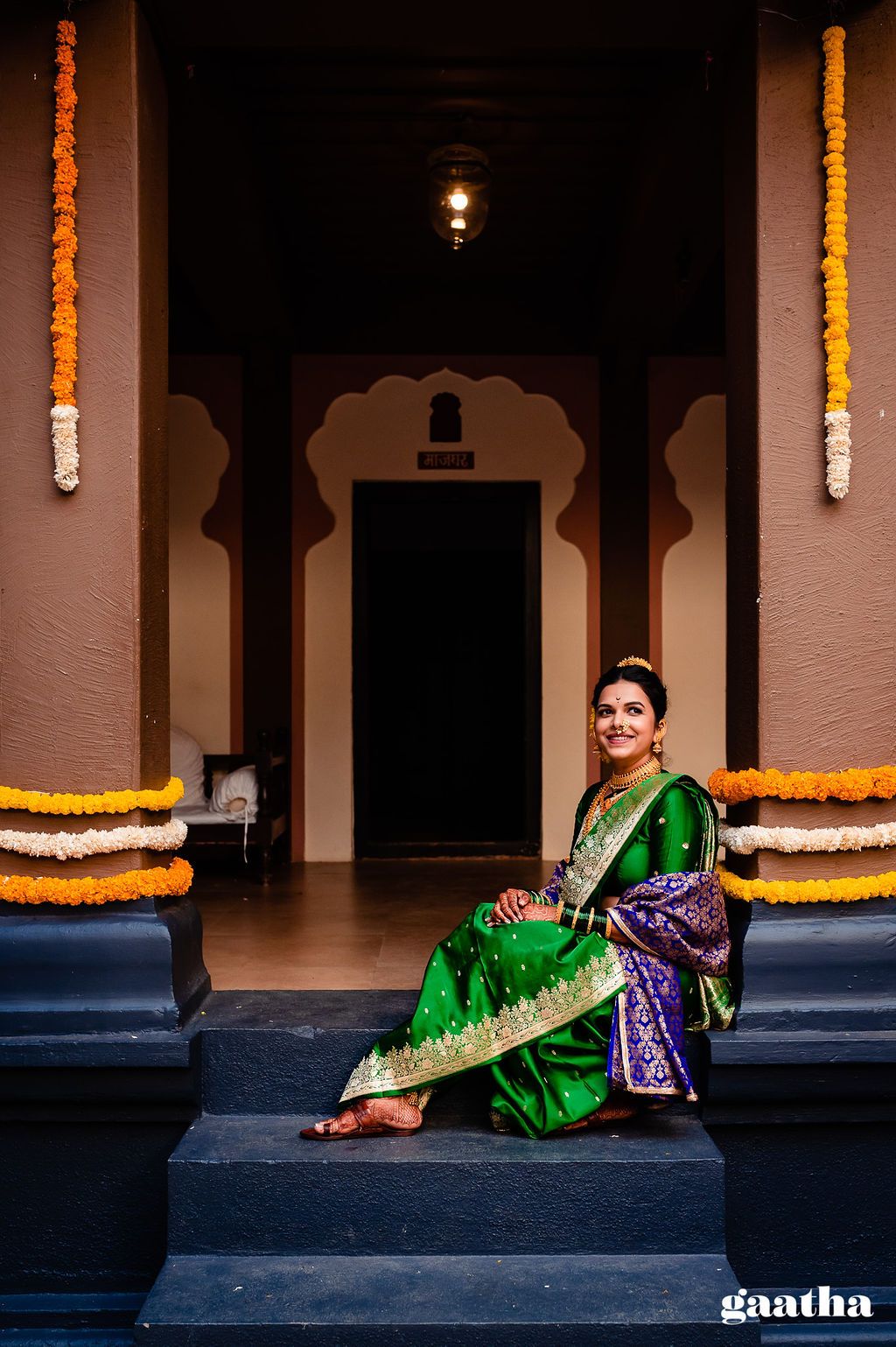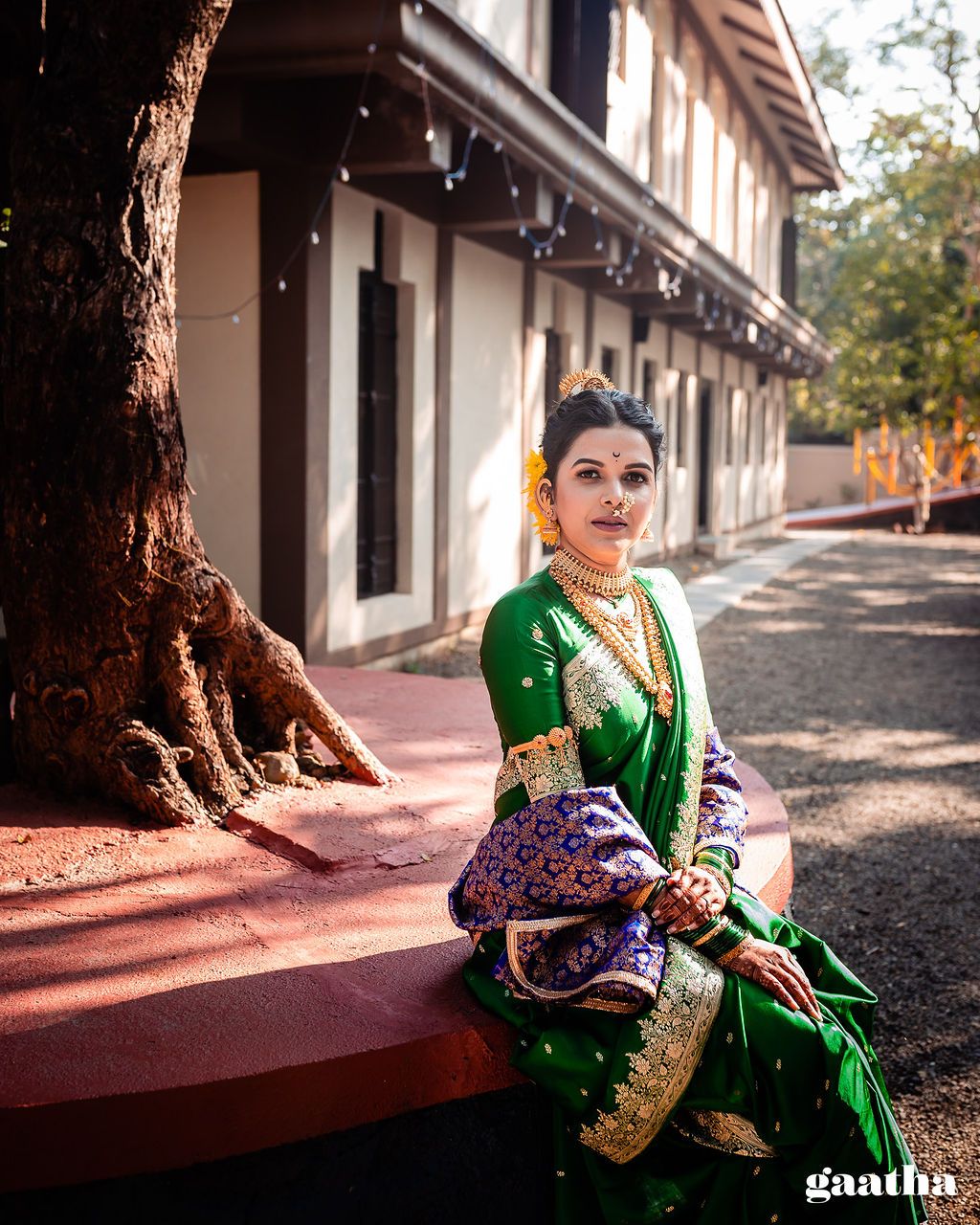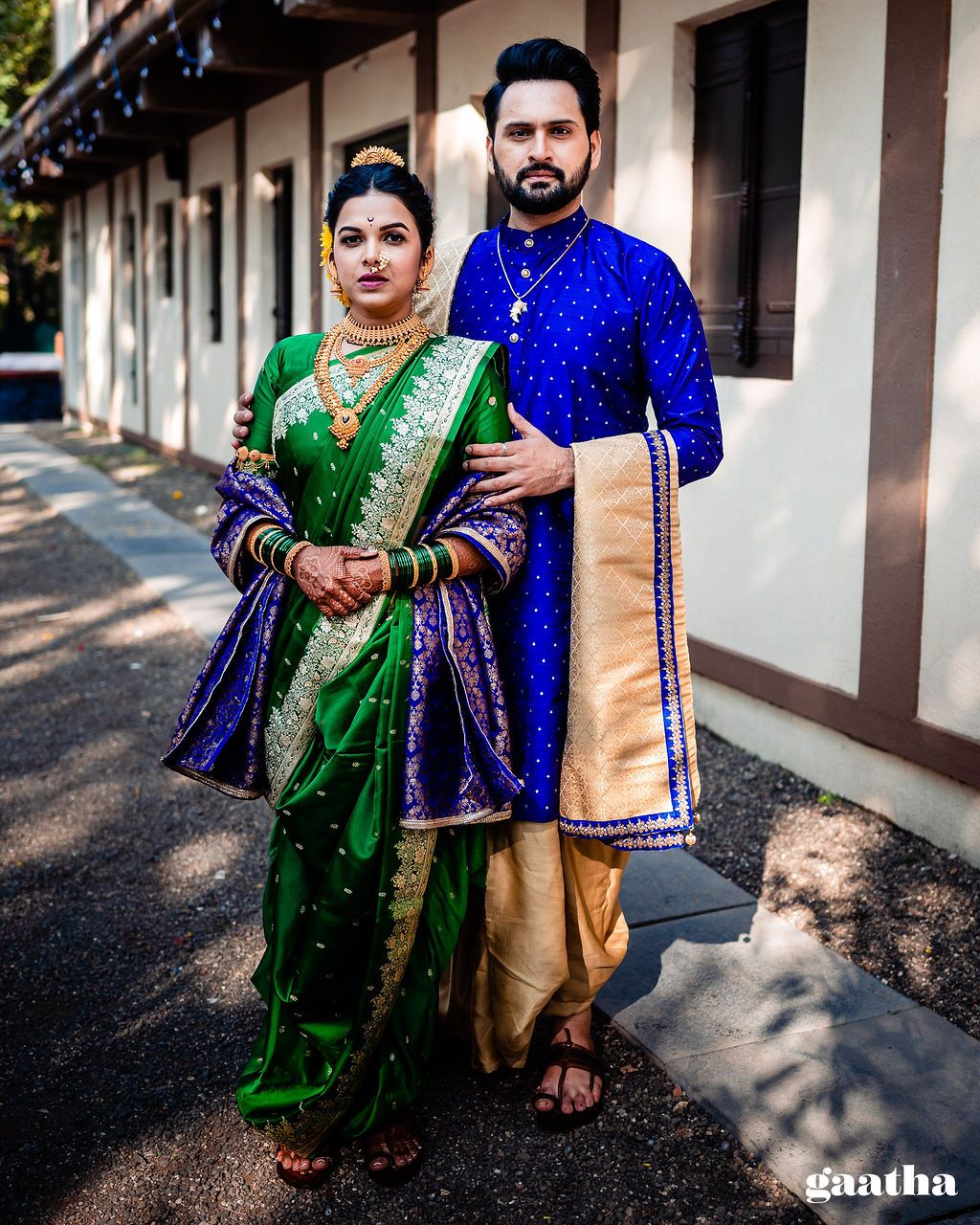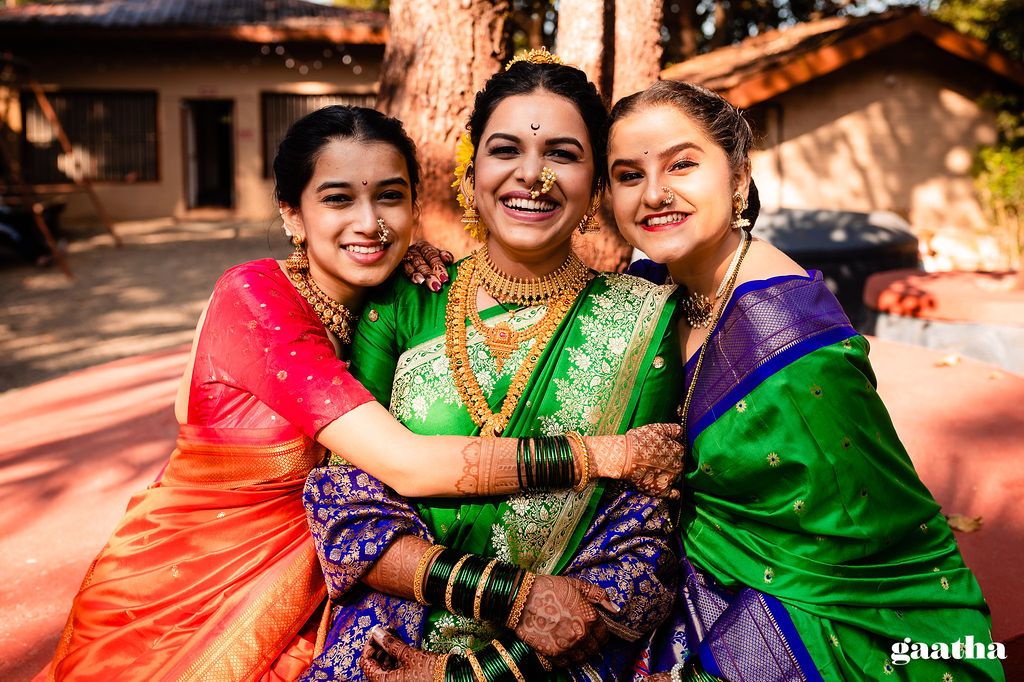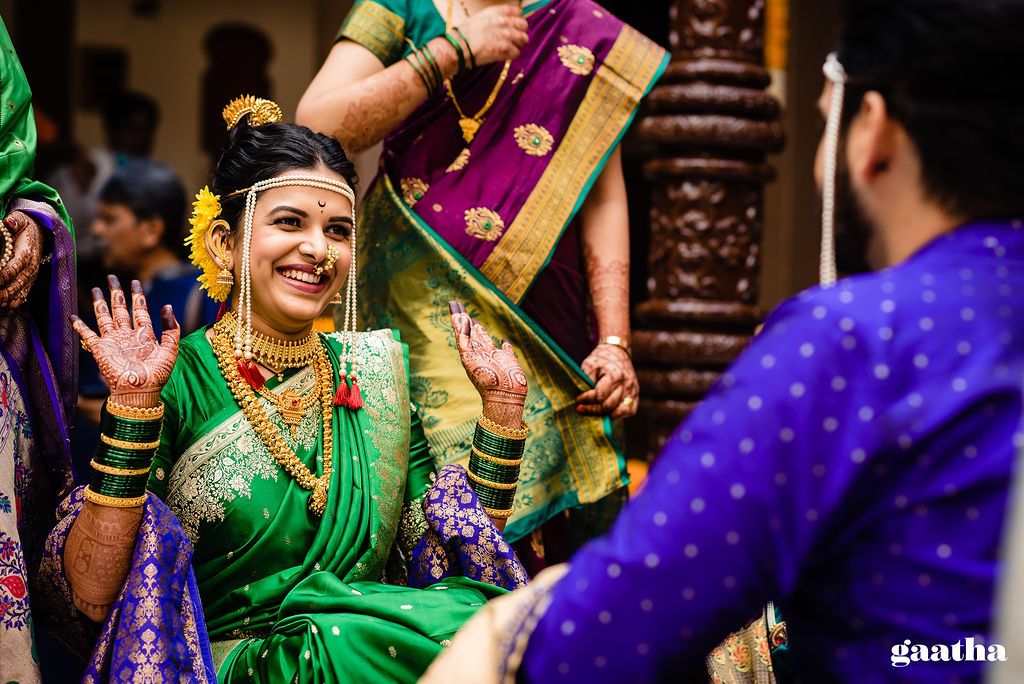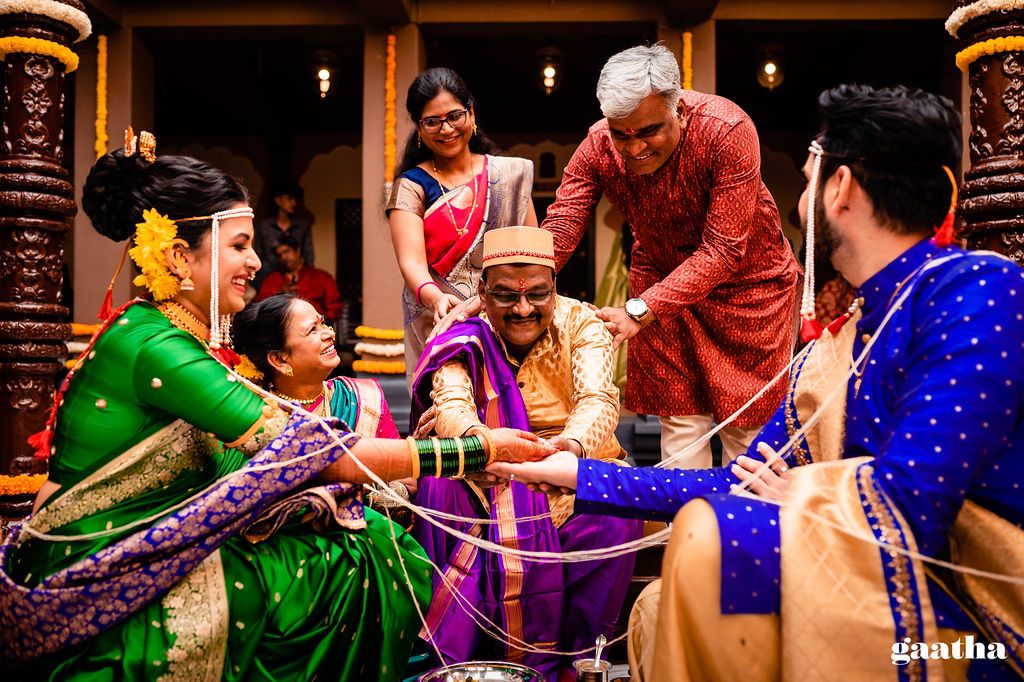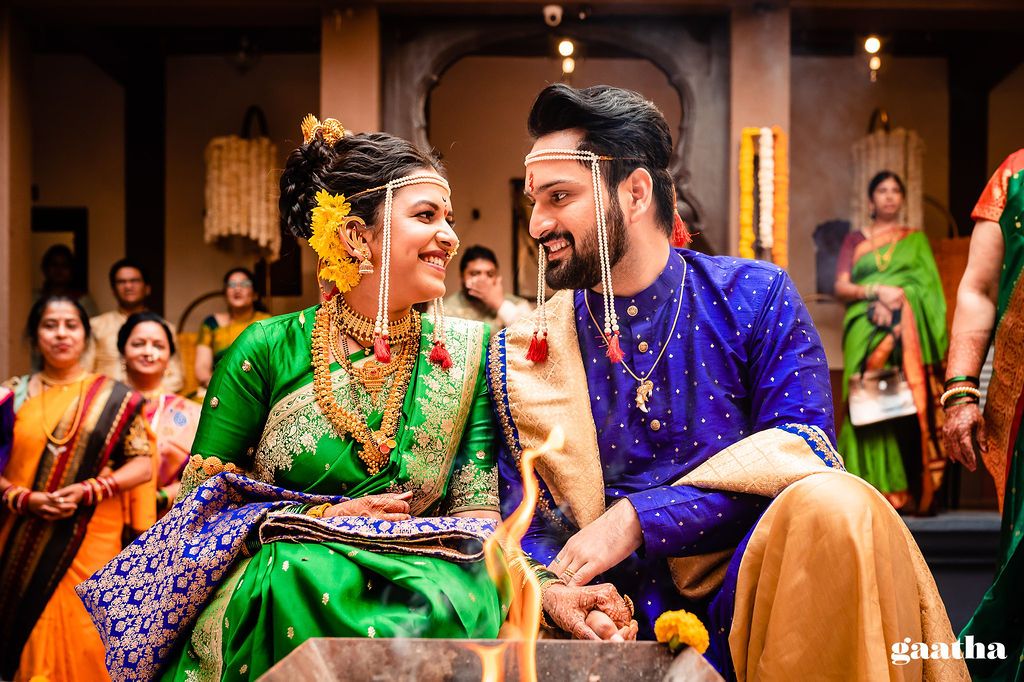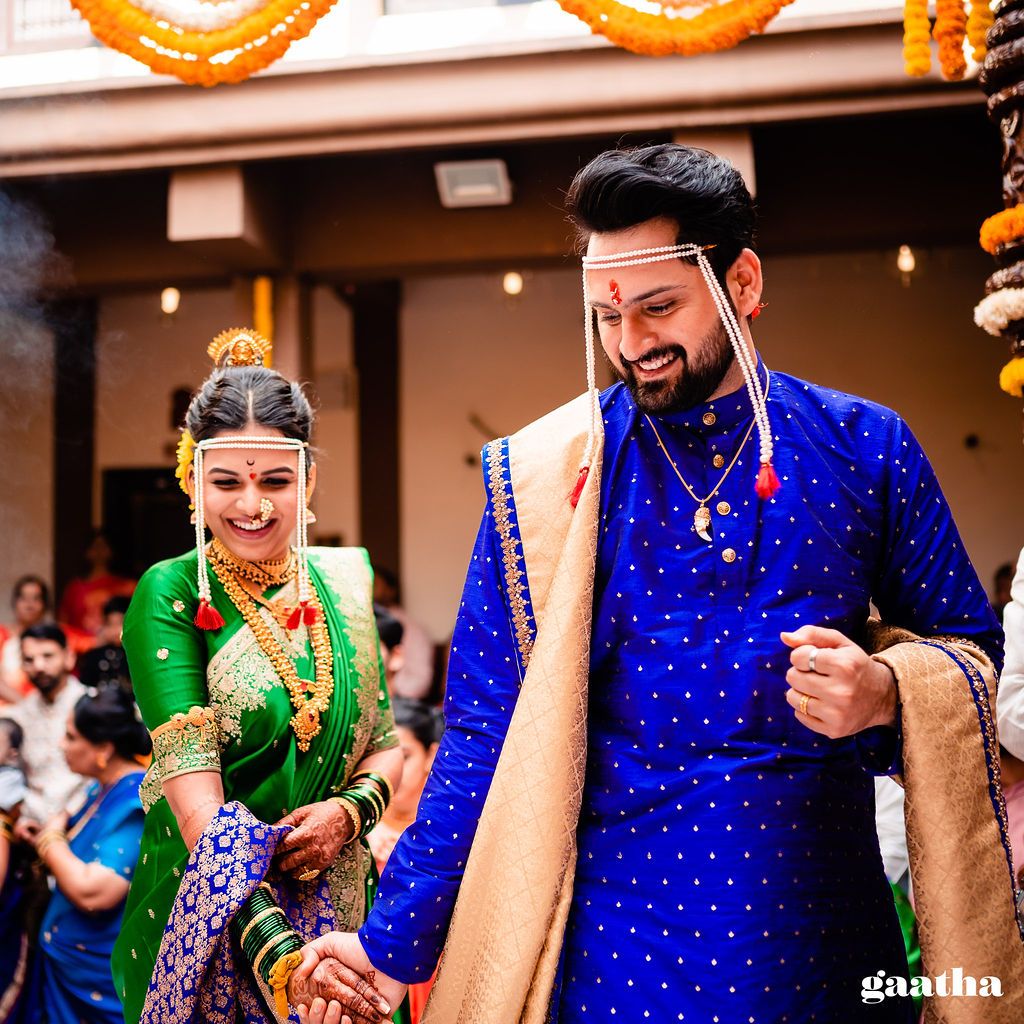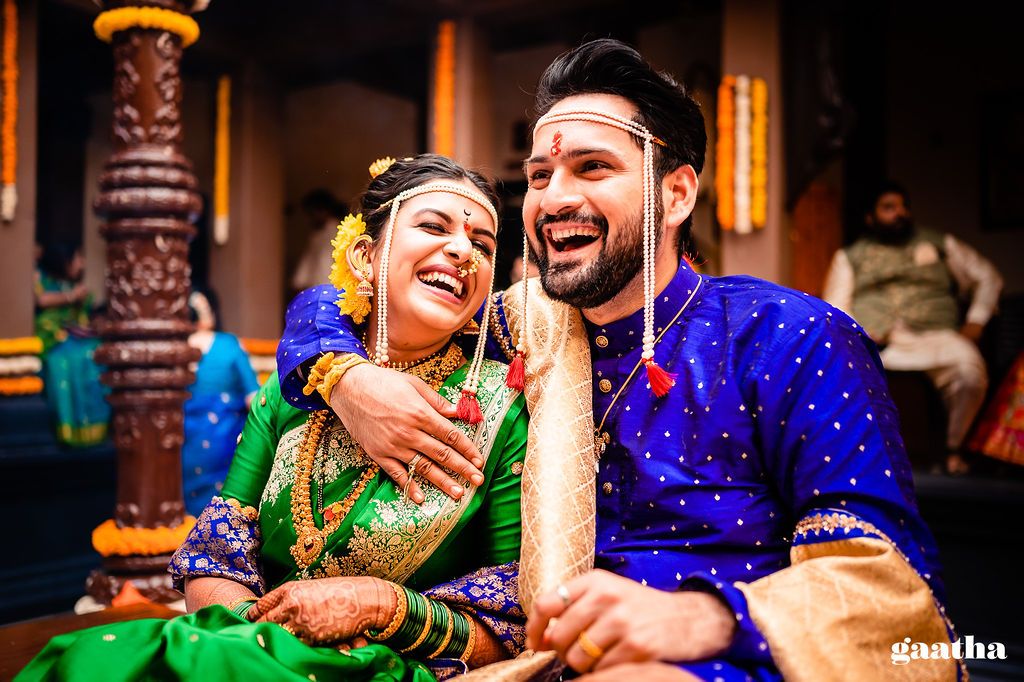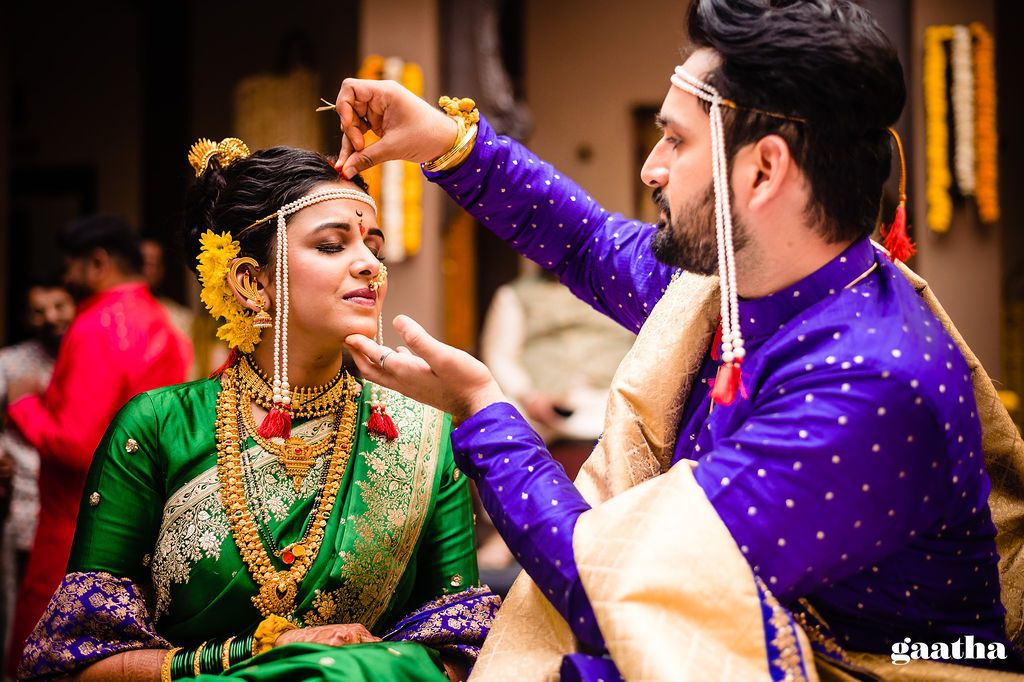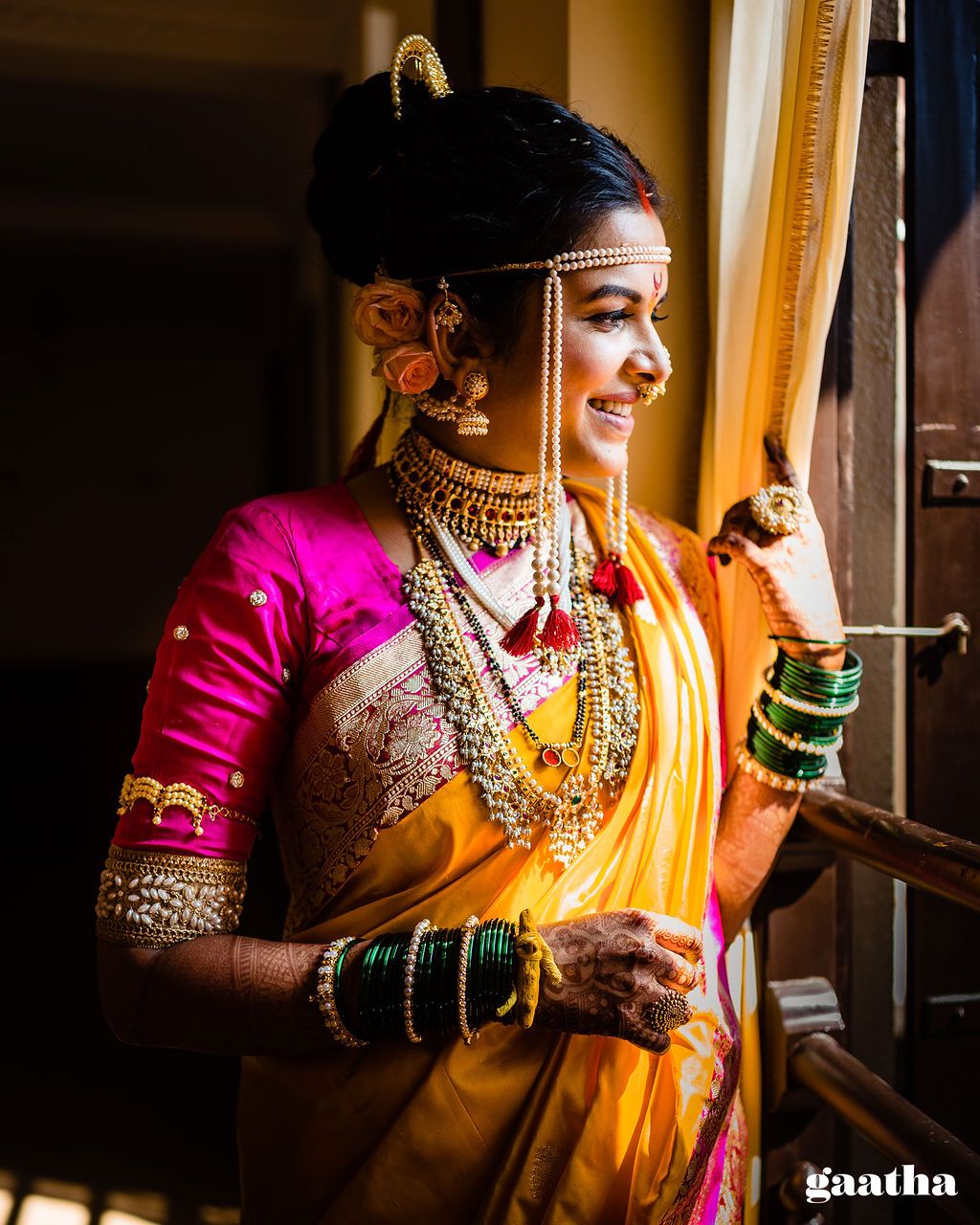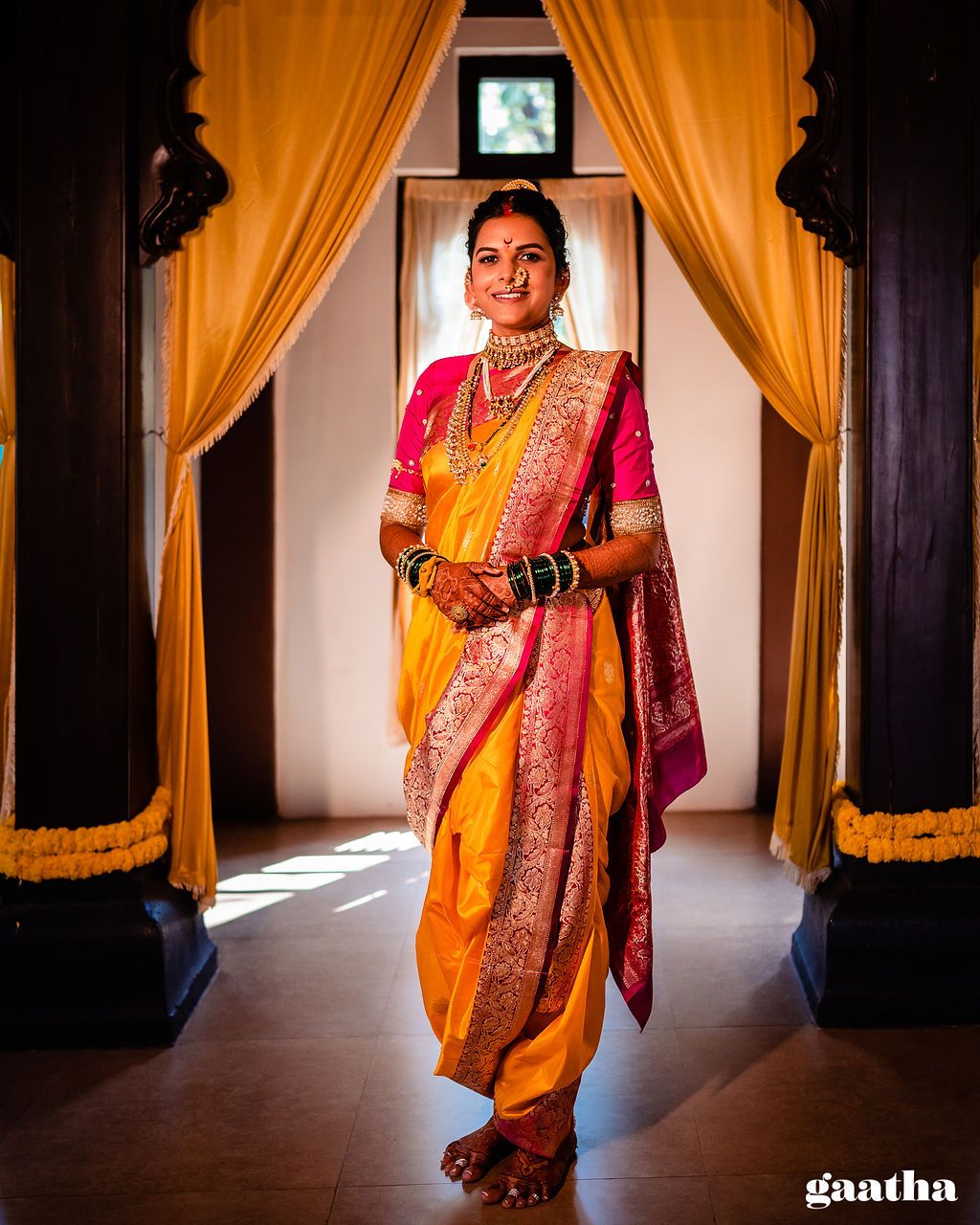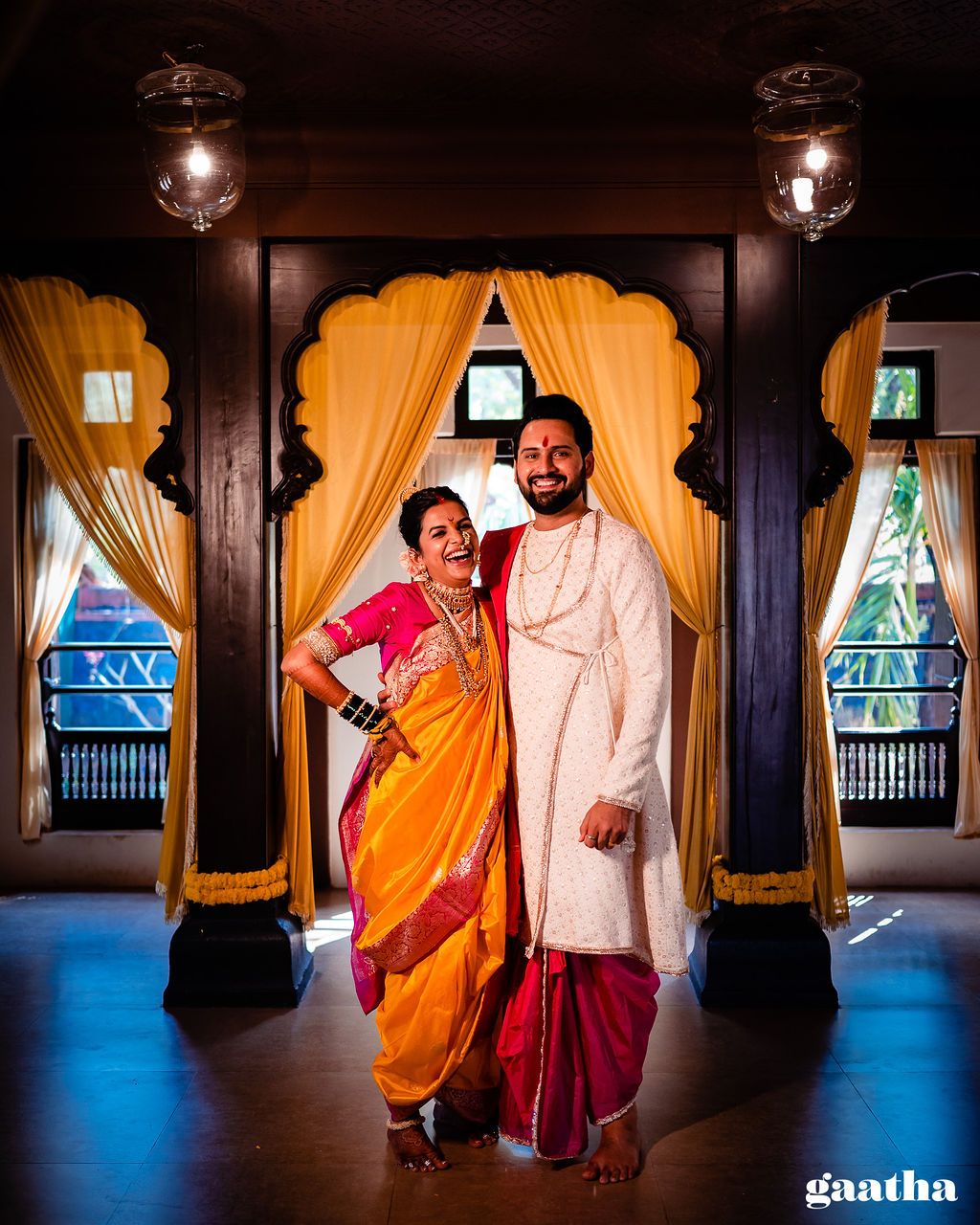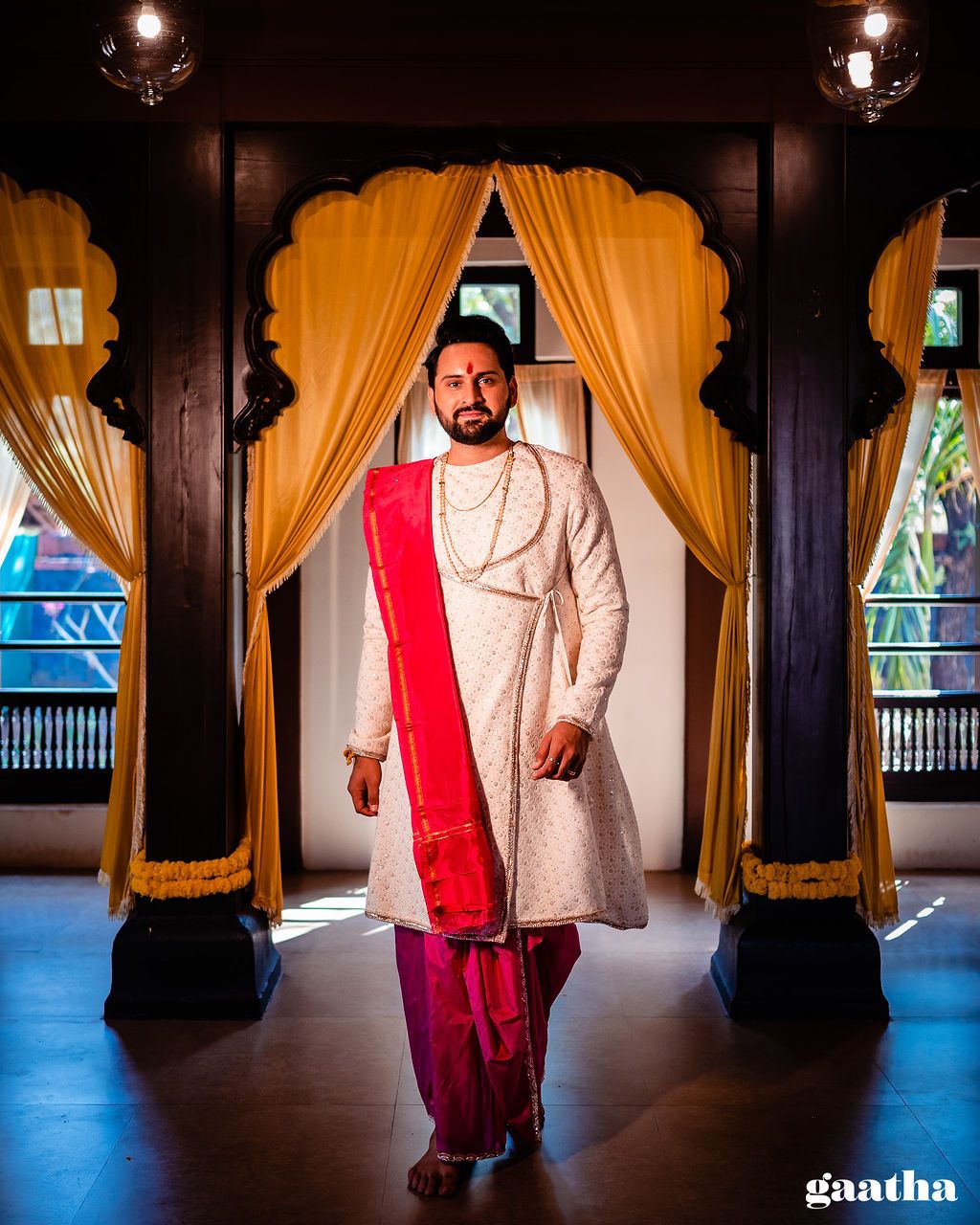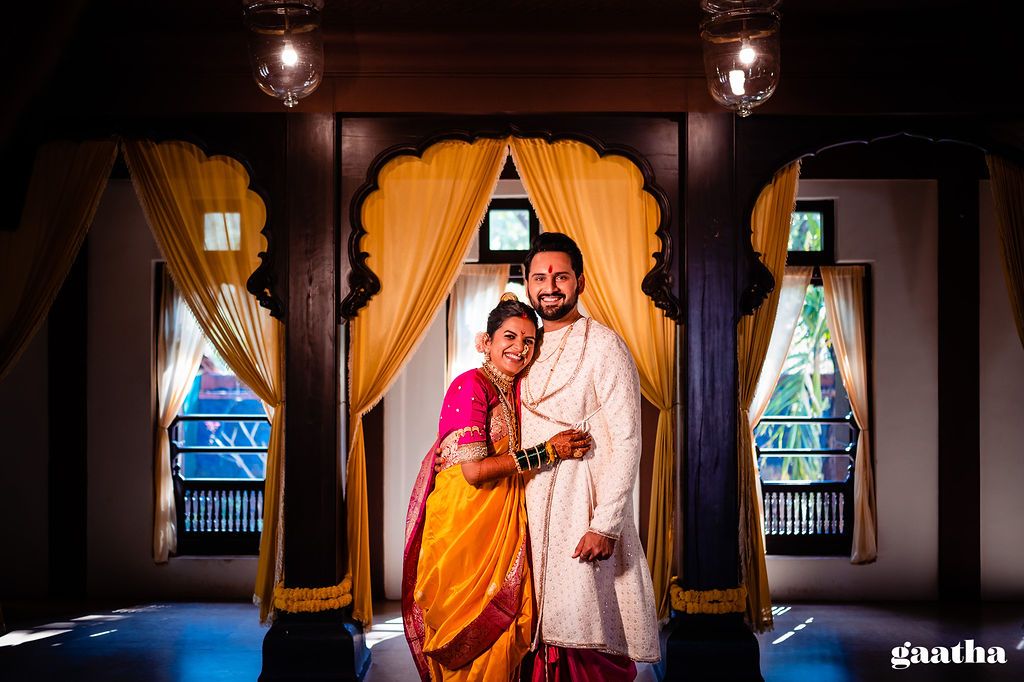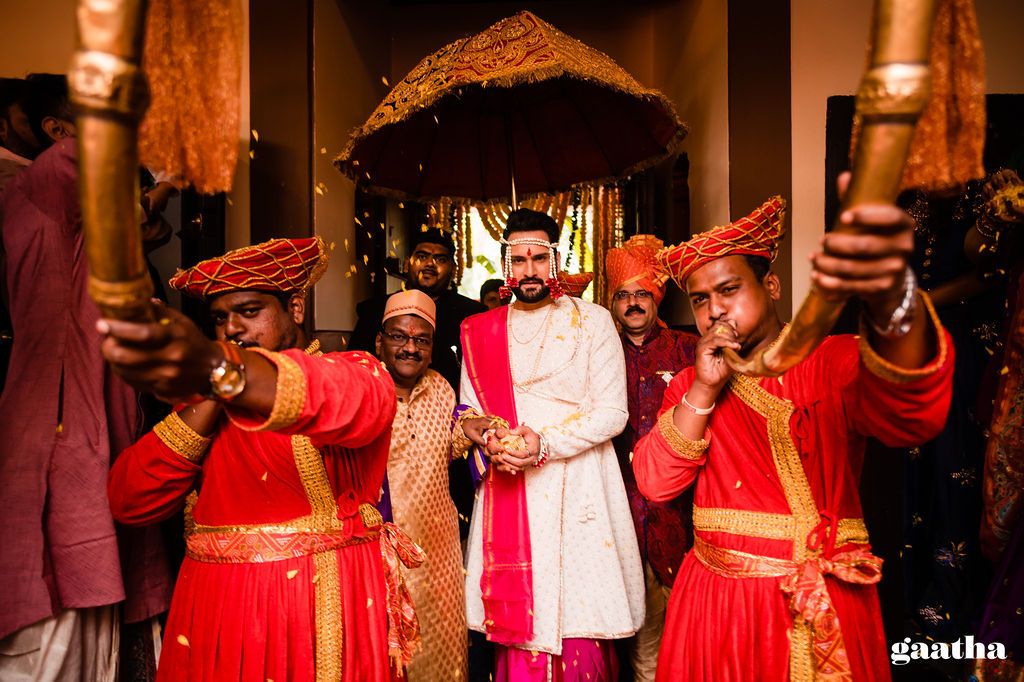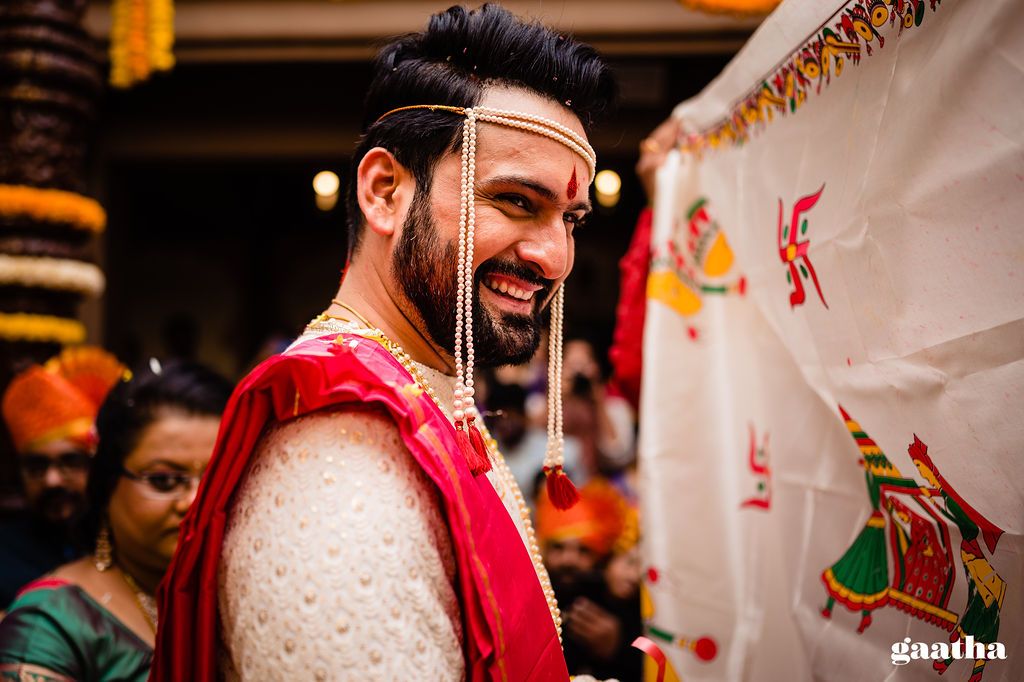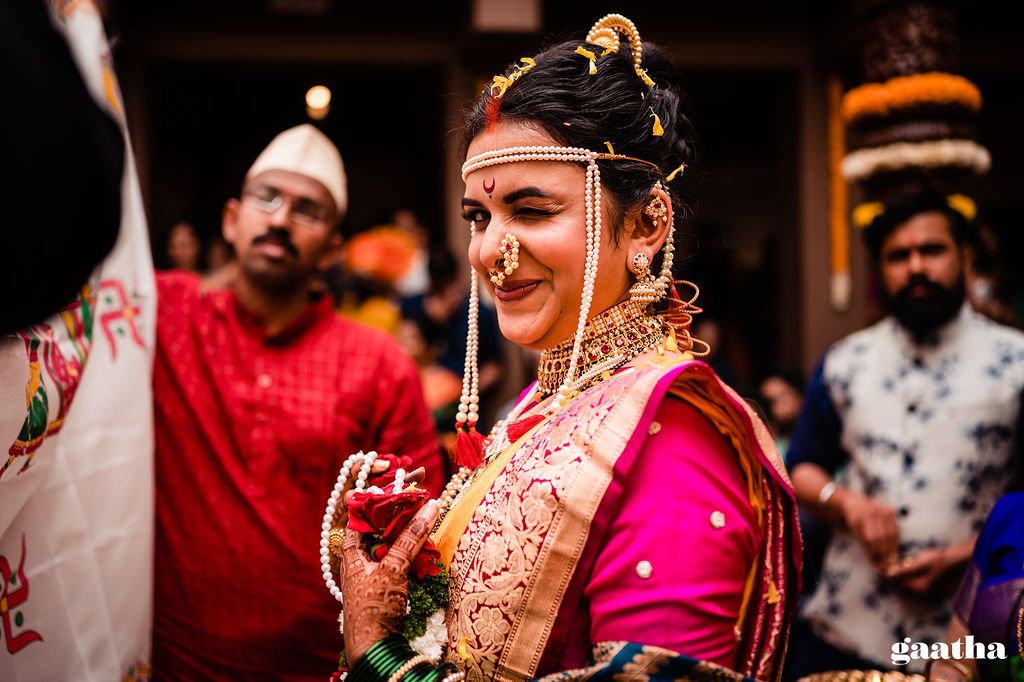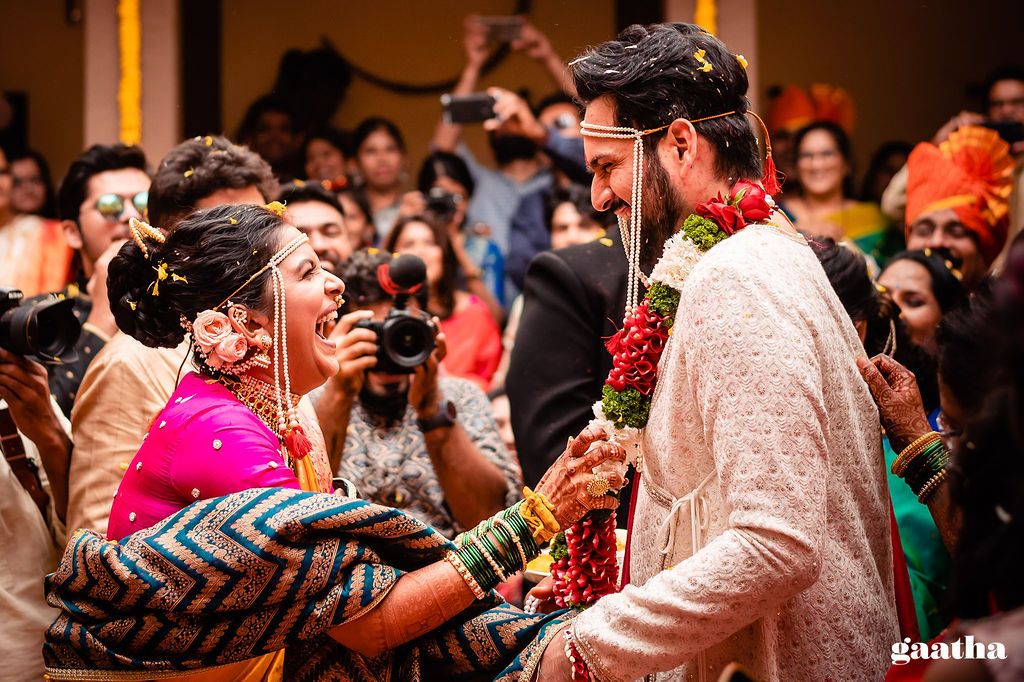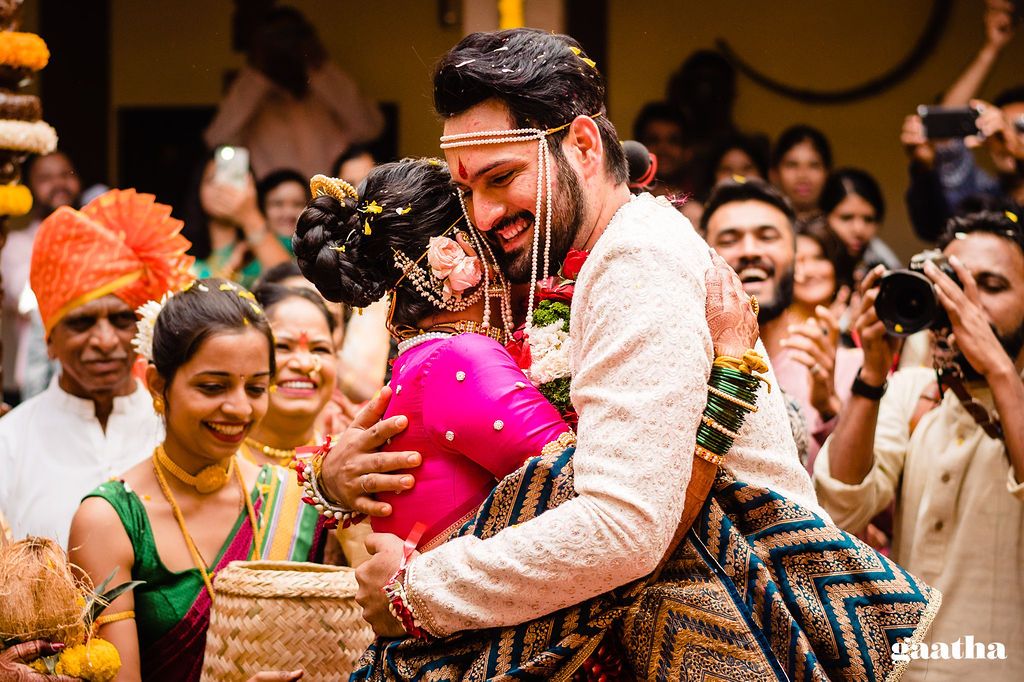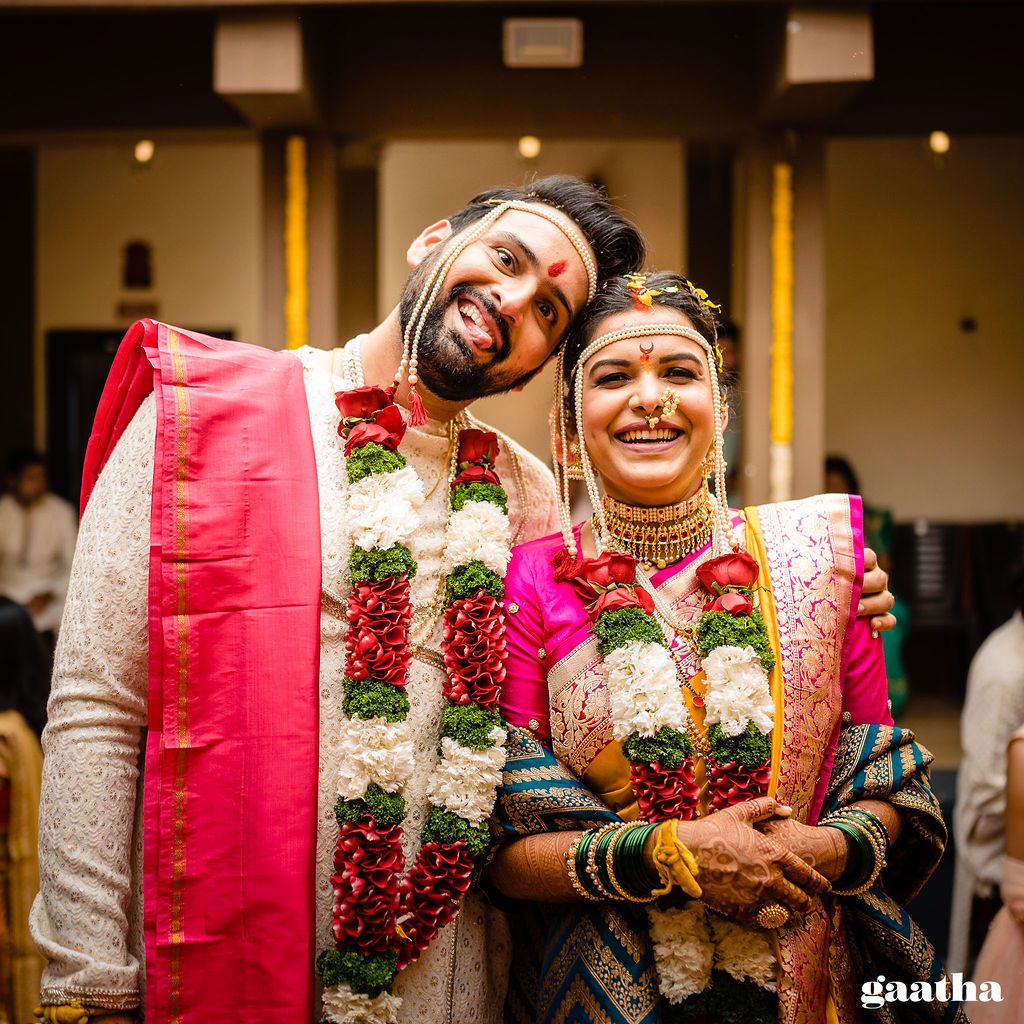 The Reception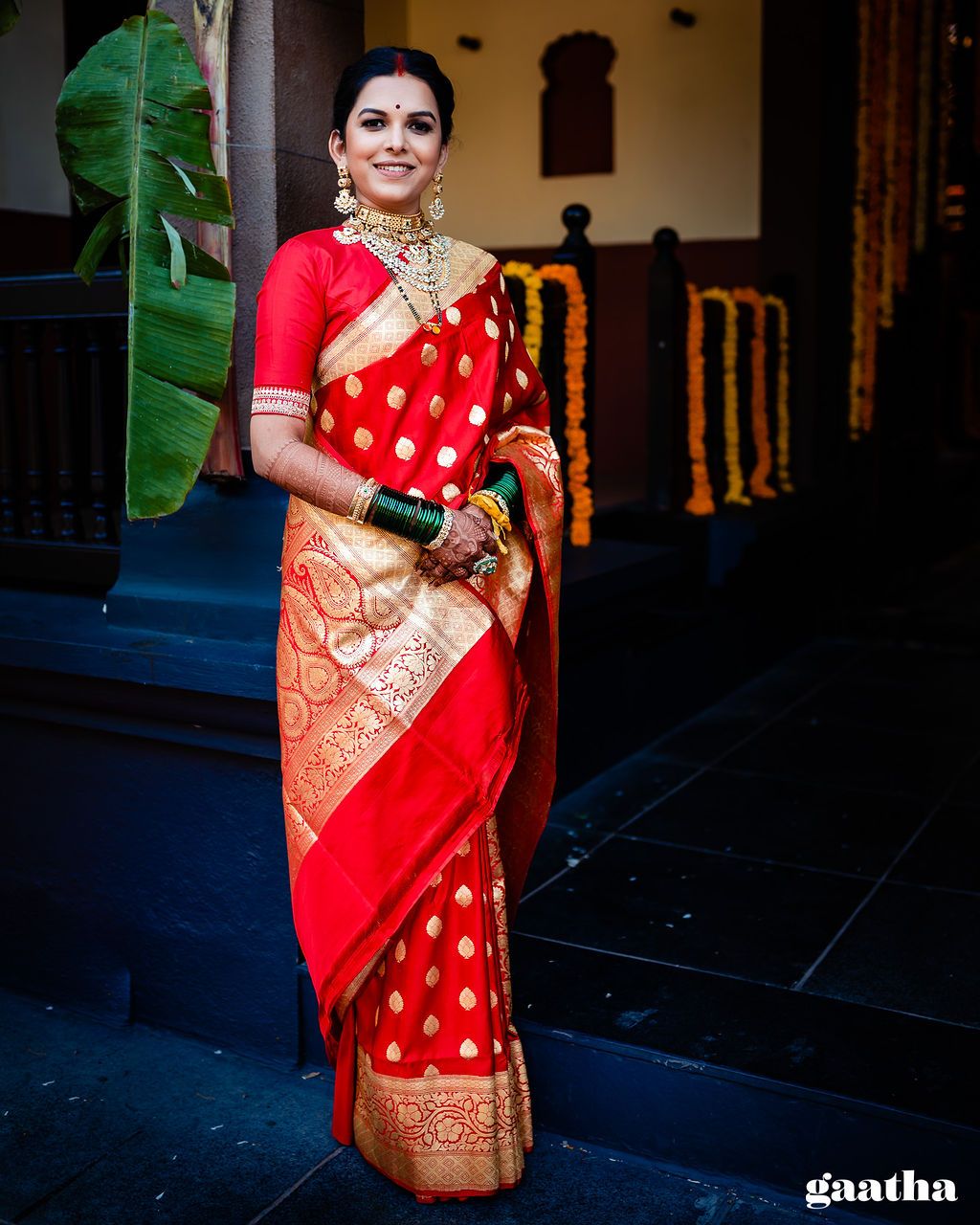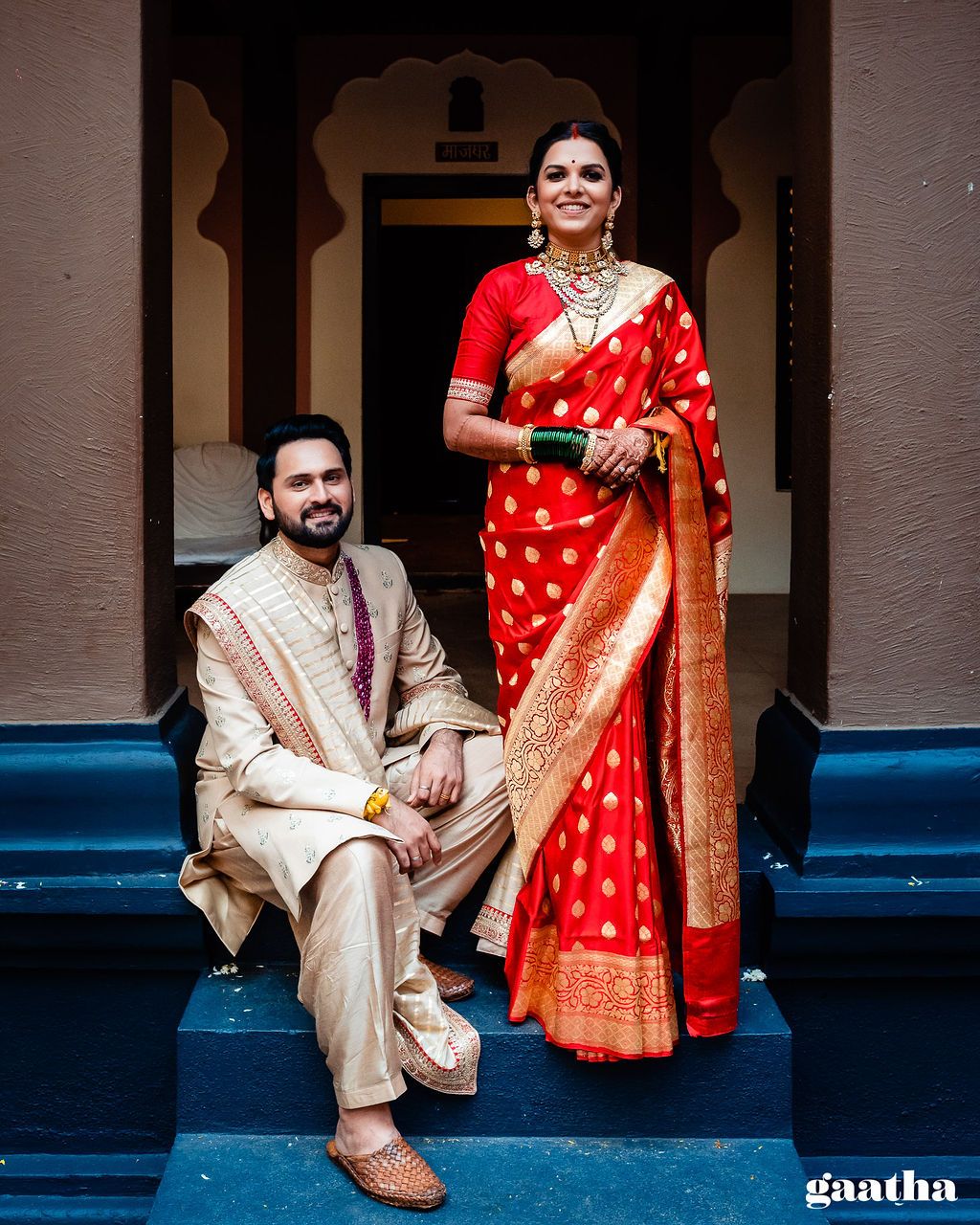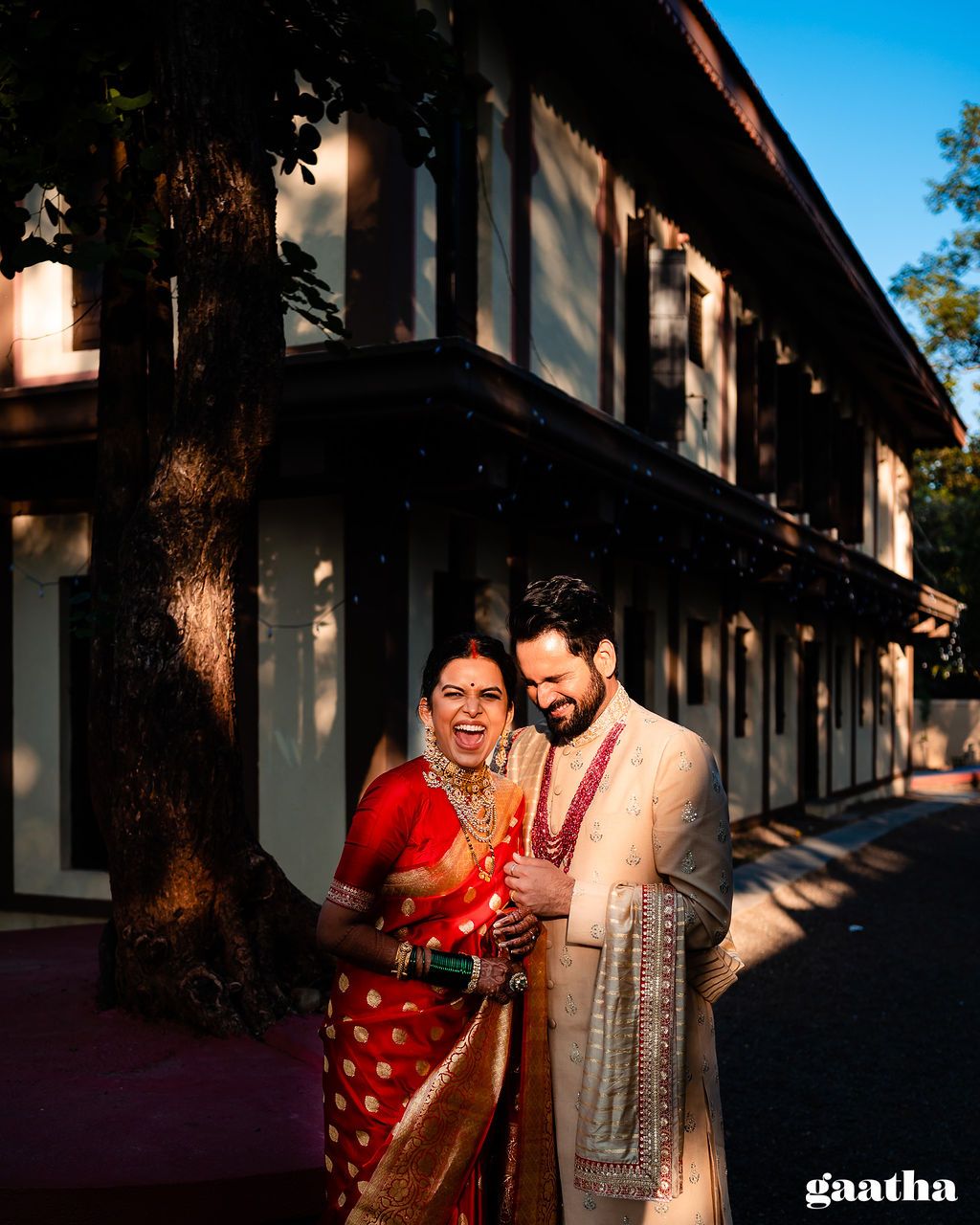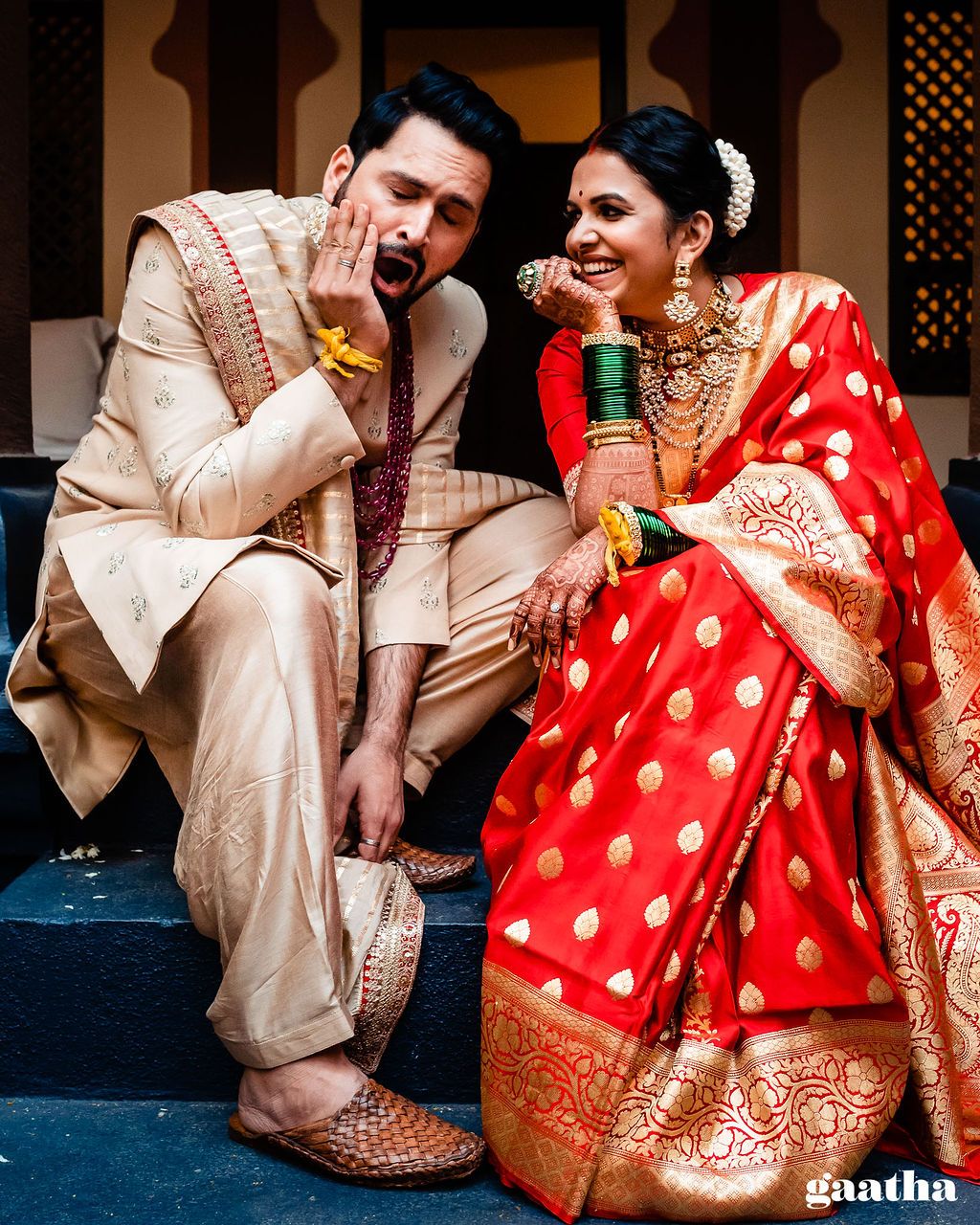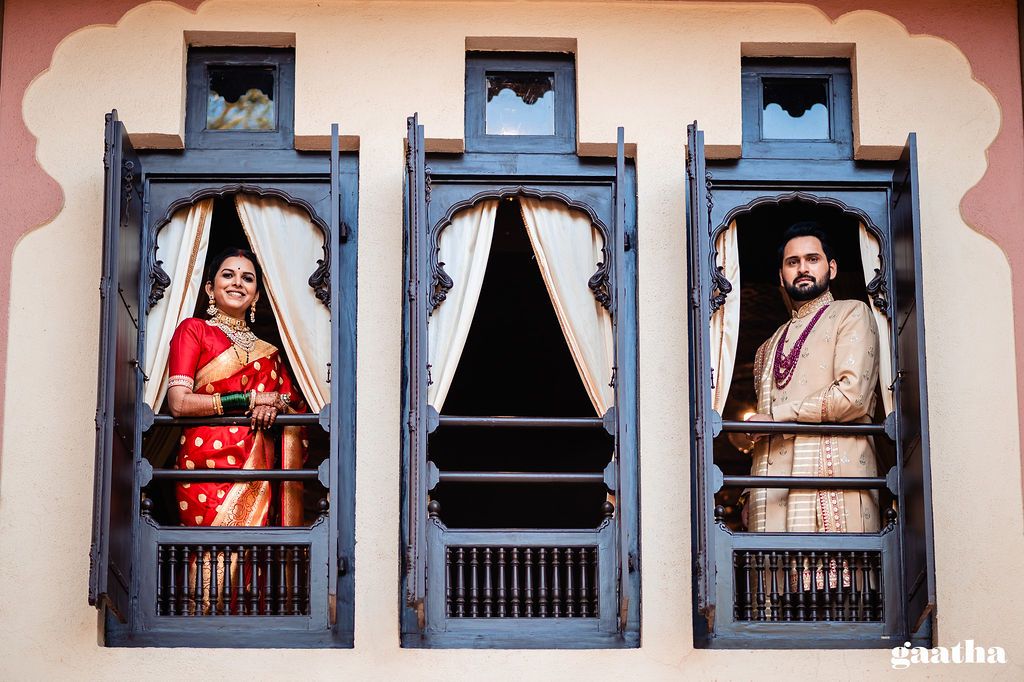 From The Bride: 
It was a typical Maharashtrian wedding. 'मराठमोळं लग्न' as we call it. We wanted a grand wedding but also we wanted to hold on to our Maharashtrian roots. So we decided to go with Royal Peshwa Theme. Each and everything happened in our wedding was absolutely complimenting the Royal Peshwa Theme.
We had a clear idea for decor in our mind to compliment the Royal Peshwa theme. Genda phool, Banana leaves, more genda phool and more banana leaves. To give the wada aesthetic Maharashtrian look we covered it genda phool garlands, wooden pillars for the mandap for more homely feel. For sangeet we went all fancy with LED walls and photobooths to create the contrast between two functions.
From The Photographer, Gaatha: 
We had developed a camaraderie with Sidharth and Mitali while shooting their engagement back in Jan 2019 so we knew what they wanted from us.The vibe of the wedding was traditional with a pinch of quirkiness for all the glamour that came along. Dhepewada accentuated the royal 'marathi' ambience and gave us the challenge of capturing this essence at its best. Both Sidharth and Mitali treat us like their own family and we were honoured to be part of their big day. Lots and lots of wishes from Gaatha to tinypanda!
Vendor Reviews: 
Photographer: Gaatha
The entire wedding was shot by someone who's really close to my heart. Gaurav Hingne is a dear friend since many years now. Him and his business partner Priyanshu Bhargava started a new company called 'Gaatha' and they photographed all the functions. They were the most integral part of the wedding team. They were involved in the wedding for more than 6 months. They spent time with our frieand family to get to know them better. Both of them are real magicians. I don't think anyone from their team missed anything from the wedding. They captured every lil moment. Their eyes and cameras were everywhere. I'm sure I'll be able to relive my wedding by just looking at the photos and videos.
Venue: Dhepe Wada
Our venue was a typical Maharashtrian Wada. It complimented our theme so perfectly. It has beautiful aesthetic Maharashtrian settings. Dhepe Wada is located at Mulashi, the outskirts of Pune. It is surrounded with nature and water bodies. It is away from all the city lights and crowd which gives it even more Maharashtrian vibes. We wanted our venue to have a character and Dhepe Wada has it in aces! Even the food in the resort is pure Maharashtrian. All of our guests went home with an amazing experience.
Makeup Artist & Hairstylist: Saurabh Kapade & Sheetal Palsande
Saurabh did my make up for all my wedding functions and I was extremely happy with his work. He gave me beautiful dewy look for my wedding and Sheetal complimented it with an amazing Maharashtrian Khopa. They were my two Musketeers.
Planner: A3 Events
A3 event took care of anything and everything that happened in our wedding. The owner of A3 events, Amol Bhagat took charge of the wedding literally 20 days before the wedding. Because COVID situation we were not able to handle a few things. But since the day we had amol and his team on board, everything was just a piece of cake.
Bridal Outfits: Haldi - Omaana Jaipure, Mehendi - Ambraee, Sangeet - Shivani Patil, Reception - Silkline Ethnics 
I wore 3 outfits for the wedding and other 3 for the Haldi, Mehendi and Sangeet. For haldi I wore a yellow suit from Omaana jaipure and a white lehenga from Ambraee for Mehendi. Both the looks were styled by Shreya Daflapurkar. For sangeet I wore a customised floral skirt and blouse which I twinned with Siddharth. The look was designed and Styled by Shivani Patil. As per our theme, we wanted to create a royal look for wedding. I wore two Nauvari sarees with heavy gold and pearl Maharashtrian jewellery which gave me royal peshwin bai look. For the reception, I wore a red banarasi saree from Silkline Ethnics.
Groom Wear: Haldi - Label Poshaaq, Mehendi - Kalakaar by Saee, Reception - Vikram Phadnis
Siddharth wore 3 outfits for the wedding and other 3 for Haldi, Mehendi and Sangeet. For Haldi he was styled by Shivani Patil in 'Label poshaaq' kurta and bandi. Mehendi outfit was styled by Shreya Daflapurkar in 'Kalakaar by Saee'. For wedding Siddharth was wearing royal peshwai angarkha styled by Shivani Patil. For the reception Siddharth was wearing an outfit designed by Vikram Phadnis.
Mehendi Artist: Kanchan
Kanchan and her team were Pune based mehendi artists. They did an amazing job for me and my family and friends.
Vendors: Venue: Dhepe Wada; Makeup Artist & Hairstylist: Saurabh Kapade & Sheetal Palsande; Photographer: Gaatha★ 4.8 ; Planner: A3 Events; Bridal & Groom Stylist: Shivani Patil; Bridal Outfits: Haldi - Omaana Jaipur, Mehendi - Ambraee, Sangeet - Shivani Patil, Reception - Silkline Ethnics; Bridal Jewellery: S. S. Nagarkar jewellers, P. N. Gadgil Jewellers, Kankshini Studio, Candies Collection, Jaipur Jewels & Shilpa Puri; Floral Jewellery: Mogra Jewellery★ 5 ; Groom Stylist for Mehendi: Shreya Daflapurkar; Groom Wear: Haldi - Label Poshaaq, Mehendi - Kalakaar by Saee, Reception - Vikram Phadnis; Mehendi Artist: Kanchan; Invites: Ashutosh Kambli