New & Trendy: 10+ Brides Who Wore Something Hatke On Their Mehendi!
BY Soha | 26 Oct, 2018 | 3386 views | 3 min read
OMG! You will not believe what happened yesterday! When I told my Mom I needed a new outfit for the mehendi function, she gasped like I had asked for a Sabya lehenga instead! My mom thinks I can wear the same 3 years-old suit that I no more wear otherwise, because I am bound to ruin it with mehendi stains. Little does she know how girls have gone all out and about and are rocking stunning, new outfits even on their mehendi functions now!
Here are some chic ones I spotted that look uber comfortable, stylish and totally bride-appropriate! BRB, going to show the list to my Mom!
This Bride Who Was All Over Instagram For Her Outfit Choices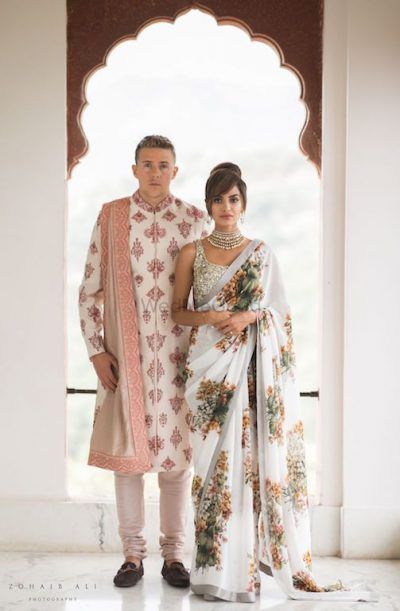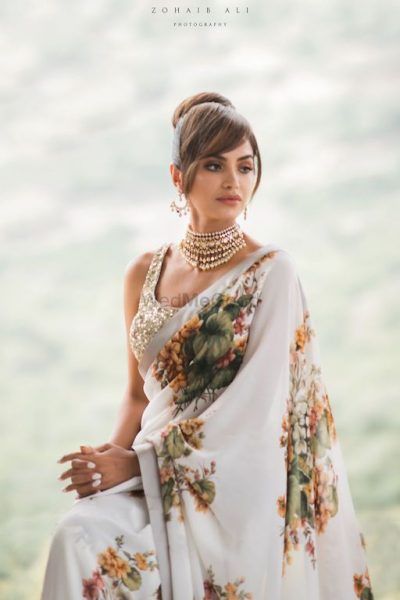 From Oleg & Diipa's real wedding
Influencer Diipa Khosla's wedding was all over Instagram all of last month. On her mehendi, she wore a Sabyasachi saree with floral motifs, paired with a shimmer blouse and choker. Despite so many elements for a day function, she looked beyond amazing!
This Bride Who Pulled An Anushka-Sharma Inspired Look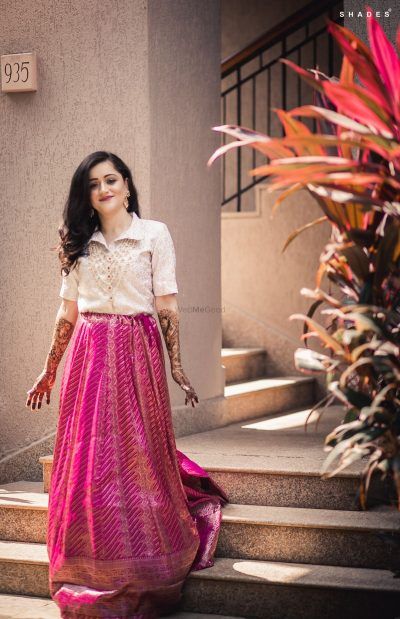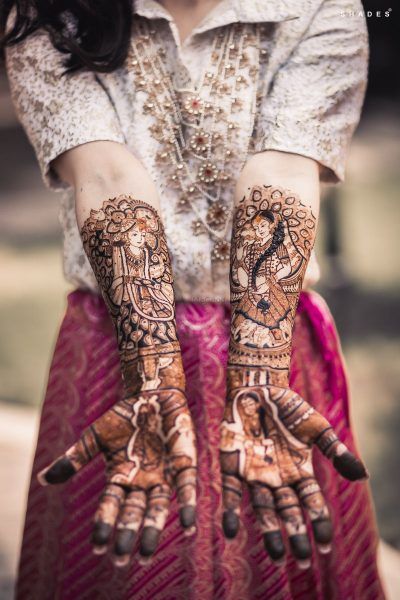 From Palak & Dhruv's real wedding
Real bride Palak used her Mom's old saree to design a skirt for her mehendi. She paired it with beige shirt, inspired by Anushka Sharma in Ae Dil Hai Mushkil, and we give her a complete 10 for pulling the look with elan!
Or This One That Looked Like A Riot Of Colors In Her High-Low Skirt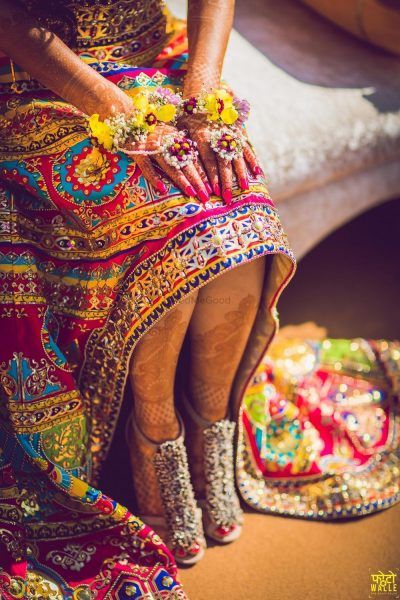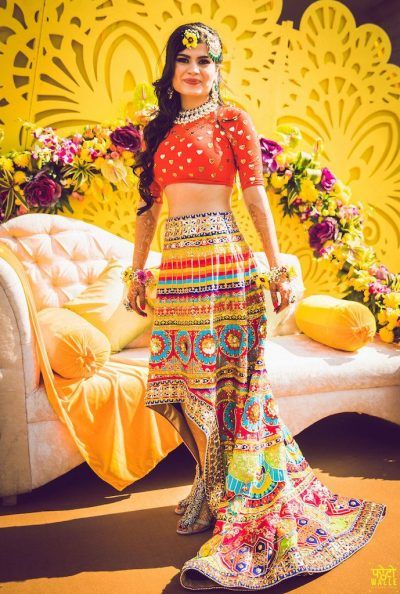 From Avantika & Aman's real wedding
So many interesting elements in Avantika's mehendi outfit! From the high-low skirt, with a train, to the bright colors and those stunning shoes, what's not to love in her look?
This Bride Who Looked Dreamy In A Blush Pink Cape Dress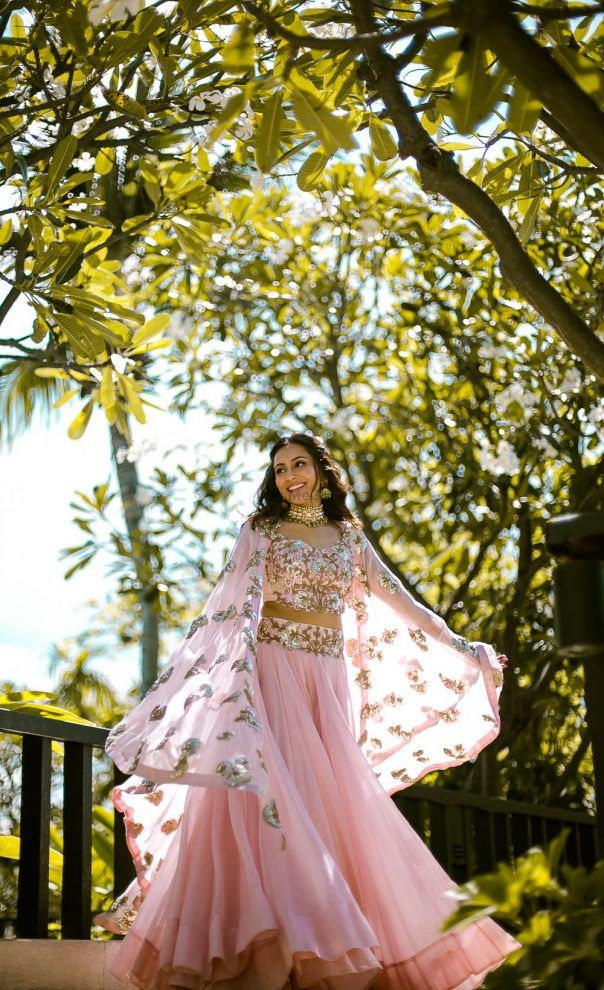 From Sonali & Karan's real wedding
Sonali looked effortlessly comfortable and happy at her mehendi in a flow-y skirt, with a net cape in blush pink! If you want to get gorgeous Pinterest-worthy pictures from your mehendi, opt for similar, airy outfits in light shades!
This One Who Added An Interesting Twist To The Usual Lehenga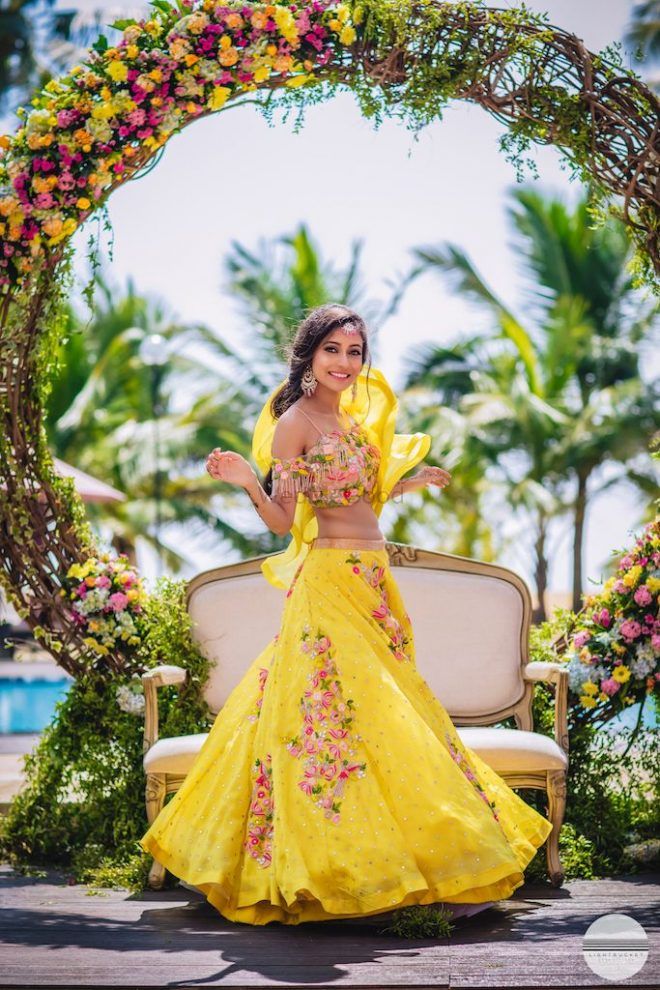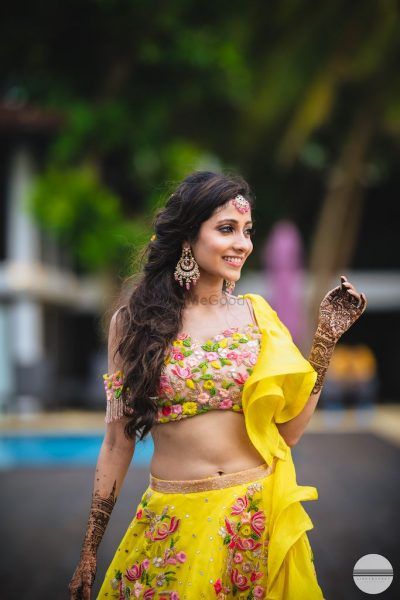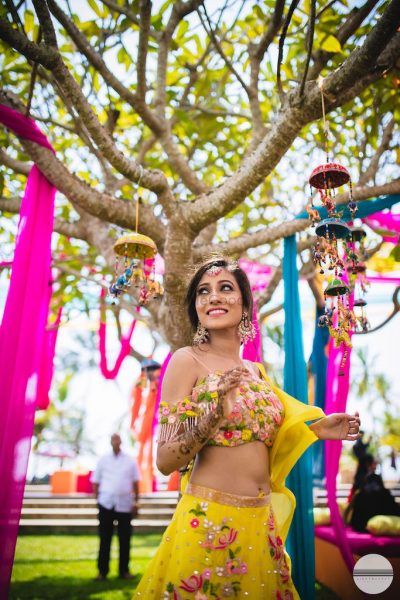 From Soumya & Gagan's real wedding
We know there's nothing new in a lehenga for a mehendi. But real bride Soumya took it a notch higher by adding an interesting ruffle to her blouse! 10/10 for the creativity and a 1+ for that quirk!
An Easy-Going Sharara For The Brides Who Want To Have Fun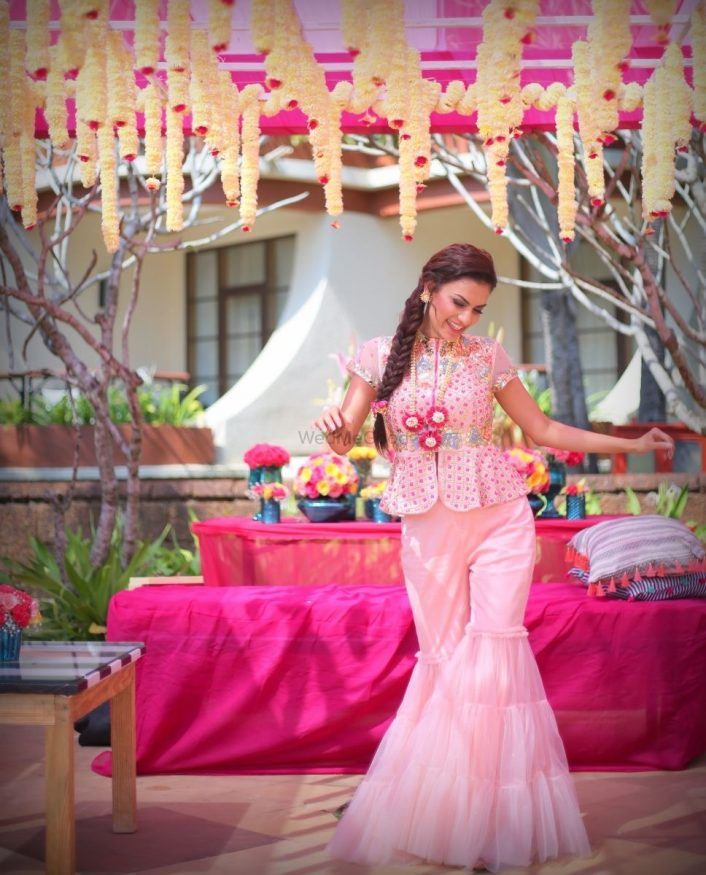 Shot by Cam Catches★ 5
Two words - happy and carefree! All that you need to be at your mehendi to be able to truly enjoy the function. All that this picture truly conveys!
Love This Bride In A Chic Wrap Around Skirt and Bustier Combo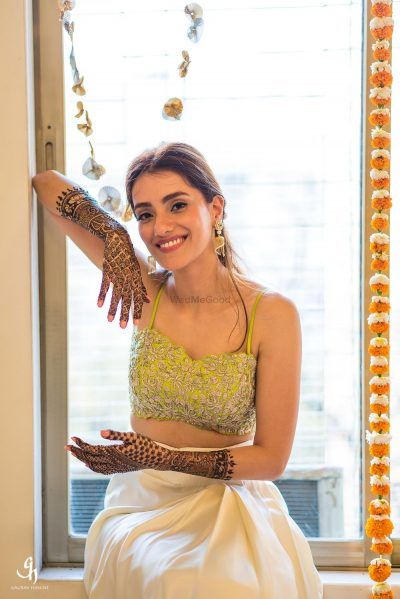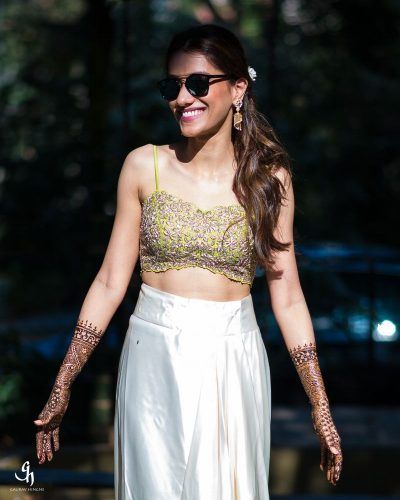 From Trushna & Sharath's real wedding
Loving real bride Trushna's style! She paired a satin skirt with a smart embroidered bustier in neon green- we say, so smart!
How About A Dhoti Saree For Your Function?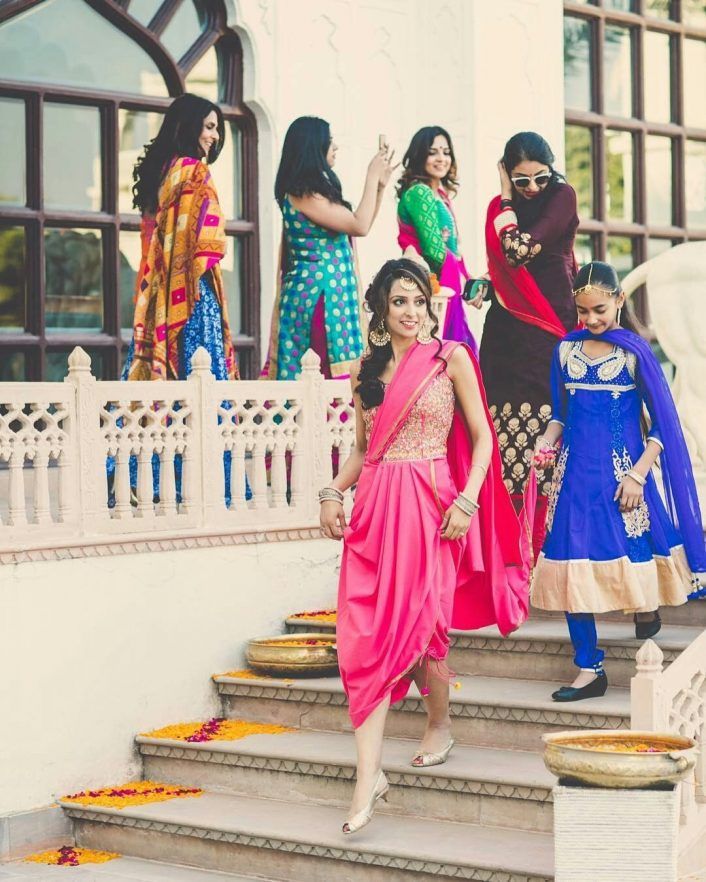 Shot by Romesh Dhamija Photography★ 5
Wanting to wear a saree but worried who'd handle the pallu and the fall? Here's this bride to the rescue! She wore a dhoti saree that allowed her space to move freely, without the hassles of handling an entire saree!
Or Dhoti Pants?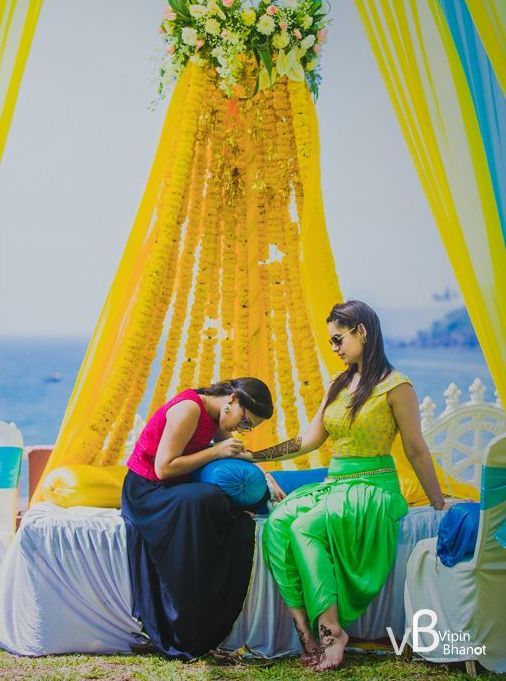 From Divya & Subhiney's real wedding
What did we tell you about doing something hatke? *winks*
This Bride Looked Relaxed In An Off-Shoulder Dress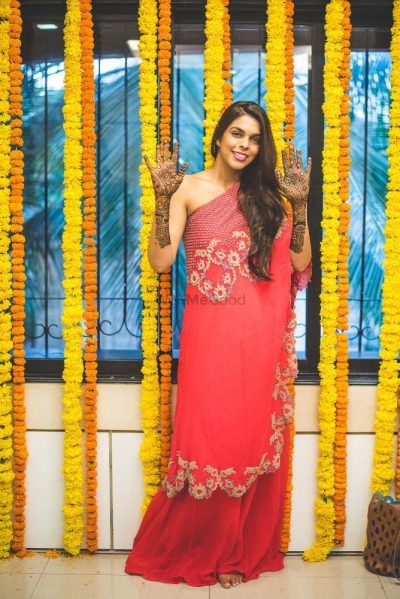 From Aastha & Karan's real wedding
Real bride Aastha wore a comfy red off-shoulder dress at her mehendi function. Minimum handling, maximum comfort, and unbelievably stylish!
Or Something Quirky & Personal?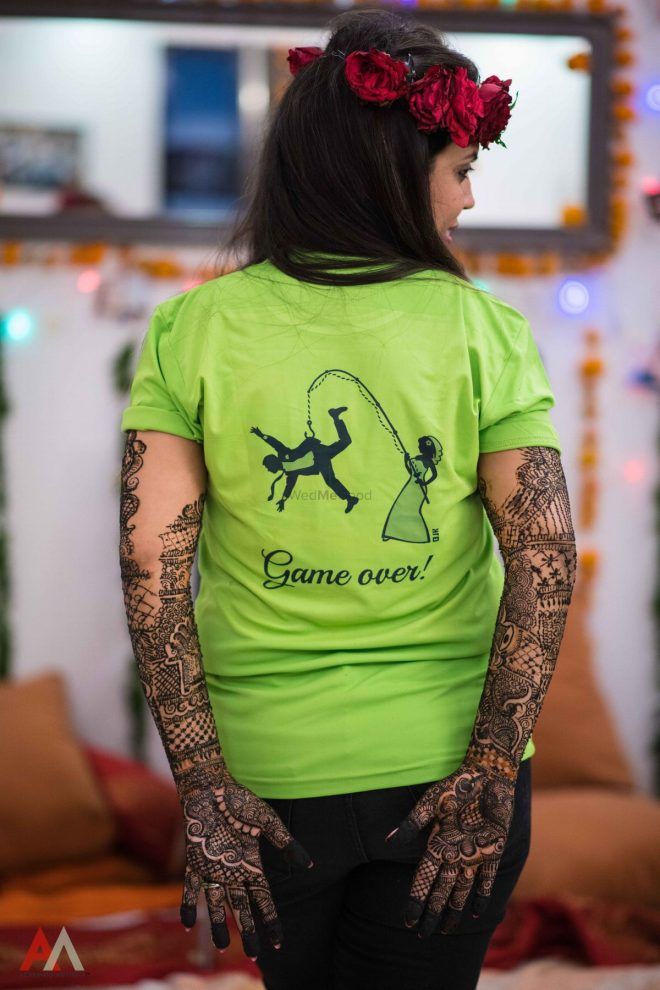 From Rinki & Manan's real wedding
Got something witty to say? Flaunt it on your mehendi like this bride!
So, do you have a favorite?