Pastel Delhi Engagement With a Touch of Elegance!
BY Latha Sunadh | 28 Oct, 2016 | 8552 views | 3 min read
The bride sparkled in a new-age designer called Malasa in this beautiful Delhi engagement with lots of masti and oodles of fun. The dusty pink outfit and ruby necklace made the bride-to-be stand out and we also love the pastel-hued decor. Photography by
The Story Weavers
is on fleek and captured all the joy, beautifully.
Meet Sagarika & Vinay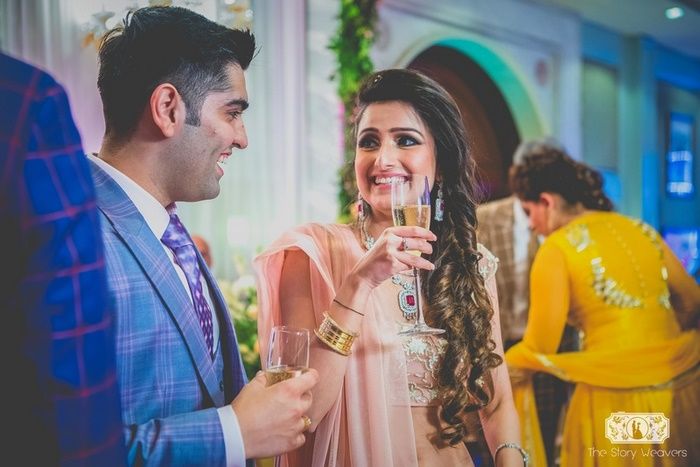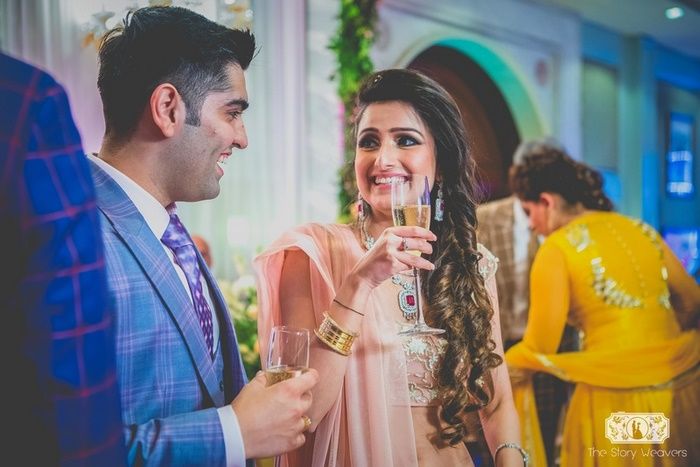 "We were introduced to each other about 5 years back through mutual friends. Back then, both of us weren't really interested in each other, we hardly made any conversation. 2 years down the line we met at my best friends birthday party and hit it off from the word go. Talking to him felt like I knew him for years. We figured with time that we were two very similar people, he is almost like my male version! Somehow,we could never be 'Just Friends' as there was always an element of spark when we met or spoke. We fell in love at the most unexpected time and unknowingly we ended up in a fully committed relationship. In our 2 year long dating period we faced a number of highs and lows but as they say, true love finds its way! :) so here we are, willing to spend the rest of our lives together !!" explains Sagarika.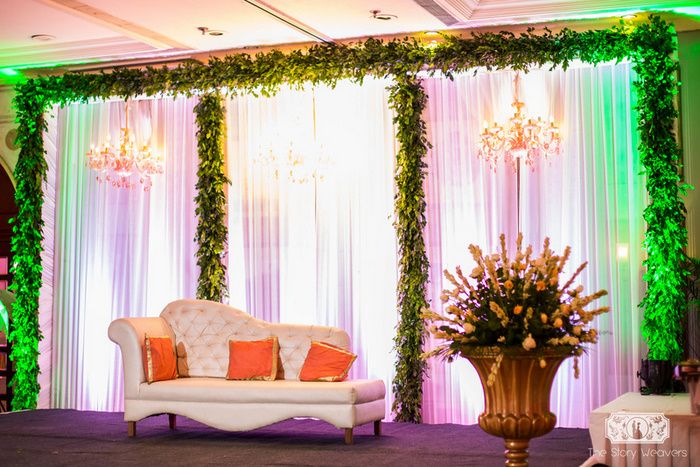 From The Bride-to-be:
"I am kind of cliched when it comes to Indian weddings. I wanted everything to be done as it is being done from time immemorial. My father planned a very well organised layout for the
engagement
with the thought that there should be a specific series of events. The very basic essential of an Indian function is the grand entry of the groom to-be and bride to-be. For the same, Russian violinist were arranged who played Bollywood songs for both entries. There was the ring ceremony, followed by cake-cutting and popping of champagne, followed by the couples First Dance going into a drinks and dance night.
I researched a lot on Wed Me Good for good vendors for decor and selected Elusive Dreams by Pooja Gupta. I did the same for the photographer and went with Story Weavers by Jatin. Both the choices proved to be completely right and the work was commendable. Both of them were so approachable and friendly and understood exactly what I wanted. The stage step up by Pooja and team was the highlight.
When it comes to my style, I am highly experimental. As this was my very first function and I knew I would be wearing a gown on my cocktail, hence I decided to go with a lehenga. I didn't want to go with very heavy or dark colours as that would be my focus during the wedding week and I wont be able to wear much of pastel/ lighter colours then. Since I am very rigid about who I will wear on my Cocktail, Mehendi and Shaadi functions, I went
engagement
outfit shopping with a very open mind to multi-designer showrooms like Ensemble and Ogaan. I absolutely fell in love with
Malasa
's collection and picked up my lehenga which I found to be a perfect combination of comfort, class and elegance.Since my simple lehenga wasn't too heavy with embroideries and such, I wanted bold makeup. I needed someone who could enhance my features to the fullest and that was perfectly done by Komal Gulati," says Sagarika.