10 Punjabi Couples & Their Unique Weddings We Adored!
BY Palak | 15 Jul, 2019 | 9461 views | 5 min read
Weddings are something we basically inhale and live for, and even having witnessed some grand weddings of various cultures, we just can't get over the ones with the Punjabi bling! The bright colours and loud, festive vibe of Punjabi weddings win our hearts and the lavish decorations and aromatic cuisines make it impossible to get over the special day for months! We also believe that each wedding is unique and has an element of its own. Here are our favorite punjabi couples & their unique punjabi weddings that we absolutely loved:
Couple 1: Reflected their love for travelling in the wedding!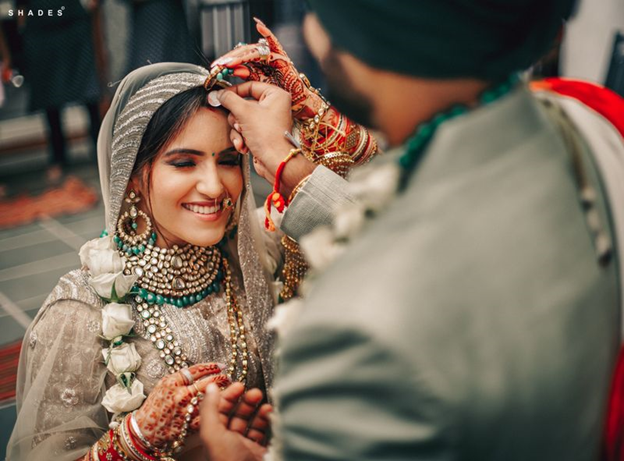 Image via Shades Photography
Meet one of our favorite punjabi couples, Sapna and Mithun who shared their love for travelling together in the wedding! The various ceremonies took place in different cities simultaneously in Udaipur to Kolkata and then Amritsar, followed by an intricate reception in Trivandrum.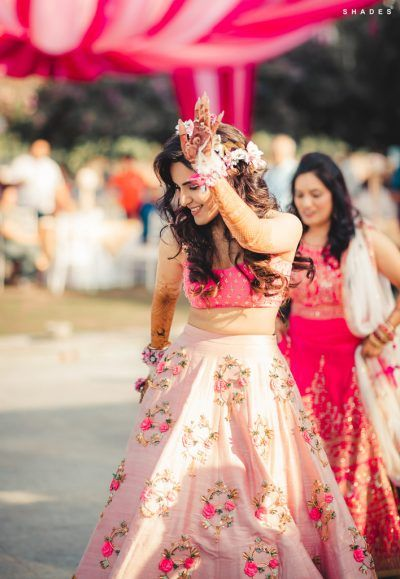 Image via Shades Photography★ 4.6
We loved our bride's mehendi outfit and super cheerful faces!
Couple 2: The Tribal Sun-downer!
We went totally out of our minds when we came across the theme of Kaabiya and Rushang's wedding! This couple was dressed in tribal outfits, ditching the punjabi wedding traditions, all glammed up looking totally blingy but not the "punjabi way" *winks*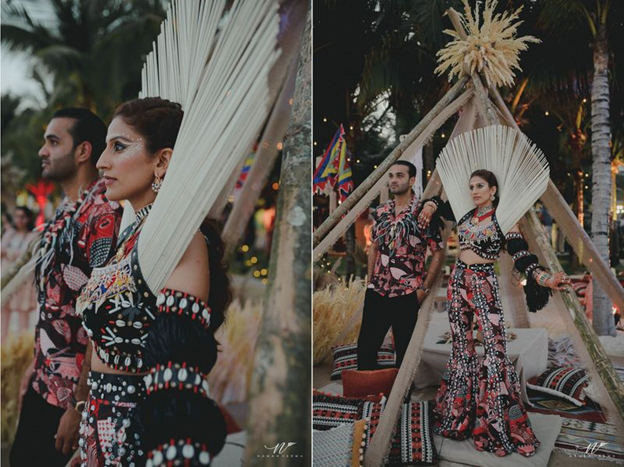 Image via David Bastianoni
Not just the couple but all the guests and the family were dressed in tribal outfits and over the top looks.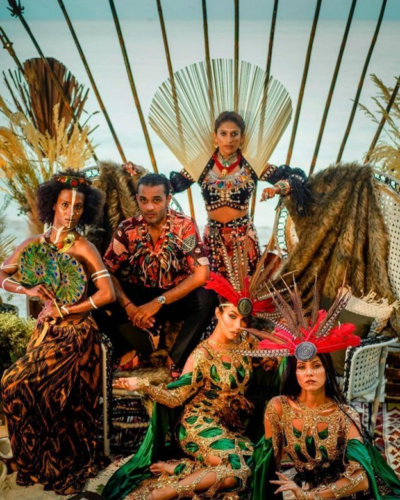 Image via Naman Verma Photography★ 4.8
Too much? Is that even a phrase?
Couple 3: Getting married in the hills!
Mansi and Sagar's wedding was no less than a dream when they exchanged vows following the Punjabi wedding rituals with the himalayas as the backdrop of their dreamy wedding pictures.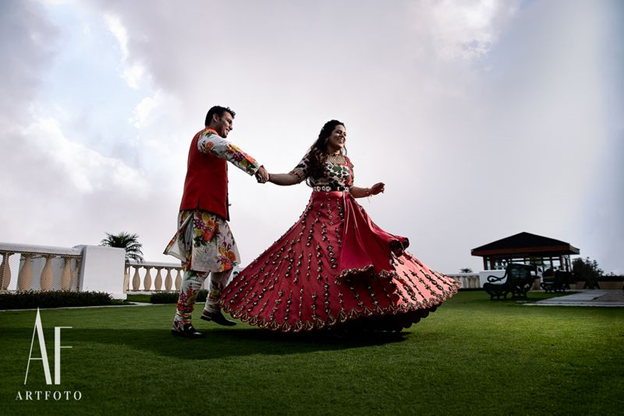 Image via Art Photo Studios
We also loved how the bridesmaids looked stunning in sparkling and coordinated pink outfits in the haldi ceremony.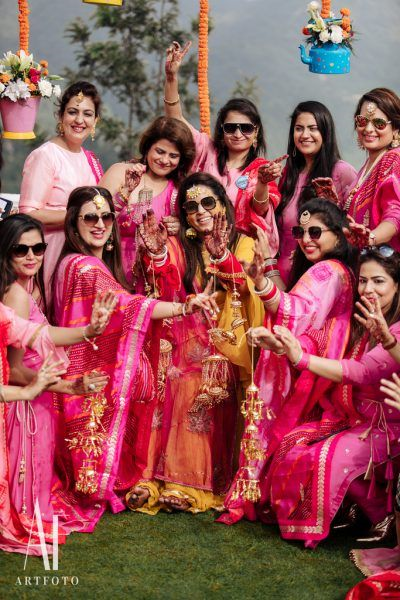 Image via Artfoto Studios★ 5
The bride chose bright colours like Pink, Yellow and Red for her outfits and slayed each one of them!
Couple 4: Angira and Sulabh in Udaipur: The Ultimate Wedding Destination!

Image via Happy Frames
We absolutely adored this punjabi couple - the bride Angira in the classic red punjabi wedding dress and the groom Sulabh in the stunning red traditional head-gear.The bride's halter neck lehenga for a ceremony took the thunder as she looked absolutely ravishing in blue and pastels.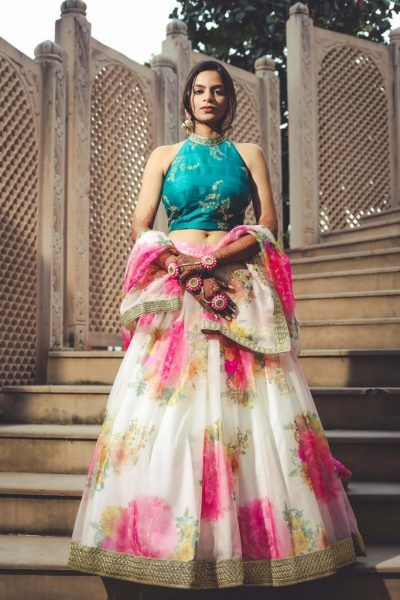 Image via Happyframes★ 4.9
How amazing was the whole carnival theme and traditional punjabi yet modern vibe which suited the destination in the best possible way.
Couple 5: Where the bride designed her own lehenga for the big day!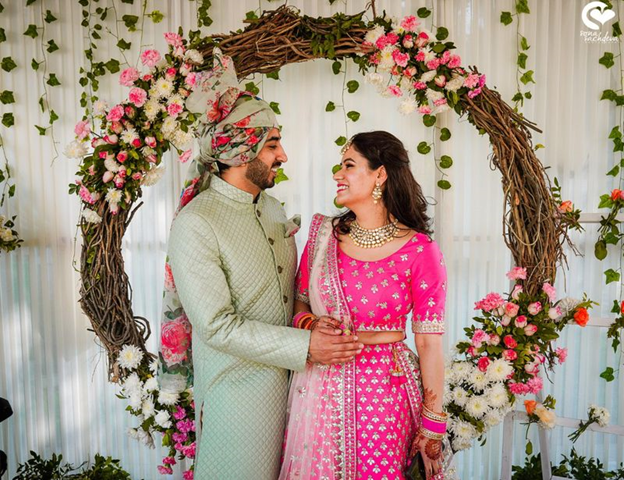 Image via Sona Sachdeva Photography★ 4.5
In a very private event of 300 people, this Punjabi bride Garima took the responsibility of designing her as well as the groom-to-be's wedding outfit! 
The decor of the entire event was in all bright and pastels which definitely stole our hearts.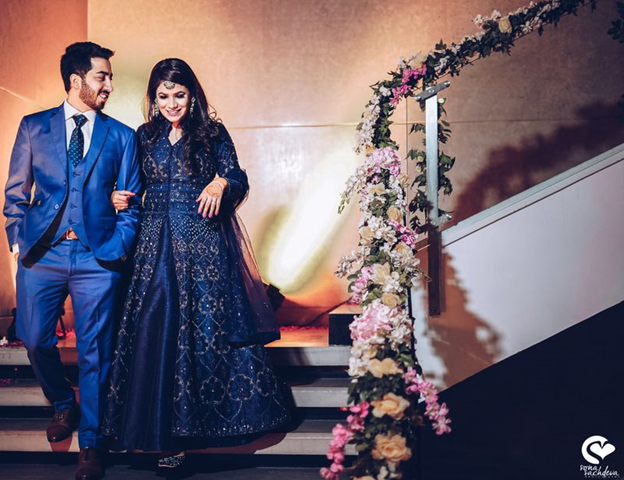 Image via Sona Sachdeva Photography★ 4.5
We loved how the Groom Arjun looked so good in the coordinated outfits and totally in love. 
Couple 5: Super planned Punjabi wedding!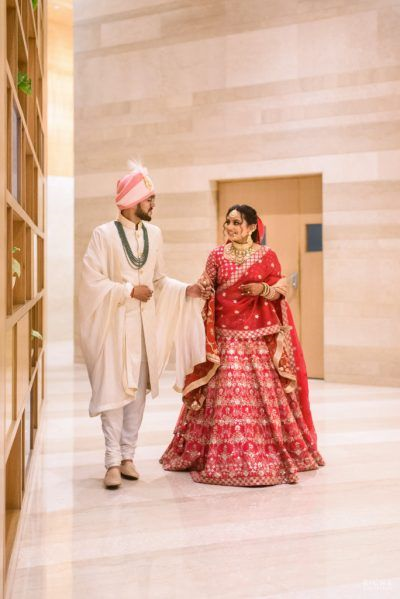 Image via Studio Narinder Photography★ 5
This punjabi couple, both from the designing field planned their wedding for over a year, leaving no stone unturned to make the final day perfect.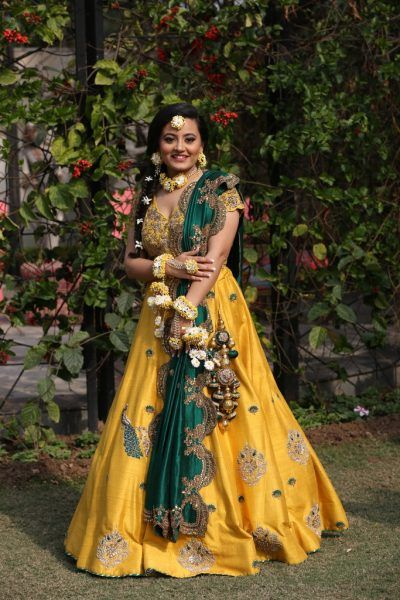 Image via Richa Kashelkar Photography★ 5
Their lively faces, colourful mehendi ceremony and stunning outfits grabbed our attention and we cannot help but love how their wedding turned out to be!
Couple 6: Sikh wedding in Canada: No less than a dream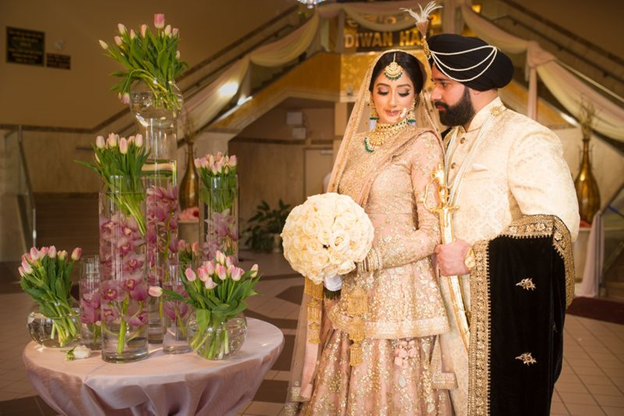 Image via Aaamovies
Vick and Rimple, the gorgeous punjabi couple were the reason of many jaw drops at their magical wedding in Canada. We loved the bride's peachy and ornate wedding outfit and the groom's custom made dupatta to go with the whole aura of the outfit.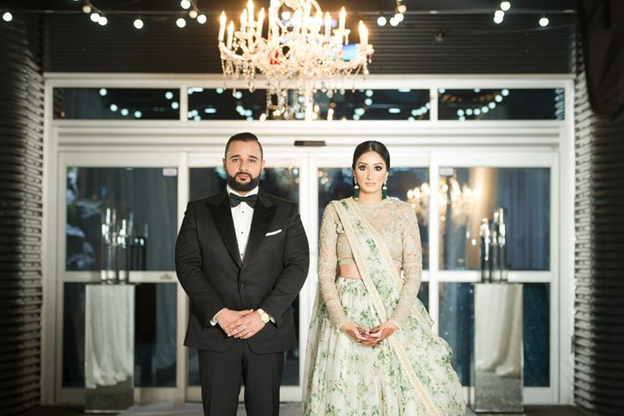 Image via Aaamovies
The engagement outfit of the bride was a Sabya outfit and we found the high waisted lehenga and sheer blouse absolutely gorgeous on Rimple, the bride. The lavish display of ice-sculptures worked as an aggregator of a lovely wedding.
Couple 6: Spectacular Floral Decor- Seema and Sanjam's Wedding day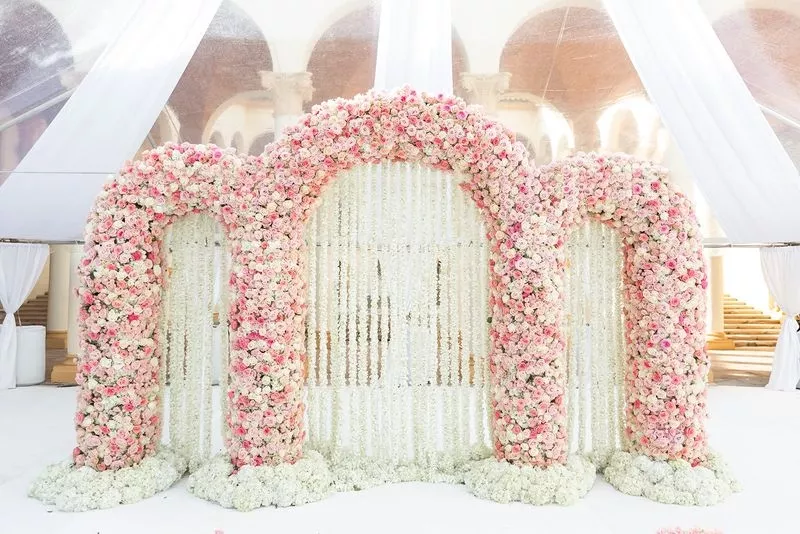 Image via Blink & Co Photography★ 5
When the founder of Venus et Fleur,(company that provides real luxury roses that last a year!) gets married, we can't expect anything less than a breathtaking flower decor.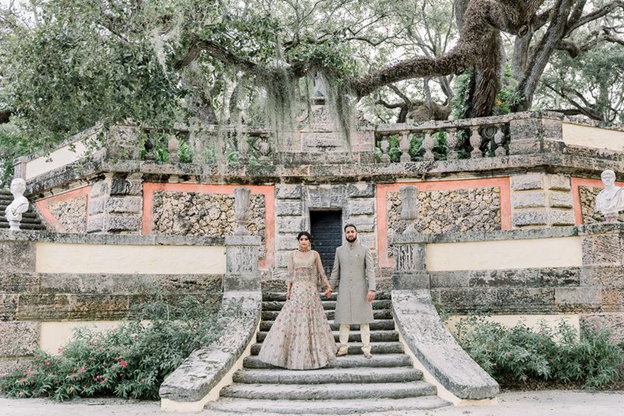 Image via Blink and Co Photography
The sangeet outfit of the couple were pastel grey coordinated outfits looked charismatic with a matching background.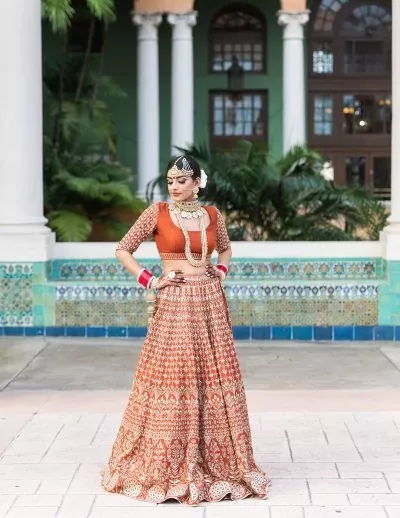 Image via Blink & Co Photography★ 5
The Blunt orange Anita Dongre wedding lehenga was a breath of fresh air for us and looked beguiling.
Couple 7: The Much awaited and loved wedding: Prince and Yuvika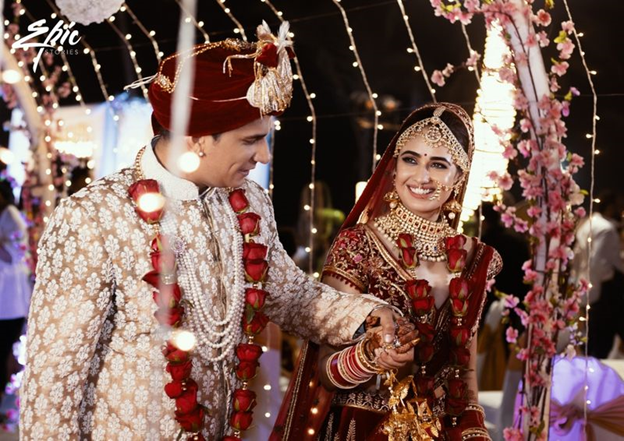 Image via EPICSTORIES★ 5
The famous big boss couple Yuvika and Prince's wedding ceremony also made it to our list and quite obviously! The wedding took place in Mumbai and the couple looked alluring in the heavenly wedding dresses.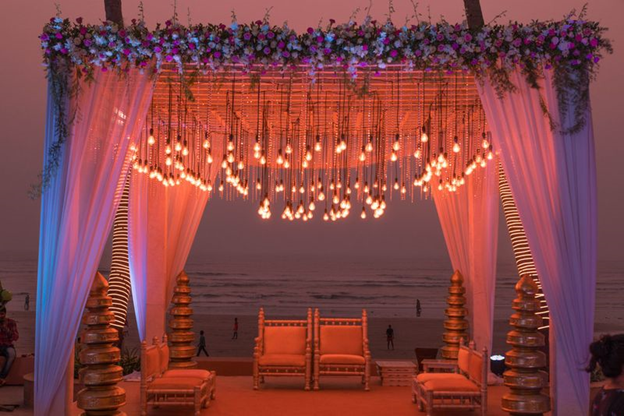 Image via EPICSTORIES★ 5
The ambience for the wedding was aesthetically pleasing to us we loved how fairy lights and bulbs were used in the decor. The guests of the ceremony witnessed the amazing dance performance of Prince and Yuvika. BTW, we have created a list of 30 Punjabi wedding songs for you to groove on to.
Couple 8: Disney inspired Mehendi of this Punjabi Couple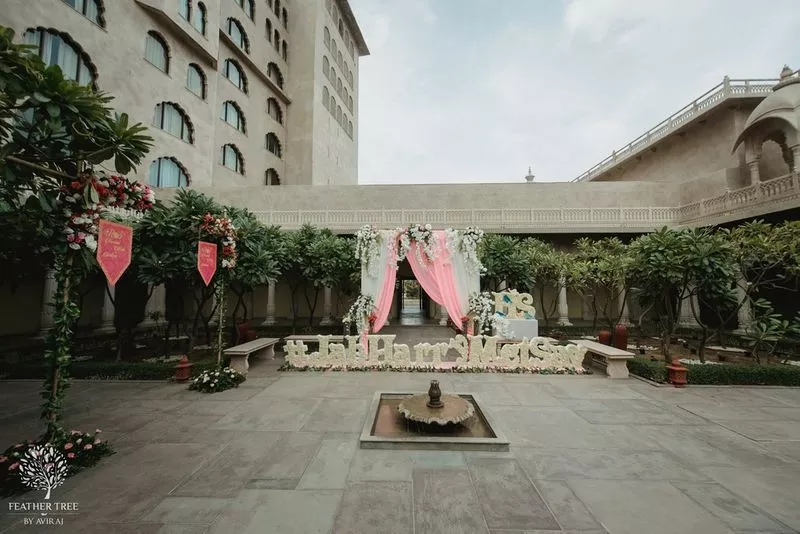 Image via Aviraj Saluja Photography
Our last pick for our favorite Punjabi weddings is of Savleen and Harman, where the wedding was classic and grand with a vintage theme and an interesting disney inspired mehendi ceremony and regal wedding event.
The dance performance by the bride and her friends was a super cute one!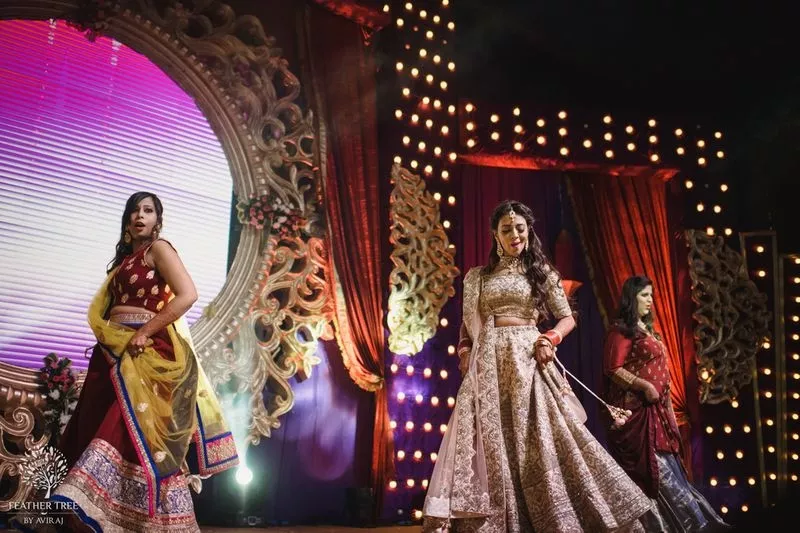 Image via Aviraj Saluja Photography
We loved the minimalist all white look of the groom and how well has the bride's lehenga complimenting the look!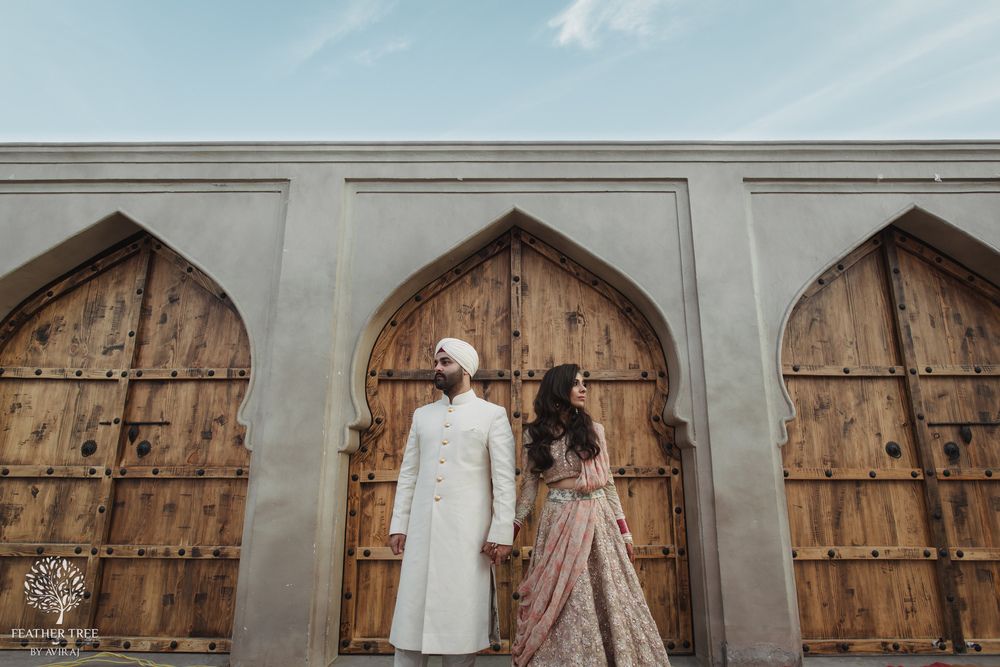 Image via Aviraj Saluja Photography
We also found these cute customised wine glasses which had the tag of "Blushing Savleen" and "Harman's Fizz", two drinks available in the wedding ceremony. How cute is that!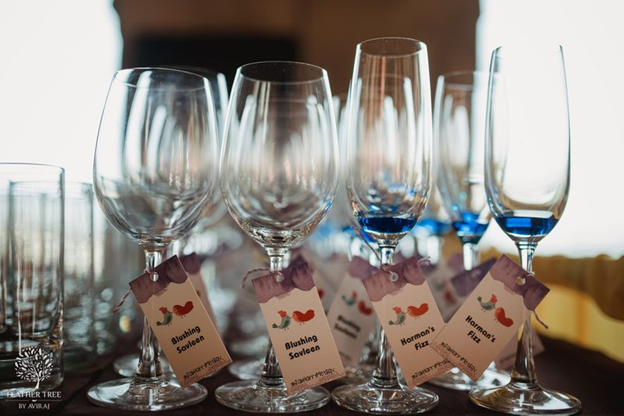 Image via Aviraj Saluja Photography
So above is our list of 10 gorgeous Punjabi couples that we love. Have a punjabi wedding to attend soon? Tag a punjabi bride or groom.