Real Brides Reveal – One Mistake To Avoid When Picking Your Sangeet Lehenga!
BY Apoorva | 20 Nov, 2023 | 2616 views | 5 min read
Jazzy and glam – those are the two words you need to remember when you pick your sangeet lehenga. A night of dancing and fun, your sangeet night is the one wedding event where you can go all out when it comes to upping your glam quotient. So while picking your sangeet lehenga, there are certain tips and things that all brides ought to know. And who better than WMG real brides will give us all the deets? We asked them what is the one thing that every bride-to-be must remember while picking up her sangeet lehenga and this is what they shared!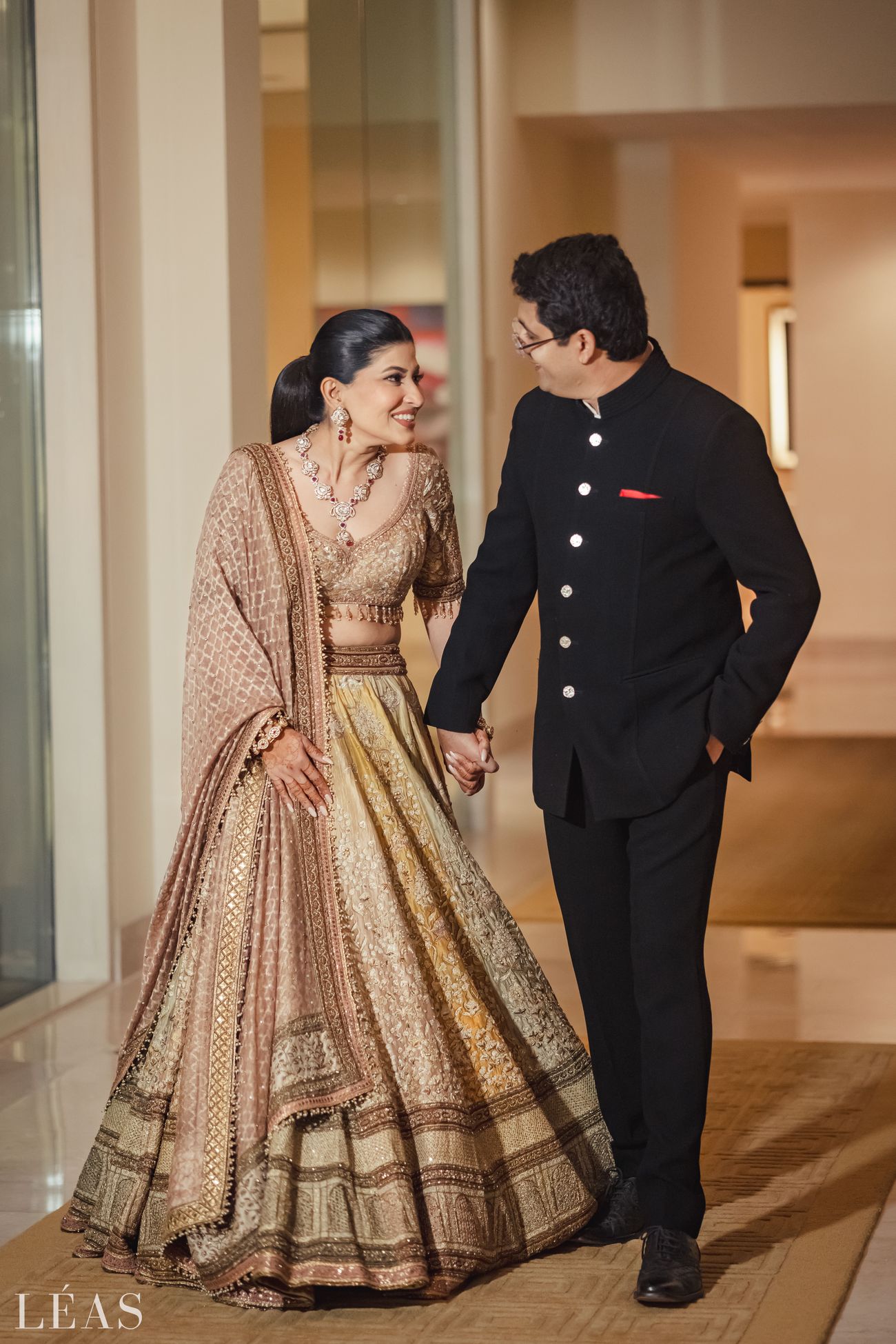 Image via Nitika and Abhishek
Disha says
Do not buy an outfit with a heavy dupatta. This is a big no-no. Not only will it weigh you down but most of the time when you are dancing, you will either have to tie it across or keep it aside. So if I were to give one tip, this is it.
Preeti says
Most of us forget about the fact that even after the sangeet performances, you have a DJ night usually so pick your lehenga fabric, embroidery and embellishments carefully. Something that will itch, make you sweat a lot, and stick to your body is not advisable. Is your sangeet in an AC hall or outdoors? Depending on your event and how you feel, pick them accordingly
Anusha says
As a designer myself, I would recommend that for your sangeet lehengas, go for embellishments like feathers, fringe details, and pearls instead of heavy zardozi. Not only will they look different and statement-like but weigh much lesser. I did the same on my sangeet night and boy, was I happy!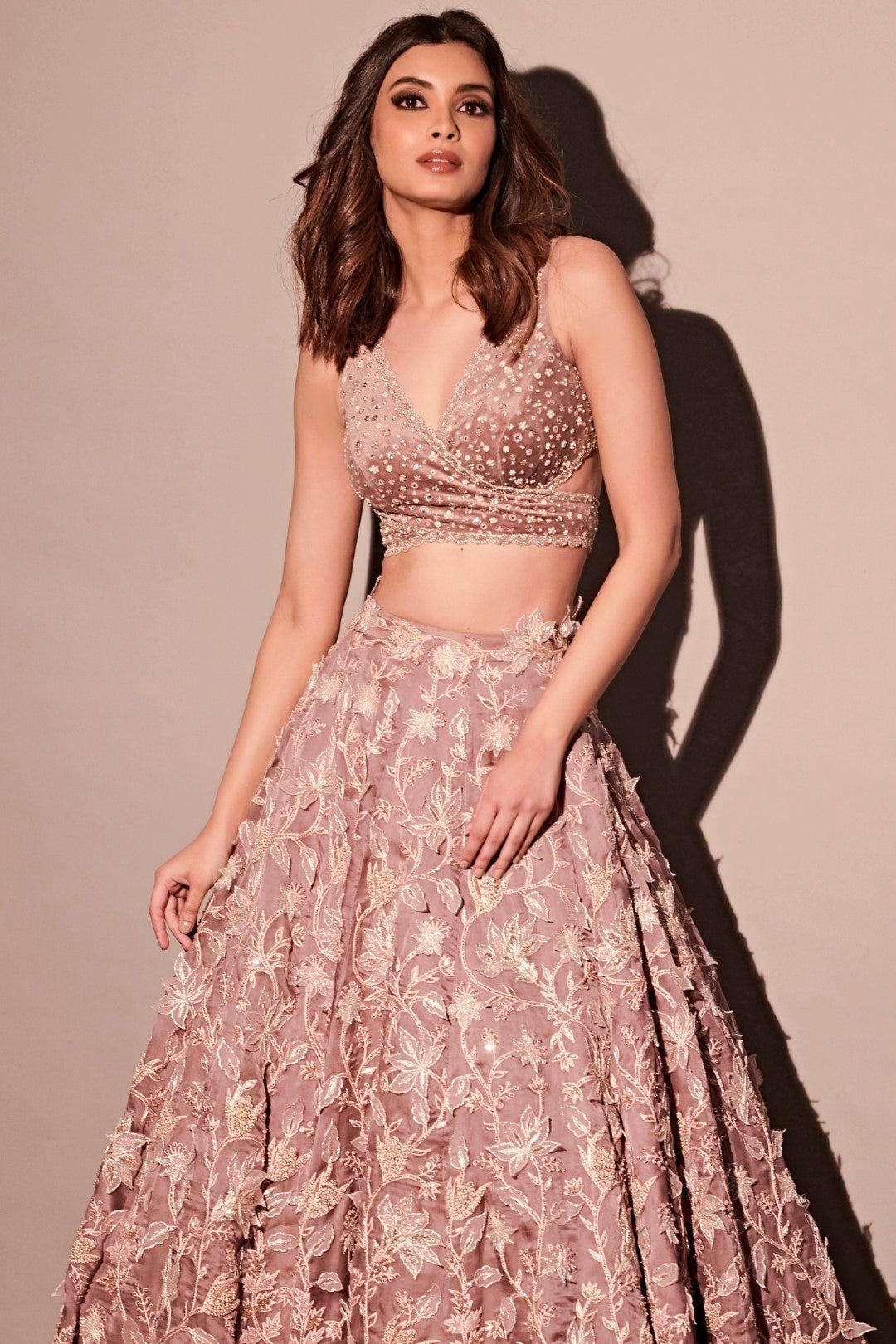 Image via Pinterest
Simran says
I made this mistake and I now tell everyone this before they go shopping for your sangeet lehenga. Do not wear sky-high heels. This is because, you will get the lehenga length altered according to the heels but during my sangeet, once I removed my higher-than-the-sky heels, I realised the skirt was quite long and was coming in between my feet. So either dance in your heels (not advisable) or wear 2-3 inch heels only so that the lehenga fitting can be adjusted.
Anika says
Check the waistband of the lehenga skirt. Most high-end designers do a thick waistband which is heavy and may weigh down so while dancing you may be in trouble. Pick a lehenga skirt that will not dig into your skin and at the same time, give you enough support so you can dance freely!
Kavya says
Weight! Most lehengas that are shiny and glamorous are extremely heavy and honestly a pain to dance in. I would recommend brides to do a couple of twirls when you try on sangeet lehengas to get an idea of what you will be dancing in. Pick sequin work instead of heavy embroidery or cutdana work that will give you the glam without the weight.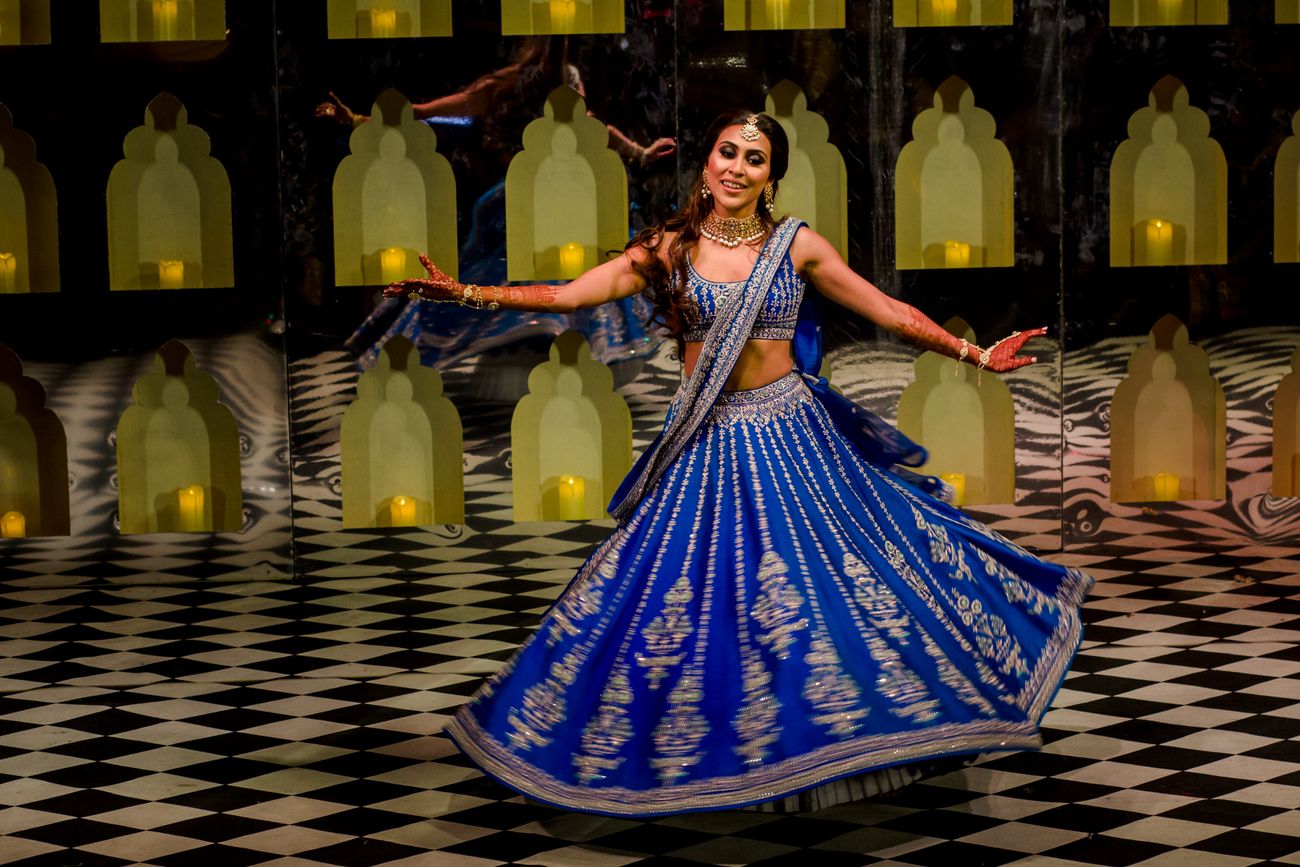 Image via Smiti and Nilesh
Parineeta says
Pay attention to the dupatta of your sangeet lehenga. I was planning to wear my dupatta like a cape so that I can dance properly but the heavy lace on the borders made it very uncomfortable to drape it that way. I had to buy an alternative dupatta for that so always pay attention to the dupatta for your sangeet lehenga.
Shriya says
The one thing I would tell a bride to be to remember while picking up her sangeet lehenga is check the sleeves of the blouse. You are going to dance all night in that lehenga so you definitely want your hands to be comfortable. So ensure you are comfortable with the sleeve style and length.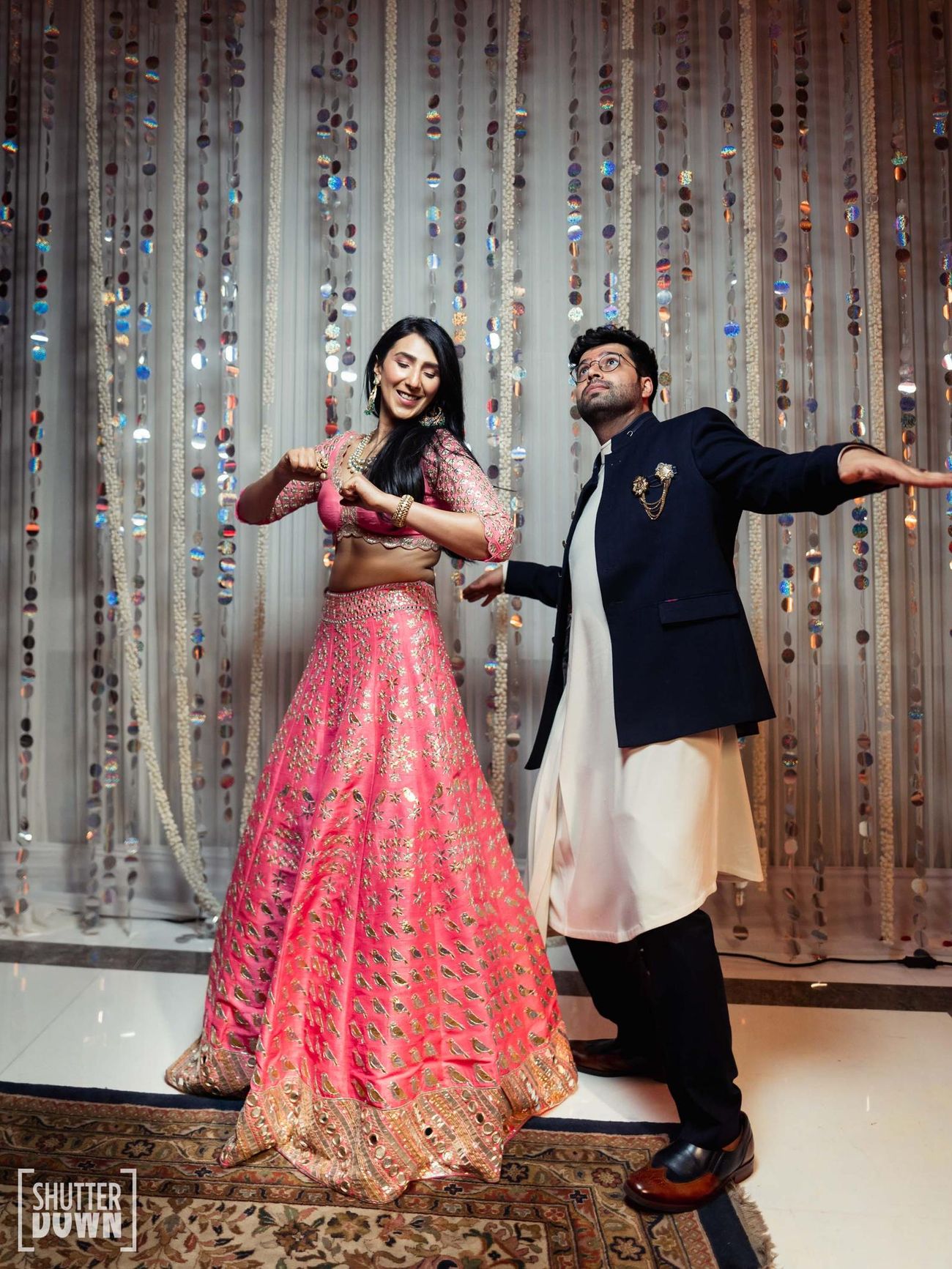 Image via Amanda and Sachit
Pallavi says
Don't pick a trail for your sangeet lehenga or anything that will come in between while dancing or moving around. Remember to get it measured according to your height and your heels while dancing. Also try it on with can-can so that you know how heavy it will be for your sangeet performances.
Chandni says
Comfort over trend brides! You are going to dance the whole night in this lehenga so pick something that you are comfortable in. Don't pick a plunge neck lehenga blouse if you are going to keep fidgeting about the neckline. Pick the lehenga that you won't have to think about while bending or doing any dance step. Discomfort always shows.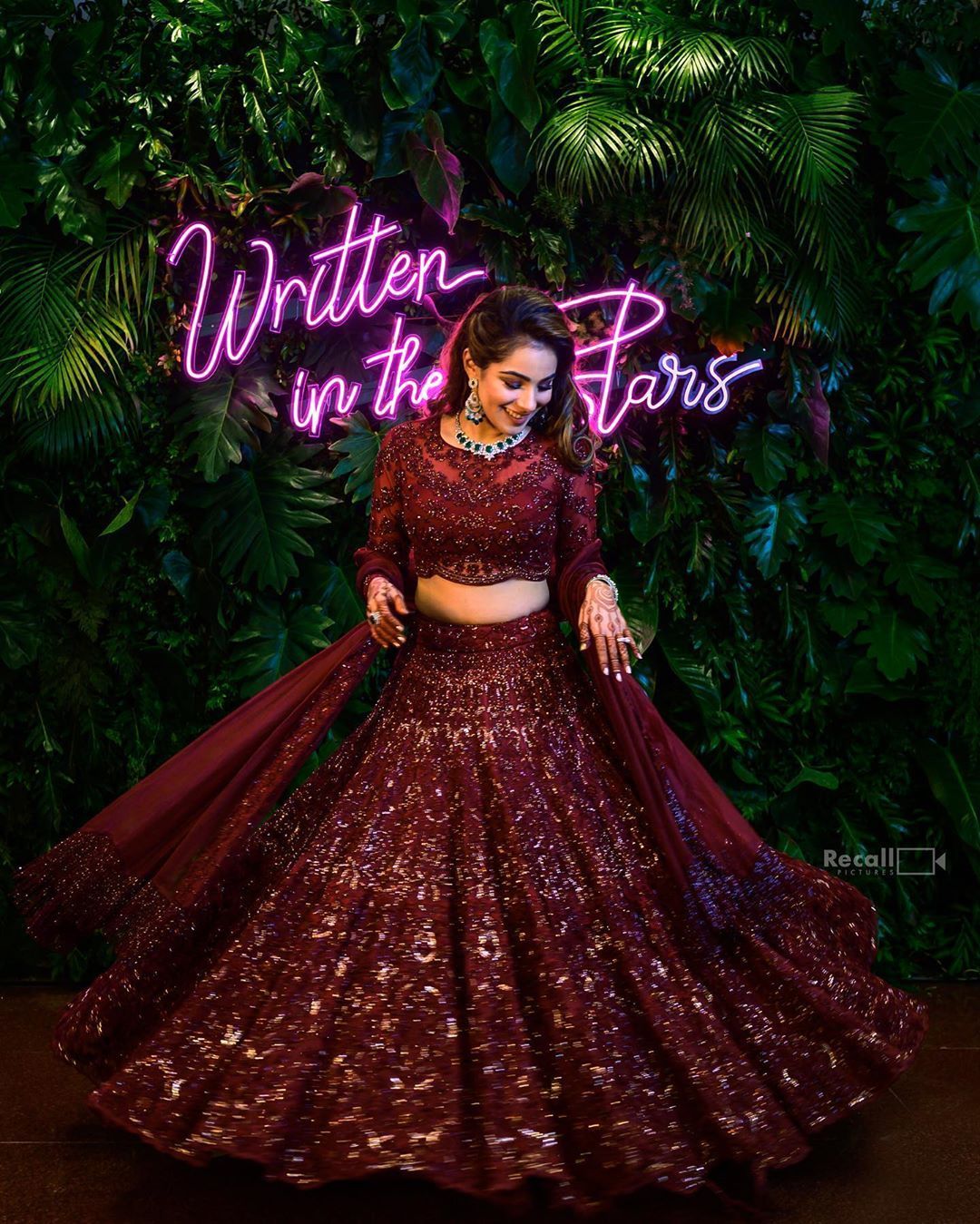 Image via Recall Pictures Photography★ 4.1
Saanchi says
I would recommend brides opt for bright or deep-toned colours for your sangeet lehenga. Pastel and muted colours unless its white don't pop well in sangeet videos and photos so this is what I would recommend while buying.
Muskan says
I would recommend brides go for cape sleeves or lehengas which are light on dupattas or can do without one. Easier to dance and enjoy!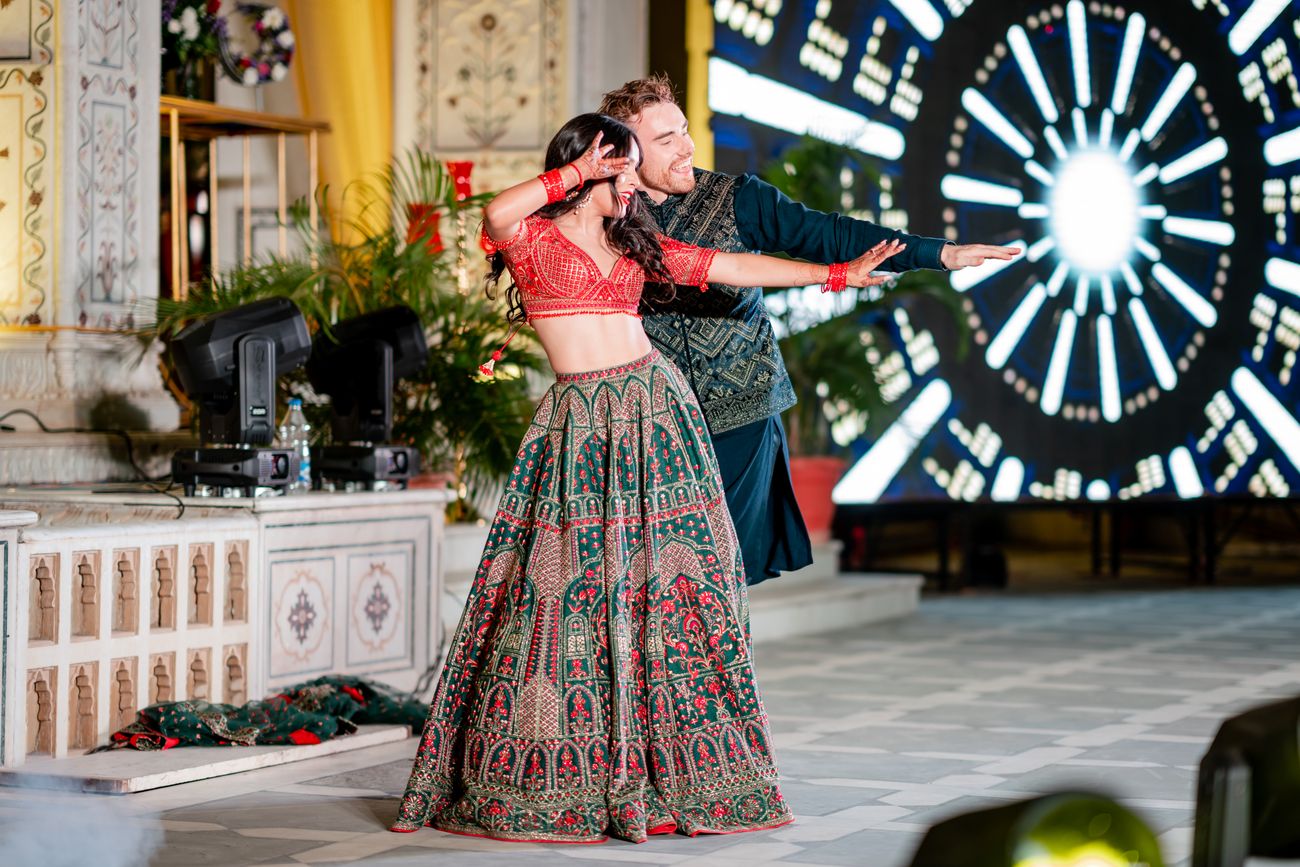 Image via Athena and Thomas
Pranita says
The cut of the lehenga is very important for a sangeet. Opt for fisht cut or slit-wala lehenga is not advisable for a sangeet. Go for something light and easy to dance in. Try sitting in the lehenga and getting up when you try it in the store because your dance performance may need you to do that.
Looking for sangeet songs for your sangeet night? Check out 45+ Best Sangeet Songs For The Bride's Friends and Sisters To Dance in 2022!