Real Couples Who Aced the Color-Contrast Game In 2019: WMG Roundup
BY Anupriya | 13 Dec, 2019 | 3946 views | 4 min read
Unlike the year gone by, which was all about couples color-coordinating their outfits and playing their twin-game strong, 2019 was more about couples swearing by their individual fashion sensibilities. While some were seen color-blocking in offbeat hues, others were spotted trying out experimental outfits in contrasting colours. And boy, they were all pure goals! 
From golds with ivories to maroons with greys, we saw brides and grooms taking colour-contrasts to a whole new level this year. So we did our homework right,  and scoured through our real weddings to find the best of the best. Scroll down and take a glimpse of these gorgeous couples who color-contrasted for their 2019 wedding like a pro!
Pale Peach + Seafoam Green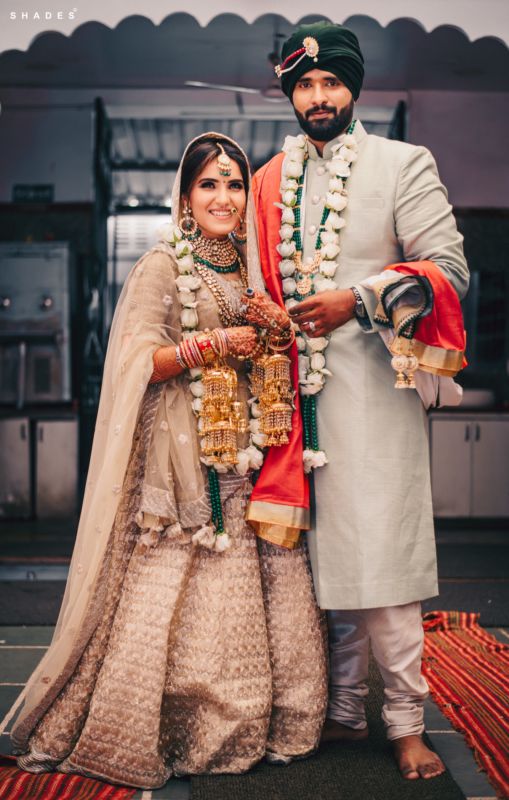 Don't they complement each other so well? Brownie points to their unique outfit colours. We haven't seen a combination so subtle and winning in recent past.
Glamorous Gold + Classic White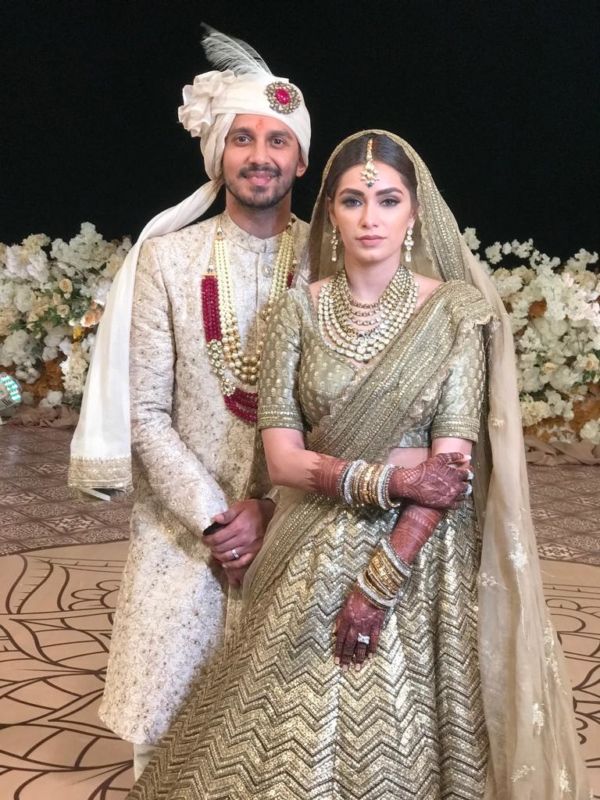 This couple color-contrasted in white and gold on their wedding day, and it couldn't have been better! (Their picture says it all!)
Emerald Green + Hues of Red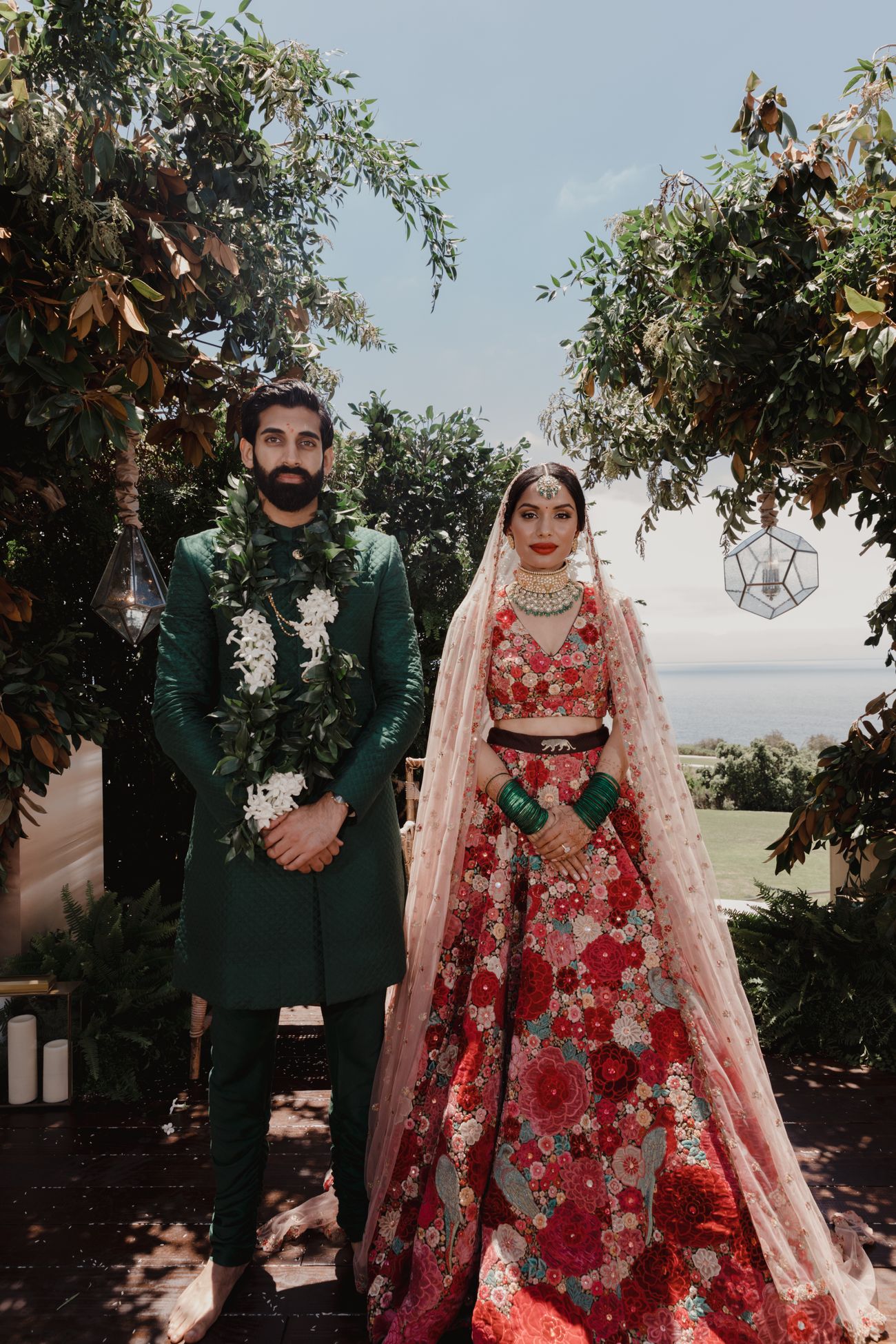 When the groom is as experimental as the bride, you can't expect it to be anything short of amazing! On a side note, which groom could have thought of wearing an emerald green sherwani when their bae was to drench in such vivid hues.
Mint Green + Lilac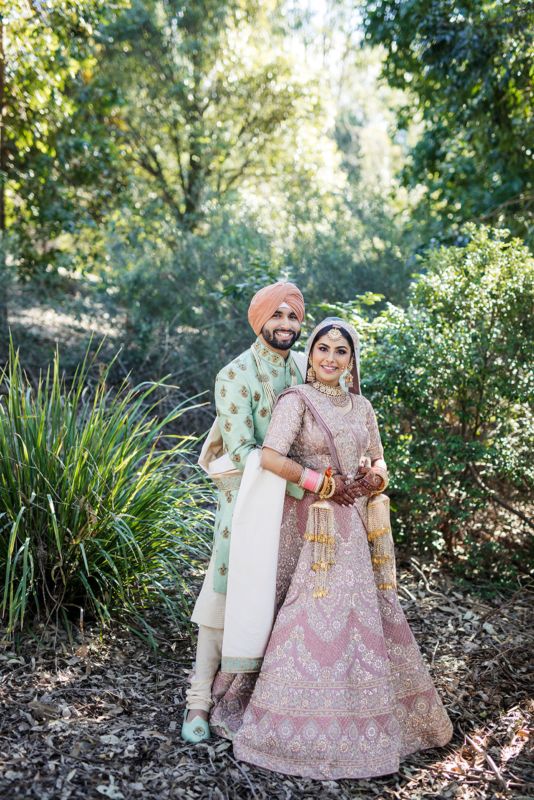 Here's another couple who chose to color-contrast on their wedding in such yummy pastel hues. And we totally love how it turned out to be! It's definitely a combination you can consider for your 2020 wedding.
Classic Red + Beige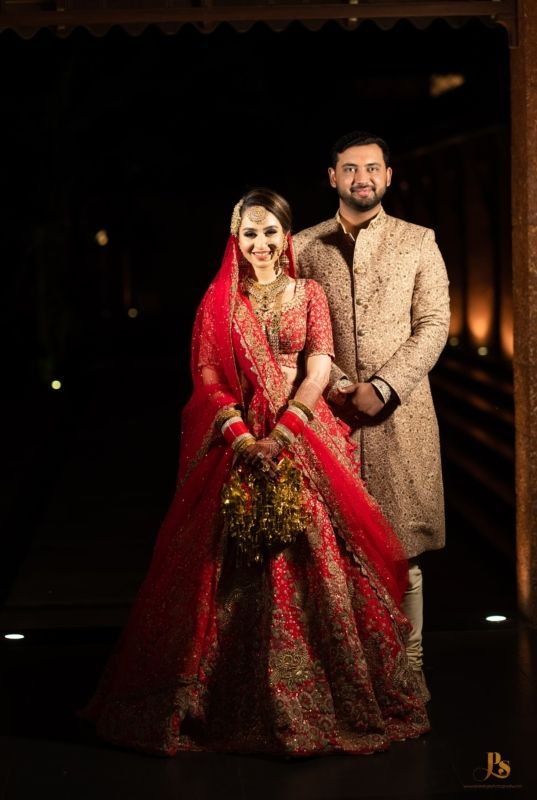 Nothing exudes royalty like this red and beige combination. It is one such fail-safe fusion no couple can go wrong with! Got a thing for classics? Then, don't miss out on this at all!
Powder Blue + Baby Pink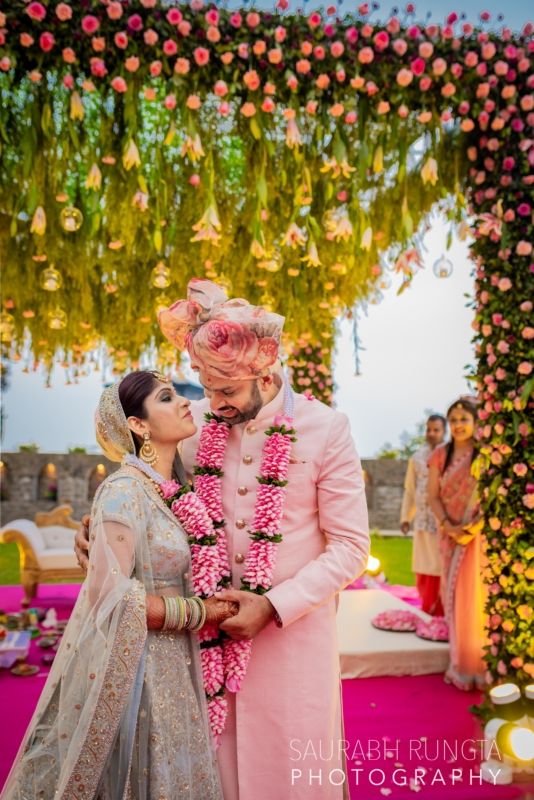 When the groom chooses to don a baby pink hue and the bride bedazzles in powder blue, the chances of them making a stylish statement together are pretty high, and this couple is proof!
Pistachio Green + Olive Grey & Pink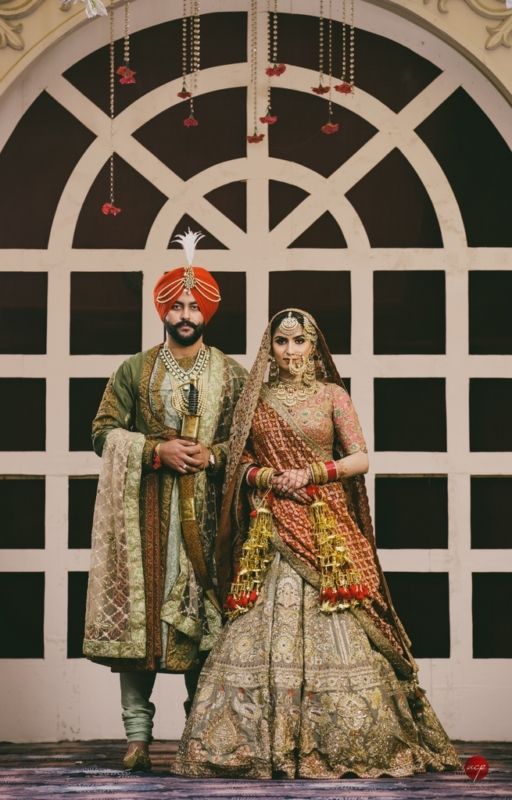 Here's another couple who color-contrasted on their wedding day and taught us how it is done the regal way!
Ivory + Red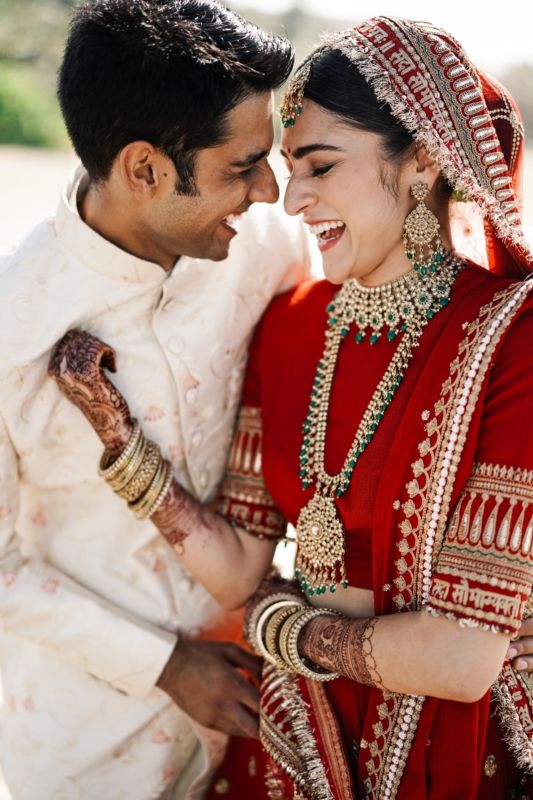 A couple can never go wrong with this timeless combo of red and ivory when planning to color-contrast on their wedding day, just how they did!
Ivory + Dusty Pink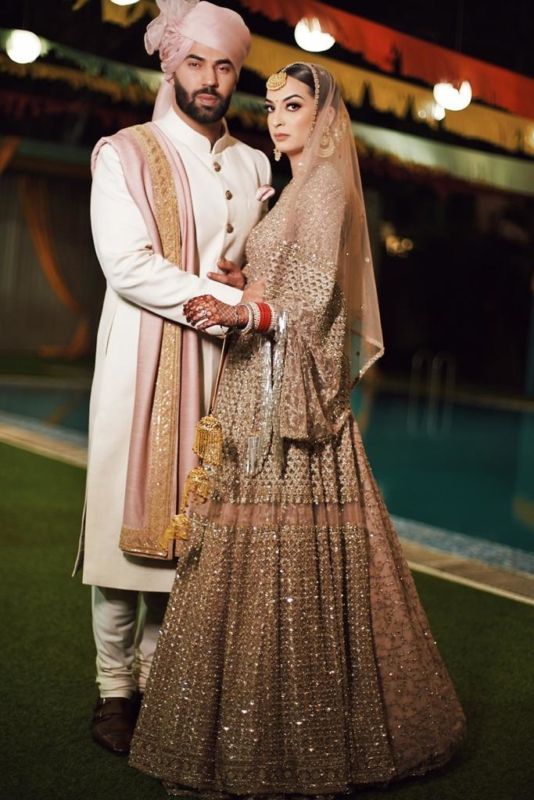 Totally swooning over this bride and groom who dressed to impress on their big day. While groom looked dapper AF in ivory, the bride was no less in her dusty pink anarkali. A killer combo indeed!
Baby Pink + Ivory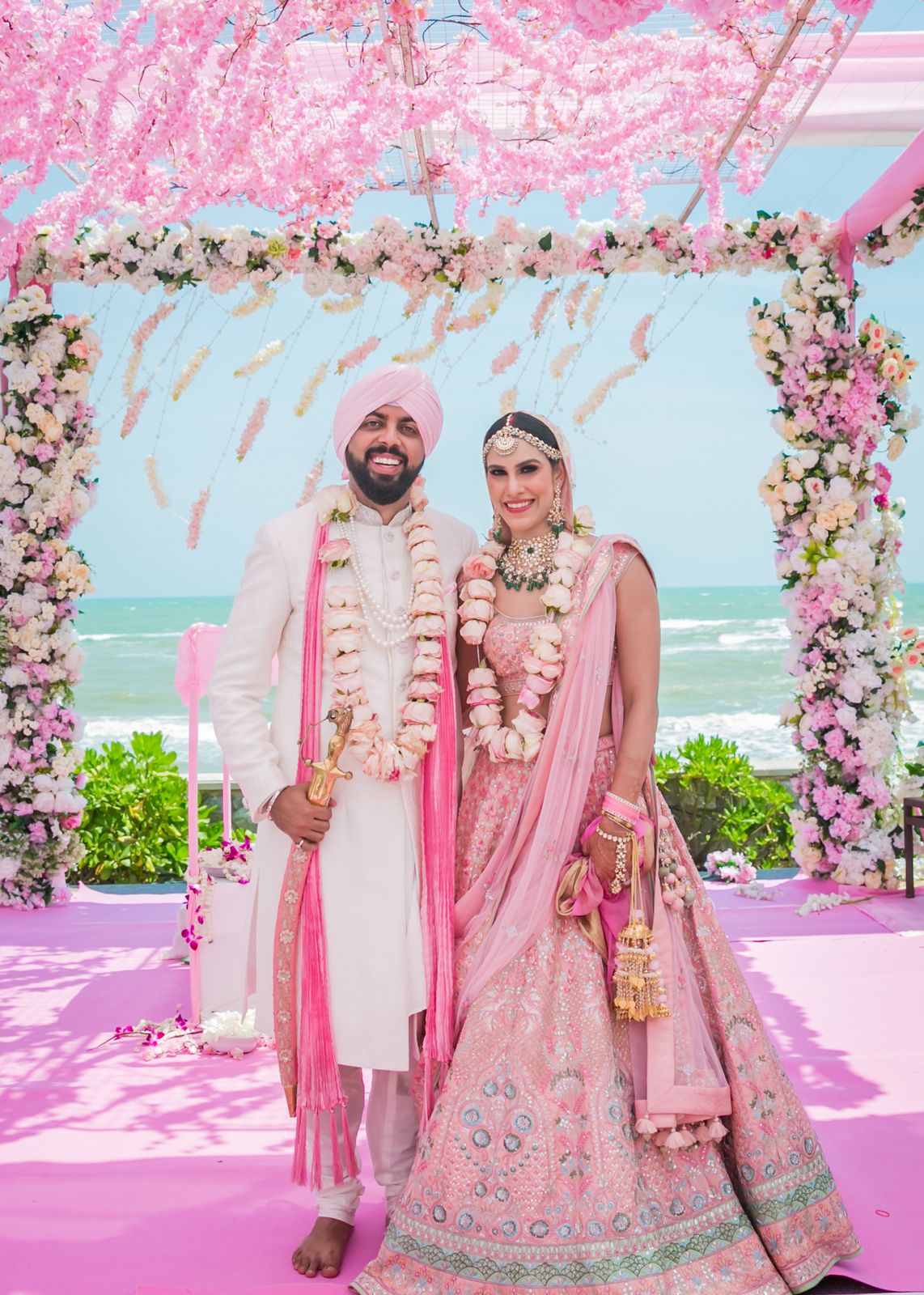 Ivory is the best colour for grooms to pick when the bride decides to clad herself in a stunning pink color.
Moon Grey + Cherry Red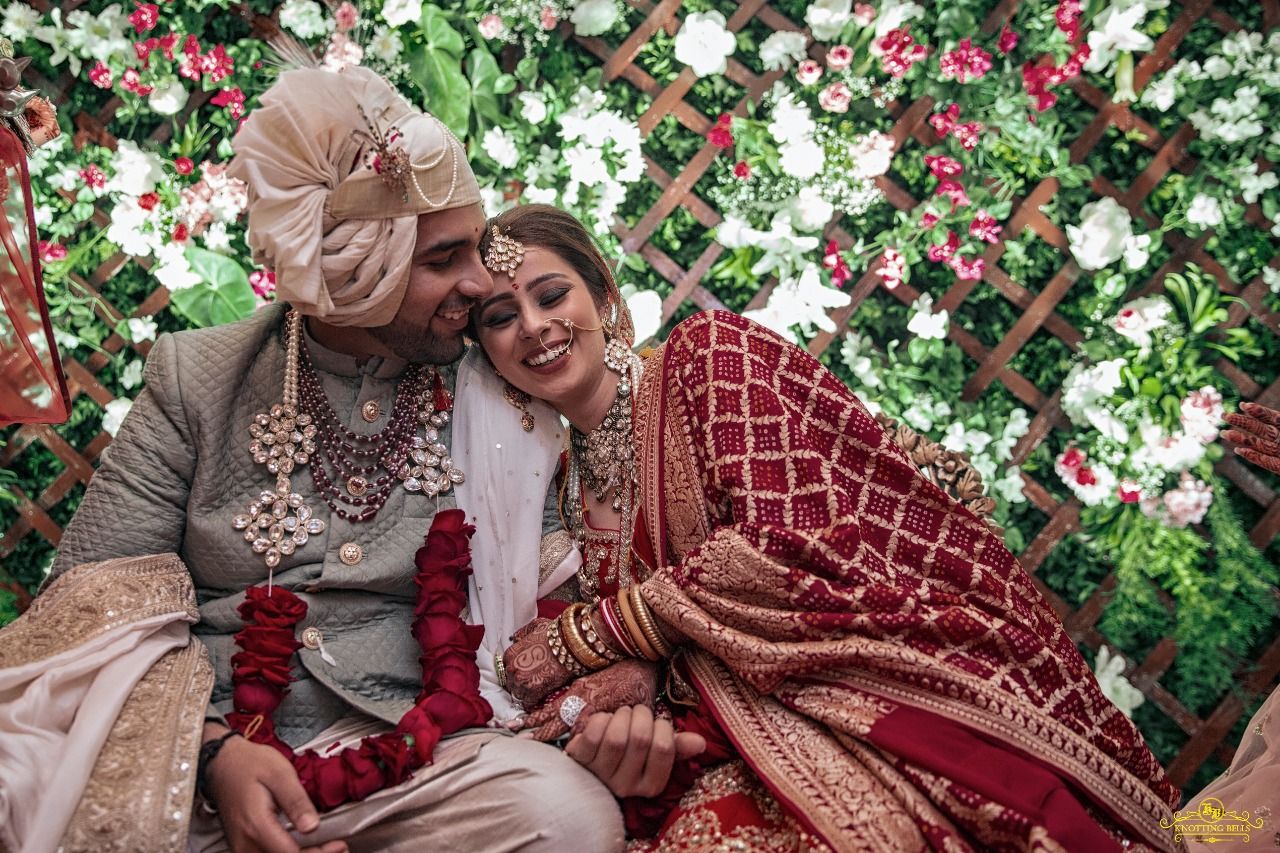 We have our eyes set on this fresh color-combination. The groom dressed in moon grey totally complements the bride, who is wearing maroon.
Blush Pink & Gold + Midnight Blue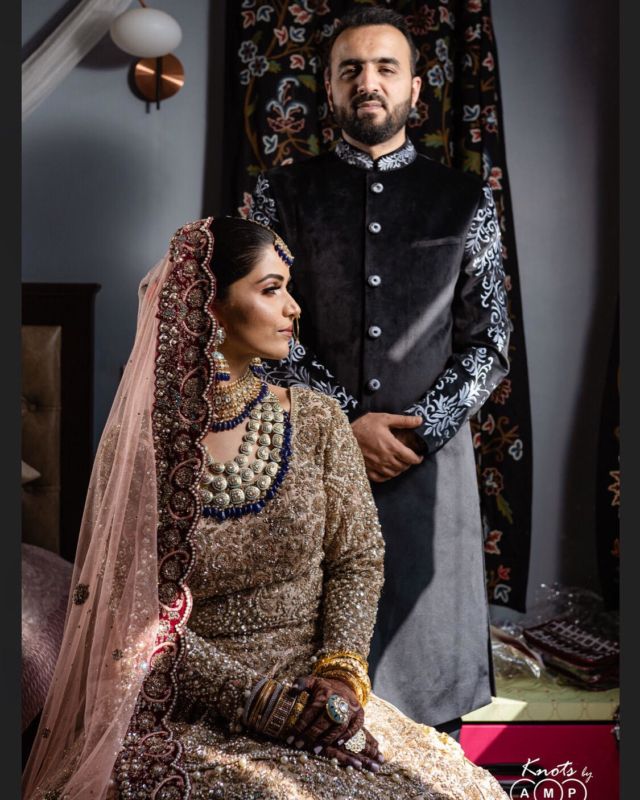 Image via Ain & Sarmad
How can one not fall hard for this awesome color combination of blush pink-gold and midnight blue? Only a trendsetter couple like Ain and Sarmad could pull it off this well!
Bottle Green + Beige-gold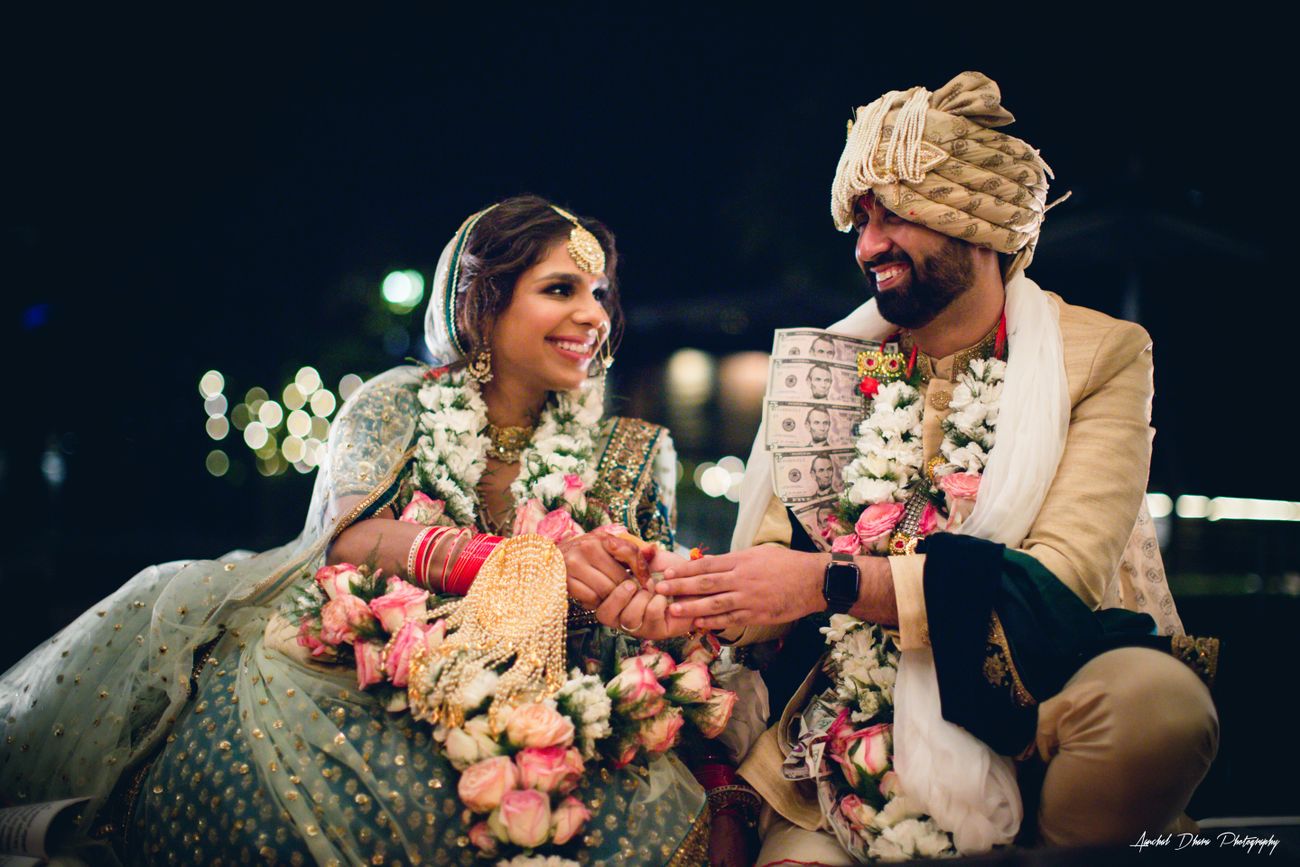 Image Via Pooja & Rahul
Here's another beautiful couple who color-contrasted on their special day and got us swooning over and over again. Emerald green and beige for the win!
Sunshine Yellow + Cream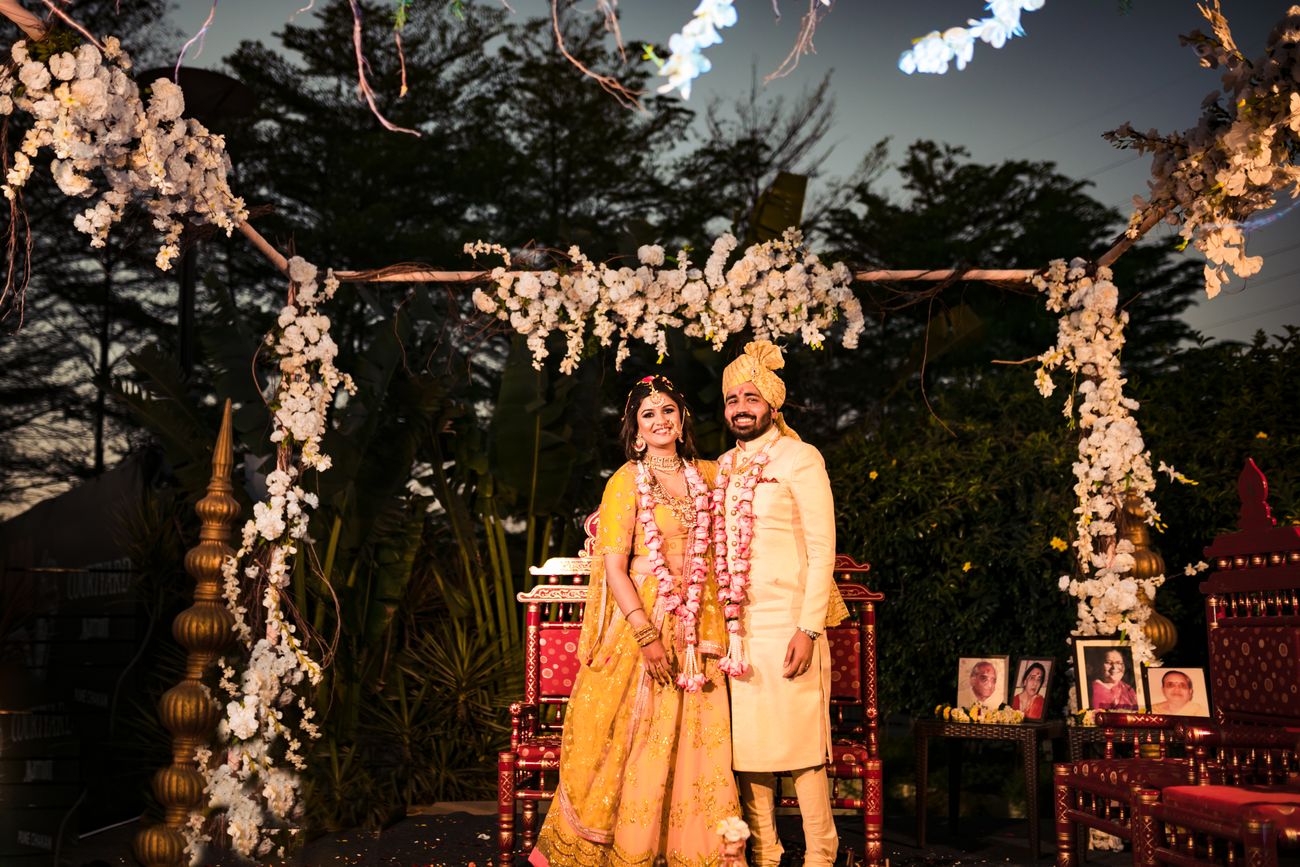 Image via Saumya & Rutunjay
A popping yellow hue paired with a soft, creamy hue like this-A big yes! Isn't this couple taking the color-contrast trend a notch above?
Ivory + Powder Blue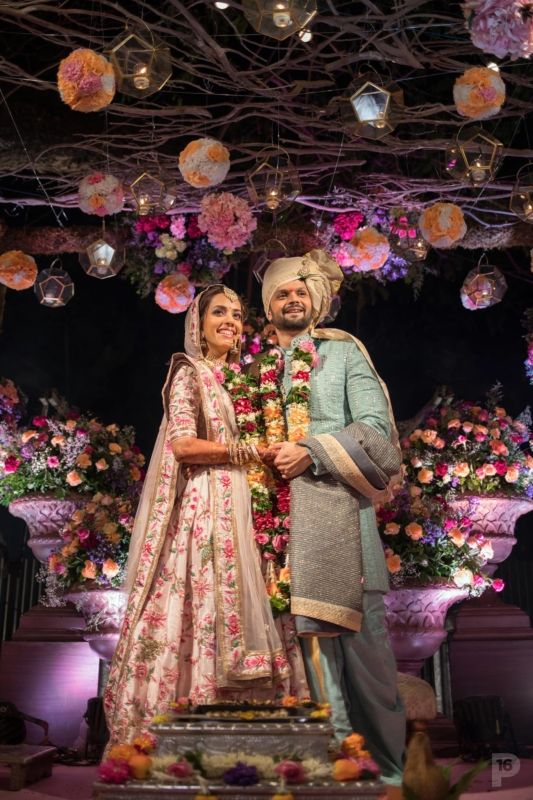 Image via Prriya & Rohan
Subtle yet striking! Ivory and powder blue can make for a fool-proof color-combination to rock on your wedding. Take cues from this adorable couple who wore it with such perfection!
Ivory + Aqua Blue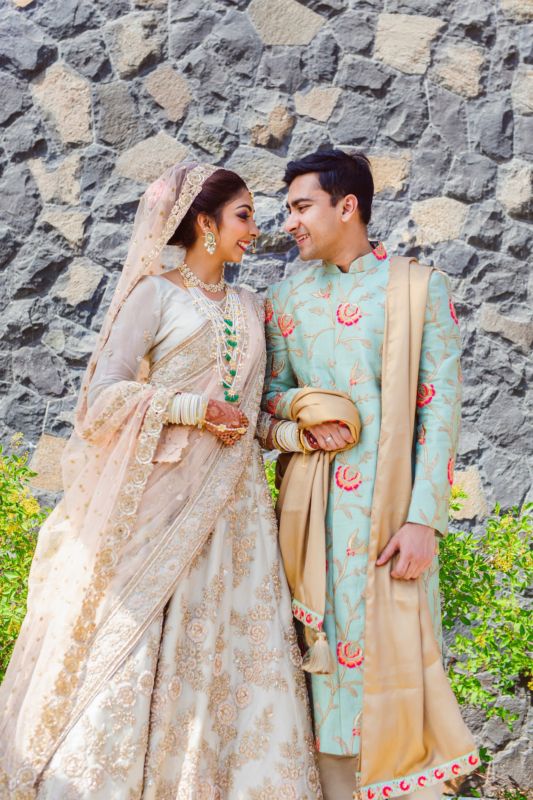 Image via Taseer and Asad
Lastly, this lovely couple who won over us with their sartorial choices. Never knew ivory and aqua blue could look so great when paired together!
Which color-combination of all are you planning to takeaway for your 2020 wedding? Let us know in the comments.