Royal Jaisalmer Wedding With A Dusty Pink Bridal Lehenga
BY Aakanksha | 04 Jun, 2021 | 5353 views | 5 min read
Brides these days are so different! They are now not just involved in their wedding outfits, but in each and every aspect of their wedding planning. One such bride is Vipasha. She recently went viral all over Instagram, and we also fell in love with her offbeat bridal lehenga. When we spoke to Vipasha, she simply said that she wanted something offbeat, unique and something that makes her stand out! So, we deep dived into her wedding and saw such stunning colours and themes that we were impressed. 
Vipasha, being from an events and fashion background knew just exactly what she wanted for her wedding celebrations, and she got it. From scouting for the venue to planning the themes of each and every function and choosing not only hers, but Gaurvit's outfits as well - Vipasha did it all. Scroll down and be mesmerised with this royal wedding in the golden city of Jaisalmer! 
Meet Vipasha & Gaurvit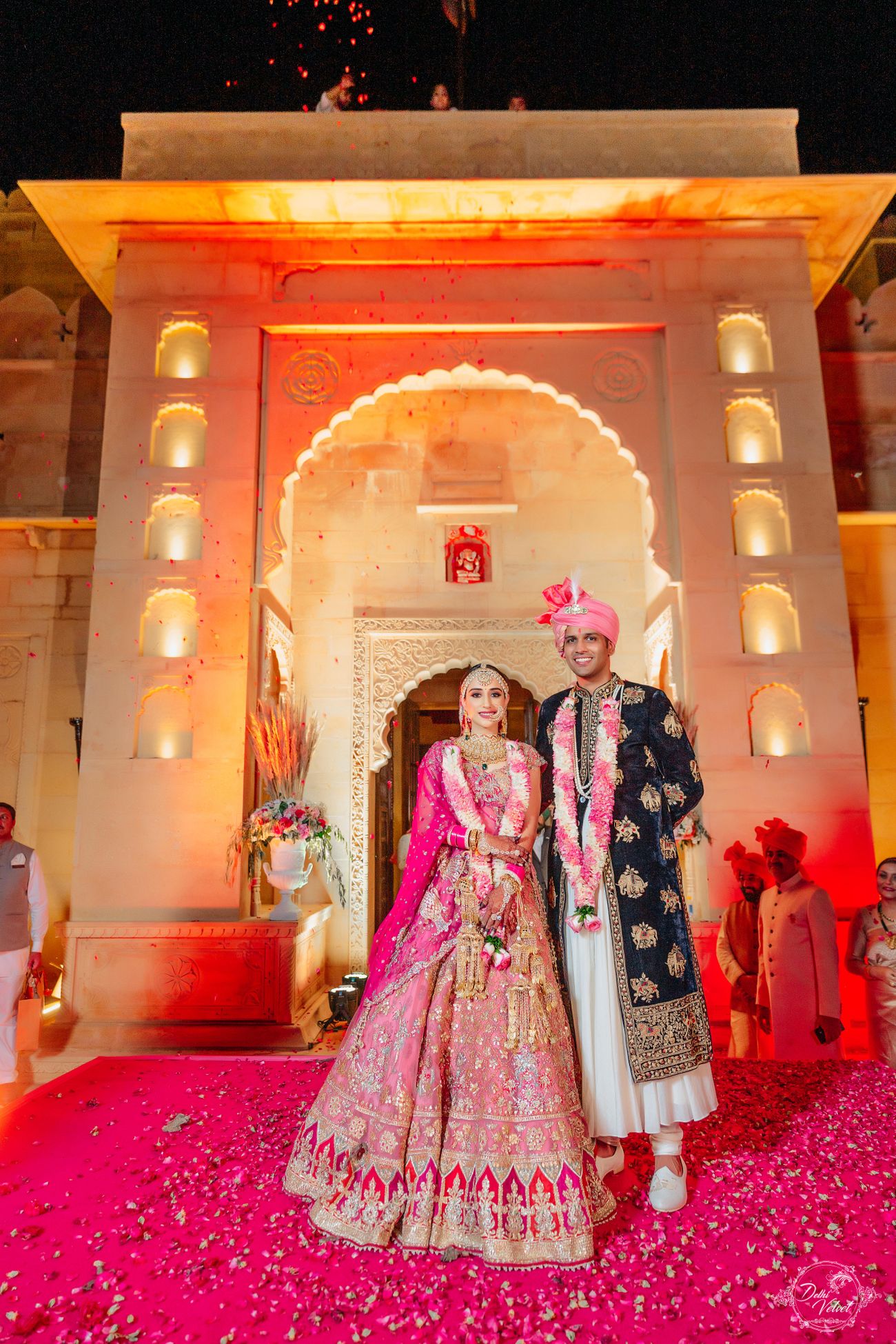 Vipasha calls her & Gaurvit's story as a classic cliche tale of two people meeting and connecting via a common group of friends! 
The Mehendi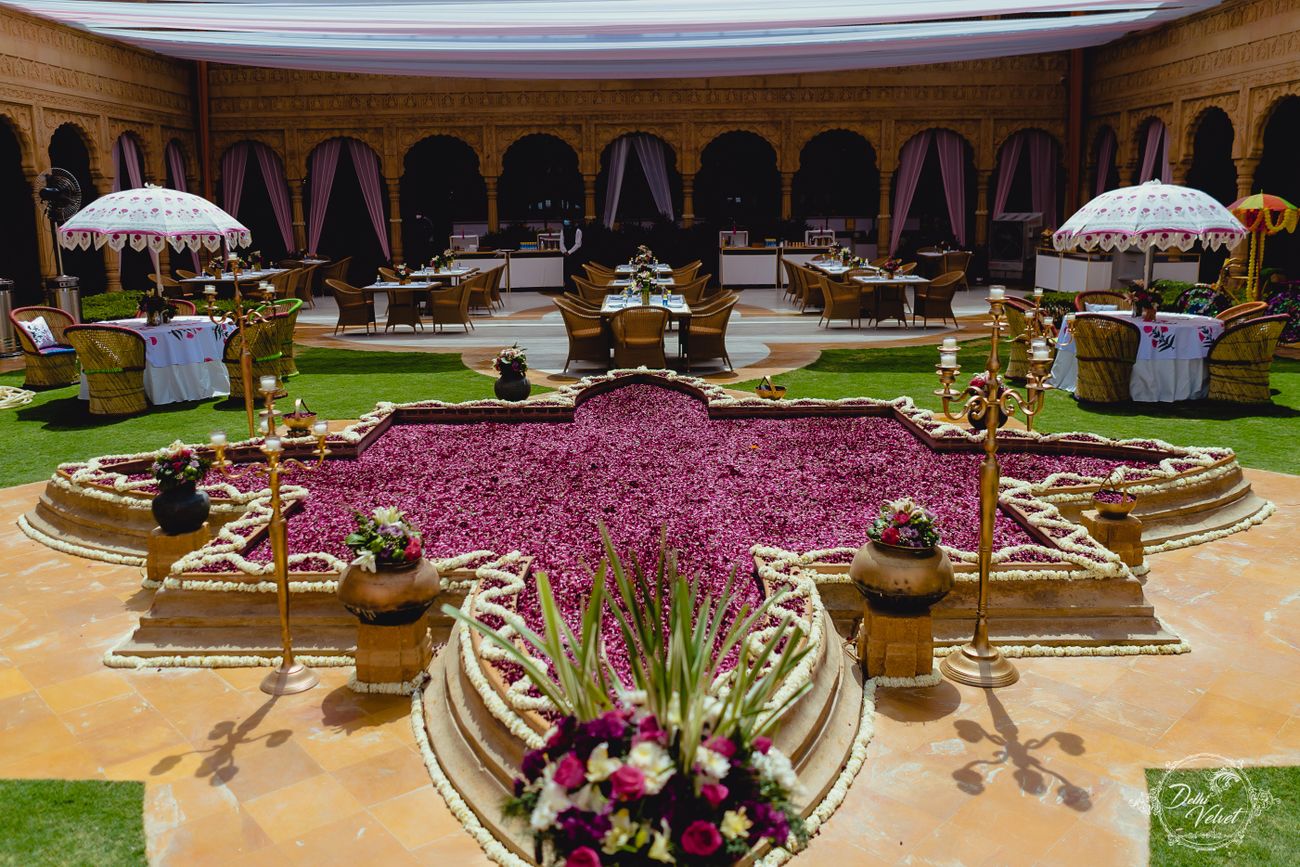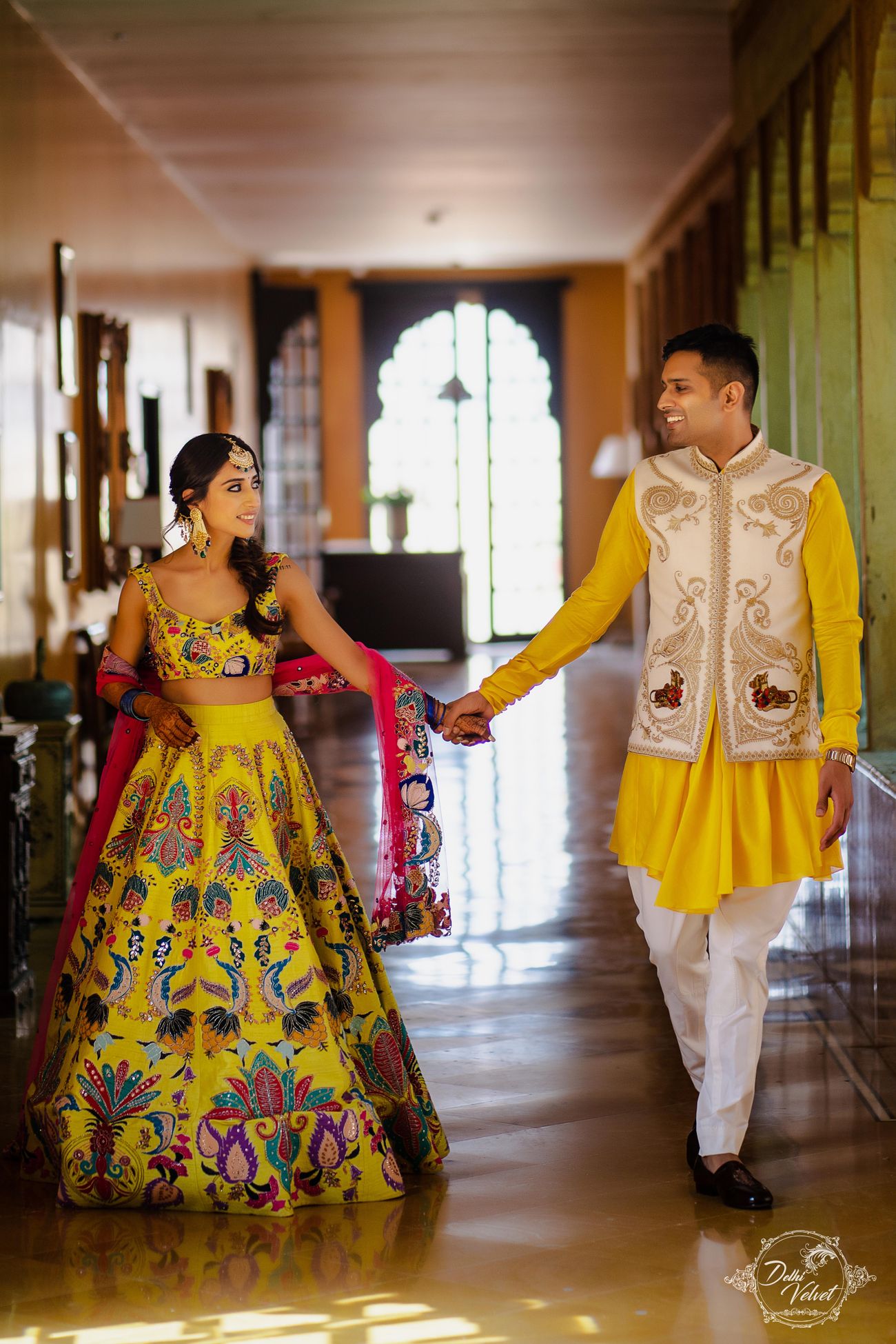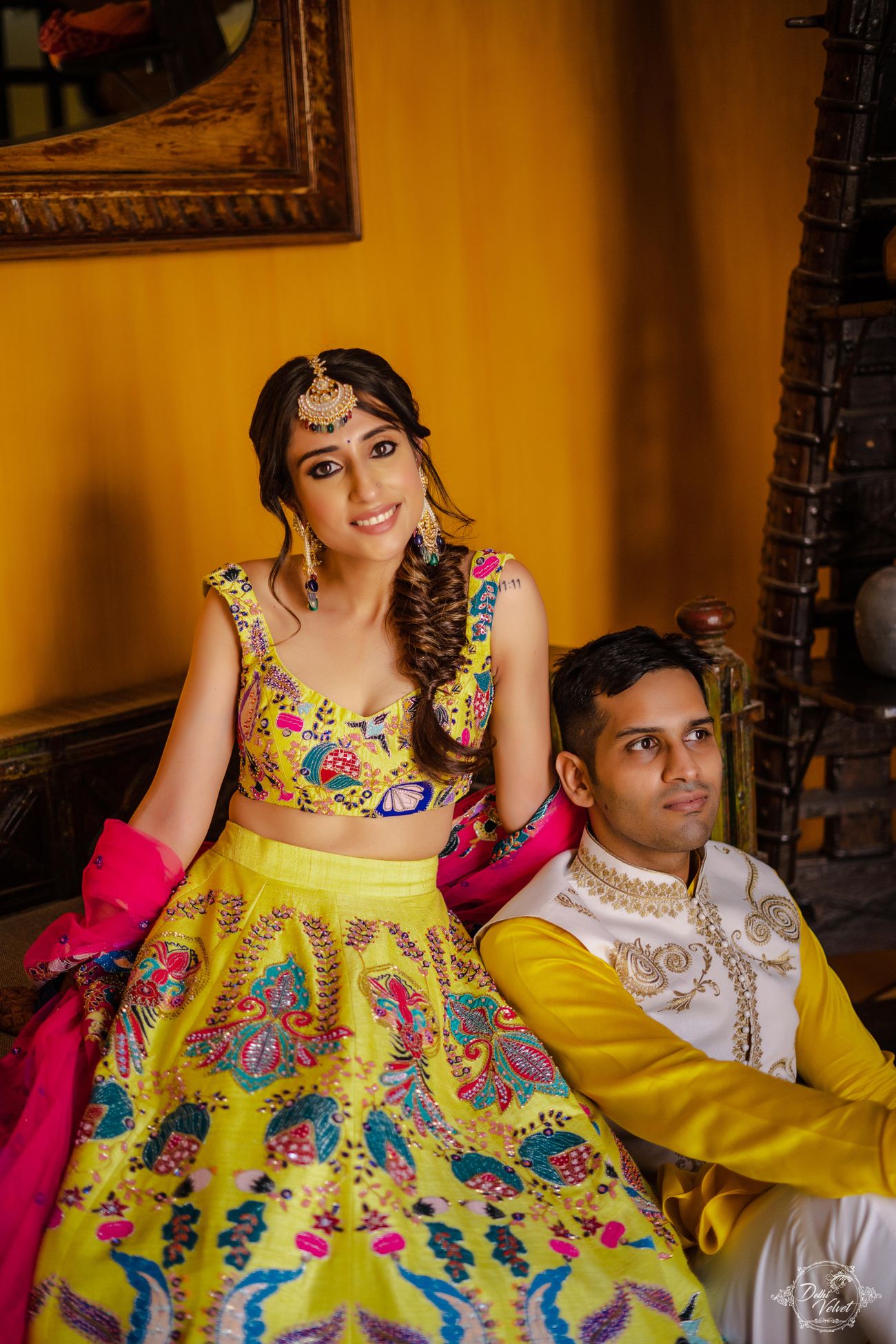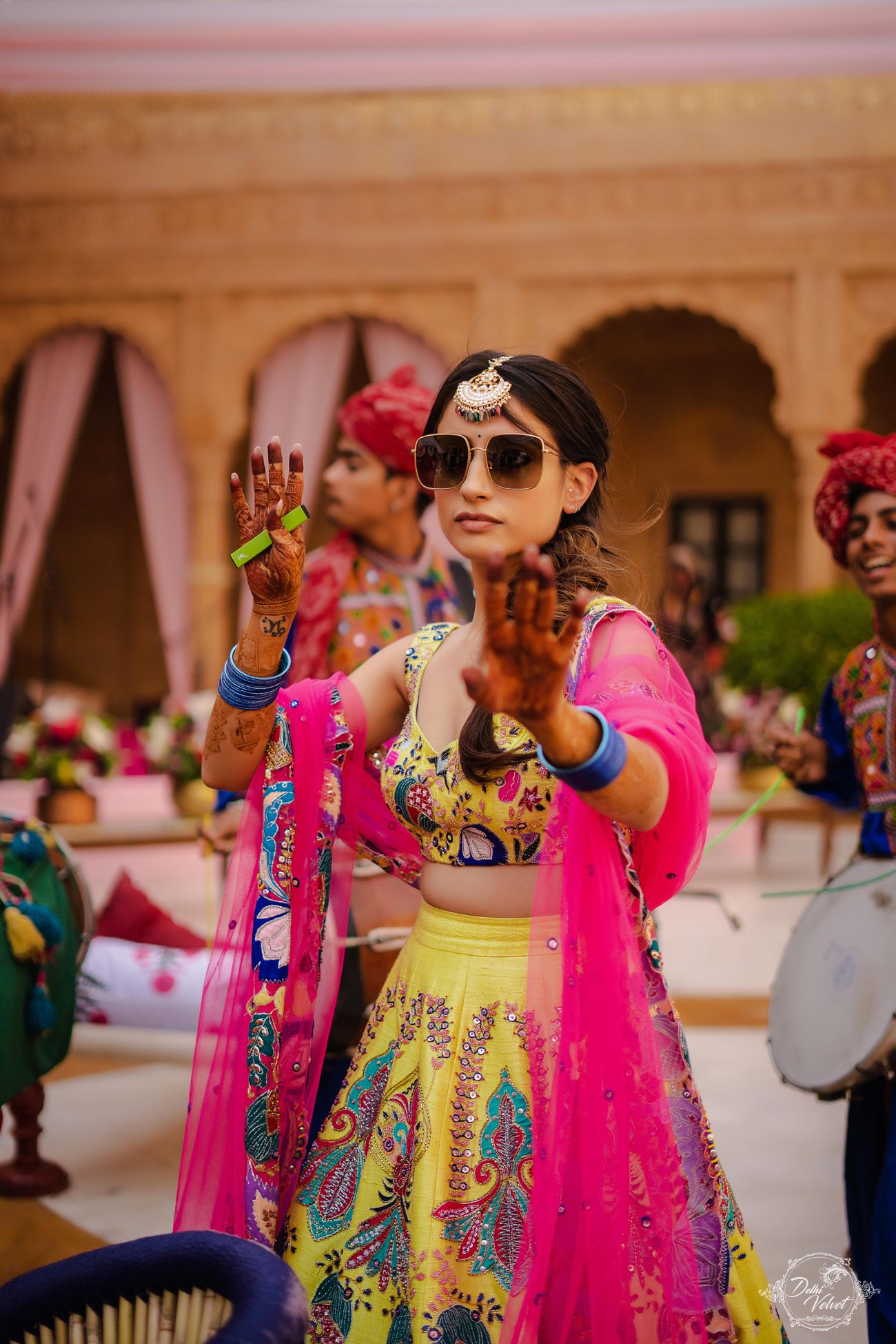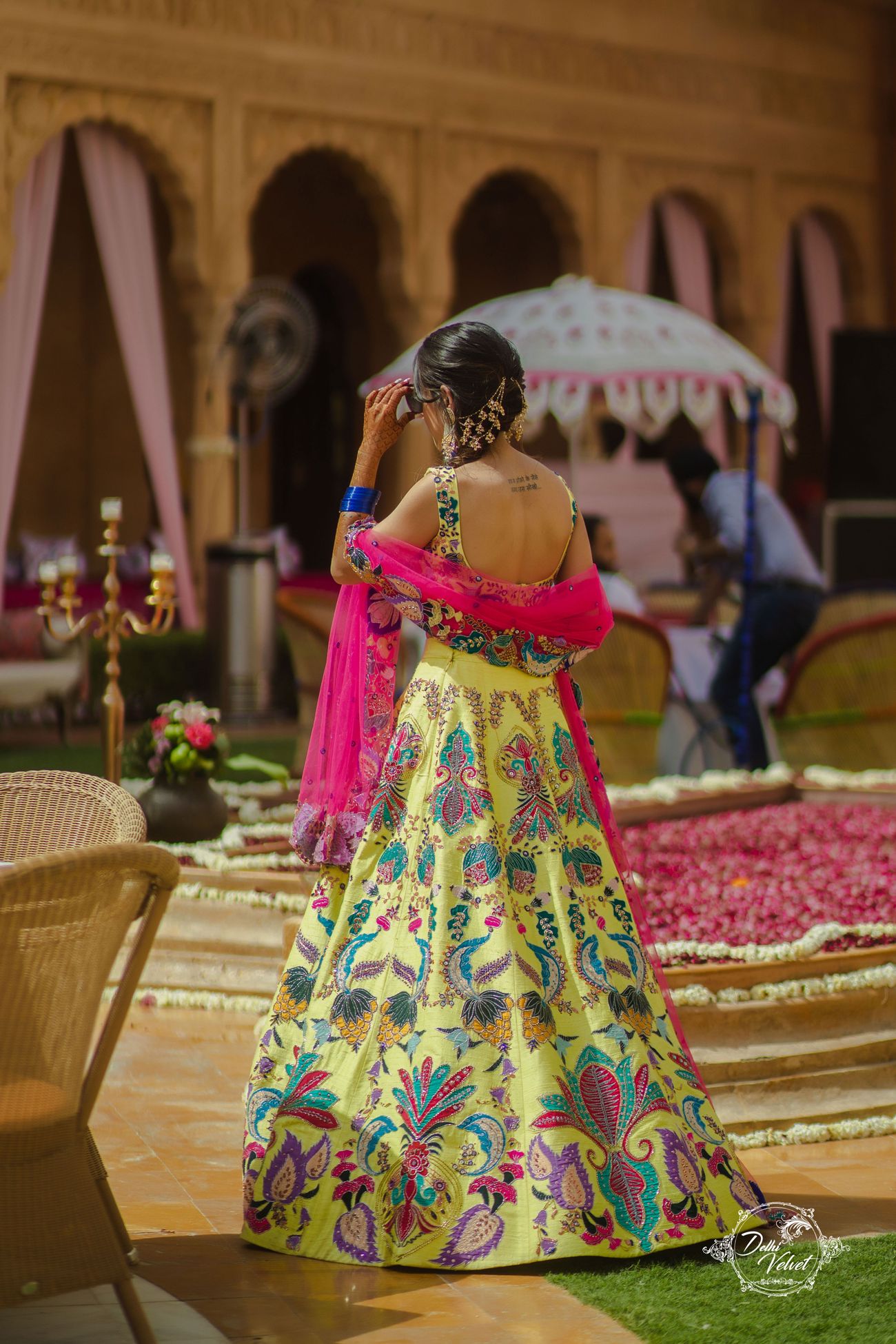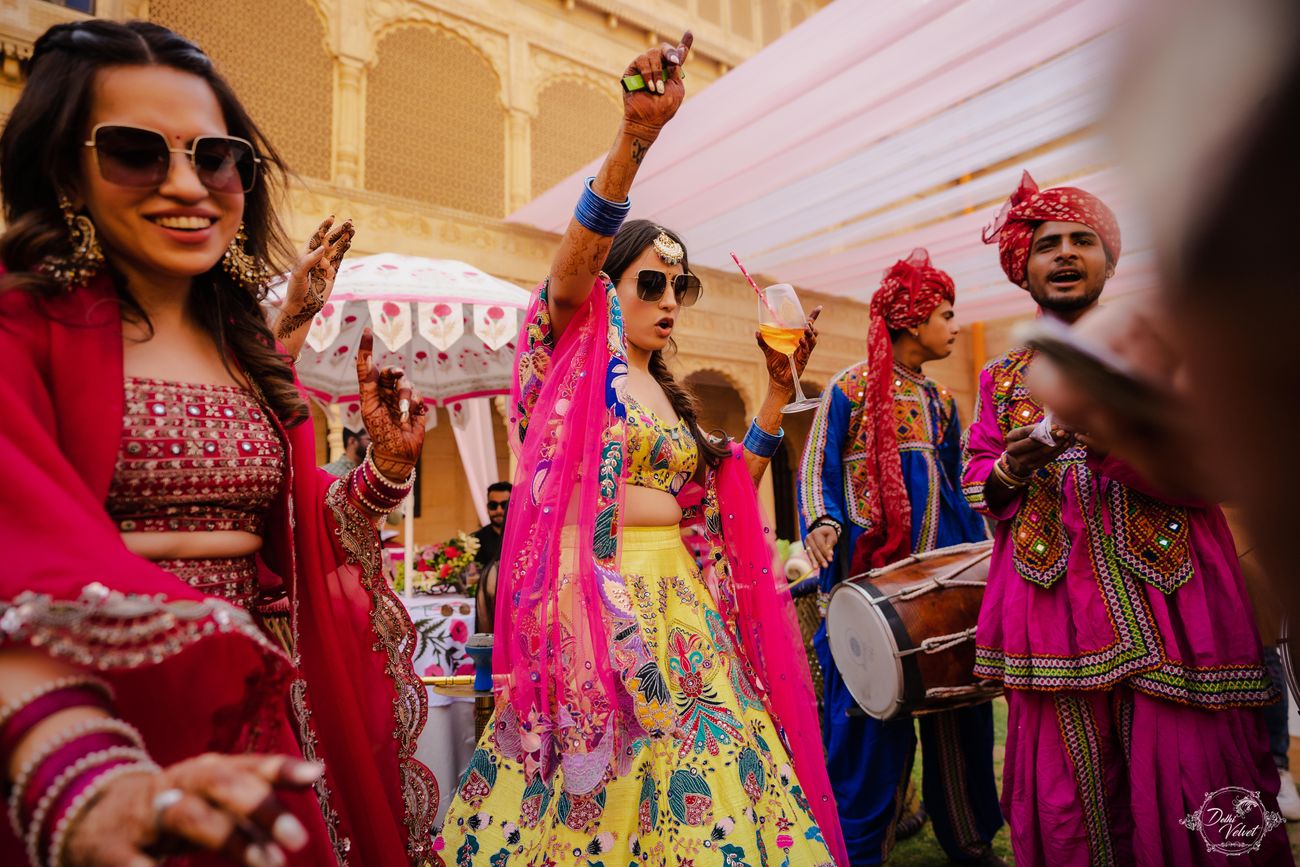 The Wedding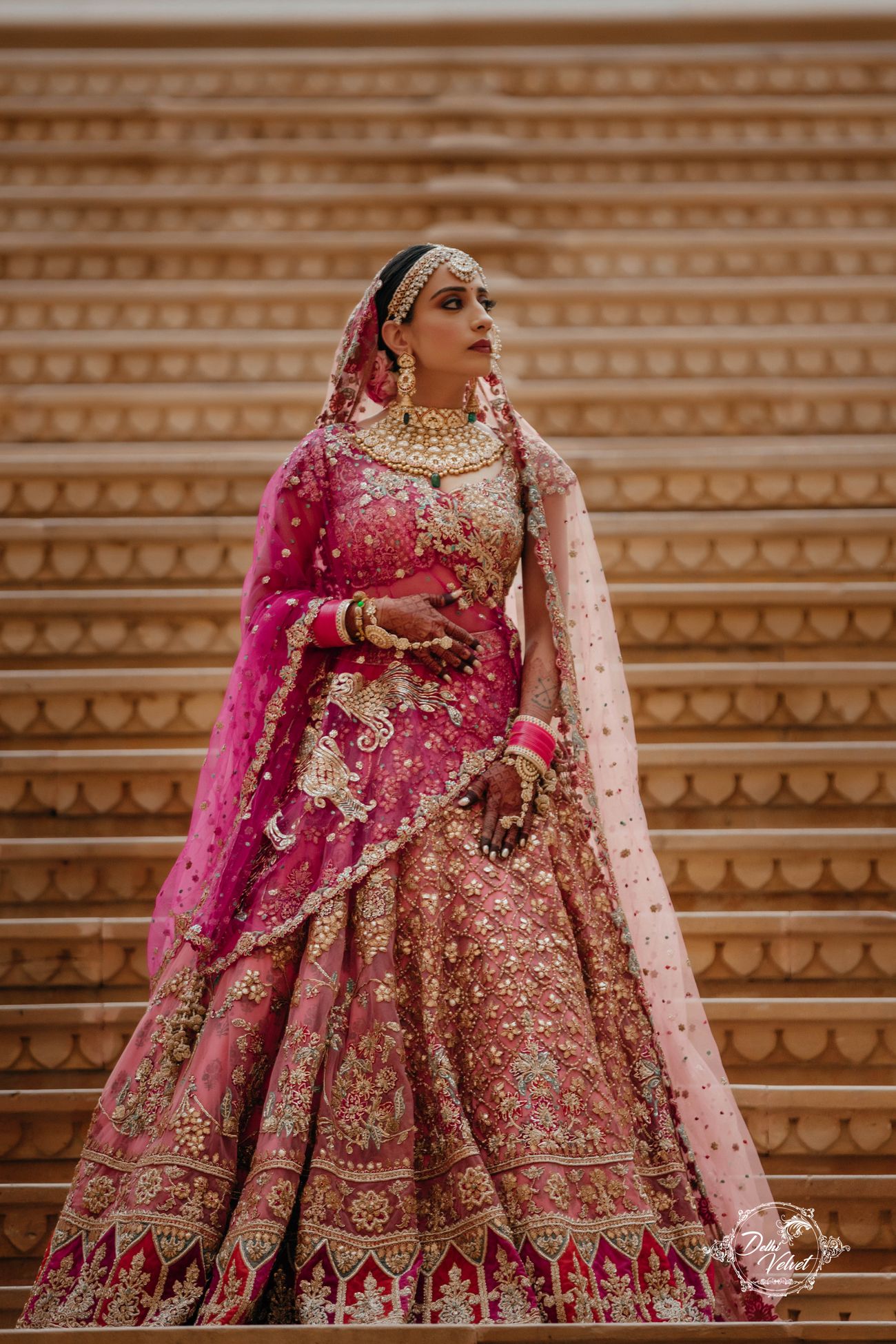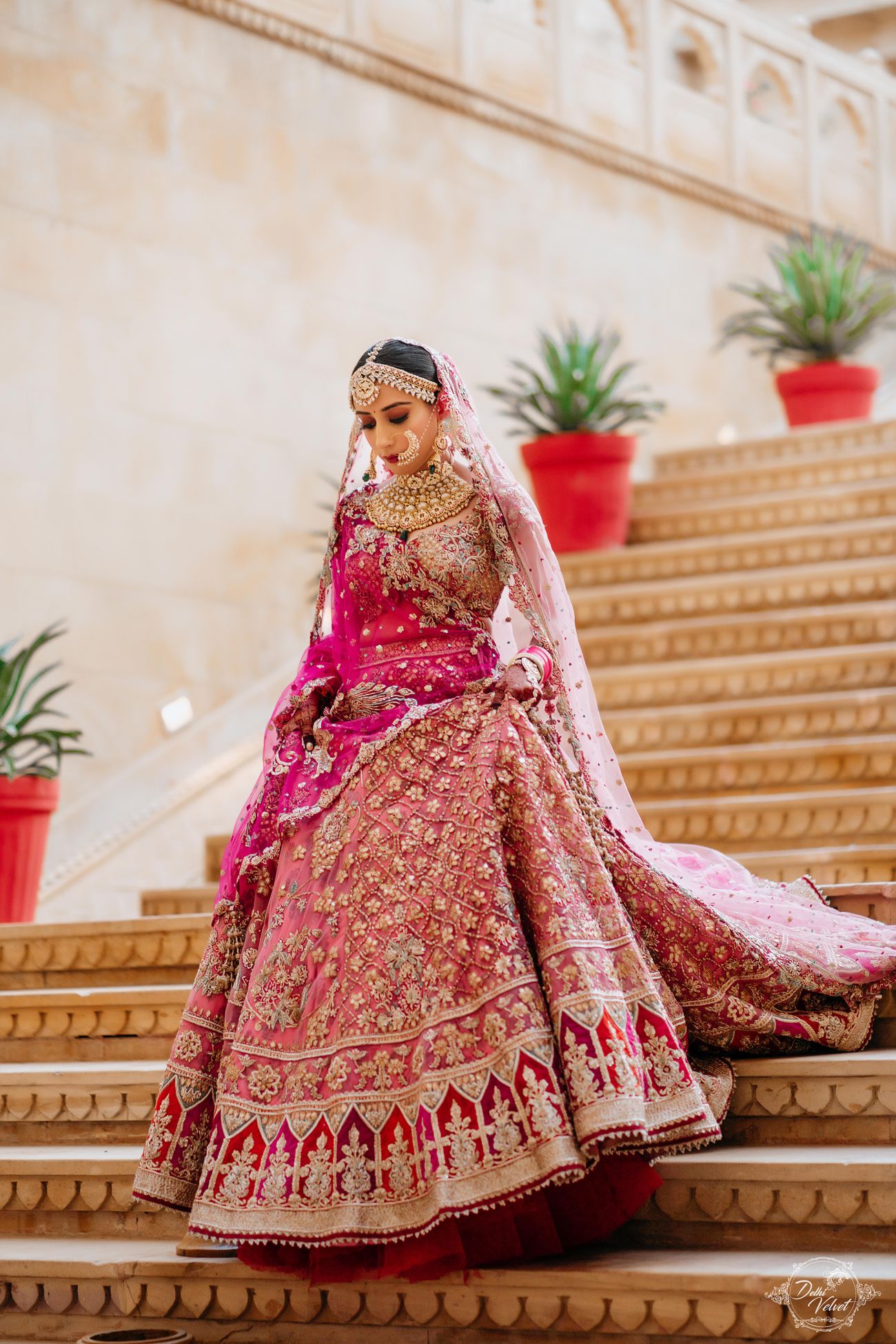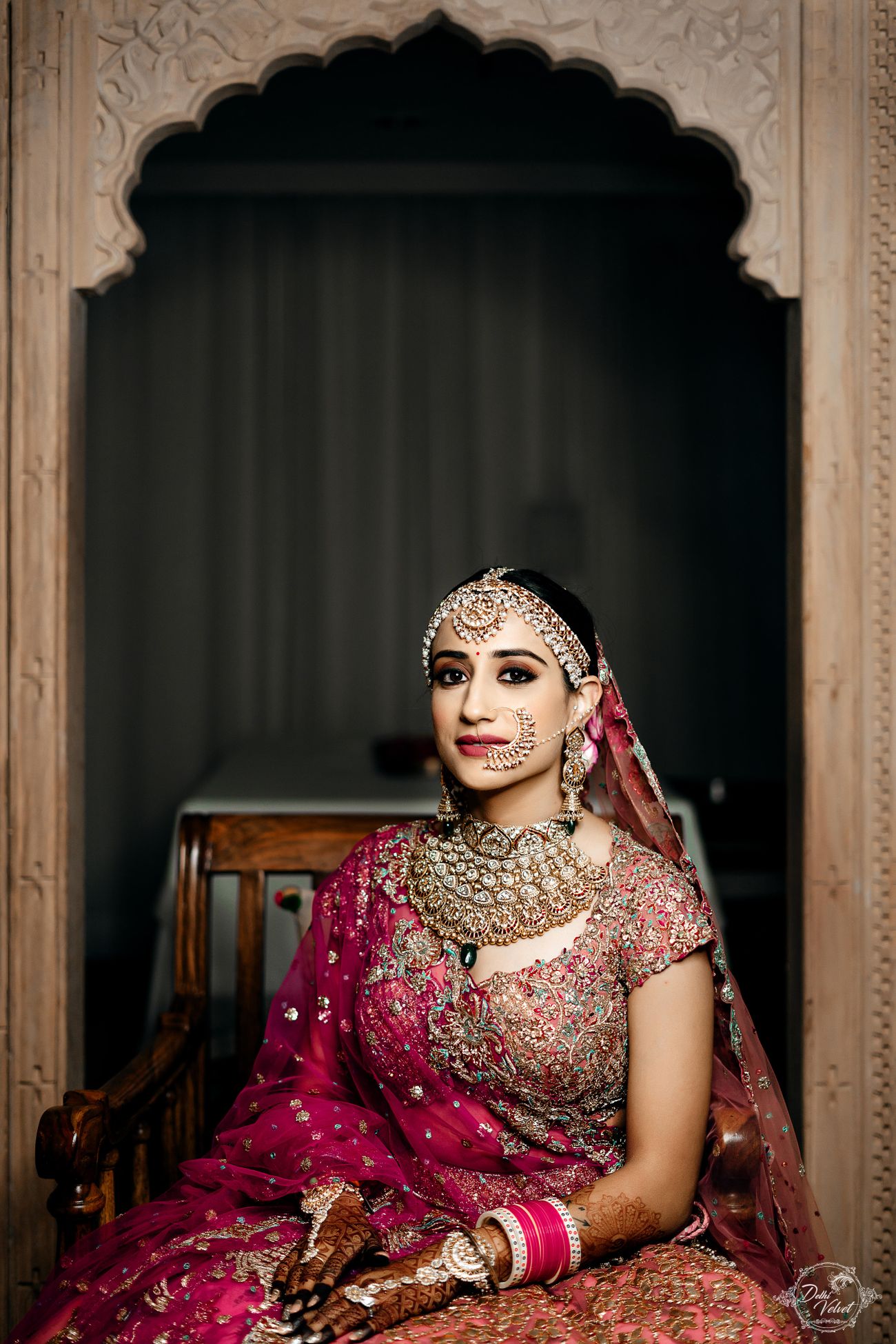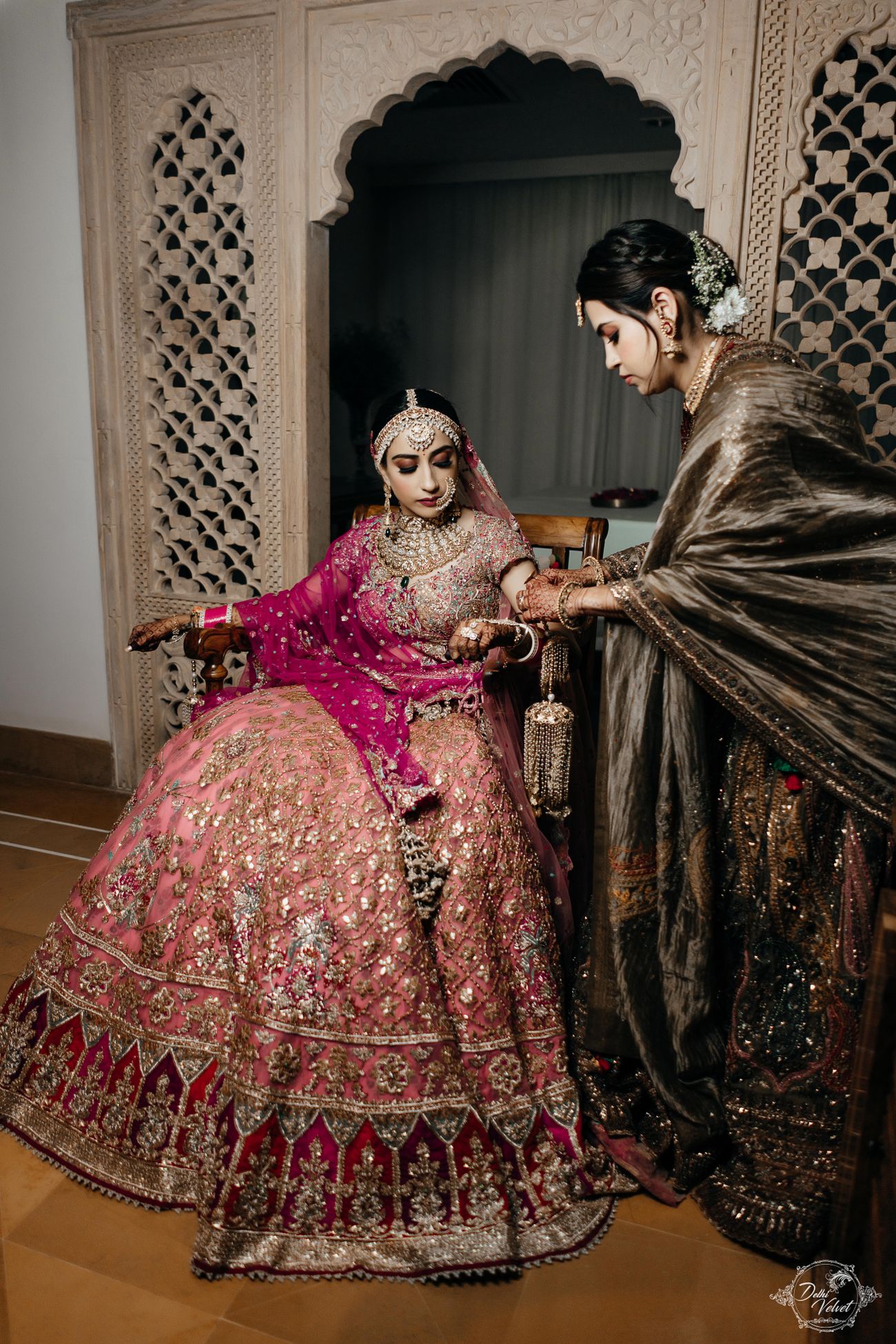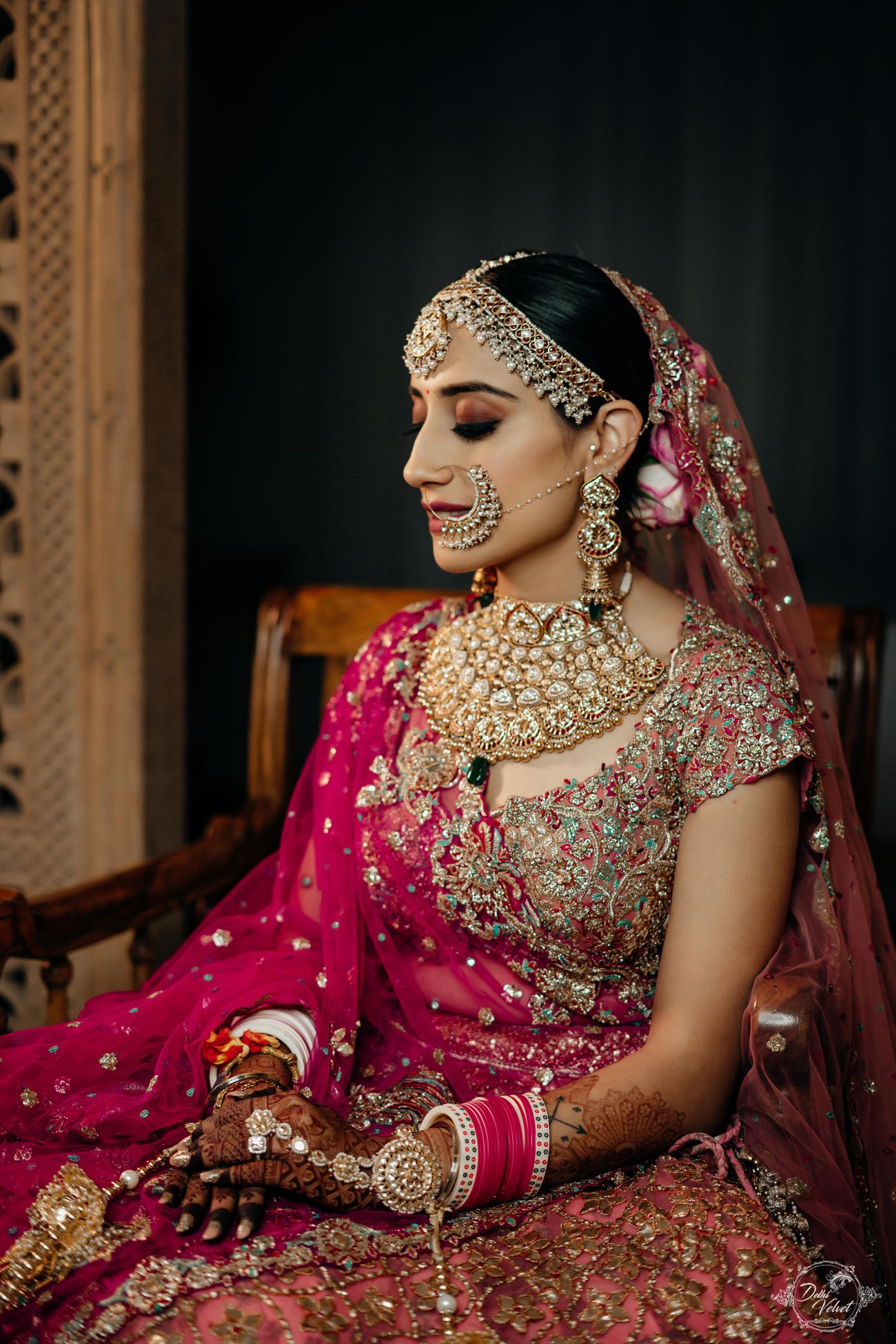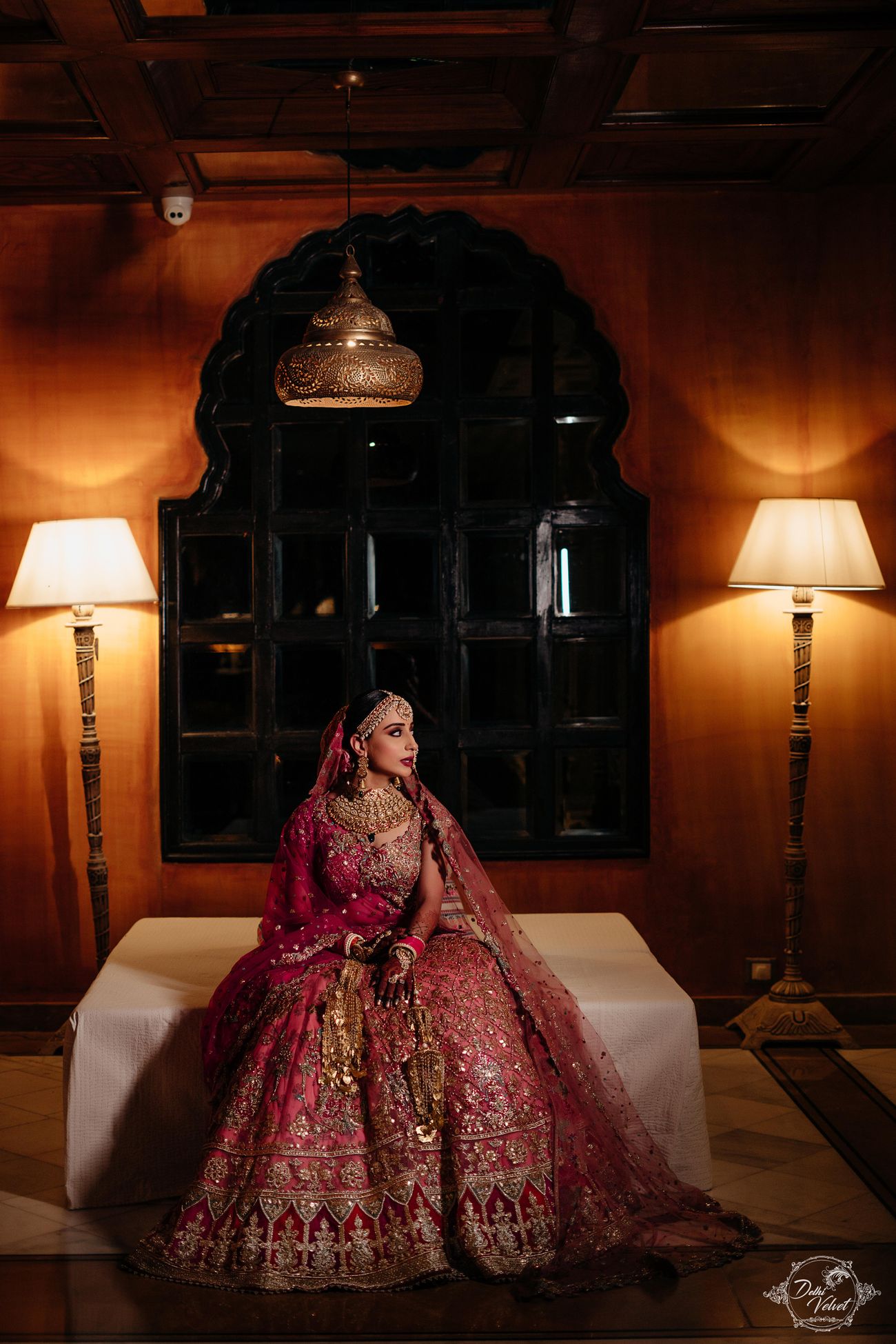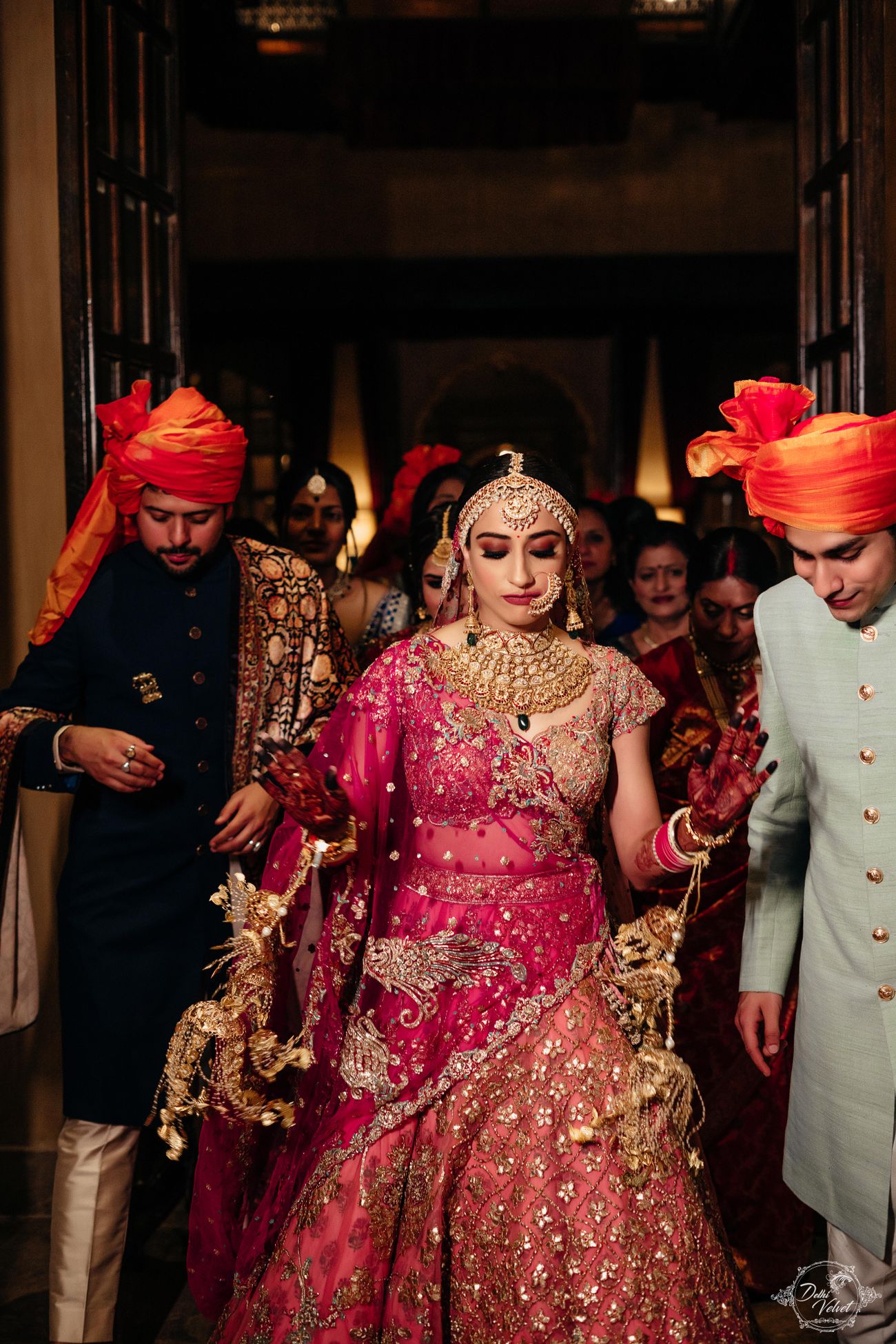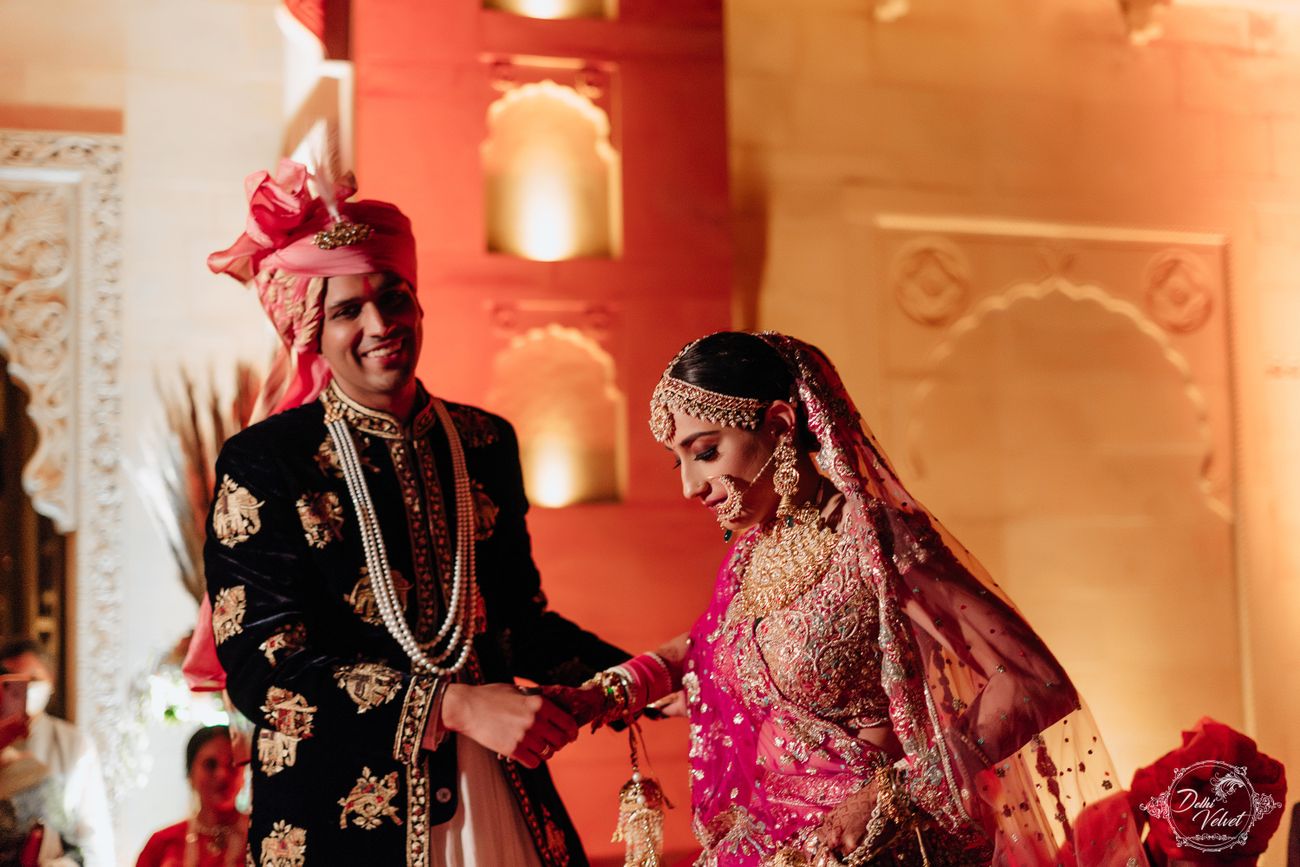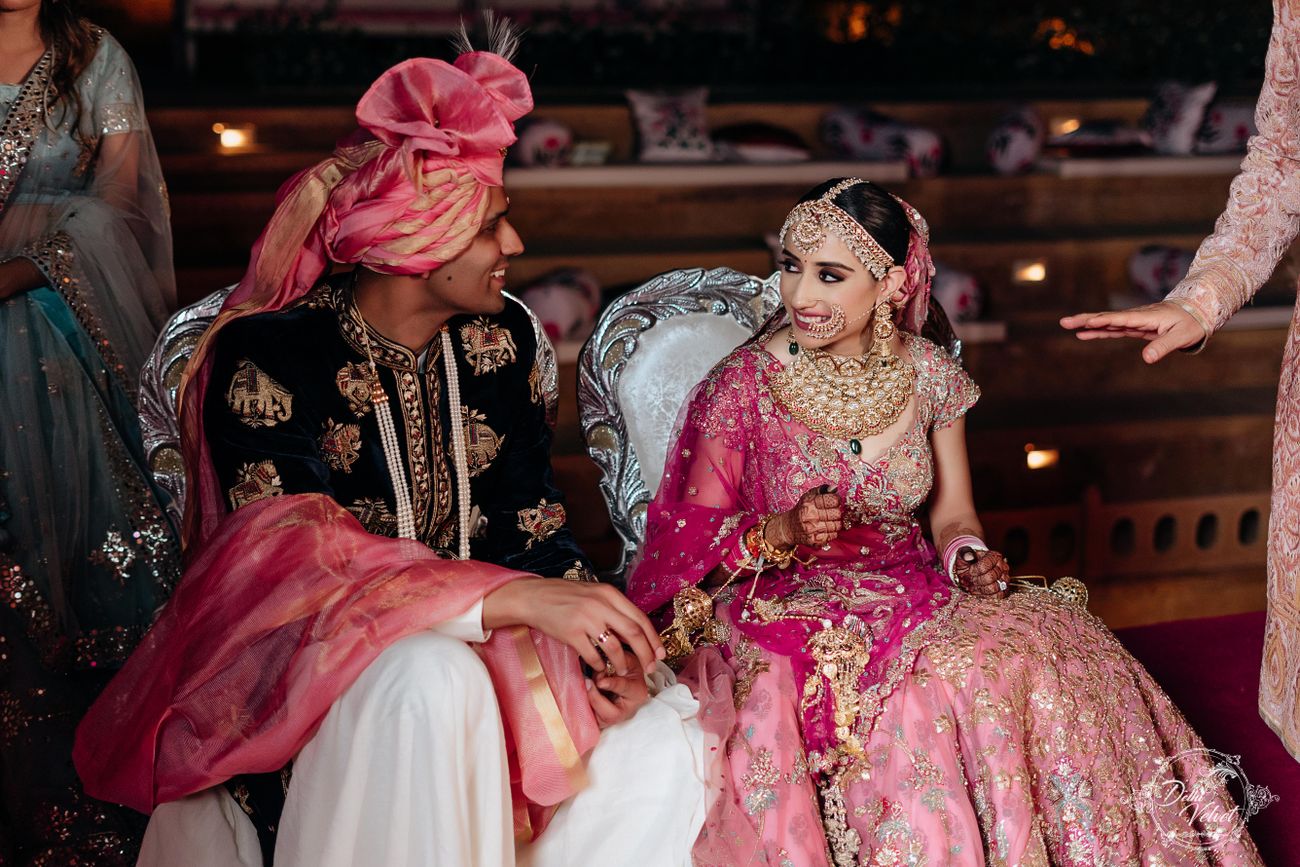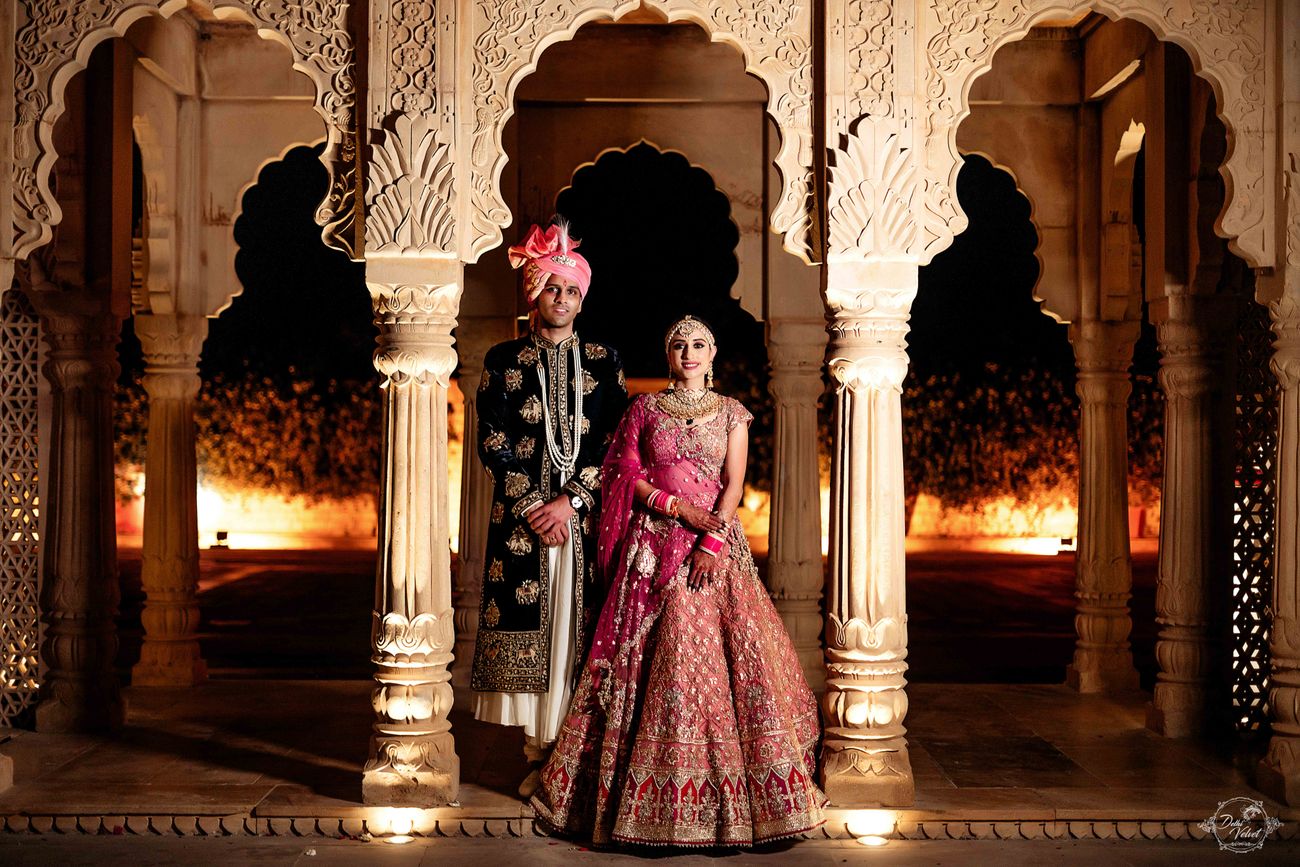 From The Bride: 
Well, my wedding was nothing shot of a dream wedding, had always dreamt of a destination wedding in Rajasthan and what's better than the Golden City itself. The sand stone, the Thar just added that oomph to what I call the Royal Jaisalmer Wedding.
When it comes to my style, I am the kind of bride who had the a very clear idea of what my functions had to look like. Being a fashion enthusiast, I love experimenting with looks and what better time than my wedding. From Bold, quirky outfit for the Fusion Mehendi, to a regal Kohl Marwar lehenga for the Sufi Sangeet. Since I started scouting my wedding day outfit, I was sure I didn't want to be bride donning the classic Red lehenga. The dust pink Rimple Harpeet lehenga caught my eye the first time I saw it and I was sure about what my lehenga had to look like, with few tweaks here and there, I managed to find a lehenga that made me feel like myself. From styling each look yourself, every bit of my wedding looks resonated strongly with my personality and made me feel bold and confident.
To add to it, For Gaurvit, we were sure we didn't want the classic looks. We wanted something very traditional but wanted to play around with silhouettes. He trusted my fashion instincts and I believe his looks ended up being exactly as we had planned and traditional but royal. The choga was a consistent in his looks but we definitely played around with the silhouettes.
Vendor Reviews: 
Venue: Suryagarh, Jaisalmer
Since the start of our wedding planning, both Gaurvit and I were fixated on Rajasthan and were are grateful for having the opportunity to explore the beautiful city. Started from Jaipur to Bikaner, we knew something was missing until the family suggested Suryagarh, Jaisalmer. On our first round of recce there, we were sold! And everything just fell into the place. The venue ticked all the boxes for us and just made it easier for us to have all the Rajasthani themed functions to fall in place
Makeup Artist: Shradha Luthra
She made me feel complete. We struck a cord on how to create the looks and her work added magic to all my look. 
Decor: Ask Events by Atul
We wroked in sync and worked meticulously and paid attention to little details and elements for each function that had a different theme attached to it. Fusion Mehendi was all about pastels and little elements of Jaisalmer and the maganiya dancers. The Sufi Sangeet had a dreamy Thar set up with opulent elements. The Royal Jaisalmer Wedding which had a camel procession, was truly Royal in it's form
Mehendi Artist: Sona Mistry Mehendi
The most imp part for me was to have a traditional Rajasthani Mehendi and Sona aced it, with 13 figures including a Royal Procession on one hand and a dreamy Jaisalmer wedding on the other, the design was complementing the vibe and I can say Sona aced it to the T
Bartender: Shariq from Cocktail and Dreams
The whole bar experience was personalised as per the theme of functions, from the bar props to the menu design to the cocktail menu, it was all perfect
Vendors: Venue: Suryagarh, Jaisalmer; Makeup Artist: Doll You Up By S★ 4.8 ; Photographer: DelhiVelvet - By Divishth Kakkar★ 4.4 ; Decor: Ask Events by Atul; Bridal Outfits: Mehendi - Aisha Rao★ 5 , Sangeet - Marwar Couture, Wedding - Rimple and Harpreet Narula★ 4.8 ; Mehendi Artist: Sona Mistry's Mehendi★ 4.9 ; Groom Wear: Mehendi & Wedding - Rohit Bal Groom Wear★ 5 , Sangeet - Tarun Tahiliani★ 5 ; Bartender: Shariq from Cocktail and Dreams