Simple & Sweet DIY Mehendi! ( With Loads of Cute Ideas!)
BY The WMG Bride | 12 Nov, 2015 | 1977 views | 4 min read
We absolutely love and adore DIY details at WMG - let's say we are a bit partial to it. Only because they give us the confidence that you don't need much to have a fabulous wedding.  You must know Krupa as a contributor for WMG, she's done some of our favourite stories for us and she's a digital media enthusiast and blogger based in California. She also loves weddings and also writes about digital media, fashion and lifestyle on her
blog
. And that's why her wedding and cocktail, with a special focus on DIY mehendi really had us at hello, beautifully photographed by her friend
Manvi Gandotra from 1 plus 1 Studio. 
Meet Abhi & Krupa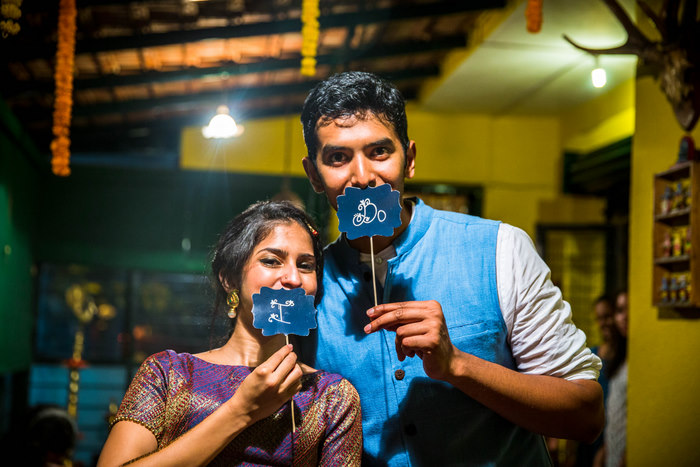 " Abhi and I met around three years ago through a common friend. A brief meeting lead to a long distance friendship and we grew fond of each other quickly. Two India trips, several coffees, plenty of dinners, and many long drives later, we knew we were ready to take the plunge" says Krupa.
Pre-Wedding Cocktails
The DIY Mehendi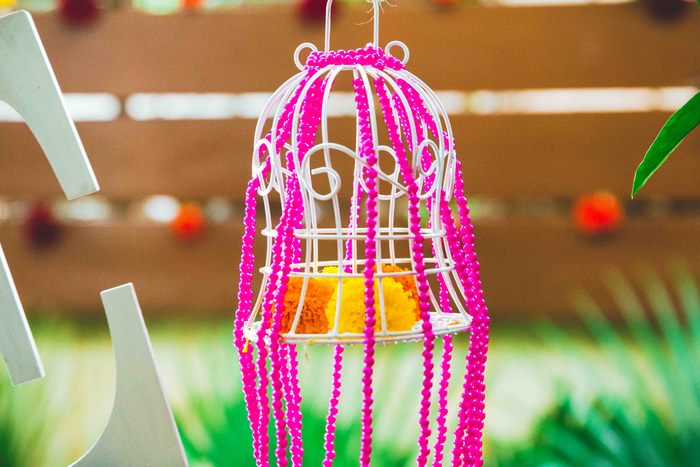 Minion Mehendi!
From The Bride:
"It was extremely difficult planning the wedding with both of us being in two different time zones. I ended up whatsapp-ing him pictures, Face-timing with him from different venues, etc. We both wanted a simple wedding. We were keen on an outdoor venue but most of our dream venues were not centrally located and were vetoed by our parents. We agreed on a venue close to my house and convenient for all the guests. This was a great decision because I got to get dressed at home and my family was able to go back and forth for all the arrangements. Also, my dad did a great job of keeping the decor simple and pretty. Even the name board that Oysters Advertising designed for us was simple and elegant." she adds. "One of the main things we wanted was to have our friends and family involved in the wedding, so my sister went the extra mile or extra few miles and handled my make up for all five ceremonies. She helped me pick the products and showed me many looks to choose from. I honestly could not have asked for more! It was so professionally done and hanging out with her and having her around all the time helped me stay calm through the wedding. Many brides have asked me for my make up artist's contact since the wedding. Similarly, a friend of mine offered to do my mehendi. It was great fun. She isn't a professional either so she was very nervous, but I knew she would do a great job. She had sketched the design ahead of time and incorporated details of the Tam-Brahm ceremony. Abhi & I are both minion fans so I had requested that she incorporate minions dressed as a South Indian couple. The mehendi was one of my favourite ceremonies as it was at home and had my closest family and friends. It gave me some time to get some fun pics with all my bridesmaids and we had a blast. I wanted to wear something comfortable and fun. So I designed my own outfit. I recycled an old Pavadai (a South Indian dress that little girls wear) my grand mother gave me when I was 12 and transformed it into a skirt. I wore a brocade top and teamed it with a belt my mother made for me. I love quirky belts, so my mother put together a few wooden toys and made a nice waist belt." she adds.
"My decor was by Confetti. Confetti was the best choice for me. Even though the lady behind the company is my best friend they handled everything very professionally. From discussing the theme, to sending me references and samples, and finally to taking the trouble of putting together small details--like setting up a date jar and Instagram photo ideas that I pinned and have forgotten about---they involved me in the major decisions, yet managed to surprise me with some additional elements. I love their eye for detail. I highly recommend Confetti for all Bangalore brides! We had two photographers, Manvi from 1 plus 1 studio and my dad's very good friend CK Achuthan. Both of them did a great job. I love posing for my uncle but he wasn't sure if he could cover the wedding single-handedly, so we chose Manvi. She is great. Always on time, doesn't miss a moment, understands the chaos of a wedding, and works well with other people." she explains.
Vendors: Venues:
Wedding at
Rajatha Bhavan
; Mehendi at the Bride's home; Cocktails at
Bangalore Golf Club
|
Brides Outfits:
Angadi Silks
& Mom's hand-me-downs|
Photographer & Videographer:
Manvi Gandotra - 1 plus 1 Studio
|
 Invitations: 
Oysters Advertising
 |
 Mehendi Decor:
Confetti by Pooja Haria