#SmartBrideTips: What To Look For In Your Wedding Day Lipstick!
BY The WMG Bride | 03 Jul, 2015 | 919 views | 5 min read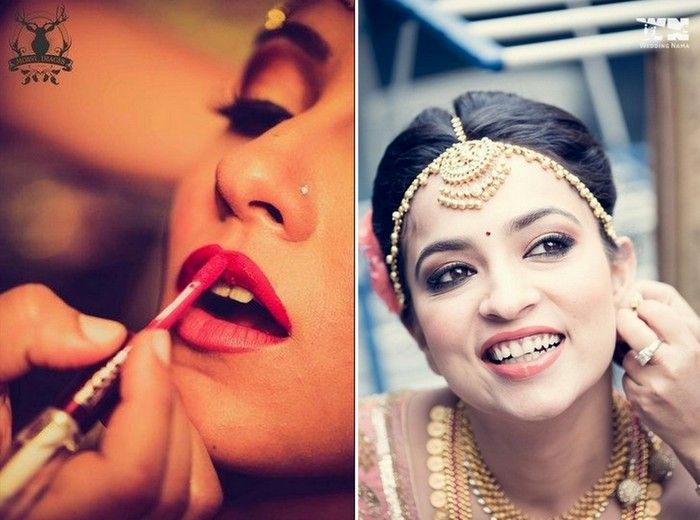 Left: Photography by Morvi Images,  Right ; Photography by WeddingNama
It's your big day. You have your dear lehenga ready, your Louboutins all geared up to match your net dupatta and your groom is waiting to say "I Do". As usual you've been careful about everything right from the beginning - from your emergency bridal kit to your back-up sari and everything in between. But even the most careful of brides forget the most important details - they might just forget their sari pins or get their foundation a shade lighter or god forbid, wear the wrong lipstick. Lipsticks make or break your outfit. So it pays to be more attentive to simpler details like these - because you need it match your dress, highlight your lips and stay longer throughout the ceremonies. And no, don't just go for any shade that the makeup artist recommends. They might know their job but this one's just personal and it should scream YOU. So we decided to give you 7 things you must remember while buying that perfect shade. Read on...
1. Look for one that is Long Staying (DUH!!)
: You want something that's not going to melt off in front of the fire. Probably one that helps keep your lips looking pretty after that hurried meal and keep you company during your
bidaai
 when all that makeup you carefully applied comes crashing down in one swoop. There's only one way to go about that - avoid extremely glossy ones as those get wiped off pretty easily. It's better to always opt for a matte lipstick layered under a gloss so you keep your lips gorgeous all day long. And what's more? You get to add that bit of shine to it too.
WMG Picks: L'oreal Moist Matte Lipsticks, Bourjois Liquid Lipsticks
2. Look for a shade at least ONE tone brighter than what you are used to wearing:
Photographs tend to make nudes look paler and pastels look more washed out than usual. It's the lighting we tell you. And well, no one wants to look ghostly on their wedding day. Solution: go ahead and pick up a colour that's a tone brighter than what you are used to - it will liven up your face and look great in photos. If you are going for a softer colour like a warm peach or a pink, then make sure the tone is 1-2 tones darker than your lip colour. Bingo!
WMG Picks: Estee Lauder Pure Color Envy Sculpting Lipstick in Vengeful Red, NARS Audacious Lipstick
3. Look for a colour that complements, not something that necessarily matches your outfit:
'Complementing your outfit' is different from matching with your outfit. Example: A deep purple lehenga with bits of shell pink embroidery would look fabulous with a soft shell pink lipstick . If your lehenga is a navy blue or all gold, then a pop of hot pink on the lips can be an effective complementary colour. What we mean to say is that: while pink on pink is great - it pays to add drama and colour-block your outfit using your lipstick.
WMG Picks: Lakme Absolute Sculpt Matte Lipstick in Pink me Up, MAC Relentlessly Red
4. Look for matte lip colours:
You can add a gloss on top for extra shine, but you need to make sure your lipstick is polished and matte so it doesn't budge all day. Matte lipsticks have the highest amount of pigmentation and that can mean only one thing - Long Lasting. But that doesn't mean you can never wear gloss. Add a few swipes of your favourite gloss on top with matte underneath - we say, best of both worlds. Note: It is much harder to get a glossy lipstick give the kind of full coverage ONLY a matte lipstick can give.
WMG Picks:YSL Rouge Pur Couture The Mats in Fuchsia Fetiche, Bobbi Brown Creamy Matte Lipcolour in Calypso
5. Look for colours that don't make your teeth look yellow:
 Certain colour families (warm reds, oranges ) can tend to make your teeth look yellow. Sure, you got your teeth shining bright for the wedding and your dentist gave you an A. But that's not your fault - some colours do that to you in pictures. Try this small trick right now: Click a selfie with a warmer hue and see yourself on camera, you'll know what we're talking about. Cooler-toned colours is the way to go. Why you ask? They give the illusion of whiter teeth.
WMG Picks:  MAC Ruby Woo, Nyx Soft Matte Lip Cream
6. Go for a hue that complements the rest of the face:
So you like a good smokey eye and have contoured your face to perfection, then a heavier lipstick might just make you look gaudy. Why? Too much colour, too many heavy options on your face. So choose how your eyes will look first? Are you going for a smokey eye? Then, go for a light pink/ peach lipstick. If your eyes are more natural and dewy, add a pop of colour like oxblood or fuchsia to your lips. This is about balancing your face!
WMG Picks: Revlon Colour Stay Lipstick in Ultimate Suede, The Body Shop Color Crush Lipsticks 
7. Mix and match without hesitation:
Sometimes, just sometimes, we might not find a shade that really suits us. Yeah, that's possible because some of us are endowed with a skin tone that doesn't fall into any category and the compromising on a lipstick hue can only complicate things. Even the best of brands somehow never end up creating a shade that's you. So what do you do? Mix and match! Don't be afraid to ask your makeup artist to create a new shade for you by mixing up two old shades. It's possible!
What's your favourite hue for weddings? Tell us!