Splurge Or Save : Here's How I Budgeted My Wedding...
BY Latha Sunadh | 12 Jun, 2016
Where to splurge and what to save up on - that's the biggest question for a bride, isn't it? Because budget is everything, especially when it comes to a wedding. Prioritising is important, you need to weigh every option and you need to make sure you're not overspending or wasting money. That's why we started our new series: Where I Splurged & What I Saved! And telling us her story this week is our DIY bride Chayanika who had such a pretty wedding within her budget and boy, was it good? So here's her story in her own words!
Wedding: Chayanika & Aditya
Budget: Intimate, budget, beautiful affair
Who paid for the wedding: Parents for most things except makeup, photography and a few cool ideas like photobooth etc.
I was very particular about  everything in the wedding - be it my outfits, my makeup or my decor. I would say, I made no compromise on anything because there was a lot of research that was done to find stuff or create stuff to my liking and in a budget which we could afford.
What Did I Splurge On?
You can say I splurged on nothing except my Engagement Lehenga - It was around 40K INR  and my wedding lehenga was at 52 K INR. For me, that was the biggest spend. Also, because I saved up on other things while planning things smartly.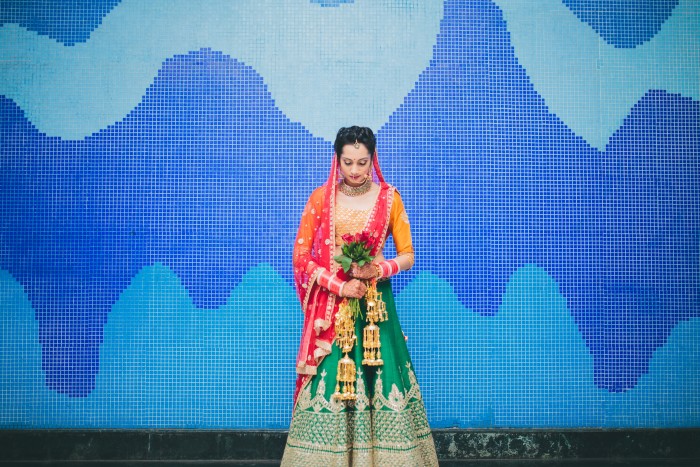 I wasn't looking at designer labels but I also did not want to miss out on style and quality. The wedding lehenga was picked up from Chandni Chowk from Ram Kishan Sarees. I initially liked one design but it wasn't in the colour I wanted. So I asked the vendor to customise it in terms of colours, dupatta embroideries, and blouse work.
So I got a lehenga I wanted, which was unique and at the same time, I didn't have to spend on designer labels just to look good. #win-win.
Where Did You Save Up?
We didn't hire a wedding planner to work with us, we felt that if planned well, we could pull it off ourselves. But I made sure that all the personalization elements and  decor elements are put together by our tent-house guy. We had everything in mind, just had to communicate to them and they did it.
Decor: Our engagement venue was Gymkhana which has a standard way of doing décor but we could personalize it with the use of Chinese lanterns which we ordered from Amazon just 2 days before the event. It complimented the entire theme- pink and peach- very much. The personalization elements which couldn't be done by them were done by us by us and handed over to them to incorporate in the venue. Pictures were shown to them give them an idea about our expectations. So, the end result was a decor like million bucks but without bearing the expense of a wedding planner.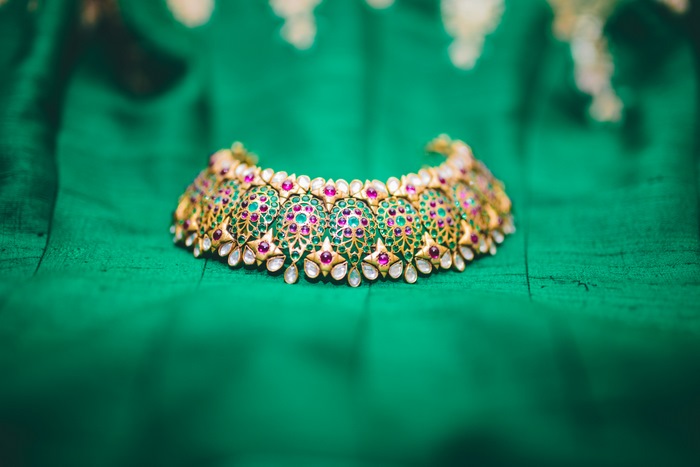 Jewellery: Another big save I worked on was my wedding jewellery. It was made of real silver with an antique gold finish. The designs I wanted initially for my jewellery were elaborate and extensive and clearly, the craft was that of Rajputi Jewellery which costs lakhs, had it been in gold paired with precious gems. But mine looked the same, felt the same and was designed the same and the necklace cost me about Rs. 50K.
The borla and the earrings cost us very less because I picked them up from a jewellery designer in Jaipur at Bridal Asia.
Other Things To Look Into: 
There are a few things on which I ended up saving my major cost. As for the wedding arrangements, they were sponsored by our parents. I spent on a few things like:
A) Makeup B) Photography and Videography C) DIY arrangements like Photobooth at Mehendi, Ring Boxes, Cutlery, Photo trail at engagement and smaller things like trays, gift boxes and other paraphenelia. Even Mehendi giveaways were gota and pom pom rings which didn't cost me anything!
Know all about Chayanika's Wedding and who she hired here.