#SquadGoals: This Destination Bachelorette Party at Magic Island Was Everything You Needed Today!
BY Latha Sunadh | 04 Oct, 2016
Looks like the destination defines any bachelorette party these days and Greece seems to be ruling the charts. After the previous 
fun bachelorette in Greece
 we featured, this one is right on point. From the adorable tutu skirts to the co-ordinated swimwear and the brides squad on ATV's . Don't miss the cute heart shaped sunnies and the sweet multi-coloured skirts - so so chic guys :)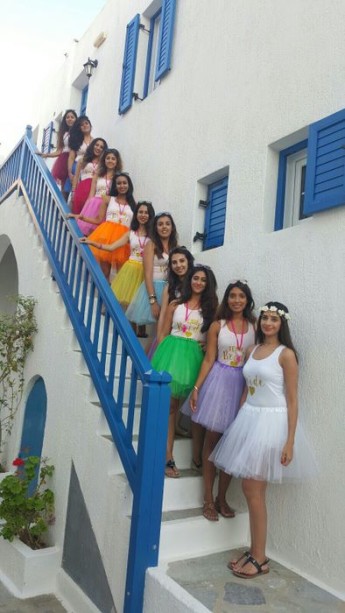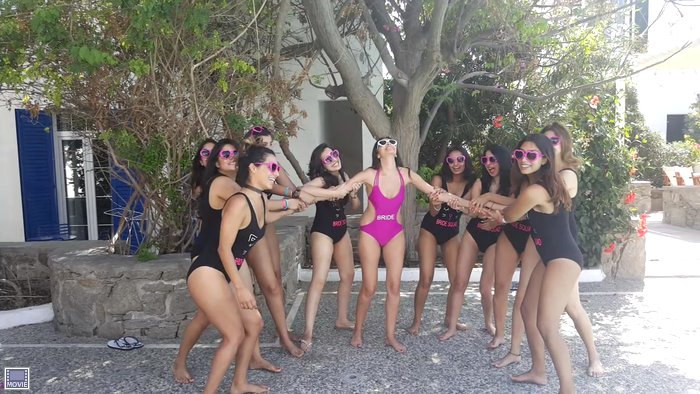 From The Bride-to-be:
"After seven months of planning, I was finally able to see my dream bachelorette come true. Mykonos is one of the most beautiful and famous Islands of Greece and it's not only known for its sun-drenched sandy beaches and its frenzied party scene in the summer, but also for its Cycladic traditional architecture with whitewashed cubic houses and cobblestoned alleys. It's the perfect place to spend a unique and glamorous weekend with your girlfriends.
Destination bachelorettes are becoming increasingly popular. Tie it with some creative themes and it's a winner. Dress-up themes and dares, and you are guaranteed a bachelorette party of the century. My sister and I organized a few themes and pampered the ladies with customised bathing suits with a unite "bride squad" sign and paired them with heart shaped sunglasses for our amazing, fun photoshoot by the pool. When you travel to a beautiful destination like Mykonos you want to make sure you capture every moment; the views are breathtaking the town, with all it's charm, is very picturesque. It was the perfect chance to bring your perfect pose and pout," explains Reshma.
"My favourite theme was the "tutu Rainbow squad" tutu skirts are fun, it never goes out of fashion and if you think outside the box, they turn out to look amazing. All the girls wore a pink t-shirt that said 'team bride'  and each of them had a different coloured tutu skirt. I decided to wear all white with a matching flower crown to give it a complete look and make it slightly different from the rest of the girls. We wore this theme outfit to Tropicana, one of Mykonos best beach parties, it was the best part of my bachelorette weekend. Not only did we steal the show as we walked in wearing our tutu's blowing our whistles, making it obvious that we were 'The bride squad' we quickly became the centre of attention which was embarrassing and funny at the same time. They played many Bollywood songs that night,  imagine 11 girls on their colourful tutu skirts and their matching 'Team Bride' t-shirts dancing to Bollywood songs, the DJs definitely visited our table.
From the moment I got to Mykonos it felt very cozy, its such a small island but with a lot of character and a lot to entertain; breathtaking views, delicious greek food, hidden gems, exotic bars and beautiful people. My bride squad and I mastered the art bar hopping in town. From 2 euro shots, to bottles of Rose, to their signature tropical vodka shots that are a must when you are in Mykonos town. You are guaranteed a memorable night. The night isn't over until you have a savoury crepe from one of the local shops at 4 am. We made it our tradition to end the night at 'Yummys' the name itself says it all. Yummy was conveniently located next to our hotel, and before hitting the pillow we would have a yummy nutella waffle with strawberries. Im not a food critic but hands down, that was definitely one of the best waffles I have ever had in my entire life," says Reshma.
"On the last day we decided to rent quads for the whole day and explore a little more of the Island outside of the town & beach hop. It was one of the most incredible experience I have lived. While this wasn't originally in our itinerary, it was the best way to see more of Mykonos, the greek way. Bride squad in our quads around Mykonos town, singing hollywood songs. I couldn't have asked for a better way to spend our last day.
The best thing about this trip was inviting my best friends from different parts of the world most of the girls didn't know each other and it was so nice to see how they got along, by the end of the trip everyone became really good friends. I hadn't met some of my girls in years, seeing them after long felt like nothing had changed, we continued from where we left off, as if we had just seen each other. Those are the best friendships, when things change but friendship remains," adds Reshma.