Charming Wedding in Jaipur With Effortless Style
BY Latha Sunadh | 08 Oct, 2016 | 2869 views | 6 min read
Rijuta's wedding style is much like her writeup - easy, effortless and charming . With 3 months to go, this bride pulled off her rather gorgeous wedding with checklists, Beiber and Beauty Blenders in tow.   From simple gendha phool decor to beautiful lehengas, this one is as pretty as they come! Photography by
Fotowalle
got us all excited so take a look!
Meet Anish & Rijuta
The Mehendi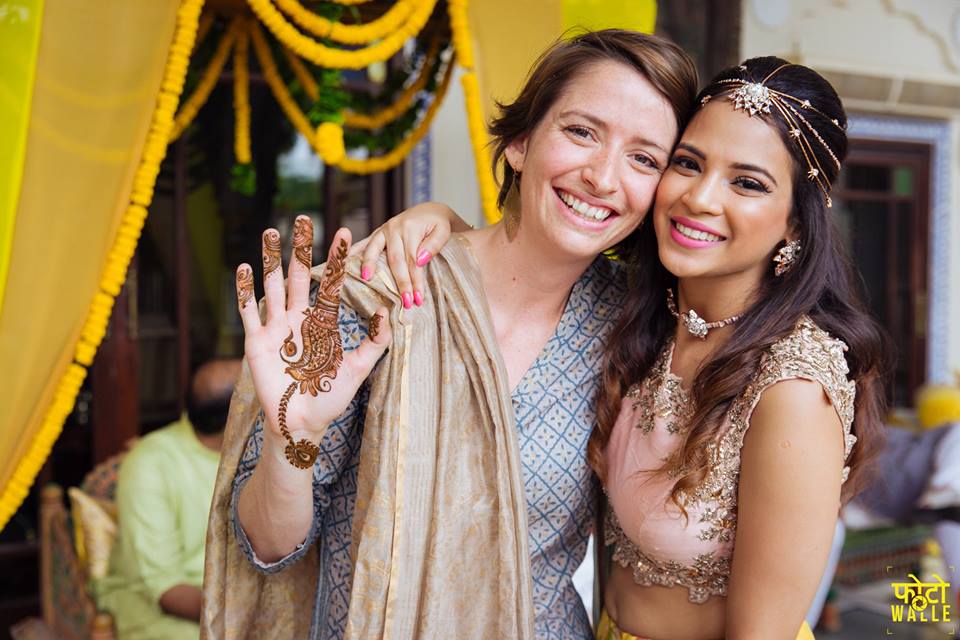 The Wedding
From The Bride:
"Funny thing to say on a wedding site, but I had never ever pictured my wedding! I was never the kinda girl who scrapbooked her wedding when she was 8, browsed wedding outfits with her friends or discussed destination spots from Jakarta to Jaipur. It literally dawned on me as Anish slipped the ring on to my finger in New York, I was like, "Oh sh*t, does this mean I have to 'plan' a wedding?" I haven't been to many weddings recently so I literally didn't know where to start—surprisingly weddings are NOT all that difficult to plan (yes it's okay to go a couple of days without frantically going over your checklists peehpul)," explains Rijuta. "So that's where all great weddings begin IMHO. Checklists. I flew back to India for the summer and looked online (thanks WMG!) and made lists. Excel is so gross, but every bride's BFF. I made lists of the top 15 MU artists and photogs. I contacted all the MU artists one by one, got quotes from all of them and ended up doing about 8 trials. It's a tad excessive to do so many trials, but having worked in fashion the two things I wanted to be perfect were the make up and the outfits, obvs. Quick insight, my style is easy going and minimal and that's exactly what I was looking for. I love cake, but I did not want to wear it on my face
yaknowwhatImean
? And then I met Sahibba. After having met people who didn't know how to work a Beautyblender (you have to wet it first guys)—she was great. So chill, put in just the right amount of glitter for a bride (plays enough Bieber so you don't get bored) and was very open to what I wanted, while pushing me just the right amount outside of my comfort zone. Jasmeet did the post wedding make-up and she is totally on trend and mind-blowing," adds Rijuta. "The photographer wasn't hard to pick either. I called everyone on the list and got quotes. I had two favourites, but I picked Fotowalle because their photography was non-traditional. It was fresh, fun and light-hearted. I think what was common with all the vendors I picked was that they were really nice people. That was something very important for me, which brings me to the next nice thing, the city with the most humble and caring people. Jaipur. Rajasthan is known for its stunning palaces, but a lesser-known fact is that people are just so godd*mn nice. Backing up—my parents were kind enough to take care of this. We made a quick decision between Italy, Thailand and India. We wanted to keep it close to home and effortless to plan. We booked out Raj Palace and Taj Jaimahal because they weren't modernized palace-themed hotels, they were actual, real palaces," adds Rijuta. "With the MU, photog and destination finalized I designed the invites, yes for real, from the beginning to the end. Got them gold foiled and printed them thick to set that royal tone for the wedding. I used the same patterns for the in-room-welcome-letters and thank-you-giveaways, sort of branding everything together. Scarves for the girls, pocket squares for the boys and trays/frames for the adults all tying together with the invite! I'm making it sound real easy, but picking the right outfits, one single outfit, that showcases your personality is hard. But that turq blue Anita Dongre lehenga reminded me of everything from the sky to the ocean and it was just so
tyrjyoiqwiuppfjnjdhgfjh
, I knew it was the one. I'm petite and it gave me the gravity and regality I needed, especially for a day wedding (get married during the day, the pictures will be so gorg). Malasa did the sangeet outfit and they are fab. I knew I wanted pants so that I could dance, and they know their cuts, colors and fabrics and will make sure to perfect any outfit based on your preferences. The Mehendi outfit was Anushree Reddy; her signature florals were too busy for my frame and I loved this lehenga's canary/blush/garden vibe. Also, special mention to Gaurav Gupta (used GG for both receptions) for the golden pre-draped saree. No pins, no pleats, and shiny-drapey golden fabric? So much yes. Apart from these I got a couple of other fun outfits from Tarun Tahiliani — the dupatta was stitched stunningly acrossing the front of the kurta and Ridhi Mehra — pants, crop top and a sheer robe over. Ritu Kumar, Sahiba Singh and Ridhima Bhasin were some of the other kickass ones I would recommend. I've literally never bought Indian outfits before, and these guys play so much with silhouettes, I love it! Before everyone starts skipping this read (I mean who cares what I wore, go, gO, GO figure out your outfits) I'm gonna just fill in my décor tactics. I didn't feel the need for a planner or decorator and just went with my gut. I didn't not want orange genda phool anywhere in a 50 mile radius of the mehendi venue so I kept everything yellow and cream. Added in a ton of favors, flower crowns, jingling bangles, colorful earrings and silk scarves for the guys, to spice it up. The wedding décor was light pink and peach against which I knew the turq lehenga would totally pop. So there you go. From checklist to checkout, all it took was 3 months! Good luck all you
bridezillll
, wait, scratch that, #BRIDECHILLAS" says Rijuta.
Vendors: Venue:
Mehendi at
ITC Rajputana
; Sangeet at
Taj Jaimahal
; Wedding at
The Raj Palace
Decor:
Hotel Vendor
Mehendi Artist:
Shilpa Mehendi Art
Bride's outfits:
Mehendi outfit by
Anushree Reddy
; Sangeet outfit by
Malasa Trousseau Wear
; Wedding outfit by
Anita Dongre
Groom's Outfit:
Mehendi outfit by
Sahil Aneja Couture
; Sangeet outfit by
Rohit Bal Groom Wear
, Wedding outfit by
Rohit Gandhi & Rahul Khanna
Jewellery:
Mehendi jewellery by
Outhouse
; Wedding Jewellery by
Apala by Sumit
Makeup Artist: 
Sahibba K Anand
for everything;
Jasmeet Kapany Hair and Makeup
for the Reception
Invitations:
By the bride
Photography & Videography:
Fotowalle - The Story Folks