The Bride and Groom Shared Their Bachelor and Bachelorette Party At Cancun. Can You Believe That?
BY Latha Sunadh | 06 Sep, 2016
When it comes to a bachelorette/ bachelor party, there are so many "What ifs?". What if your budget is not too high? What if you wanted something out of this world? What if, that exorbitant palce si available but for only one of you? Or most importantly, what if you had the same friends? Maybe our two friends Sonam and Vidush (
Remember them from the underwater pre-wedding shoot?
) had the same "what ifs" to deal with? Well, these guys found the perfect solution to all of these issues and that is - a combined bachelor / bachelorette party! Well, it could be a new trend, guys! Cost-effective and more fun!! So well, these two love birds Sonam and Vidush did plan theirs in Cancun, Mexico and called it the "Jack  and Jill Bachelorette". Take a look at the awesome pictures and catch up with all the fun! Ding, ding, ding!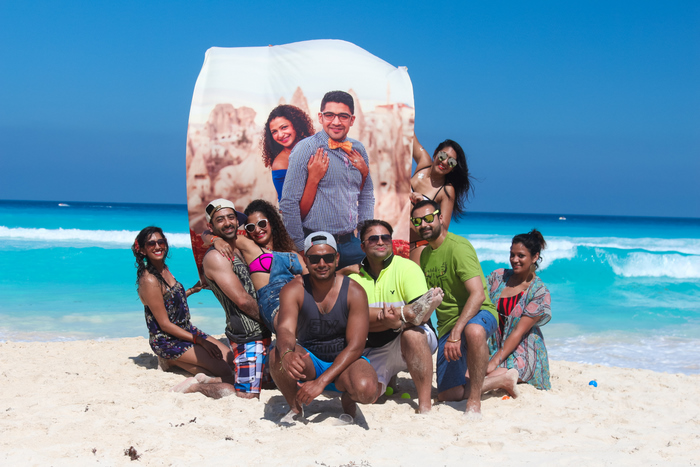 "Vidush is from Delhi and I am from Mumbai. We met in San Francisco 3 years ago on March 29th 2013. Both of us work in California. We love travelling so this was our perfect bachelor party. Vidush proposed to me On Feb 14th 2016 in Capadoccia Turkey with a surprise trip. He had planned a shoot for the same evening. We are getting married in Langkawi, Malaysia in 
December
at the Meritus Pelangi Beach Resort and Spa," explains Sonam with joy!
About the Bachelor and

Bachelorette

party (Jack and Jill) in Cancun, Mexico:
"Since Vidush and me have a lot of common friends and most of them are couples too, instead of splitting it into two different trips, we decided to have one big trip with all of our friends and the whole group split up for one night. Vidush and me both love beaches and day partying so we were looking for a location which offers plenty night and day partying and was not a a cliche like Las Vegas. We were deciding between Jamaica/Costa Rica/Cancun. We finalised on Cancun because of the crazy beach parties/Pool Parties and large amount of Night Life. We stayed at
Melia Cancun
. ME Cancun is an adult-oriented luxury lifestyle resort. It offers music from all around the world. Exclusive aromas and culinary revelations," explains Sonam.
"Our friends planned the entire trip and even planned a surprise photoshoot. The group split up that same evening and we celebrated our bachelor party and bachelorette party on that evening. Both parties were filled with games for both the bride and groom. The theme for the bachelorette night was neon! There was also an excursion planned on a private yatch for the entire group.
The Tapestry that we are holding in photos was an engagement gift from our best friends. They had an Indian prince and princess theme for us which is why Vidush is wearing the pagadi and I am wearing the Tiara," adds Sonam.