The Ultimate Guide To A Kickass Bachelorette Trip In Thailand *With Cool Reccos And Amazing Adventures!
BY Latha Sunadh | 22 Mar, 2017 | 1383 views | 15 min read
When planning a bachelorette, it's really about three things - location, affordability and fun quotient. And of all the amazing places in the world, Thailand fits in beautifully into this mix. It's closer to India ( a mere 4-hour flight away), the Thai baht is simply too good (you can shop away without the guilt!) and there are a lot of things one can do that are interesting and fun (Oh let's not jump the gun, we'll elaborate on those fun things as we go along!). And oh, food, let's not forget the delish fare! P.S it's also a safe place for a bunch of girls to run amok as we got to know this first-hand. PS: Contact 
sohina.tatdr@gmail.com
 from Thailand Tourism if you are planning a trip to Thailand.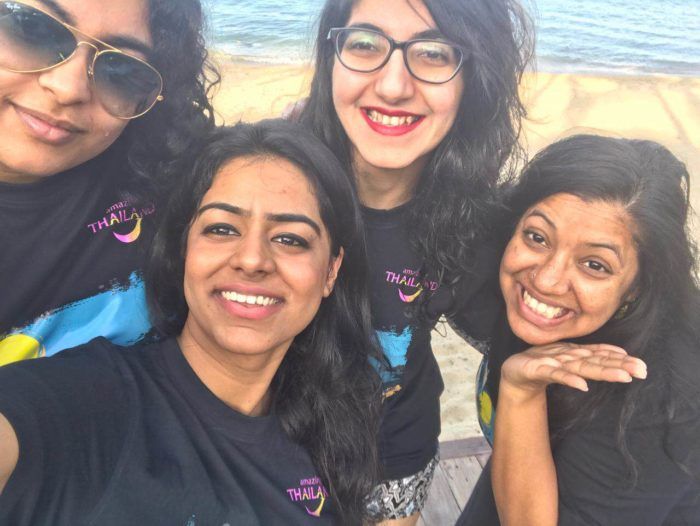 Four girls on a trip! 
Recently, WedMeGood had the gods smiling upon us and we got ourselves an experiential trip to Thailand - a fully packaged trip for a bunch of 4 girls and test out this amazing place and really see how it fits into the ultimate bachelorette fun. Planned by TAT (Tourism
Authority
of Thailand), this one had a beautiful itinerary full of cooking classes
, cocktail-making sessions,Thai massages, nail spas, beach
parties and some really cool hotels
and resorts
. 
T
hey even
have
special t-shirts and goodies ready for bachelorette/ all girls trips to Thailand because TAT's theme for travel this year is all about women.
Itinerary
Itinerary:
India
- Koh Samui (3 nights) - Koh Pangan (1 night) - Bangkok (2 nights)
–
India
via Thai Airways
Day 1-3: Koh Samui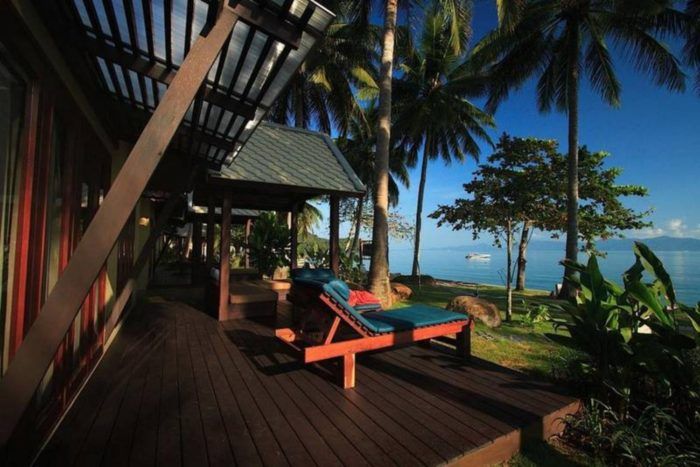 Pic via Peace Resorts, Koh Samui
It was a super short flight to Bangkok and we literally took our bags and rushed to immigration to get into the tiny plane to Koh Samui. First tip: You might think getting to Thailand is easier because it's visa on arrival but no, if you're going over to Koh Samui straight away, you won't have time for the visa, so get one beforehand.
The Hotel:
Peace Resorts, Koh Samui
(A mid-range luxury resort) was an interesting fun and
family-friendly resort with a private beach and a big pool. Situated right in the middle of Bo phut Beach (the sunnier and the cool side of Koh Samui), this one's got a lot of things going for it. There are Deluxe Villas and Beach Front Deluxe Villas and super posh Terrace Rooms, each come with a private pool of it's own. There are also small cottages that fit in a gang of girls on a budget. Our room this time was
the 2- bedroom beach front pool villa (the only one unit in the resort :))
located across the beach with a large infinity pool inside it, good stuff! Also, it was bang in the middle of the city
area
, Bho phut, so you could really walk to any of the restaurants at
the popular Fisherman's Village
.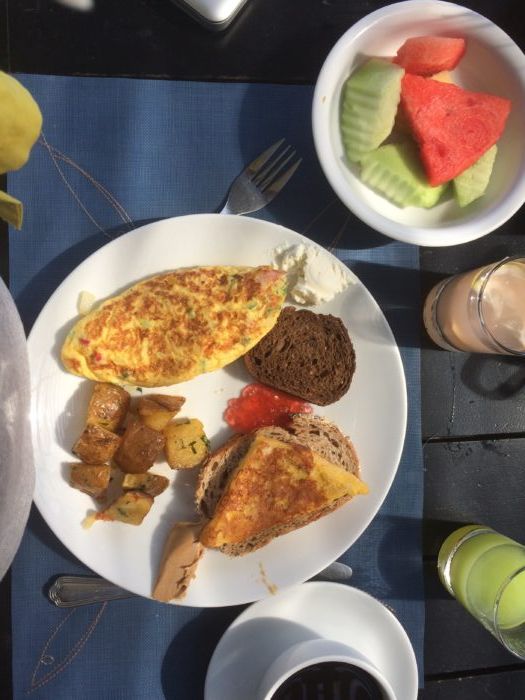 Breakfast at Peace Resorts
At Peace Resort
,
we saw some great activities too - so it's a
certified PADI
space
- that means you can learn diving and snorkelling with an instructor there. It had a sweet
quaint gym
with weights and some great treadmills, the girls went there first thing in the morning to unwind and get a hang of life.  They have some great barbeque nights with a fire show etc we heard. But since we didn't have time for that, we skipped it but it sure sounded great.
The best was the fun classes they had every single day at the resort and if you're free, you could join. There's the
zumba class, the Thai cooking class, fruit carving classes (Traditional Thai art)
and of course, the fun water aerobics class
which had the entire resort jumping with joy. Best thing to do with the girls, trust me!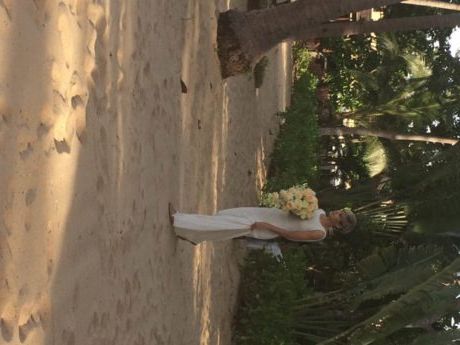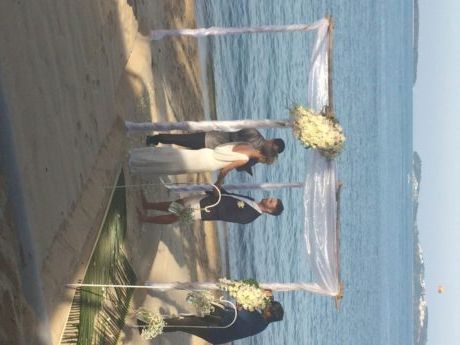 Sneaky camera skills: This bride + groom....sigh!!!
Oh I must mention, an unforgettable experience at the resort, it was witnessing
a
young
couple hav
ing
the
sweetest
wedding
ceremony
with
followed by
a beautiful candlelight dinner by the sea. It was magical. Just the boy and the girl - so cute!
Anantara Bo phut
is another great
luxury hotel
option to
stay at
try.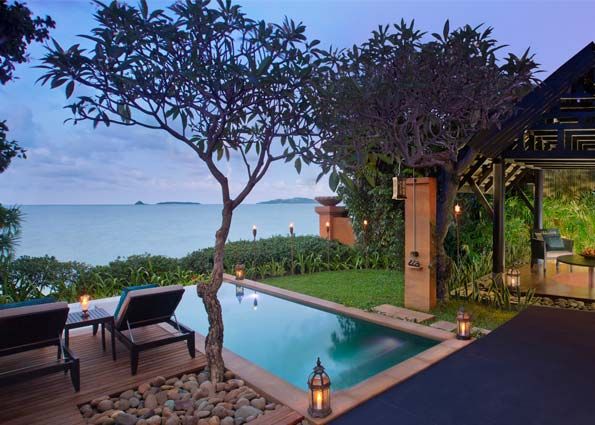 It's right in the middle of the action
,
and
has a really nice and comfortable vibe to it. The resort is spread over a large area with an authentic Thai feel to it.
It
has a great
large
pool, lots of
interesting activities to offer
options and a barbeque night with fire dancers every other day.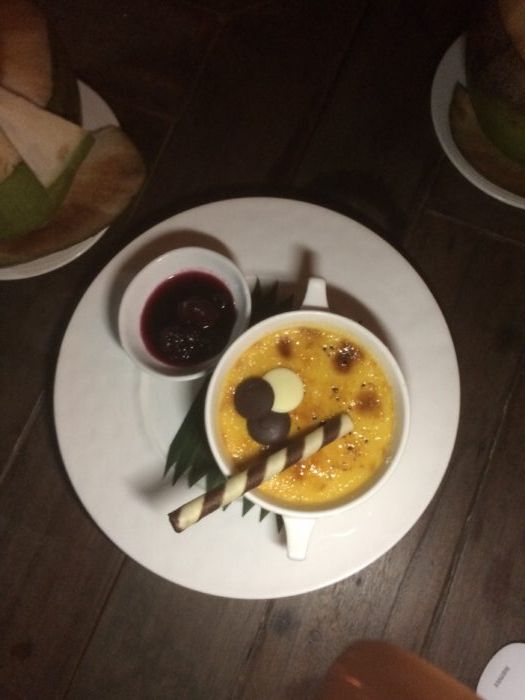 The Mango Creme Brulee at Anantara was a treat!
A special mention to the amazing food at the resort which is definitely its USP supported by really warm hospitality.
They have a large variety of cuisines to choose from and all the dishes we tried were very authentic with perfect flavors.
Other mentionable hotels
:
W Retreat
;
Dara Samui
&
Banyan Tree Samui
Must do Things in Koh Samui:
EAT & DRINK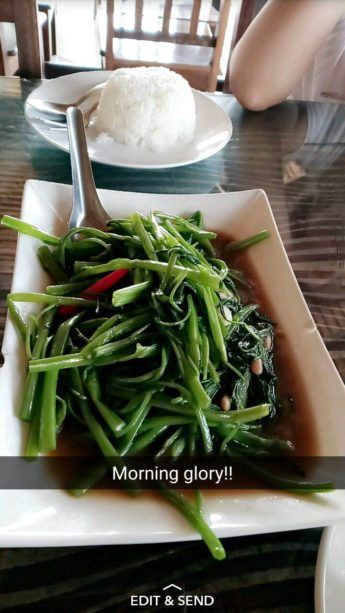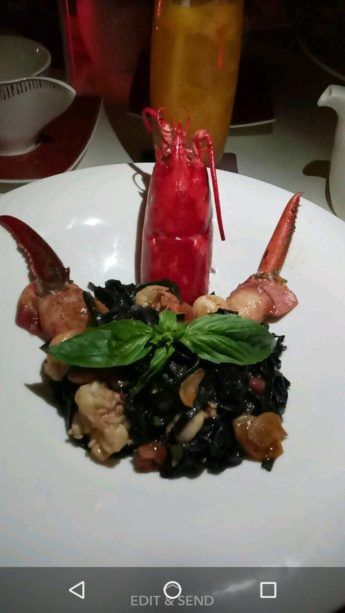 Do not miss the Morning Glory*I have to stop with the food refs!
First meal must be authentic, so it was Thai food across the beach - an
amazing meal at
Krua Bophut
- order the Morning Glory, Crab Cakes,
Mince chicken with basil
,
Thai curry and rice. The Sticky Mango Rice Dessert is a must - drenched in condensed milk and chilled mangoes!
If you would like something different
,
you must try the fab fab
Gusto Italiano
at the Fisherman's Wharf too. They have an amazing cheese platter with cold cuts and some great stuffed cheese pizzas.
Dinner at the popular
Thai Experience.
Known to serve a kickass spread. It's got a communal table where you meet fellow travellers and a 15 dish 3-course meal will be served up and oh, you can make your own cocktails.
The roadside coconut ice cream ( available in the night markets) is a delight. For 20/ 50 baht, you get the ice cream drenched in condensed milk with nuts and other yum condiments. Delight!
To accompany your meal, a
Singha Beer
( local Thai beer) is great,  
is the cheapest and best
but
I suggest any cocktail with mango or coconut in it.
At Fisherman's Wharf, I had this amazing fresh mango juice - just crushed mango + ice - not sweet, not sour - just right! Everywhere you go, you get fresh coconut water and somehow it's super sweet and awesome. I had copious amounts of coconut water every time I felt dehydrated.
SHOPPING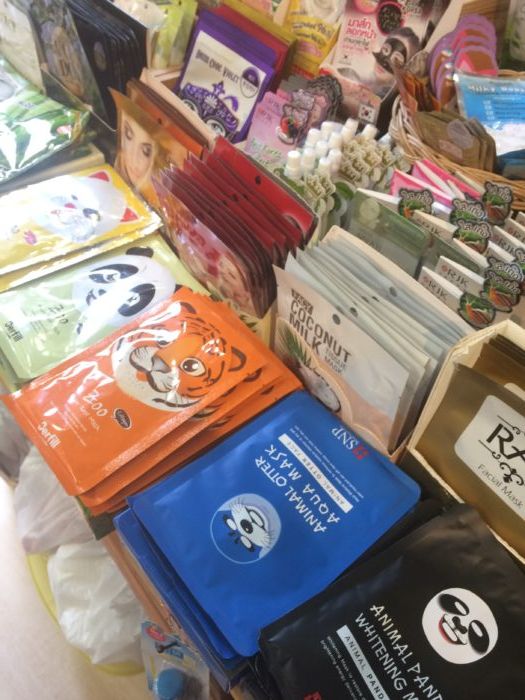 Sheet masks are all the rage at all beauty shops here! I bought the blue otter mask LOL!
The Fisherman's Wharf Night Market is known for all kinds of fun stuff - everything is so cheap and good. Buy the local handbags made of cloth and beach sarongs at 100 Baht ( Rs 200 approx)
or
some cute souvenirs to take back home.
Lamai is another fun area in Samui that has some great fun quirky stores too. Nothing too expensive but good quality stuff that's really value for money.  
Central Festival Mall was a fun place to just roam around and buy some inconsequential stuff. The girls bought some fascinatingly-shaped soaps that smell amazing, I bought some swimwear ( steal at 1200 Baht) and we all bought some fun face masks and skincare. Oh, you should check out this store called Beauty Buffet - so cute and such a sweet store with fun skin care and makeup.
TOURISTY THINGS:
Go to
the popular
Chaweng Beach, good
for
water sports and lots of nice restaurants to eat in and around the place.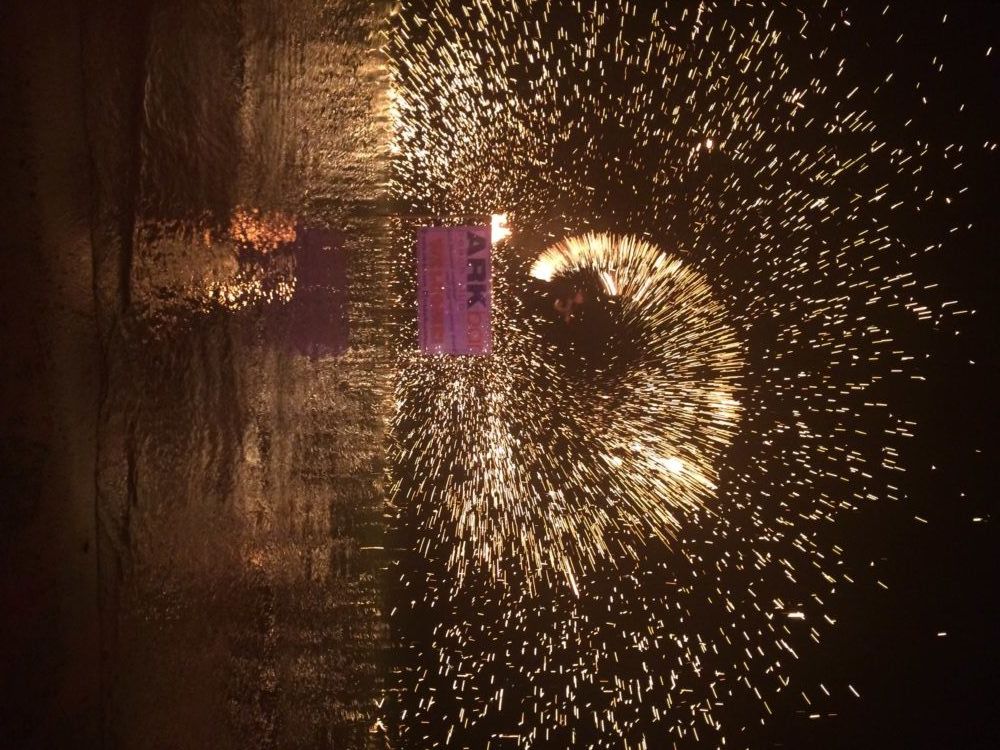 The Fireworks at Ark Bar were so astounding, we were just gaping!
Ark Bar
is known to be the best place to party in Koh Samui - it's got
 a
fireworks
show
, a fun dance ensemble gyrating on top of the DJ Console.
Green Mango
is another super cool bar for girls to hang out at, super drinks and nice 90s music.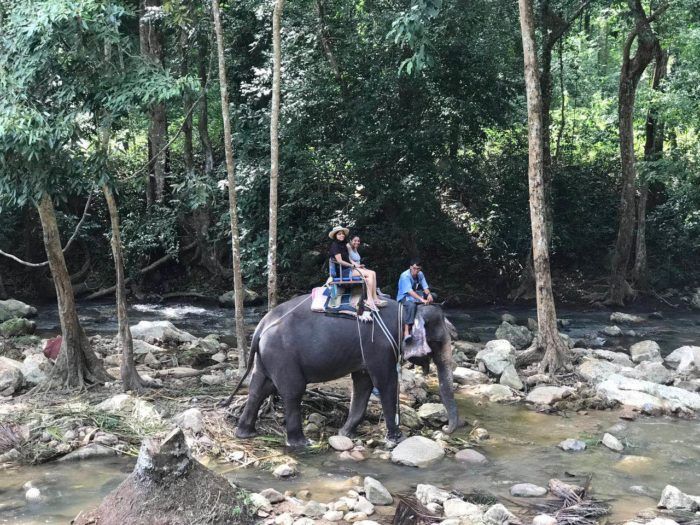 Elephant rides at the Namuang Waterfalls was great - we went on a half an hour ride into the forest. It was scary at first, but we eased into it.
Thai Massage:
So no trip to Thailand is ever complete without a Thai massage and we had a full body massage at this popular Spa chain called
Lets Relax
.
This is the perfect place to relax and pamper yourself.
Really great feeling afterwards and the
The massage therapists were great and quickly
eased out all our tiredness of a hectic day
.
The Big Buddha:
When in Samui, one must visit the landmark Big Budha Temple
. It's a calming space to just stop by for a minute to catch your breath and enjoy the true Thai spirit. 
Day 4-5: Koh Pangan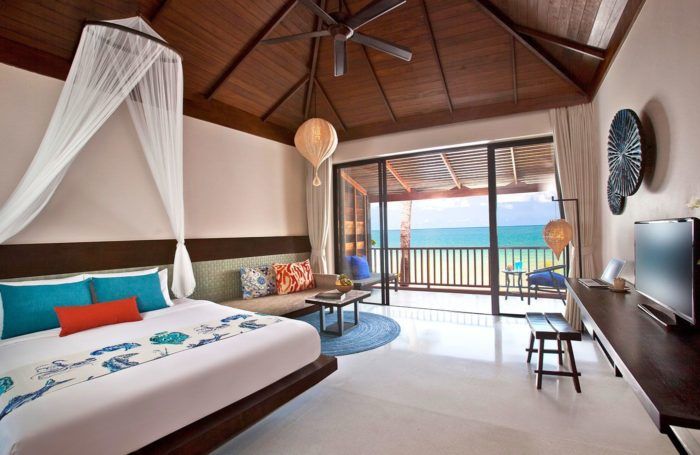 Buri Rasa has such great views!!!
This one's not as touristy as the rest of the islands and it's super laid back. That's why this one was our next pick. It's a secluded island
 - perfect for a group of girls to just chill. We took the Lomprayah ferry to Koh Phangan and came back on a speedboat.
The main attraction here - definitely the "Full Moon Parties" . You can go into full-on party mode with those parties or just get a massage and ease into a more laid-back, relaxed routine. 
The Hotel:
Buri Rasa
(Mid-range Luxury Resort) at Koh Pangan is bliss - with a great view of the Thong Nai Pan Noi Beach
,
this resort has a boutique feel to it and one can experience really personalized and warm hospitality here
.
We stayed at the spacious Ocean View deluxe rooms which had a personal balcony and sit out area overlooking the beautiful beach.
There are water sports - yachts, diving and a whole lot of lying on the beach and doing nothing. They even have a bigger breakfast spread with Thai homemade jams and amazing seafood.  They even provide the speed boat for island transfers and can even arrange for a fun trip to into the sea for some sunset views!
Another amazing hotel you must try
must visiting
, that is adjacent to Buri Rasa is A
nantara Rasananda
with a private beach, great views of the beach and the hills and an amazing bar that overlooks the beach.
The interiors and layout of this resort is super luxury and absolutely the perfect choice for an unforgettable stay in Koh Phangan. I would strongly recommend this property for a honeymoon or special occasion celebration.
EAT & DRINK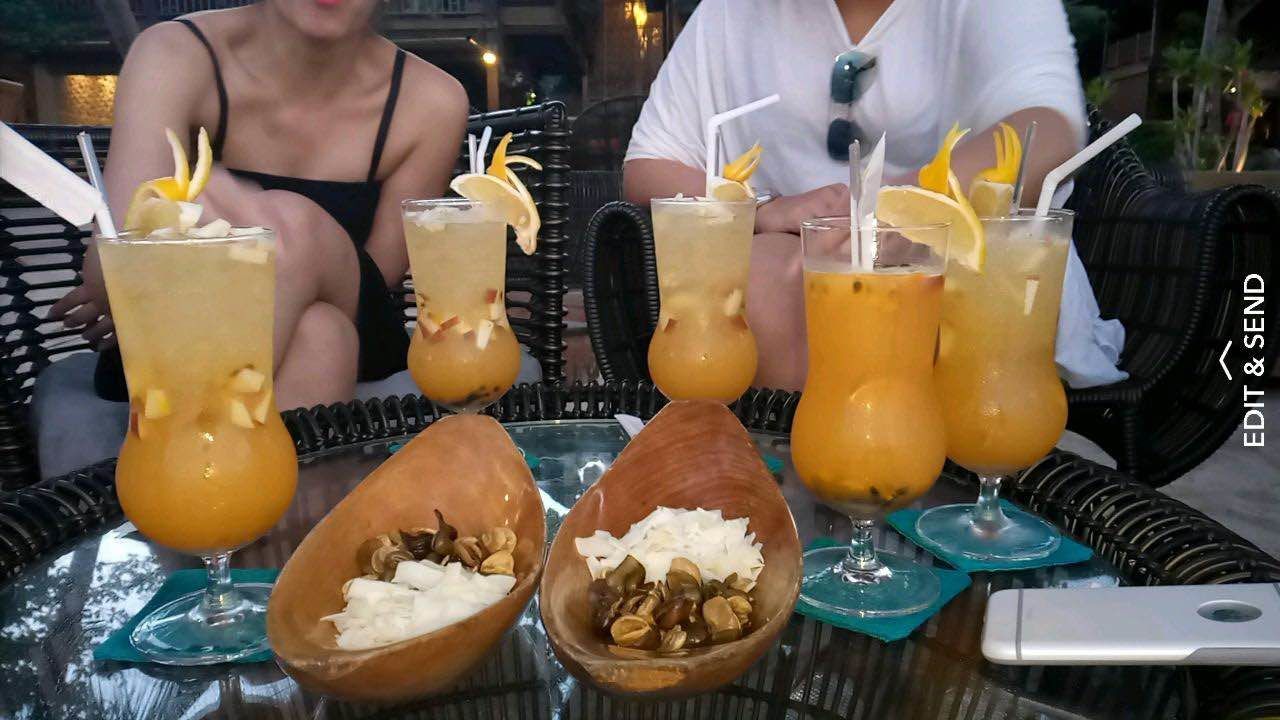 The Thai Sangria at Anantara Rasananda!
Dinner by the Candlelight at
Anantara Rasananda
was my favourite - with yummy prawn starters and Thai food with a twist.
Everywhere in Thailand, you see these little carts selling banana pancakes with all kinds of flavours and toppings. Must try!
Yukinoya - the Japanese Teppanyaki restaurant at  
Anantara Rasananda
is known all over the island as one of the best restaurants with the yummiest fare!
Fresh Mango pieces with spicy sweet powder was my guilty pleasure - fresh fruits really are a big part of Thai cuisine. Try the Kiwi or blueberry smoothies and you'll know. Coconut jam is a must-have.
Don't forget to try the fun Thai Sangria at Anantara
Rasananda
. It's to die for! Perfect girly drink with your BFFs.
Barbeque by the beach with a fire show at Buri Rasa is a well-known affair and everyone loves to sit by the beach and do nothing!  
Must try: Sweet Thai crepes fresh off the grill were made of meringue, a thick cream and shredded egg yolk.
TOURISTY THINGS: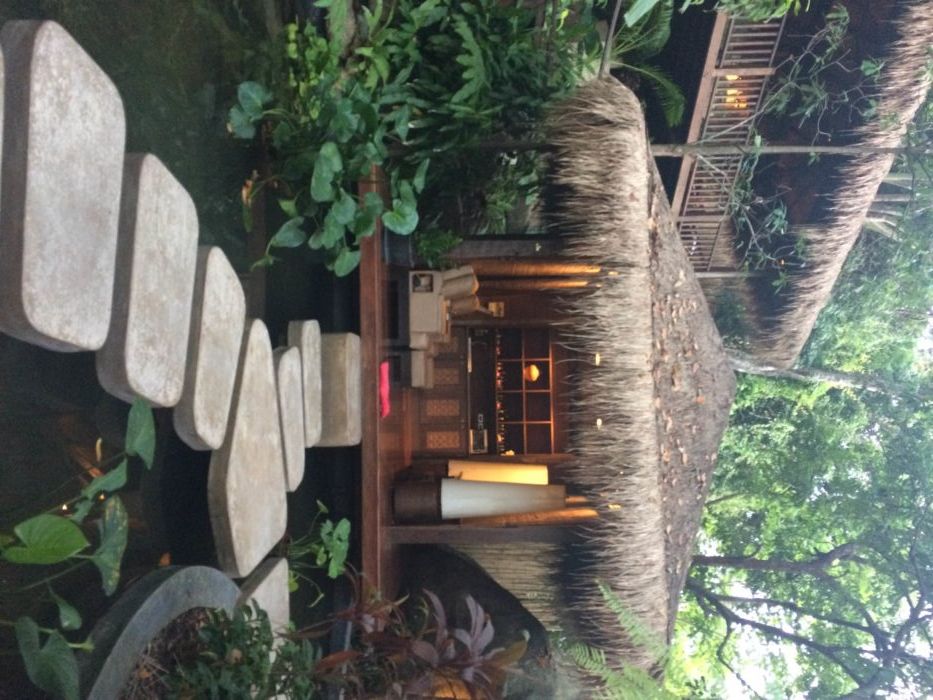 Tree house at Anantara Rasananda...bliss!
Go for a yoga class on top of the treehouse at
Anantara Rasananda
. The view, the privacy and the well-known masseuse make it an unforgettable experience.
A trip to Koh Pangan is not complete without attending a full-moon party and it's the cat's whiskers. Go go!
You can rent bicycles and roam all around the island - it's so women-friendly and fun. Every street corner has a bicycle or car rental.
Day 5-7: Bangkok
The last two days are all about spending a touristy
busy
but fun weekend in Bangkok. Factor in:
road
traffic. Its' chaotic but if you plan well, you can really live it up in the city
. Also best way to move around is the BTS (Bangkok sky train) or the super cute tuk-tuks
.
Great rooftops bars with stunning views of the city
,
world class
restaurants
,
amazing shopping
and just a vibrant, fun place to hang out with your girls
. A good mix of partying, lunches and shopping and we're set.
That's Bangkok for you, also known as the city of angels!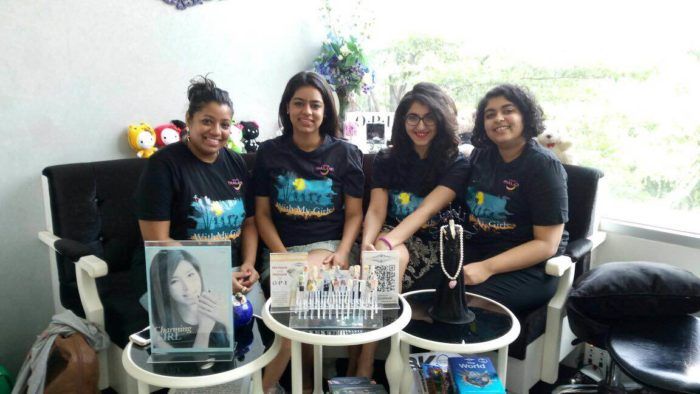 OUR TOP RECOMMENDATIONS:
An Interesting Meal: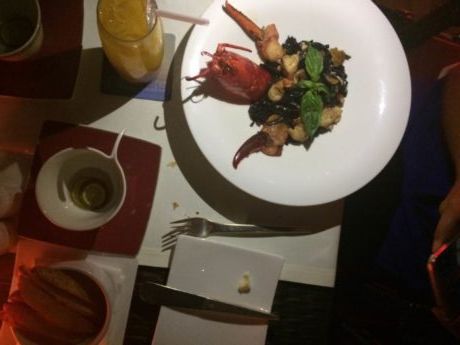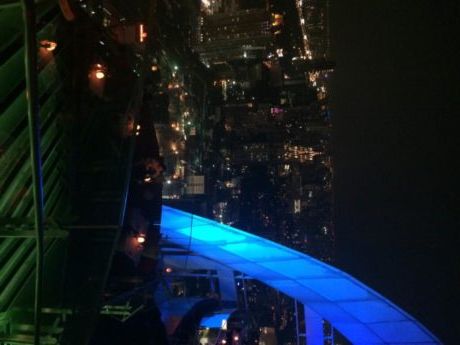 The Red Sky, Bangkok at Centara Grand
is a rooftop bar with an amazing view of the Bangkok skyline and a menu that's limited but filled with some amazing fare. This was the first time I had Wagyu beef and it was divine and the black pasta with prawns was an eye-opener ( black pasta!!!). The drinks were the usual stuff but the Coconut-based cocktails were to die for.
The Fun Bar: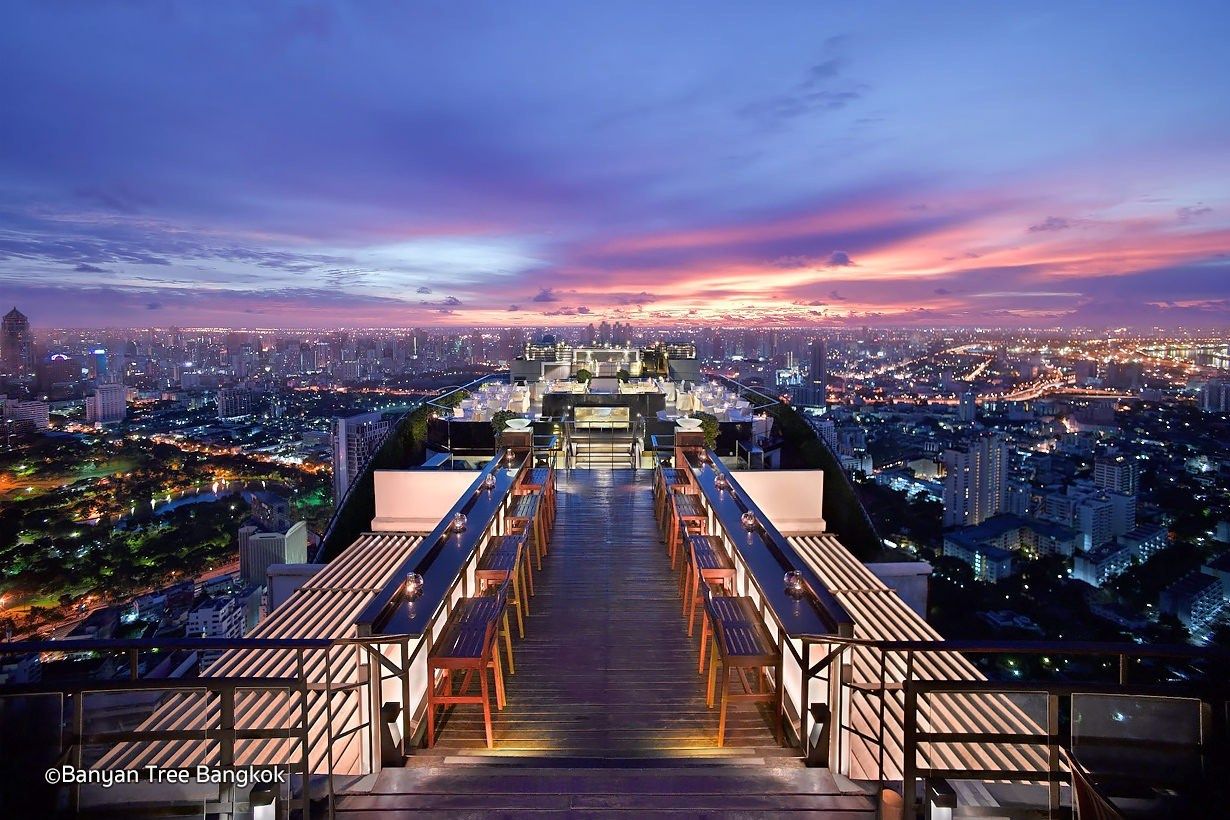 The Vertigo & Moon Bar at The Banyan Tree
This rooftop bar
was my favorite because it wasn't that crowded at all, at the same time, the drinks were great and the bar had a great music selection and an amazing crowd.
It is also the first rooftop bar in Bangkok, I'm told thus making it very popular with the locals.
Where to Stay: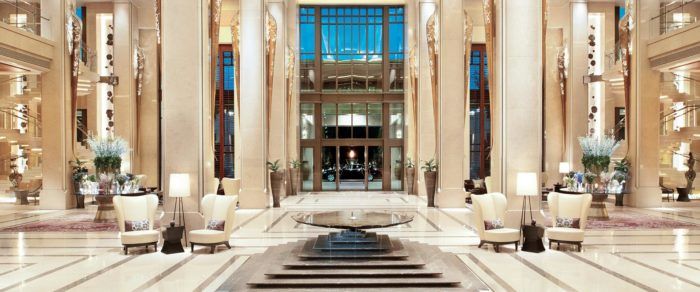 Undoubtedly the newest and the most plush,
Siam Kempinski hotel
that was in the centre of the city with a view to kill for.
This luxury hotel is very well located in Siam area and is connected to the Siam Paragon mall
which
is a big plus
and is literally walking distance from all the popular shopping malls in Bangkok
. Just one door and you're out to the mall.
The hotel has many room categories to choose from and truly has a world class appeal to it. The rooms are very luxurious and beautiful designed with all modern amenities. Also a special mention to their breakfast spread which was the biggest spread I ever saw - from Thai to Continental to Indian- the options were endless and definitely helped me have a perfect start to the day. Strongly recommend this hotel for a perfect stay in Bangkok!
Best Mall To Shop:
Siam Paragon
takes the cake of course! Take a golf cart from any of the hotels and you're there. I personally think that
Platinum
is great if you know which stores to go to and
MBK
falls in the same category too. I liked
Siam Centre
and
Central World
.
Hottest Party Place:
Maggie Choo
is known all over Bangkok for the hottest parties and it sure looks like a mad place to park for the night!
The Best Cruise Dinner:
Apsara Cruise by The Banyan Tree
was probably the highlight of our trip. Th
is
unique luxury dinner
cruise on the river showcases Bangkok
by night with all the attractions and temples lit up. The authentic Thai dinner and was exceptional, the cocktails were yummy and the service was impeccable. This is a must do experience with your girls to have a perfect and beautiful finale to a Thailand trip.
It is also ideal for a romantic dinner date with your loved one.
This sets you aside by
approx
Rs 5000 for an hour and a half and it's super worth it.
Best Bachelorette Party Activity: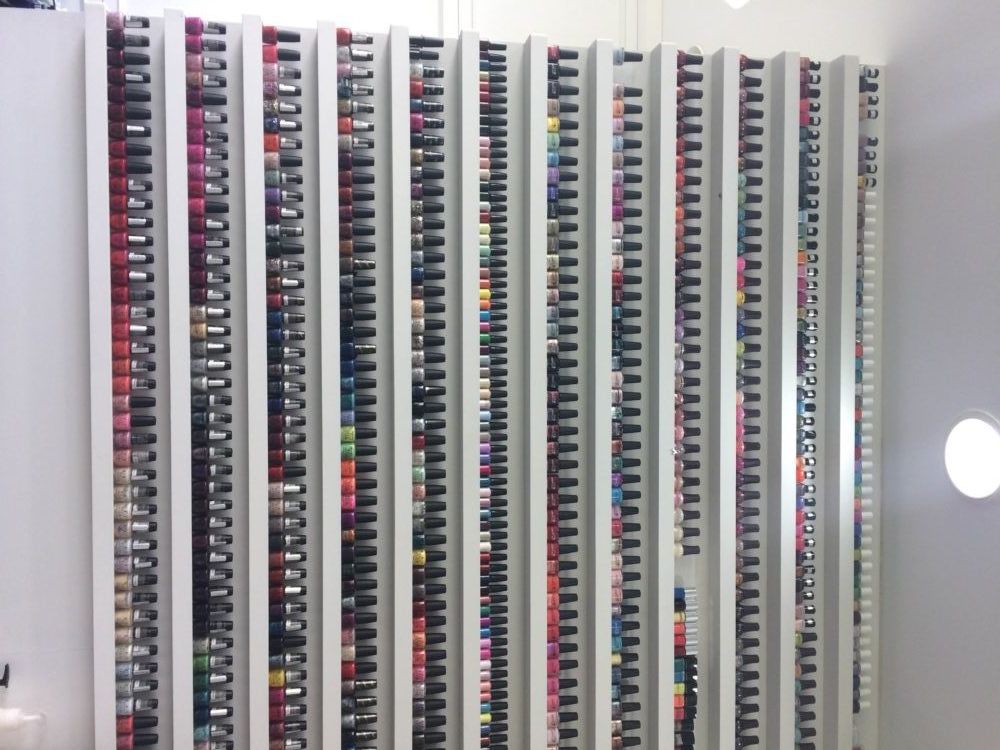 1500 hues, seriously?
We had the most brilliant - most exquisite nail bar
/spa
experience ever. The
Glitterati Nail Lounge
is the most fun place you can take your girls to if you're looking for a girly experience. The Shellac and OPI fare aside, the wall is covered with interesting nail art and almost 1500 colours to choose from. It's hygienic and very carefully checked so your nails are treated to high maintenance treatments and interesting art.
They have a wide range of nail art, pedicures, manicures to choose from and is an ideal place to get pampered.
Best Lunch & Cooking Class: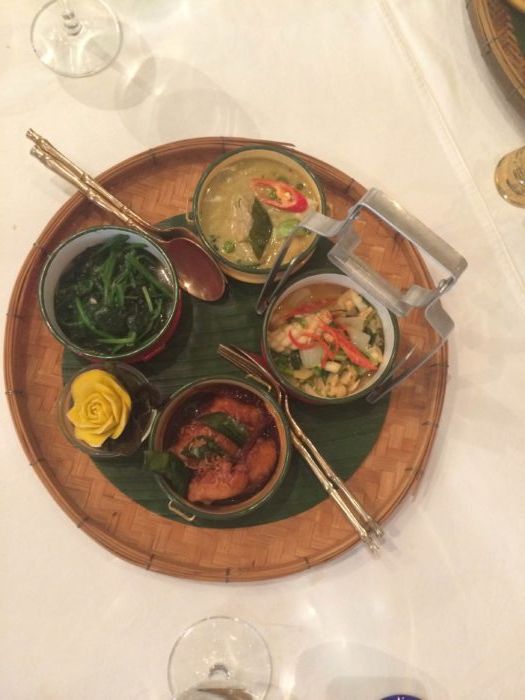 This has to be the most amazing experience for me actually
and a great one to try out with fellow foodies.
It was Bangkok's most celebrated Cooking Institute and was known to have authentic Thai cuisine at it's best.
The Blue Elephant
owned by celebrity chef Nooror Somany-Steppe and it's housed in a Century-old building. The lunch we had was about the right use of spices and herbs - we had Thai curries, wild rice and crispy prawn starters. And it was followed by an interesting cooking class where we all cooked Thai curries with the excellent guidance of the teacher there - I actually made Chicken Red Curry and had it too.
In dint know I could cook so well!
Best Thing To Do Before Leaving Bangkok: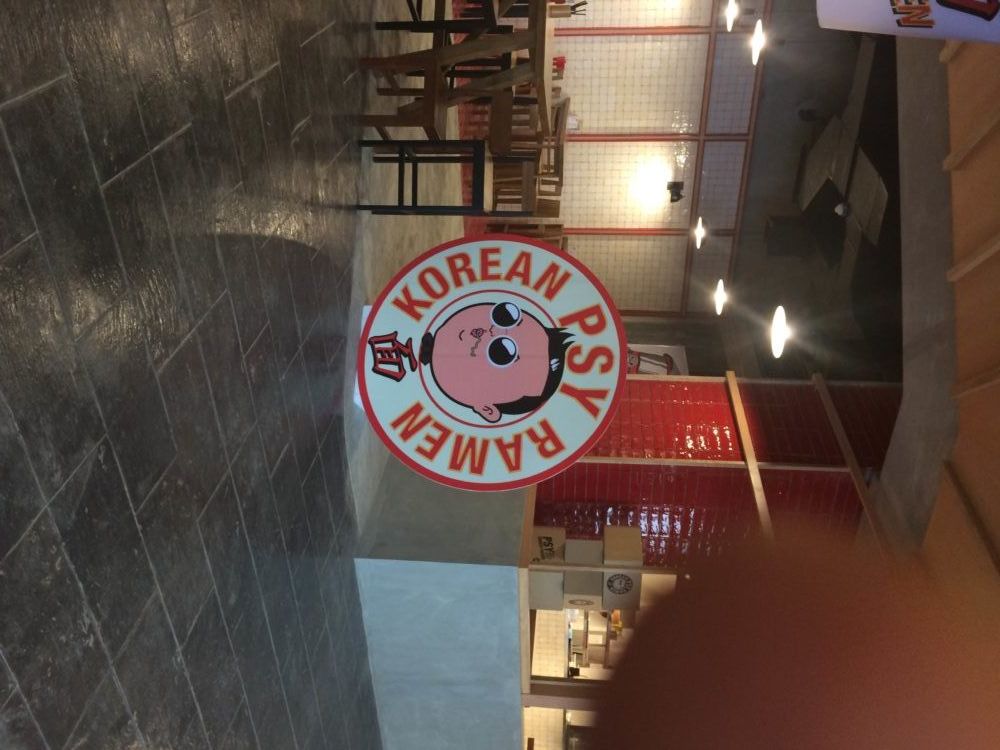 A Psy Ramen restaurant at DC Show? Gimme more!
This has to be the newest thing to hit Bangkok this year and we got a preview (yay yay!). So the
DC Show Bangkok
is the latest offering
in Bangkok
from the Thai Tourism industry - it's for international visitors how
tourists who
can spend the whole day
here
before heading back
to the airport to catch their flights back home
. If you have a late checkout, you can just dump your bags at DC Show, spend the day there and head out in their shuttles to the airport. The DC Show deal is simple - it's a mall that has everything you need and you could chill all day. There's a reading room, lockers to put in your bags, show area where local bands and arts are performed, the city's biggest Nike store (discounts galore) and my favourite store Arcova (The Korean tit-bits store for makeup, sheet masks and electronics at a bargain). The food court is amazing and the upcoming OngBak show is all that everyone is talking about.
Planning a bachelorette trip or all girls holiday with your best friends to Thailand?  Tourism Authority of Thailand has something special for you to make your holiday a little more amazing! Contact sohina.tatdr@gmail.com for more details.