#TheRuleBook: How to Pick the Right Jewellery for your Neckline!
BY Sakshi | 13 Sep, 2016 | 51169 views | 4 min read
Not every kind of necklace goes with every neckline, and the other way round. So here's a cheat sheet of sorts on how to pick the correct necklace with the most popular kind of necklines! This could work well for almost any function, and any kind of outfit- traditional, modern or fusion! For starters, here's a guide on the basic necklines which are very common...

So as you can see, almost every neckline shown here is highly doable for traditional Indian wedding outfits as well, so let's get down to explaining what kind of necklace goes with which neckline, classified broadly, as some of them are just different variants of the same neckline.
Square Neckline
This is a neckline which draws a lot of attention to the neck. So this works very well for dramatic statement necklaces which demand attention. Chokers look very nice on such designs, especially wide ones with layered strand. Satladas also look great!
Photo Courtesy: Makeup By Hitesh★ 4
Scoop Neckline
This is one of the most common necklines, especially for Indian wedding outfits. Chokers work well for this one as well, but make sure it has a curved end rather than a straight one, which mimics the neckline. Dramatic necklaces with a thick single strand or multiple strands also look good. Just remember- the end should have a curve to it.
Photo Courtesy: Priyanka Arora Makeup Artist
Strapless Neckline
Almost every kind of necklace look good with a strapless neckline.. statement pieces are best, since the neckline looks pretty plain otherwise. A strapless design exposes a lot of skin, so it can attract a lot of attention to a larger chest. Chokers look great, and so do elaborate neckpieces, especially those with drop designs or layers.
Photo Courtesy: MBF Jewels
Sweetheart Neckline
This neckline is perhaps the most eye-catching of them all- so you have to be a bit careful when you match your jewellery to it. Do not over-accessorize a sweetheart neckline, 'cz it might not always work. A princess-length necklace looks good, so does a choker with a drop, which snugly complements the neckline.
Photo Courtesy: Arushi and Dhruv's Real Wedding
Off Shoulder Neckline
This is again a neckline which shows a lot of skin, so you can go as simple or dramatic with it as you want! Make sure the necklace does not end right at the neckline, so chokers can be extremely flattering, and so can necklaces that end below the neckline. Another thing to keep in mind with off shoulder blouses it to keep the work on the necklace as similar to the embellishments on the outfit to make it look even better.
Photo Courtesy: www.tarunchawla.com
Deep 'V' Neckline
It's only the back that makes a difference in these cases, from the front, a halter and V look more or less the same. The trick with this necklace is to repeat the neckline and draw attention to the cleavage, giving the illusion of a longer neck. You can go long, or you can go short, but make sure the necklace does not end at the neckline. Stopping it 2 inches above is a good idea or going much lower also looks good.
Photo Courtesy: Bespoke Vintage Jewels - By Shweta & Nitesh Gupta★ 3.3
Boat Neckline
This means that the neckline is not too deep, and probably just ends at your collarbone or even higher. If you have a high back, consider a choker. If the neckline is embellished already, then consider skipping a necklace and opting for big earrings and statement hair ornaments instead. If you have a very low back, consider a layered back necklace or satlada that falls behind rather than on the front.
Photo Courtesy: Anju Modi★ 4.9
High Neckline
If you're wearing a blouse or an outfit with a really high neckline, then skip a neckpiece if the neck or collar is embellished. If it isn't, then only opt for a long necklace- either a simple chain one or something with a pendant at the bottom- nothing else will look as nice.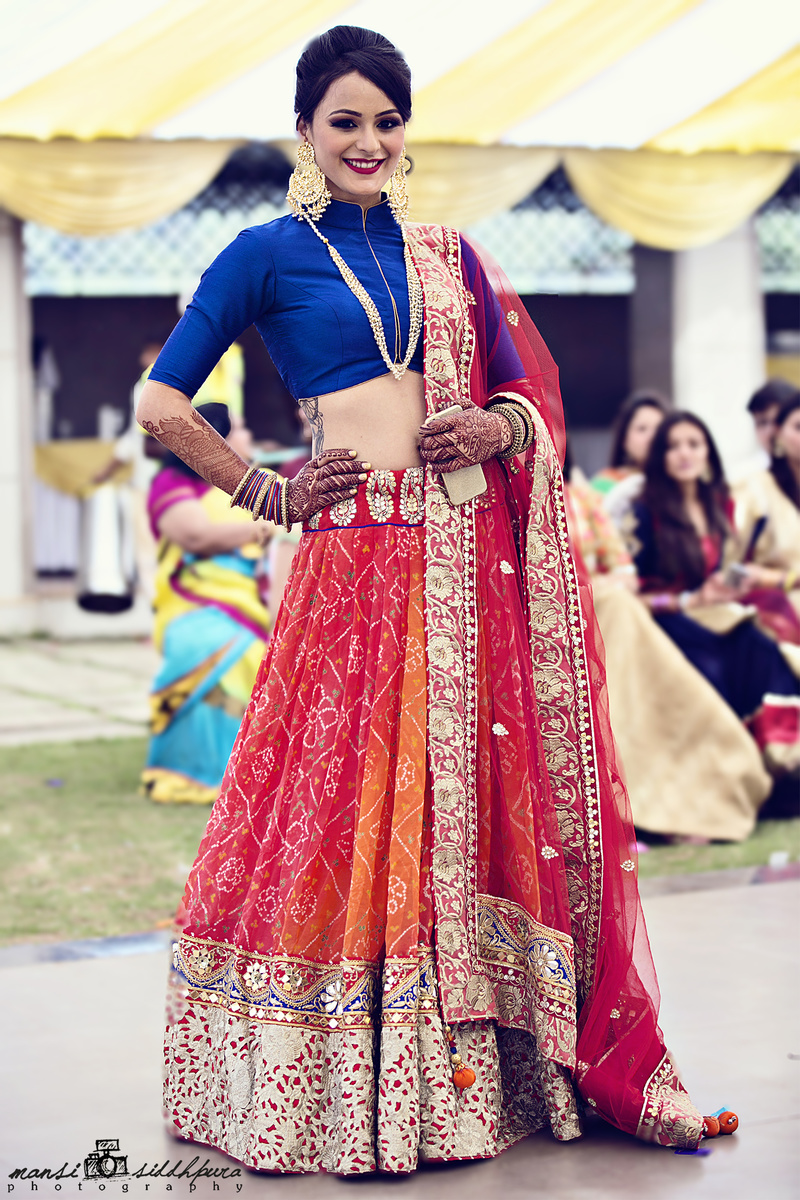 Photo Courtesy: Mansi Siddhpura Photography
To sum it up, here is a general guideline to keep in mind...
So pick and choose wisely!