This 'Millennial Sangeet' Had Decor Like You've Never Seen Before!
BY Sakshi | 05 May, 2020 | 7005 views | 3 min read
Wow and OMG are going to seem like understatements when you see the decor at this 'millennial sangeet'- after all, everything, including the colour scheme was super millennial about it. It was pink all around, but somehow balanced beautifully with other elements, and it blew our minds. The Sangeet for the #IshaRah wedding had some stunning decor courtesy Altair★ 5 , and the decor images captured by The Wedding Salad★ 4.9 brought out the beauty of it all. Just take a look!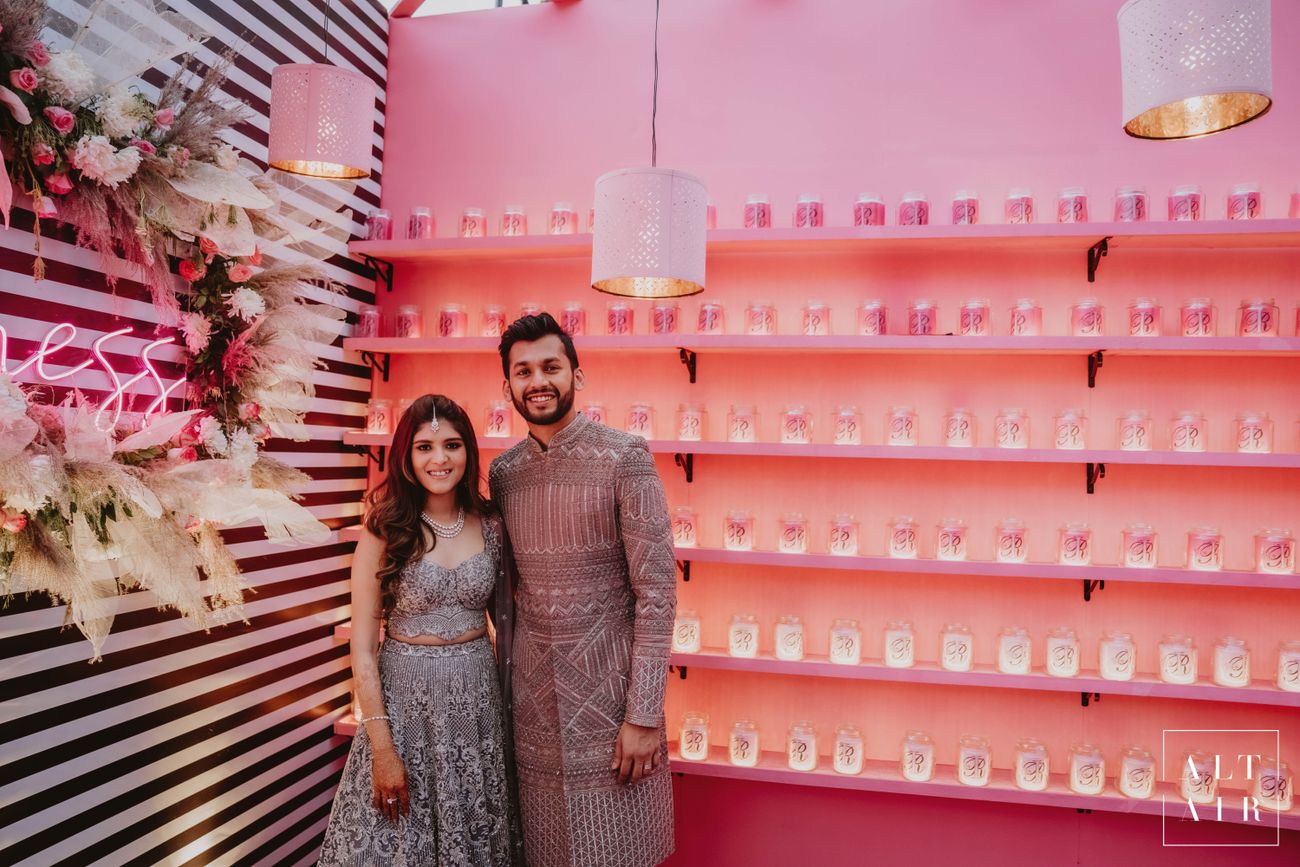 Looks amazing right? Wait till you check out the other elements! 
Curiosity Room!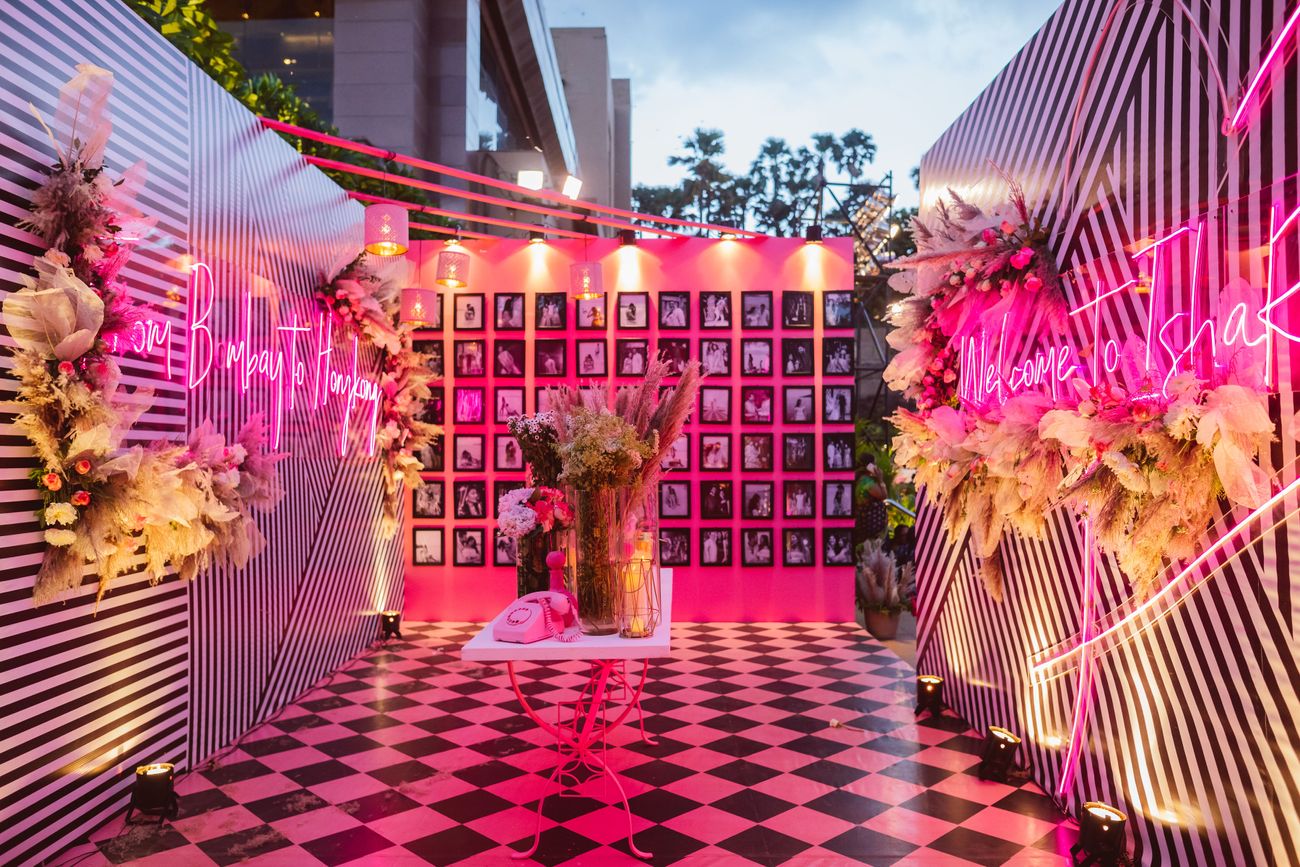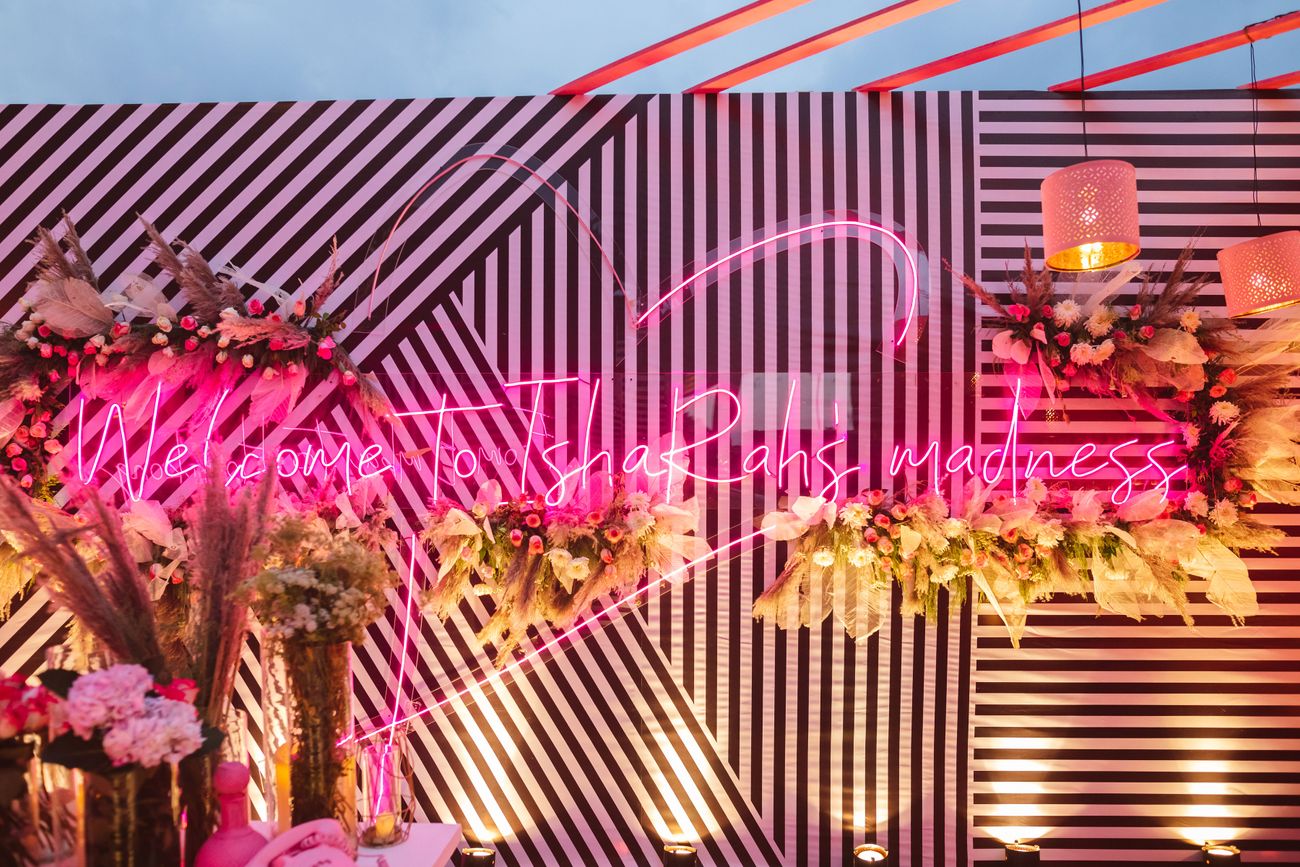 Curiosity Room- such a brilliant idea! The entrance was made like a curiosity room with different things happening on various walls for discovery, entertainment and impact. Each wall had some significance for the couple. 
The Welcome Decor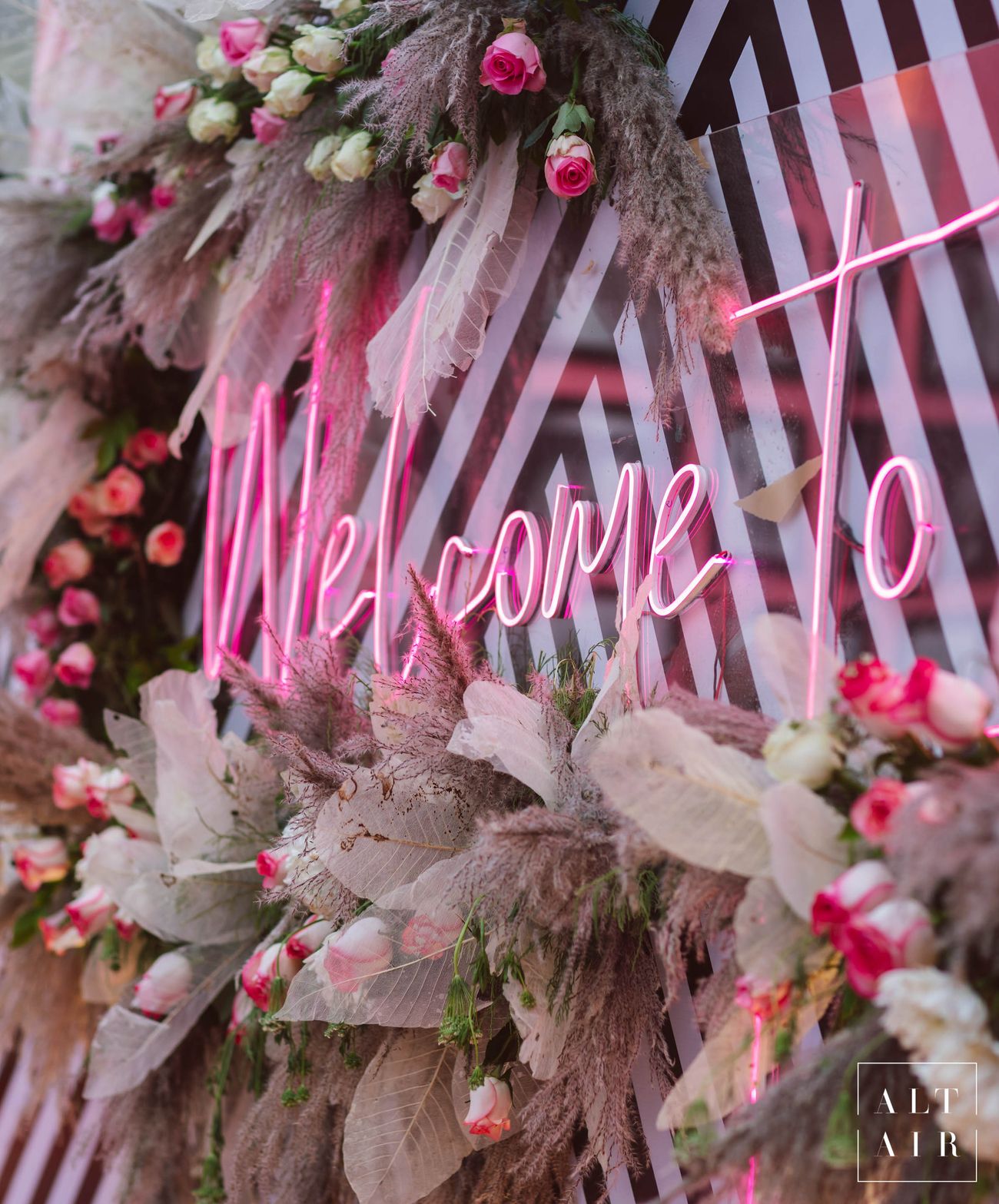 The welcome decor had two neon signs on either side- one saying 'Welcome to IshaRah's madness' and the other saying 'From Bombay to Hong Kong'. Black and white stripes with pink neon signage and wild flowers to welcome the guests! The console table in the centre had artefacts and florals from their favourite places. 
A Memory Wall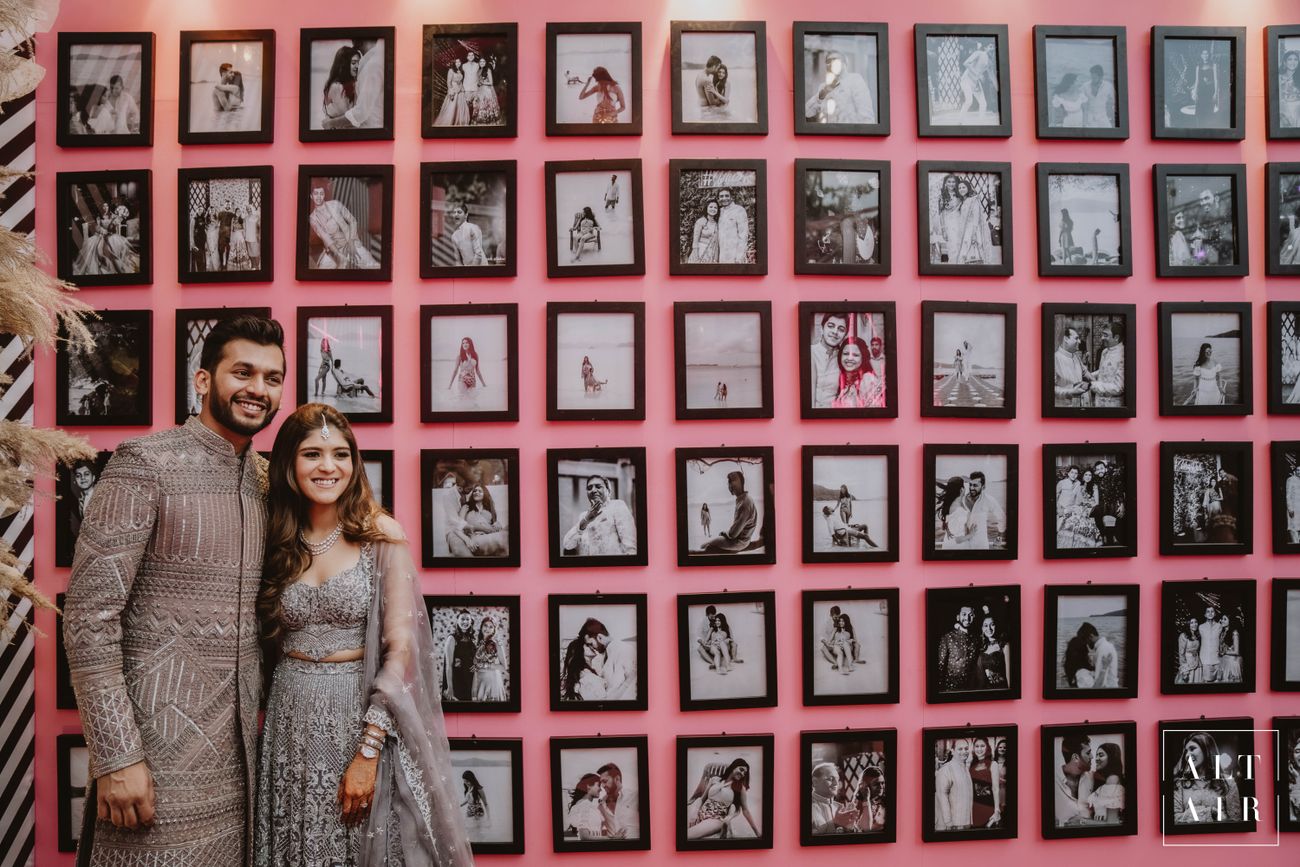 This photo wall showing the couple's and their family's shots from over the years in black and white was at the entrance decor and added such a nice personalised touch to the decor!
The Jar Wall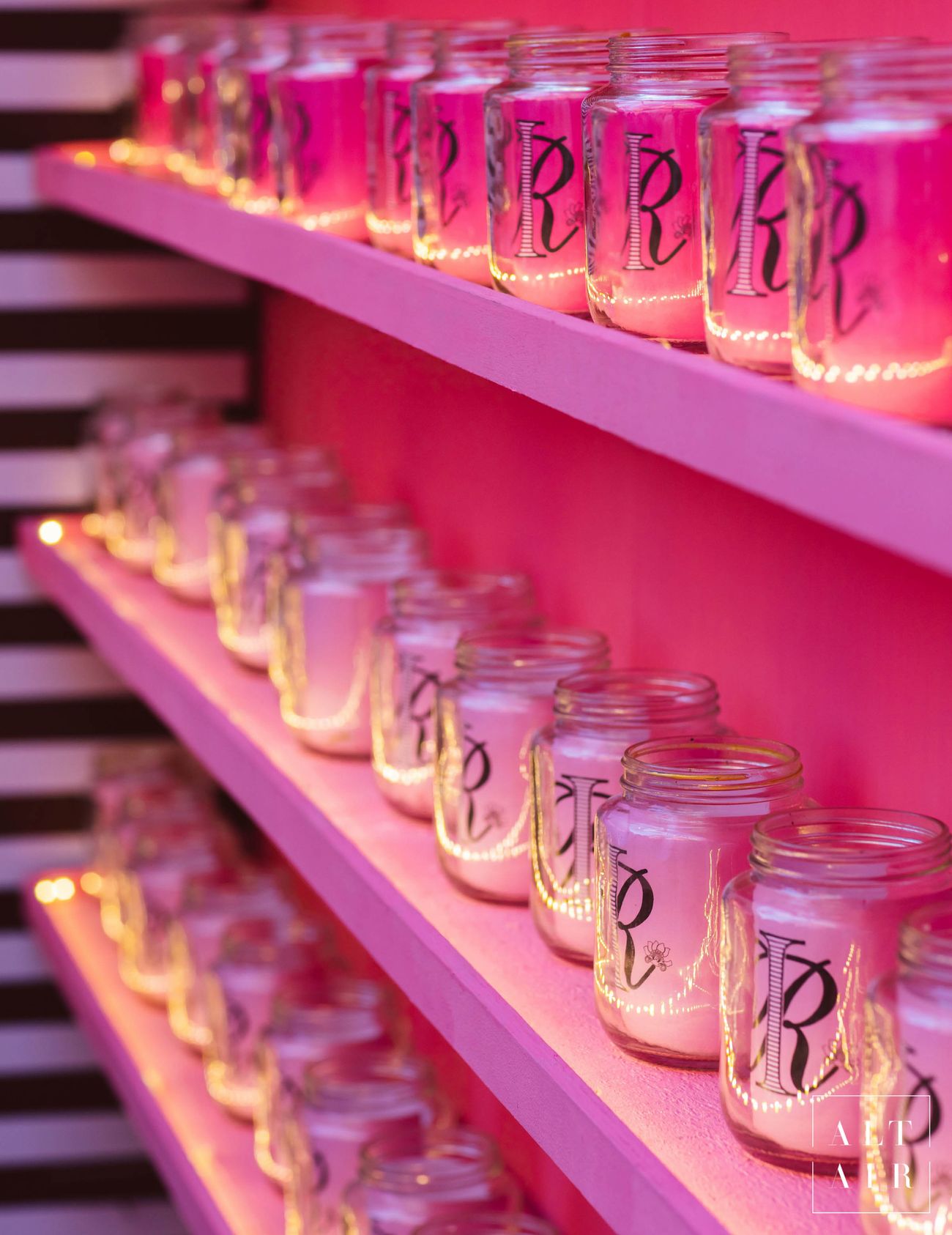 So simple, yet gorgeous!
The unique chairs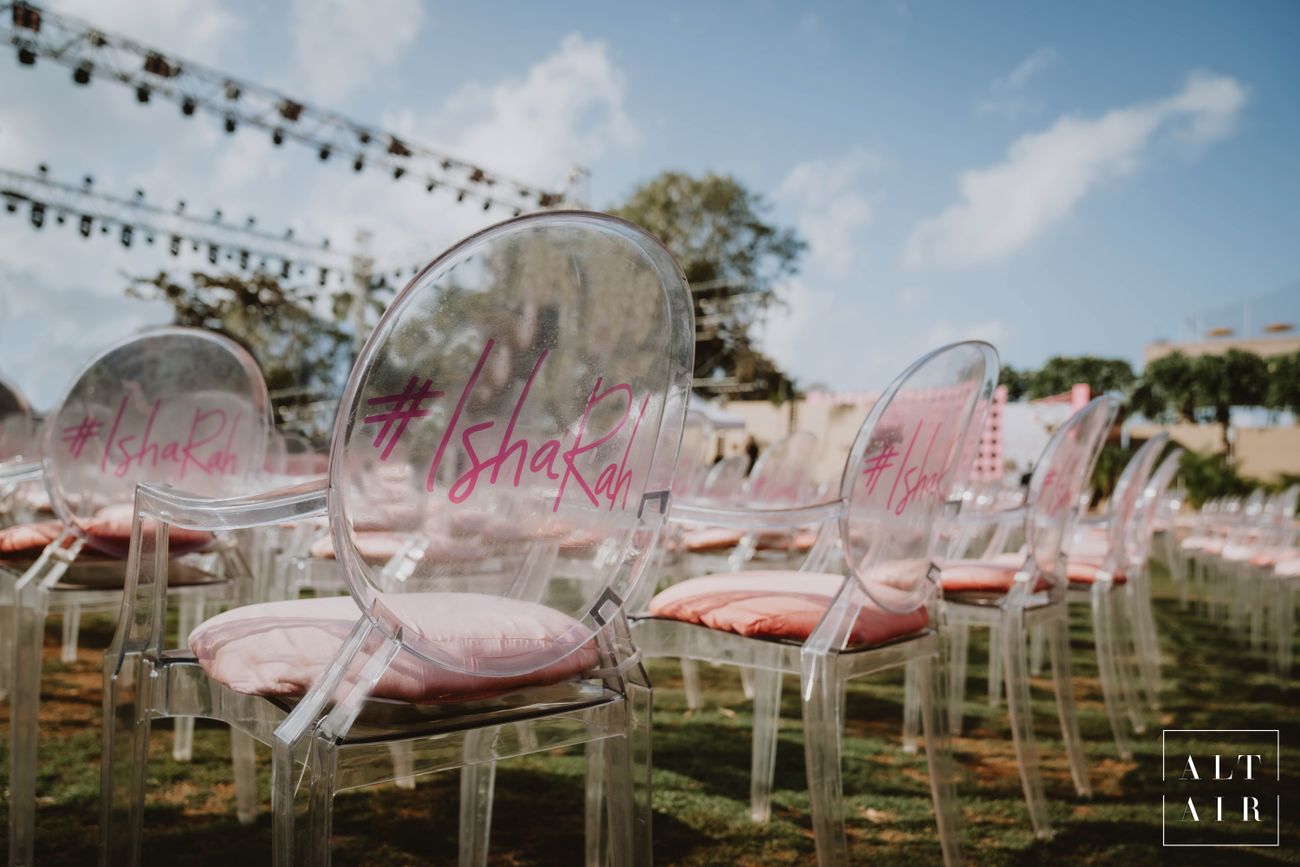 Ever seen personalised chairs at a wedding? Don't these just look super cute? Acrylic chairs with the couple's hashtag makes for the perfect seating for this millennial sangeet!
The gorgeous personalised bar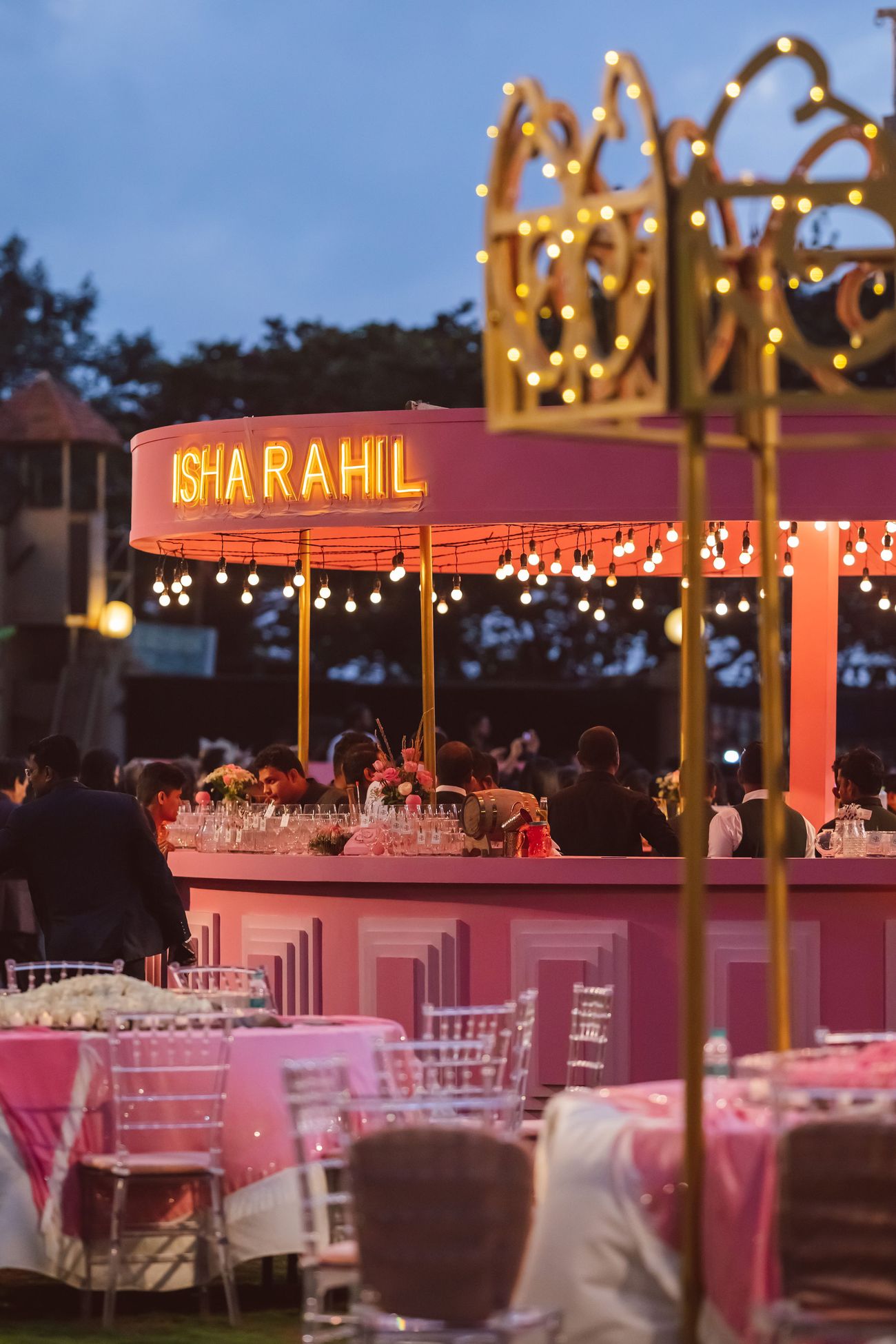 A delicious pink bar displaying personalised neon sign, bulb canopy and three dimensional facade. 
Cute little table displays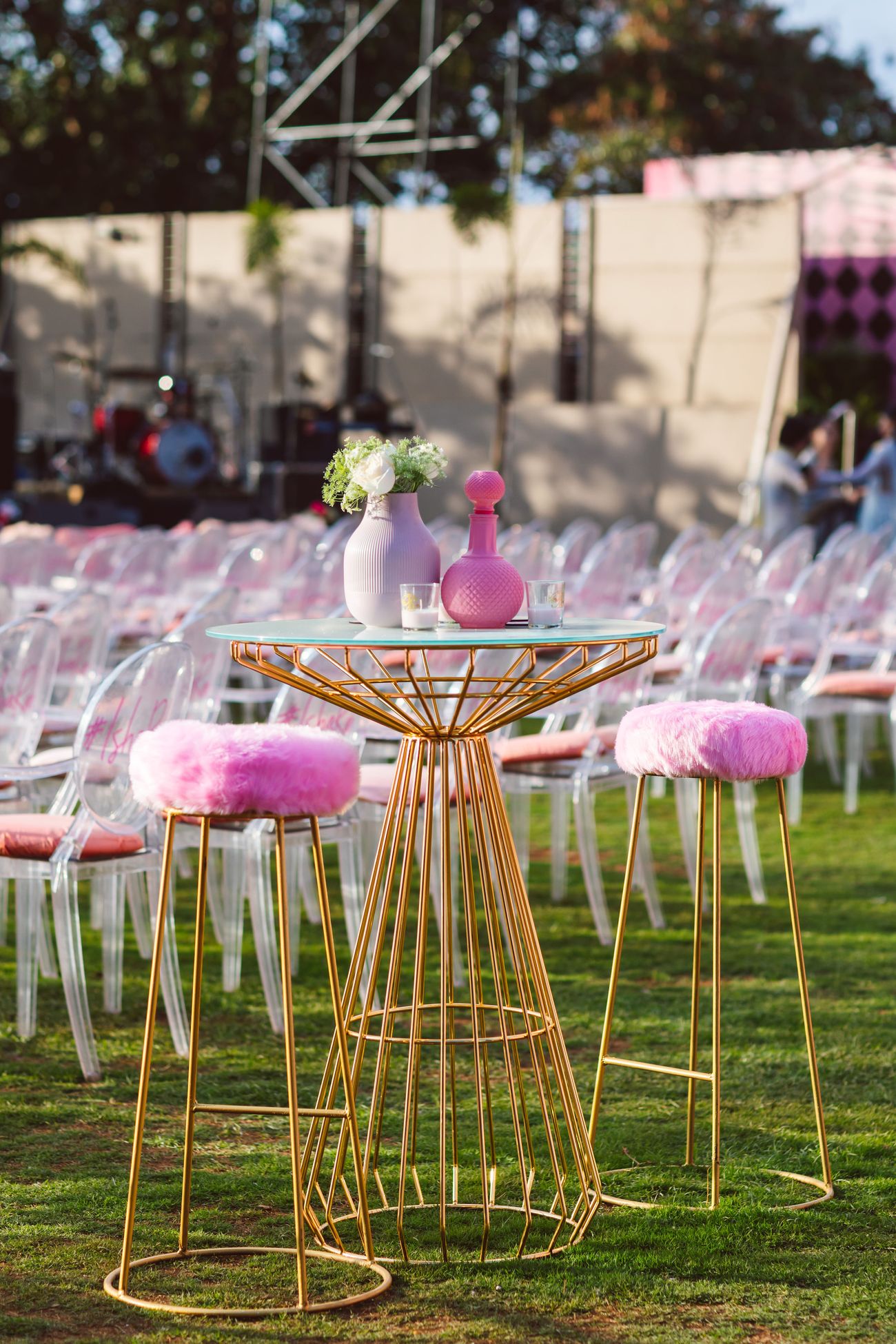 There were also beautiful coffee table piece with shapes of pink, decanter, hourglass, candles and dainty blooms, which has our heart.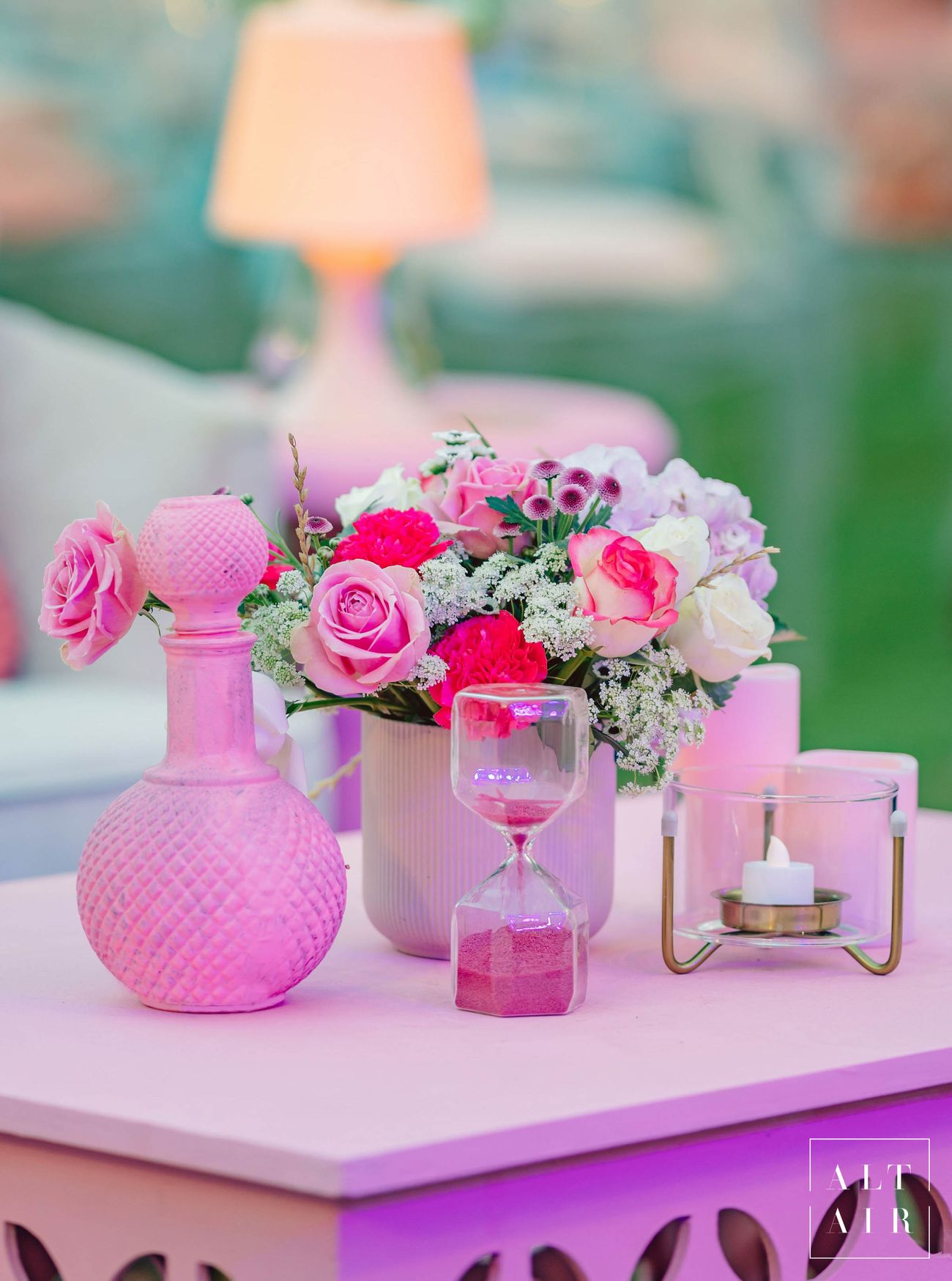 Little pieces that created such a pretty overall look.
Cushions that added so much to the decor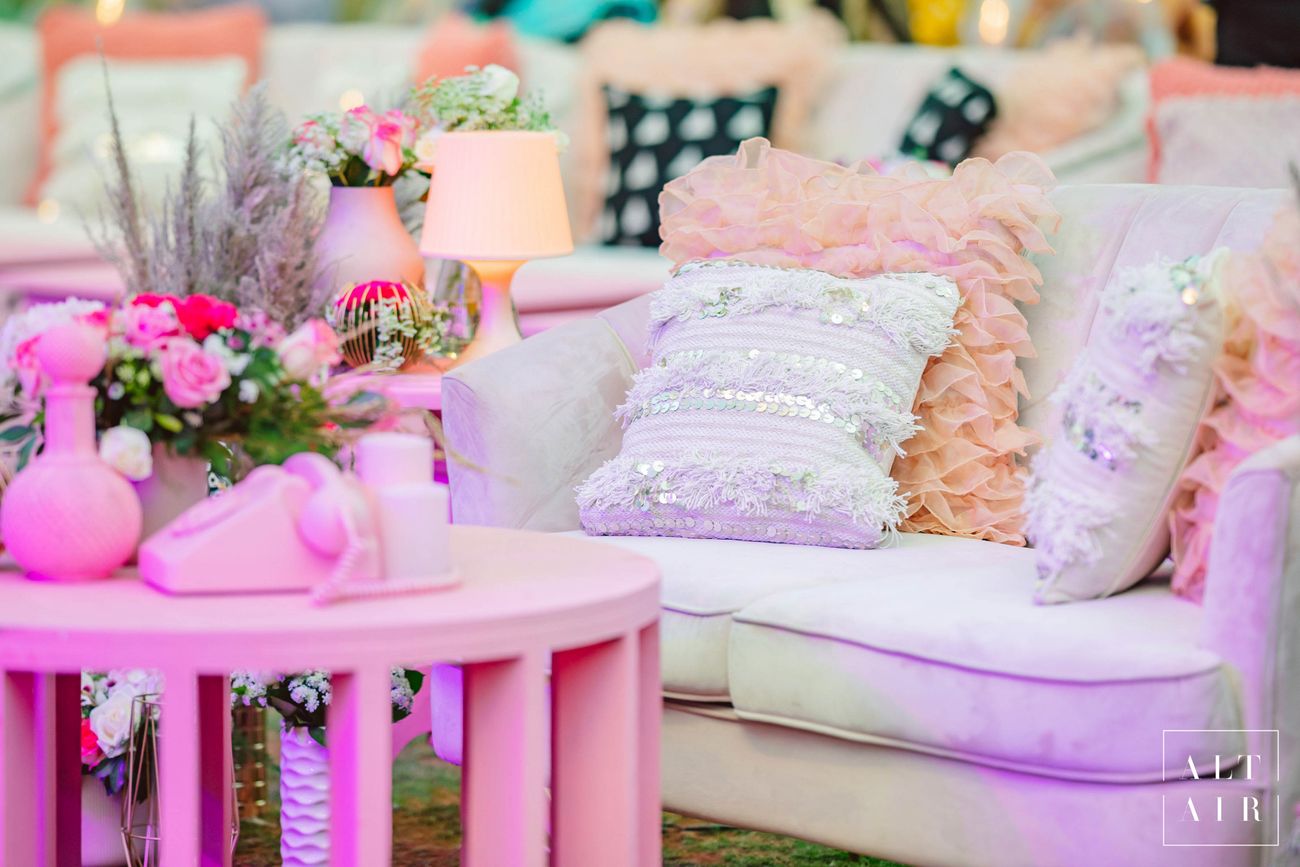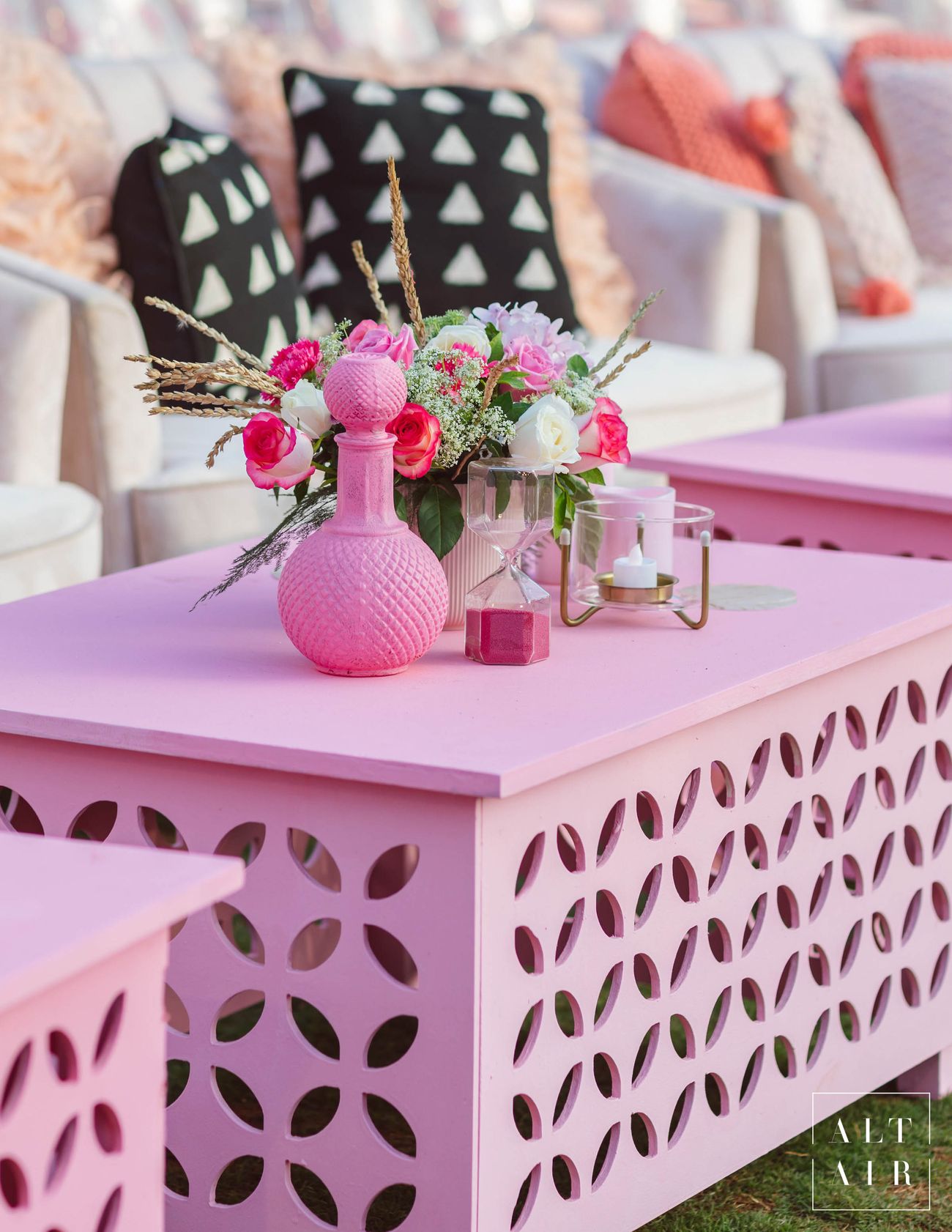 An extravagant mix of mystery, colours and textures.
Corner tables with florals and rustic elements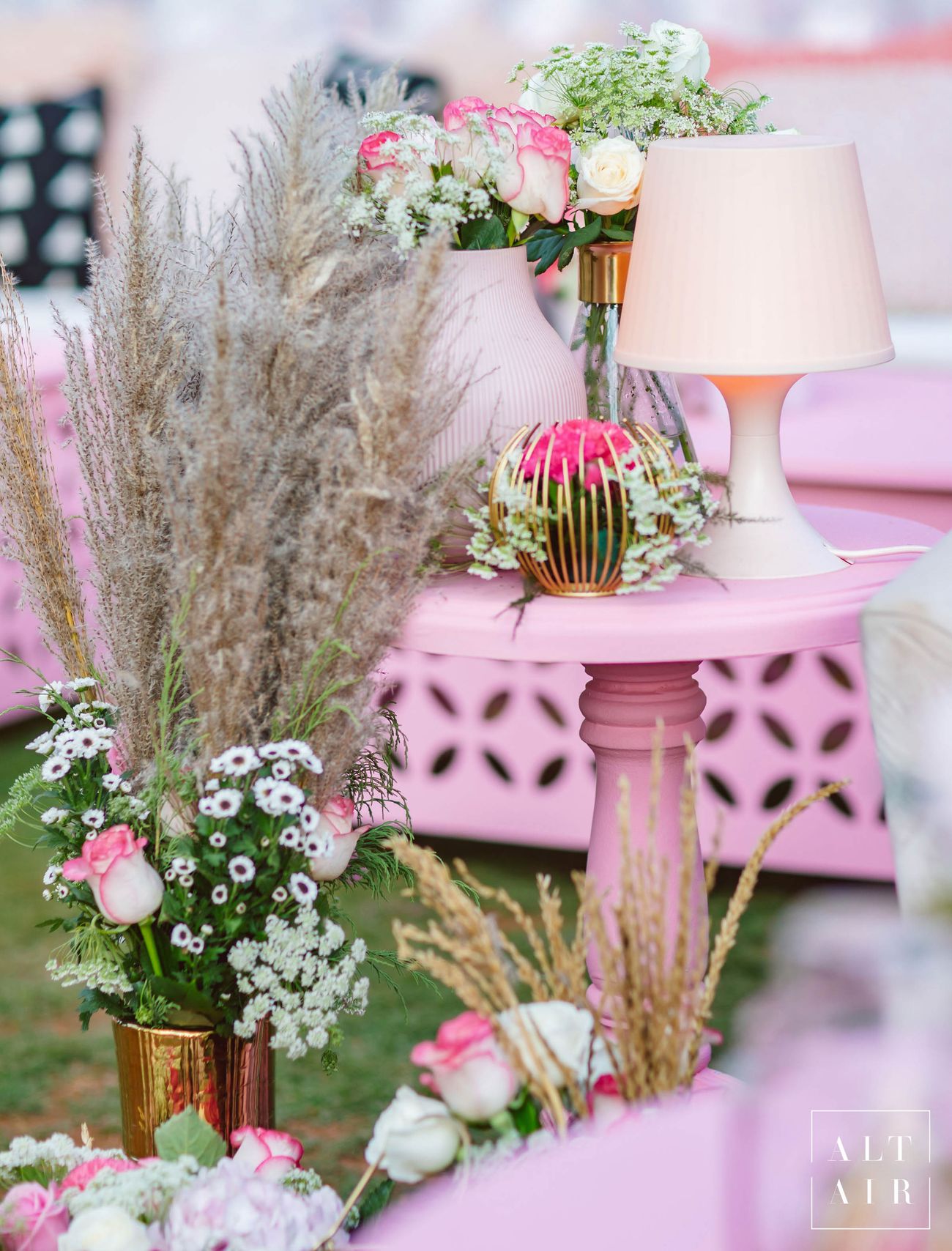 So adorable, right? With so much pink happening all over, the florals were there, but beautifully understated. 
And gorgeous table settings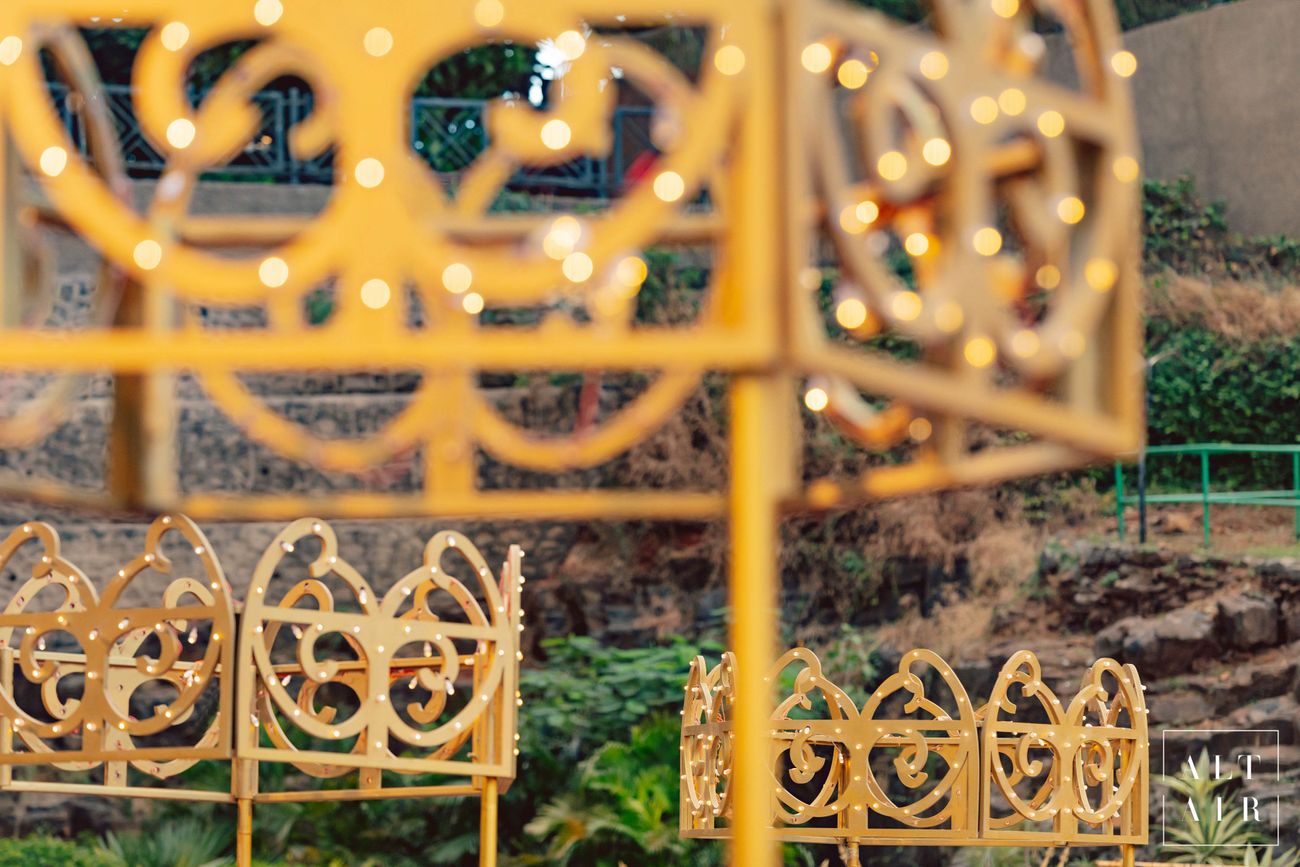 Round table structures with crowns and bulb studs on top and personalised notes with a floral runner on the tables! 
From Altair★ 5 :
"When you see a young duo getting married 'millenial' is what comes to your mind. They love to travel, they love to explore new things and they are curious. So needless to say that the space design for this one could not be run of the mill. The aim was to create a space which binded these charactertics together. Hence, we combined elements from the bride & groom's favorite places- clubs, bars, hotels, cities, etc. We curated curiosity rooms using frames with photos from stories of their lives, eclectic signage, unique furniture, geometric patterns and chandeliers. We were more focused on creating a vibe as opposed to overfilling props or using flowers in bulk. Each corner had a story to tell of its own, a story of the millenial couple and that's exactly how it was aimed to be."
Vendors: Venue : Taj Lands End; Design and Decor : Altair★ 5 ; Production : The Drama Queen; Decor Photography : The Wedding Salad★ 4.9 ; Photographer : Jodi Clickers★ 5
ALSO READ: Wedding Decorators Reveal: The Ultimate 2020 Decor Trends That Will Be Big At Weddings!