#Trending: Muhurtham Looks With Masks
BY Meenu | 25 Dec, 2020 | 10237 views | 2 min read
With the covid dominating everything in 2020 including weddings, we have seen how everyone is trying to adapt with the "new normal". The king of the new normal is a face mask and we've seen real brides rock it completely. We saw a few match it with their mehendi & bridal outfits and here we have brides who've matched it with their muhurtham kanjeevarams.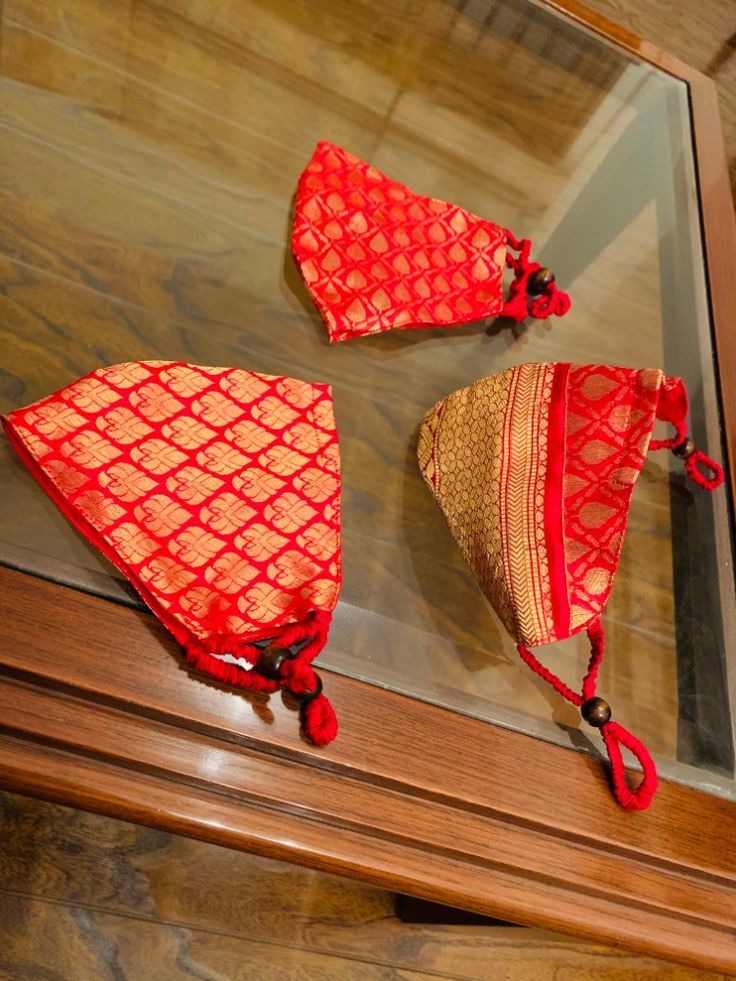 Image Via: Pinterest
Here we are to show you how these South Indian brides slayed it with a silk mask.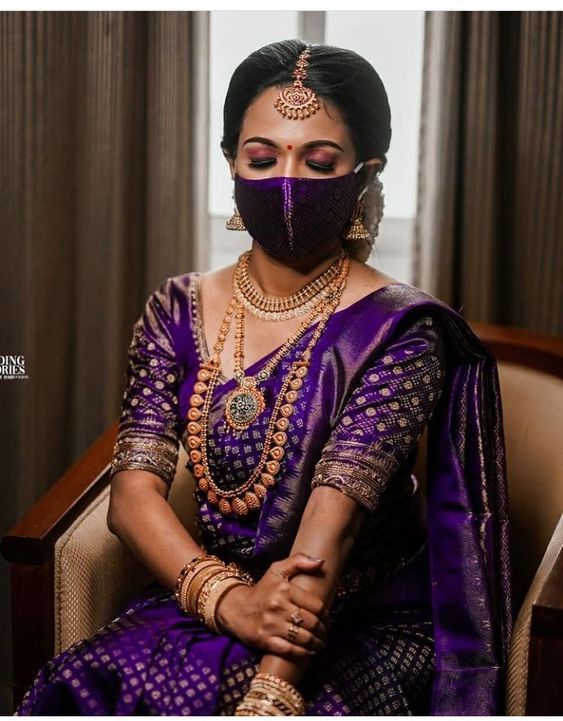 Image Via: Wedding Stories Photography
We love how this bride who already wore an offbeat color Kanjeevaram in tones of violet paired it up with a mask of the same color. How beautiful is this!!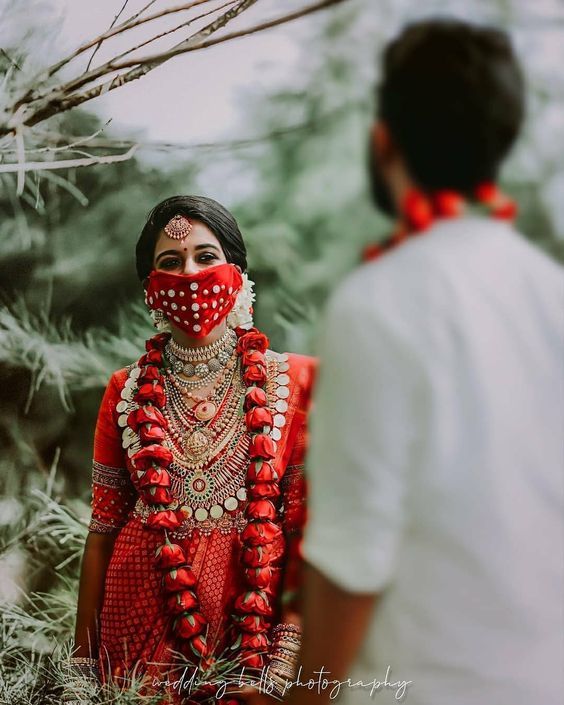 Image Via: Wedding Bells Photography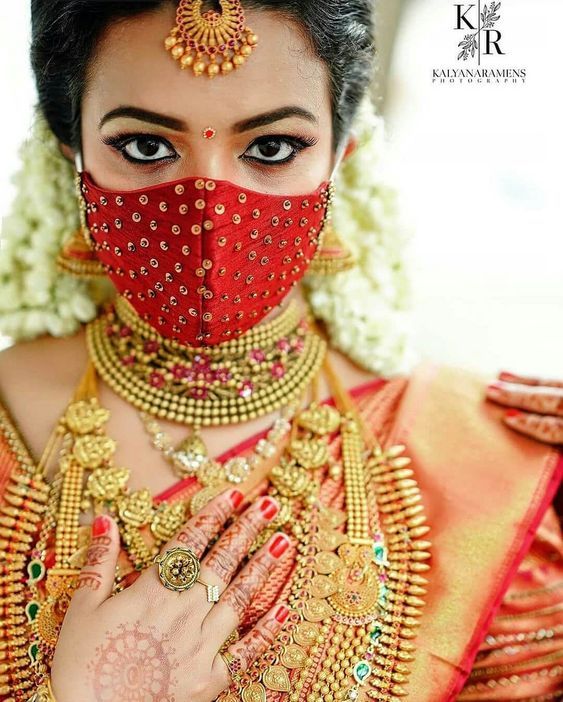 Image Via: Kalyana Ramens Photography
With a traditional red Muhurtha pattu saree, these two brides have opted for masks that are quite similar. Embellished and in red silk to match their saree. The embellishments just differ in size. However we <3 both!!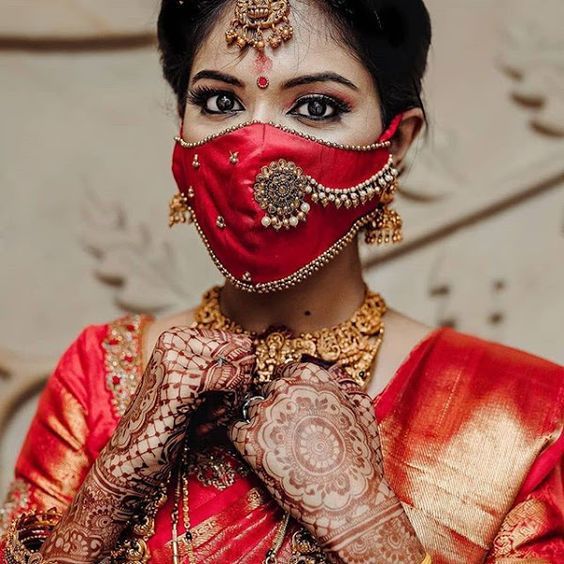 Image Via: Pinterest
For all those brides who are worried about how to show off your jewelry with masks, just check this for inspo!!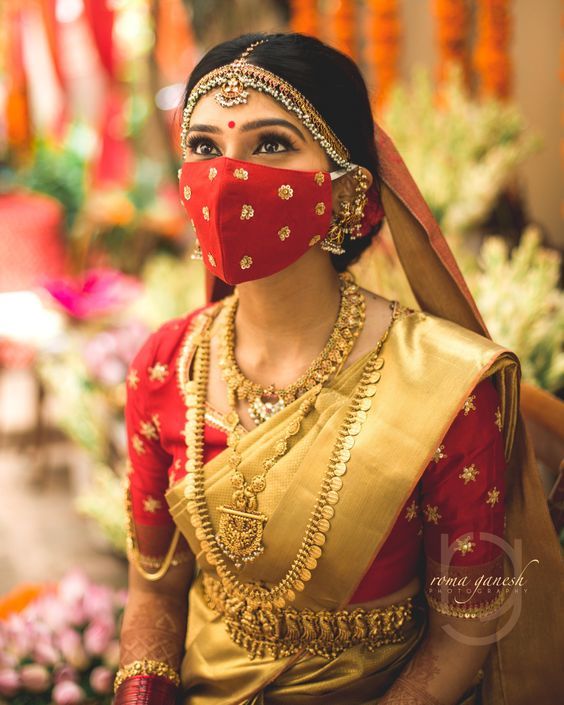 Image Via: Roma Ganesh Photography
This beautiful bride matched the embroidery of her blouse to her mask. We love how dainty it is and the contrast look for both the blouse and mask gets a thumbs up!!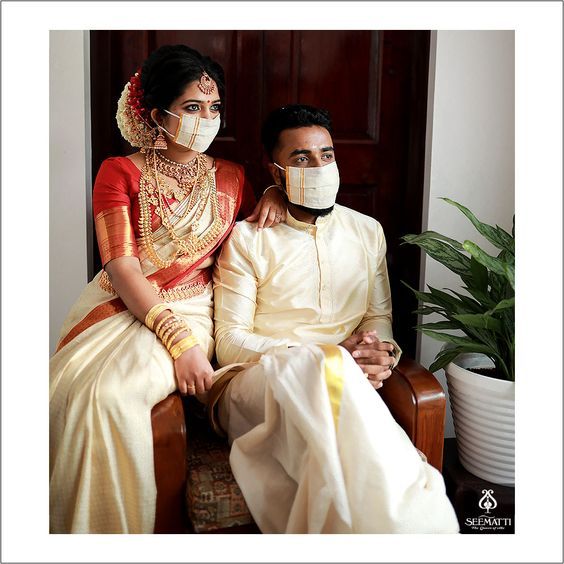 Image Via: Seemati Silks
We love this simple mask in cream silk. The bride and groom coordinated their masks too and its cute!!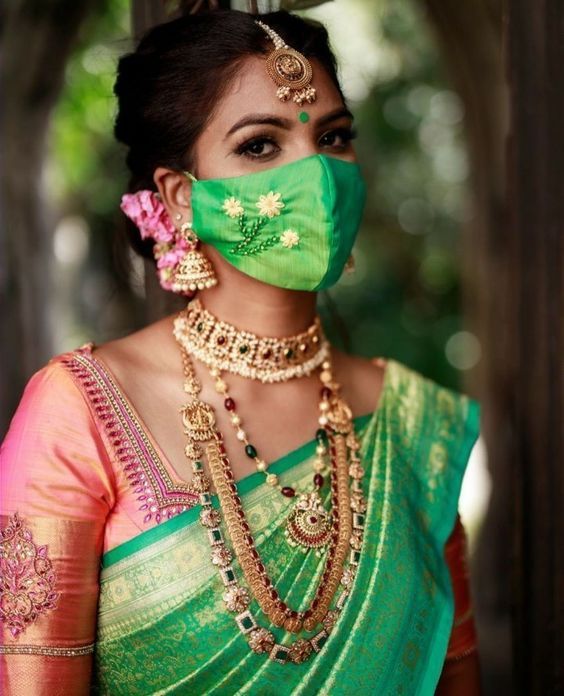 Image Via: Pinterest
When you are wearing a contrast blouse, but want the mask to be in the same color as the Muhurtha pattu, then best is to add a small element of your blouse color on your mask.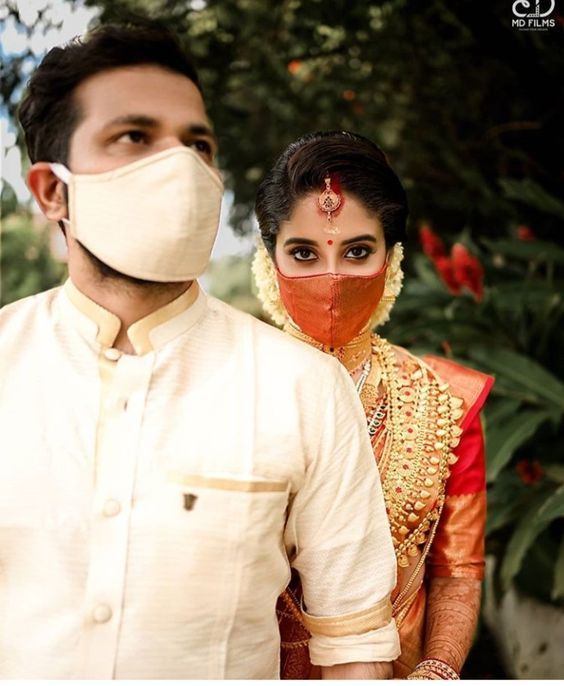 Image Via: MD Films
If you are debating about adding embellishments then opt for a plain silk mask like this bride.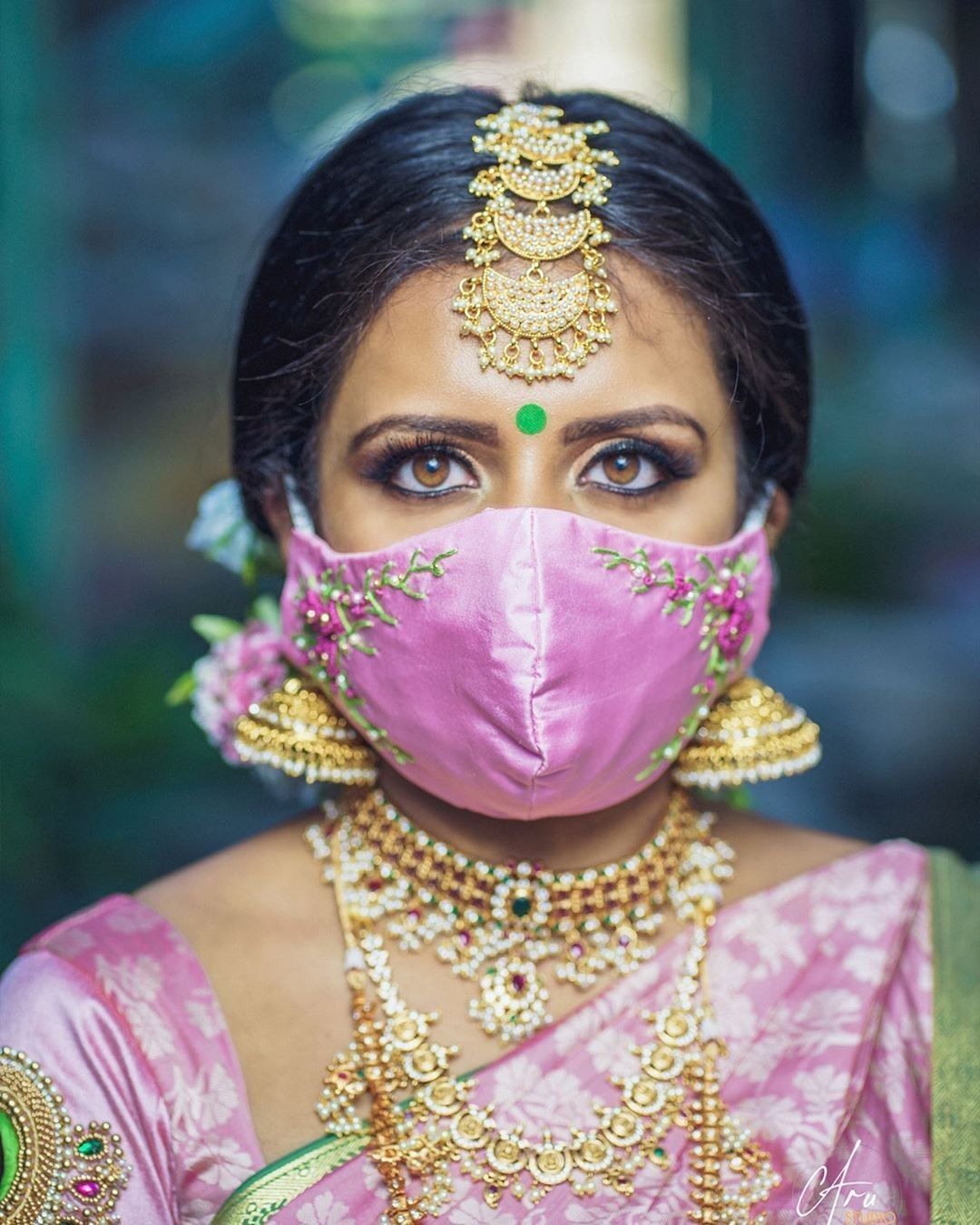 Image Via: Pinterest
This bride has totally rocked the masked look with a lot of detailing to her contrast bindi and the heavy nethi chuti.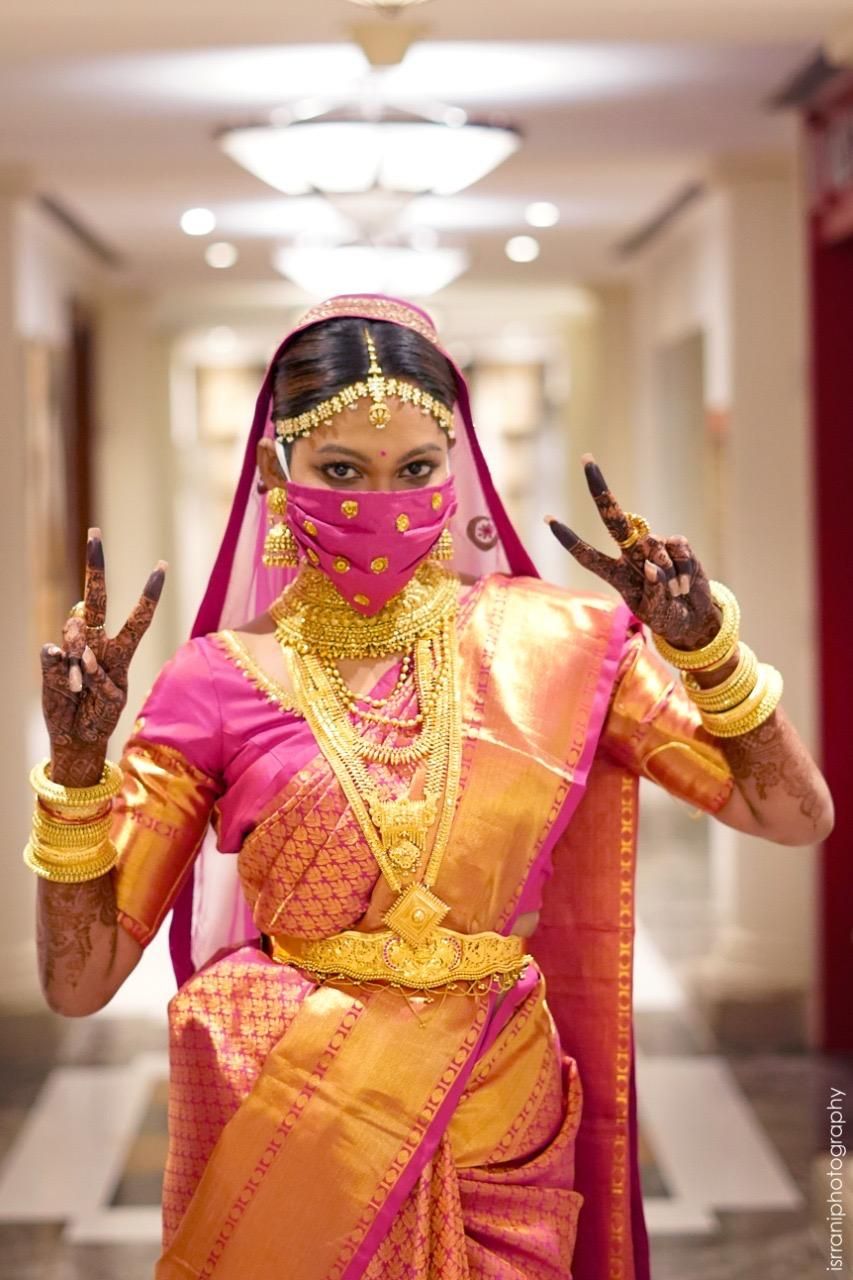 Image Via: Israni Photography
If you are planning a layered mask and wondering if embellishments will work, then this will stop your questions.
Oh, aren't you doing a photoshoot with your squad in masks? It is a thing now!! Choose multiple masks each to suit the vibe of the function. Let us know too!!