#Trending: Stackable Engagement Rings!
BY Sakshi | 19 Jul, 2016 | 5205 views | 4 min read
While we know our engagement rings to be either simple, with just a wedding band, or fancy, with a huge rock or tiny little diamonds on it, this particular trend mixes the two and much more!  The trend really caught on in Hollywood, with actresses like Kate Beckinsale, Eva Longoria and Jennifer Garner opting for it rather than the conventional engagement or wedding ring. The trend is expected to become even bigger this year, and is not expected to go out of fashion any time soon! And even if it does? Simple, unstack the rings and wear them! So what is it basically and how to go about it? Stackable engagement rings involve wearing two or more rings stacked together for an amplified impact. There are no specific rules on how they should be stacked, or what kind of rings should be stacked... so it makes it even more fun! There are so many ways you can wear stacked wedding rings- you can wear two, three or more bands on your left hand ring finger with your solid engagement ring on the right hand, or combine all your rings and stack them up for a statement ring. It is fun, looks super stylish, but can also be looked at a creative expression of sorts. Here are some ways we can suggest to go about it!
Keep it simple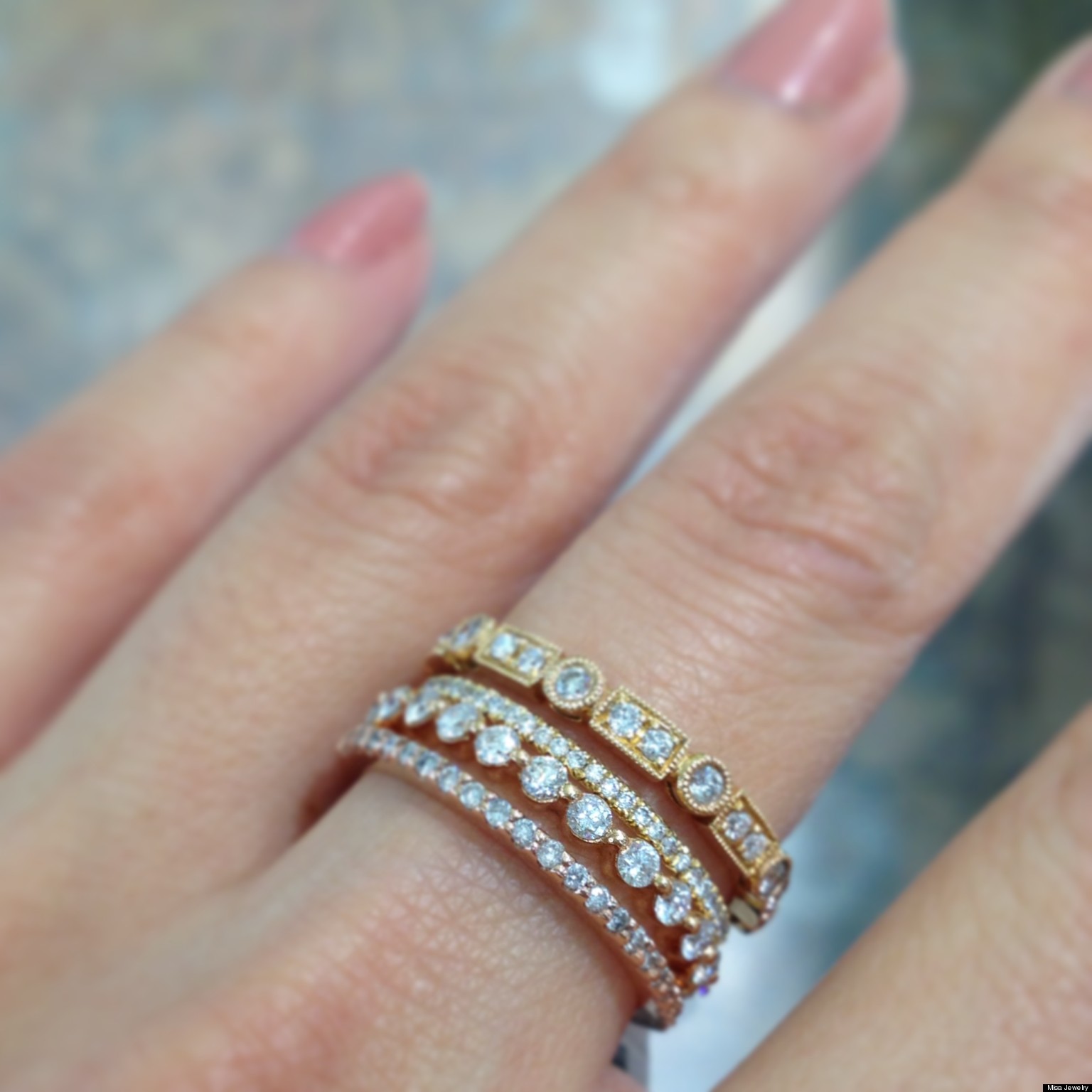 Photo Courtesy: www.huffingtonpost.in
The easiest trick to carrying off a stackable engagement ring look is to choose a simple wedding ring, and selecting two matching diamond bands to flank it on either side or only below it. One of the biggest trends abroad is to stack together an eternity band, a ring with coloured statement stones or a multistone statement band and a curved band or bands.
Build it up around a huge solitaire or band
Photo Courtesy: Pinterest
Choose a really pretty ring with a gorgeous rock or a band with intricate work in the centre and then, keeping that as the focal point, build up around it with some delicate plain rings or those with simple small diamonds! This looks so classy and creative at the same time!
Or lots of solitaires for a big impact!
Photo Courtesy: www.womangettingmarried.com
Expensive, yes. But makes for a very amazing statement ring!
Celebration rings
Photo Courtesy: Pinterest
Another cool idea is to keep stacking on rings to commemorate days... you can stack your proposal, engagement and probably some ring to mark and an epic event like a baby's birth or an anniversary... all on the same finger! It can be your own personal story... all on one finger! Abroad, a lot of women wear three rings to symbolise the three most important stages of your relationship: courtship, marriage, and parenthood.
For a smooth and streamlined look
Photo Courtesy: www.lananeimannyc.com
If you're a fan of uniformity, then you will definitely love this one! This means keeping the precious metal and the gemstone used same in all the rings... like all gold, all platinum with only diamonds. This makes it appear as one big ring rather than a mix and match stack of rings.
With a pop of colour!
Photo Courtesy: www.ritani.com
This would involve adding some pop of colour, or colours to the rings, with coloured gemstones! For example, a ring with emeralds or sapphires can be added for a pop of green to the centre, surrounded by diamond rings. There are a lot of options you can try out, but we recommend that you should keep the finishing consistent for something that looks like it belongs together.
Play it up a bit!
Keeping the size of the rings uniform, but playing around with the colour, shape and texture of the precious metal is another good way to make sure that it looks different, yet all goes together. For example, a rose gold ring can be stacked with a yellow gold and a white gold ring!
Refresh an heirloom or antique ring
Have been passed as heirloom, but don't really like the look of it, think it's too common or simple? You can mix and match it with other simpler rings around to have your own unique engagement ring, that too without hurting anyone's sentiments!