Wedding Invites: The Freshest, The Coolest, The Newest Trends We Ever Saw!
BY Sakshi | 03 Aug, 2016 | 949 views | 4 min read
You know how when someone says 'Indian wedding invite', there's just one image that pops into your head? Yes, it's the same simple/complex paper cards with something religious on top and then you open it to find one or multiple sheets inside which have the date, time, venue, maybe a map, the couple's name, parent's name and sometimes, a gazillion other names! Well, wedding invites have come a long way since then, and things seem to be slowly changing to make the invites simpler, more practical and functional!
Here are the top trends in wedding invites which are bound to give you some inspiration if you're looking to do things in a fresh new way rather than the traditional way cards have been done in our weddings!
With Envelope Liners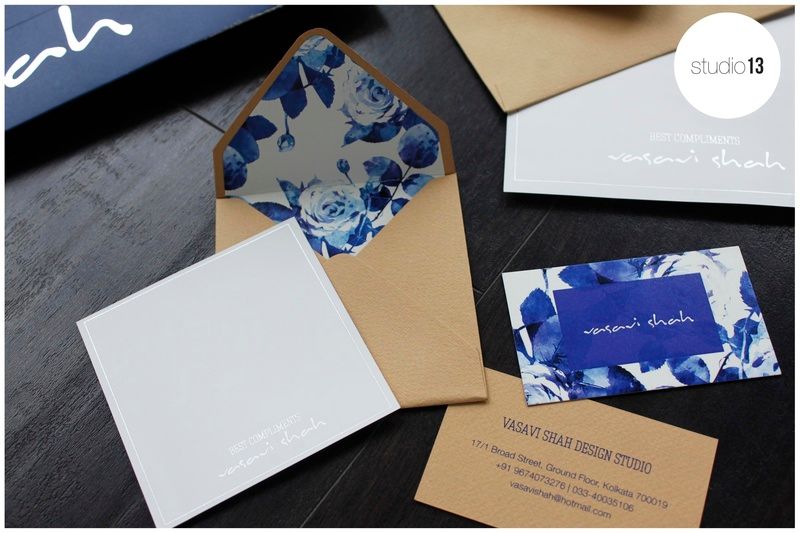 Photo Courtesy: Studio13★ 5
You know how you can get attracted to a handbag if the lining inside is very cute and interesting? That's the same concept with an envelope liner, which makes the envelope look more beautiful once it is opened! After all, it is going to be the first thing your guests will see when they open the envelope, so how about you make it more interesting and prettier?
Laser Cut Paper Invites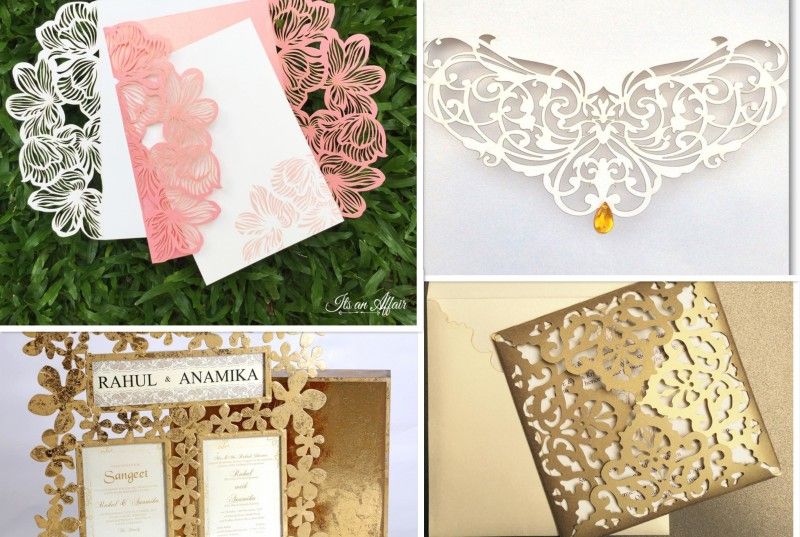 Photo Courtesy: D'OR Invitations★ 5 , Invitations by Its an Affair★ 4.9 , Opium Celebrations★ 5
These basically have paper which has been cut in a way to make it look like lace or metal! You can have the classic white or ivory look or get it done in an interesting colour!
Cards within a Card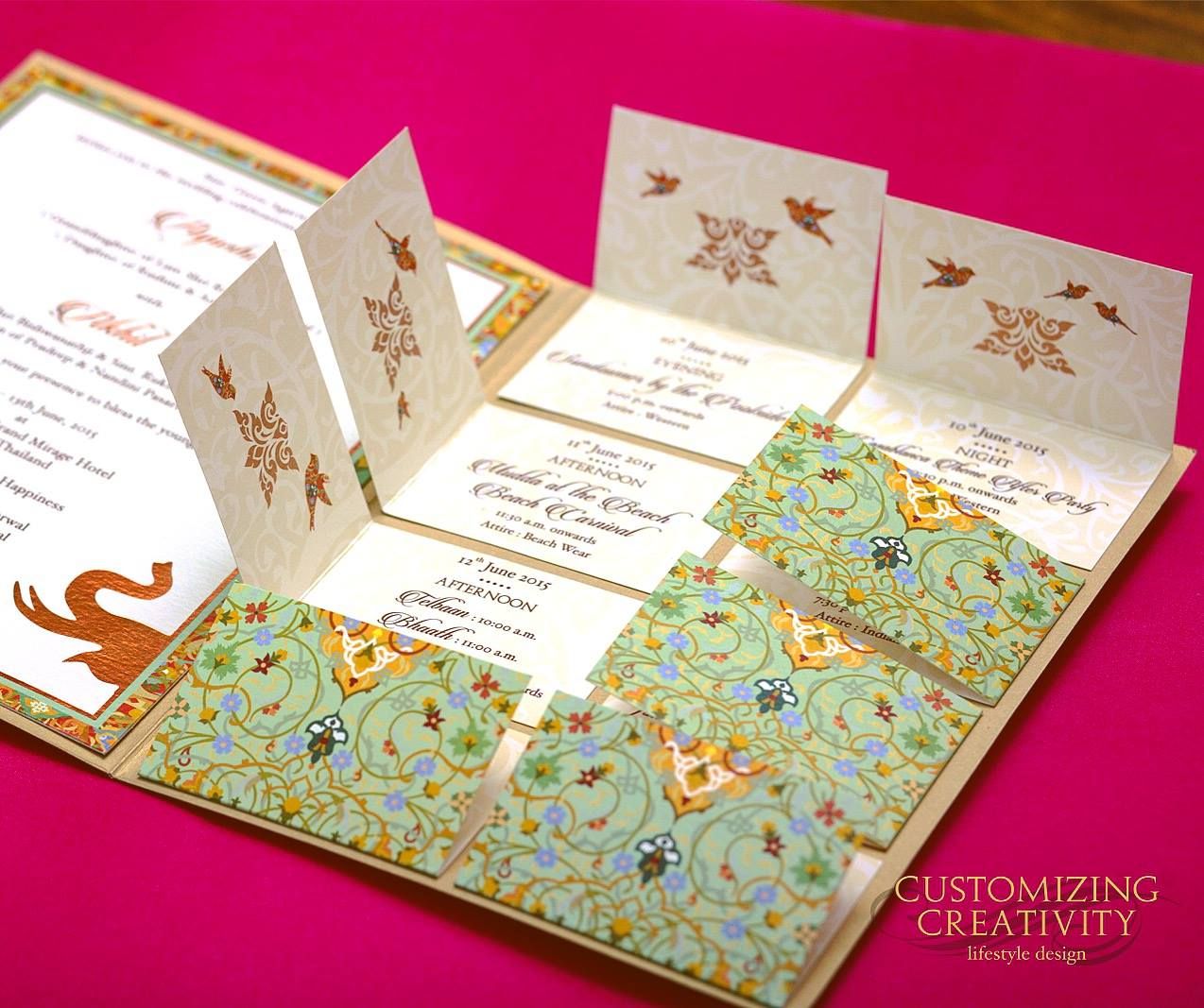 Invite by Customizing Creativity★ 4.9
Mini cards inside a big one, instead of having multiple leaflets is a surefire new trend that is here to stay.
Chalkboard Wedding Card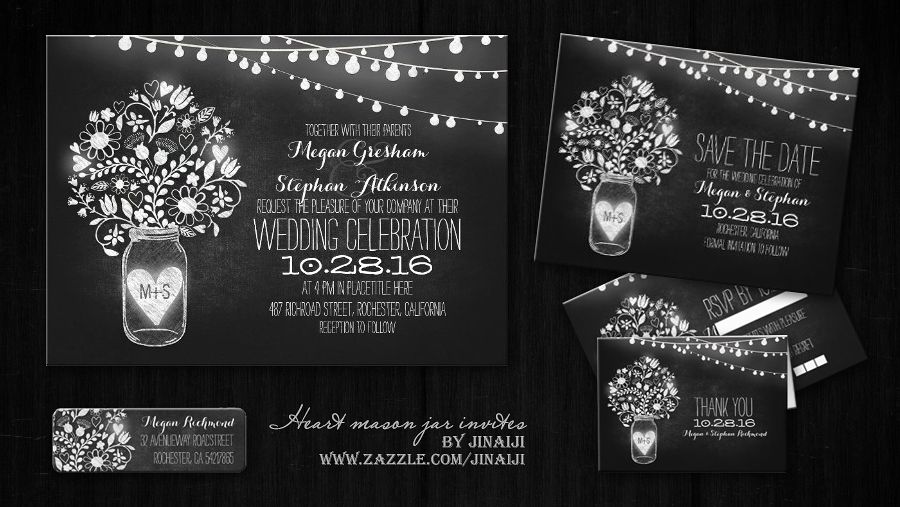 Photo Courtesy: www.personalised-wedding-design.com
How amazing is this? A wedding card printed with chalkboard effect is something your guests wouldn't have seen, and this can turn out to be quite a hit!
Royal Vibe Wedding Cards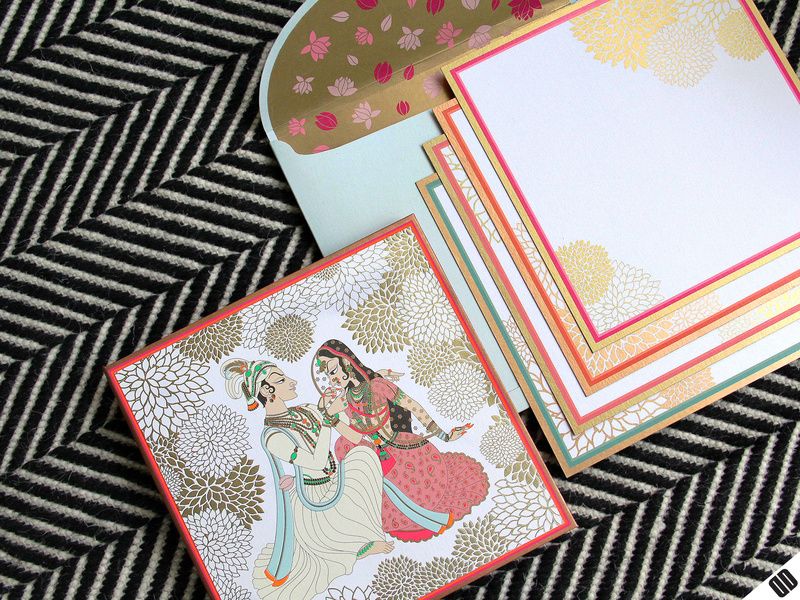 Photo Courtesy: Design Dimensions★ 5
Having a fort wedding? Then this is something that'll go perfectly with the theme! This is the perfect balance between an over the top royal card and something that's way too simple... sort of a modern Mughal style!
Luxury Card Sets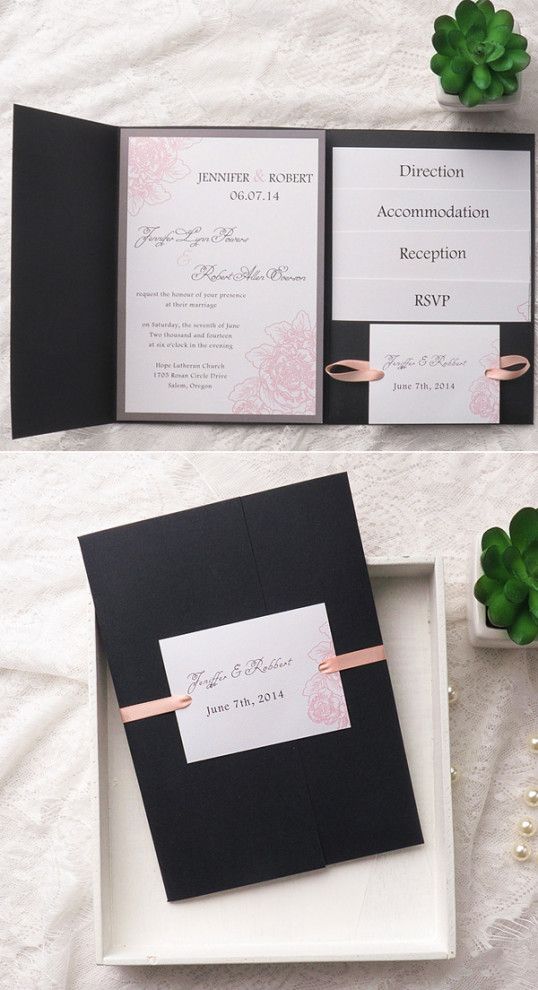 Photo Courtesy: www.elegantweddinginvites.com
If you are the types who loves organised things, then you're gonna love this one! These include separate cards which are arranged inside the main invite like your cards in the wallet, which are super functional in case of a destination wedding, as cards can be earmarked and pulled out according to choice, which makes it super functional and neat!
Chic and Foldable Invites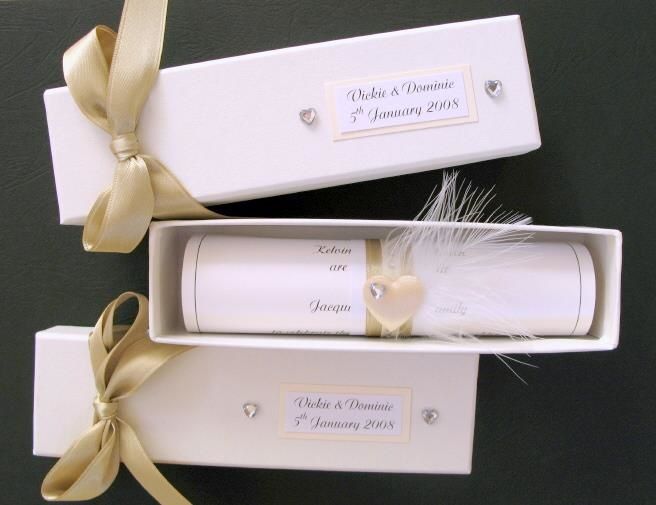 Photo Courtesy: Rajratan Paper Products
While scroll style invites have been done to death a bit, these are a refreshing change! Lightweight and so very stylish, these are perfect for a glam and classy wedding!
With a tease about the wedding theme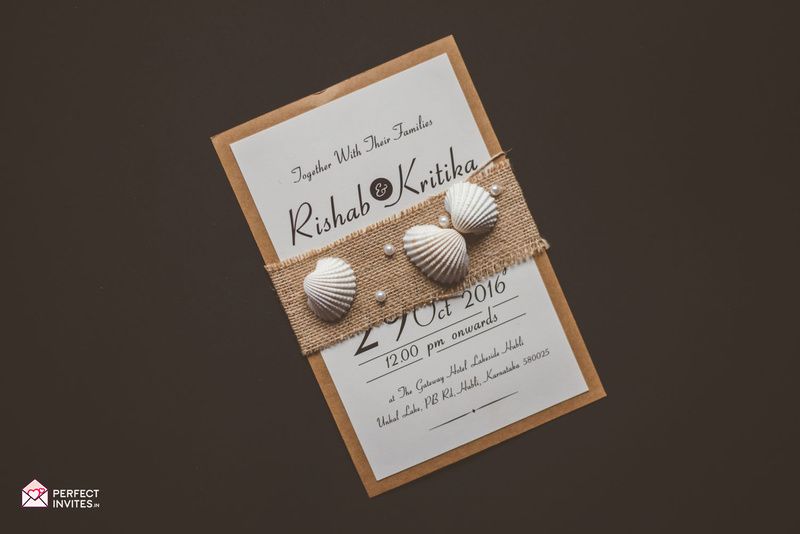 Photo Courtesy: Perfect Invites★ 4.8
Having a beach wedding in Goa? Add some shells to the invite! Having a forest wedding? Pack a dried flower or leaf with inside each invite! These will set the tone and make sure the guests get even more excited for the wedding!
Just Fonts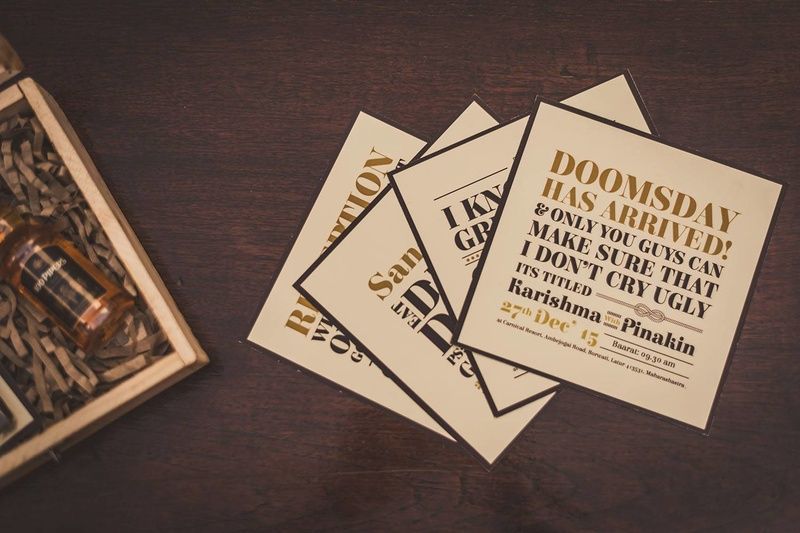 Photo Courtesy: Perfect Invites★ 4.8
No fuss and so effective!
Clear Plastic Invites
Photo Courtesy: Entertainment Design Company★ 4.2
Another no fuss card... just with a colourful see-through twist!
Illustration Invites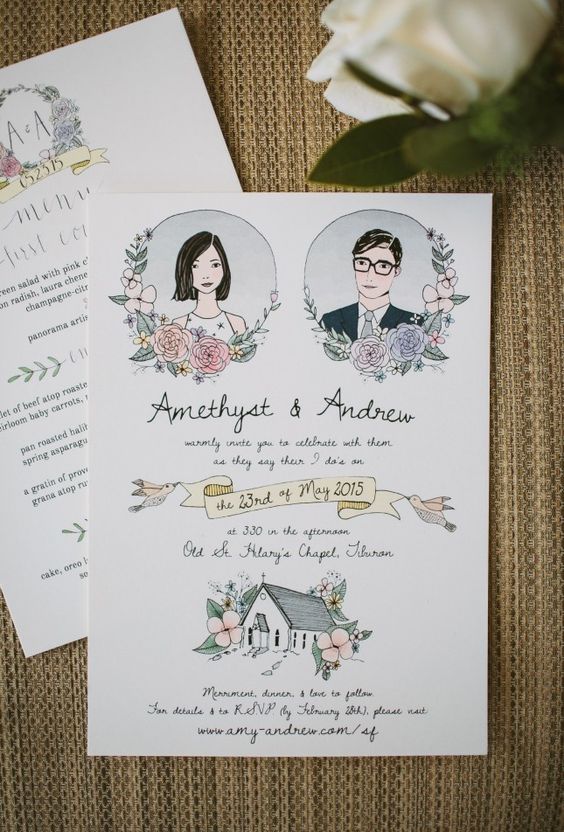 Photo Courtesy: Pinterest
Very mod, very Parisian. A lot of couples are opting for these fashionable cards!
Handloom Cloth Invites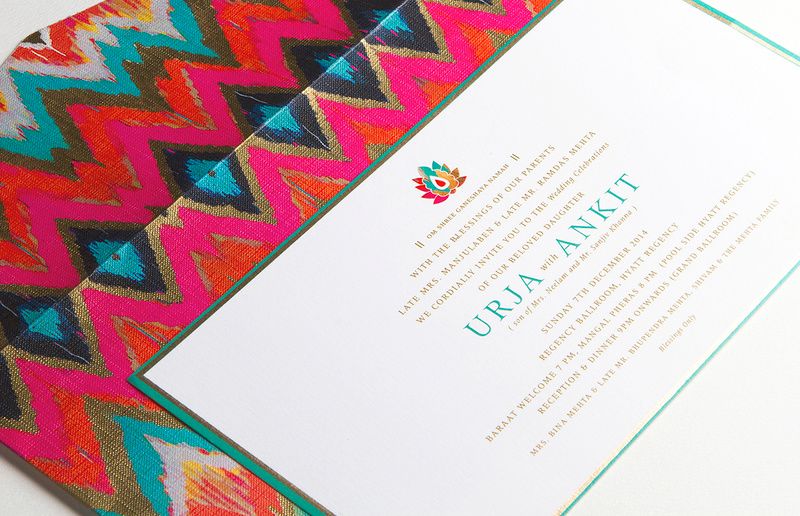 Photo Courtesy: ArtsyDesignCo★ 4.6
How pretty does this ikat print invite look? You can choose any handloom print cloth or even brocade to do up your cards with a difference!
Graphic and Geometric Invites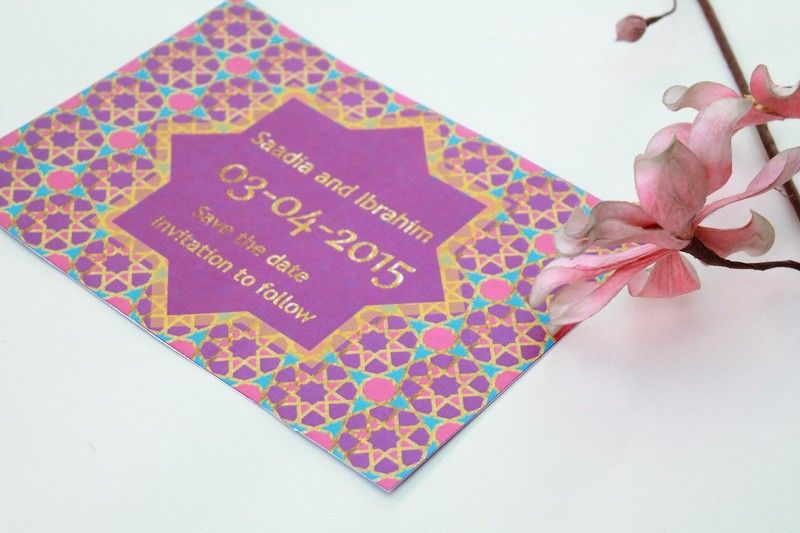 Photo Courtesy: Pretty Gilded Designs★ 5
These look super modern and funky! Not just with the graphic on top, but play around with the shapes of the tiny cards inside like the map or the RSVP card as well! If you're planning a fun and colourful wedding with interesting décor, then this is a good theme to set right from the start!
Circular Invites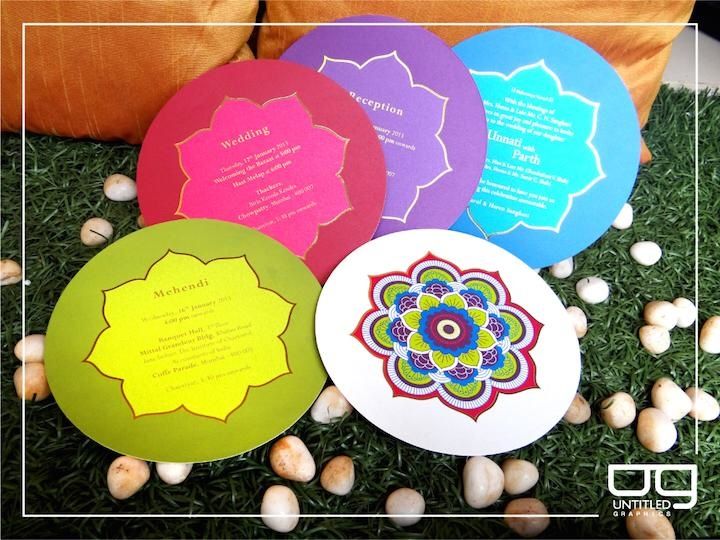 Photo Courtesy: Untitled Graphics
These are a pleasant change from the usual 'squarish' cards that we see! Put them in a box or have discs joined together, these cards are interesting and different!
Whatsapp wedding invites is also in trend these days. Head over to our guide to whatsapp wedding invite to know more.
And yes, if these full fledged cards do not catch your fancy, then Miniature Invites are also a thing! If you don't know what they are, then click here to know more!