Wedding Wishlist : Cream & Gold !
BY The WMG Bride | 11 Mar, 2014 | 138 views | 3 min read
They are saying Cream is the NEW Black !! Well okay, no one is really saying that I made it up but sometimes amidst all the colors of an Indian wedding all a bride has got to do to stand out is incorporate gorgeous tones of white and cream (I know I know, most moms of brides to be are up in arms and want to curse WMG for even putting the thought of having ANYTHING white in the wedding . Totally unfair dont you think- almost all gorgeous sarees are either cream or black and they dont let you have either in your trousseau!) But just incase you are allowed peeks of cream, dont forget to give these stunners a look!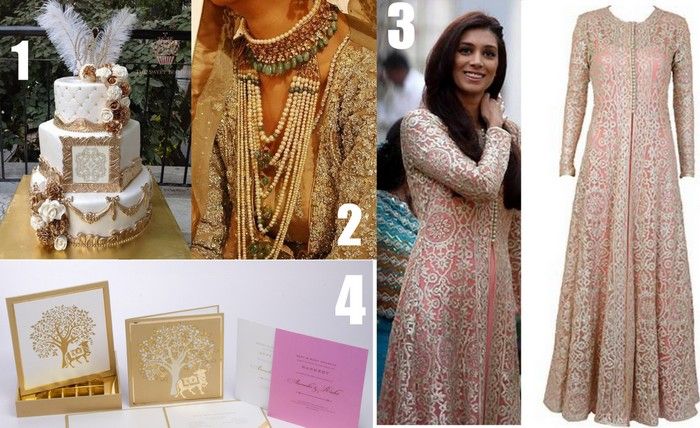 1. Cream and Gold Cake by the Sweet Boutique Delhi
: The only danger of having this cake at your engagement- it may just overshadow you !! We adore those little feathers from the back and the bits of gold roses on white makes for an altogether gorgeous wedding cake that we are pretty sure everyone will be talking about!
2. Pearls and gold with a smattering of mint stone
s : No idea who this is by, but has been pinned from donlucas.com . Fell in love the minute we saw it! There is an undefinable elegance about pearls that we just cannot ignore !
3. Blush Floor Length Jacket by SVA
: Fell in love with this the moment we saw it, so much so that we couldn't even care less that it doesn't fit in with the 'Cream & Gold' theme of our wedding wishlist. That is actress Preeti  Desai attending the recent deol wedding. How fast can we say 'Gorgeous!' Hair up in a messy bun, smokey eyes and long earrings is all you need for an ultra glam look on your own engagement!
4. Gold and White cut out Wedding Card  by Turmeric Ink
: We have a soft spot for all things cut out and this metallic gold and white Indian wedding card is super fab and unique. Whats also brilliant- get both versions of these printed (The white with gold tree and gold with cut out tree) , and give one color to the boys side and one to the girls  . (Girls side gets the gold...obviously)
By the way you can browse inspirations by color on Wed Me Good. Just click the color bar on our home page.
For more gold inspirations go here: Gold Indian Wedding Inspirations