WedMeGood Indian Wedding Industry Report 2021-2022
BY The WMG Bride | 15 Feb, 2022 | 7522 views | 7 min read
2021 has been a tumultuous year for the wedding industry. In keeping with our annual survey, we polled over 3000 users and wedding vendors on WedMeGood and analysed over 120,000 data points within our app on how the year (Jan 2021- Jan 2022) had changed the scale, size and preferences of the industry. Here is what we found..
1. The scale of weddings in 2021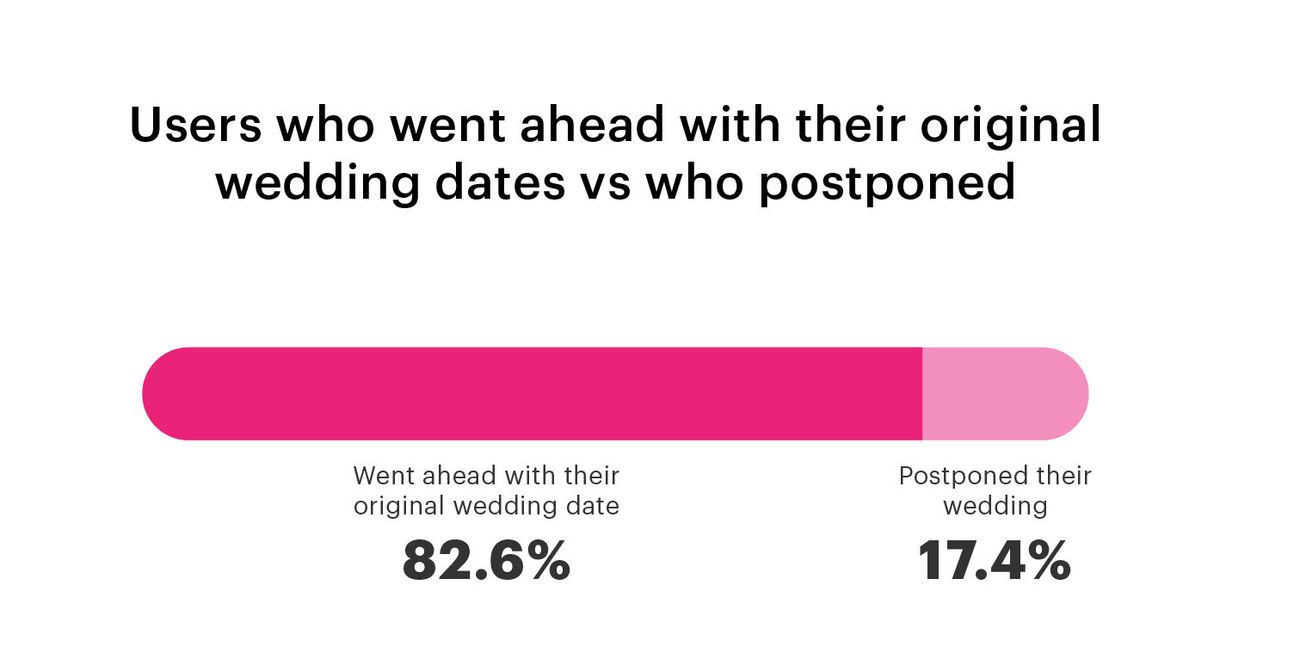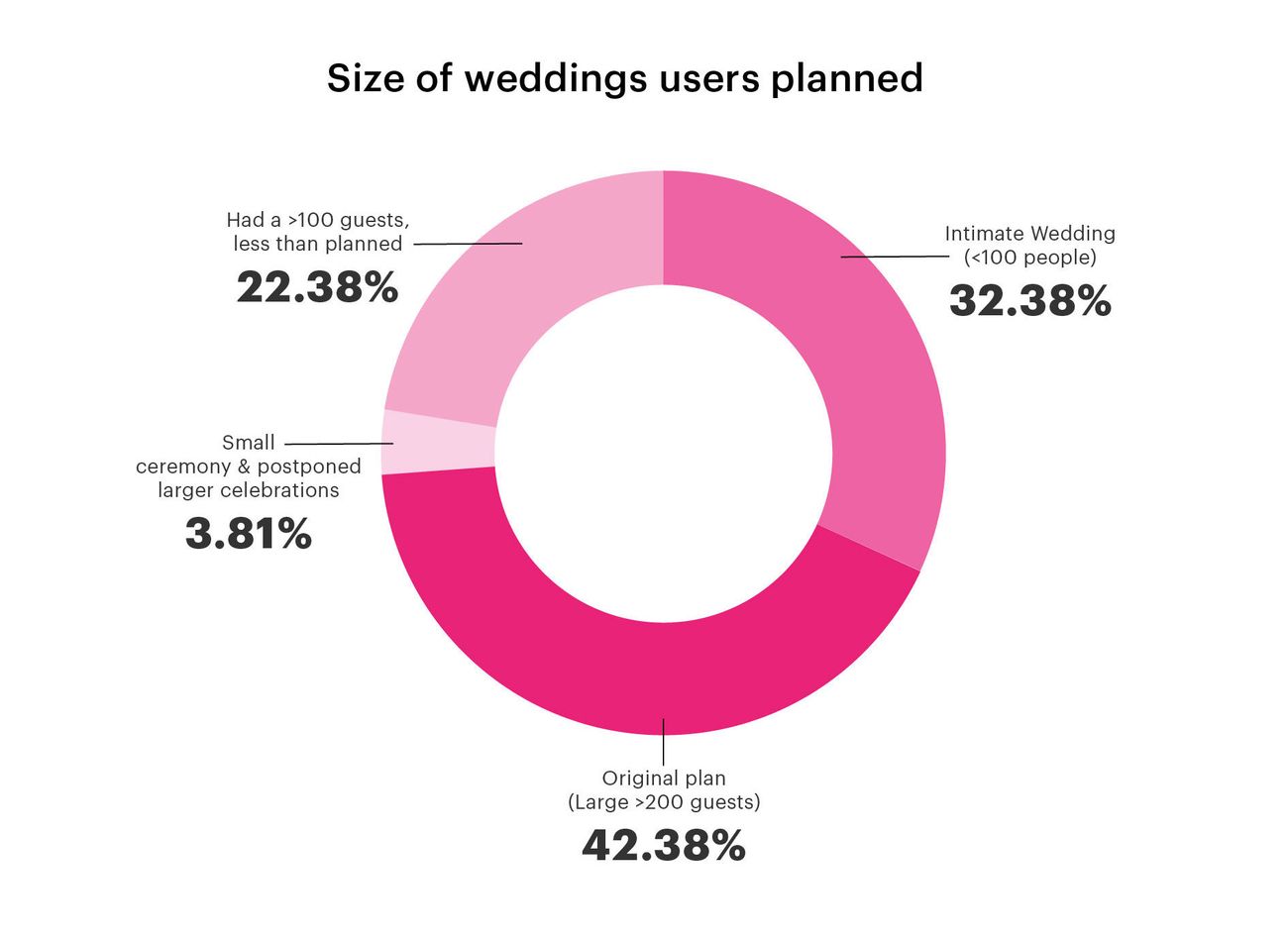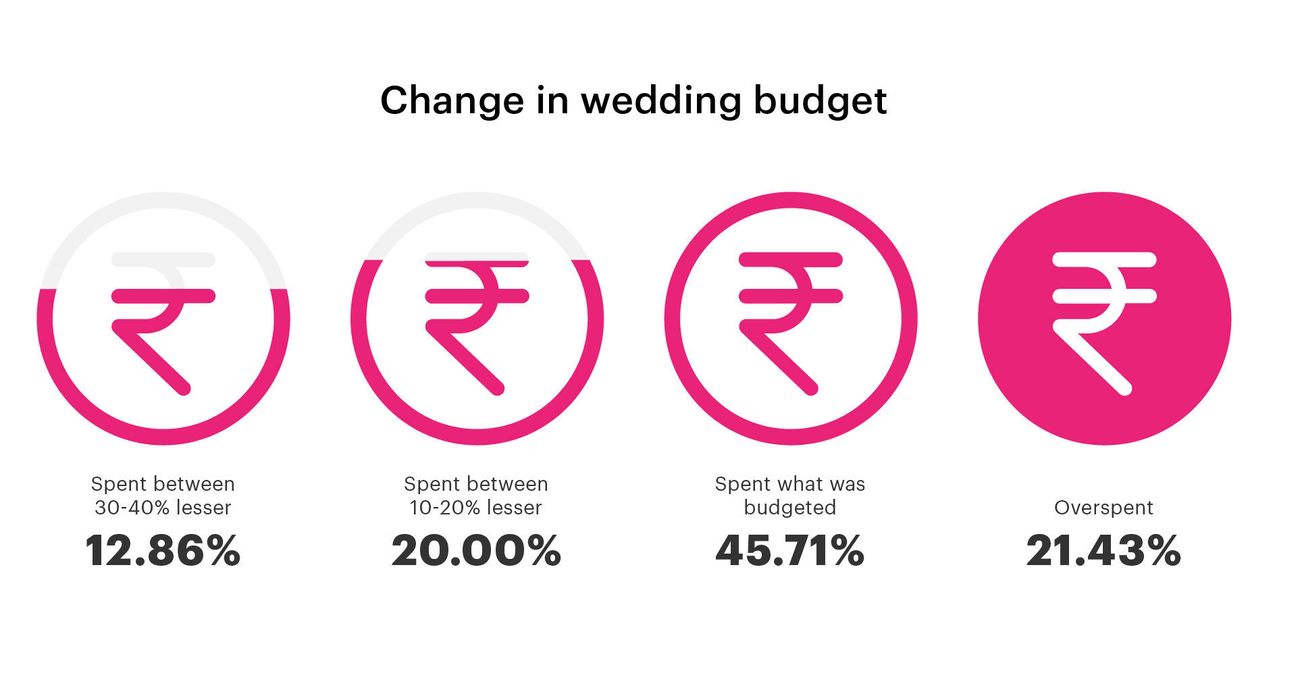 Based on our data, 83% of our users responded that they went with their original wedding dates and on other hand 17% responded that they postponed their weddings.  While 42% of users responded that they went ahead with their original guest list (200+), the balance all cut short their guest lists in keeping with covid surges. What's interesting to note however is that a third of the people responded by saying that while they did not have an intimate wedding (under 100 pax), it was smaller than they had originally planned. This may simply also be because Covid acted as an accelerant to what was already happening in the wedding industry- a gradual reduction in guest count year on year.
While it was presumed that since many users were forced to reduce the scale of their weddings, their wedding budgets too might have been reduced. 33% of all respondents mentioned that they spent lesser than what they had originally budgeted, however, the balance mentioned that they budgeted the same or overspent. If we look only at people who planned intimate weddings, within that group more than 60% mentioned that they spent lesser than previously imagined. Let's take a look at which categories suffered the most cutbacks in budget
2. Change in Spending Patterns
Wedding venues, catering, entertainment, planning, the decor were the most impacted categories with the majority of people saying that they cut down spending in these areas. However, categories like wedding apparel, beauty and jewellery did not see a significant drop in spending since only 6-7% of users said they spent less on wedding wear and jewellery. Followed by photography & makeup artist where only 9-10% of users said their spending had been reduced.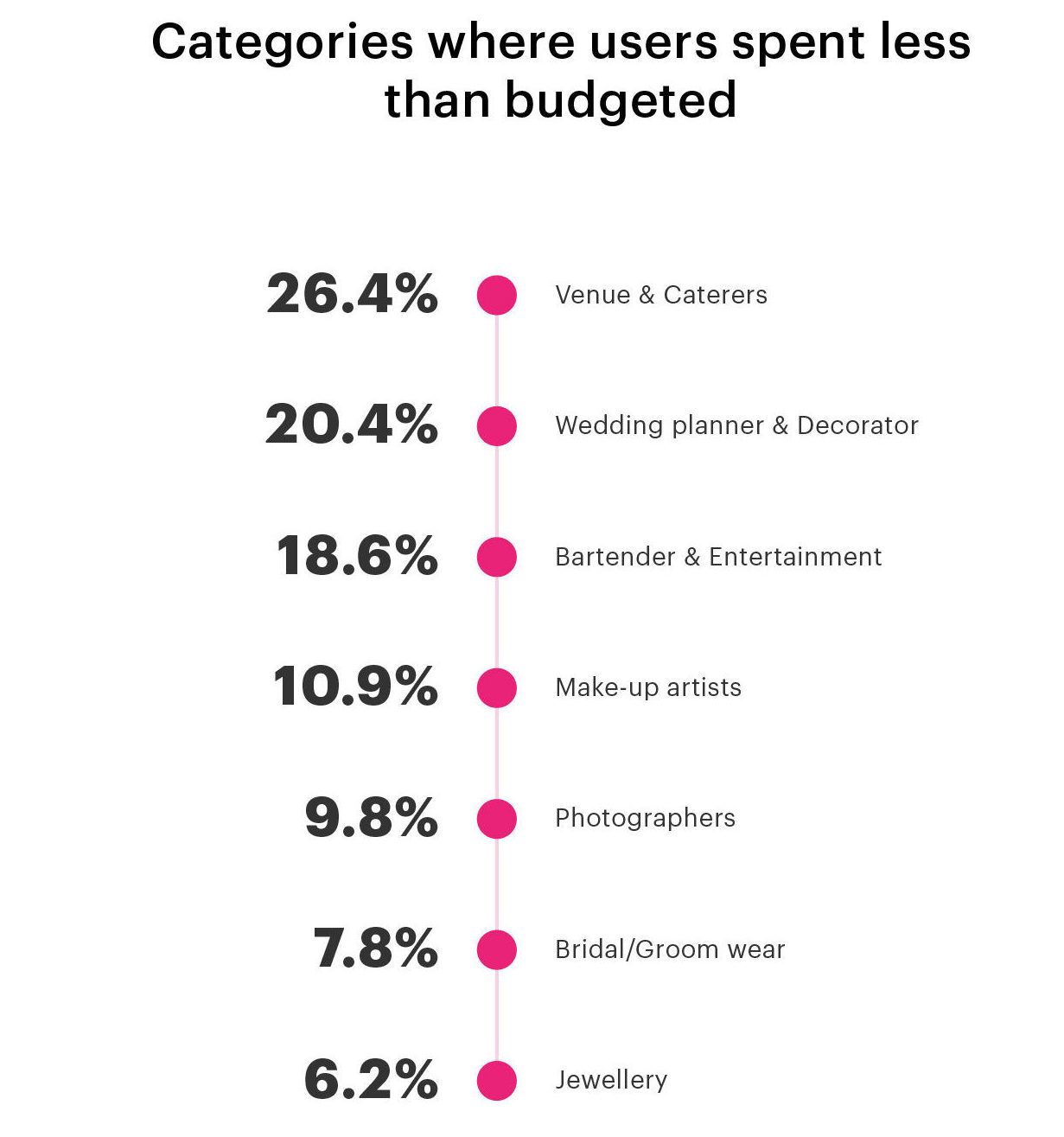 3. Effects of Covid-19 on wedding businesses
The following inputs are derived from wedding vendors registered on WedMeGood.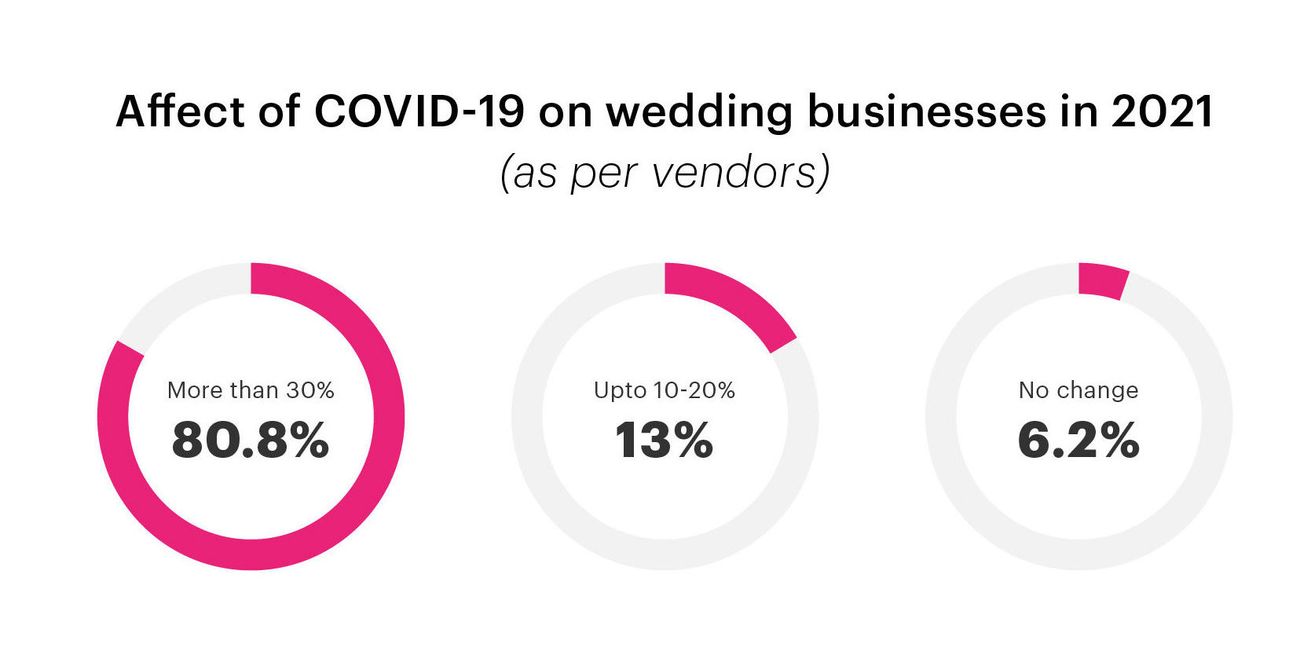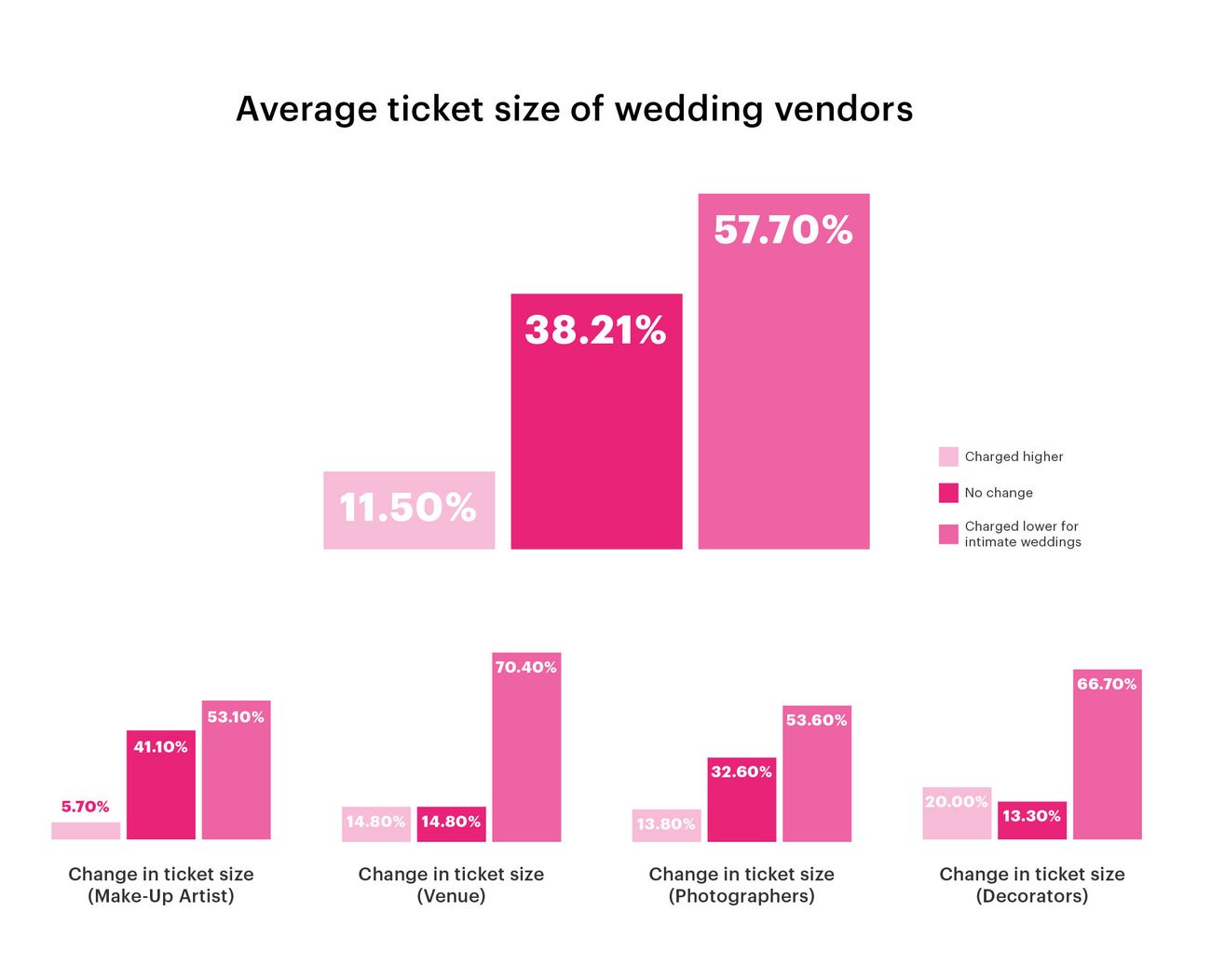 More than 80% of vendors agreed that more than 30% of their business was affected. Only a minority of the vendor population mentioned that they had witnessed minor or no change (6-10% only).  The most impacted businesses were wedding planners and decorators which can be attributed to the 180-degree change in the wedding industry's day-to-day operations due to the pandemic. The least affected businesses were that of wedding photographers and makeup artists.
With the ups and downs in the wedding industry due to COVID-19, we also noticed a fluctuation in how much vendors charge for their services. More than half of the total vendor population responded that they charged lower than their average pricing bracket for intimate weddings and smaller gatherings.  38.21% of vendors said that they did not change their pricing and there were 11.5% of vendors claimed that they charged higher for their services. Vendors like wedding venues (70.4%) wedding planners (58%), decorators (66%) and photographers (53%) responded that they charged lesser for less than 100 pax weddings. On the contrary, around 41.1% of bridal makeup artists responded that they did not change their pricing.
4. Change in Wedding Industry in 2021
1. Outdoor vs Indoor venue:
New priorities have reshaped the way couples say "I do." Outdoor venues are in higher demand post covid and the number of couples opting for an outdoor venue for their celebrations has increased drastically. About 25-30% of our users chose outdoor venues to mark their celebrations to lock in higher standards of safety.
2. Customer concerns expressed to vendors
We witnessed how weddings changed post-pandemic with that we also noticed how the ideology of couples planning the wedding changed too. To understand this better we asked our vendors to tell us what were the major concerns expressed by their clients while booking them. The majority of the vendors (36%) responded that their clients were most concerned about their work and their reviews (29%) and only 6% of vendors said clients were concerned with referrals as well. With stringent restrictions and numerous guidelines put in place, there was little to no clarity about when would it be ideal to have a wedding this attributed to couples being very particular about the cancellation/postponement policies such as flexible dates, refunds etc under such circumstances and approx 19% of our vendors claimed the same.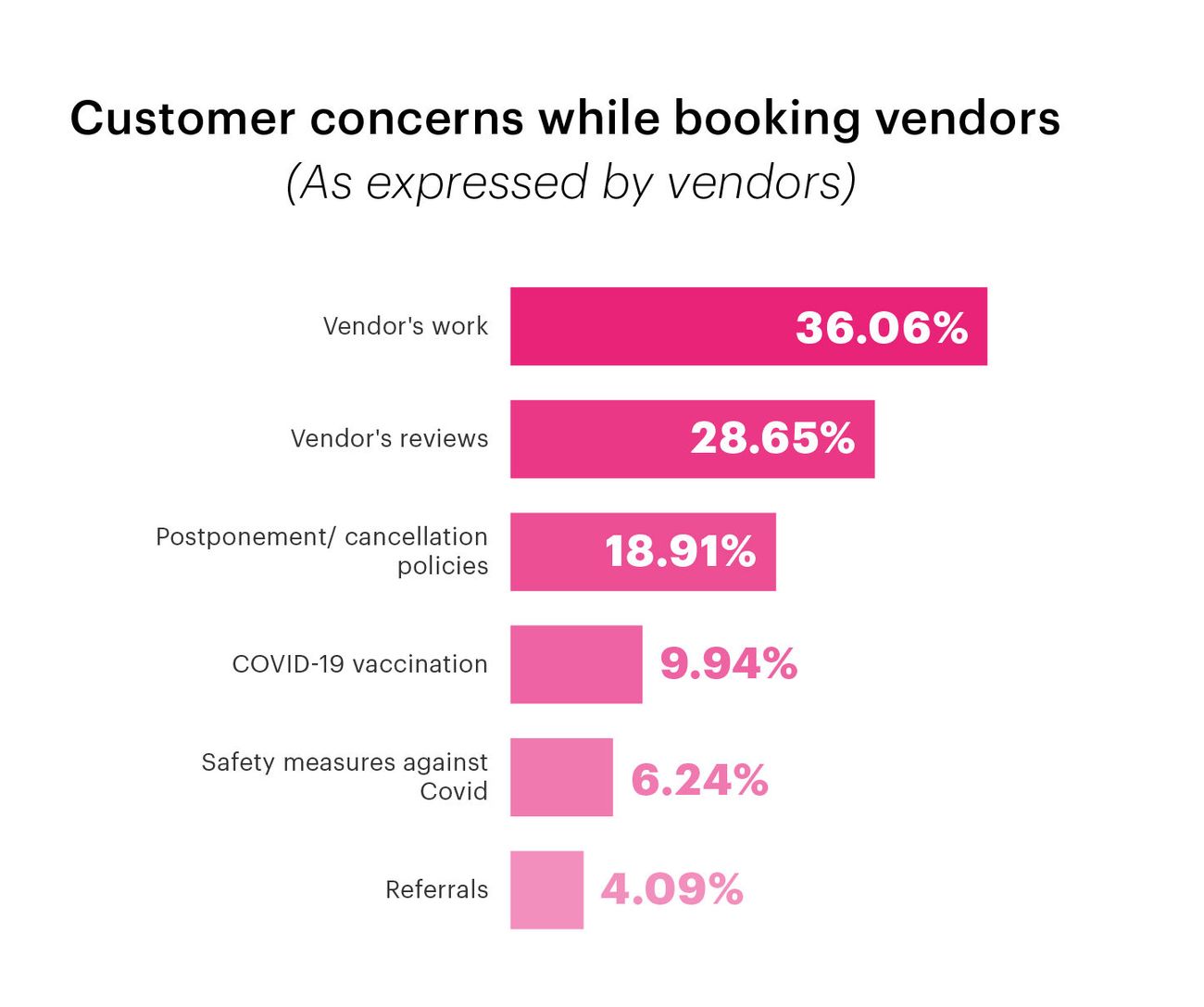 3. Precautions against Covid-19 taken by users while booking vendors: 
When asked about covid precautions our users took while booking their vendors, a majority of them (59.05%) responded that the vendor and their staff being vaccinated was a major concern. However, 39.52% of our users wanted the staff to be on the premises with a negative RT-PCR, despite them being vaccinated. With the guideline for weddings during covid being unclear at its best, our users had to plan to accommodate all these changes in their lists. This resulted in 50.95% of our users being stringent about the refund policies of vendors before booking them and 37.14% wanted their vendors to be flexible with the dates.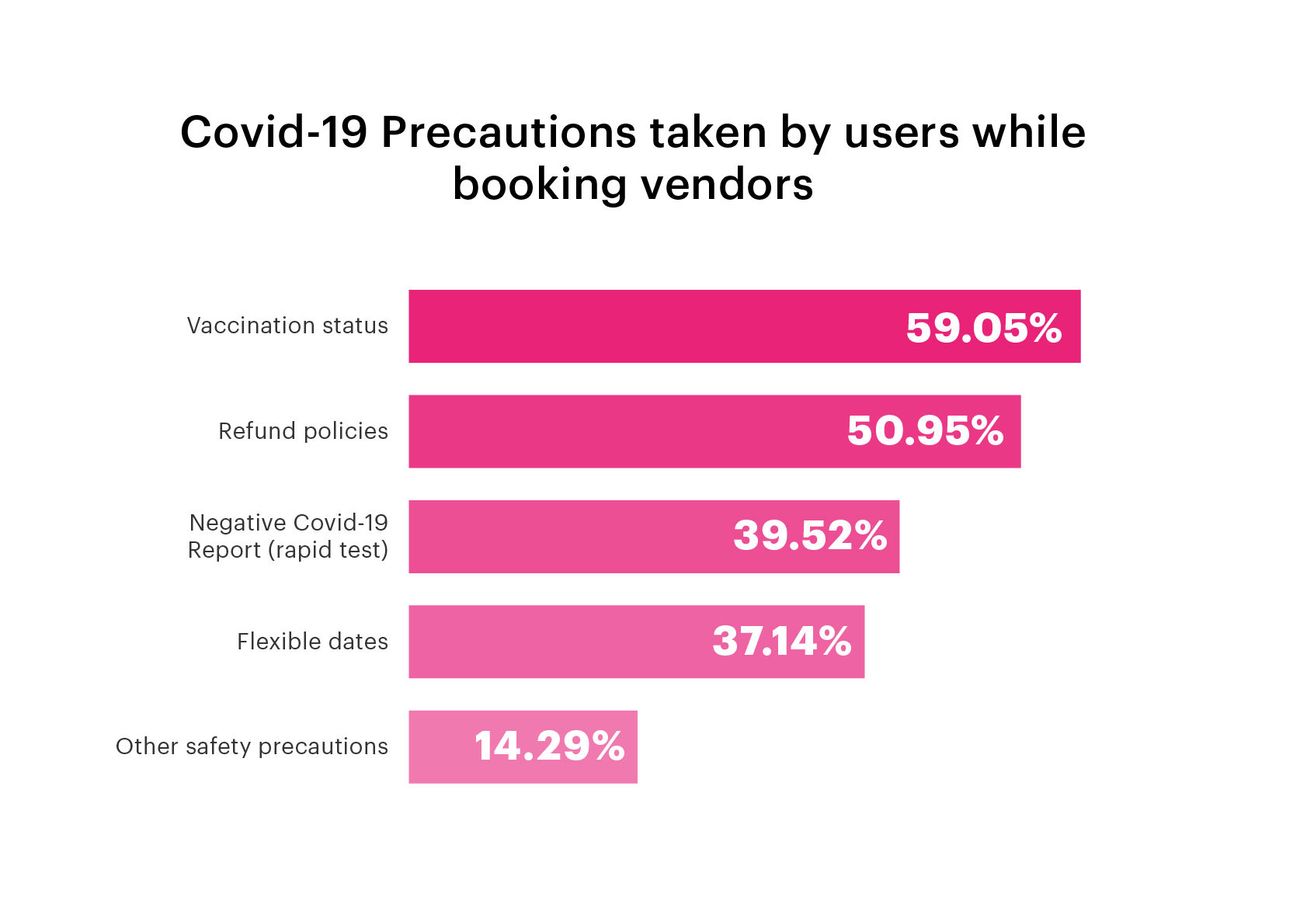 4. Vendor booking mediums: 
We witnessed a major digital influx in the way users booked their wedding vendors.  Except for venues (where more than 70% of venues reported that people discovered them offline), other categories showed a higher digital adoption with an even split between those wanting an online vs offline meeting. Additional data shows that 23% of users found their vendors via social media, another 26% via wedding planning apps, and balance via word of mouth.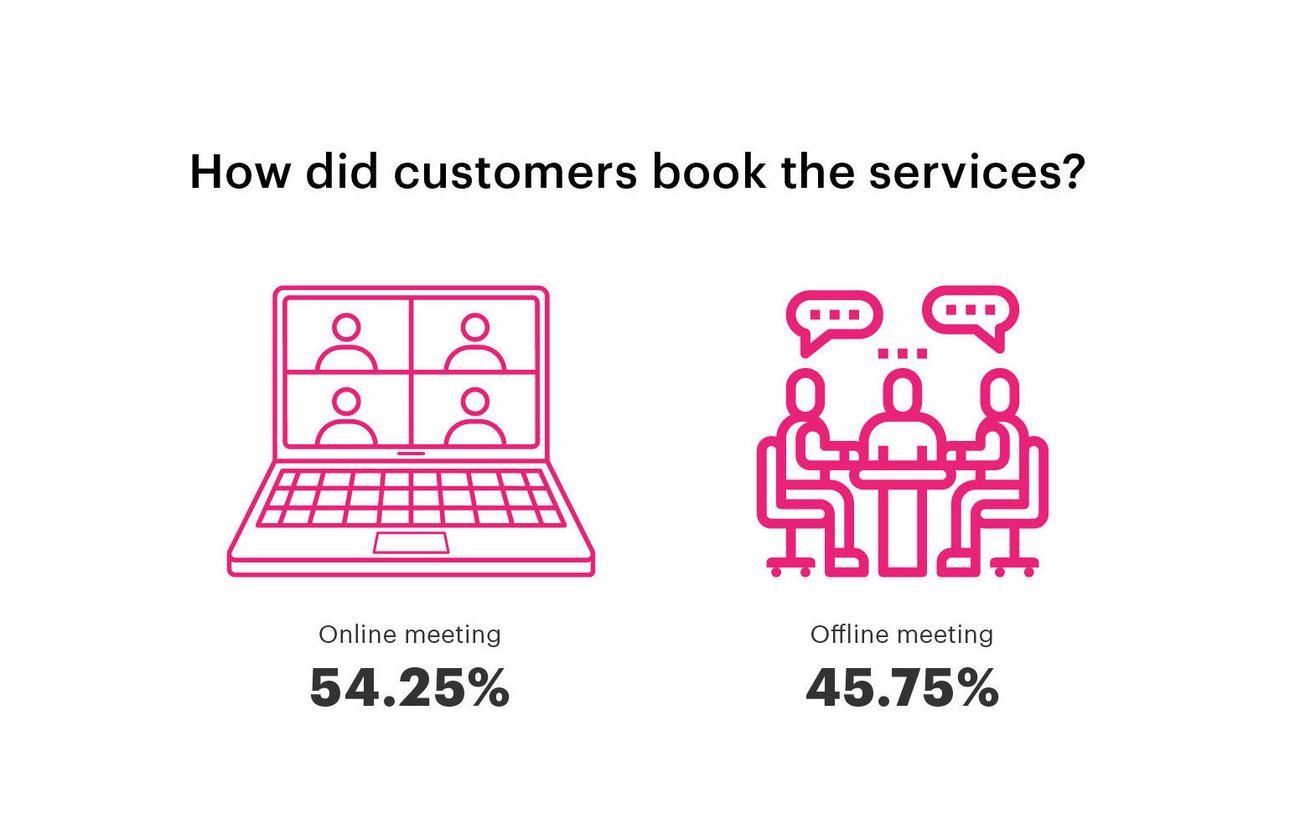 5. E-invitations vs Traditional Invites
Invites is a category that has seen a huge digital jump post covid. Couples have become creative with their invitations and we saw that 31.90% of our users sent out only e-invites for their wedding and 59.05% of users sent out both traditional and e-invites. However, users who resorted to sending traditional invites were only 9.05%.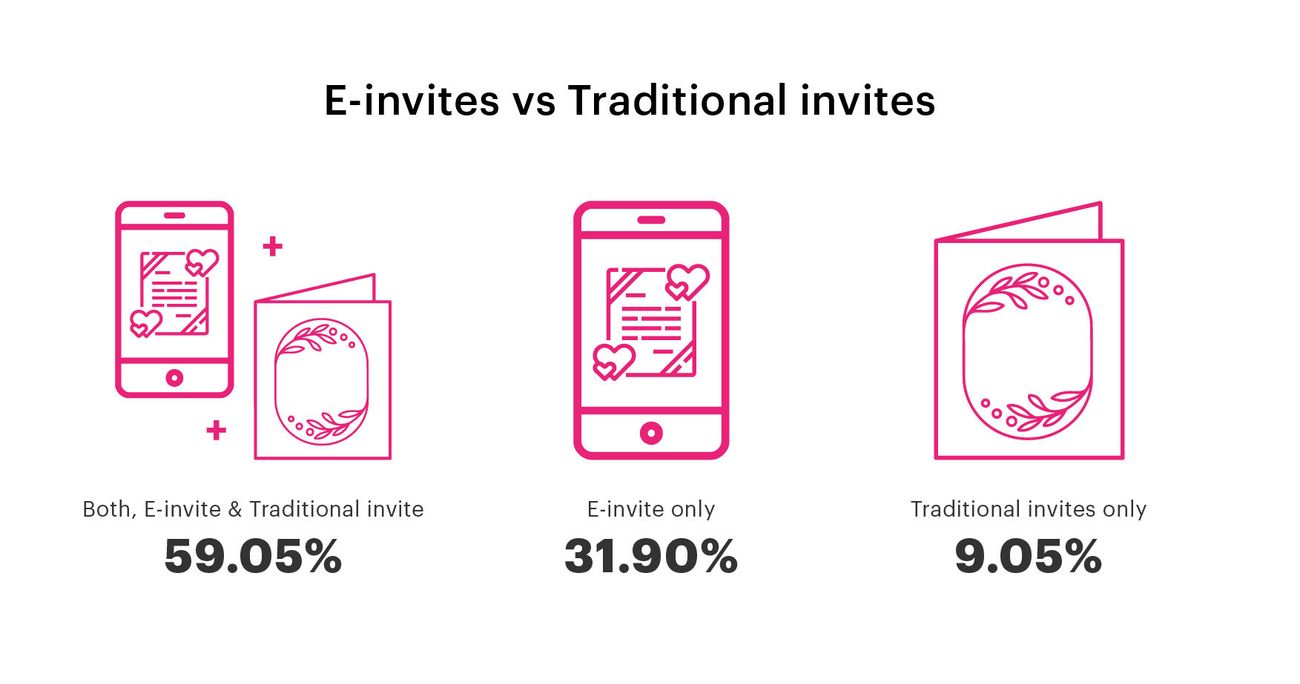 6. Key aspect in wedding planning (as expressed by users)
As per the user data, 16-17% of users responded that while planning their wedding the most important aspects were booking the venue and the catering services, despite the decrease in spending in these particular categories. This is due to the fact that the spending on venue or catering is based on the scale of the wedding (no of people attending the event). However, the focus points for even a small gathering or an intimate affair remains to be venue & catering. Followed by photography which 16.46% of our users have given importance to.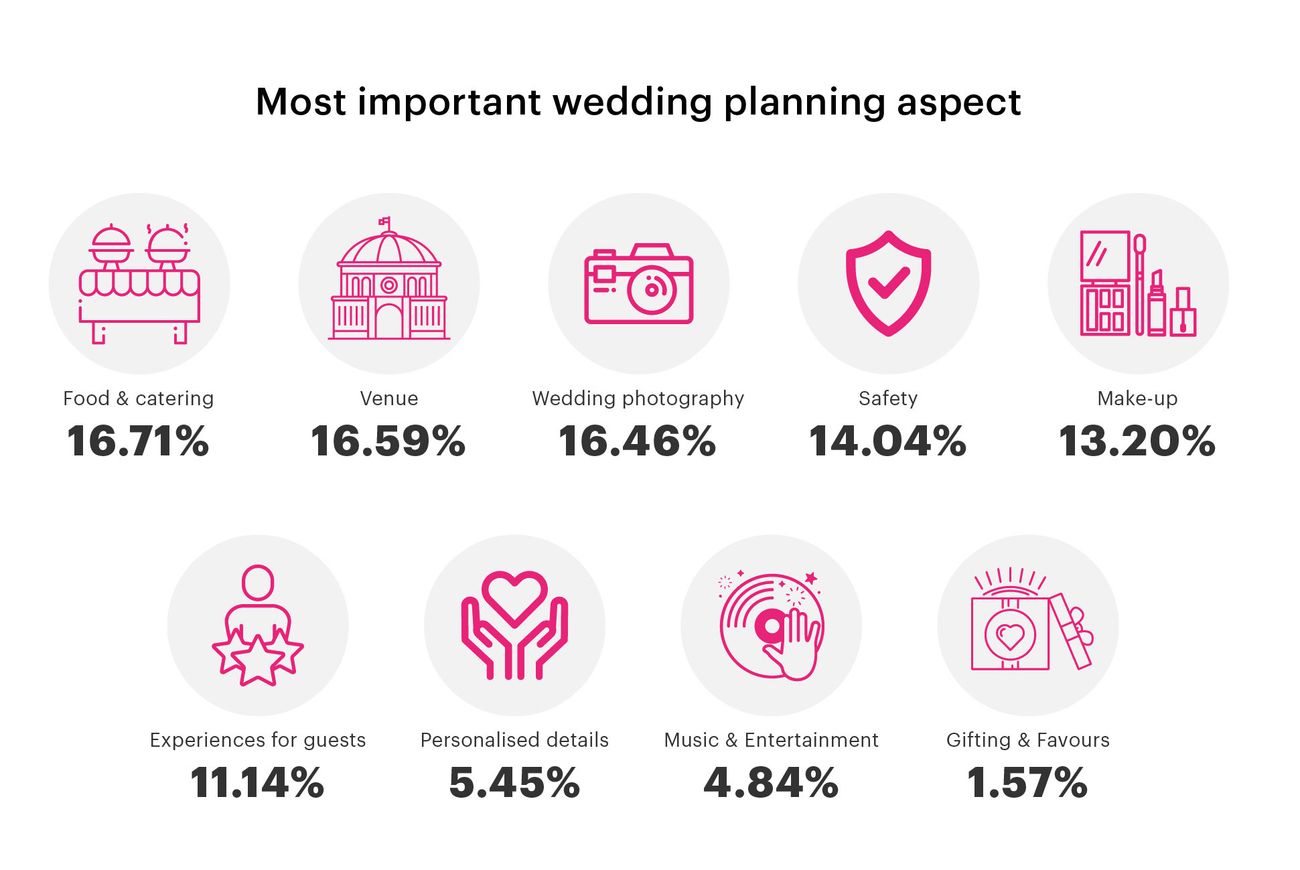 Around 14.04% of users responded that safety measures were one of the important aspects while wedding planning. Given the rise in importance of safety & sanitation. Along with this, we also witnessed intimate wedding/smaller gatherings happening where the couple had to downsize their wedding guest list. Due to this, providing a unique experience to their remote and physical was also given key importance (11.14%). Although we witnessed an upward trend in focus on personalised touches in wedding decor, favours and gifting etc in the industry. Our users responded otherwise giving the least importance to these aspects. 
Authored By: Shikha Sreekanth 
For more wedding related content, inspiration, ideas, vendors & more download the WedMeGood App today.