Your guide to Summer wedding hair 2016
BY The WMG Bride | 29 Apr, 2015 | 2789 views | 3 min read
So yours is a June wedding, and just the mention of that month is making your hair frizz up in fright ? Relax girls! Here are  some quick pointers for fabulous summer wedding hair.
Products in your makeup bag
Sea Salt Spray for beach weddings:
L'oreal only just launched its Beach Waves Sea Salt Spray. If you are attending a wedding in Goa and are worried about frizz, then this sea salt spray is super helpful. You massage a bit of it into your hair and get tousled, wet looking waves minus the frizz
Matrix Biolage Deep Conditioning Hair Mask:  
This deep conditioning hair mask ensures every strand of your hair stays nourished and moisturized- thereby ensuring that they stay in one place when styled and do not dry out and cause split ends
Kerastese Oleo Curl range:
Want fabulously nourished waves as you bounce up and down at the Sangeet? Kerastese Oleo Curl is pretty great for those with curly hair and ensures your waves don't get frizzy.
Moroccan Oil Treatment:  
A bit of Moroccan oil into your hair overnight, and by the next wash you can say hello to much smoother, manageable hair
.
Continued usage , brides report has been seen to improve hair texture and fight the monsoon blues
---
Summer wedding hair styles
Photography: Tarun Chawla /  View full album here
Braids:  
Braids have been super hot the whole of last season, and the trend continues. Whether it's a messy side braid or a fishtail one- braids can be made playful and fun with flowers in them and also keep hair at bay
Makeup by Chandni Singh
Chic , twisty buns: 
Twisty buns with wisps of hair loosely falling out of them are the perfect, casual but chic way to do a wedding bun for your dupatta and still keep it stylish
Photography by Think Tonk. View wedding album here
Floral Wreaths :
Floral wreaths have never been hotter than current .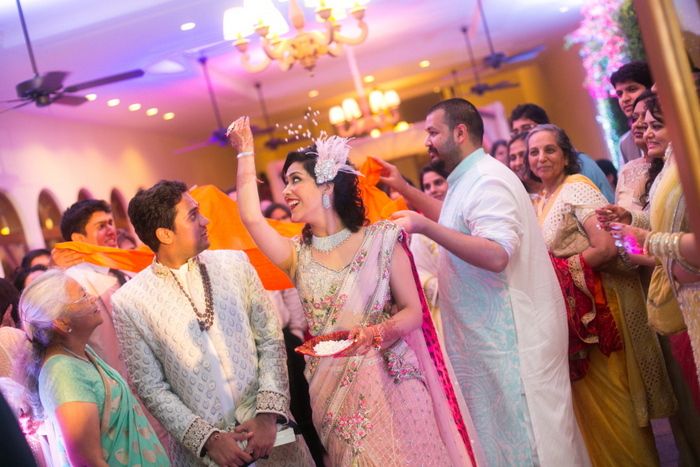 Feathers with a jewelled clip used in hairdo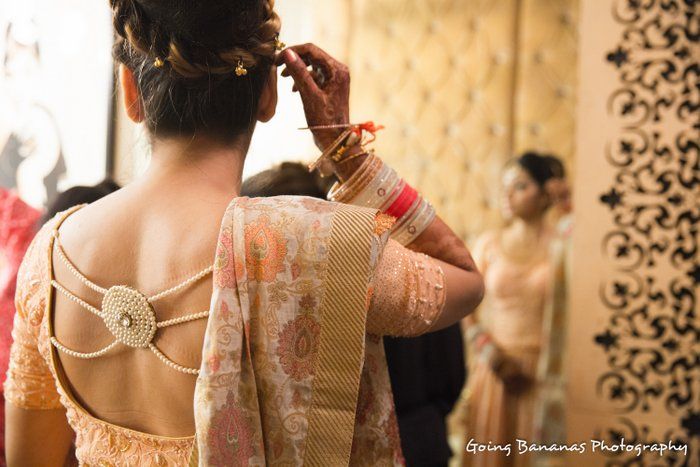 Ghungroos in hairdo.
Juda pin worn on open hair
Fun, Flirty Accessories: 
From ghungroos, to jewelled crowns to even a fascinator mesh, get creative with hair accessories.
---
Summer hair do's and don'ts
Dont get funky with flicks: When the heat dials up , flicks get limp and damp and make for all sorts of photo bombed wedding photos. Trust us, they get a mind of their own- so better to avoid that beast all together
Keep hair away from the face : Photos get completely ruined with a block of hair coming over your face. While making sure you have a pretty, wispy bun is okay, letting a part of your hair  come in front of your face is not a great idea
Avoid top knots- in any season: Come on, admit it - Top knots with dupattas on them look a bit awry
---